News articles on South Africa

---
Mongabay.com news articles on South Africa in blog format. Updated regularly.






Lions return to Rwanda

(06/29/2015) After 15 years, the roar of lions will once again be heard in Rwanda. Today the NGO, African Parks, will begin moving seven lions from South Africa to Rwanda's Akagera National Park. It was here that Rwanda's last lions were poisoned by cattle herders after the Rwandan genocide left the park wholly unmanaged.
Amid rhinoceros poaching frenzy, dark days for South African society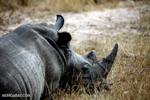 (06/05/2015) South Africa is in the eye of a global rhino-poaching cyclone, with highly organized and elusive international syndicates running a brisk black-market trade in rhino horn. Public trust is faltering: 'Rhino money buys many people at all levels,' a senior antipoaching official said.
South African Airways bans all wildlife trophies from flights
(05/14/2015) Trophy hunters may need to find another flight home, as South African Airlines (SAA) has announced a new ban on any wildlife trophies from their flights. The debate over trophy hunting in Africa is rising as many of the continent's most beloved mammals—including lions, elephants, rhinos, and giraffes—face precipitous declines.
Rhino poaching rate rises 18 percent in South Africa

(05/13/2015) In the first four months of 2015, poachers killed 393 rhinos in South Africa, the epicenter of the rhino poaching crisis. This is an 18 percent rise from last year, which saw 1,215 rhinos butchered in total. Like previous years, the biggest hotspot was Kruger National Park where 290 rhinos have died so far.
Borneo's rainforest may get high-tech 3D scan to boost conservation
(05/04/2015) Conservation efforts in Borneo's embattled rainforest may get a boost with the launch of the newest version of an advanced airplane-based monitoring and assessment system. On Friday, the Carnegie Institution officially unveiled the latest upgrade of the Carnegie Airborne Observatory, an airplane equipped with technologies that enable scientists to conduct extremely high resolution scans of forest structure, biomass, and biological diversity. The platform has generated a wealth of information in places where it has been flown before.
Accounting for natural capital on financial exchanges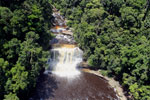 (01/26/2015) Last month, Norway's stock exchange, the Oslo Børs, introduced a way for investors to use their money to promote sustainability. A new list by the stock exchange highlights green bonds, financial products issued by companies to raise capital for environmentally friendly projects. Notably, the list requires that issuing companies obtain and publicize outside opinions on the projects' environmental features.
1,215 rhinos butchered in South Africa in 2014
(01/22/2015) 1,215: that's the total number of rhinos butchered last year in South Africa for their horns. The number represents another annual record—the seventh in a row—topping last year's total by 195 rhinos. South Africa houses the bulk of the world's rhinos (around 80 percent), but has also become the center of the illegal poaching trade.
New blood record: 1,020 rhinos killed in South Africa

(11/24/2014) South Africa has surpassed last year's grisly record for slaughtered rhinos—1,004—more than a month before the year ends. In an announcement on November 20th, the South African Department of Environmental Affairs said that 1,020 rhinos had been killed to date.
The inconvenient solution to the rhino poaching crisis
(10/28/2014) Daily, we read or hear of more rhino being poached to satisfy the seemingly insatiable demand from Asia for rhino horn. With countless articles and papers having been published on the subject - and the Internet abuzz with forums, including heated debates concerning possible solutions - current approaches seem to be failing. Evidence is in the numbers. Known poaching deaths in South Africa have risen sharply over the past three years: 668 rhinos in 2012, 1,004 last year, and 899 through the first nine months of 2014. This toll includes only documented kills — the real number is higher.
Camera traps capture 'fantastically bizarre' animal behavior in South African park
(09/17/2014) Cowbirds ride cattle to pick off their parasites; egrets pal around with wildebeest and eat the small creatures disturbed by their grazing. But mammals riding other mammals is something long-thought pretty much isolated to humans and their domestic creatures. Then, earlier this month, a camera trap in a park in South Africa captured something that contradicts this assumption: a genet riding around on giant herbivores.
Monkeys use field scientists as human shields against predators
(07/22/2014) If you're monkey—say a samango monkey in South Africa—probably the last thing you want is to be torn apart and eaten by a leopard or a caracal. In fact, you probably spend a lot of time and energy working to avoid such a grisly fate. Well, now there's a simpler way: just stick close to human researchers.
Cats' best friend? A new role for guard dogs in South Africa
(07/09/2014) While there has been a surge of recovery and reintroduction programs to combat predator decline, human population growth and limited protected areas have led to increased rates of human-wildlife conflicts in many regions of the world. A study published recently tested the ability of trained guarding dogs to protect livestock in South Africa and found it to be highly effective, protecting humans and predators alike.
U.S should sanction Mozambique for its role in elephant, rhino poaching, urges NGOs

(07/03/2014) Two prominent NGOs U.S should sanction Mozambique for its role in elephant, rhino poaching, urges NGOsare petitioning the U.S government to slap Mozambique with trade sanctions due to the country's role in regional poaching. The groups contend that Mozambique has done little to combat both its own poaching epidemic or stop its nationals from spilling over the border to kill rhinos and elephants in South Africa and Tanzania.
Culling elephants leaves an impact on their social structure decades later
(05/30/2014) Researchers from the University of Sussex studied and compared the social behavior of two elephant herds: one that was severely affected by 1970 and 1980 culling operations and a herd that was relatively unaffected. In their results, the researchers found that the elephant herds that had experienced culling operations exhibited signs of post traumatic stress disorder.
Howard G. Buffett puts $24M toward saving rhinos

(03/21/2014) Howard G. Buffett, the son of Berkshire Hathaway chairman Warren Buffett, has pledged $23.7 million to South African National Parks to help fight rhino poaching in Kruger National Park, reports Reuters.
Rhino with bullet in its brain and hacked off horn wanders for days before being put down
(03/05/2014) Last week, visitors in Kruger National Park came on a horrifying sight of the poaching trade: a rhino, still alive, with its horn and part of its face chopped off. The gruesome photo of the young rhino went viral and sent South African authorities scrambling. Five days after the sighting, South African National Parks (SANParks) has announced they found the rhino and put it out of its misery.
South Africa loses nearly 150 rhinos to poachers so far this year

(02/28/2014) Since the first of the year, South Africa has lost 146 rhinos to poachers or approximately 2.5 rhinos every day. This is a slight dip from last year's poaching rate, which hit 1,004 for the whole year or 2.75 a day. South Africa is home to more rhinos than any other country on the planet, but the populations have been hit hard by poachers in recent years seeking rhino horn.
Over 1,000 rhinos killed by poachers in South Africa last year

(01/17/2014) In another sign that Africa's poaching crisis has gotten completely out of control, South Africa lost 1,004 rhinos to poachers last year. According to the numbers released today by the South African Department of Environmental Affairs, 2013 was the worst year yet for rhino poaching in the country with nearly 3 rhinos killed every day.
Africa to build world's largest dam, but who will benefit?
(12/17/2013) The Congo River traverses the continent of Africa, ending its journey in the Democratic Republic of Congo (DRC) where it spills 1.5 million cubic feet per second into the Atlantic Ocean. Now, plans are underway to harness this tremendous force of water in what promises to be the world's largest hydropower scheme, The Grand Inga.
Unlikely success: how Zimbabwe has become a global leader in rhino conservation
(10/02/2013) With its collapsed economy, entrenched poverty, and political tremors, one would not expect that a country like Zimbabwe would have the capacity to safeguard its rhinos against determined and well-funded poachers, especially as just across the border South Africa is currently losing over two rhinos a day on average. And indeed, without the Lowveld Rhino Trust (LRT), rhinos in Zimbabwe would probably be near local extinction. But the LRT, which is centrally involved in the protection of around 90 percent of the country's rhinos in private reserves along with conservancy members, has proven tenacious and innovative in its battle to safeguard the nation's rhinos from the poaching epidemic.
Worst rhino poaching year on record for South Africa

(09/29/2013) At least 688 rhinos have been poached in South Africa this year, surpassing last year's record of 668 with more than three months remaining in 2013, reports the country's top environmental official.
Scientists outline how to save nearly 70 percent of the world's plant species

(09/05/2013) In 2010 the Convention on Biological Diversity (CBD) pledged to set aside 17 percent of the world's land as protected areas in addition to protecting 60 percent of the world's plant species—through the Global Strategy for Plant Conservation (GSPC)—by 2020. Now a new study in Science finds that the world can achieve both ambitious goals at the same time—if only we protect the right places. Looking at data on over 100,000 flower plants, scientists determined that protecting 17 percent of the world's land (focusing on priority plant areas) would conserve 67 percent of the world's plants.
Obama to take on elephant and rhino poaching in Africa

(07/03/2013) Barack Obama launched a new initiative against wildlife trafficking on Monday, using his executive authority to take action against an illegal trade that is fueling rebel wars and now threatens the survival of elephants and rhinoceroses. The initiative, announced as the president visited Tanzania on the final stop of his African tour, was the second time in a week Obama has used an executive order to advance environmental policy, after announcing a sweeping new climate change plan.
Rhinos moved from South Africa to Botswana for safekeeping

(05/23/2013) A private safari company has moved six white rhinos (Ceratotherium simum) from their home in South Africa to Botswana in a bid to save them from an out-of-control poaching crisis in their native land. Currently, around two rhinos are killed everyday in South Africa for their horns, which are then smuggled to East Asia.
Rhino horn madness: over two rhinos killed a day in South Africa

(04/22/2013) Rhino poachers have killed 232 rhinos during 2013 so far in South Africa, reports Annamiticus, which averages out to 2.1 a day. The country has become a flashpoint for rhino poaching as it holds more rhinos than any other country on Earth. Rhinos are being slaughter for their horns, which are believed to be a curative in Chinese traditional medicine, although there is no evidence this is so.
Lions for sale: big game hunting combines with lion bone trade to threaten endangered cats
(04/18/2013) Koos Hermanus would rather not give names to the lions he breeds. So here, behind a 2.4-meter high electric fence, is 1R, a three-and-a-half-year-old male, who consumes 5kg of meat a day and weighs almost 200kg. It will only leave its enclosure once it has been "booked"' by a hunter, most of whom are from the United States. At that point the big cat will be set loose in the wild for the first time in its life, 96 hours before the hunt begins. It usually takes about four days to track down the prey, with the trophy hunter following its trail on foot, accompanied by big-game professionals including Hermanus. He currently has 14 lions at his property near Groot Marico, about two and a half hours by road west of Johannesburg.
Male lions require dense vegetation for successful ambush hunting
(03/20/2013) For a long time male lions were derided as the lazy ones in the pride, depending on females for the bulk of hunting and not pulling their weight. Much of this was based on field observations—female lions hunt cooperatively, often in open savannah, and therefore are easier to track at night. But new research in Animal Behaviour is showing that males are adroit hunters in their own right, except prickly males hunt alone and use dense vegetation as cover; instead of social hunting in open savannah, they depend on ambushing unsuspecting prey.
Rhino wars: documenting the poaching crisis in South Africa
(01/16/2013) In 2012 a record 668 rhinos were slaughtered by poachers in South Africa for the horns, which are used as scientifically-debunked medicine in Asia. Rhino poaching has hit record levels worldwide over the past few years, but no where is the carnage greater than South Africa, which houses well over half of the world's rhinos. Thus it's no surprise that when student filmmaker, Anne Goodard, arrived in South Africa to film zebra behavior, she quickly became enthralled by the dark and tragic drama surrounding the country's rhinos.
Meet Cape Town's volunteer 'toad shepherds'
(11/08/2012) August marks the last month of winter in South Africa, and, as temperatures begin to rise, activists in Cape Town prepare for a truly unique conservation event. Every year at this time western leopard toads (Amietophrynus pantherinus) endemic to the region and Critically Endangered, embark on a night-time migration through Cape Town from their homes in the city's gardens to the ponds they use as breeding sites—as far as three kilometers away. This season over one hundred volunteers took to the streets, flashlights in hand, to assist the toads in navigating the increasing number of man-made obstacles in their path. Among them was life-long resident and mother, Hanniki Pieterse, who serves as an organizer for volunteers in her area.
South Africa hits another new record in rhino killings

(10/18/2012) Four hundred and fifty-five rhinos have been killed by poachers in South Africa since the beginning of the year. The number surpasses the record set last year (448) and proves that national efforts to stem poaching have not yet made a dent in actual killings. The mass killing has been spurred on by high demand for powdered rhino horn in Vietnam and China. A traditional curative in Asia, rhino horn has no medicinal properties according to scientists.
The riot over rhinos: how a luxury and illegal commodity is driving the slaughter of one of the world's iconic megafauna
(10/15/2012) 23,680 = the estimated number of wild rhinoceroses in South Africa. 35,000,000 = the number of American dollars generated by rhino hunting in South Africa. 97% = the percentage increase in illegally-hunted rhinos in 2011 from the national average in 1990. 30,000 = the number of pounds of rhino horns confiscated from poachers since 2010. 65 = the number of horns that have been stolen in South Africa from public display. 430...the number of rhinos killed this year, and counting...
Illegal lobster fishermen slammed with over $50 million penalty

(08/21/2012) Three men who illegally harvested lobster from South African waters and smuggled them to the U.S. for 14 years have been ordered to pay $54.9 million in restitution to the South African government by a District Court in Manhattan. According to the Pew Environment Group this is the largest restitution order under the U.S. Lacey Act, which deals with the illegal wildlife trade. The judgement, however, still requires the approval of a district judge.
Kids campaign to save South Africa's rhinos from poaching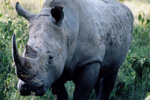 (08/09/2012) The young founders of the U.S. conservation group, One More Generation (OMG), have taken on a new task: halting rhino poaching in South Africa. After a trip last year to visit South Africa, Carter Ries (age 11) and Olivia Ries (age 9), have jump-started a campaign to help convince the South African government to put more resources into halting a rhino poaching plague in the country. Last year an astounding 448 rhinos were killed in South Africa for their horns, averaging more than one rhino a day.
3-D laser mapping shows elephants have big impact on trees

(08/06/2012) Scientists have long known that African elephants (Loxodonta africana) are talented tree-topplers, able to take down even large trees in order to gobble out-of-reach leaves. However the extent of his behavior across a large area has been difficult to quantify. But a new study in Ecology Letters has used a bird's-eye view—with 3-D—of Kruger National Park in South Africa to determine the impact of elephants on trees.
Cute animal picture of the day: African penguin chick

(07/26/2012) Found along the coast of southern Africa, the African penguin (Spheniscus demersus) is listed as Endangered by the IUCN Red List largely due to overfishing, which is decreasing the penguins' prey species, and oil pollution. Two oil spills in the last ten years have oiled over 30,000 African penguins.
Ten African nations pledge to transform their economies to take nature into account

(06/11/2012) Last month ten African nations, led by Botswana, pledged to incorporate "natural capital" into their economies. Natural capital, which seeks to measure the economic worth of the services provided by ecosystems and biodiversity—for example pollination, clean water, and carbon—is a nascent, but growing, method to curtail environmental damage and ensure more sustainable development. Dubbed the Gaborone Declaration, the pledge was signed by Botswana, Liberia, Namibia, Mozambique, Rwanda, Gabon, Ghana, Kenya, South Africa, and Tanzania following a two day summit.
Organizations target rhino horn consumption in China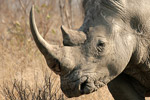 (05/07/2012) Last year nearly 450 rhinos were killed for their horns in South Africa, which has become the epicenter for the global rhino poaching epidemic. Rhinos are dying to feed rising demand for rhino horn in Asia, which is ground up and sold as traditional Chinese medicine, even though scientific studies have shown that rhino horn has no medicinal benefit. Now, two organizations, the African Wildlife Foundation (AWF) and Wildaid have announced a partnership to move beyond anti-poaching efforts and target rhino horn consumption in China.
Kruger National Park loses 95 rhinos to poachers in three months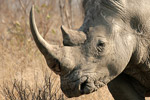 (04/05/2012) Since the first of the year, South Africa's Kruger National Park has lost 95 rhinos to poachers, reports the blog Rhino Horn is NOT Medicine. South Africa, and Kruger National Park in particular, continue to be the epicenter for rhino poaching worldwide. South Africa has lost 159 rhinos in total this year with Kruger bearing nearly 60 percent of the fatalities.
Global carbon emissions rise 49 percent since 1990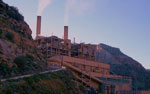 (12/04/2011) Total carbon emissions for the first time hit 10 billion metric tons (36.7 billion tons of CO2) in 2010, according to new analysis published by the Global Carbon Project (GCP) in Nature Climate Change. In the past two decades (since the reference year for the Kyoto Protocol: 1990), emissions have risen an astounding 49 percent. Released as officials from 190 countries meet in Durban, South Africa for the 17th UN Summit on Climate Change to discuss the future of international efforts on climate change, the study is just the latest to argue a growing urgency for slashing emissions in the face of rising extreme weather incidents and vanishing polar sea ice, among other impacts.
Africa, China call out Canada for climate betrayal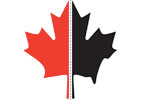 (12/01/2011) Purchasing a full page ad in the Canadian paper the Globe and Mail, a group of African leaders and NGOs is calling on Canada to return to the fold on climate change. Canada has recently all-but-confirmed that after the ongoing 17th UN Summit on Climate Change in Durban, South Africa, it will withdraw entirely from the Kyoto Treaty. The country has missed its targets by a long-shot, in part due to the exploitation of its tar sands for oil, and is increasingly viewed at climate conferences as intractable and obstructive. In the eyes of those concerned about climate change, Canada has gone from hero to villain. Yet notable African activists, including Archbishop Desmond Tutu, are pushing back.
South Africa hits record poaching of rhinos—again
(11/03/2011) Two months before the end of the year, the number of rhinos killed for their horns in South Africa has surpassed last year's breaking record, reports conservation organizations WWF and TRAFFIC. So far, 341 rhinos have been lost to poaching this year; while last year saw a total record of 333. The news follows last week's announcement that the Vietnamese rhino (Rhinoceros sondaicus annamiticus), a subspecies of the Javan rhino, has gone extinct—the last individual killed by a poachers' bullet. Rhinos are killed for their horns which are used in traditional Chinese medicine, even though numerous studies have shown there is no medicinal benefit to consuming rhino horn.
Activists worldwide push for leaving the fossil fuel age behind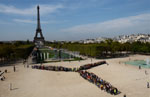 (09/25/2011) On six continents, in over 75 percent of the world's countries, people came out en masse yesterday to attend over 2,000 events to demonstrate the power of renewable energy to combat global climate change. As apart of the 'Moving Planet' campaign organized by 350.org, activists created a giant human-windmill in Paris, gave out bike lessons in Buenos Aires, practiced evacuation measure in the Pacific island of Tuvalu imperiled by rising sea levels, and marched in Cape Town for a strong agreement at the next UN climate meeting hosted in Durban, South Africa.
Rhino poaching on record pace

(07/08/2011) Nearly 200 rhinos have been killed in South Africa through the first six months of 2011, reports TRAFFIC, the wildlife trade monitoring network.
FSC to continue allowing baboon killing on sustainably-certified plantations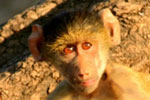 (06/23/2011) Shooting baboons will continue in Forest Stewardship Council (FSC)-certified plantations. After examining a complaint by the NGO GeaSphere against South African plantations for trapping and shooting hundreds of baboons, the FSC has announced it will not place a moratorium on baboon-killing in its sustainably-certified plantations.
Photos: the top ten new species discovered in 2010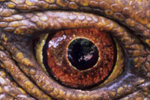 (05/23/2011) If we had to characterize our understanding of life on Earth as either ignorant or knowledgeable, the former would be most correct. In 250 years of rigorous taxonomic work researchers have cataloged nearly two million species, however scientists estimate the total number of species on Earth is at least five million and perhaps up to a hundred million. This means every year thousands of new species are discovered by researchers, and from these thousands, the International Institute for Species Exploration at Arizona State University selects ten especially notable new species.
NASA Photos: beyond Mississippi flood, southern Africa sees record deluges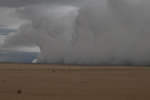 (05/12/2011) While record crests of the Mississippi River are creating havoc in the southern US, this is not the only region in the world facing unprecedented flooding. Huge rain events have produced floods in southern Africa as well, impacting Namibia, Botswana, and South Africa. Since last year rainfall has been above average in much of these regions, including a record deluge this month in Namib Desert, where more rain fell in just one day in than usually does in an entire year.
Belief and butchery: how lies and organized crime are pushing rhinos to extinction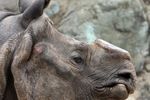 (05/11/2011) Few animals face as violent, as well organized, and as determined an enemy as the world's rhinos. Across the globe rhinos are being slaughtered in record numbers; on average more than one rhino is killed by poachers everyday. After being shot or drugged, criminals take what they came for: they saw off the animal's horn. Used in Traditional Chinese Medicine, which claims that it has curative properties, rhino horn is worth more than gold and cocaine on the black market. However, science proves all this cash and death is based on a lie. 'There is no medicinal benefit to consuming rhino horn. It has been extensively analyzed in separate studies, by different institutions, and rhino horn was found to contain no medical properties whatsoever,' says Rhishja Larson.
Complaint lodged at FSC for plantations killing baboons

(02/20/2011) The African environmental group, GeaSphere, has lodged a complaint with the Forest Stewardship Council's (FSC) for certifying tree plantations as sustainable that are culling baboons in South Africa, as first reported by FSC-Watch. The primates are trapped with bait and then shot. According to the complaint, "unofficial numbers from reliable sources state that more than 1000 baboons have been shot over the past 2 years" in Mpumalanga Province. Documents record permits given to cull 1,914 baboons in 13 separate plantations, however Philip Owen of GeaSphere says that plantations have refused to release official data on how many baboons have been killed.
Rhino horn price matches cocaine

(02/13/2011) As a rhino poaching epidemic continues throughout Africa and Asia, the price of rhino horn has matched cocaine, according to the UK's Daily Mirror. The price of illegal powdered rhino horn—obtained by killing wild rhinos and sawing off their horns—has hit £31,000 per kilo or nearly $50,000 per kilo. The price has already topped that of gold.
Last year worst yet for rhino killings in South Africa

(01/19/2011) Three hundred and thirty-three rhinos were killed in South Africa last year, the highest number yet. Ten of the rhino were black rhinos, which are listed as Critically Endangered by the IUCN Red List, the rest were white rhinos, listed as Near Threatened. In total South Africa has over 20,000 rhinos.
Rebuttal: Slaughtering farmed-raised tigers won't save tigers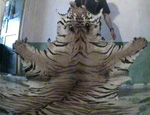 (11/18/2010) A recent interview with Kirsten Conrad on how legalizing the tiger trade could possibly save wild tigers sparked off some heated reactions, ranging from well-thought out to deeply emotional. While, we at mongabay.com were not at all surprised by this, we felt it was a good idea to allow a critic of tiger-farming and legalizing the trade to officially respond. The issue of tiger conservation is especially relevant as government officials from tiger range states and conservationists from around the world are arriving in St. Petersburg to attend next week's World Bank 'Tiger Summit'. The summit hopes to reach an agreement on a last-ditch effort to save the world's largest cat from extinction.
Alleged rhino horn dealer takes his own life

(11/10/2010) The illegal trade in rhino horn doesn't just end in the deaths of thousands of rhinos. Humans, too, often lose their lives in the trade. Both those poaching rhinos and those protecting them, such as park rangers, have been killed in gun battles. But the trade ruins lives in many ways: yesterday, Tommy Fourie, 51, who allegedly sold 36 rhino hunters to a game farmer, shot himself with a hunting rifle in South Africa.
Citizens of 188 countries challenge leaders on climate change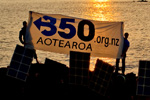 (10/11/2010) As world leaders continue to fumble a coherent, rapid, and comprehensive response to climate change, citizens from around the world yesterday sent a message to inert politicians by participating in over 7,300 events against climate change, according to 350.org, the head organizer of the day dubbed the 'Global Work Party'. "The fossil fuel industry may have thought that the collapse of the Copenhagen talks and its victory in the U.S. Congress were the final word—that people would give up in discouragement," said, Bill McKibben, founder of 350.org, so-called because 350 parts per millions (ppm) is the 'safe' amount of carbon in the atmosphere according to many scientists. Currently the concentration is around 390 ppm.
Nation's wealth does not guarantee green practices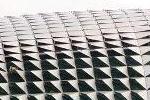 (08/11/2010) Developing countries are not the only ones that could benefit from a little environmental support. Wealthier countries may need to 'know themselves' and address these issues at home too. According to a recent study in the open access journal PLoS ONE, wealth may be the most important factor determining a country's environmental impact. The team had originally planned to study "country-level environmental performance and human health issues," lead author Corey Bradshaw, Director of Ecological Modeling and professor at the University of Adelaide, told mongabay.com. Once they began looking at the available indexes, however, they saw the need for a purely environmental analysis.
Photos: the penis-like mushroom and other top 10 new species of 2009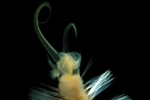 (05/23/2010) The International Institute for Species Exploration at Arizona State University has released its annual top 10 list of new species discovered last year. This time the list includes a two inch penis-like mushroom, a minnow named after Bram Stoker's world-famous horror-character, a bomb-throwing deep sea worm, a giant carnivorous plant named after TV personality and conservationist David Attenborough, and a beautifully patterned frogfish.
A day to celebrate (and save) the world's amphibians: the 2nd Annual Save the Frogs Day

(04/28/2010) Friday, April 30th is for the frogs: educational programs, conservation walks with experts, frog leaping races, and the world's first protest to save frogs are all planned for the world's 2nd Annual Save the Frogs Day. Organized by the non-profit SAVE THE FROGS!, events are so far planned in 15 countries on every continent besides Antarctica—fittingly the only continent that lacks amphibians.
In midst of poaching crisis, illegal rhino horn tops gold

(11/25/2009) Rhino poaching has hit a fifteen-year high, and the rising price for black-market rhino horn is likely the reason why. For the first time in a decade rhino horn is worth more than gold: a kilo of rhino horn is worth approximately 60,000 US dollars while gold is a little over 40,600 US dollars.
World's largest golden orb weaving spider discovered in South Africa and Madagascar
(10/21/2009) Golden orb weaving spiders have been garnering media attention recently. Last year stunning photographs of a golden orb weaver eating a bird in Australia made world coverage. Now, over a century after the last legitimate species of golden orb weaver was discovered, researchers have announced the discovery of a new and rare species of golden orb weaving spider in Africa and on the island of Madagascar. On average the new species is the largest of all golden orb weavers known.
Rhino poaching epidemic underway in South Africa

(09/10/2009) In July national parks in South Africa lost 26 white rhinos and one black rhino to poachers, bringing the total rhinos lost to in South Africa to 84 this year alone. The situation has led Water and Environmental Affairs Minister Buyelwa Sonjica to call for an integrative approach to the crisis.
Camping in the Okavango Delta in Botswana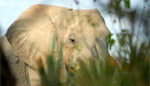 (08/19/2009) The first animal we saw in the Okavango was unmistakable. Although far away, we could easily make it out with its telltale trunk: an African elephant—the world's largest land animal—was striding peaceably through the delta's calm waters. We watched, entranced, from the mokoro, a small boat powered and steered by a local wielding a long pole to push the craft along.
Monsanto GM Corn a Disaster in South Africa

(07/31/2009) Three different varieties of genetically modified (GM) corn provided by the Monsanto Corporation to farmers in South Africa have been reported to be failing to seed. The company claims that "less than 25 percent" of the seeds were susceptible to the problem, and that the crop failure was caused by "underfertilization processes in the laboratory."
Rhino poaching rises sharply due to Asian demand for horns

(07/09/2009) Rhino poaching rates have hit a 15-year-high as a consequence of demand for horns for use in traditional medicine, according to new report published by the wildlife trade monitoring network TRAFFIC. Asia-based criminal gangs run the illegal trade.
Protecting watersheds secures freshwater and saves billions of dollars

(03/19/2009) The World Water Forum brings together 25,000 experts this week in Istanbul, Turkey to discuss the water challenges facing a growing world. According to a compilation of case studies by the International Union for Conservation of Nature (IUCN), which is sponsoring the event, one of the simplest and least expensive ways to have ample water for a growing human population is to protect watersheds. Not only do protected watersheds provide clean and easy-access water for many of the world's largest cities, their protection also saves billions of dollars.
Cheetah population stabilizes in Namibia with support from farmers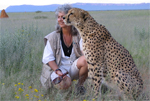 (10/02/2008) Viewing the world's fastest land animal as a threat to their livestock, in the 1980s farmers killed half of Namibia's cheetah population. The trend continued into the early 1990s, when the population was diminished again by nearly half, leaving less than 2,500 cheetah in the southern African country. Today cheetah populations have stabilized due, in large part, to the efforts of the Cheetah Conservation Fund, an organization founded by Dr. Laurie Marker.
Sale of elephant ivory to Japan approved
(06/03/2007) The Convention on International Trade in Endangered Species (CITES) approved the sale of 60 tons of elephant ivory to Japan prior to the start of a 12-day wildlife conference in The Hague, Netherlands. The agency, which oversees the trade in wildlife products, said that South Africa, Botswana and Namibia can ivory from stocks gathered from elephants that have died naturally. The proceeds will go to a conservation fund.
Protected areas must be adapted to survive global warming

(04/03/2007) Protected areas can play an important role in reducing biodiversity loss due to global warming, reports a new study published March 30 in the journal Frontiers in Environment and Ecology (FREE). The research says that conservation efforts must factor in shifts in species' ranges to be successful.