News articles on Solar Power

---
Mongabay.com news articles on Solar Power in blog format. Updated regularly.






How solar thermal curbs pollution and improves health

(06/16/2015) Modern environmental crises of global resources often threaten both human health as well as biodiversity. Many of these concerns have consistently escaped remediation by public health institutions and mainstream environmental organizations. The compounding severity of these threats requires solutions that are cheap, local, scalable, easily replicated and immediately beneficial to local populations and wildlife.
EPA carbon proposal may be crucial step in addressing global climate change

(06/10/2014) The U.S. Environmental Protection Agency's (EPA) June 2nd regulation proposal hit all the expected chords. Following on the heels of a January regulation for new power plants, the Clean Power Plan focuses on all existing electric generation. By 2030, the plan aims to reduce 2005-level carbon dioxide emissions by 30 percent.
Climate fail: Geoengineering would cool planet, but screw up rainfall patterns
(01/14/2014) For decades, scientists have been grappling with the consequences of climate change and working toward viable solutions. Climate engineering, also known as geoengineering, is the most controversial possible solution. Currently, one of the most talked about geoengineering ideas is Solar Radiation Management (SRM), which intends to block shortwave solar radiation, thus cooling the Earth to offset rising temperatures. In other words, SRM may be one way in which global temperatures could be artificially stabilized.
Looking bright: solar power passes 100 gigawatts worldwide

(02/12/2013) The world's installed solar capacity hit 101 gigawatts last year, according to new data from the European Photovoltaic Industry Association (EPIA). Last year alone, saw nearly 30 gigawatts of solar power added around the world.
Could marine cloud machines cool the planet?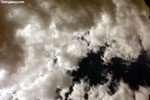 (11/26/2012) In 1990, British cloud physicist John Latham published a paper arguing he could cool global climate by brightening clouds over the ocean. Most colleagues ignored the paper, titled 'Control global warming?'—probably because this thing called global warming was not yet a hot topic. Now, more than two decades later, Latham continues to develop what has become one of the most promising and controversial ideas in climate control. 'Marine cloud brightening' might sound benign, but hairs rise when it's called 'geoengineering.'
Will we need to pull carbon out of the atmosphere to save ourselves?
(10/17/2012) This year saw the Arctic sea ice extent fall to a new and shocking low, while the U.S. experienced it warmest month ever on record (July), beating even Dust Bowl temperatures. Meanwhile, a flood of new research has convincingly connected a rise in extreme weather events, especially droughts and heatwaves, to global climate change, and a recent report by the DARA Group and Climate Vulnerability Forum finds that climate change contributes to around 400,000 deaths a year and costs the world 1.6 percent of its GDP, or $1.2 trillion. All this and global temperatures have only risen about 0.8 degrees Celsius (1.44 degrees Fahrenheit) since the early Twentieth Century. Scientists predict that temperatures could rise between 1.1 degrees Celsius (2 degrees Fahrenheit) to a staggering 6.4 degrees Celsius (11.5 degrees Fahrenheit) by the end of the century.
Tigers vs. coal in India: when big energy meets vanishing cats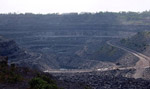 (08/01/2012) Burning coal fuels climate change, causes acid rain, and spreads toxic pollutants into the environment, but now a new Greenpeace report warns that coal may also imperil the world's biggest feline: the tiger. Home to world's largest population of tigers—in this case the Bengal subspecies (Panthera tigris tigris)—India is also the world's third largest coal producer. The country's rapacious pursuit of coal—it has nearly doubled production since 2007—has pushed the industry into tiger territory, threatening to destroy forests and fragment the tiger's already threatened population.
Solar cells cross new threshold

(03/08/2012) Imagine powering your cell phone by leaving it on the window sill. Sounds like science fiction? Actually, this might soon turn into reality. Scientists have been exploring the potential of solar energy for decades. One of the cheapest ways to turn solar energy into electricity is by creating solar cells from organic polymers, which are easily manipulated by scientists. However, such cells are not efficient at converting sunlight to electricity. But now, researchers at UCLA's Department of Materials Science and Engineering have come up with a new type of solar cell that sets the record in changing sunlight into power.
Germany proves the promise of renewable energy: hits 20 percent renewables

(09/06/2011) As many people in the United States question whether renewable energy is a viable alternative to fossil fuels, Germany now derives 20.8 percent of its electricity from renewable sources—a 15 percent increase since 2000, reports Der Spiegel. In contrast, the United States generates only 10 percent of its electricity from renewable sources, 6 percent of which comes from hydroelectric power, which some environmentalists see as unacceptably damaging.
Clean energy investments rise 630% in 7 years

(03/29/2011) According to a report by the US Pew Environment Group global clean energy investments, which do not include nuclear power, jumped 630% since 2004. The report detailing 2010 clean energy investments found that China remains the global leader in clean energy, while the US fell from 2nd to 3rd. This is the second year in a row that the US fell: in 2009 it lost first place to China. In all $243 billion were invested in clean energy in 2010.
Is Obama's clean energy revolution possible?

(01/26/2011) Last night US President Barack Obama called for a massive green energy make-over of the world's largest economy. Describing the challenge as 'this generation's Sputnik moment' the US president set a goal of producing 80 percent of America's energy by clean sources by 2035. While this may sound improbable, two recent analyses back the president up, arguing that a global clean energy revolution is entirely possible within a few decades using contemporary technology and without breaking the bank. "Based on our findings, there are no technological or economic barriers to converting the entire world to clean, renewable energy sources," Mark Z. Jacobson, a professor of civil and environmental engineering at Stanford said in a press release. "It is a question of whether we have the societal and political will."
U.S. Department of Energy makes $1.5B loan to massive solar plant

(12/30/2010) The U.S. Department of Energy has finalized a guarantee to provide a loan of $1.45 billion to Abengoa Solar Inc. which will fund the world's largest parabolic trough concentrating solar plant. The plant is expected to serve 70,000 households and avoid 475,000 tons of carbon dioxide emissions per year.
Bill Gates: ban coal and invest in clean energy technology

(02/12/2010) The planet needs "energy miracles" to overcome the dual challenges of meeting energy demand and addressing climate change, said Microsoft founder Bill Gates during a speech Friday at the TED Conference in Long Beach, California.
Could special bonds fund the green revolution and stabilize the climate?
(02/02/2010) There is no question that governments around the world are moving slowly and sluggishly to combat climate change, especially when placed against the measures recommended by climate scientists. Only a handful of nations have actually cut overall greenhouse gas emissions, and the past couple decades have seen emissions rise rapidly worldwide as nations like India and China industrialize while Brazil and Indonesia continue massive deforestation. Global temperatures are rising in concert (though with natural fluctuations): the past decade is the warmest on record. After the failure of Copenhagen this past December to produce an ambitious and binding treaty, many are wondering if the world will ever address the threat of climate change or if future generations are set to live in a world far different—and more volatile—than the one we currently enjoy.
China leaves US (and Europe) in the dust on renewable energy

(02/01/2010) This year China has become the world's largest manufacturer of solar panels and wind turbines, doubling its wind capacity since 2005. The economically booming nation—and the world's most populous—has also invested heavily in nuclear power and the world's most efficient coal plants, according to the New York Times.
Solar powered conservation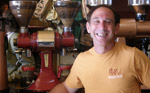 (08/25/2009) Electricity can be a difficult commodity to procure in the remote areas where conservationists often work. Typically field researchers and wildlife rangers rely on gas-powered generators, which require imported fuel, often produce noxious fumes and disruptive noise, and can be costly to maintain. A better option, especially in sun-drenched parts of the world, is solar. Clean and silent, with no need for supplemental fuel, solar seems like an ideal fit for conservation work except for one major drawback: cost. But Stephen Gold – Solar and Technology Manager for Wildlife Conservation Network has been working to overcome that obstacle.
Living up to the Pope's words: the Vatican turns to solar power

(11/28/2008) In his three years since being inaugurated, Pope Benedict XVI has made the environment one of his central issues, proclaiming that "God entrusted man with the responsibility of creation". He has described the need to confront climate change as a "moral obligation" and spoken eloquently on the destruction of arable soil, forests and marine life.
PG&E will build the world's largest solar power plant

(08/15/2008) California electricity producer PG&E Thursday announced a plan to build two giant solar photovoltaic power plants that will cover 12.5 square miles and have a peak generating capacity of 800 megawatts.
Gore launches second campaign... for Earth

(07/17/2008) In a speech Thursday, Al Gore challenged the U.S. to generate 100 percent of its electricity from zero carbon emission sources within 10 years. Speaking at Washington's Constitution Hall, Gore said America's security, environmental and economic crises are all related, and that measures to rein in greenhouse gas emissions will make the U.S. stronger, safer, and cleaner. "The survival of the United States of America as we know it is at risk," Gore said. "I don't remember a time in our country when so many things seemed to be going so wrong simultaneously."
94% of Americans support solar energy development

(06/11/2008) 94 percent of Americans say it's important for the U.S. to develop and use solar energy, according to a new poll that found support for solar power runs across the political spectrum.
Arizona seeks to become the 'Persian Gulf' of solar energy

(02/22/2008) With a Spanish company's plans to dramatically expand solar capacity in the desert southwest of Phoenix, Arizona Governor Janet Napolitano said Arizona could become the "Persian Gulf of solar energy," according to the Associated Press.
New World Record for Solar-to-Grid Conversion Efficiency

(02/13/2008) Sandia National Laboratories and Stirling Energy Systems (SES) set a new solar-to-grid system conversion efficiency record by achieving a 31.25 percent net efficiency, nearly a 2 point gain of the previous record of 29.4 percent set in 1984.
Florida to cut greenhouse gas emissions 80% by 2050

(07/15/2007) Florida plans to cut greenhouse gas emissions 80 percent from 1990 levels by 2050 according to Charlie Crist, Florida's Republican state governor. Due to its low elevation and hurricane risk, global warming may pose the biggest risk to Florida of any U.S. state.
Inflatable concentrators may cut cost of solar below conventional power plants

(07/08/2007) Cool Earth Solar, a Livermore, California-based company developing an innovative way for capturing solar energy, has merged with Radiant Energy, a developer and owner of renewable and clean energy power plants including solar, geothermal, and hydroelectric. Rob Lamkin, CEO of Radiant Energy, says the merger will help ramp up the technology, which uses inflatable solar concentrators to minimize use of refined silicon, a costly ingredient in solar cells. Lamkin says the technology could dramatically reduce the cost solar energy, bringing it below the cost natural gas-fired power plants.
Cuba Energy Crisis Solved

(07/05/2007) Cuba may be overcoming its intermittent energy crisis, according to a top U.N. official. Power shortages and brownouts have long been a problem in the small communist island nation, but it was daily 16 hour-electricity cuts in 2004 that finally forced the government to act. Its efforts are apparently paying off.
Google to be carbon neutral by year end

(06/20/2007) Google Inc. aims to be carbon neutral by the end of 2007, according to a statement posted on the Official Google Blog. The search giant plans to fight global warming by investing in and using renewable energy sources; reducing energy consumption by maximizing efficiency, and purchasing carbon offsets for the greenhouse gas emissions that it cannot reduce directly.
Google will put $10M towards plug-in hybrid cars

(06/19/2007) Google.org, Google Inc.'s philanthropic arm, today unveiled an initiative to convert hybrid cars to plug-in hybrid vehicles (PHEVs), a move that will cut carbon dioxide emissions, reduce oil use, and help stabilize the electrical grid.
Nobel prize winner debates future of nuclear power

(06/07/2007) Two renowned energy experts sparred in a debate over nuclear energy Wednesday afternoon at Stanford University. Amory Lovins, Chairman and Chief Scientist of the Rocky Mountain Institute, an energy think tank, argued that energy efficiency and alternative energy sources will send nuclear power the way of the dinosaurs in the near future. Dr. Burton Richter, winner of the 1976 Nobel Prize in physics, said that nuclear would play an important part of the future energy portfolio needed to cut carbon emissions to fight global warming.
Device uses solar energy to convert CO2 into fuel

(04/18/2007) Chemists at the University of California, San Diego, (UCSD) have devised a device that uses solar energy to convert carbon dioxide into fuel. While the machine is only a prototype and not yet optimized, the researchers hope that their work will attract attention to their approach.
Concentrating solar power better option than nuclear

(04/10/2007) Regarding Nuclear power plants are financially risky given high costs, there is absolutely no need for nuclear power in the US because there is a simple mature technology that can deliver huge amounts of clean energy without any of the headaches of nuclear power.
Balloon technology could cut cost of solar energy 90% by 2010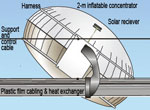 (02/21/2007) With high energy prices and mounting concerns over human-induced climate change, there is intense interest in renewable energy, especially solar, which produces no pollution and is readily available in the form of sunlight. In recent years, however, the solar energy market has been hampered by supply shortages of refined silicon, the critical resource needed for solar cell fabrication. Further, because solar installations traditionally require a large surface area to capture as much sunlight as possible, solar arrays often take up real estate, occupying land used agricultural production and other purposes. Without government subsidies, solar is not presently viable in many areas.
China to build world's largest solar power plant

(11/21/2006) China plans to build the world's largest solar power station in the northwestern province of Gansu according to a report from Xinhua, China's state news agency. Construction of the 100 megawatt facility will take five years and cost 6.03 billion yuan ($766 million).
Google worried about global warming?

(10/17/2006) Google said it plans to build a solar-powered electricity system at its Silicon Valley headquarters that be the largest solar installation on any corporate campus in the United States.
Solar Energy Powers Mainland China's Richest Man

(10/12/2006) The largest private fortune in mainland China may belong to Shi Zhengrong, the founder of the China's largest producer of photovoltaic equipment used to convert sunlight into eletricity, according to an article in today's edition of The Wall Street Journal.
Northern Ireland madantes green energy for new buildings

(07/25/2006) The changes, which all apply to all new homes, company and public buildings, will make micro-generation, such as solar panels to heat hot water, solar photo voltaic panels on roofs to generate electricity or small wind turbines for houses, mandatory in under two years.
High school students compete in solar car race

(07/13/2006) Beginning on July 16th, high school students from the US, Puerto Rico and India will travel to Texas Motor Speedway to compete in the 11th annual Dell-Winston School Solar Car Challenge, a race tasking students to design, build and race their own solar powered cars.
Venture Capitalists, China and Green Technology

(05/24/2006) A Bay Area venture capitalist with a storied past, has set his sights on "green technology" and ultimately China, after some compelling remarks from state representatives at a recent conference. Early this spring, Chinese officials named solar and clean coal technologies as two of their three pre-eminent priorities for investment and development in the near future. For a country with burgeoning energy needs surpassing what power is presently available, this is both realistic and positive news for environmentalists and economists alike. Hoping to capitalize, John Doerr and his associates are now funneling cash into the emergent green technology sector, which he, and an increasing number of other investors believe to be the next big thing.
Largest solar power plant in a generation to be built in Nevada

(02/09/2006) The groundbreaking for the largest solar thermal power plant to be built in 15 years takes place this weekend in Boulder City, Nevada. The 64MW Nevada Solar One power plant will generate enough power to meet the electricity needs of about 40,000 households and follows in the steps of the 354MW solar thermal power plants located in California's Mojave Desert. While California's solar plants have generated billions of kilowatt hours of electricity for the past two decades, the Nevada Solar One plant will use new technologies to capture even more energy from the sun
Nanocrystals could boost photovoltaic solar energy technologies

(01/04/2006) Los Alamos National Laboratory scientists have discovered that a phenomenon called carrier multiplication, in which semiconductor nanocrystals respond to photons by producing multiple electrons, is applicable to a broader array of materials that previously thought.
Businesses can now host solar energy project without up-front costs

(12/21/2005) 3 Phases Energy Services announced today its launch of a new service, "Daylight Savings", a model for financing large-scale solar photovoltaic (PV) projects. Daylight Savings allows businesses and institutions to host onsite photovoltaic systems while eliminating all up-front capital requirements and providing a long-term hedge against fossil fuel prices.
California plans $3 billion for solar energy projects

(12/13/2005) Tuesday the California Public Utilities Commission announced an ambitious program to expand the market for solar power, proposing to provide $2.8 billion of incentives toward solar development over the next 11 years.
Disposable solar panels developed using nanotechnology

(11/20/2005) Scientists at the University of Cape Town are exploiting the nano-scale properties of silicon to develop a super-thin disposable solar panel poster which they hope could offer rural dwellers a cheap, alternative source of power.
Photovoltaic solar energy conversion can be cost-competitive by 2030

(11/16/2005) Professor Andrew Blakers from The Centre for Sustainable Energy Systems at the Australian National University will today report to the Greenhouse 2000 Conference in Melbourne that photovoltaic (PV) solar energy conversion can be cost-competitive with any low-emission electricity generation technology by 2030.
Organic solar cells will help spur viability of alternative energy

(10/10/2005) Organic solar cells being developed by a team of scientists from New Mexico State University and Wake Forest University could help spur viability of alternative energy. Unlike existing solar panels made of brittle silicon, these cells are made of plastic that can be wrapped around structures or even applied like paint. This flexibility could revolutionize the solar market.
High oil prices make Asia pursue green energy

(09/09/2005) For energy-hungry Asian governments, the answer could literally be blowing in the wind. Across the region, renewable energy such as solar, wind and geothermal power is gaining ever greater credence as a way to curb the region's appetite for oil and cut runaway import bills.