News articles on Satellite Imagery

---
Mongabay.com news articles on Satellite Imagery in blog format. Updated regularly.





37,000 sq km of Amazon rainforest destroyed or damaged in 2008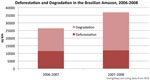 (03/19/2009) Logging and fires damaged nearly 25,000 square kilometers (9,650 square miles) of Amazon rainforest in the August 2007-July 2008 period, an increase of 67 percent over the prior year period, according to a new mapping system developed by Brazil's National Institute for Space Research (INPE). The damage comes on top of the nearly 12,000 sq km (4,600 sq mi) of rainforest that was cleared during the year.


Carbon dioxide monitoring satellite crashes immediately after launch

(02/24/2009) The Orbiting Carbon Observatory, a $273 million satellite that would have collected measurements of carbon dioxide (CO2) in Earth's atmosphere to help better forecast the climate impacts of changes in CO2 levels, crashed about three minutes after launch, reports NASA. Researchers say the accident is a major setback for science.


Google Earth now allows ocean exploration, tracking of sharks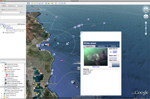 (02/05/2009) Google Earth now allows users to dive beneath the surface of the world's oceans to see coral reefs, trenches, and other marine wonders. The new version, Google Earth 5, includes layers showing locations of shipwrecks and surf spots; routes for ocean expeditions; the movements of GPS-tracked sea animals; and information (including videos and images) about the ocean environment from sources including National Geographic, the Cousteau Society, the International Union for Conservation of Nature (IUCN), the Monterey Bay Aquarium, and the National Oceanic and Atmospheric Administration (NOAA).


New global temperature record expected in the next 1-2 years

(01/27/2009) 2008 was the coolest year since 2000 but still ranks in the top ten warmest years since record-keeping began in 1880, reported NASA last week.


Symposium tackles big question: how many species will survive our generation

(01/16/2009) Nine scientists dusted off their crystal balls Monday at the National Museum of Natural History in Washington DC, weighing in on the future of the world's tropical forest. Despite the most up-to-date statistics, prognosis for the future of tropical forests varied widely. In the last few years a schism has occurred among biologists regarding the future of the tropics. No tropical scientist denies that rainforests and the species which inhabit them face unprecedented threats; neither do they argue that some of these forested regions and species will likely not survive the next fifty years. What has sparked debate, sometimes heated, is how bad will is it really? When the dust settles, what percentage of species will survive and how much forest will remain?


Selective logging occurs in 28 percent of world's rainforests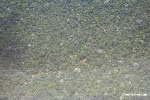 (01/13/2009) New satellite research presented for the first time at a symposium entitled "Will the rainforests survive?" showed that selective logging is impacting over a quarter of the world's rainforests. Gregory Asner from the Carnegie Institution presented the "first true global estimate of selective logging" which showed that 5.5 million square kilometers of the rainforest has already seen selective logging or is slated to be logged in the near future.


Photos: Google Earth used to find new species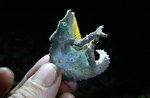 (12/22/2008) Scientists have used Google Earth to find a previously unknown trove of biological diversity in Mozambique, reports the Royal Botanic Gardens in Kew. Scouring satellite images via Google Earth for potential conservation sites at elevations of 1600 meters or more, Julian Bayliss a locally-based conservationist, in 2005 spotted a 7,000-hectare tract of forest on Mount Mabu. The scientifically unexplored forest had previously only been known to villagers. Subsequent expeditions in October and November this year turned up hundreds of species of plants and animals, including some that are new to science.


Palm oil companies propose satellite monitoring of their plantations to ensure sustainability

(11/05/2008) The Roundtable on Sustainable Palm Oil (RSPO) is considering a proposal to use satellite imagery to enforce criteria that high value conservation areas are not converted to oil palm plantations, reports Ian Wood of the Telegraph. The move would boost RSPO's credibility at a time when the industry-lead sustainability initiative is under fire from environmentalists who say its performance to date suggests it is merely an exercise in greenwashing.


Brazil to have high resolution imagery for 86% of the Amazon by year end

(10/15/2008) Brazil will have high resolution imagery for 86 percent of its Amazon territory by the end of the year, according to Reuters. The images will help the country protect the Amazon rainforest and prosecute alleged environmental crimes, including illegal logging and agricultural expansion.


Arctic sea ice falls to second lowest on record

(09/16/2008) Arctic sea ice retreated to the second lowest level on record but remains about 9 percent above the low set last September, reports the NASA and the National Snow and Ice Data Center in Boulder, Colorado.


NASA: Sea ice melt opens the Northwest and Northeast Passage

(09/09/2008) An image released by NASA shows that Arctic sea ice has retreated to the point where both the Northwest Passage around North America and the Northern Sea Route around Russia are open simultaneously. The occurrence marks the first time on record that both passages have been open.


Independent of climate, forest cover in southern Amazon may fall to 20% by 2016

(09/03/2008) Forest cover in the "Arc of Deforestation" of southern Amazonia will decline to around 20 percent 2016 due to continued logging and conversion of forests for cattle pasture and soy farms, report researchers writing in the journal Environmental Conservation. Analyzing high resolution satellite data from 1984 through 2004 for the Alta Floresta region in northern Mato Grosso, Fernanda Michalski, Carlos Peres and Iain Lake of the University of East Anglia found that forest cover declined from from 91.1 percent to 41.7 percent between 1984 and 2004. They note that while the deforestation rate has slowed to around 2 percent per year since peaking at more than 8 percent annually in late 1980s to mid-1990s, renewed expansion of road networks will enable loggers to increasingly exploit remaining forests, leading to degradation and likely eventual conversion for agricultural use. Overall Michalski and colleagues forecast that forest cover in Alta Floresta will fall to 21 percent by 2016, a decline of 77 percent since 1984.


Amazon deforestation jumps 69% in 2008

(08/31/2008) Deforestation in the Brazilian Amazon increased 69 percent in the past 12 months as high commodity prices have driven forest conversion for ranches and cropland, according to preliminary figures released by Brazil's National Institute for Space Research (INPE). The increase comes after three consecutive years of declining deforestation in Brazil.


Haze risk returns as fires increase in Indonesia

(08/26/2008) The number of forest fires burning in Indonesia is increasing, raising concerns for the potential return of choking haze to the region.


Google Earth reveals cattle have a built-in compass

(08/25/2008) Cattle, along with grazing deer, tend to align themselves with the Earth's magnetic field lines, in a north-south direction, report researchers writing in the early online edition of the journal Proceedings of the National Academy of Sciences (PNAS). The finding suggests that cows seem to have a built-in magnetic compass.


Smoke from Amazon fires reduces local rainfall

(08/14/2008) Smoke released by fires set to clear the Amazon rainforest inhibit the formation of clouds, thereby reducing rainfall, report researchers writing in the journal Science. The study provides clues on how aerosols from human activity influence cloud cover and ultimately affect climate.


Amazon deforestation forecast for 2008 revised downward

(07/17/2008) Deforestation in the Brazilian Amazon fell sharply in the month of May (1,096 square kilometers) compared to May a year-ago (1,222 square kilometers), according to preliminary satellite data announced by the country's environment minister on Tuesday. Brazilian Environment Minister Carlos Minc said a preliminary analysis by the government's National Space Research Institute (INPE) showed 1,096 square kilometers (423 square miles) of rain forest were cut down in May, down from 1,123 square kilometers (434 square miles) in April.


First carbon map of America released by NASA

(07/15/2008) For the first time, one can have a whole view of America's carbon output: region by region, city by city. The Vulcan Project has undertaken a holistic inventory—including electricity, heat, transportation, and industry—of local carbon emissions across the nation to create the first carbon map of America. Texas leads the fifty states, and the county of Harris, Texas (encompassing Houston) records the nation's largest emissions by county. Although Texas is second in population after California, its massive industry puts it over the top.


Rainforest destruction becomes industry-driven, concentrated geographically

(06/30/2008) New analysis of global deforestation reveals that the bulk of tropical forest loss is occurring in a small number of countries. The research — published in the journal Proceedings of the National Academy of Sciences (PNAS) — shows that Brazil accounts for nearly half of global deforestation, nearly four times that of the next highest country, Indonesia, which makes up about an eighth of worldwide forest clearing.


Fire monitoring by satellite becomes key conservation tool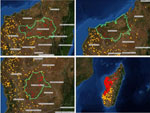 (03/26/2008) Remote sensing is increasingly used as a tool for conservation management. Beyond traditional satellite imagery popularized by Google Earth, new sensing applications are allowing researchers located anywhere in the world to track fires, illegal logging and mining, and deforestation in some of Earth's most isolated regions using a computer or handheld device. The Fire Alert System is one example of an application that is harnessing the power of satellites to deliver key data to conservation managers. Developed by Madagascar's ministry of Environment, the International Resources Group, conservation International using data from the University of Maryland and NASA, the Fire Alert System enables near real-time monitoring of fires anywhere on the island of Madagascar, a hotspot of biological diversity. The system, which sends subscribers regular email alerts on newly-detected burning, will eventually be expanded to include all the world's protected areas, allowing managers to detect not only fires but potentially related activities like road building, logging, and even hunting.


Accurate forest data will help guide climate policy

(03/10/2008) As forests are increasingly seen as a means for fighting climate change, proper forest assessment becomes all the more important. The Food and Agriculture Organization of the U.N. (FAO) says it will call on member states to provide "accurate data". FAO data has been criticized by analysts for offering an incomplete picture of forest cover and trends.


Complete map of world forests to help REDD carbon trading initiative



(02/27/2008) Policymakers, conservationists and scientists have high hopes that REDD, a mechanism for compensating countries for reducing emissions from deforestation and forest degradation, will spur a massive flow of funds to tropical countries, helping preserve rainforests and delivering economic benefits to impoverished rural communities. To date, one of the biggest hurdles for the initiative has been establishing a baseline for deforestation rates -- in order to compensate countries for "avoided deforestation" it first must be known how much forest the country has been losing on a historical basis. Until now, with some notable exceptions, this data was based largely on spotty satellite assessment and surveys of national forestry departments by the U.N. Food and Agricultural Organization.


NASA: warming is causing Greenland ice to melt faster than expected

(02/21/2008) Warming air temperatures are causing Greenland's ice sheet to melt faster than previously anticipated, reported NASA on Wednesday. Though unlikely, the complete melting of Greenland's ice sheet would raise global sea level by 23 feet.


Is tropical deforestation really occurring?

(01/08/2008) New assessment suggests global deforestation data from the U.N. is deeply flawed and without better monitoring it is impossible to know whether net forest cover in the tropics is expanding or declining.


New satellite system will penetrate clouds to track deforestation

(12/05/2007) Satellite monitoring will play a critical role in any agreement that compensates tropical countries for preserving their forests, such as "Reduced Emissions from Deforestation and Degradation" (REDD) mechanisms currently under discussion at UN climate talks in Bali. Released Tuesday, a new study, "New Eyes in the Sky: Cloud-Free Tropical Forest Monitoring for REDD with the Japanese Advanced Land Observation Satellite (ALOS)", details significant advancements in the field of remote sensing of forests.


Ground-breaking Amazon rainforest imagery will help monitor deforestation

(11/27/2007) Scientists have developed a ground-breaking high resolution snapshot of 400,000 square kilometers of Amazon rainforest. The work will help researchers remotely monitor deforestation, according to the Woods Hole Research Center (WHRC).


NASA releases high-resolution map of Antarctica

(11/27/2007) A team of researchers from NASA, the U.S. Geological Survey, the National Science Foundation and the British Antarctic Survey today unveiled a high resolution, true-color map of Antarctica. The map is expected to help scientists better understand changes occurring on the icy continent.


Madagascar fires mapped with Google Earth in real-time

(10/29/2007) Every year as much as one-third of Madagascar, one of the planet's most biodiverse islands, goes up in flames. Now a new tool gives scientists the ability to monitor and track Madagascar's fires in real-time through the Internet.


Google Earth adds endangered species info

(10/24/2007) Google Earth users can now learn about 100 of the world's most endangered species through a new KML developed by the Zoological Society of London's EDGE of Existence program.


Amazon rainforest burning "worst" in memory



(10/16/2007) Fires continue to rage in the Amazon, according to local reports. John Cain Carter, a rancher who runs Alianca da Terra, an environmental accountability group for agricultural operators, says that the fires are the worst he has ever seen in the region. "I have never seen fires this bad," he told mongabay.com. "The fires are even worse than in 1998's El Nino event." NASA satellite images released at the end of September confirm widespread burning in the Amazon state of Mato Grosso.


Land-clearing fires send smoke across Argentina, Paraguay

(09/11/2007) Thousands of fires likely set for land-clearing are sending thick smoke over southern South America, reports NASA.


Global warming to cause more severe thunderstorms, reports NASA

(08/31/2007) Global warming will increase the incidence of severe storms and tornados, report NASA scientists.


Peru's deforestation rate surged in 2005

(08/30/2007) Peru's deforestation rates surged in 2005, according to new analysis published in the journal Science.


Amazon deforestation in Brazil falls 29% for 2007

(08/13/2007) Deforestation in the Brazilian Amazon fell 29 percent for the 2006-2007 year, compared with the prior period. The loss of 3,863 square miles (10,010 square kilometers) of rainforest was the lowest since the Brazilian government started tracking deforestation on a yearly basis in 1988.


Amazon deforestation rate falls to lowest on record

(08/10/2007) Deforestation rates in the Brazilian Amazon for the previous year were the lowest on record, according to preliminary figures released by INPE, Brazil's National Institute of Space Research.


Experts: parks effectively protect rainforest in Peru

(08/09/2007) High-resolution satellite monitoring of the Amazon rainforest in Peru shows that land-use and conservation policies have had a measurable impact on deforestation rates. The research is published in the August 9, 2007, on-line edition of Science Express.


Wild parrots tracked by satellite for the first time

(08/06/2007) Researchers are now tracking wild parrots from space.


Australia funds first global deforestation monitoring system

(07/23/2007) At a High Level Meeting on Forests and Climate being held in Sydney, Australia today announced a series of measures to slow deforestation and fight global warming.


Melting glaciers and ice cap will drive sea level rise

(07/19/2007) Melting glaciers and ice caps will contribute more to global sea level rise this century than the melting of the Greenland and Antarctic ice sheets, reports a study published in the current issue of Science.


NASA images show expansion of logging in Congo rainforest

(07/15/2007) New high resolution images of logging roads in the Congo region of Africa are helping researchers understand the expansion of industrial logging in Central Africa.


Poverty and corruption reduce effectiveness of rainforest parks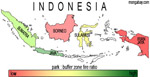 (07/09/2007) Poverty and corruption are linked to higher incidence of fire in tropical forest reserves, reports a new study published in the journal Ecological Applications. Poor, corrupt countries -- like Cambodia, Guatemala, Paraguay, and Sierra Leone -- have the least effective parks when measured in terms of the incidence of fire relative to surrounding "buffer" areas. The findings have significant implications for rainforest conservation efforts.


Rare and mysterious forests of Sulawesi 80% gone

(06/28/2007) Roughly 80 percent of Sulawesi's richest forests have been degraded and destroyed for agriculture, logging, and mining, reports a ground-breaking assessment of the Indonesian island's forests.


NASA monitors China's Three Gorges Dam

(06/13/2007) Some call it the eighth wonder of world. Others say it's the next Great Wall of China. Upon completion in 2009, the Three Gorges Dam along China's Yangtze River will be the world's largest hydroelectric power generator and one of the few man-made structures so enormous that it's actually visible to the naked eye from space. NASA's Landsat satellites have provided detailed, vivid views of the dam since construction began in 1994.


Google helps protect Amazon rainforest

(06/10/2007) Google is working with a indigenous tribe deep in the Amazon rainforest to protect their lands from illegal encroachment, reports the San Francisco Chronicle. For the first time, Google has confirmed details of the project. Working in conjuction with the Amazon conservation Team, Google Earth's technology is being used to monitor illegal mining and logging that threaten the lands of the Surui tribe in Brazil. Google is working with satellite providers to significantly improve image resolution in some of the most remote parts of the Amazon basin.


Amazon deforestation rates fall 89% for 2007

(06/08/2007) Deforestation rates fell by 89 percent in the Brazilian Amazon state of Mato Grosso for April 2007 compared with April 2006, according to the System Alert for Deforestation, an innovative deforestation monitoring program backed from Brazilian NGO Imazon. Mato Grosso, which has suffered some of the highest rates of deforestation of any state in the Brazilian Amazon, lost 2,268 square kilometers of forest between August 2006 and April 2007, a decline of 62 percent from the year earlier period when 5,968 square kilometers were cleared.


Can cattle ranchers and soy farmers save the Amazon?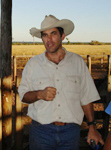 (06/06/2007) John Cain Carter, a Texas rancher who moved to the heart of the Amazon 11 years ago and founded what is perhaps the most innovative organization working in the Amazon, Alianca da Terra, believes the only way to save the Amazon is through the market. Carter says that by giving producers incentives to reduce their impact on the forest, the market can succeed where conservation efforts have failed. What is most remarkable about Alianca's system is that it has the potential to be applied to any commodity anywhere in the world. That means palm oil in Borneo could be certified just as easily as sugar cane in Brazil or sheep in New Zealand. By addressing the supply chain, tracing agricultural products back to the specific fields where they were produced, the system offers perhaps the best market-based solution to combating deforestation. Combining these approaches with large-scale land conservation and scientific research offers what may be the best hope for saving the Amazon.


Glaciers speed up due to global warming

(06/05/2007) Antarctic glaciers are moving faster due to global warming, reports the British Antarctic Survey.


Globalization could save the Amazon rainforest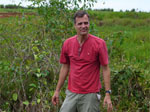 (06/03/2007) The Amazon basin is home to the world's largest rainforest, an ecosystem that supports perhaps 30 percent of the world's terrestrial species, stores vast amounts of carbon, and exerts considerable influence on global weather patterns and climate. Few would dispute that it is one of the planet's most important landscapes. Despite its scale, the Amazon is also one of the fastest changing ecosystems, largely as a result of human activities, including deforestation, forest fires, and, increasingly, climate change. Few people understand these impacts better than Dr. Daniel Nepstad, one of the world's foremost experts on the Amazon rainforest. Now head of the Woods Hole Research Center's Amazon program in Belem, Brazil, Nepstad has spent more than 23 years in the Amazon, studying subjects ranging from forest fires and forest management policy to sustainable development. Nepstad says the Amazon is presently at a point unlike any he's ever seen, one where there are unparalleled risks and opportunities. While he's hopeful about some of the trends, he knows the Amazon faces difficult and immediate challenges.


California-sized area of snow melt spotted in Antarctica

(05/16/2007) NASA has found clear evidence of a California-sized area of snow melting in west Antarctica in January 2005 in response to warm temperatures.


Military technology uses satellite signals to catch poachers

(05/02/2007) Wild animals sought by poachers for their skins, meat and bones have a new means of protection developed by a visiting scholar at the SUNY College of Environmental Science and Forestry (ESF). Steve Gulick, an electrical engineer who calls himself a biologist wannabe, has designed a metal detector specifically to pick up the presence of poachers' weapons and send an electronic signal, via satellite, to law enforcement authorities.



Page 1 | Page 2 | Page 3 | Page 4 | Page 5