News articles on Photos

---
Mongabay.com news articles on Photos in blog format. Updated regularly.








Photos: program devoted to world's strangest, most neglected animals celebrates five years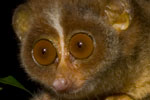 (01/16/2012) What do Attenborough's echidna, the bumblebee bat, and the purple frog have in common? They have all received conservation attention from a unique program by the Zoological Society of London (ZSL) called EDGE. Five years old this week, the program focuses on the world's most unique and imperiled animal species or, as they put it, the most Evolutionarily Distinct and Globally Endangered (EDGE) species. In the past five years the program has achieved notable successes from confirming the existence of long unseen species (Attenborough's echidna) to taking the first photos and video of a number of targeted animals (the purple frog).
Cute animal picture of the day: pygmy killer whale saved after stranding

(01/12/2012) On Tuesday a female pygmy killer whale (Feresa attenuata) was found stranded on Tanjung Aru beach, in the Malaysian state of Sabah on the island of Borneo. After being moved to a swimming enclosure at a local resort for recuperation, the whale was released back into the wild with aid from the Sabah Wildlife Department, marine biologist Lindsay Porter, the local NGO LEAP, and WWF Malaysia.
Borneo's most elusive feline photographed at unexpected elevation

(01/11/2012) Although known to science for 138 years, almost nothing is actually known about the bay cat (Pardofelis badia). This reddish-brown wild feline, endemic to the island of Borneo, has entirely eluded researchers and conservationists. The first photo of the cat wasn't taken until 1998 and the first video was shot just two years ago, but basic information remains lacking. A new camera trap study, however, in the Kelabit Highlands of the Malaysian state of Sarawak has added to the little knowledge we have by photographing a bay cat at never before seen altitudes.
Animal picture of the day: the pitch-black robin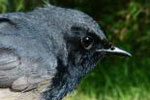 (01/09/2012) A species of robin with a black head, aptly named the blackthroat (Luscinia obscura), had rarely been seen since its first description in 1891 until last year when researchers located some of the species' breeding grounds. They documented fourteen singing males in the Quingling mountains of its native China.
Our top nature pictures of 2011
(12/27/2011) My reporting for mongabay.com took me to six continents in 2011 and I managed to take photos on many of the trips. Overall I added more than 10,000 new photos to the travel section of the site. Below are some of my favorite pictures from 2011. Thank you for reading mongabay.com in 2011 and I wish you the best for 2012!
Animal picture of the day: rare photo of mother jaguar and cubs
(12/21/2011) A mother jaguar, named Kaaiyana by scientists, and cubs were recently photographed in Kaa Iya National Park in Bolivia. "Kaaiyana's tolerance of observers is a testimony to the absence of hunters in this area, and her success as a mother means there is plenty of food for her and her cubs to eat," said John Polisar, coordinator of Wildlife Conservation Society's (WCS) Jaguar Conservation Program. WCS released the photos.
Camera trap videos capture stunning wildlife in Thailand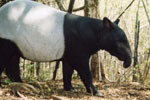 (12/20/2011) A year's worth of camera trap videos (see photos and video below) are proving that scaled-up anti-poaching efforts in Thailand's Western Forest Complex are working. Capturing rare glimpses of endangered, elusive animals—from clouded leopards (Neofelis nebulosa) to banteng (Bos javanicus), a rarely seen wild cattle—the videos highlight the conservation importance of the Western Forest Complex, which includes 17 protected areas in Thailand and Myanmar.
Photo essay: Lion-tailed macaques of India's Western Ghats rainforest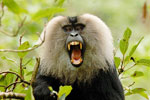 (12/19/2011) The rainforests of Western Ghats are home to some of the most wonderful creatures which are found only in these forests and no where else on the earth. The Lion-tailed Macaque Macaca silenus is the symbol of this endemic diversity of this biodiversity hotspot. Less than 2500 of these survive today making it one of the most endangered primates in the world. In 2008, a healthy population of 32 groups of these macaques were found in central Karnataka giving hope to the future of these Knights of the Western Ghats
New species of frog sings like a bird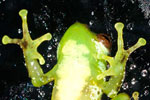 (12/12/2011) If you're trudging through the high-altitude rainforests of northern Vietnam and you hear bird song, you might want to check the trees for frogs. Yes, that's right: frogs. A new species of tree frog has been discovered in Vietnam that researchers say has a uniquely complex call that makes it sound more like a bird than a typical frog. Discovered in Pu Hoat Proposed Nature Reserve, the new species, dubbed Quang's tree frog (Gracixalus quangi), dwells in the forests at an altitude 600-1,300 meters (nearly 2,000-4,265 feet).
Picture of penguins is a prize-winner

(12/10/2011) Carl Safina's picture of King Penguins coming ashore at Salisbury Plain on South Georgia Island was the first winner of mongabay.com's series of photo contests hosted on Facebook.
On the edge of extinction, giant ibis discovered in new region of Cambodia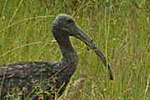 (12/06/2011) The world's largest ibis, and one of the world's most endangered birds, has received some good news. A giant ibis (Thaumatibis giganteawas) has been photographed in the Kampong Som Valley in Koh Kong Province in Cambodia, the first record from this province in nearly a hundred years. Adults can grow to reach nearly 3.5 feet (106 centimeters) long.
Photos: biologists surprised by world's biggest leopard in Afghanistan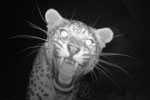 (12/05/2011) When biologists with the Wildlife Conservation Society (WCS) reviewed recent photos from camera traps in the Hindu Kush region of Afghanistan they were shocked to find a snarling image of the world's largest leopard: the Persian leopard (Panthera pardus saxicolor). Listed as Endangered by the IUCN Red List, the subspecies was thought long-vanished from the Hindu Kush. Photos from the camera traps—automated cameras that use an infrared trigger to catch wildlife—also showed lynx (Lynx lynx), wild cat (Felis silvestris), Eurasian wolf (Canis lupus lupus), red fox (Vulpes vulpes), and stone marten (Martes foina).
Photos: two dozen new beetles discovered in Papua New Guinea hotspot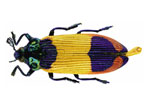 (11/23/2011) Over the past two decades, at least 24 new beetles species have been discovered in a remote mountainous rainforest region of Papua New Guinea by Swedish entomologists Ulf Nylander. Described in the new book Biodiversity, Biogeography and Nature Conservation in Wallacea and New Guinea, the new beetles found in the Aseki Province are all ecologically linked to rotting wood.
Animal picture of the day: tracking the world's smallest elephant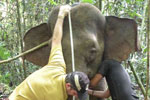 (11/15/2011) Researchers have fitted three Bornean elephants with satellite collars to track them across the Lower Kinabatangan Wildlife Sanctuary, in the Malaysian state of Sabah, Borneo. The effort means currently five elephants are being tracked. The tracking is a part of a collaborative effort by the Sabah Wildlife Department (SWD), the NGO HUTAN, and the Danau Girang Field Centre (DGFC).
Picture of the day: cookies and cream moth?

(11/01/2011) This moth species from Panama has not yet been identified by mongabay.com. Moths makes up the bulk of the insect-family Lepidoptera, which also includes butterflies.
Unsung heroes: the life of a wildlife ranger in the Congo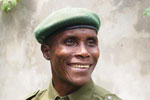 (11/01/2011) The effort to save wildlife from destruction worldwide has many heroes. Some receive accolades for their work, but others live in obscurity, doing good—sometimes even dangerous—work everyday with little recognition. These are not scientists or big-name conservationists, but wildlife rangers, NGO staff members, and low level officials. One of these conservation heroes is Bunda Bokitsi, chief guard of the Etate Patrol Post for Salonga National Park in the Democratic Republic of the Congo. In a nation known for a prolonged civil war, desperate poverty, and corruption—as well as an astounding natural heritage—Bunda Bokitsi works everyday to secure Salonga National Park from poachers, bushmeat hunters, and trappers.
Picture of the day: world's scariest species

(10/31/2011) What's the world's scariest species? Runner-up would likely be the mosquito species that transmit malaria. Nearly a million people die from malaria annually, making up some 2.23 percent of deaths worldwide.
Photos: Halloween creepy-crawlies of the natural world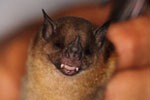 (10/31/2011) Everyone loves the beautiful animals, the playful orangutans, the rolly-polly pandas, the regal tigers, the wise elephants, the awe-inspiring whales, the silly penguins—and it shows. Aside from gracing calendars and starring in movies, these species receive millions in conservation funds and have no shortage of researchers devoted to them. But what about the ugly, crawly, shiver-inducing species? What about those animals that crawl instead of bound,that are slimy instead of furry, that inhabit the deep dark place of the world.
Photos: camera traps reveal oil's unexpected impact on Arctic birds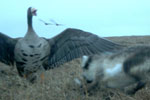 (10/26/2011) A study in the Alaskan Arctic, employing camera traps, has shown that oil drilling impacts migrating birds in an unexpected way. The study found that populations of opportunistic predators, which prey on bird eggs or fledglings, may increase in oil drilling areas, putting extra pressure on nesting birds. Predators like fox, ravens, and gulls take advantage of industry infrastructure for nests and dens, moving into areas that may otherwise be inhospitable. In addition, garbage provides sustenance for larger populations of the opportunists.
Cute animal picture of the day: endangered baby Asiatic lions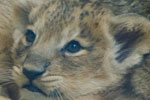 (10/20/2011) In the wild, the Asiatic lion subspecies (Panthera leo persica) survives only in India's Gir Forest National Park in the north-western state of Gujarat with a population of just over 400 individuals. Around 90 survive in zoos. The subspecies is listed as Endangered by the IUCN Red List. Given its tiny population and the fact that it survives in a single location, the Asiatic lion continues to be threatened by in-breeding, disease, fires, and illegal mining. As well, conflict with villagers continues, and lions have been poached and poisoned in the past.
Photos: pelicans covered in BP oil wins top wildlife photo prize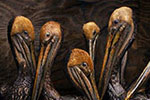 (10/20/2011) Fittingly, the winner of the 2011 Veolia Wildlife Environment Photographer of the Year award captured the shock of last year's BP Deepwater Horizon spill in the US with a single image of oiled pelicans huddled in a rescue center. Spanish photographer, Daniel Beltra, was documenting the environmental impacts of the spill with Greenpeace, for whom he has worked for 15 years. The photo was taken in a temporary rescue facility in Fort Jackson, Louisiana.
Picture of the day: jaguars take self-portraits in Bolivia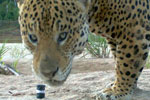 (10/19/2011) A study by the Wildlife Conservation Society (WCS) in Bolivia's Madidi National Park has produced 19 jaguar 'self-portraits' via digital cameras that snap photos of wildlife when they cross an infrared beam, known as camera traps. This is the most jaguars catalogued by camera trap study yet in Bolivia. "The preliminary results of this new expedition underscore the importance of the Madidi landscape to jaguars and other charismatic rainforest species," said Dr. Julie Kunen, Director of WCS's Latin America and Caribbean Program, in a press release.
Illuminating Africa's most obscure cat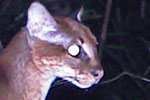 (10/18/2011) Africa is known as the continent of big cats: cheetahs, leopards, and of course, the king of them all, lions. Even servals and caracals are relatively well-known by the public. Still, few people realize that Africa is home to a number of smaller wild cat species, such as the black-footed cat and the African wild cat. But the least known feline on the continent is actually a cryptic predator that inhabits the rainforest of the Congo and West Africa. "The African golden cat has dominated my thoughts and energy for over a year and a half now. When carrying out a study like this one, you find yourself trying to think like your study animal," Laila Bahaa-el-din, University of Kwazulu Natal graduate student, told mongabay.com in a recent interview.
Little-known animal picture of the day: Thomas's leaf monkey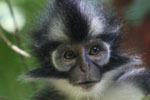 (10/06/2011) With unmistakable coloring and a philosophical, at times almost melancholy expression, the Thomas's leaf monkey (Presbytis thomasi) is one of Asia's little-known primates. Thomas's leaf monkey (also known as Thomas's langur) is found only on the island of Sumatra in Indonesia. The monkeys roam forests eating fruits and flowers, and sometimes snails, mushrooms, and coconut stalks.
Animal picture of the day: hyacinth macaw

(10/05/2011) Hyacinth macaws (Anodorhynchus hyacinthinus) are the world's largest macaw. They are found in Brazil, Bolivia, and Paraguay and prefer swamps and wooded savannah over rainforest habitats.
Cute animal picture of the day: ginger-haired baby monkey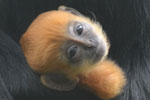 (09/29/2011) One of the world's most endangered primates recently gave birth to an orange-haired baby at the Zoological Society of London (ZSL) Zoo in London. It's the mother Francois langur (Trachypithecus francoisi)'s first birth. The fire-orange hair of the baby is typical of this species and will only last around six months.
Animal picture of the day: the jaws of the piranha

(08/10/2011) Few fish have a more fearsome reputation than the piranha. Yet recent research has shown that attacks on humans are rare and often accidental, though they do eat their prey alive and are capable of stripping a cattle carcass bare (though it doesn't happen instantaneously).
Balancing agriculture and rainforest biodiversity in India's Western Ghats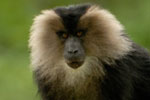 (08/08/2011) When one thinks of the world's great rainforests the Amazon, Congo, and the tropical forests of Southeast Asia and Indonesia usually come to mind. Rarely does India—home to over a billion people—make an appearance. But along India's west coast lies one of the world's great tropical forests and biodiversity hotspots, the Western Ghats. However it's not just the explosion of life one finds in the Western Ghats that make it notable, it's also the forest's long—and ongoing—relationship to humans, lots of humans. Unlike many of the world's other great rainforests, the Western Ghats has long been a region of agriculture. This is one place in the world where elephants walk through tea fields and tigers migrate across betel nut plantations. While wildlife has survived alongside humans for centuries in the region, continuing development, population growth and intensification of agriculture are putting increased pressure on this always-precarious relationship. In a recent paper in Biological Conservation, four researchers examine how well agricultural landscapes support biodiversity conservation in one of India's most species-rich landscapes.
How fruit defines Borneo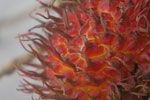 (08/01/2011) Among conservationists and biologists, the mega-island of Borneo is a sort of Mecca. Its rich plant and animal biodiversity, as well as high degree of endemism (unique species found nowhere else) make it a naturalist's dream. There is one aspect of this biological richness which applies to the wellbeing and happiness of all of Borneo's residents, human and animal, in a very direct way: fruit. From wild forest berries to juicy cultivated rambutans, fruit permeates the ecology, landscape and culture of Borneo. On the island there are over 70 wild fruit trees species and around 45 cultivated species that are consumed by people (1). Science has certainly not yet documented all the fruit consumed by wildlife, but we know that the total must be over 500 species.





Photo: six new mini-moths discovered

(07/19/2011) Researchers have discovered six new species of moth from Central America, according to a new paper in Zoo Keys. The moths belong to the primitive Yponomeutidae family, which are commonly known as ermine moths, since some of the species' markings resemble the coat of the ermine.




Page 1 | Page 2 | Page 3 | Page 4 | Page 5 | Page 6 | Page 7 | Page 8 | Page 9