News articles on Panama

---
Mongabay.com news articles on Panama in blog format. Updated regularly.





Researchers discover "artistic" moth in Panama

(07/29/2008) Researchers have discovered a new species of Bagworm Moth that wraps its eggs individually in "beautiful cases" fashioned from its golden abdominal hairs, according to a new paper published in the Annals of the Entomology Society of America. The behavior is unique among insects.


Climate change will increase the erosion of coral reefs

(07/28/2008) Coral reefs are particularly susceptible to climate change. Warming waters have been shown to bleach coral, killing off symbiotic algae that provide them with sustenance, and often leading to the death of the coral itself. Much attention has been placed on bleaching coral, but now scientists have discovered an additional danger to coral reefs in a warming world: erosion.


14 countries win REDD funding to protect tropical forests

(07/24/2008) Fourteen countries have been selected by the World Bank to receive funds for conserving their tropical forests under an innovative carbon finance scheme.


Frog chooses whether to lay eggs on land or in water

(05/19/2008) Researchers in Panama have discovered a frog that can choose whether it lays its eggs on land or in water. It is the first time such "reproductive flexibility" has been found in a vertebrate.


New research shows wild sloths sleep less than captive sloths

(05/14/2008) Wild sloths are considerably more active than their counterparts in captivity, reports the first electrophysiological study of sleep in a wild animal.


Cache of rare and undiscovered species under threat in Panama

(04/21/2008) Rare and previously undiscovered species are under threat by loggers, ranchers, and poachers in an isolated patch of cloud forest in Panama, a prominent group of scientists has warned. The group, the Association for Tropical Biology and conservation (ATBC), has called on the Panamanian government to immediately provide protected-area status to the region.


Bats protect crops from insects

(04/04/2008) Bats eat as many insects at night as birds do during the day, according to research published in the journal Science.


Bats eat as many insects as birds

(04/03/2008) Bats eat as many insects at night as birds do during the day, according to research published in the journal Science.


The Panamanian golden frog declared extinct by BBC Natural History crew

(02/04/2008) A national symbol of Panama has been declared extinct by BBC filmmakers. The crew was in Panama to film the unique frog for David Attenborough's most recent series on reptiles and amphibians, entitled Life in Cold Blood. The filmmakers achieved their objective and captured the golden frog on film, including rarely seen behvaior.


Scientists discover four species of anole lizards in 24 hours in Panama

(01/13/2008) In January of 2006 a biological expedition uncovered four anole species in a single day. Dr. Gunther Koehler, a member of the expedition, described the discoveries as "a once in a life time experience; during expeditions before, we had found new species, one at a time--but four species within 24 hours, that was incredible!"


Two new species of salamander discovered in Panama

(09/09/2007) Scientists have discovered two new species of salamanders from the mountainous Costa Rica-Panama border region. The findings, published by David B. Wake, Jay M. Savage, and James Hanken in the journal Copeia, push the number of salamanders known in the region to 24, making it a hotspot in terms of salamander biodiversity.


Groups demand AES withdraw from Panama dam projects

(08/23/2007) More than 50 green groups demanded Thursday that AES Corporation withdraw from three controversial hydroelectric projects that are threatening La Amistad International Park in Panama. Environmentalists say the dams threaten to displace wildlife and local communities -- the Naso and Ngobe people -- in the World Heritage site.


Low deforestation countries to see least benefit from carbon trading

(08/13/2007) Countries that have done the best job protecting their tropical forests stand to gain the least from proposed incentives to combat global warming through carbon offsets, warns a new study published in Tuesday in the journal Public Library of Science Biology (PLoS). The authors say that "high forest cover with low rates of deforestation" (HFLD) nations "could become the most vulnerable targets for deforestation if the Kyoto Protocol and upcoming negotiations on carbon trading fail to include intact standing forest."


Set back for AES on rainforest dam project in Panama

(06/26/2007) The World Heritage Committee moved to assess threats to La Amistad International Park, a World Heritage site shared by Panama and Costa Rica, from AES Corporation's planned construction of four hydroelectric dams on the park's border. The decision was based on an April 2007 petition from the Center for Biological Diversity and more than 30 other organizations in the United States, Panama, and Costa Rica.


Can cattle ranchers and soy farmers save the Amazon?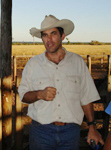 (06/06/2007) John Cain Carter, a Texas rancher who moved to the heart of the Amazon 11 years ago and founded what is perhaps the most innovative organization working in the Amazon, Alianca da Terra, believes the only way to save the Amazon is through the market. Carter says that by giving producers incentives to reduce their impact on the forest, the market can succeed where conservation efforts have failed. What is most remarkable about Alianca's system is that it has the potential to be applied to any commodity anywhere in the world. That means palm oil in Borneo could be certified just as easily as sugar cane in Brazil or sheep in New Zealand. By addressing the supply chain, tracing agricultural products back to the specific fields where they were produced, the system offers perhaps the best market-based solution to combating deforestation. Combining these approaches with large-scale land conservation and scientific research offers what may be the best hope for saving the Amazon.


Rural population decline may not slow deforestation


(06/03/2007) A new paper shoots down the theory that increasing urbanization will lead to increasing forest cover in the tropics. Writing in the July issue of the journal Biotropica, Sean Sloan, a researcher from McGill University in Montreal, argues that anticipated declines in rural populations via urbanization will not necessarily result in reforestation--a scenario put forth in a controversial paper published in Biotropica last year by Joseph Wright of the Smithsonian Tropical Research Institute in Panama and Helene Muller-Landau of the University of Minnesota. Wright and Muller-Landau said that deforestation rates will likely slow, then reverse, due to declining rural population density in developing countries.


Globalization could save the Amazon rainforest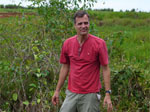 (06/03/2007) The Amazon basin is home to the world's largest rainforest, an ecosystem that supports perhaps 30 percent of the world's terrestrial species, stores vast amounts of carbon, and exerts considerable influence on global weather patterns and climate. Few would dispute that it is one of the planet's most important landscapes. Despite its scale, the Amazon is also one of the fastest changing ecosystems, largely as a result of human activities, including deforestation, forest fires, and, increasingly, climate change. Few people understand these impacts better than Dr. Daniel Nepstad, one of the world's foremost experts on the Amazon rainforest. Now head of the Woods Hole Research Center's Amazon program in Belem, Brazil, Nepstad has spent more than 23 years in the Amazon, studying subjects ranging from forest fires and forest management policy to sustainable development. Nepstad says the Amazon is presently at a point unlike any he's ever seen, one where there are unparalleled risks and opportunities. While he's hopeful about some of the trends, he knows the Amazon faces difficult and immediate challenges.


Colorful marine creatures discovered off Panama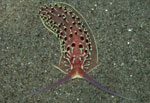 (05/31/2007) Researchers have discovered five new species of sea slug off the coast of Central America. Surveys have found that the region, known as the Tropical Eastern Pacific, is characterized by large numbers of endemic and previously unknown species. The Smithsonian Tropical Research Institute (STRI) reports that recent expeditions have turned up 5 new species of nudibranchs--a group of mollusks lacking outer shells. The discoveries are important because nudibranchs have developed "sophisticated chemical defense mechanisms" which can help with the development of novel medicinal products.


Climate change could dramatically change forests in Central America


(05/02/2007) Drought could cause dramatic shifts in rainforest plant communities in Central America, reports a new study published in the May 3 issue of Nature. The research shows that many rainforest plants are ill-equipped to deal with extended dry periods, putting them at elevated risk from changes in climate projected for the region.


AES Corp seeks to flood rainforest World Heritage site


(04/23/2007) American power company AES Corporation seeks to flood sections of Panama's La Amistad World Heritage site, alleges a coalition of more than 30 environmental groups that today filed a petition against the electric utility.


Higher temperatures slow tropical tree growth


(04/23/2007) Climate change may be reducing growth rates of tropical rainforest trees, a development that could have widespread impacts for biodiversity, forest productivity, and even climate change itself, according to new research published in Ecology Letters.


Caribbean coral reefs result of mass extinction, rise of isthmus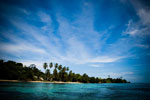 (03/12/2007) Extinctions that resulted from the formation of the Panamanian isthmus were delayed two million years according to a new study by researchers at the Smithsonian Tropical Research Institute, Scripps Institution of Oceanography and London's Natural History Museum. The findings may have implications for global species extinction and evolution.


Billion Tree Campaign gets pledges totaling 562M trees since January

(03/06/2007) The UN Environment Programme (UNEP) announced that its 'Billion Tree Campaign' has so-far achieved commitments to plant 562,769,095 trees, following a pledge of 250 million trees by the Ministry of Environment and Natural Resources of Mexico.


Panama Canal port projects threaten mangroves


(03/06/2007) Port development and land speculation in Panama is turning some of the Caribbean's most productive mangrove forests into landfill. The landfill would be used for container storage near the city of Colon, at the mouth of the Panama Canal. But local scientists say the transformation could have unintended environmental consequences.


Indigenous populations deforested New World rainforests before European contact


(02/28/2007) Indigenous populations used fire to clear large areas of tropical forest well before the arrival of Europeans reports a new study published in Annals of the Missouri Botanical Garden. The research has important implications for understanding the impact of present forest development on biodiversity and forest regeneration in the tropics.


HSBC gives Smithsonian $8 million to study global warming impact on forests

(02/12/2007) HSBC, one of the world's largest banks, today announced an $8 million grant to the Smithsonian Tropical Research Institute (STRI) to fund the world's largest field experiment on the long-term effects of climate change on forest dynamics. The grant will enable STRI to expand the research capability of its Center for Tropical Forest Science, a network of tropical forest research stations across 20 sites in 17 countries.


Bioprospecting links health and biodiversity conservation in Panama

(12/07/2006) The difference between bioprospecting and biopiracy as at times controversial, but a program run by the Smithsonian Tropical Research Institute (STRI) suggests that training professionals in high-biodiversity regions can help bring benefits to local populations while promoting biodiversity conservation. The program, called the International Cooperative Biodiversity Groups (ICBG), is profiled in the December issue of the journal BioScience.


Avoided deforestation could send $38 billion to third world under global warming pact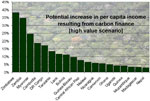 (11/01/2006) Avoided deforestation will be a hot point of discussion at next week's climate meeting in Nairobi, Kenya. Already a coalition of 15 rainforest nations have proposed a plan whereby industrialized nations would pay them to protect their forests to offset greenhouse gas emissions. Meanwhile, last month Brazil -- which has the world's largest extent of tropical rainforests and the world's highest rate of forest loss -- said it promote a similar initiative at the talks. At stake: potentially billions of dollars for developing countries. When trees are cut greenhouse gases are released into the atmosphere -- roughly 20 percent of annual emissions of such heat-trapping gases result from deforestation and forest degradation. Avoided deforestation is the concept where countries are paid to prevent deforestation that would otherwise occur. Policymakers and environmentalists alike find the idea attractive because it could help fight climate change at a low cost while improving living standards for some of the world's poorest people and preserving biodiversity and other ecosystem services. A number of prominent conservation biologists and development agencies including the World Bank and the U.N. have already endorsed the idea.


Carbon trading could save rainforests

(04/12/2006) A new rainforest conservation initiative by developing nations offers great promise to help slow tropical deforestation rates says William Laurance, a leading rainforest biologist from the Smithsonian Tropical Research Institute in Panama, in an article appearing Friday in New Scientist.


Does tropical biodiversity increase during global warming?

(03/30/2006) Forest fragmentation may cause biodiversity loss lasting millions of years according to a new study published in the March 31, 2006 issue of the journal Science. Using cores drilled through 5 kilometers of rock in eastern Colombia and western Venezuela, Carlos Jaramillo of the Smithsonian Tropical Research Institute (STRI) in Panama and a team of researchers derived a fossil pollen record for a 72 million-year period with samples ranging from 10 to 82 million years ago.


Fungus may be devastating amphibian populations worldwide

(02/06/2006) Her most likely culprit is a hugely infectious disease caused by a fungus. In just four months -- from mid-September of 2004 to mid-January of 2005 -- Lips and her colleagues saw more than half the amphibian population of El Cope, Panama, sicken and die from this disease.


Male lizard color may result from female preference

(12/27/2005) The anole lizard's dewlap -- a flap of skin that hangs beneath its chin -- plays an important role in species recognition, territorial defense and courtship. According to the Smithsonian Tropical Research Institute (STRI), a leading research institution in Panama, male slender anoles (Norops limifrons) exhibit variation in dewlap color ranging from orange dewlaps in Gamboa populations, white with an orange spot on Barro Colorado Island, and mixed populations in Soberania.


Rainforests worth $1.1 trillion for carbon alone in Coalition nations

(11/29/2005) If a coalition of developing countries has its way, there could soon be new forests sprouting up in tropical regions. The group of ten countries, led by Papua New Guinea, has proposed that wealthy countries pay them to preserve their rainforests. The Coalition for Rainforest Nations argues that all countries should pay for the benefits -- from carbon sequestration to watershed protection -- that tropical rainforests provide.


Bioprospecting in Panama

(04/20/2005) Coiba, an island 12 miles off the coast of Panama and once a notorious penal colony, may be hiding big secrets in its reefs, among them, a possible cure for malaria.



Page 1 | Page 2