News articles on Paleontology

---
Mongabay.com news articles on Paleontology in blog format. Updated regularly.






Ancient gliding reptile discovered

(06/12/2007) A remarkable new long-necked, gliding reptile discovered in 220 million-year old sediments of eastern north America is described in the latest issue of the Journal of Vertebrate Paleontology (Vol. 27, No. 2), scientists report. Mecistotrachelos apeoros (meaning "soaring, long-necked") is based on two fossils excavated at the Solite Quarry that straddles the Virginia-North Carolina state line.
Tyrannosaurus rex was slow

(06/07/2007) Tyrannosaurus rex was a slow, lumbering beast according to new research published in the Journal of Theoretical Biology.
Dinosaurs could swim

(05/24/2007) Researchers found evidence that terrestrial dinosaurs were capable of swimming. Examining fossilized footmarks left on the floor of an ancient lake bed in northern Spain 125 million years ago, scientists led by Loic Costeur of the Universite de Nantes in France said the tracks were left by a swimming meat-eating dinosaur.
First amphibians were biters not suckers

(04/16/2007) Prehistoric aquatic amphibians developed the ability to feed on land well before they became terrestrial reports a new study in the early online edition of Proceedings of the National Academy of Sciences (PNAS).
Maize cultivated at least 7,300 years ago in Mexico

(04/09/2007) Anthropologists have found the earliest known evidence of maize cultivation in Mexico. The discovery, published in the April 9-13 edition of the journal Proceedings of the National Academy of Science, pushes back farming of the ancestor of modern corn to about 7,300 years ago.
Dinosaur extinction didn't produce current mammal evolution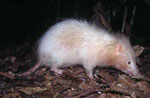 (03/28/2007) A new Nature study argues that the demise of dinosaurs did not fuel the rise of mammals. Devising a new tree of life for 4,500 species of mammals using molecular evolutionary trees, an international team of researchers challenges the prevailing hypothesis that a mass extinction of dinosaurs 65 million years ago played a major role in the diversification of mammals.
Evolutionary precursor to snake discovered

(03/23/2007) A University of Alberta paleontologist has helped discover the existence of a 95 million-year-old snakelike marine animal, a finding that provides not only the earliest example of limbloss in lizards but the first example of limbloss in an aquatic lizard.
Newly discovered burrowing dinosaur loved its offspring

(03/20/2007) The first known burrowing dinosaur has been discovered in southwest Montana, according to a paleontologist at Montana State University. The finding, published in the journal Proceedings of The Royal Society B: Biological Sciences, may shed light on parental care among dinosaurs as well as fuel controversy over what caused the extinction of the prehistoric beasts.
Prehistoric lizard glided through air using ribs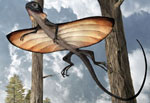 (03/19/2007) An extinct species of lizard used a wing-like membrane supported by the animal's elongated ribs for gliding through the air according to Chinese researchers. The 6-inch (15.5 cm) lizard, found in the Liaoning Province of northeastern China, lived during the Early Cretaceous period. The specimen is described in the early online edition of the journal Proceedings of the National Academy of Sciences (PNAS).
Caribbean coral reefs result of mass extinction, rise of isthmus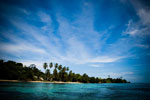 (03/12/2007) Extinctions that resulted from the formation of the Panamanian isthmus were delayed two million years according to a new study by researchers at the Smithsonian Tropical Research Institute, Scripps Institution of Oceanography and London's Natural History Museum. The findings may have implications for global species extinction and evolution.
Indigenous populations deforested New World rainforests before European contact
(02/28/2007) Indigenous populations used fire to clear large areas of tropical forest well before the arrival of Europeans reports a new study published in Annals of the Missouri Botanical Garden. The research has important implications for understanding the impact of present forest development on biodiversity and forest regeneration in the tropics.





Giant carnivorous marsupial beasts not killed by climate change in Australia

(01/25/2007) Humans, not climate change, caused the extinction of megafauna in Australia contends a team of Australian researchers writing in the January issue of the journal Science. Australia lost 90 percent of its largest animals, including a saber-toothed kangaroo, a marsupial lion and giant goannas, within 20,000 years of man's arrival some 50,000 years ago. Scientists have long debated whether the demise of Australian megafauna was due to human arrival, climate change, or a combination of the two factors. The new research found that the climate in southeastern Australia was little different 500,000 years ago, suggesting that climate change was not the ultimate cause of extinction.







Early dinosaur flew like a biplane

(01/23/2007) Reanalysis of fossil remains suggests that the earliest flying dinosaurs used two sets of wings like a biplane. The research, published by Sankar Chatterjee of Texas Tech University and R. Jack Templin in this week&aposs online issue of Proceedings of the National Academy of Sciences, argues that Microraptor gui, one of the earliest known gliders dating to 125 million years ago, utilized four wings to glide between treetops.





Carnivorous 'terror bird' stalked America before isthmus formation

(01/23/2007) A prehistoric 7-foot-tall flightless 'terror bird,' arrived in North America from South America well before the formation of the Panamanian land bridge according to a study led by University of Florida (UF) researchers. The results will be published January 23 in the online version of the journal Geology.







Giant dinosaur discovered in Spain - largest ever recorded in Europe

(12/21/2006) Researchers working in Teruel, Spain have discovered the fossil remains of a giant dinosaur that weighed between 40 to 48 tons and was 30-37 meters (100-120 feet) long -- the length of an NBA basketball court. It is the largest dinosaur ever found in Europe -- most giant dinosaurs have been found previously in the New World and Africa.





How did giant dinosaurs digest their food without molars?

(12/20/2006) The giant dinosaurs had a problem. Many of them had narrow, pointed teeth, which were more suited to tearing off plants rather than chewing them. But how did they then grind their food? Until recently many researchers have assumed that they were helped by stones which they swallowed. In their muscular stomach these then acted as a kind of 'gastric mill'. But this assumption does not seem to be correct, as scientists at the universities of Bonn and Tubingen have now proved. Their research findings can be found in the current issue of the journal Proceedings of the Royal Society.





Mammals may have flown before birds

(12/14/2006) Mammals may have flown before birds according to a fossil discovery by scientists working in China. Working in the Inner Mongolian region of China, a team of Chinese and American scientists discovered a 125 million year fossil that provides evidence that mammals were capable of gliding flight some 70 million years earlier than previously believed.





'Loch Ness Monster' found in Antarctica

(12/11/2006) Paleontologists found a well-preserved fossil skeleton of a juvenile plesiosaur in Antarctica. Cryptozoologists say the plesiosaur resembles the legendary Loch Ness Monster, despite scientific evidence indicating that the marine reptile has been extinct for millions of years.







Neanderthal life was miserable suggests new evidence

(12/04/2006) New analysis of 43,000-year-old samples of Neanderthal remains from Spain's Iberian Peninsula suggest our relatives eked out a meager existence, possibly supplemented by cannibalism. The results are published in the early online edition of the Proceedings of the National Academy of Sciences (PNAS) for the week of December 4-8, 2006.





Ancient fish had bite like Tyrannosaurus rex

(11/29/2006) 400-million years ago a 33-foot long, 4-ton fish terrorized the oceans with jaws that rivaled those of Tyrannosaurus rex, according to research published in the Royal Society journal Biology Letters on November 29.





Ancient sea monster found in Montana

(11/04/2006) A fossil-hunting trip to celebrate a son's homecoming resulted in the recent discovery of an ancient sea monster in central Montana.





Ancient climate record preserved in prehistoric plants

(11/02/2006) About 350 million years ago, at the boundary of the Devonian and Carboniferous ages, the climate changed. There was no one around to record it, but there are records nonetheless in the rocks deposited by glaciers and in tissues preserved in fossils of ancient life.





Researchers find the missing link for elephant evolution

(11/02/2006) A pig-sized, tusked creature that roamed the earth some 27 million years ago represents a missing link between the oldest known relatives of elephants and the more recent group from which modern elephants descended.







Recovery of biodiversity after dinosaurs was chaotic

(08/24/2006) The recovery of biodiversity after the end-Cretaceous mass extinction was much more chaotic than previously thought, according to paleontologists. New fossil evidence shows that at certain times and places, plant and insect diversity were severely out of balance, not linked as they are today. The extinction took place 65.5 million years ago. Labeled the K-T extinction, it marks the beginning of the Cenozoic Era and the Paleocene Epoch.





Ancient blue whale was a shark killer

(08/22/2006) A 25-million-year-old whale fossil from southeastern Australia suggests a curious origin for baleen whales. Presented at the at the Melbourne Museum last week, the fossil shows that earliest baleen whales were small, toothed and highly predatory creatures with enormous eyes -- virtually the opposite of the baleen whales we know today. These, like the blue whale and the humpback are gentle, toothless giants that feed on krill and other tiny organism.







Picture of ancient missing link between fish and land animals

(04/05/2006) Paleontologists have discovered fossils of a species that provides the missing evolutionary link between fish and the first animals that walked out of water onto land about 375 million years ago. The newly found species, Tiktaalik roseae, has a skull, a neck, ribs and parts of the limbs that are similar to four-legged animals known as tetrapods, as well as fish-like features such as a primitive jaw, fins and scales. These fossils, found on Ellesmere Island in Arctic Canada, are the most compelling examples yet of an animal that was at the cusp of the fish-tetrapod transition. The new find is described in two related research articles highlighted on the cover of the April 6, 2006, issue of Nature.





Pictures of newly discovered T-Rex dinosaur

(02/08/2006) A team of scientists led by James M. Clark, Ronald B. Weintraub Associate Professor of Biology at The George Washington University, and Xu Xing of the Institute of Vertebrate Paleontology and Paleoanthropology in Beijing, have discovered a new genus and species of dinosaur that is the oldest known and most primitive tyrannosauroid.








Page 1 | Page 2