News articles on Nigeria

---
Mongabay.com news articles on Nigeria in blog format. Updated regularly.





World's rarest gorilla gets a new protected home


(10/28/2014) The Cross River Gorilla, the rarest and most threatened of gorilla subspecies, has reason to cheer. Last month, on September 29, the Prime Minister of Cameroon, Philemon Yang, signed a decree to officially create a new protected area – Tofala Wildlife Sanctuary – in the southwestern part of the country.


Scientists use genes, feces to study disappearing monkeys


(09/24/2014) Human pressures through tree clearing and poaching are reducing both forest and fauna in West Africa. In response to dwindling primate populations, scientists used genetics techniques to examine their makeup and outlook – demonstrating the usefulness of such methods in the study of animals that are becoming ever-fewer in number and ever-harder to find.


Don't eat or touch bat bushmeat amid worsening Ebola outbreak, UN warns

(07/29/2014) The world's worst Ebola outbreak was likely begun by a hunter shooting a fruit bat for their dinner or the market, according to the UN. The outbreak has killed over 660 people in six months to date, and recently spread via plane to Nigeria. The disease is particularly deadly with a mortality rate of around 90 percent.


Invasion of the oil palm: western Africa's native son returns, threatening great apes


(07/28/2014) As palm oil producers increasingly look to Africa's tropical forests as suitable candidates for their next plantations, primate scientists are sounding the alarm about the destruction of ape habitat that can go hand in hand with oil palm expansion. A recent study sought to take those warnings a step further by quantifying the overlap in suitable oil palm land with current ape habitat.


Surrounded by deforestation, critically endangered gorillas hang on by a thread


(07/17/2014) The mountain forests at the Nigeria-Cameroon border are home to one of the rarest and most threatened subspecies of African apes – the Cross River gorilla (Gorilla gorilla diehli). Today, fewer than 300 individuals survive in the wild. These occur in 14 small, fragmented populations spread over a 12,000-square kilometer (4,633-square mile) landscape, characterized by rugged, hilly terrain and a matrix of farmlands, villages, and forests.


New report: illegal logging keeps militias and terrorist groups in business


(06/30/2014) Released last week by the United Nations Environment Programme (UNEP) during the first United Nations Environment Assembly in Nairobi, Kenya, a new report found that together with other other illicit activities such as poaching, illegal deforestation is one of the top money-makers for criminal groups like Boko Haram and Al-Shabaab.


Deutsche Bank dumps controversial palm oil company

(05/27/2014) Deutsche Bank has sold its stake in Bumitama, an Indonesian palm company that has been embroiled in controversy over alleged destruction of rainforests and peatlands in Borneo, reports Friends of the Earth Europe.


Camera trap catches rare feline attempting to tackle armored prey (VIDEO)

(05/19/2014) One of the world's least known wild cats may have taken on more than it could handle in a recent video released by the Gashaka Biodiversity Project from Nigeria's biggest national park, Gashaka Gumti.


NASA detects surge in deforestation in Malaysia, Bolivia during first quarter of 2014

(04/21/2014) Forest disturbance in Malaysia, Bolivia, Panama, and Ecuador surged during the first quarter of 2014, according to NASA data.


Lions face extinction in West Africa: less than 250 survive


(01/08/2014) The lions of West Africa, which may represent a distinct subspecies, are on the precipice of extinction. A sober new study in PLOS ONE reports that less than 250 mature lions survive in the region. Scientists have long known that West Africa's lions were in trouble, but no one expected the situation to be as dire as it was. In fact, in 2012 scientists estimated the population at over 500. But looking at 21 parks, scientists were shocked to find lions persisted in just four with only one population containing more than 50 individuals.


Richest countries spent $74 billion on fossil fuel subsidies in 2011, eclipsing climate finance by seven times

(11/13/2013) In 2011, the top 11 richest carbon emitters spent an estimated $74 billion on fossil fuel subsidies, or seven times the amount spent on fast-track climate financing to developing nations, according to a recent report by the Overseas Development Institute. Worldwide, nations spent over half a trillion dollars on fossil fuel subsidies in 2011 according to the International Energy Agency (IEA).


Forgotten species: the nearly extinct primate that can be shot on sight


(09/27/2013) The attention paid to charismatic popular primates—such as gorillas, chimps, orangutans, lion tamarins, and even some lemurs—could make one suppose that conservationists have the protection of our closest relatives well in hand; the astounding fact that no primate species is known to have gone extinct in the last hundred years (despite large-scale destruction of their habitats) seems to confirm this statement. However, looking more closely at the data, one finds that not only are many of the world's primates slipping toward extinction, but a number of them have received little conservation attention. According to the IUCN Red List, a staggering 48 percent of the world's primates are threatened with extinction: that's a worse percentage than amphibians which have been ravaged by a global epidemic. And although a handful of the world's 600-plus primates have garnered conservation adoration, many remain obscure.


Illegal marijuana cultivation threatens Nigeria's forests and chimps


(07/26/2013) The world's highest deforestation rate, the execution of eight environmental activists including a Nobel Peace Prize nominee, and ongoing turmoil surrounding oil operations in the Niger River Delta has created a notoriously disreputable environmental record for the West African country. Now, a new threat is rising in the already-compromised forests of Nigeria: illegal marijuana cultivation.


Fertility in Africa could push world population over 11 billion

(06/13/2013) The global population could grow by another 4 billion people by the end of the century if fertility rates in Africa don't decline, according to a new report by the United Nations. Currently around 1.1 billion people live on the continent, but that number could skyrocket to 4.2 billion (a 380 percent increase) by 2100, causing global population to hit 11 billion.


Top security official in Nigeria blames climate change for worsening insecurity

(04/25/2013) Climate change is in part to blame for rising conflict and crime in Nigeria, according to the president's National Security Advisor, Colonel Sambo Dasuki. Speaking to the House Committee on Climate Change, Dasuki said that the rise of Boko Haram insurgents, a jihadist group in northern Nigeria, and worsening crime was linked to climate change reports All Africa.


An insidious threat to tropical forests: over-hunting endangers tree species in Asia and Africa


(04/04/2013) A fruit falls to the floor in a rainforest. It waits. And waits. Inside the fruit is a seed, and like most seeds in tropical forests, this one needs an animal—a good-sized animal—to move it to a new place where it can germinate and grow. But it may be waiting in vain. Hunting and poaching has decimated many mammal and bird populations across the tropics, and according to two new studies the loss of these important seed-disperser are imperiling the very nature of rainforests.


Guide for filing complaints on rule-breaking by palm oil companies published

(02/28/2013) Over the past 25 years palm oil production has emerged as one of the biggest drivers of deforestation and peatlands degradation in Southeast Asia. And there are fears that expansion in West and Central Africa could soon make palm oil a major cause of forest conversion on that continent.


As U.S. sees record heat, extreme weather pummels 4 continents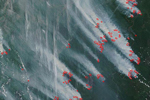 (07/10/2012) It's not only the U.S. that has experienced record-breaking extreme weather events recently, in the last couple months extreme weather has struck around the world with startling ferocity. In addition to the much-covered heatwaves, wildfires, and droughts in the U.S., killer floods struck India, the worst drought yet recorded plagued South Korea, and massive forest fires swept through Siberia to name just a few.


Alarm rising over food crisis in Sahel region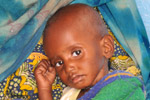 (06/13/2012) Warnings over a possible famine in Africa's Sahel region are becoming louder and more intense. Abnormal drought, locally high food prices, and regional conflict have ramped up concerns that 18 million people could suffer from malnutrition and starvation as the lean season sets in. UNICEF says it needs $238 million to save over a million children from severe malnourishment in the region, but has to date only raised $93 million.


First camera trap video of world's rarest gorilla includes shocking charge

(05/08/2012) Ever wonder what it would be like to be charged by a male gorilla? A new video (below) released by the Wildlife Conservation Society (WCS), gives one a first hand look. Shot in Cameroon's Kagwene Gorilla Sanctuary, the video is the first camera trap footage of the incredibly rare Cross River gorilla subspecies (Gorilla gorilla diehli); listed as Critically Endangered, the subspecies is believed to be down to only 250 individuals.


15 million facing food shortages in Africa's Sahel region

(03/29/2012) The UN announced yesterday that food security in the Sahel region is deteriorating, putting over 15 million people at risk. Ongoing drought combined with conflict, has pushed the region into a crisis. The situation appears eerily similar to last year when Somalia was hit by a devastating famine due to drought and political instability; the famine left an estimated 30,000 children dead.


Shell spills over 50,000 gallons of oil off Scotland

(08/16/2011) Yesterday, Royal Dutch Shell estimated that to date 54,600 gallons of oil had spilled into the North Sea off the east coast of Scotland, spreading some 19 miles wide (30 kilometers) at its maximum. While the company stopped the initial leak on Thursday, it has now announced that the oil has found a 'second pathway' and is still leaking into the sea around 84 gallons a day.


Oil horror in Nigeria: 30 years, one billion dollars to clean-up

(08/08/2011) Fifty years of oil spills in Nigeria's now infamous Ogoniland region will take up to three decades and over a billion dollars ($1 billion for just the first five years) to restore environments to healthy conditions, according to a new independent report by the United Nations Environment Program (UNEP). The most thorough study to date has found that widespread pollution has hit the Niger Delta even harder than assumed with devastating impacts on fishing grounds and community health. Last week Shell, one of the biggest operators in Nigeria, admitted to two massive oil spills in 2008 totaling 11 million gallons of crude.


Saving (and studying) one of Nigeria's last montane forests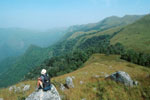 (07/26/2011) Between 2000 and 2010, Nigeria lost nearly a third (31 percent) of its forest cover, while its primary forests suffered even worse: in just five years (2000 to 2005) over half of the nation's primary forests were destroyed, the highest rate in the world during that time. Yet, Nigeria's dwindling forests have never received the same attention as many other country's, such as Indonesia, Brazil, Malaysia, or Peru, even though in many ways Nigeria struggles with even deeper problems than other developing nations. Despite vast oil business, the nation is plagued by poverty and destitution, a prime example of what economists call the 'resource curse'. Environmentally, it has been named one of the worst in the world. Yet, not all forest news out of Nigeria is bleak: the success of the Nigerian Montane Forest Project in one of the country's remaining forests is one such beacon of hope, and one example of how the country could move forward.


Conservationists seek $15M for rarest chimp

(06/27/2011) A new conservation plan calls for $14.6 million to save the world's rarest subspecies of chimp: the Nigeria-Cameroon chimpanzee, reports the Wildlife Conservation Scoeity (WCS).


How do we save Africa's forests?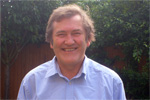 (06/19/2011) Africa's forests are fast diminishing to the detriment of climate, biodiversity, and millions of people of dependent on forest resources for their well-being. But is the full conservation of Africa's forests necessary to mitigate global climate change and ensure environmental stability in Africa? A new report by The Forest Philanthropy Action Network (FPAN), a non-profit that provides research-based advice on funding forest conservation, argues that only the full conservation of African forests will successfully protect carbon stocks in Africa.


Photos: the top ten new species discovered in 2010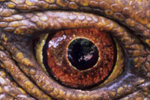 (05/23/2011) If we had to characterize our understanding of life on Earth as either ignorant or knowledgeable, the former would be most correct. In 250 years of rigorous taxonomic work researchers have cataloged nearly two million species, however scientists estimate the total number of species on Earth is at least five million and perhaps up to a hundred million. This means every year thousands of new species are discovered by researchers, and from these thousands, the International Institute for Species Exploration at Arizona State University selects ten especially notable new species.


Palm oil lobby attacks World Bank's new social and environmental safeguards

(04/18/2011) Groups funded by the palm oil industry lashed out at the World Bank's new framework to resume lending to the palm oil sector.


Alien plants invade Nigerian protected 'gene bank'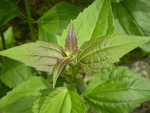 (03/28/2011) Very few studies have been conducted on invasive species in Nigeria, however a new study in mongabay.com's open access journal Tropical Conservation Science has discovered 25 invasive plants in a field gene bank at the National Center for Genetic Resources and Biotechnology (NASGRAB) in Ibadan. The gene bank is used to establish populations of important and, in some cases threatened, native plant species. The gene bank spans 12 hectares, but the study found that 18% of the area was overtaken with invasive species that likely compete with the protected Nigerian plants for nutrients, space, and light. Among the 25 invasive species, 14 were herbs, 8 were vines, 2 were shrubs, and one was a tree.


Great Green Wall gets go ahead

(02/28/2011) Spanning the entire continent of Africa, including 11 nations, the Great Green Wall (GGW) is an ambitious plan to halt desertification at the Sahara's southern fringe by employing the low-tech solution of tree planting. While the Great Green Wall was first proposed in the 1980s, the grand eco-scheme is closer to becoming a reality after being approved at an international summit last week in Germany as reported by the Guardian.


Nigeria moving forward on REDD to protect last remaining forests

(02/19/2011) The tiny state of Cross River, Nigeria, has managed to preserve large swathes of endangered rainforest despite lucrative – and often intimidating – offers from loggers and other interests. It's also laid the groundwork for a state-wide program designed to earn international carbon credits by saving trees, thus securing its spot in an elite network of states that are moving forward as UN talks stall.


Loss of old growth forest continues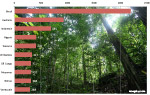 (10/06/2010) A new global assessment of forest stocks by the U.N. Food and Agriculture Organization (FAO) shows continuing loss of primary forests since 2005 despite gains in the extent of protected areas. FAO's Global Forest Resources Assessment 2010 reveals some 13 million hectares of forest were cleared between 2000 and 2010, down from around 16 million hectares per year during the 1990s. Loss of primary forest—mostly a consequence of logging—averaged 4.2 million hectares per year, down from 4.7 million hectares per year in the 1990s.


Farming snails to save the world's rarest gorillas

(04/28/2010) In a place of poverty and hunger, how do you save a species on the edge of extinction? A difficult question that conservationists have long-been working to tackle, the Wildlife Conservation Society (WCS) has come up with a new plan to protect the world's most endangered gorilla, the Cross River gorilla, from poachers by providing locals with an alternate and better income from farming snails.


Global deforestation slows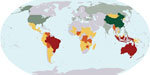 (03/25/2010) Global forest loss has diminished since the 1990s but still remains "alarmingly high", according to a preliminary version of a new assessment from the U.N. Food and Agriculture Organization (FAO). The report, Global Forest Resources Assessment 2010 (FRA 2010), shows that global forest loss slowed to around 13 million hectares per year during the 2000s, down from about 16 million hectares per year in the 1990s. It finds that net deforestation declined from about 8.3 million hectares per year in the 1990s to about 5.2 million hectares per year in the 2000s, a result of large-scale reforestation and afforestation projects, as well as natural forest recovery in some countries and slowing deforestation in the Amazon.


A New Idea to Save Tropical Forests Takes Flight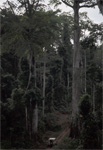 (06/29/2009) Every year, tens of millions of acres of tropical forests are destroyed. This is the most destabilizing human land-use phenomenon on Earth. Tropical forests store more aboveground carbon than any other biome. They harbor more species than all other ecosystems combined. Tropical forests modulate global water, air, and nutrient cycles. They influence planetary energy flows and global weather patterns. Tropical forests provide livelihoods for many of the world's poorest and marginalized people. Drugs for cancer, malaria, glaucoma, and leukemia are derived from rainforest compounds. Despite all these immense values, tropical forests are vanishing faster than any other natural system. No other threat to human welfare has been so clearly documented and simultaneously left unchecked. Since the 1992 Rio Earth Summit (when more than 100 heads of State gathered to pledge a green future) 500 million acres of tropical forests have been cut or burned. For decades, tropical deforestation has been the No. 1 cause of species extinctions and the No. 2 cause of human greenhouse gas emissions, after the burning of fossil fuels. For decades, a few conservation heroes tried their best to plug holes in the dikes, but by and large the most diverse forests on Earth were in serious decline.


Cameroon and Nigeria to protect world's rarest gorilla

(09/05/2008) Cameroon and Nigeria have agreed to protect the the Cross River gorilla, world's most endangered gorilla, reports the Wildlife Conservation Society, which helped broker the deal.


Rare gorillas use weapons to attack forest-intruding humans

(12/05/2007) Following the first documented cases of the Cross River gorillas -- world's most endangered gorilla -- throwing sticks and clumps of grass when threatened by people, the Wildlife conservation Society (WCS) has announced new research to better protect the species from poaching and encroachment.


Time running out for world's rarest gorilla

(06/21/2007) Time is running out for the world's rarest subspecies of gorilla, the Cross River gorilla (Gorilla gorilla diehli) from the mountainous border region between Cameroon and Nigeria. With less than 300 individuals remaining, conservationists have drawn up a new plan to save the great ape from extinction.


$100 laptop for poor children ships

(11/20/2006) The first ten $100 laptops have shipped from their Taiwanese manufacturer according to a report from News Corporation. The One Laptop Per Child project (OLPC) -- the nonprofit group behind the device -- reportedly tested the laptops, which were hand-built, at the U.S. State Department last week. The laptops have been billed as a durable low-cost PC for children in developing countries. OLPC says it will begin production once it has orders for 5-10 million machines. Already the governments of Brazil, Argentina, Libya, Nigeria, Thailand, and Israel have expressed interest in the machines which have received support from Google, AMD, Brightstar, News Corporation, and Red Hat, but not Microsoft.


Goodbye to West Africa's Rainforests

(01/22/2006) West Africa's once verdant and extensive rainforests are now a historical footnote. Gone to build ships and furniture, feed hungry mouths, and supply minerals and gems to the West, the band of tropical forests that once extended from Guinea to Cameroon are virtually gone. The loss of West Africa's rainforests have triggered a number of environmental problems that have contributed to social unrest and exacerbated poverty across the region.


Nigeria has worst deforestation rate, FAO revises figures

(11/17/2005) Nigeria has the world's highest deforestation rate of primary forests according to revised deforestation figures from the the Food and Agriculture Organization of the United Nations.


Builder of rainforest canopy walkways believes conservation can be profitable

(09/20/2005) This month's issue of The Ecological Finance Review details Greenheart conservation Company, a for-profit company that designs, builds and operates conservation based canopy walkways (canopy trails) and other nature-based attractions around the world. Operating on the premise that conservation can be economically viable, Greenheart believes that is has already become a "model of how to shift gears from an industrial to a green economy." Greenheart has developed or is developing canopy walkways in Peru, Nigeria, Madagascar, Ghana, Brazil, Guyana, the United Kingdon, and Canada.


Program encourages entrepreneurship among Nigerian high school students

(07/18/2005) A group of Nigerian youths, Students for the Advancement of Global Entrepreneurship (SAGE), will explain how they have completed entrepreneurship projects and social ventures for the betterment of their communities at the upcoming SAGE World Cup" in San Francisco.