News articles on Mongolia

---
Mongabay.com news articles on Mongolia in blog format. Updated regularly.






Booming cashmere trade eating up habitat for snow leopards, saiga, and wild yak
(07/25/2013) Snow leopards, wild yaks and other iconic wildlife on the world's highest mountains and great steppes are becoming "fashion victims" of the surging global trade in cashmere, new research has revealed. Scientists found wildlife being driven to the margins of survival by the "striking but unintended consequences" of huge increases in the numbers of the goats producing the luxurious lightweight wool.
An avalanche of decline: snow leopard populations are plummeting

(01/03/2013) The trading of big cat pelts is nothing new, but recent demand for snow leopard pelts and taxidermy mounts has added a new commodity to the illegal trade in wildlife products, according to the Environmental Investigation Agency (EIA). Traditionally, the market for large cat products has centered around tiger bones and parts for traditional Chinese medicine. Snow leopards (Uncia uncia), however, are a novel trend in the illegal wildlife trade arena and skins and taxidermy mounts are the most recent fad in luxury home décor.
New eco-tour to help save bizarre antelope in 'forgotten' region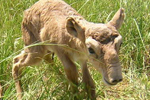 (05/01/2011) Imagine visiting a region that is largely void of tourists, yet has world-class bird watching, a unique Buddhist population, and one of the world's most bizarre-looking and imperilled mammals: the saiga. A new tour to Southern Russia hopes to aid a Critically Endangered species while giving tourists an inside look at a region "largely forgotten by the rest of the world," says Anthony Dancer. Few species have fallen so far and so fast in the past 15 years as Central Asia's antelope, the saiga. Its precipitous decline is reminiscent of the bison or the passenger pigeon in 19th Century America, but conservationists hopes it avoids the fate of the latter.
Conservationists oppose snow leopard hunt for 'science'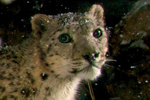 (03/23/2011) Conservationists have come out in opposition against a plan by the Mongolian government to issue four permits to kill snow leopards (Panthera uncia ) for 'scientific research'. The permits were awarded to foreign nationals last month. Snow leopards are listed as Endangered by the IUCN Red List with their population declining. "If the planned hunting of snow leopards is allowed to go forward, Mongolia's creditability as a leader in conservation of [snow leopards] and other rare species will be severely tarnished," reads a letter from Tom McCarthy, Executive Director of Panthera's Snow Leopard Program and George Schaller, Vice President of Panthera, to Mongolia's Minister of Nature, Environment, and Tourism.
Updating the top 100 weirdest and most imperiled mammals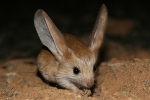 (01/24/2011) A lot can change in three years. In January 2007, the Zoological Society of London (ZSL) jumpstarted a program unique in the conservation world: EDGE, which stands for Evolutionarily Distinct and Globally Endangered, selects the species it works with not based on popularity or fund-raising potential but on how endangered and evolutionary unique (in laymen's terms: weird) they are. When EDGE first arrived in 2007, it made news with its announcement of the world's top 100 most unique and endangered mammals. While this list included a number of well-known species—such as the blue whale and the Asian elephant—it also introduced the public to many little-recognized mammals that share our planet, such as the adorable long-eared jerboa, the ancient poisonous solenodon, and the ET-like aye-aye. However, after three years the EDGE program found that their top 100 mammals list already need updating.
How Genghis Khan cooled the planet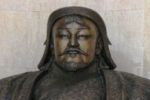 (01/20/2011) In 1206 AD Genghis Khan began the Mongol invasion: a horse-crazed bow-wielding military force that swept through much of modern-day Asia into the Middle East and Eastern Europe. But aside from creating the world's largest empire, the Mongol invasion had another global impact that has remained hidden in history according to new research by Julia Pongratz of the Carnegie Institution's Department of Global Ecology. Genghis Khan and his empire, which lasted nearly two centuries, actually cooled the Earth.
Apple's Snow Leopard helps real-life cats

(09/07/2009) Apple's release of its new operating system, dubbed "Snow Leopard", is helping raise awareness of the plight of one of the world's most endangered big cats, reports the Snow Leopard Trust, a group working to protect the real-life snow leopard in its mountainous habitat across Central Asia.
Solar powered conservation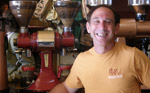 (08/25/2009) Electricity can be a difficult commodity to procure in the remote areas where conservationists often work. Typically field researchers and wildlife rangers rely on gas-powered generators, which require imported fuel, often produce noxious fumes and disruptive noise, and can be costly to maintain. A better option, especially in sun-drenched parts of the world, is solar. Clean and silent, with no need for supplemental fuel, solar seems like an ideal fit for conservation work except for one major drawback: cost. But Stephen Gold – Solar and Technology Manager for Wildlife Conservation Network has been working to overcome that obstacle.
How to Save Snow Leopards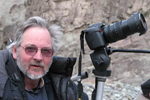 (10/28/2008) The snow leopard (Panthera uncia) is one of the rarest and most elusive big cat species with a population of 4,500 to 7,500 spread across a range of 1.2 to 1.6 million kilometers in some of the world's harshest and most desolate landscapes. Found in arid environments and at elevations sometimes reaching 18,000 feet (5,500 meters), the species faces great threats despite its extreme habitat. These threats vary across its range, but in all countries where it is found — Afghanistan, Bhutan, China, India, Kyrgyzstan, Kazakhstan, Nepal, Mongolia, Pakistan, Russia, Tajikistan, Uzbekistan and possibly Myanmar — the species is at risk. In some countries snow leopard are directly hunted for their pelt, in others they are imperiled by depletion of prey, loss of habitat, and killing as a predator of livestock. These threats, combined with the cat's large habitat requirements, means conservation through the establishment of protected areas alone may not be enough save it from extinction in the wild in many of the countries in which it lives. Working to stave off this fate in half a dozen of its range countries is the Snow Leopard Conservancy. Founded by Dr. Rodney Jackson, a biologist who has been studying snow leopard in the wild for 30 years, the Conservancy seeks to conserve the species by "promoting innovative grassroots measures that lead local people to become better stewards of endangered snow leopards, their prey, and habitat."