News articles on Malawi

---
Mongabay.com news articles on Malawi in blog format. Updated regularly.





Meet the world's rarest chameleon: Chapman's pygmy


(11/25/2014) In just two forest patches may dwell a tiny, little-known chameleon that researchers have dubbed the world's most endangered. Chapman's pygmy chameleon from Malawi hasn't been seen in 16 years. In that time, its habitat has been whittled down to an area about the size of just 100 American football fields.


Chameleon crisis: extinction threatens 36% of world's chameleons


(11/24/2014) Chameleons are an unmistakable family of wonderfully bizarre reptiles. They sport long, shooting tongues; oddly-shaped horns or crests; and a prehensile tail like a monkey's. But, chameleons are most known for their astonishing ability to change the color of their skin. Now, a update of the IUCN Red List finds that this unique group is facing a crisis that could send dozens of chameleons, if not more, to extinction.


A new way to rescue Africa's struggling soils: Planting perennials with crops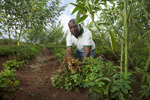 (11/20/2012) It sounds counter-intuitive: Grow more food by planting less. But it's a plan that scientists think will produce enough crops to feed Africa's quickly expanding population. African farmers who sow food crops mixed with plants called perennials—which live two years or more—can enrich nutrient-poor soils and increase their bounty, argue scientists in the Sept. 20 issue of Nature.


Fertilizer trees boost yields in Africa

(10/16/2011) Fertilizer trees—which fix nitrogen in the soil—have improved crops yields in five African countries, according to a new study in the International Journal of Agricultural Sustainability. In some cases yields have doubled with the simple addition of nitrogen-soaking trees. The research found that fertilizer trees could play a role in alleviating hunger on the continent while improving environmental conditions.


Unique acacia tree could play vital role in turning around Africa's food crisis

(08/24/2009) Scientists have discovered that an acacia tree, long used by farmers in parts of Africa, could dramatically raise food yields in Africa. The acacia tree Faidherbia albida, also known as Mgunga in Swahili, possesses the unique ability to provide much-needed nitrogen to soil.


NASA study shows global warming will diminish rainfall in East Africa, worsening hunger

(08/06/2008) A new NASA-backed study has found a link between a warming Indian Ocean and reduced rainfall in eastern and southern Africa. The results suggest that rising sea temperatures could exacerbate food problems in some of the continent's most famine-prone regions.


Nigeria has worst deforestation rate, FAO revises figures

(11/17/2005) Nigeria has the world's highest deforestation rate of primary forests according to revised deforestation figures from the the Food and Agriculture Organization of the United Nations.


World deforestation rates and forest cover statistics, 2000-2005

(11/16/2005) Cambodia has the world's highest deforestation rate, Brazil loses the largest area of forest annually, and Congo consumes more bushmeat than any other tropical country. These are among the findings from mongabay.com's analysis of new deforestation figures from the United Nations. Monday, the Food and Agriculture Organization of the United Nations (FAO) released its 2005 Global Forest Resources Assessment, a regular report on the status world's forest resources. Overall, FAO concludes that net deforestation rates have fallen since the 1990-2000 period, but some 13 million hectares of the world's forests are still lost each year, including 6 million hectares of primary forests. Primary forests -- forests with no visible signs of past or present human activities -- are considered the most biologically diverse ecosystems on the planet.


Deforestation and erosion starving Malawi

(10/13/2005) Forest loss and erosion could doom Malawi to perpetual food shortages as the country's fertile soil is literally swept down to its rivers and flushed out to sea.


10 million people will need humanitarian assistance in Southern Africa

(09/23/2005) As many as 10 million people in Lesotho, Malawi, Mozambique, Swaziland, Zambia and Zimbabwe have been assessed as food insecure and will need humanitarian assistance until the next harvest according to a food security brief from USAID.