News articles on Liberia

---
Mongabay.com news articles on Liberia in blog format. Updated regularly.






Meager post-Ebola harvests worsen food insecurity in West Africa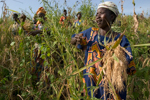 (06/25/2015) The chaos caused by the Ebola outbreak made it much more than a public health issue in affected West African nations. Farmers, who are central to West African economies, suffered, and the effects have hampered the region's efforts to recover from the disease.
Coordinated protests hit Socfin plantations in four countries
(06/05/2015) French NGO ReAct is coordinating protest actions against the plantation operations of Socfin, a Belgian company with origins in the Belgian Congo. Yesterday, protesters gathered in Paris outside the headquarters of Bolloré, another conglomerate which holds a 39 percent stake in Socfin. Other demonstrations have been staged in three African countries and Cambodia in recent weeks.
World's critical habitats lost Connecticut-size area of forest in a decade
(05/08/2015) Many of the world's endangered animals live in only one place, making them hugely susceptible to environmental upset. One fell swoop, and entire species could disappear from existence forever. New analysis shows that possibility may be edging closer and closer to reality in some areas, with forests known to harbor high-risk species losing an area of tree cover the size of Connecticut in a little over a decade.
Criticism of GAR and Wilmar African oil palm projects highlight global 'no-deforestation' challenges
(04/16/2015) Despite high-profile no-deforestation policies, palm oil giants Golden Agri-Resources and Wilmar have attracted criticism recently over their projects in Africa, particularly regarding the correct implementation of free, prior and informed consent (FPIC) of affected communities. Some NGOs have suggested these persistent problems indicate no lessons have been learned from years of bad practice in Indonesia.
Local land rights may be in danger from push for palm oil in Liberia
(03/12/2015) The rights of local and indigenous peoples aren't being adequately protected in the drive for economic development, according to a report published in February by the Rights and Resources Initiative (RRI), a coalition of forest-oriented organizations. For a place like Liberia, reeling from both decades of persistent poverty and the recent Ebola epidemic, economic development seems critical at just about any cost.
Rainforest loss increased in the 2000s, concludes new analysis
(02/25/2015) Loss of tropical forests accelerated roughly 60 percent during the 2000s, argues a paper published in the journal Geophysical Research Letters. The findings contradict previous research suggesting that deforestation slowed since the 1990s. The study is based on a map of 1990 forest cover developed last year by Do-Hyung Kim and colleagues from the University of Maryland. The map, which includes 34 countries that contain 80 percent of the world's tropical forests, enabled the researchers to establish a consistent baseline for tracking forest cover change across regions and countries over time.
Financial pledges for REDD+ slow to be disbursed, finds report
(01/27/2015) Only a small fraction of the $7.3 billion pledged under the Reducing Emissions from Deforestation and Degradation (REDD+) program has actually been disbursed, find a new report that tracked REDD+ finance in seven countries. The report, published by Forest Trends, analyzed REDD+ financial flows between 2009 and 2012 in Brazil, Colombia, Ecuador, Ghana, Liberia, Tanzania and Vietnam
Did palm oil expansion play a role in the Ebola crisis?
(01/14/2015) The Ebola outbreak in West Africa may have been the result of complex economic and agricultural policies developed by authorities in Guinea and Liberia, according to a new commentary in Environment and Planning A. Looking at the economic activities around villages where Ebola first emerged, the investigators analyzed a shift in land-use activities in Guinea's forested region, particularly an increase in oil palm.
Greenpeace: zero deforestation pioneer makes progress, but still has work to do
(12/22/2014) Half a decade ago, Golden-Agri Resources (GAR) was losing customers right and left in the midst of a Greenpeace campaign that blamed the Singapore-based palm oil giant for destroying forests in Indonesia. Then in February 2011, GAR surprised the world when it announced it would no longer clear rainforests or peatlands for new plantations. The company also committed to resolving social conflicts and respecting the right of local communities to reject plantation development on their traditional lands. Observers thought it could be mark the beginning a transformation in how palm oil was produced.
Developing land without approval of local people 'a human rights issue of grave concern,' says new report
(11/20/2014) Throughout the tropics, staggering amounts of land have been designated for natural resource extraction—as much as 40 percent of Peru, 30 percent of Indonesia and 35 percent of Liberia. However, much of this land is already in use; it is being inhabited by local communities and indigenous peoples. And while it is possible to live on and extract resources from the same land, when local communities are not consulted in this exchange, conflict may erupt.
Destroyed habitat, fewer resources, Ebola: the many repercussions of Liberia's deforestation
(10/29/2014) Liberia is one of the last strongholds of intact forest in West Africa. These forests are the home of many unique species of plants and animals, and many Liberians rely on the forests for direct economic benefits. The presence of intact forests may even be important for preventing the future outbreak of disease such as Ebola, which can be transmitted to people from animal vectors displaced by deforestation.
Scientists use genes, feces to study disappearing monkeys
(09/24/2014) Human pressures through tree clearing and poaching are reducing both forest and fauna in West Africa. In response to dwindling primate populations, scientists used genetics techniques to examine their makeup and outlook – demonstrating the usefulness of such methods in the study of animals that are becoming ever-fewer in number and ever-harder to find.
Norway to pay Liberia to stop deforestation
(09/23/2014) In one of the many major announcements that have come out of the UN Climate Summit in New York this week, Norway says it will pay Liberia to stop cutting down its forests. Norway's payment will come on the form of development aid for the war-torn, impoverished, and now Ebola-ridden West African nation.
Don't eat or touch bat bushmeat amid worsening Ebola outbreak, UN warns

(07/29/2014) The world's worst Ebola outbreak was likely begun by a hunter shooting a fruit bat for their dinner or the market, according to the UN. The outbreak has killed over 660 people in six months to date, and recently spread via plane to Nigeria. The disease is particularly deadly with a mortality rate of around 90 percent.
Invasion of the oil palm: western Africa's native son returns, threatening great apes
(07/28/2014) As palm oil producers increasingly look to Africa's tropical forests as suitable candidates for their next plantations, primate scientists are sounding the alarm about the destruction of ape habitat that can go hand in hand with oil palm expansion. A recent study sought to take those warnings a step further by quantifying the overlap in suitable oil palm land with current ape habitat.
Deutsche Bank dumps controversial palm oil company

(05/27/2014) Deutsche Bank has sold its stake in Bumitama, an Indonesian palm company that has been embroiled in controversy over alleged destruction of rainforests and peatlands in Borneo, reports Friends of the Earth Europe.
Over 9,000 primates killed for single bushmeat market in West Africa every year
(03/24/2014) Over the past 25 years, West Africa's primates have been put at risk due to an escalating bushmeat trade compounded with forest loss from expanding human populations. In fact, many endemic primates in the Upper Guinea forests of Liberia and Ivory Coast have been pushed to the verge of extinction. To better understand what's happening, a recent study in mongabay.com's open-access journal Tropical Conservation Science investigated the bushmeat exchange between these neighboring countries.
Rainforest news review for 2013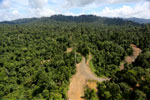 (12/26/2013) 2013 was full of major developments in efforts to understand and protect the world's tropical rainforests. The following is a review of some of the major tropical forest-related news stories for the year. As a review, this post will not cover everything that transpired during 2013 in the world of tropical forests. Please feel free to highlight anything this post missed via the comments section at the bottom. Also please note that this review focuses only on tropical forests.
Palm oil companies ignoring community rights, new study shows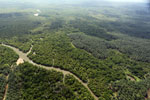 (11/07/2013) Some of the largest palm oil companies are clearing forests and peatlands without seeking consent of local communities, leading to a spate of unresolved conflicts in plantation concessions around the world, warns a coalition of NGOs and researchers. Members of the Roundtable on Sustainable Palm Oil (RSPO) are violating the rights of local communities in tropical forests and failing to live up to social and environmental commitments, the coalition said in a report released on Thursday.
Investors beware: global land grabbing ends in 'financial damage' and human rights violations
(02/07/2013) Investing in companies that flout local community rights in developing countries often leads to severe economic losses, according to a new report from the Rights and Resources Initiative (RRI). A rising trend in "land grabbing" from Africa to South America by corporations and even foreign governments results in social instability, which can lead to large-scale protests, violence, and even murder, delaying and sometimes derailing projects. Such instability poses massive risk to any investor, not to mention supporting corporate entities that are accused of ignoring human rights.
40% of Liberia's forests granted for logging

(09/04/2012) 40 percent of Liberia's forests have been granted to logging companies operating outside the country's strict forestry laws, alleges a new investigation by Global Witness, Save My Future Foundation (SAMFU) and Sustainable Development Institute (SDI).
Ten African nations pledge to transform their economies to take nature into account

(06/11/2012) Last month ten African nations, led by Botswana, pledged to incorporate "natural capital" into their economies. Natural capital, which seeks to measure the economic worth of the services provided by ecosystems and biodiversity—for example pollination, clean water, and carbon—is a nascent, but growing, method to curtail environmental damage and ensure more sustainable development. Dubbed the Gaborone Declaration, the pledge was signed by Botswana, Liberia, Namibia, Mozambique, Rwanda, Gabon, Ghana, Kenya, South Africa, and Tanzania following a two day summit.
The camera trap revolution: how a simple device is shaping research and conservation worldwide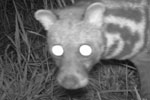 (02/14/2012) I must confess to a recent addiction: camera trap photos. When the Smithsonian released 202,000 camera trap photos to the public online, I couldn't help but spend hours transfixed by the private world of animals. There was the golden snub-monkey (Rhinopithecus roxellana), with its unmistakably blue face staring straight at you, captured on a trail in the mountains of China. Or a southern tamandua (Tamandua tetradactyla), a tree anteater that resembles a living Muppet, poking its nose in the leaf litter as sunlight plays on its head in the Peruvian Amazon. Or the dim body of a spotted hyena (Crocuta crocuta) led by jewel-like eyes in the Tanzanian night. Or the less exotic red fox (Vulpes vulpes) which admittedly appears much more exotic when shot in China in the midst of a snowstorm. Even the giant panda (Ailuropoda melanoleuca), an animal I too often connect with cartoons and stuffed animals, looks wholly real and wild when captured by camera trap: no longer a symbol or even a pudgy bear at the zoo, but a true animal with its own inner, mysterious life.
Mysterious pygmy hippo filmed in Liberia

(12/19/2011) Conservationists have captured the first ever footage (see video below) of the elusive pygmy hippo (Choeropsis liberiensis) in Liberia. The forest-dwelling, nocturnal species—weighing only a quarter of the size of the well-known common hippo (Hippopotamus amphibius)—has proven incredibly difficult to study. But the use of camera traps in Liberia's Sapo National Park has allowed researchers a glimpse into its cryptic life.
Liberia fights illegal logging through agreement with EU

(05/10/2011) The tiny West African nation of Liberia (about the size of the US state of Virginia) is the most recent country to work with the European Union (EU) on ending the illegal logging trade. Yesterday the EU and Liberia signed a Voluntary Partnership Agreement (VPA) that would make certain no raw wood or wood products exported from Liberia to the EU would have been illegally cut.
'Land grab' fears in Africa legitimate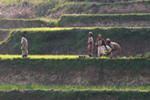 (01/31/2011) A new report by the International Institute for Environment and Development (IIED) has found that recent large-scale land deals in Africa are likely to provide scant benefit to some of the world's poorest and most famine-prone nations and will probably create new social and environmental problems. Analyzing 12 recent land leasing contracts investigators found a number of concerns, including contracts that are only a few pages long, exclusion of local people, and in one case actually giving land away for free. Many of the contracts last for 100 years, threatening to separate local communities from the land they live on indefinitely. "Most contracts for large-scale land deals in Africa are negotiated in secret," explains report author Lorenzo Cotula in a press release. "Only rarely do local landholders have a say in those negotiations and few contracts are publicly available after they have been signed."
95% of Liberia's elephants killed by poachers

(01/24/2011) Since the 1980s, Liberia has lost 19,000 elephants to illegal poaching, according to Patrick Omondi of the Kenya Wildlife Service speaking in Monrovia, the capital of Liberia. The poaching of Liberia's elephants has cut the population by 95% leaving only 1,000 elephants remaining.
Massive forest carbon scam alleged in Liberia

(06/10/2010) Liberian President Ellen Johnson Sirleaf established a commission investigate a proposed forest carbon credit deal between the West African nation's Forest Development Authority (FDA) and UK-based Carbon Harvesting Corporation, reports Global Witness, an NGO that originally raised concerns about the scheme, which aimed to secure around a fifth of Liberia's total forest area — 400,000 hectares — in a forest carbon concession.
Pygmy hippo shot and killed in…Australia

(11/17/2009) Hunters going after pigs in Australia's Northwest Territories got a big surprise when they shot an animal they mistook for a pig, only to find out it was a pygmy hippopotamus, reports the Northwest Territory News.
Photos of rare pygmy hippo in Liberia

(03/12/2008) It's almost as though this normally shy mammal were posing for the camera. The black-and-white image of a pygmy hippopotamus half-facing the camera is the first ever of a pygmy hippopotamus in Liberia. Perhaps even more astonishing EDGE, the organization that accomplished the photo, believes the image to be only the second photographic evidence of the animal in the wild (the first was taken in 2006 in Sierra Leone). This incredibly secretive animal is usually known through its prints and dung.
Logging resumes in Liberia

(07/17/2006) As former US president Bill Clinton arrives in Liberia to meet with President Ellen Johnson Sirleaf, it's time to take a look at the state of the forests in the country. While Liberia's brutal civil war delayed the commercial exploitation of its tropical forests during the 1990s, 'conflict timber' was a key source of revenue for warring factions. The harvesting of this wood, combined with collateral damage from military operations and wildlife poaching, took a heavy toll on Liberia's forests. With the end of the war, Liberia's new government--which took power at end of the war in 1998--immediately established forestry as a national priority and instituted a five-year tax holiday on timber industries. This policy, combined with the return of commercial interests to the country, repopulation, and reconstruction efforts, has put pressure on Liberia's remaining forest resources. Since the close of the 1990s, deforestation rates have increased by 17 percent, and primary forest cover in the country has fallen to just over 1.3 percent of the total land area (or 4.1 percent of the forest cover).
Environmentalists awarded prestigious prize for grassroots work

(04/24/2006) Tonight six grassroots environmentalists will be awarded the prestigious Goldman Environmental Prize. This year's winners include a Vietnam veteran fighting Pentagon plans to incinerate chemical weapons stockpiles, a man who tipped the United Nations to illegal logging in war-torn Liberia, the person behind the creation of the world's largest area of protected tropical rainforest, a lawyer in Ukraine who helped block the construction of canal that would have cut through the heart of the Danube Delta, a woman who won resitution for indigenous land owners from logging interests in Papua New Guinea, and a researcher who pushed social impact assessments for major dam developments in China.
Goodbye to West Africa's Rainforests

(01/22/2006) West Africa's once verdant and extensive rainforests are now a historical footnote. Gone to build ships and furniture, feed hungry mouths, and supply minerals and gems to the West, the band of tropical forests that once extended from Guinea to Cameroon are virtually gone. The loss of West Africa's rainforests have triggered a number of environmental problems that have contributed to social unrest and exacerbated poverty across the region.