News articles on Lemurs

---
Mongabay.com news articles on Lemurs in blog format. Updated regularly.






Chocolate company, NGO work together to save lemurs
(03/30/2015) Despite its biodiversity and unique plants and animals, Anjanaharibe-Sud Special Reserve hosts only around a dozen tourists each year. In an effort to increase tourism and research opportunities, the Lemur Conservation Foundation will be using the money raised during the Madécasse promotion to develop Camp Indri - the reserve's only authorized tourist site.
$7 million could save lemurs from extinction
(02/25/2015) Last year, scientists released an emergency three-year plan that they argued could, quite literally, save the world's lemurs from mass extinction. Costing just $7.6 million, the plan focused on setting up better protections in 30 lemur hotspots. However, there was one sticking point: donating to small programs in one of the world's poorest countries was not exactly user friendly.
25 primate pictures for World Primate Day

(09/01/2014) September 1 is World Primate Day, a designation intended to raise awareness about apes, monkeys, and prosimians like lemurs, lorises, and tarsiers. Many non-human primates are threatened by habitat loss, the pet trade, and hunting.
Next big idea in forest conservation? Rewards for reforestation
(07/10/2014) Susie McGuire and Dr. Edward Louis Jr. are the powerhouse team behind the Madagascar Biodiversity Partnership (MBP), an NGO that involves local residents—both human and primate—in reforestation efforts in Madagascar. A conservation geneticist and veterinarian by training, Ed Louis has discovered 21 lemur species and successfully reintroduced two species of locally extinct lemurs back into the wild.
Over 800 species added to IUCN threatened list, including 44 lemurs
(06/16/2014) Experts have added 817 species to the threatened categories of the IUCN Red List in the latest update. Those added include 51 mammals—mostly lemurs—and over 400 plants. The new update finds that over 90 percent of lemurs and 79 percent of temperate slipper orchids are threatened with extinction.
Lemur expert becomes first woman to win top conservation prize
(05/17/2014) Lemur expert Patricia C. Wright has become the first woman to win the prestigious Indianapolis Prize, an award granted every two years for achievement in wildlife conservation. Wright was chosen for her contributions to wildlife conservation in Madagascar, where she's worked with lemurs for nearly 30 years.
Panda lemur making a comeback
(03/20/2014) One of the world's biggest populations of greater bamboo lemurs (Prolemur simus)—sometimes known as the panda lemur—has doubled in just three years, giving conservationists new hope that the species can be kept from extinction. With the recent arrival of twenty babies, a community conservation project run by the Aspinall Foundation has boosted the local population to over 100 individuals in Andriantantely, one of Madagascar's only surviving lowland rainforests. Greater bamboo lemurs are currently categorized as Critically Endangered, though they were once believed extinct until hidden populations were uncovered in the 1980s.
The lemur end-game: scientists propose ambitious plan to save the world's most imperiled mammal family
(02/20/2014) Due to the wonderful idiosyncrasies of evolution, there is one country on Earth that houses 20 percent of the world's primates. More astounding still, every single one of these primates—an entire distinct family in fact—are found no-where else. The country is, of course, Madagascar and the primates in question are, of course, lemurs. But the far-flung island of Madagascar, once a safe haven for wild evolutionary experiments, has become an ecological nightmare. Overpopulation, deep poverty, political instability, slash-and-burn agriculture, illegal logging for lucrative woods, and a booming bushmeat trade has placed 94 percent of the world's lemurs under threat of extinction, making this the most imperiled mammal group on the planet. But, in order to stem a rapid march toward extinction, conservationists today publicized an emergency three year plan to safeguard 30 important lemur forests in the journal Science.
Madagascar's most famous lemur facing big threats
(12/18/2013) The ring-tailed lemur (Lemur catta), perhaps the most well-known of Madagascar's endemic animals, is facing a "very high" risk of extinction in the wild. The Madagascar Section of the IUCN Primate Specialist Group reassessed the Red List status of ring-tailed lemurs and upgraded the species from Near-Threatened (2008) to Endangered (2012). Ring-tailed lemurs are facing extinction in some parts of Madagascar because of continued habitat loss, and more recently, species exploitation.
Like ancient humans, some lemurs slumber in caves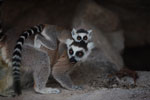 (12/05/2013) After playing, feeding, and socializing in trees all day, some ring-tailed lemurs (Lemur catta) take their nightly respite in caves, according to a new study in Madagascar Conservation and Development. The findings are important because this is the first time scientists have ever recorded primates regularly using caves (see video below).
The evolution of cooperation: communal nests are best for ruffed lemurs
(08/21/2013) Raising young lemurs in communal crèches benefits both mothers and offspring, a new study has found. Andrea Baden and colleagues, of Yale University, studied a group of black-and-white ruffed lemurs (Varecia variegata) in Ranomafana National Park, Madagascar. This is the first study to examine the consequences of different parenting strategies in the ruffed lemur.
Scientists map plan to save lemurs

(08/14/2013) Primatologists and researchers have devised a wide-ranging plan to protect Madagascar's most endangered lemurs from extinction.
Does size matter (for lemur smarts, that is)?
(08/09/2013) Does size matter? When referring to primate brain size and its relation to social intelligence, scientists at Duke University do not think the answer is a simple yes or no. In the past, scientists have correlated large brain size to large group size. However, in a new study published in PLoS ONE, scientists at Duke University provide evidence that large social networks, rather than large brains, contribute to social cognition, favoring the evolution of social intelligence.
Madagascar occupied by humans 2,500 years earlier than previously thought
(07/22/2013) New research indicates that Madagascar was occupied some 2,500 years earlier than previously established. The findings, published in Proceedings of the National Academy of Sciences, suggests a more complex view of the human role in the extinction of the island's mega-fauna. A large body of research holds that village communities began to appear in Madagascar around 500 AD. These were established by people of Indonesian and East African heritage, according to past studies that found linguistic similarities between the Malagasy languages of southeastern Borneo as well as genetic markers tying modern-day Malagasy people to both Indonesia and East Africa. But there have been plenty of hints that people came to the world's third largest island well before 500 AD.
Hibernating primates: scientists discover three lemur species sleep like bears
(05/02/2013) Bears do it, bats do it, and now we know lemurs do it too: hibernate, that is. Since 2005, scientists have known that the western fat-tailed dwarf lemur hibernates, but a new study in Scientific Reports finds that hibernation is more widespread among lemurs than expected. At least two additional lemur species—Crossley's dwarf lemur and Sibree's dwarf lemur—have been discovered hibernating. So far lemurs, which are only found on the island of Madagascar, are the only primates known to undergo hibernation, raising curious questions about the relationship between lemur hibernation and more well-known deep sleepers.
Featured video: in-depth look at Madagascar's Ranomafauna National Park

(04/03/2013) A new film Nosy Maitso takes a look at the people, researchers, and wildlife connected to Madagascar's Ranomafauna National Park. Apart of a World Heritage Site, the park was established in 1991 after a new species of lemur, the golden bamboo lemur (Hapalemur aureus), was discovered in its forests in the 1980s. The golden bamboo lemur is currently listed as Endangered by the IUCN Red List.
Travel in Madagascar: strange wildlife and stunning landscapes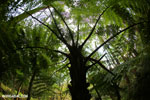 (02/27/2013) The promise of lemurs, lizards, and a bouquet of biodiversity brought mongabay.com founder Rhett Butler to Madagascar sixteen years ago. He was not disappointed by what he found and was inspired to return, many times to experience the wildlife, landscapes, and people of the dynamic island. In 2004, Rhett founded wildmadagascar.org, a site that highlights the spectacular cultural and biological richness of Madagascar and reports on environmental news for the Indian Ocean island nation.
Replacing lemur meat with insect protein in Madagascar

(12/12/2012) Poaching is a major threat to endangered lemurs in some parts of Madagascar, but a group has come up with an innovative solution to the problem: replace lemur meat with silkworm pupae, a byproduct of silk production.
Despite small brains, gray mouse lemurs use calls to avoid inbreeding
(12/03/2012) As a small-brained and largely solitary primate, the gray mouse lemur (Microcebus murinus) wasn't supposed to have the capacity to distinguish the calls of its kin calls from other lemurs. However, a new study in BMC Ecology, finds that a female gray mouse lemur is able to determine the mating calls of its father, allowing it avoid inbreeding. The discovery challenges the long-held belief that only large-brained, highly social animal are capable of determining kin from calls.
Greater bamboo lemur removed from 'most endangered primates' list

(11/13/2012) Madagascar's greater bamboo lemur has been removed from the list of the world's 25 most endangered primates after conservationists discovered previously unknown populations of the rare creature, according to the Aspinall Foundation, a charity that set in motion a species survival plan for the lemur.
Madagascar gets biggest protected area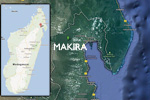 (08/17/2012) Madagascar officially designated its largest protected area in a region renowned for its tropical rainforests and rich diversity of wildlife, including 20 species of lemurs, reports the Wildlife Conservation Society (WCS), a group that was instrumental in establishing the park. Makira Natural Park covers some 372,470 hectares of forest in northeastern Madagascar, the most biodiverse part of the island nation.
Past climate change reduced lemur population in Madagascar

(07/24/2012) Climate change that took place 4,000-10,000 years ago may have contributed to the endangered status of one of Madagascar's rarest lemurs by reducing the extent of its habitat, argues a new study published in the journal Proceedings of the Natural Academy of Sciences.
Cute animal picture of the day: baby bamboo lemur

(07/16/2012) Greater bamboo lemurs (Prolemur simus) are one of over a hundred lemur species found only on the island of Madagascar. Listed as Critically Endangered, there are only around 500 individuals known in the wild, making them one of the world's most imperiled primate species. A new baby was recently born in captivity in the UK's Port Lympne Wild Animal Park.
91% of Madagascar's lemurs threatened with extinction
(07/13/2012) 94 of the world's 103 lemur species are at risk of extinction according to a new assessment by the International Union for Conservation of Nature (IUCN) released by the group's Species Survival Commission during a workshop this week. Lemurs, a group of primates that is endemic to the island of Madagascar, are threatened by habitat destruction and poaching for the bushmeat trade.
Cutting-edge research center opens in Madagascar rainforest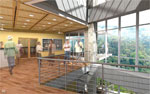 (07/03/2012) A high-tech research center opened today on the edge of a rainforest in Madagascar. The facility, known as the Centre Valbio, will support efforts to study Madagascar's unique wildlife, deliver health care to impoverished communities, and understand links between the environment and the rural economy. The project was led by Patricia Wright, a Stony Brook University biologist whose 1986 discovery of the golden bamboo lemur led to the protection of a large swathe of rainforest known as Ranomafana.
Photos: Mama lemurs with babies

(06/01/2012) Two baby lemurs were put on display this week in the Madagascar! exhibit at the Wildlife Conservation Society's Bronx Zoo.
Picture: Shaq poses with tiny lemur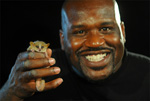 (05/18/2012) One of the world's most recognizable professional basketball players has used his stature to highlight one of the world's smallest primates: the mouse lemur from Madagascar. Shaquille O'Neal, a NBA legend who retired last year and earned a doctorate degree in education from Barry University earlier this year, posed with a mouse lemur at Zoo Miami in March. The diminutive primate, which measures only five inches and weighs two ounces, was dwarfed by the 7'1" 325-pound Shaq.
Innovative conservation: wild silk, endangered species, and poverty in Madagascar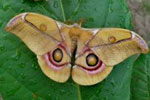 (02/20/2012) For anyone who works in conservation in Madagascar, confronting the complex difficulties of widespread poverty is a part of the job. But with the wealth of Madagascar's wildlife rapidly diminishing— such as lemurs, miniature chameleons, and hedgehog-looking tenrecs found no-where else in the world—the island-nation has become a testing ground for innovative conservation programs that focus on tackling entrenched poverty to save dwindling species and degraded places. The local NGO, the Madagascar Organization of Silk Workers or SEPALI, along with its U.S. partner Conservation through Poverty Alleviation (CPALI), is one such innovative program. In order to alleviate local pressure on the newly-established Makira Protected Area, SEPALI is aiding local farmers in artisanal silk production from endemic moths. The program uses Madagascar's famed wildlife to help create more economically stable communities.
How lemurs fight climate change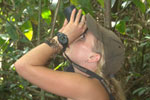 (01/09/2012) Kara Moses may have never become a biologist if not for a coin toss. The coin, which came up heads and decided Moses' direction in college, has led her on a sinuous path from studying lemurs in captivity to environmental writing, and back to lemurs, only this time tracking them in their natural habitat. Her recent research on ruffed lemurs is attracting attention for documenting the seed dispersal capabilities of Critically Endangered ruffed lemurs as well as theorizing connections between Madagascar's lemurs and the carbon storage capacity of its forests. Focusing on the black-and-white ruffed lemur's (Varecia variegata) ecological role as a seed disperser—animals that play a major role in spreading a plant's seeds far-and-wide—Moses suggests that not only do the lemurs disperse key tree species, but they could be instrumental in dispersing big species that store large amounts of carbon.
Cultural shifts in Madagascar drive lemur-killing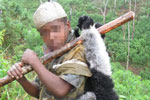 (12/15/2011) Conservationists have often found that some cultural norms, religious beliefs, and taboos play a role in holding back traditional peoples from overusing their environment. Examples of such beliefs include days wherein one cannot hunt or fish, or certain species or regions that are off limits to exploitation. But the influence of the modern world can rapidly extinguish such beliefs, sometimes for the better, in other cases not. In many parts of Madagascar, lemurs are off the menu. These primates, found only in Madagascar, play a big role in Malagasy 'fady' or taboo-related folk stories: lemurs are protectors and, in some cases, even relatives. However, according to a new paper in PLoS ONE an influx of migrants, widespread poverty, lack domestic meat, and poor law enforcement has caused a sudden rise in eating lemurs, many of which are already near-extinction due to habitat loss.
Critically Endangered lemurs disperse seeds, store carbon
(11/13/2011) Many tropical plants depend on other species to carry their progeny far-and-wide. Scientists are just beginning to unravel this phenomenon, known as seed dispersal, which is instrumental in supporting the diversity and richness of tropical forests. Researchers have identified a number of animal seed dispersers including birds, rodents, monkeys, elephants, and even fish. Now a new study in the Journal of Tropical Ecology adds another seed disperser to that list: the Critically Endangered black-and-white ruffed lemur (Varecia variegata). Capable of dispersing big tree species, the black-and-white ruffed lemur may even play a big role in carbon sequestration.
Tea Party rallies in favor of Gibson Guitar, ignores reasons instrument-maker is under investigation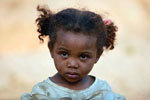 (10/10/2011) This weekend around 500 people showed up for a rally and concert in Nashville, Tennessee. The rally was in support of Gibson Guitars, a US-company currently under investigation for allegedly importing illegally logged wood into the country, an action that breaks a recent bipartisan amendment to the Lacey Act. While the Tea Party-affiliated groups that held the rally were expressing frustration with perceived over-regulation by the federal government, the issue at stake—a global effort to help stem illegal logging—was actually overlooked by the organizers.
Animal picture of the day: ninja lemurs

(08/14/2011) On the ground Verreaux's Sifaka (Propithecus verreauxi) move in sideways jumps giving them the appearance of elegant dancers or dangerous ninjas.
Featured video: Trouble in Lemur Land

(08/08/2011) A new film, Trouble in Lemur Land, showcases the Critically Endangered silky sifaka (Propithecus candidus). With only some 300 silky sifaka's surviving in the wild, this large and distinct lemur is considered one of the top 25 most endangered primates in the world.
Richard Branson's pet lemur project won't help save wildlife in Madagascar

(04/19/2011) Richard Branson's plan to introduce lemurs on one of his private islands in the Caribbean is a terrible idea if his aim is really to protect the primates from extinction. Beyond the much-discussed ecological impact of bringing in non-native primates, Branson's scheme risks undermining conservation efforts where lemurs actually exist in the wild: Madagascar.
Saving Madagascar's largest carnivorous mammal: the fossa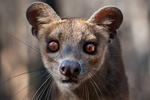 (02/17/2011) Madagascar is a land of wonders: dancing lemurs, thumbnail-sized chameleons, the long-fingered aye-aye, great baobab trees, and the mighty fossa. Wait—what? What's a fossa? It's true that when people think of Madagascar rarely do they think of its top predator, the fossa—even if they are one of the few who actually recognizes the animal. While the fossa gained a little notice in the first Madagascar film by DreamWorks, its role in the film was overshadowed by the lemurs. In this case, art imitates life: in conservation and research this feline-like predator has long lived in the shadow of its prey, the lemur. Even scientists are not certain what to do with the fossa: studies have shown that it's not quite a cat and not quite a mongoose and so the species—and its few Malagasy relatives—have been placed in their own family, the Eupleridae, of which the fossa (Cryptoprocta ferox) is the biggest. But if this is the first you've heard of such matter, don't feel bad: one of the world's only fossa-researchers, Mia-Lana Lührs also stumbled on the species.





New hope for rare lemurs in Madagascar

(01/20/2011) A survey of a remote forest area in Madagascar turned up seven new groups of silky sifaka, a critically endangered lemur threatened by habitat destruction. The finding raises hope that the species—which is listed as one of the world's 25 most endangered primates—is surviving in Marojejy National Park despite an outbreak of illegal rosewood logging in 2009 and 2010.





Lemur poaching continues in Madagascar [warning: graphic pictures]

(01/03/2011) A lemur poacher was intercepted with 32 dead lemurs on New Year's Eve in Madagascar's northeastern town of Vohemar, suggesting that killing of lemurs for the commercial bushmeat trade continues on the island nation, reports Fanamby, a Madagascar-based conservation group.




Page 1 | Page 2 | Page 3