News articles on Kelly Servick

---
Mongabay.com news articles on Kelly Servick in blog format. Updated regularly.






Clever crows may grasp hidden causes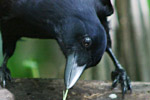 (11/15/2012) Crows may be imagining more than we imagined. New research suggests certain crows make decisions based on factors they can't see. A recent study published in the Proceedings of the National Academy of Sciences (PNAS) deepens our understanding of these crafty corvids, and could help explain how human reasoning evolved. Crows are intelligent problem solvers, capable of making hook-shaped tools to retrieve food and using multiple tools in a logical sequence. New Caledonian crows (Corvus moneduloides) are particularly adept tool users, and have often been the subject of cognitive research. In this study, the New Zealand–based researchers tested whether New Caledonian crows could trace an event back to a cause that was hidden from their view.