News articles on Ivory Coast

---
Mongabay.com news articles on Ivory Coast in blog format. Updated regularly.






Over 9,000 primates killed for single bushmeat market in West Africa every year
(03/24/2014) Over the past 25 years, West Africa's primates have been put at risk due to an escalating bushmeat trade compounded with forest loss from expanding human populations. In fact, many endemic primates in the Upper Guinea forests of Liberia and Ivory Coast have been pushed to the verge of extinction. To better understand what's happening, a recent study in mongabay.com's open-access journal Tropical Conservation Science investigated the bushmeat exchange between these neighboring countries.
Beautiful striped bat is the "find of a lifetime" (photos)
(04/10/2013) Scientists have uncovered a rare, brilliantly-striped bat in South Sudan that has yielded new secrets after close study. Working in Bangangai Game Reserve during July of last year, biologist DeeAnn Redeer and conservationist Adrian Garsdie with Fauna & Flora International (FFI) came across an unmissable bat, which has been dubbed by various media outlets as the "badger bat" and the "panda bat."
Bloodsucking flies help scientists identify rare, hard-to-find mammals
(01/16/2013) Last year scientists released a study that is likely to revolutionize how conservationists track elusive species. Researchers extracted the recently sucked blood of terrestrial leeches in Vietnam's remote Annamite Mountains and looked at the DNA of what they'd been feeding on: remarkably researchers were able to identify a number of endangered and rarely-seen mammals. In fact two of the species gleaned from these blood-meals had been discovered by scientists as late as the 1990s. In the past, trying to find rare and shy jungle animals required many man hours and a lot of funding. While the increasing use of remote camera traps has allowed scientists to expand their search, DNA sampling from leeches could be the next big step in simplifying (and cheapening) the quest for tracking the world's mammals.
Mysterious pygmy hippo filmed in Liberia

(12/19/2011) Conservationists have captured the first ever footage (see video below) of the elusive pygmy hippo (Choeropsis liberiensis) in Liberia. The forest-dwelling, nocturnal species—weighing only a quarter of the size of the well-known common hippo (Hippopotamus amphibius)—has proven incredibly difficult to study. But the use of camera traps in Liberia's Sapo National Park has allowed researchers a glimpse into its cryptic life.
Locals key to saving primate-rich wetlands in Cote D'Ivoire

(12/12/2011) Saved from being converted into a vast palm oil plantation by PALM-CI in 2009, the Ehy Tanoé wetlands and forest in the Cote D'Ivoire (Ivory Coast) is home to three gravely endangered primates and as well as many other species. Since 2006, a pilot community management program has been working to protect the 12,000 hectare area, and a new study in mongabay.com's open access journal Tropical Conservation Science finds that long-term conservation of the Ehy Tanoé wetlands and forest is, in fact, vital for locals who depend on the area for hunting, fishing, firewood, building materials, and medicinal plants. In addition, the study finds that the ecosystem has special cultural and spiritual importance to locals.
Dangers for journalists who expose environmental issues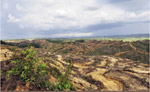 (09/19/2009) Guinean journalist Lai Baldé has been threatened. Egyptian blogger Tamer Mabrouk has been sued. Russian journalist Grigory Pasko has just spent four years in prison. His Uzbek colleague, Solidzhon Abdurakhmanov, has just been given a 10-year jail sentence. Mikhail Beketov, another Russian journalist, has lost a leg and several fingers as a result of an assault. Bulgarian reporter Maria Nikolaeva was threatened with having acid thrown in her face. Filipino journalist Joey Estriber has been missing since 2006... What do these journalists and many others have in common? They are or were covering environmental issues in countries where it is dangerous to do so.
Teak wood may be improved by greater genetic diversity

(09/15/2008) Molecular genetics is an important tool not only in basic studies of phylogeny, genetic variation, and relatedness among others, but also for managing tropical forest resources that have important commercial value.
11 species of monkeys discovered in West African biodiversity hotspot

(09/15/2008) Urgent conservation measures are needed to protect some of the world's most endangered primates from the hunting, logging, and oil palm development in a region that has only recently emerged from a period of civil strife, report researchers writing in the open-access journal Tropical Conservation Science.