News articles on Invasive Species

---
Mongabay.com news articles on Invasive Species in blog format. Updated regularly.






After two decades, Indonesia publishes plan for tackling invasive species
(06/29/2015) Twenty years after ratifying a legally binding UN convention which obligates parties to deal with invasive alien species, considered to be main direct drivers of biodiversity loss across the globe, Indonesia has drawn up a national strategic plan on the matter. The plan outlines steps to mitigate invasive species through policy, institution-building, information management, research and education, capacity-building and public awareness.
Photo essay: Polluted, overfished, and choked by weeds, world's second-largest lake is 'on its knees'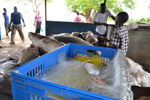 (06/02/2015) Lake Victoria is choking with pollution from industrial, agricultural, and human waste. Its problems are compounded by illegal fishing, catching of juvenile fish, and infestations of water hyacinth and the carnivorous Nile perch, which has wiped out many native fish species. Activists say lax law enforcement and a lack of political will are failing the lake, whose fisheries help feed nearly 22 million people.
Invasive predators, deforestation driving Tasmanian parrot over the edge
(05/29/2015) In the forests of Tasmania lives the swift parrot (Lathamus discolour), a highly threatened bird found nowhere else in the world. New research published recently in Biological Conservation finds they are more at risk of extinction than previously thought, with introduced sugar gliders (Petaurus breviceps) and logging dealing two big blows to their remaining numbers.
Scientists, NGOs race to save 'Millennium Trees'
(02/12/2015) In a tiny area of an isolated archipelago in the southwest Pacific lives a unique tree species on the precipice of extinction. Recent research has shown it is declining dramatically, and mature individuals may be completely gone in 100 years. In response, environmental organizations and scientists are coming together to try and save New Caledonia's Millennium Trees.
Rat eradication needed to save seabird colony
(12/30/2014) Although only a nuisance in your home, on an isolated island chain (archipelago) off the northeastern coast of Brazil, rats pose a threat to the red-billed tropicbird (Phaethon aethereus). The seabird nests in the remote Abrolhos National Park, but two species of invasive rats prey on its eggs and young: the house rat (Rattus rattus) and the brown rat (Rattus norvegicus).
Gone for good: world's largest earwig declared extinct
(11/19/2014) The world has lost a giant: this week the IUCN Red List officially declared St. Helena giant earwig extinct. While its length of 80 millimeters (3.1 inches) may not seem like much, it's massive for an earwig and impressive for an insect. Only found on the island of St. Helena in the remote southern Atlantic, experts believe the St. Helena giant earwig was pushed to extinction by habitat destruction.
Next big idea in forest conservation? Recognize the value of novel forests
(10/23/2014) Think first before you eradicate non-native species says Dr. Ariel E. Lugo, the current director of the International Institute of Tropical Forestry within the USDA Forest Service, based in Puerto Rico. Lugo, an accomplished ecologist, supports the idea that both native and non-native plants have important roles to play in conservation efforts.
Dogs may be responsible for declining mammals in Brazil's agroforests
(09/26/2014) With an estimated population of 700 million individuals, domestic dogs are the most abundant carnivore in the world and are present everywhere that man has settled. Domestic dogs are not usually viewed as a huge threat to wildlife and native habitats, but according to a recent study dogs fit all three categories to be considered an invasive species and may be decimating mammals in agroforests in Brazil.
Invasion of the lionfish: new research finds the situation may be worse than we thought
(08/27/2014) You may have recently read the controversial story on invasive lionfish research involving Dr. Zack Jud of Florida International University and a young girl named Lauren Arrington. While the issue of attribution in scientific research is crucial to the discipline, much of the media focus so far has sidestepped the real issue: what lionfish tolerance for brackish water really means for the environment.
Invasive species worsen damage from Hawaii's storms
(08/22/2014) Damage from Hurricane Iselle, which recently battered Hawaii's Big Island, was exacerbated by invasion of non-native tree species, say experts who have studied the transformation of Hawaii's native forests. selle, which made landfall on the Big Island on August 7, was the third-strongest tropical cyclone to hit Hawaii since 1950. It caused upwards of $50 million in damage.
On the brink of extinction: Javan rhino has new enemy in invasive palm
(07/01/2014) The last of Indonesia's critically endangered Javan rhinoceroses have survived poachers, rapid deforestation and life in the shadow of one of the archipelago's most active volcanoes. But an invasive plant is now posing a new threat to the world's rarest species of rhino.
Long lives, big impacts: human life expectancy linked to extinctions
(04/15/2014) Since the arrival of Homo sapiens, other species have been going extinct at an unprecedented rate. Most scientists now agree that extinction rates are between 100 and 1000 times greater than before humans existed. Working out what is driving these extinctions is fiendishly complicated, but a new study suggests that human life expectancy may be partly to blame.
Alien trees use logging roads to invade Borneo forests
(03/25/2014) The spiked pepper tree (Piper aduncum) is native to the American tropics, but has made itself at home in a variety of other locales where it can crowd out local vegetation and interfere with forest recovery. Although it's been slow to spread through Borneo since its introduction to Indonesia in 1952, new logging roads appear to be driving the species farther afield. A study in mongabay.com's open access journal Tropical Conservation Science raises concerns that these roads may bring unintended plant colonists to new areas – putting the biodiversity of forests at risk.
Nicaragua Canal could cause ecological disaster, warn experts

(02/20/2014) Nicaragua's plans for a canal linking the Pacific and Atlantic Oceans could trigger an environmental disaster through habitat destruction and alteration, introduction of non-native species, pollution, and sedimentation, warns a commentary published in this week's issue of Nature.
Meeting the mammal that survived the dinosaurs
(10/14/2013) So, here I am, running in a forest at night over 2,000 miles from home. This forest—dry, stout, and thorny enough to draw blood—lies just a few miles north of a rural town in the western edge of the Dominican Republic on the border with Haiti. I'm following—or trying to keep pace with—a local hunter and guide as we search for one of the world's most bizarre mammals. It's an animal few people have heard of, let alone actually seen; even most Dominicans don't readily recognize its name or picture. But I've been obsessed with it for six years: it's called a "solenodon," more accurately the Hispaniolan solenodon or its (quite appropriate) scientific name, Solenodon paradoxus.
Pet fish invade ecosystem, upending nutrients and impoverishing fishers
(10/02/2013) If you, or someone you know, owns a freshwater aquarium, chances are you have seen the peculiar little creature attached face-first to the glass in effort to find a morsel of algae. This algae eater, popularly known as the sucker fish, is the sailfin catfish, or plecos. It is one of the most commonly purchased fish in the freshwater aquarium fish trade, and, according to recent research in The Royal Society B, aquarists often reintroduce the sucker-fish into the wild with detrimental consequences.
'Ecological Armageddon': mammals vanish entirely from forest fragments after 25 years
(09/26/2013) As tropical forests worldwide are increasingly cut into smaller and smaller fragments, mammal extinctions may not be far behind, according to a new study in Science. Tracking native smalls mammals in Chiew Larn Reservoir, Thailand for over 25 years, scientists found a stunning and rapid decline in mammal populations, until most forests were almost completely emptied of native mammals.
Are 'novel' tropical forests nature's response to global change?

(08/22/2013) We now live in a world dominated by humans (the Anthropocene), whose activities on Earth are resulting in new habitats and new environmental conditions including climate change. To many, the Anthropocene is an era of environmental doom that unless reversed, will result in catastrophic reductions in biodiversity. An alternate view is that the biota will adjust to the new environmental conditions and through processes of species mixing and self-organization will form sustainable novel communities of organisms.
Journey to the Edge of Eden: the struggle to preserve Southwest Florida
(08/05/2013) Gary Schmelz, in a Journey to the Edge of Eden, takes us through a wonderful personal account of the conservation history of Southwest Florida. Journey to the Edge of Eden is one part personal memoir similar to the English naturalist Gerald Durrell and one part Florida conservation history. With hilarious stories of unintended naturalist misadventures and recounting conservation "as it happened," a Journey to the Edge of Eden is one of those rare books you read in a coffee shop and with gusto and pride while laughing along out loud at Gary Schmelz stories.
Conservationists work to give South Georgia back to the birds
(07/18/2013) A team on South Georgia has successfully completed the world's largest rodent eradication in an effort to rid the British territory of millions of rats and mice. Against the backdrop of an approaching Antarctic winter between February and May, three helicopters encountered perilous flying conditions while peppering the southern Atlantic island with 183 tonnes of the poison Brodifacoum. The team of 25 baited an area of 224 sq miles (580 sq km). The area targeted dwarfed the previous largest rodent eradication, on New Zealand's Campbell Island, by five times.
Saviors or villains: controversy erupts as New Zealand plans to drop poison over Critically Endangered frog habitat
(04/10/2013) New Zealand's Department of Conservation (DOC) is facing a backlash over plans to aerially drop a controversial poison, known as 1080, over the habitat of two endangered, prehistoric, and truly bizarre frog species, Archey's and Hochsetter's frogs, on Mount Moehau. Used in New Zealand to kill populations of invasive mammals, such as rats and the Australian long-tailed possum, 1080 has become an increasingly emotive issue in New Zealand, not just splitting the government and environmentalists, but environmental groups among themselves. Critics allege that the poison, for which there is no antidote, decimates local animals as well as invasives, while proponents say the drops are the best way to control invasive mammals that kill endangered species like birds and frogs and may spread bovine tuberculosis (TB).
Ant communities more segregated in palm oil plantations than rainforest
(03/21/2013) Ants are an important ecological group in both degraded and natural habitats. They interact with many other species and mediate a range of ecological processes. These interactions are often interpreted in the context of ant mosaics, where dominant species form strict territories, keeping other ants out. This segregation between ant species is well-documented in monoculture plantations. Now new research published in Ecography has shown that these changes are driven by the replacement of rainforests with monocultures and not the arrival of non-native species.
Invasive plants hurt locals in Mauritius

(03/18/2013) Native species on the island of Mauritius have long had to deal with invasive species. In fact, invasives likely played a major role in the extinction of the Mauritius' most famous resident, the dodo. While scientists have long cataloged the impact of invasive animals on island wildlife, there has been less clarity when it comes to invasive plants. However, a new paper in mongabay.com's open access journal Tropical Conservation has found that invasive plants do indeed negatively impact local species.
The Role of Science for Conservation - book review

(03/18/2013) The Role of Science for Conservation, edited by Matthias Wolff and Mark Gardner, celebrates Charles Darwin's Bicentennial and 50 years of research by the Charles Darwin Foundation in The Galápagos, Ecuador.
Captive frogs may be spreading diseases to wild cousins across Southeast Asia

(03/07/2013) Scientists have documented a series of links between exotic frogs for trade and diseases in wild frogs in Southeast Asia, including the first documented case of the chytrid fungus—a virulent and lethal disease—in Singapore. According to researchers writing in a new study in EcoHealth, frogs imported into Southeast Asia as pets, food, or traditional medicine are very likely spreading diseases to wild populations.
Warnings of global ecological tipping points may be overstated
(03/05/2013) There's little evidence that the Earth is nearing a global ecological tipping point, according to a new Trends in Ecology and Evolution paper that is bound to be controversial. The authors argue that despite numerous warnings that the Earth is headed toward an ecological tipping point due to environmental stressors, such as habitat loss or climate change, it's unlikely this will occur anytime soon—at least not on land. The paper comes with a number of caveats, including that a global tipping point could occur in marine ecosystems due to ocean acidification from burning fossil fuels. In addition, regional tipping points, such as the Arctic ice melt or the Amazon rainforest drying out, are still of great concern.
Extinction warning: racing to save the little dodo from its cousin's fate
(03/04/2013) Sometime in the late 1600s the world's last dodo perished on the island of Mauritius. No one knows how it spent its final moments—rather in the grip of some invasive predator or simply fading away from loneliness—but with its passing came an icon of extinction, that final breath passed by the last of its kind. The dodo, a giant flightless pigeon, was a marvel of the animal world: now another island ground pigeon, known as the little dodo, is facing its namesake's fate. Found only in Samoa, composed of ten islands, the bird has many names: the tooth-billed pigeon, the Manumea (local name), and Didunculus ("little dodo") strigirostris, which lead one scientist to Christen it the Dodlet. But according to recent surveys without rapid action the Dodlet may soon be as extinct as the dodo.
Scientist: releasing invasive birds in Turkey to eat ticks will backfire
(02/04/2013) As Turkey raises and releases thousands of non-native helmeted guineafowl (Numida meleagris) to eat ticks that carry the deadly Crimean-Congo hemorrhagic fever virus, new research suggests guineafowl actually eat few ticks, carry the parasites on their feathers, and further spread the disease.
Cute koalas have become 'urban refugees'
(01/28/2013) According to Susan Kelly, koalas have become "urban refugees," under siege by expanding cities that bring with them deforestation, dogs, traffic, and other ills for native wildlife. Director of Global Witness, and writer, producer and director of the new documentary Koala Hospital, Kelly has spent 3 years working to understand the rising threats to one of the world's most beloved marsupials. While Koala Hospital highlights the many perils facing koalas, including climate change due to record fires across Australia, it also looks at the efforts of individuals who work to save koalas one—by—one at Port Macquarie Koala Hospital, taking in patients who have been orphaned, hit by cars, scarred in fires, or attacked by dogs.
Meet Cape Town's volunteer 'toad shepherds'
(11/08/2012) August marks the last month of winter in South Africa, and, as temperatures begin to rise, activists in Cape Town prepare for a truly unique conservation event. Every year at this time western leopard toads (Amietophrynus pantherinus) endemic to the region and Critically Endangered, embark on a night-time migration through Cape Town from their homes in the city's gardens to the ponds they use as breeding sites—as far as three kilometers away. This season over one hundred volunteers took to the streets, flashlights in hand, to assist the toads in navigating the increasing number of man-made obstacles in their path. Among them was life-long resident and mother, Hanniki Pieterse, who serves as an organizer for volunteers in her area.
Remarkable comeback: blue iguana downgraded to Endangered after determined conservation efforts

(10/23/2012) The wild blue iguana population has increased by at least 15 times in the last ten years, prompting the IUCN Red List to move the species from Critically Endangered to just Endangered. A targeted, ambitious conservation program, headed by the Blue Iguana Recovery Team, is behind this rare success for a species that in 2002 only numbered between 10 and 25 individuals.
Arachnopocalypse: with birds away, the spiders play in Guam
(09/17/2012) The island of Guam is drowning in spiders. New research in the open-access journal PLOS ONE has found that in the wet season, Guam's arachnid population booms to around 40 times higher than adjacent islands. Scientists say this is because Guam, a U.S. territory in the Pacific, has lost its insect-eating forest birds. Guam's forests were once rich in birdlife until the invasion of non-native brown tree snake (Boiga irregularis) in the 1940s decimated biodiverse bird communities. Now, the island is not only overrun with snakes, but spiders too.
Animal pictures of the day: booming captive breeding for Mauritius skinks

(08/14/2012) Three female orange-tailed skinks skinks have produced 16 skink babies in just four months, according to the Durrell Wildlife Conservation Trust (DWCT), which is captive breeding the Critically Endangered species. The breeding efforts are all the more remarkable since the females only produce two eggs at a time.
Meet the world's rarest snake: only 18 left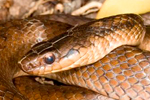 (07/10/2012) It's slithery, brown, and doesn't mind being picked up: meet the Saint Lucia racer (Liophis ornatus), which holds the dubious honor of being the world's most endangered snake. A five month extensive survey found just 18 animals on a small islet off of the Caribbean Island of Saint Lucia. The snake had once been abundant on Saint Lucia, as well, but was decimated by invasive mongooses. For nearly 40 years the snake was thought to be extinct until in 1973 a single snake was found on the Maria Major Island, a 12-hectare (30 acre) protected islet, a mile off the coast of Saint Lucia (see map below).
Lonesome George passes, taking unique subspecies with him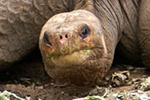 (06/25/2012) Lonesome George, the sole surviving member of the Pinta Island tortoise (Chelonoidis nigra abingdoni), was found dead on Sunday by staff at the Galapagos National Park. With George's passing, the Pinta Island tortoise subspecies officially falls into extinction. First found in 1972, Lonesome George became famous for representing the last of his kind. He was believed to be around 100—middle-aged for a Galapagos tortoise which can live to 200 years old. Staff plan to do an autopsy to determine the cause of death.
Island bat goes extinct after Australian officials hesitate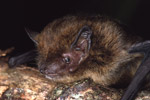 (05/23/2012) Nights on Christmas Island in the Indian Ocean will never again be the same. The last echolocation call of a tiny bat native to the island, the Christmas Island pipistrelle (Pipistrellus murrayi), was recorded on August 26th 2009, and since then there has been only silence. Perhaps even more alarming is that nothing was done to save the species. According to a new paper in Conservation Letters the bat was lost to extinction while Australian government officials equivocated and delayed action even though they were warned repeatedly that the situation was dire. The Christmas Island pipistrelle is the first mammal to be confirmed extinct in Australia in 50 years.
Skink biodiversity jumps 650 percent in the Caribbean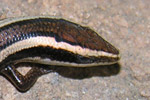 (04/30/2012) In a single paper in Zootaxa scientists have rewritten the current understanding of lizard biodiversity in the Caribbean. By going over museum specimens of skinks, scientists have discovered 24 new species and re-established nine species previously described species, long-thought invalid. The single paper has increased the number of skinks in the Caribbean by 650 percent, from six recognized species to 39. Unfortunately, half of these new species may already be extinct and all of them are likely imperiled.
Invasive primates threaten Atlantic Forest natives

(03/19/2012) Scientists have called for the removal of eight invasive primates from Brazil's imperiled Atlantic Forest in a new study published in mongabay.com's open access journal Tropical Conservation Society. The researchers fear that the eight alien monkeys could hurt other species due to increased competition, predation, and possible disease.
Invasion!: Burmese pythons decimate mammals in the Everglades

(01/30/2012) The Everglades in southern Florida has faced myriad environmental impacts from draining for sprawl to the construction of canals, but even as the U.S. government moves slowly on an ambitious plan to restore the massive wetlands a new threat is growing: big snakes from Southeast Asia. A new paper in the Proceedings of the National Academy of Sciences (PNAS) has found evidence of a massive collapse in the native mammal population following the invasion of Burmese pythons (Python molurus bivittatus) in the ecosystem. The research comes just after the U.S. federal government has announced an importation ban on the Burmese python and three other big snakes in an effort to safeguard wildlife in the Everglades. However, the PNAS study finds that a lot of damage has already been done.
California city bans bullfrogs to safeguard native species
(01/26/2012) Santa Cruz, California has become the first city in the U.S. to ban the importation, sale, release, and possession of the American bullfrog (Rana catesbeiana). Found throughout Eastern and Central U.S., the frogs have become an invasive threat to wildlife in the western U.S. states and Canada.
U.S. implements snake ban to save native ecosystems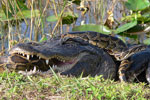 (01/25/2012) Last week the U.S. Fish and Wildlife Service (USFWS) announced it was banning the importation and sale across state lines of four large, non-native snakes: the Burmese python (Python molurus bivittatus), the yellow anaconda (Eunectes notaeus), and two subspecies of the African python (Python sebae). Although popular pets, snakes released and escaped into the wild have caused considerable environmental damage especially in the Florida Everglades.
Aloha, and welcome to the planet's extinction capital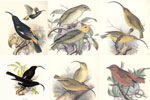 (11/07/2011) Hawaii evokes images of a tropical paradise where fragrant flowers, vivid colors, exotic plants, birds, and fish abound. Unfortunately, much of Hawaii's original native flora and fauna has disappeared since the arrival of Europeans in the 18th Century. Hawaii now has the dubious distinction as having become the planet's extinction capital, having lost more than 55 endemic species (mostly native forest birds) which account for nearly one third of recorded of bird extinctions since the 1700s.
Forgotten species: the rebellious spotted handfish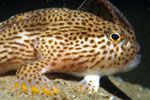 (07/12/2011) Evolution is a bizarre mistress. In her adaptation workshop she has crafted parrots that don't fly, amphibians with lifelong gills, poison-injecting rodents, and tusked whales. In an evolutionary hodge-podge that is reminiscent of such mythical beasts as chimeras and griffins, she has from time-to-time given some species' attributes of others, such as the marine iguana who is as happy underwater as a seal, the duck-billed platypus that lays eggs like a reptile, and the purple frog that has a lifestyle reminiscent of a mole. Then there's one of her least-known hodge-podges: the fish who 'walks' with hands instead of swimming.
Ant surprises on Murciélago Islands in Costa Rica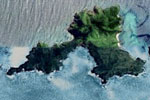 (06/28/2011) The Murciélago Islands are seven small islands off the northwest coast of Costa Rica in the Area de Conservación Guanacaste (ACG), home to one of the largest intact dry tropical forests in Central America. Despite this, few scientists have studied the biodiversity of these small uninhabited islands. A new study in the open access journal Tropical Conservation Science has attempted to rectify this gap by conducting the first survey of insects, specifically ants, on the islands. Researchers were surprised at the richness of ant species on the island: 50 species were documented, only two of which were invasive species.
Down to 50, conservationists fight to save Javan Rhino from extinction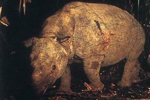 (05/17/2011) Earlier this year, the International Rhino Foundation launched Operation Javan Rhino to prevent the extinction of the critically endangered Javan Rhinoceros (Rhinoceros sondaicus), formerly found in rain forests across Southeast Asia. Operation Javan Rhino is a multi-layered project which links field conservation, habitat restoration, and management efforts with the interests of local governments and communities. The following is an interview with Susie Ellis, Executive Director of the International Rhino Foundation.
New land snail invading Singapore requires swift action

(03/28/2011) An African land snail Limicolaria flammea has been discovered by researchers in six locations in Singapore, perhaps heralding a new invasion of alien land snails in Southeast Asia. Although snails may seem largely innocuous creatures, past invasions have resulted in agricultural and economic damage. The global invasion of the giant African land snail (Achatina fulica) has been called one of the world's top 100 worst alien species. Writing in mongabay.com's open access journal Tropical Conservation Science, researchers examine the issue and provide suggestions as to how Singapore authorities can quickly rid the nation of Limicolaria flammea.
Alien plants invade Nigerian protected 'gene bank'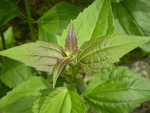 (03/28/2011) Very few studies have been conducted on invasive species in Nigeria, however a new study in mongabay.com's open access journal Tropical Conservation Science has discovered 25 invasive plants in a field gene bank at the National Center for Genetic Resources and Biotechnology (NASGRAB) in Ibadan. The gene bank is used to establish populations of important and, in some cases threatened, native plant species. The gene bank spans 12 hectares, but the study found that 18% of the area was overtaken with invasive species that likely compete with the protected Nigerian plants for nutrients, space, and light. Among the 25 invasive species, 14 were herbs, 8 were vines, 2 were shrubs, and one was a tree.
Photos: penguins devastated by oil spill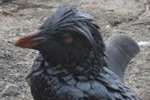 (03/22/2011) Disturbing photos show northern rockhopper penguins (Eudyptes moseleyi) hit hard by an oil spill from a wrecked cargo ship on Nightingale Island in the Southern Atlantic. Already listed as Endangered by the IUCN Red List, the oil spill threatens nearly half of the northern rockhopper population according to BirdLife International. Already conservation workers say 'hundreds' of penguins have been oiled. Located the remote Southern Atlantic, Nightingale Island is a part of the UK's Tristan da Cunha archipelago. The island's are home to a variety of birdlife, including species that survive no-where else but on the archipelago.
Hundreds of endangered penguins covered in oil after remote spill

(03/21/2011) Conservation workers have found hundreds of oiled northern rockhopper penguins (Eudyptes moseleyi) after a cargo vessel wrecked on Nightingale Island, apart of the UK's Tristan da Cunha archipelago. Northern rockhopper penguins are listed as Endangered by the IUCN Red List. According to a press release by BirdLife International, the spill threatens nearly half of the world's northern rockhopper population.
Forgotten species: the plummeting cycad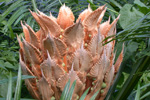 (12/06/2010) I have a declarative statement to make: cycads are mind-blowing. You may ask, what is a cycad? And your questions wouldn't be a silly one. I doubt Animal Planet will ever replace its Shark Week with Cycad Week (perhaps the fact that it's 'animal' planet and not 'plant' planet gave that away); nor do I expect school children to run to see a cycad first thing when they arrive at the zoo, rushing past the polar bear and the chimpanzee; nor do I await a new children's book about a lonely little anthropomorphized cycad just looking for a friend. In the world of species-popularity, the cycad ranks pretty low. For one thing, it's a plant. For another thing, it doesn't produce lovely flowers. And for a final fact, it looks so much like a palm tree that most people probably wouldn't know it wasn't. Still, I declare the cycad to be mind-blowing.
World's rarest snake making a comeback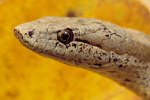 (11/02/2010) The Antiguan racer (Alsophis antiguae) shares a similar story with many highly endangered island species. Invasive mongoose killed every racer on the Caribbean island of Antigua, leaving only a small population on nearby Great Bird Island. Confined to 8 hectares, this final population was being killed-off by invasive Eurasian black rats. By the time conservationists took action, only 50 Antiguan racers survived in the world. But here's where the story turns out different: 15 years later, a partnership between six conservation groups has succeeded in raising the population tenfold to 500 snakes and expanded its territory to other islands through snake-reintroductions.
Rivers worldwide in peril: society treats symptoms, ignores causes
(09/29/2010) Dams, agricultural runoff, pesticides, sewage, mercury pollution from coal plants, invasive species, overconsumption, irrigation, erosion from deforestation, wetland destruction, overfishing, aquaculture: it's clear that the world's rivers are facing a barrage of unprecedented impacts from humans, but just how bad is the situation? A new global analysis of the world's rivers is not comforting: the comprehensive report, published in Nature, finds that our waterways are in a deep crisis which bridges the gap between developing nations and the wealthy west. According to the study, while societies spend billions treating the symptoms of widespread river degradation, they are still failing to address the causes, imperiling both human populations and freshwater biodiversity.
U.S. government bombs Guam with frozen mice to kill snakes

(09/28/2010) In a spectacularly creative effort to rid the island of Guam of an invasive species, the US Department of Agriculture is planning to 'bomb' the rainforests with dead frozen mice laced with acetaminophen. The mice-bombs are meant to target the brown tree snake, an invasive species which has ravaged local wildlife, and angered local residents, since arriving in the 1940s.
Goats, cats trigger near extinction of Hawaiian bird in past 7 years

(09/14/2010) A new survey by the United States Geological Survey shows the population of the Palila (Loxioides bailleui), a beautiful songbird found only in Hawaii, has fallen from 4,400 birds to 1,200 birds since 2003, a decline of nearly 75 percent. The bird is being driven toward extinction by introduced sheep and goats, which are destroying the Palila's key food source, and feral cats, which are killing off adult birds and hatchlings, according to the American Bird Conservancy.
Australian mammals in steady decline even in large National Park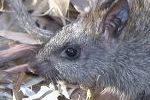 (07/19/2010) Kakadu National Park, one of the Australia's "largest and best-resourced" protected areas, is experiencing a staggering decline in its small mammal population, according to a new study published in Wildlife Research. Spanning nearly 2 million hectares—larger than Fiji—the park lies in tropical northern Australia. 'This decline is catastrophic,' John Woinarski, lead author of the study and expert on Australian mammals, told mongabay.com. 'We know of no comparable case in the world of such rapid and severe decline of a large proportion of native species in a large conservation reserve.'
Photos: rats drive island lizard to extinction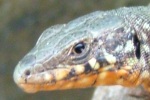 (06/29/2010) The Selmunett lizard (Podarcis filfolensis ssp. Kieselbachi) is very likely extinct, according to Maltese naturalist Arnold Sciberras. One of four subspecies of the Maltese wall lizard, the Selmunett lizard was last seen in 2005. Although the lizard's home—Selmunett Island—has long been uninhabited by people, that fact did not help save the lizard. Over-predation by introduced rats is thought to be the primary cause of lizard's extinction.
'No hope now remains' for the Alaotra grebe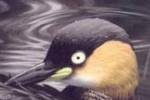 (05/31/2010) World governments have missed their goal of stemming biodiversity loss by this year, instead biodiversity loss has worsened according to scientists and policy-makers, and a little rusty-colored bird, the Alaotra grebe (Tachybaptus rufolavatus) is perhaps a victim of this failure to prioritize biodiversity conservation. Native to a small region in Madagascar, the grebe has been declared extinct by BirdLife International and the IUCN Red List due to several factors including the introduction of invasive carnivorous fish and the use of nylon gill-nets by local fishermen, which now cover much of the bird's habitat, and are thought to have drowned diving grebes. The bird was also poached for food.
The Caribbean's wonderfully weird (and threatened) mammals, an interview with Jose Nunez-Mino

(01/18/2010) Not many people know the solenodon and the hutia, yet for the fortunate few that have encountered them, these strange little-studied mammals—just barely holding on in the Caribbean island of Hispaniola—deserve to be stars of the animal kingdom. "I could not quite believe it the first time I held a solenodon; I was in utter awe of this mesmerizing mammal. […] They have a long flexible snout which is all down to the fact that it is joined to the skull by a unique ball-and-socket joint. This makes it look as if the snout is almost independent to the rest of the animal. You can't help but feel fascinated by the snout and inevitably it does make you smile," Dr. Jose Nunez-Mino, the Project Manager for a new initiative to study and conserve the island's last mammals, told mongabay.com in an interview.
Gone: a look at extinction over the past decade

(01/03/2010) No one can say with any certainty how many species went extinct from 2000-2009. Because no one knows if the world's species number 3 million or 30 million, it is impossible to guess how many known species—let alone unknown—may have vanished recently. Species in tropical forests and the world's oceans are notoriously under-surveyed leaving gaping holes where species can vanish taking all of their secrets—even knowledge of their existence—with them.
Employing dogs to save endangered species and places, an interview with Megan Parker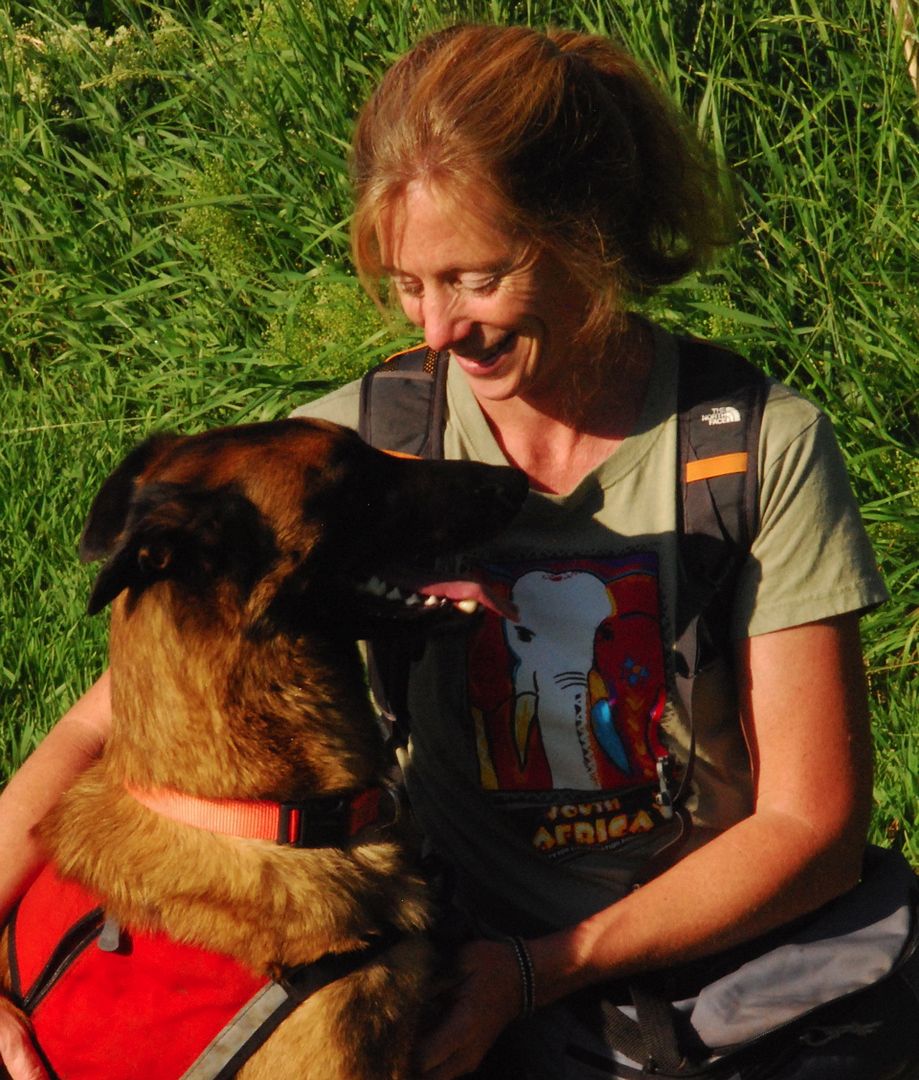 (09/21/2009) For millennia dogs have been helpers to humans: they have herded and protected livestock, pulled sleds, hunted game, led the blind, located people after disasters, and sniffed out drugs. Now a new occupation can be added: conservation aide. Working Dogs for Conservation (WDC) was begun by Megan Parker in 2000: the idea, to use dogs' impeccable scent capabilities for conservation initiatives, appears so logical and useful when Parker talks about it, one is surprised it took environmentalists so long to realize the potential of dogs.
New report predicts dire consequences for every U.S. region from global warming
(06/17/2009) Government officials and scientists released a 196 page report detailing the impact of global warming on the U.S. yesterday. The study, commissioned in 2007 during the Bush Administration, found that every region of the U.S. faces large-scale consequences due to climate change, including higher temperatures, increased droughts, heavier rainfall, more severe weather, water shortages, rising sea levels, ecosystem stresses, loss of biodiversity, and economic impacts.
Have Australian cane toads finally met their match?
(03/31/2009) This weekend in Queensland, Australia the government held the first 'Toad Day Out' where hundreds of locals went hunting for the invasive cane toad, catching an estimated 10,000 toads to be euthanized. At the same time, researchers announced in the journal Functional Ecology that they may have discovered a native Australian species that will finally rout the cane toad—and it's not man. The meat ant is a notoriously aggressive and abundant insect which is known to consume anything edible, including the scientists argue, cane toads.
20 waterbirds added to threatened list

(10/02/2008) The U.N. has added 20 species of migratory waterbird to the Agreement on the Conservation of African-Eurasian Migratory Waterbirds (AEWA) giving them greater international protection in Africa, Europe, and Asia.
Amphibians face mass extinction

(08/11/2008) Amphibians are in big trouble. At least one third of the world's 6,300 known species are threatened with extinction, while at least 200 species have gone extinct over the past 20 years. Worryingly the outbreak of a deadly fungal disease, chytridiomycosis, is spreading throughout the tropics leaving millions of victims. A new study, published in the early edition of the Proceedings of the National Academy of Sciences, warns that there is "little time to stave off a potential mass extinction" of frogs, salamanders, and caecilians.
Cane toads are killing crocodiles in Australia

(07/30/2008) The cane toad has been a scourge to Australian wildlife for decades. An invasive species, the cane toad competes with local endemic frog species and due to its high toxicity kills any predator who preys on it, including snakes, raptors, lizards, and the carnivorous marsupial, northern quoll. New research has uncovered another victim of the toad. The freshwater crocodile has suffered massive population declines due to consuming the irascible toad.
Birds face higher risk of extinction than conventionally thought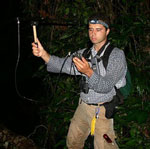 (07/14/2008) Birds may face higher risk of extinction than conventionally thought, says a bird ecology and conservation expert from Stanford University. Dr. Cagan H. Sekercioglu, a senior research scientist at Stanford and head of the world's largest tropical bird radio tracking project, estimates that 15 percent of world's 10,000 bird species will go extinct or be committed to extinction by 2100 if necessary conservation measures are not taken. While birds are one of the least threatened of any major group of organisms, Sekercioglu believes that worst-case climate change, habitat loss, and other factors could conspire to double this proportion by the end of the century. As dire as this sounds, Sekercioglu says that many threatened birds are rarer than we think and nearly 80 percent of land birds predicted to go extinct from climate change are not currently considered threatened with extinction, suggesting that species loss may be far worse than previously imagined. At particular risk are marine species and specialists in mountain habitats.
Invasive Species: Toad-ally out of control

(05/18/2008) Throughout warm, wet climates around the world lurks a camouflaged combatant seldom known beyond those who experience first hand its awesome destructive powers. It is an ingeniously crafted destroyer equipped with a host of specially developed chemical toxins, a lightening fast attack, and the ability to easily navigate across both water and land. This devious tool is not a creation of human engineering or military research and development but a product of a much more ancient and refined process: evolution. And until human intervention it was neither ecologically harmful nor an invasive pest but a well-integrated part of ecosystems throughout South and Central America. Meet Bufo marinus — the cane toad: exemplary proof of how human short-sightedness and misuse of biological control agents often leads to the catastrophic mismanagement of our natural world in the form of a large, squat, hungry toad.
Borneo's pygmy elephants are an alien species

(04/18/2008) A new study suggests that the Borneo pygmy elephant -- one of Borneo's best known and charismatic animals -- is actually an invasive species introduced from a neighboring island by a former sultan. The finding offers hope that in Borneo, the elephant can avoid the fate that befell it in its native Java: extinction.
Invasive species cost China $14B per year

(04/01/2008) Rapid economic growth and giant infrastructure projects have allowed invasive species to spread throughout China and inflict more than $14.5 billion of damage to the nation's economy annually, according to a study published in Bioscience. The research warns that the Beijing Olympics may worsen the toll.
Rats decimating Aleutian Islands' ecology

(02/25/2008) Rats are disrupting fragile ecosystems on the Aleutian Islands Archipelago, reports a new study published in the Proceedings of the National Academy of Sciences.
Invasive species hurt developing world economies

(01/18/2008) The 'real' costs of invasive species are underestimated in developing countries, argues a new report that calls for more research into the environmental, social and economic impact of non-native plants and animals.
Cane toads to invade 2 million square kilometers of Australia
(04/03/2007) Cane toads are dramatically expanding their range in Australia and may eventually double their current extent to occupy over 2 million square kilometers, according to new projections by a team of scientists writing in Proceedings of The Royal Society B: Biological Sciences. The researchers report that the invasive amphibians increasingly occupying zones outside their native conditions, putting native Australian species at ever greater risk.
Ladybugs ruin good wine

(03/26/2007) Secretions by ladybugs can taint the aroma and flavor of otherwise perfectly good wine, but scientists at Iowa State University say they may have devised a solution.
World's only blue lizard heads toward extinction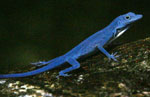 (03/07/2007) High above the forest floor on the remote Colombian island of Gorgona lives a lizard with brilliant blue skin, rivaling the color of the sky. Anolis gorgonae, or the blue anole, is a species so elusive and rare, that scientists have been unable to give even an estimate of its population. Due to the lizard&spod;s isolated habitat and reclusive habits, researchers know little about the blue anole, but are captivated by its stunning coloration.





Alien water weed re-invades Lake Victoria

(02/27/2007) Water hyacinth has re-invaded Lake Victoria, choking thousands of acres (hectares) of the lake's surface in Kenya, according to satellite pictures released by NASA.







Add invasive species status to list of biofuel concerns

(09/22/2006) High energy prices over the past couple years have fueled interest in biofuels, which proponents say are less damaging to the environment and provide energy security not afforded by foreign oil and gas imports. Nevertheless, accompanying their rise in visibility, have been concerns over their environmental impact of converting natural vegetation for their production. Now scientists warn that some biofuel crops pose a risk as invasive species.





Invasive purple flower impacts Iceland's biodiversity

(07/24/2006) A common sight throughout much of Iceland is large fields of vibrant purple nootka, or Alaskan lupine. The flower looks at home in this landscape, but was actually introduced in 1945 to lowland areas as a means to add nitrogen to the soil and also to function as an anchor for organic matter. Lupine has since flourished here, spreading like a wildfire, in almost effortless competition with the other species already in residence. Critics of this initiative view the flower as an invasive species that is threatening low-growing mosses and other native plants.





Tropical Asia needs to act to save biodiversity, say scientists

(07/22/2006) A group of scientists urged governments of tropical Asia to take steps to stem biodiversity loss across the region. At the annual meeting for the Association for Tropical Biology and conservation, hosted at the Tropical Botanical Garden (XTBG) of the Chinese Academy of Sciences in the Yunnan province of China, scientists said that population growth and booming economic expansion are fueling illegal logging, wildlife poaching, and habitat destruction. The scientists noted that populations of elephants, rhinoceroses, tigers, sun bears, orangutans, and other species unique to tropical Asia have fallen significantly in recent years as a result of these activities.





Chinese invaders threaten Britain

(02/08/2006) An exotic type of crab is spreading at an alarming rate throughout Britain's coast and rivers, a new study shows. The Chinese mitten crab (pictured), brought to Britain during the last century in ships' ballast water, could cause devastating environmental problems if populations are not monitored and controlled, say the study's authors.







Invasive species may increase with global warming

(10/13/2005) New research published in Molecular Ecology suggests that climate change could trigger the expansion of invasive species into wider ranges. The study looked at the genetic history of a goby species in the Eastern Atlantic which appears to have expanded its range dramatically when the world warmed about 150,000 years ago





Invasive species date back thousands of years

(10/13/2005) Much has been made of the economic impacts of recent biological invasions, but what are the implications of invasions in deep time? Luiz Rocha leads geneticists who time travel through ocean environments. The results of their travels, published online in Molecular Ecology, tell us that during warm, interglacial periods, reef-associated fish (goby genus Gnatholepis), leapt around the horn of Africa into the Atlantic, where their range expanded as the world warmed.




Page 1 | Page 2