News articles on India

---
Mongabay.com news articles on India in blog format. Updated regularly.






Big reserve expansion gives tigers a boost in India
(06/29/2015) A hundred years ago, there were thirteen times as many tigers in the world as there are today, ranging from Turkey across the Eurasian continent to the eastern coast of Russia. The 13 countries that contain the world's last tigers today - a mere, 2,500 mature individuals - are challenged with increasing protected tiger habitat to prevent crowding and inbreeding, while facing extreme funding and space constraints. One state in India, however, has found a cost-effective way to give tigers more room.
Social-media firestorm defends popular man-eating tiger in India, raising conservation questions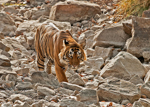 (06/23/2015) On May 8, 56-year-old forest guard Rampal Saini was attacked and killed by a tiger named Ustad with a bite to the neck. Ustad was hugely popular with tourists and had gained a massive online following. But Saini was Ustad's fourth victim in a span of five years, and his death unleashed a heated debate — especially online — about whether the ensuing decision to banish him to captivity was the right one.
What do China, Kenya and India have in common? Wildlife trafficking

(06/16/2015) When it comes to trafficking rhino, elephant, and tiger parts the biggest players are China, Kenya, India, Vietnam, South Africa and Thailand, according to a new paper in PNAS. Examining news media reports aggregated by HealthMap: Wildlife Trade, researchers were able to pinpoint the most important countries for exporting, moving and importing illegal wildlife parts worldwide.
Asiatic lion population rises by 27% in five years

(06/15/2015) A new survey last month put the number of wild Asiatic lions (Panthera leo persica) at 523 individuals, a rise of 27% from the previous survey in 2010. Once roaming across much of Central and Western Asia, Asiatic lions today are found in only one place: Gir Forest National Park and surrounding environs in western India.
Indian fabric giant adopts forest policy
(05/08/2015) One of the world's largest fabric makers for the fashion industry today announced a policy to exclude fiber produced at the expense of endangered forests, reports Canopy, an environmental group that helped broker the commitment.
Tapping into evolutionary responses to guard crops against elephants
(04/30/2015) The search for effective measures to reduce human-elephant conflict is a top priority for wildlife managers and a significant challenge. Ongoing conflict incidents exacerbate anti-wildlife sentiments among rural populations, as conflict events can lead to the deaths of both people and elephants. The continued expansion of development and agriculture into traditional wildlife grazing lands pushes elephants into more frequent contact with people and crop fields.
Of leopards and lemons: Superstition aids wildlife researchers in India
(04/22/2015) Many Westerners see science and superstition as lying at extreme ends of the logic spectrum. However, those familiar with India know that these two seeming strangers can walk hand-in-hand: Information technology companies are inaugurated with the breaking of the ceremonial coconut and pumpkin.
Low crop prices means time is ripe for new forest protection programs
(03/27/2015) Today, conservation compliance is a U.S. policy between governments and farmers that reward farmers with federal subsidies for good conservation practices on designated vulnerable lands. But economist Clayton Ogg believes it could now be used to save forests in countries like Brazil, China, India, and Indonesia. "The main drivers for deforestation in recent years are high crop prices. However, as crop prices fall to more normal levels, farmers depend very heavily on government subsidies, and the subsidies become the major driver for deforestation," Ogg told mongabay.com.
Can voluntary sustainability standards survive in emerging markets?
(03/17/2015) Last month, Price Waterhouse Coopers (PwC) published a new edition of its The World in 2050 report. Confirming the findings of previous studies, the report describes a shift in economic power from the global north to the south. PwC projects that the US' and EU's share of world GDP will face a steady decline from around 33 percent in 2014 to about 25 percent by 2050. At the same time, emerging markets like China, India, Brazil, Russia, Indonesia, Mexico, and Turkey (the so-called E7 countries) are gaining in importance as both producers and consumers in the global economy.
Are small-scale hydro projects always greener?
(02/23/2015) Rising energy demand and global efforts to mitigate climate change have made renewable energy projects increasingly attractive. One widely known and well-developed source of renewable energy is hydroelectricity. However, past environmental campaigns against large dams have resulted in policy changes in some parts of the world, leading to an increasing number of small hydropower projects.
India's tiger population up by more than 500 animals in four years

(01/20/2015) The tiger is in major trouble. In 1900, the global population was over 100,000 animals; today, it is on the precipice of extinction, hovering around just 3,000. In response, tiger range countries have pledged to double to the population by 2022. But there has been little evidence of success until now: India has announced that its tiger population has jumped a remarkable 29 percent in the last four years.
Conflict-fueled deforestation, poaching in Assam continue despite truce
(11/19/2014) Northeastern India boasts nearly 44 percent of the country's dense forests, and contains one of the most biodiverse areas in the world. However, the region lost approximately 548,440 hectares of tree cover—more than 3 percent—from 2001 through 2012. Sonitpur, Assam, has been particularly hard hit as people flooded into the area and cleared forest.
Endangered environmentalists: investigating government crackdowns on green groups
(11/19/2014) Mongabay.org offers journalists opportunity to report on government muzzling of environmental activists. As climate change, pollution, and habitat destruction worsen across the globe, environmental groups are responding by ratcheting up the pressure on governments and corporations to act. Many governments have responded by increasing restrictions on environmental NGOs, including revoking charity status, increasing sentences for protestors, and passing legislation restricting NGO activity.
Disappearing oasis: northeastern India losing forests as people move in
(11/18/2014) Northeastern India is part of the Eastern Himalaya biodiversity hotspot, one of the megadiverse areas of the world. The region boasts more than 60 percent forest cover, compared to the 15 percent for India as a whole. However, not all is pristine when one visits areas designated as forest on the map.
Rediscovered in 2010, rare Indian frog surprises by breeding in bamboo
(11/18/2014) For a long time, this rare white spotted bush frog lived a secretive life: the Critically Endangered Chalazodes bubble-nest frog (Raorchestes chalazodes) was last seen in 1874 and presumed to be extinct. That is until 2010 when a year-long expedition to try and locate 'lost' amphibians in India found the elusive frog in the wet evergreen forests of the Western Ghats, after more than 130 years.
Man plants forest, becomes film star
(11/14/2014) Jadav "Molai" Payeng is a 51-year-old man who lives in India's north-eastern state of Assam in the village of Aruna Chapori. A member of Assam's indigenous Mising tribe, Payeng is better known as the "Forest Man" for spending the last 35 years planting a forest bigger than New York City's Central Park.
One man plants forest larger than Central Park
(11/13/2014) Jadav "Molai" Payeng resides in northeast Assam's Jorhat district in the village of Aruna Chapori. Here, for the past 35 years, he has worked to plant trees on a sandbar island in the river near his home—and in the process, single-handedly established a forest larger than New York City's Central Park.
Beef, palm oil, soy, and wood products from 8 countries responsible for 1/3 of forest destruction

(10/23/2014) Four commodities produced in just eight countries are responsible for a third of the world's forest loss, according to a new report. Those familiar with the long-standing effort to stop deforestation won't be surprised by the commodities named: beef, palm oil, soy, and wood products (including timber and paper). Nor will they be very surprised by most of the countries: Brazil, Indonesia, and Malaysia.
Scientists find temperate bat in the hot tropics of the Western Ghats (photos)
(10/15/2014) The Western Ghats is one of the world's eight richest biodiversity hotspots. A UNESCO World Heritage site, and also known as the Great Escarpment of India, the Ghats run parallel to India's west coast. This great ecosystem is home to over 139 mammal species, nearly 50 of which are bats. And now scientists can add a new bat to this list: one that until now had only been documented from temperate regions.
India plans huge palm oil expansion, puts forests at risk
(10/14/2014) The world's largest importer of palm oil, India is seeking to slake its thirst domestically. The Ministry of Agriculture estimates that India has the potential to cultivate oil palm in 1.03 million hectares of land--nearly the size of the U.S. state of Connecticut--and produce four to five million metric tons of palm oil per year.
Armed conflict decimates tigers, rhinos, and swamp deer in Indian park

(09/30/2014) The human cost of war is horrendous. However, while most attention is focused on the suffering caused to people—and rightly so—an understudied element is the impact on wildlife conservation. This is worrying given that many of the world's conflict zones are situated in biodiversity hotspots.
Meet the newest enemy to India's wildlife
(09/11/2014) A boom in infrastructure and population has forced India's wildlife to eke out a creative existence in an increasingly human-modified environment. Big cats such as the leopard are often spotted within large cities, on railway tracks, and sadly, on India's burgeoning and sprawling road network.
Selective logging hurts rainforest frogs
(08/21/2014) Selective logging in India's Western Ghats forests continues to affect frogs decades after harvesting ended, finds a new study published in Biotropica. The research assessed frog communities in logged and unlogged forests in Kalakad Mundanthurai Tiger Reserve and found that unlogged forests had twice the density of frogs as areas logged in the 1970s.
Next big idea in forest conservation: Reconnecting faith and forests
(07/24/2014) 'In Africa, you can come across Kaya forests of coastal Kenya, customary forests in Uganda, sacred forest groves in Benin, dragon forests in The Gambia or church forests in Ethiopia...You can also come across similar forest patches in South and Southeast Asia including numerous sacred groves in India well-known for their role in conservation of biological diversity,' Dr. Shonil Bhagwat told mongabay.com.
On track to 'go beyond the critical point': Sri Lanka still losing forests at rapid clip
(07/15/2014) During the latter half of Sri Lanka's civl war, between 1990 and 2005, Sri Lanka suffered one of the highest rates of deforestation in the world, losing about 35 percent of its old growth forest and almost 18 percent of its total forest cover. The conflict ended in 2009, and while deforestation has slowed somewhat, Sri Lanka is still losing forest cover at a fast pace.
An end to India's 'Wild West'? Meghalaya bans coal mining... for now
(07/08/2014) Meghalaya, a state in India's northeast, has thick forests above ground and valuable minerals below. Uncontrolled mining in the area has cleared forests, degraded rivers, and led to many accidents and deaths as few health and safety standards exist for mine workers. A ban effected earlier this year halted all mining in the state, but is set to be reconsidered at a hearing scheduled for August.
Next big idea in forest conservation? Playing games to understand what drives deforestation
(06/26/2014) Dr. Claude Garcia plays games, but you won't find him betting his shirt at the casino. As leader of the Forest Management and Development Research Group at ETH Zürich, Garcia and his team use participatory modeling and role-playing games, merged with more traditional disciplinary sciences such as ecology, economics, and sociology to understand and manage complex landscape change in the tropics.
Despite poaching, Indian rhino population jumps by 27 percent in eight years

(06/10/2014) The world's stronghold for Indian rhinos—the state of Assam—has seen its population leap by 27 percent since 2006, despite a worsening epidemic of poaching that has also seen 156 rhinos killed during the same period. According to a new white paper, the population of Indian rhinos in Assam hit 2,544 this year.
Dancing frogs: scientists discover 14 new species in India (PHOTOS, VIDEO)
(05/16/2014) Scientists have discovered 14 new species of frogs in the mountainous tropical forests of India's Western Ghats, all of which are described in a recent study published in the Ceylon Journal of Science. The new species are all from a single genus, and are collectively referred to as "dancing frogs" due to the unusual courtship behavior of the males.
'Simmering conflict': the delicate balancing act of protecting India's wilderness
(05/13/2014) The Western Ghats of southern India, one of the world's top biodiversity hotspots, is a 1600-kilometer (1000-mile) mountain chain that runs parallel to the western coast of the Indian subcontinent. It traverses six states and is home to as many as 250 million people. In an interview with mongabay.com, M.D. Madhusudan of the Nature Conservation Foundation discusses the importance and challenges of establishing protected areas in India.
Scientists release odd-looking, Critically Endangered crocodiles back into the wild (PHOTOS)
(05/13/2014) Among the largest and most endangered crocodilians in the world, the gharial is on the verge of extinction today. This harmless fish-eating crocodile has fewer than 200 adult breeding individuals in the wild, their numbers having plummeted rapidly over the past few decades. But among this gloom and doom, conservationists have been working tirelessly to reinstate the wild populations.
India, not China, has the world's worst urban air pollution

(05/12/2014) Breathing in urban India is hard: of the world's top twenty cities with the worst air, 13 of them are found in India, according to a new analysis by the World Health Organization (WHO). Despite the attention recently given to Chinese cities for atrocious air pollution, many of India's cities are actually worse when comparing annual averages of fine airborne particulates.
Elephants in the midst: warning system prevents human-elephant conflicts in India, saves lives
(05/08/2014) Indian elephants once freely roamed the rich mid-elevation evergreen forests of the Valparai plateau in the Western Ghats, one of the world's mega biodiversity regions, but they can't move the way they used to. Ever-increasing commercial plantations and settlements have become obstacles to the daily and seasonal movements of elephants, creating more chances for often-deadly encounters between humans and elephants.
A sketch of the yeti: saving the Himalayan brown bear
(05/01/2014) Overall, the brown bear is one of the most widespread and numerous bear species in the world. However, a subspecies called the Himalayan brown bear is not so fortunate. It occupies higher reaches of the Himalayas in remote, mountainous areas of Pakistan, Nepal, Tibet and India. Its populations are small and isolated, and it is extremely rare in many parts of its range.
Dangerous work: how one man empowered communities and stopped a coal mine
(04/29/2014) For many years, Ramesh Agrawal has worked to spread awareness of the environmental repercussions of India's coal industry to local residents, empowering them with information and speaking out on their behalf. In 2012, his tireless efforts shut down development of a major coal mine, which would have been the largest in the state of Chhattisgarh.
Chelonians for dinner: hunting threatens at-risk turtles and tortoises in India
(04/23/2014) The extinction risk faced by mammals is often in the limelight. But it may be surprising to learn that next only to primates, chelonians—or turtles and tortoises—are the world's most imperiled vertebrate group. New research indicates that two such species are being threatened by hunting in the Western Ghats of India.
Kala: the face of tigers in peril
(03/27/2014) In 1864, Walter Campbell was an officer in the British Army, stationed in India when he penned these words in his journal: "Never attack a tiger on foot—if you can help it. There are cases in which you must do so. Then face him like a Briton, and kill him if you can; for if you fail to kill him, he will certainly kill you." In a stroke of good fortune for the tiger, perceptions in India have changed drastically since Campbell's time. Tiger hunting is now banned and conservationists are usually able to rescue the big cats if they become stranded while navigating increasingly human-occupied areas. But is this enough to save the tiger?
Europe approves vet drug that killed off almost all of Asia's vultures
(03/25/2014) When Europeans first arrived in North America, they exterminated three to five billion passenger pigeons (Ectopistes migratorius) in the short span of a century through a combination of habitat destruction and hunting. In 1914, the last living passenger pigeon perished at the Cincinnati Zoo. Despite the staggering scale of this extinction event, three species of vulture from Southeastern Asia retain the dubious distinction of having had the most rapid population crash of any avian fauna. They might not have begun with numbers as large as the passenger pigeon, but within the space of a single decade, their populations were reduced by 96 to 99 percent.
The power of connections: India to establish Asia's largest protected forest
(03/21/2014) India has stepped up forest conservation efforts in recent years, with a major project underway to establish a large swath of uninterrupted habitat through the designation of additional protected areas and expanding those already under protection. If realized, these areas would converge to become Asia's largest unbroken forest, encompassing approximately 15,000 square kilometers (5,790 square miles) over three states.
Can the millions in urban India live among greenery?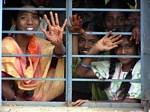 (03/06/2014) Large swathes of wilderness alternating with pockets of urbanization may be a reality in some countries, but in India boundaries are soft. Where a city ends and where a village begins in its outskirts is somewhat fuzzy. Rapidly developing megacities like Bangalore and Pune, localities like Gurgaon outside New Delhi, have been subsuming surrounding villages into their ever-expanding boundaries for the last couple of decades.
Tracking one of the world's last Great Indian Bustards to save the species
(02/17/2014) Bilal Habib is closely tracking the flight of a bird. Six times a day he gets its location, within a few hundred feet, through a GPS monitoring device attached to its body. One of the last members of its species, this Great Indian Bustard is part of the latest effort to save its kind from joining the ranks of other extinct birds like the dodo and the passenger pigeon.
Predator appreciation: how saving lions, tigers, and polar bears could rescue ourselves
(01/29/2014) In the new book, In Predatory Light: Lions and Tigers and Polar Bears, authors Elizabeth Marshall Thomas, Sy Montgomery, and John Houston, and photographers Cyril Christo and Marie Wilkinson share with us an impassioned and detailed appeal to appreciate three of the world's biggest predators: lions, tigers, and polar bears. Through lengthy discussions, combining themes from scientific conservation to local community folklore, In Predatory Light takes us step by step deeper into the wild world of these awe-inspiring carnivores and their varied plight as they facedown extinction.
Feral crèches: parenting in wild India
(01/28/2014) The Wildlife Conservation Society-India has been camera trapping wild animals for over 20 years in the Western Ghats. The results reveal the most intimate, fascinating and sometimes comical insights into animal behavior and ecology. These mammals generally become secretive and protective during parenting, and therefore we seldom get to see little ones in the wild. But discretely placed camera traps have not only caught glimpses of these adorable wild babies, but also produced wonderful family albums!
Curious bears take 'selfies' with camera traps
(12/26/2013) 'Selfies' are all the rage this year, and even bears have jumped on the trend. Especially the shaggy-coated, termite-loving sloth bears (Melursus ursinus), who seem particularly fascinated by the cameras that scientists have put up in forests to secretly capture their stealthy moves.
A bird's eye view of hornbills in northeast India
(12/16/2013) Hornbills are as peculiar, as they are magnificent. Their calls especially, can sound rather strange to the uninitiated - some grunt, some growl, and some cackle maniacally. These queer birds, with their large brightly-colored curved beaks, and a distinctive cavity-nesting habit, are also totem animals for many tribes in India.
Humans are not apex predators, but meat-eating on the rise worldwide
(12/05/2013) A new paper in Proceedings of the National Academy of Sciences has measured the "trophic level" of human beings for the first time. Falling between 1 and 5.5, trophic levels refer to where species fit on the food chain. Apex predators like tigers and sharks are given a 5.5 on trophic scale since they survive almost entirely on consuming meat, while plants and phytoplankton, which make their own food, are at the bottom of the scale. Humans, according to the new paper, currently fall in the middle: 2.21. However, rising meat-eating in countries like China, India, and Brazil is pushing our trophic level higher with massive environmental impacts.
Where have all the dugongs gone?
(12/03/2013) Legend has it that lonely sailors mistook them for beautiful, mythical mermaids. But as it turns out, the muse behind these beguiling sea nymphs was instead the dugong – a rather ungainly, gentle and mini-bus sized marine mammal, cousin to the manatees and part of the sea cow family. However, while they may have once fuelled stories for fairytales and Disney movies, their far-from-glamorous life is currently under serious threat in many parts of the world.
Satellites reveal browning mountain forests
(11/22/2013) In a dramatic response to global warming, tropical forests in the high elevation areas of five continents have been "browning" since the 1990s. They have been steadily losing foliage, and showing less photosynthetic activity. Scientists analyzed the forest cover by using satellites to measure sunlight bouncing off the surface of the earth, then determining the different surface types via reflection patterns.
The swan song of India's dancing bears
(11/20/2013) India's last dancing bear has retired. As the stars of their cruel little roadshows, sloth bears danced to the piercing sounds of the damru for hundreds of years. Orphaned by poachers and trained by the Qalandars, a nomadic Muslim community, these bears trudged through towns and villages to earn their masters a meager livelihood.
Newly discovered beetles construct private homes out of leaf holes and feces
(11/12/2013) Scientists have discovered two new species of leaf beetles in southern India that display a novel way of using leaf holes and their fecal pellets to build shelters – a nesting behavior previously not known among leaf beetles. Discovered in the forests of the Western Ghats in the states of Karnataka and Kerala, the scientists have named these pin-head sized leaf beetles Orthaltica syzygium and Orthaltica terminalia, after the plants they feed on: Syzygium species (e.g., the Java plum) and Terminalia species (e.g., the flowering murdah).
Bangladesh plans massive coal plant in world's biggest mangrove forest
(11/11/2013) On October 22nd Bangladeshi and Indian officials were supposed to hold a ceremony laying the foundation stone for the Rampal power plant, a massive new coal-fired plant that will sit on the edge of the Sundarbans, the world's largest mangrove forest. However, the governments suddenly cancelled the ceremony, instead announcing that the project had already been inaugurated in early October by the countries' heads of state via a less-ornate Skype call. While the governments say the change was made because of busy schedules, activists contend the sudden scuttling of the ceremony was more likely due to rising pressure against the coal plant, including a five-day march in September that attracted thousands.
'Remarkable year': could 2012 mark the beginning of a carbon emissions slowdown?

(10/31/2013) Global carbon dioxide emissions hit another new record of 34.5 billion tons last year, according to a new report by the Netherlands Environment Assessment Agency and the European Commission's Joint Research Centre, but there may be a silver lining. Dubbing 2012 a "remarkable year," the report found that the rate of carbon emission's rise slowed considerably even as economic growth continued upward.
The mystery of the disappearing elephant tusk
(10/30/2013) Give it a few thousand years, and tusks could completely disappear from the Asian elephant (Elephas maximus). The beautifully smooth, elongated ivory incisors neatly bordering a long trunk are iconic in the public mind. The reigning hypothesis is that tusks evolved to help male elephants fight one another, as demonstrated when males compete over females in estrus. However, a recent study published in the journal Animal Behaviour has shown that tusks may not be key factors in tussles, at least as far as elephants are concerned.
Photo essay: notes from India's Kabini River
(10/25/2013) The Nilgiris, also known as the "Blue mountains," in southern India are an extraordinary mountain range that form one of the most diverse biospheres in the country, the Nilgiri Biosphere. And the Nagarhole National Park, declared a tiger reserve in 1999 is part of this biosphere. The Kabini River flows through the National park and is the lifeline to a wide variety of flora and fauna. This river transforms Nagarhole into a water world of wonder.
Yeti may be undescribed bear species
(10/20/2013) The purported Yeti, an ape-like creature that walks upright and roams the remote Himalayas, may in fact be an ancient polar bear species, according to new DNA research by Bryan Sykes with Oxford University. Sykes subjected two hairs from what locals say belonged to the elusive Yeti only to discover that the genetics matched a polar bear jawbone found in Svalbard, Norway dating from around 120,000 (though as recent as 40,000 years ago).
Wildlife in Nilgiris Biosphere Reserve suffers from lack of a transition zone
(10/01/2013) The Nilgiris Biosphere Reserve in southern India acts as a conduit between the biodiversity-rich Western Ghats, a mountain range parallel to the western coast of India and its eastern counterpart, the Eastern Ghats. Established in 1986 by Government of India, the 5,520 square kilometer reserve was recognized by UNESCO in 2000. However a new study in mongabay.com's open-access journal Tropical Conservation Science finds that the lack of a transition zone in the Nilgiris Biosphere Reserve has undercut the aims of this crucial protected area.
Featured video: music video honoring wildlife of Karnataka, India
(09/23/2013) Located in the southwestern corner of India, the state of Karnataka is celebrated for its stunning biodiversity. In order to honor the natural beauty of the region, wildlife photographer and filmmaker Amoghavarsha and Bangalore based musician Ricky Kej have teamed up to create a music video highlighting Karnataka's unique species and wild places.
Photo essay: India's Western Ghats is a haven for endemic amphibians
(09/16/2013) The Western Ghats are a globally recognized repository of biological diversity for our planet. We know very little about most species found here, particularly the ecologically sensitive and spectacularly beautiful 179 amphibians. Astonishingly, 87% of all Western Ghats frogs are endemic and found nowhere else on the planet. Our collaborative research project with Drs Paul Robbins and Ashwini Chhatre examining biodiversity in production landscapes of Ghats unearthed some spectacular amphibians in 2013.
India moves rapidly to protect Amur falcons from mass-hunting
(09/13/2013) In October last year, an astounding mass hunting came to light—an estimated 120,000–140,000 Amur falcons were being hunted and killed in Nagaland, India, every year. A small bird of prey, the Amur falcon (Falco amurensis) records one of the longest migrations among all birds—a staggering 22,000 km annually. Their journey starts in China and Siberia where they breed and spend their summers.
Amendments to Indian legislation could pose a threat to wildlife research
(09/05/2013) In the upcoming session of the Indian Parliament, MPs will debate whether researchers and poachers should be treated in the same manner for a breach of law. A new bill proposes to impose substantial penalties, including imprisonment, when researchers with permission to enter a forest area default in any way. At the same time, a poacher or a person in possession banned wildlife product is let off with a fine.
Are sea turtles responsible for lower fish catches in India?
(08/29/2013) Fishing communities on Agatti Island in Lakshwadeep, India, blame their reduced fish catch on green turtles; according to them, green turtles chomp their way through the seagrass beds lining the shallow reef waters that are essential for fish to breed. This leads some in the community to clandestinely kill sea turtles and destroy their nests.
Overpopulation and grazing imperils nomadic lifestyle and wildlife in Ladakh
(08/23/2013) In the unforgivingly cold, arid and harsh high-altitude regions of Central Asia, nomadic herders have survived for several centuries. Guided by a keen understanding of the environment they live in, they move constantly with their livestock, following trails of fresh pastures and 'settling down' only briefly. Surrendering their destiny to the whims of nature, these free spirited wanderers seem unshakeable.
Sahyadris – Mountains of the Monsoon
(08/15/2013) Stunning images, snippets of video and a compelling narrative come together in a "showcase" app for the iPad. The Sahyadris app is an immersive experience, which taps the full potential of the iPad as a story telling medium. It acts as a "showcase" for the Western Ghats, a mountain range found parallel to the western coast of southern India.
New Android app helps you identify frogs in the Western Ghats
(08/15/2013) Amphibians hop onto your Android phone in an app that focuses on ease of use. There are many among us who have gone out for a walk in the night, during the rains, and heard frogs chorusing. Or looked upon a small amphibian perched perilously by the wayside, and wondered what it is called.
Scientists map human-wildlife conflict in India
(08/15/2013) Designating protected areas in a country with 1.27 billion people comes with its own consequences: around each protected area in India lies a zone where wildlife strays out, and people stray in. Inevitably, there is contact, and more often than not, conflict. Human wildlife conflict has been under the lens for a long time. How humans respond to conflict situations varies.
First of its kind rescue and release for sloth bear in India
(08/08/2013) For a young wild sloth bear who found himself amidst a panic-stricken village in India, rescue was fortunately, and surprisingly, close at hand. In a one-of-a-kind heartwarming story, a team from Wildlife SOS (WSOS) India – a conservation and welfare NGO – successfully rescued, treated and subsequently released the sloth bear back into the wild, but this time with a radio collar fitted around its neck.
Scientists discover new flying mammal in bushmeat market
(08/06/2013) The bushmeat markets of Lao PDR (Laos) are filled with racks of wild game harvested both legally and illegally from the surrounding landscapes. While these meat markets certainly provide local protein to patrons, for wildlife biologists they offer something more. These bizarre zoological exhibits are a rich source of information about wildlife populations and wildlife consumption in remote areas.
Jumbo problems for the Indian railways
(08/02/2013) Running late that morning, the Kanchankanya Express train zipped past Gulma and entered the Mahananda Wildlife Sanctuary in northern West Bengal, India. Till a few minutes ago, impatience was writ large on every face. Now with the fog having finally lifted and the green forest cover glistening under the sun, things were finally looking up. But before my co-passengers could sigh with relief, the train came to a screeching halt, right in the middle of the forest. I looked out the door of my compartment.
Rare and threatened freshwater fish plundered for aquarium trade in India
(07/25/2013) Thirty percent of the fish exported from India in the past seven years were from dozens of threatened species including the endangered red-lined torpedo barb (Puntius denisonii) and the miss kerala look alike (Puntius chalakkudiensis) amongst others, according to a recently published paper in Biological Conservation. By documenting the extent and impact of the trade in rare and threatened freshwater fish species in India, scientists have uncovered the local scale of the aquarium pet trade.
Booming cashmere trade eating up habitat for snow leopards, saiga, and wild yak
(07/25/2013) Snow leopards, wild yaks and other iconic wildlife on the world's highest mountains and great steppes are becoming "fashion victims" of the surging global trade in cashmere, new research has revealed. Scientists found wildlife being driven to the margins of survival by the "striking but unintended consequences" of huge increases in the numbers of the goats producing the luxurious lightweight wool.
How tigers are faring in their final frontier
(07/15/2013) "Gone are the tiger-filled days when Corbett, as a small boy wandering the jungles of Nepal in the 1880s, peeped over a plum bush that heaved as a tiger walked out on the far side." Adele Conover, in the Smithsonian magazine. Even as recently as the 1930s, 40,000 tigers roamed the forests of India. By the 1970s, tiger number had plummeted to less than 2,000. Historically, the tiger ranged from the Caspian Sea to the Russian Far North to the Indonesian islands of Java and Sumatra. Now, they occupy just 7% of this historical range, with India home to over half of the tigers remaining in the wild. And what a world they inhabit.
The rise of India: the complex biological history of a subcontinent
(06/26/2013) If you try and draw family trees for animals and plants in India, you will discover something that will take your breath away. Relatives do not occur in the same area; in extreme cases, they can be in other continents. And atop the tallest mountains in the Himalayas, you will find marine fossils.
Over 16,000 wild mammals and birds sold in Nagaland market, India, annually
(06/24/2013) A comprehensive survey of the wildlife sold in the markets of Tuensang has resulted in a stunning record of the wildlife trade in the state of Nagaland in northeast India, as reported in a new study published in mongabay.com's open-access journal Tropical Conservation Science. Once a week, researchers with the Sálim Ali Centre for Ornithology and Natural History and the Near Chang Baptist group entered the Tuensang market and carried out intensive surveys and interviews of vendors selling wild birds or mammals.
Local people provide wildlife and forest data in park plagued by conflict
(06/24/2013) There are often many obstacles for scientists when gauging wildlife decline and forest loss, and one of the most difficult is civil conflict, like the situation in the Similipal Tiger Reserve in India. But a new study in mongabay.com's open access journal Tropical Conservation Science (TCS) finds that local communities may be used to gauge forest loss and wildlife decline for baseline data when conflicts or other obstacle prevent long-term research and monitoring.
Fertility in Africa could push world population over 11 billion

(06/13/2013) The global population could grow by another 4 billion people by the end of the century if fertility rates in Africa don't decline, according to a new report by the United Nations. Currently around 1.1 billion people live on the continent, but that number could skyrocket to 4.2 billion (a 380 percent increase) by 2100, causing global population to hit 11 billion.
Loris champion: conserving the world's most surprising primate family
(06/04/2013) Before Anna Nekaris began championing the cause of the world's lorises, little was known about this cryptic family of large-eyed, nocturnal, insect-eating, venomous primates. Nekaris, with Oxford Brookes University and founder of the Little Fireface project, has been instrumental in documenting rarely-seen loris behavior, establishing conservation programs, and identifying new species of these hugely-imperiled Asian primates.
India's hornbill conservator is awarded the 'Green Oscar'
(05/23/2013) The Whitley Awards is a prestigious international prize awarded annually to individuals working in nature conservation at a grassroots level. They were first awarded in 1994 and over the past two decades, the Whitley fund for nature has given almost £10 million to conservation and recognised 160 conservation leaders in more than 70 countries.
The Lions of India
(05/22/2013) It is not a well-known fact that India plays home to a population of lions as usually lions are associated with the African savannah and not the scrub forests of the subcontinent. The Asiatic lion (Panthera leo persica) is a sub-species which can only be found in a single location in the wild - the Gir forest in Gujarat, India. Although genetically distinct from the African lion, the difference is not large.
Health effects of toxic waste sites in developing countries could rival malaria, air pollution, new study shows
(05/07/2013) Exposure to dangerous chemicals from toxic waste sites may be creating a public health crisis in developing countries comparable to that caused by malaria or even air pollution, a new study suggests, highlighting the urgent need to clean up toxic waste. In a study published on Saturday in Environmental Health Perspectives, researchers calculated the number of 'healthy years of life lost' due to ill-health, disability or early death in individuals at risk of exposure to chemicals at 373 toxic waste sites in India, the Philippines and Indonesia.
The shady business of online wildlife trade
(04/30/2013) The internet is certainly the cornerstone of modern technology and a boon for so much innovation. However, along with all its advantages, there are some serious drawbacks and one of the latest is online smuggling of wildlife. The Indian Express recently reported that India's wildlife police have discovered illegal websites selling live endangered animals, parts and rare plants.
Breaking the mold: Divya Karnad takes on fisheries and science journalism in India
(04/15/2013) Fishing is not a woman's domain in most countries across the globe. In parts of India there are fishing communities who believe that having a woman onboard a fishing boat brings bad luck. Despite this, Divya Karnad, a scientist who studies marine life in India, has spent several years studying fisheries and their impact on species like sharks and sea turtles. Her work forms a part of global efforts to track declining marine species and encourage more sustainable fishing.
Air pollution killed 7 million people in 2010

(04/09/2013) Seven million people died from air pollution in 2010, according to new data from the Global Burden of Disease Study 2010, published in the medical journal Lancet. The research found that indoor air pollution killed 3.5 million people in 2010, outdoor air pollution 3.3 million, and ground level ozone pollution 200,000 people.
Using drones to monitor wildlife in India
(04/09/2013) Drones have been getting a bad rap lately and for good reason. However in the state of Assam, these commonly used weapons of warfare are being used to monitor the rhinoceros population. The Kaziranga National Park in Assam has deployed aerial drones to monitor poaching activity within the park's boundaries to protect the endangered one-horned rhino population.
Looking beyond the hundred legs: finding new centipedes in India requires many tools
(04/08/2013) A small, boneless creature, that lives underground, with a "hundred" legs, and a rather powerful sting; some of these creatures are drab, but some are so beautiful and brightly colored that they can startle. Centipedes. There is more to a centipede than its many legs, and its habit of darting out of dark places. One of the first lifeforms to turn up on land, some centipede fossils date back to about 450 million years ago. They have been evolving steadily since, with some estimates showing about 8,000 species today. Not even half of these species have been taxonomically described.
Where the flamingos fly: Mumbai, apparently!
(04/03/2013) When you think of flamingos you think of the great flamingo migration, a sea of pink in Tanzania, or maybe even a funny cartoon with these dancing, lanky creatures but the last thing you would think of is Mumbai. Strangely, this modern chaotic city provides a temporary home to these lovely coral-colored birds. They visit the mudflats of Mumbai every year in the winter (January – May) and provide a treat to casual bird-watchers, ornithologists and regular citizens alike. The Bombay Natural History Society (BNHS) also organizes a flamingo watching festival during this period to encourage people to observe these birds.
Human-wildlife conflict on the rise in India
(04/03/2013) Recently, the news has been rife with reports of human-wildlife conflict over various parts of India. Most of these reports originate from forest areas surrounding the Western Ghats in the south and also the state of Maharashtra as well as the north-western areas of the country. While there are many reasons for human-wildife conflict, here it is mostly because of new developments encroaching on forest lands and animal territories. Alongside humans, elephants and leopards are the most common animals victims to this conflict in India.
Harnessing religious teachings about stewardship to protect the planet - an interview with Sikh activist Bandana Kaur
(03/28/2013) Many religious groups have taken on the role of environmental custodians, citing scriptures that urge living in harmony with plants and animals. Representatives of nine world religions pledged in 2009 to develop environmental programs. The Sikh religion's contribution to that effort is called EcoSikh. With a global community 30 million strong, Sikhism is the world's fifth largest religion. Sikhs trace their roots to Punjab. In the 1960s and 1970s, the Green Revolution — research and technology breakthroughs that dramatically increased agricultural yields worldwide — turned Punjab into "the breadbasket of India." In the past 20 years, though, the intensive farming has eroded Punjab's soil and water.
Scientists successfully reintroduce gaur in Indian park

(03/18/2013) Gaur (Bos gaurus gaurus) is one of the large wild ungulates of Asian jungles. It is the tallest living ox, and one of the four heaviest land mammals (elephant, rhino and wild buffalo are the other three), weighing up to 940 kilograms (2,070 pounds) and standing between 1.6 and 1.9 meters (5.2 to 6.2 feet) at the shoulder. Gaur were once distributed throughout the forested tracts of India and South Nepal, east to Vietnam and south to Malaya. Today, however, they are confined to just over a hundred existing, and 27 proposed, Protected Areas in India.
Burning coal may be killing over 100,000 people in India every year
(03/13/2013) India's dependence on coal-fired power plants for energy may be leading directly to the deaths of 80,000 to 115,000 of its citizens every year, according to the first ever report on the health impacts of coal in the country. The report, commissioned by the Conservation Action Trust and Greenpeace-India, deals only with the direct health impact of coal and not climate change. But even ignoring the rising pain of global warming, the bleak report outlines that coal consumption in India is causing over 20 million asthma attacks, nearly a million emergency room visits, and killing some 10,000 children under five annually.




Page 1 | Page 2 | Page 3