News articles on Fossils

---
Mongabay.com news articles on Fossils in blog format. Updated regularly.





Scientists discover giant sperm fossilized in bat feces (PHOTOS)


(05/15/2014) In a cave in Australia, researchers from the University of New South Wales discovered giant fossilized sperm. The sperm were produced 17 million years ago by a group of tiny, shelled crustaceans called ostracods, making them the oldest fossilized sperm ever found. The results were published recently in the Proceedings of the Royal Society B.


The smoothtooth blacktip shark and four other species rediscovered in markets


(01/21/2014) Scientific American) magazine recently ran an article on the rediscovery of the smoothtooth blacktip shark (Carcharhinus leiodon) in a Kuwaiti fish market. Believed extinct for over 100 years, the smoothtooth had not been seen since the naturalist Wilhelm Hein returned from a trip to Yemen in 1902. With its reappearance, scientists scoured Kuwaiti markets and discovered an astounding 47 individual smoothtooth blacktips.


Giant turtle-devouring duck-billed platypus discovered


(11/04/2013) Based on a single tooth from Australia, scientists believe they have discovered a giant, meter-long (3.3 feet) duck-billed platypus that likely fed on fish, frogs, and even turtles, according to a new study in Journal of Vertebrate Paleontology. At least twice the size of a modern duckbilled platypus, the scientists say the extinct giant likely lived between 15 and 5 million years ago.


Rainforests will survive extreme global warming, argues study


(06/02/2013) Rainforests in South America have endured three previous extreme global warming events in the past, suggesting they will survive a projected 2-6 degree rise in temperatures over the coming century, reports a study published in the Annual Review of Earth and Planetary Science. The research, published by Carlos Jaramillo and Andrés Cárdenas of the Smithsonian Tropical Research Institute (STRI) in Panama, reviewed some 3,800 published estimates of temperature over the past 120 million years and compared them to the existence of tropical plants in the fossil record.


New prehistoric animal named after Johnny Depp due to its 'scissorhands'


(05/19/2013) Half a billion years after an arthropod with long triple claws roamed the shallow Cambrian seas, scientists have named it after Hollywood movie actor, Johnny Depp: Kooteninchela deppi. Depp, known for his versatility as an actor, played Edward Scissorhands—an artificial man with long scissors for hands—in a popular 1990 film.


Industrialized fishing has forced seabirds to change what they eat


(05/14/2013) The bleached bones of seabirds are telling us a new story about the far-reaching impacts of industrial fisheries on today's oceans. Looking at the isotopes of 250 bones from Hawaiian petrels (Pterodroma sandwichensis), scientists have been able to reconstruct the birds' diets over the last 3,000 years. They found an unmistakable shift from big prey to small prey around 100 years ago, just when large, modern fisheries started scooping up fish at never before seen rates. The dietary shift shows that modern fisheries upended predator and prey relationships even in the ocean ocean and have possibly played a role in the decline of some seabirds.


Humans killed over 10 percent of the world's bird species when they colonized the Pacific Islands


(03/25/2013) Around 4,000 years ago intrepid Polynesian seafarers made their way into an untamed wilderness: the far-flung Pacific Islands. Over a thousands or so years, they rowed from one island to another, stepping on shores never yet seen by humans. While this vast colonization brought about a new era of human history, it also ended the existence of well-over a thousand bird species according to a new study in the Proceedings of the National Academy of Sciences (PNAS).


Giant prehistoric freshwater turtle discovered

(05/18/2012) Researchers working in Colombia has discovered the fossilized remains of a giant freshwater turtle that lived some 60 million years ago.


Humans killed off magnificent Australian megafauna, flipping rainforest into savannah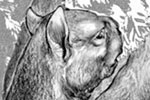 (03/27/2012) The theory that humans, and not climate change, was primarily responsible for the extinction of giant marsupials in prehistoric Australia takes another step forward with a new study in Science. Exploring sediment cores for past evidence of big herbivores, researchers found that the arrival of humans coincided with the loss of a menagerie of magnificent beasts, from giant kangaroos to fearsome marsupial lions and monster birds to Komodo dragon-like reptiles. The decline of this megafauna ultimately led to ecological changes that may have caused Australia's rainforest to become savannah.


Meet the dinosaur that looks like a crow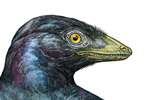 (03/08/2012) The more we discover about dinosaurs, the more these "terrible lizards" resemble otherworldly birds. None more so than the microraptor, which paleontologists have meticulously reconstructed in a paper in Science. Not only was the microraptor about the size of a modern-day crow, it looked very crow-like according to paleontologists, even down to the discovery that it sported dark iridescent feathers, the first yet recorded in nature.


Carbon emissions paving way for mass extinction in oceans

(03/05/2012) Human emissions of carbon dioxide may be acidifying the oceans at a rate not seen in 300 million years, according to new research published in Science. The ground-breaking study, which measures for the first time the rate of current acidification compared with other occurrences going back 300 million years, warns that carbon emissions, unchecked, will likely lead to a mass extinction in the world's oceans. Acidification particularly threatens species dependent on calcium carbonate (a chemical compound that drops as the ocean acidifies) such as coral reefs, marine mollusks, and even some plankton. As these species vanish, thousands of others that depend on them are likely to follow.


When giant coyotes roamed the Earth

(02/27/2012) Not long ago, geologically speaking, coyotes (Canis latrans) were bigger and more robust than today's animals. In the late Pleistocene, over 10,000 years ago, coyotes rivaled grey wolves (Canis lupus) in size. But, according to a new paper in the Proceedings of the National Academy of Sciences (PNAS), coyotes shrunk significantly following the megafaunal extinction—including the disappearance of big herbivores like giant sloths and mastodons and predators like the smilodon—due to changes in prey and predator competition.


Paleontologists reconstruct extinct, "elegant" penguin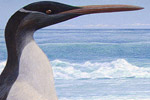 (02/27/2012) Around 25 million years ago a penguin with a long, sharp beak and massive flippers lived in a New Zealand that was almost entirely underwater. The bird, named Kairuku after a Maori word that means "diver who returns with food," was first discovered in 1977, but has only recently been reconstructed by scientists in a study in the Journal of Vertebrate Paleontology.


Jurassic insect sings again

(02/06/2012) Innovative research has made a long-extinct katydid—which inhabited the world of dinosaurs like stegosaurus, allosaurus, and diplodocus—sing again. The discovery of an incredibly well-preserved fossil of a new species of katydid, dubbed Archaboilus musicus, gave biomechanical experts the opportunity to recreate a song not heard in 165 million years according to new research published in the Proceedings of the National Academy of Sciences (PNAS).


Interview with conservation legend, Richard Leakey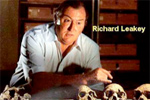 (11/28/2011) Following in his family's footsteps, Dr. Richard Leakey, is considered the heir to the scientific legacy of his parents, Louis and Mary Leakey, icons in the field of paleoanthropology. Dr Richard Leakey has been credited with some of the field's most successful paleoanthropologic finds, including a near complete, groundbreaking, Homo Erectus fossil dubbed 'Turkana Boy'. The scientific contributions of the Leakey family have reshaped our views of the origins of mankind and shed new light on the history and shared ties of the human family.


Scientists discover giant species of crocodile; luckily it is extinct

(09/15/2011) Researchers excavating a coal mine in Colombia have discovered a previously unknown species of prehistoric crocodile. The beast is described in the September 15 issue of the journal Palaeontology.


Pictures: Scientists discover carnivorous pygmy dinosaur

(01/13/2011) Scientists have announced the discovery of a new species of carnivorous dinosaur which lived 230 million years ago in what is today Argentina.


Extinct giant stork towered over 'hobbits' on Flores

(12/07/2010) Scientists have discovered an extinct massive stork, standing nearly 6 feet tall (1.8 meter) and weighing 35 pounds (15 kilograms), which would have shared the island of Flores with the 'hobbits'—dwarf hominin species known as Homo floresiensis—reports the BBC. According to the researchers the meat-eating stork was big enough to prey on young Homo floresiensis, and stood about 2 and a half feet (0.8 meters) above adult hobbits.


Pictures: Giant prehistoric penguin discovered

(10/01/2010) Paleontologists have unearthed fossil remains of a giant species of penguin that roamed the Earth 36 million years ago, according to research published in Science.


2 new dinosaur species, including 15-horned beast, discovered in Utah

(09/23/2010) Scientists discovered two previously unknown species of dinosaur in southern Utah, reports the Associated Press.


Dwarf dinosaur confirmed: the horse-sized sauropod of Transylvania

(05/04/2010) A dinosaur mystery over a hundred years old has been unraveled according to a new study in the Proceedings of the National Academy of Sciences.


Prehistoric snake gobbled-up dinosaur babies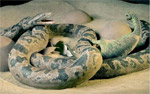 (03/02/2010) A fossilized snake has been discovered inside a titanosaur nest in India, leading researchers to conclude that the snake fed on newly-hatched dinosaur babies, rather than their eggs like modern snakes. Paleontologist and snake expert Jason Head says that the snake, known as Sanajeh indicus, lacked the wipe-jaws needed to swallow eggs, but just-hatched baby titanosaurs would have been perfect prey for the 3.5 meter (nearly 12 feet) long serpent. Titanosaurs belong to the sauropods, long-necked herbivorous dinosaurs which includes the world's largest animals to ever walk the land.


Polar bears are newcomers on the world stage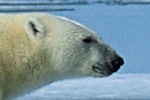 (03/01/2010) One of the most well-known animals, the polar bear, is a newcomer on the world stage, according to research published in the Proceedings of the National Academy of Sciences. By studying the DNA of an ancient polar bear jawbone uncovered in 2004 in Norway scientists have for the first time pinpointed the time when the polar bear split from its closest relative, the brown bear. "Our results confirm that the polar bear is an evolutionarily young species that split off from brown bears some 150,000 years ago and evolved extremely rapidly during the late Pleistocene, perhaps adapting to the opening of new habitats and food sources in response to climate changes just before the last interglacial period."


New study: overhunting by humans killed off Australia's megafauna

(01/21/2010) For over a century and a half researchers have debated whether humans or climate change killed off Australia's megafuana. A new paper in Science argues with new evidence that Australia's giant marsupials, monstrous reptiles, and large flightless birds were brought to extinction not by an unruly climate, but by the arrival of humans.


Extinct goat was "similar to crocodiles"


(11/16/2009) It sounds like something out of Greek mythology: a half-goat, half-reptilian creature. But researchers have discovered that an extinct species of goat, the Balearic Island cave goat or Myotragus balearicus, survived in nutrient-poor Mediterranean islands by evolving reptilian-specific characteristics. The goat, much like crocodiles, was able to grow at flexible rates, stopping growth entirely when food was scant. This adaptation—never before seen in a mammal—allowed the species to survive for five million years before being driven to extinction only 3,000 years ago, likely by human hunters.


Arctic lake undergoing unprecedented changes due to warming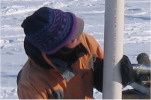 (10/19/2009) The Arctic should be growing cooler, but a new sediment core taken from an Arctic lake reveals that the lake's ecology and chemistry has been transformed by unnatural warming beginning in the 1950s. The sediment core proves that changes happening in the lake during the Twentieth Century are unprecedented over the past 200,000 years. Headed by University of Colorado scientist Yarrow Axelford, the study retrieved the sediment core from the bottom of a thirty foot deep lake on Baffin Island. Importantly the sediment core goes back 80,000 years further than any other core retrieved from the Greenland ice sheet, providing researchers with the longest timescale yet of changes in the Arctic climate.


Historical deforestation in Madagascar may not be as bad as commonly believed



(08/12/2009) The long-held assumption that Madagascar has lost 90 percent of its forest cover due to fire and slash-and-burn agriculture may be overstated, argues new research published in Conservation Letters. Analyzing 6000-year pollen records in four sites, Malika Virah-Sawmy of Oxford University found evidence that vegetation in southeast Madagascar has for millennia been a mosaic of forests, woodlands and savannas, rather than continuous forests as generally believed. Virah-Sawmy says the findings demonstrate the importance of conserving Madagascar's remaining ecosystems as a buffer against climate change.


Extinction debt can last millions of years

(07/29/2009) Extinction can be set in motion millions of years before a species' actual demise, suggesting that present-day drivers of habitat destruction and degradation may have already doomed many species to eventual extinction, report researchers writing in Proceedings of the Royal Society B online.


Age of the Amazon River estimated at 11 million years

(07/08/2009) A new study, published in the journal Geology, estimates the age of the Amazon river at 11 million years.


Permian mass extinction caused by giant volcanic eruption

(05/28/2009) Two hundred and sixty million years ago the Earth experienced its worst mass extinction: 95 percent of marine life and 70 percent of terrestrial life vanished. Long a subject of dispute, researchers from the University of Leeds believe they have confirmed the reason behind the so-called Permian extinction.


48 'new' species of dinosaur discovered

(02/09/2009) In just four years a University of Portsmouth palaeontologist has discovered 48 new species from the age of the dinosaurs.


Monstrous prehistoric snake provides glimpse of warmer tropical forests

(02/04/2009) On Wednesday scientists announced the discovery of the world's largest snake, a prehistoric beast which preyed on giant turtles and crocodile-like reptiles in South America after the demise of the dinosaurs. As amazing as the discovery is, its greatest importance may be the clues it provides conservationists about the future of tropical forests under various global warming scenarios.


World's largest snake discovered: prehistoric serpent was twice the size of an anaconda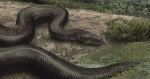 (02/04/2009) Paleontologists have recently uncovered the world's largest snake announces a paper in Nature. Measuring an astonishing 42 to 45 feet, the Titanoboa cerrejonensis makes the anaconda look diminutive. In fact the prehistoric serpent even makes once-ridiculous horror movie snakes appear conservative. "Truly enormous snakes really spark people's imagination, but reality has exceeded the fantasies of Hollywood," said Jonathan Bloch, one of the leaders of the party that discovered the prehistoric serpent. "The snake that tried to eat Jennifer Lopez in the movie Anaconda is not as big as the one we found."


Did cheetah come from China?


(12/30/2008) The discovery of a fossilized big cat skull in northwestern China provides new evidence that cheetah originated in the Old World, rather than the Americas, report scientists writing in the journal Proceedings of the National Academy of Sciences.


Missing link between fish and land animals discovered

(11/07/2008) A study published in the October 16 issue of Nature details research into and implications of a fossil fish, Tiktaalik roseae, discovered last year at Ellesmere Island in Canada. The Devonian fossil shows an array of features found in both terrestrial and aquatic animals, providing the best glimpse so far into the transitory period during which vertebrates were able to adapt to life out of water. The find provides some of the first osteological evidence of neck development, a crucial adaptation to terrestrial life because it allows an animal's body to remain stationary while it surveys its environment.


Past climate change drove mass extinction in Pakistan

(09/26/2008) Research on long-vanished mammals in the Siwalik region of Northern Pakistan has yielded results relevant for today. In the span of two-and-a-half million years climate change caused a shift in Siwalik habitat from wet monsoon forest to savannah, dooming over half the mammal species to local extinction. The research was published by the Proceedings of the National Academy of Sciences.


Researchers devise new comparison of mass extinction events

(09/02/2008) Researchers have created a new way to compare historical mass extinction events. The scoring system, presented in the early online edition of the journal Proceedings of the National Academy of Sciences, works by multiplying the number of taxa — species, genera, and families — that went extinct by the inverse of the time it took to produce a measure dubbed "greatness", which represents the magnitude of the event. Using the system, Celal Sengor and colleagues from Istanbul Teknik Universitesi of Turkey rank the Cretaceous-Tertiary (K-T) event — when the dinosaurs were extinguished in a flash by an asteroid strike or mass oceanic poisoning by a spasm of volcanic activity — as the greatest mass extinction in history. The Permian, which featured a greater loss of species (90-95 percent of marine species and 70 percent of land species) but played out over a longer period to time some 250 million years ago, ranks third after the Silurian, which occurred around 440 million years ago.


Humans - not climate - drove extinction of giant Tasmanian animals

(08/11/2008) Humans — not climate change — were responsible for the mass extinction of Australia's megafauna, according to a new study published this week in the journal Proceedings of the National Academy of Sciences.


Humans, and global warming, responsible for extinction of mammoths

(03/31/2008) The combination of human hunting pressure and climate change was responsible for the extinction in woolly mammoths, claims new research published in the open-access journal PLoS Biology. Scientists have long debated whether climate change or human hunting were the more important driver in the demise of North America's megafauna towards the end of the last Ice Age. Now new modeling by David Nogues-Bravo, a biologist at the National Museum of Natural Sciences in Madrid, Spain, and colleagues supports the theory that synergistic effects of warming climate and new human predators drove mammoths to extinction.


10-pound 'Giant Frog From Hell' discovered in Madagascar

(02/18/2008) Researchers have discovered the remains of what may be the largest frog ever to exist.


Two strange carnivorous dinosaurs discovered in the Sahara

(02/12/2008) Two previously unknown species of dinosaur discovered in the Sahara were unusual meat-eaters, report scientists from the University of Chicago and the University of Bristol.


New duck-billed dinosaur discovered in Mexico

(02/12/2008) A previously unknown species of dinosaur has been discovered in Mexico, shadding new light on the history of western North America, report researchers from the Utah Museum of Natural History at the University of Utah.


Global warming to increase insect attacks on plants

(02/11/2008) Global warming will increase attacks on plant leaves by insects, reports a study published in Proceedings of the National Academy of Sciences.


Mini-pterodactyl discovered in China

(02/11/2008) Scientists have discovered a previously unknown species of pterodactyl in northeastern China.


Recovery from worst mass extinction took 30M years

(01/20/2008) The recovery of complex ecosystems following history's worst mass extinction took 30 million years reports a study published last week in Proceedings of the Royal Society B.


2,000 pound rodent discovered

(01/16/2008) Scientists have discovered the remains of an extinct 2,000 pound rodent -- the largest rodent ever known. The find is described Wednesday in Britain's Proceedings of the Royal Society.


Despite Arctic crocodiles, glaciers existed during extreme global warming 90M years ago

(01/10/2008) Massive glaciers extended across 50-60 percent of Antarctica some 91.2 million years even as crocodiles roamed the Arctic and surface temperatures of the western tropical Atlantic Ocean climbed to 37 degrees Celsius (98 degrees Fahrenheit), reports a study published in the journal Science.


Evolution of whales challenged

(12/19/2007) Modern whales appear to have evolved from a raccoon-sized creature with the body of a small deer, according to scientists writing in the journal Nature. The results challenge the theory that cetaceans are descended from even-toed ungulates (artiodactyls) like hippos, as previous molecular analysis has suggested.


Prehistoric Carnivorous Fungi Lassoed its Prey

(12/13/2007) Scientists have discovered the oldest known carnivorous fungus, according to a study published in Science.


Massive carnivorous dinosaur discovered

(12/11/2007) A massive carnivorous dinosaur discovered in Niger has been described as a new species, according to research published in current issue of the Journal of Vertebrate Paleontology.


Global warming may provoke evolution

(11/26/2007) Some 80 million years ago, during a period of global warming, a group of relatively immobile salamanders trekked from western North America to the continent that became Asia, report researchers writing in this week's issue of the journal Proceedings of the National Academy of Science.


Cow-like dinosaur discovered

(11/15/2007) A dinosaur discovered in the Sahara had a mouth that worked like a vacuum cleaner and operated more like a "Mesozoic cow" than a reptile, report researchers writing in today's issue of the journal PLoS ONE.


Missing link between humans and apes possibly discovered

(11/12/2007) A 10 million-year-old jawbone discovered in Kenya may represent a new species very close to the last common ancestor of gorillas, chimpanzees, and humans, report researchers writing in the current issue of the journal Proceedings of the National Academy of Sciences (PNAS).


Climate change did not cause extinction of Neanderthals

(09/12/2007) Researchers in Europe have found evidence that rules out a "single climatic event" as factor in the extinction of Neanderthals.


Climate change drove human evolution

(09/03/2007) Climate change appears to have been a significant driver of human evolution, report researchers writing in this week's issue of the journal Proceedings of the National Academy of Science (PNAS).


Orchids may have co-existed with dinosaurs

(08/29/2007) Orchids are old enough to have co-existed with dinosaurs, report Harvard University scientists.


T. rex could outrun a human athlete

(08/22/2007) T. rex could reach speeds of up to 18mph, according to new supercomputer simulations that are believed to be the most accurate projections ever produced.


Asians played larger role in colonization of Europe than Africans

(08/06/2007) Humans with Asian origins played a larger role than those from Africa in colonizing Europe millions of years ago, reports a paper published in the early online edition of the journal Proceedings of the National Academy of Sciences (PNAS).


Dinosaurs' rise to dominance was a gradual

(07/19/2007) Dinosaurs' rise to dominance was a gradual rather than sudden, suggests new research published in Science.


Peanuts, cotton, squash first farmed in Peru 6,000-10,000 years ago

(06/28/2007) Anthropologists have discovered the earliest-known evidence of peanut, cotton and squash farming. The study, which show that the crops were grown in the Peruvian Andes 5,000-10,000 years ago, is published in Friday's issue of the journal Science.


Past global warming produced monster penguins

(06/25/2007) Scientists have discovered fossil remains of a giant species of penguin that lived some 40 million years ago in what is now Peru. Coupled with the finding of a smaller species from the same time period, the remains reveal that early penguins responded differently to natural climate change than scientists would have expected. The results are published in the PNAS Online Early Edition the week of June 25-29, 2007.


Highly carnivorous wolves in Alaska killed by global warming

(06/21/2007) Researchers have identified a previously unknown species of "highly carnivorous" wolf in Alaska that appears to have died off during the Pleistocene extinction some 12,000 years ago. The results are published in the June 21 online issue of Current Biology.


Pygmy panda discovered in China

(06/18/2007) Researchers have discovered an extinct pygmy panda in the tropical forests of China.


Ancient gliding reptile discovered

(06/12/2007) A remarkable new long-necked, gliding reptile discovered in 220 million-year old sediments of eastern north America is described in the latest issue of the Journal of Vertebrate Paleontology (Vol. 27, No. 2), scientists report. Mecistotrachelos apeoros (meaning "soaring, long-necked") is based on two fossils excavated at the Solite Quarry that straddles the Virginia-North Carolina state line.


Tyrannosaurus rex was slow

(06/07/2007) Tyrannosaurus rex was a slow, lumbering beast according to new research published in the Journal of Theoretical Biology.


Dinosaurs could swim

(05/24/2007) Researchers found evidence that terrestrial dinosaurs were capable of swimming. Examining fossilized footmarks left on the floor of an ancient lake bed in northern Spain 125 million years ago, scientists led by Loic Costeur of the Universite de Nantes in France said the tracks were left by a swimming meat-eating dinosaur.


Possible baby dinosaur tracks discovered near Denver

(05/24/2007) A researcher may have discovered incredibly rare dinosaur tracks of baby stegosaurs near downtown Denver, reports the Denver Post.


Prehistoric bear-like beast discovered in North Dakota

(05/24/2007) The skeleton of a 60-million year old bear-like beat was discovered at an oil drilling site in the North Dakota Badlands, reports the Associated Press.


Largest dinosaur bones in Australia discovered

(05/03/2007) The largest bones of any dinosaur known in Australia went on display at the Queensland Museum for the first time today.


World's first rainforest found in Illinois

(04/23/2007) Earth's first rainforest has been found in an Illinois coalmine, according to research published in Geology.


Researchers find Earth's first rainforest

(04/23/2007) A spectacular fossilised forest has transformed our understanding of the ecology of the Earth's first rainforests. It is 300 million years old


First amphibians were biters not suckers

(04/16/2007) Prehistoric aquatic amphibians developed the ability to feed on land well before they became terrestrial reports a new study in the early online edition of Proceedings of the National Academy of Sciences (PNAS).


Dinosaur extinction didn't produce current mammal evolution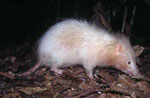 (03/28/2007) A new Nature study argues that the demise of dinosaurs did not fuel the rise of mammals. Devising a new tree of life for 4,500 species of mammals using molecular evolutionary trees, an international team of researchers challenges the prevailing hypothesis that a mass extinction of dinosaurs 65 million years ago played a major role in the diversification of mammals.


Evolutionary precursor to snake discovered

(03/23/2007) A University of Alberta paleontologist has helped discover the existence of a 95 million-year-old snakelike marine animal, a finding that provides not only the earliest example of limbloss in lizards but the first example of limbloss in an aquatic lizard.


Newly discovered burrowing dinosaur loved its offspring

(03/20/2007) The first known burrowing dinosaur has been discovered in southwest Montana, according to a paleontologist at Montana State University. The finding, published in the journal Proceedings of The Royal Society B: Biological Sciences, may shed light on parental care among dinosaurs as well as fuel controversy over what caused the extinction of the prehistoric beasts.


Prehistoric lizard glided through air using ribs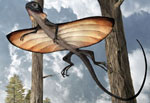 (03/19/2007) An extinct species of lizard used a wing-like membrane supported by the animal's elongated ribs for gliding through the air according to Chinese researchers. The 6-inch (15.5 cm) lizard, found in the Liaoning Province of northeastern China, lived during the Early Cretaceous period. The specimen is described in the early online edition of the journal Proceedings of the National Academy of Sciences (PNAS).


Ancient humanoids were short and nasty for kung fu fighting, not climbing

(03/12/2007) Ancient ape-like human ancestors called as australopiths were short-legged to help them fight, not to climb trees, argues a new study from a researcher at the University of Utah.


Caribbean coral reefs result of mass extinction, rise of isthmus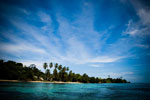 (03/12/2007) Extinctions that resulted from the formation of the Panamanian isthmus were delayed two million years according to a new study by researchers at the Smithsonian Tropical Research Institute, Scripps Institution of Oceanography and London's Natural History Museum. The findings may have implications for global species extinction and evolution.


Prehistoric spiky freakshow discovered in rock

(03/02/2007) Scientists have discovered a bizarre, half-billion-year old creature with long, curved spines, armored plates, and a hard shell that protected it from predators.


Indigenous populations deforested New World rainforests before European contact


(02/28/2007) Indigenous populations used fire to clear large areas of tropical forest well before the arrival of Europeans reports a new study published in Annals of the Missouri Botanical Garden. The research has important implications for understanding the impact of present forest development on biodiversity and forest regeneration in the tropics.


Europeans may have caused extinction of large mammals in Caribbean

(01/25/2007) New evidence suggests that the arrival of Europeans in the New World corresponds with the extinction of mammal species on the Caribbean islands.


Giant carnivorous marsupial beasts not killed by climate change in Australia

(01/25/2007) Humans, not climate change, caused the extinction of megafauna in Australia contends a team of Australian researchers writing in the January issue of the journal Science. Australia lost 90 percent of its largest animals, including a saber-toothed kangaroo, a marsupial lion and giant goannas, within 20,000 years of man's arrival some 50,000 years ago. Scientists have long debated whether the demise of Australian megafauna was due to human arrival, climate change, or a combination of the two factors. The new research found that the climate in southeastern Australia was little different 500,000 years ago, suggesting that climate change was not the ultimate cause of extinction.


Early dinosaur flew like a biplane

(01/23/2007) Reanalysis of fossil remains suggests that the earliest flying dinosaurs used two sets of wings like a biplane. The research, published by Sankar Chatterjee of Texas Tech University and R. Jack Templin in this week&aposs online issue of Proceedings of the National Academy of Sciences, argues that Microraptor gui, one of the earliest known gliders dating to 125 million years ago, utilized four wings to glide between treetops.


Carnivorous 'terror bird' stalked America before isthmus formation

(01/23/2007) A prehistoric 7-foot-tall flightless 'terror bird,' arrived in North America from South America well before the formation of the Panamanian land bridge according to a study led by University of Florida (UF) researchers. The results will be published January 23 in the online version of the journal Geology.


Leaf-mimicking insects at least 47 million years old

(12/25/2006) With the discovery of a 47 million year old fossil of a lead insect, new research suggests that cryptic leaf-mimicking camoflauge is a time-tested strategy used by insects to avoid predators.


Giant dinosaur discovered in Spain - largest ever recorded in Europe

(12/21/2006) Researchers working in Teruel, Spain have discovered the fossil remains of a giant dinosaur that weighed between 40 to 48 tons and was 30-37 meters (100-120 feet) long -- the length of an NBA basketball court. It is the largest dinosaur ever found in Europe -- most giant dinosaurs have been found previously in the New World and Africa.


How did giant dinosaurs digest their food without molars?

(12/20/2006) The giant dinosaurs had a problem. Many of them had narrow, pointed teeth, which were more suited to tearing off plants rather than chewing them. But how did they then grind their food? Until recently many researchers have assumed that they were helped by stones which they swallowed. In their muscular stomach these then acted as a kind of 'gastric mill'. But this assumption does not seem to be correct, as scientists at the universities of Bonn and Tubingen have now proved. Their research findings can be found in the current issue of the journal Proceedings of the Royal Society.


Mammals may have flown before birds

(12/14/2006) Mammals may have flown before birds according to a fossil discovery by scientists working in China. Working in the Inner Mongolian region of China, a team of Chinese and American scientists discovered a 125 million year fossil that provides evidence that mammals were capable of gliding flight some 70 million years earlier than previously believed.


'Loch Ness Monster' found in Antarctica

(12/11/2006) Paleontologists found a well-preserved fossil skeleton of a juvenile plesiosaur in Antarctica. Cryptozoologists say the plesiosaur resembles the legendary Loch Ness Monster, despite scientific evidence indicating that the marine reptile has been extinct for millions of years.


Ancient hominid not our ancestor finds new study

(12/07/2006) Scientists have shown that ancient remains once thought to be a key link in man's evolutionary history are 400,000 years to young to be part of human evolution.


Neanderthal life was miserable suggests new evidence

(12/04/2006) New analysis of 43,000-year-old samples of Neanderthal remains from Spain's Iberian Peninsula suggest our relatives eked out a meager existence, possibly supplemented by cannibalism. The results are published in the early online edition of the Proceedings of the National Academy of Sciences (PNAS) for the week of December 4-8, 2006.


Ancient fish had bite like Tyrannosaurus rex

(11/29/2006) 400-million years ago a 33-foot long, 4-ton fish terrorized the oceans with jaws that rivaled those of Tyrannosaurus rex, according to research published in the Royal Society journal Biology Letters on November 29.


Ancient sea monster found in Montana

(11/04/2006) A fossil-hunting trip to celebrate a son's homecoming resulted in the recent discovery of an ancient sea monster in central Montana.


Ancient climate record preserved in prehistoric plants

(11/02/2006) About 350 million years ago, at the boundary of the Devonian and Carboniferous ages, the climate changed. There was no one around to record it, but there are records nonetheless in the rocks deposited by glaciers and in tissues preserved in fossils of ancient life.


Researchers find the missing link for elephant evolution

(11/02/2006) A pig-sized, tusked creature that roamed the earth some 27 million years ago represents a missing link between the oldest known relatives of elephants and the more recent group from which modern elephants descended.


Birds evolved from gliding four-legged dinosaurs

(09/22/2006) Birds may have evolved from gliding four-legged dinosaurs accofding to new research by a University of Calgary paleontologist.


Recovery of biodiversity after dinosaurs was chaotic

(08/24/2006) The recovery of biodiversity after the end-Cretaceous mass extinction was much more chaotic than previously thought, according to paleontologists. New fossil evidence shows that at certain times and places, plant and insect diversity were severely out of balance, not linked as they are today. The extinction took place 65.5 million years ago. Labeled the K-T extinction, it marks the beginning of the Cenozoic Era and the Paleocene Epoch.


Ancient blue whale was a shark killer

(08/22/2006) A 25-million-year-old whale fossil from southeastern Australia suggests a curious origin for baleen whales. Presented at the at the Melbourne Museum last week, the fossil shows that earliest baleen whales were small, toothed and highly predatory creatures with enormous eyes -- virtually the opposite of the baleen whales we know today. These, like the blue whale and the humpback are gentle, toothless giants that feed on krill and other tiny organism.


Ancient bison teeth provide window on past Great Plains climate

(08/07/2006) A University of Washington researcher has devised a way to use the fossil teeth of ancient bison as a tool to reconstruct historic climate and vegetation changes in America's breadbasket, the Great Plains.


Picture of ancient missing link between fish and land animals

(04/05/2006) Paleontologists have discovered fossils of a species that provides the missing evolutionary link between fish and the first animals that walked out of water onto land about 375 million years ago. The newly found species, Tiktaalik roseae, has a skull, a neck, ribs and parts of the limbs that are similar to four-legged animals known as tetrapods, as well as fish-like features such as a primitive jaw, fins and scales. These fossils, found on Ellesmere Island in Arctic Canada, are the most compelling examples yet of an animal that was at the cusp of the fish-tetrapod transition. The new find is described in two related research articles highlighted on the cover of the April 6, 2006, issue of Nature.



Page 1 | Page 2