News articles on Fishing

---
Mongabay.com news articles on Fishing in blog format. Updated regularly.








Fisheries in developing countries stall on the path to sustainability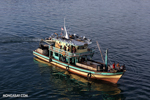 (05/08/2015) Fishery improvement projects are intended to help unsustainable fisheries improve their practices by dangling the carrot of access to lucrative markets. Many seafood retailers happily sell fish from these projects as a way to make good on their sustainability promises. But a recent paper says that many of these projects, particularly in the developing world, are failing to deliver improvements.
Fracas over Costa Rican shark-fin exports leads American Airlines to stop shipping fins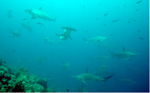 (04/24/2015) On December 24, an American Airlines plane carried 411 kilos of dried hammerhead shark fins from Alajuela, Costa Rica, to Hong Kong, touching down partway through the journey in Miami. The shipment, valued at nearly $53,000, contained fins from around 411 animals, more than seven times the number on its export permit from the Costa Rican government.
Thailand, Indonesia join forces against illegal fishing amid EU ultimatum

(04/24/2015) Amid EU threats to blacklist Thai seafood if the industry fails to clean up its act by October, the Southeast Asian country and its neighbor Indonesia agreed on Thursday to form a joint task force to combat illegal fishing, which remains in the spotlight in the wake of an Associated Press investigation into slavery aboard Thai-run ships in Indonesian waters.
Photo Essay: Geopolitical pawns, the fishermen of Lý Sơn, Vietnam
(04/17/2015) 'When they came, what could we do?' 46-year-old fisherman Nguyên Phú asks, crouching down like a frog with his hands above his head. 'We just put our hands up like this, and said, 'Don't shoot! Don't shoot!'' Their caution is warranted. If they venture too deeply into Vietnam's claimed territorial waters, a Chinese patrol boat will swoop down on them.
Innovative community fisheries initiative wins top social entrepreneurship prize
(04/13/2015) A program that helps restore overfished areas through community-based marine conservation has won the Skoll Foundation's top prize for social entrepreneurship. Today the Skoll announced Blue Ventures, which piloted its approach in Madagascar a decade ago before expanding to other regions, was one of four organizations to be honored with the $1.25 million Skoll Award for Social Entrepreneurship.
Bottom trawling reduces size of commercially important flatfish
(03/19/2015) Oceans not only provide important ecosystem services, including climate regulation and nutrient cycling, but they also serve as a major contributor to food and jobs. Yet human actions in the oceans are having a major impact on species, sometimes in unexpected ways. Indeed, a recent study finds that bottom trawling may be making some fish skinner.
Human impacts are 'decoupling' coral reef ecosystems
(03/09/2015) There is a growing consensus among scientists that we have entered the age of the Anthropocene, or the epoch of humans. In other words, at some point between the 12,000 years separating the beginning of agriculture and the Industrial Revolution, humans became the dominant source of change on the planet, shaping everything from the land to the atmosphere to even the geologic record where we etch our reign.
Indonesian fisheries ministry imposes new limits on gear and fish harvests
(03/04/2015) The Indonesian fisheries ministry has introduced two divisive pieces of legislation aimed at increasing the sustainability of Indonesia's depleted ocean fisheries. Permen KP 1/2015 imposes size limits on wild-caught lobsters and crab, and forbids catching egg-bearing crustaceans. Permen KP 2/2015 bans trawl and seine fisheries. Fishermen last Thursday demonstrated outside the Ministry to protest the damage this will cause to their livelihoods.
Last ditch: Mexico finally gets serious about saving the vaquita
(03/04/2015) There are likely less than 100 vaquita on the planet. Found only in the northern pocket of the Sea of Cortez in Mexico, the vaquita is a tiny, shy porpoise that has been brought to the very edge of extinction due to drowning in gillnets used for shrimping. But after years of stalling, Mexico now appears to be making a final effort to save the world's most endangered cetacean.
Employing shame for environmental change
(03/03/2015) Anyone who has ever felt the sting of shame, knows its power. Shame has long been used by societal institutions—families, communities, governments, religions—for making individuals tow the line of the majority. But a new book explores another—arguably more positive—side of shame: its potential to challenge rule-breaking and ethically-defunct corporations.
Scientists uncover new seadragon
(02/18/2015) For 150 years, scientists have known of just two so-called seadragons: the leafy seadragon and the weedy seadragon. But a new paper in the Royal Society Open Science has announced the discovery of a third, dubbed the ruby seadragon for its incredible bright-red coloring. Found only off the southern Australian coastline, seadragons belong to the same family as the more familiar seahorses: the Syngnathidae.
Indonesian forestry and fishery ministries move to eradicate corruption
(02/17/2015) Today Indonesia's Corruption Eradication Commission (KPK) signed a memorandum of understanding with the national forestry and fishery ministries as well as a number of provincial governors to better integrate management and monitoring of the country's oceans and forests.
Arctic upheaval: new book outlines challenges at the top of the world
(02/16/2015) For most of us, the Arctic is not at the front of our minds. We view it as cold, stark, and, most importantly, distant. Yet, even in an age of vast ecological upheaval, one could argue that no biome in the world is changing so rapidly or so irrevocably. Two hundred plus years of burning fossil fuels has warmed up the top of our planet more quickly than anywhere else.
Madagascar establishes a sanctuary for sharks
(02/06/2015) The government of Madagascar has established the Indian Ocean island's first shark sanctuary in an area famous for its marine biodiversity, reports the Wildlife Conservation Society (WCS).
Mercury fish: gold mining puts downstream communities at risk in Peru
(02/02/2015) Artisanal, often illegal gold-mining, has swept across portions of the Peruvian Amazon over last decade, driven in part by a rising price in gold. The unregulated industry has resulted in widespread deforestation leading to an environmental disaster. Now a new study finds that mercury pollution has moved rapidly downstream and could be impacting communities at least 560 kilometers away.
Fishing industry could lose up to $41 billion due to climate change
(01/16/2015) Climate change is already having a severe impact on the atmosphere and oceans around the world. These changes are also impacting specific economic sectors including the fishing and aquaculture industries. According to a recent report by the European Climate Foundation, the Sustainable Fisheries Partnership and the University of Cambridge, the fishing industry is projected to lose tens-of-billions as the world continues to heat up.
Empty seas? Scientists warn of an industrialized ocean
(01/15/2015) This is obvious, but still important: humans are not a marine species. Even as we have colonized most of our planet's terrestrial landscapes, we have not yet colonized the oceans. And for most of our history, we have impacted them only on the periphery. A new review in Science finds that this has saved marine species and ecosystems from large-scale damage—that is, until the last couple centuries.
Casting for another job: will fishers take up a new livelihood?
(01/12/2015) Can alternative income programs save Fiji's reef fish? Many implicate the failure of Fiji's government to prioritize sustainable management over fisheries development projects, or suggest that Fijians' mindsets must dramatically shift first.
For the first time, Sea Shepherd targets Antarctic toothfish poachers
(12/09/2014) For the first time, marine conservation group, Sea Shepherd, is employing their controversial methods to protect Antarctic and Patagonian toothfish. Dubbed 'Operation Icefish,' Sea Shepherd Australia is sending two ships into Antarctic waters to disrupt illegal vessels targeting the little-known species that are often sold in luxury markets as Chilean seabass.
Reeling in religious messages: how faith impacts fisheries in Fiji
(11/25/2014) Marrying religion and conservation could be key to making Fiji's fisheries sustainable. Fijians have strong religious beliefs, which were primarily introduced by Christian missionaries in the 1835, and today profoundly guide their daily lives. Fijians primarily depend on fisheries close to shore for their survival, which is the case for most small Pacific island countries.
New marine protected areas key to fighting illegal fishing
(11/24/2014) Do you know how that tuna sashimi got to your dinner plate? Probably not—and chances are, the restaurant that served it to you doesn't know, either. A new policy paper argues that illicit fishing practices are flying under the radar all around the world, and global society must combat them in order to keep seafood on the menu.
Of bluefin and pufferfish: 310 species added to IUCN Red List
(11/17/2014) Today, 22,413 species are threatened with extinction, according to the most recent update of the IUCN Red List. This is a rise of 310 species from the last update in the summer. The update includes the Pacific bluefin tuna, the Chinese pufferfish, and Chapman's pygmy chameleon, among others.
Black market manta ray bust in Indonesia

(11/14/2014) In the largest confiscation in Indonesia to-date, authorities seized 103kg of manta gills in Bali, and arrested one suspect. The dried gill plates were harvested from as many as 85 individuals and are worth about 175 million rupiah on the local market.
Indonesia's new president, ministers have big plans for fish
(11/06/2014) Indonesia's new president, Joko Widodo (or Jokowi, as he's popularly called) spent half his 11-minute inaugural address thanking God, his partisans and the citizenry at large. For the rest of the speech he talked about oceans. Was this just rhetorical flourish, or does it portend a new seriousness about maritime management?
Russia and China blamed for blocking Antarctic marine reserve
(11/03/2014) Another year, another failed attempt to protect a significant chunk of the Ross Sea, which sits off the coast of Antarctica. According to observers, efforts to create the world's biggest marine protected area to date were shot down by Russia and China during a meeting in Hobart, Tasmania of the Commission for the Conservation of Antarctic Marine Living Resources (CCAMLR).
Saving Peru's sea turtles and marine birds: conservationists and fishermen partner to tackle bycatch
(10/07/2014) Marine conservationists often view fisheries as an enemy of sorts, vacuuming up fish with little thought to the long-term consequences and using equipment that also ends up killing other species, i.e. bycatch like sea turtles and marine birds. However, Joanna Alfaro Shigueto, the President of the Peruvian NGOProDelphinus and winner of a 2012 Whitley Award, has chosen a different tact.
Is there hope for the vaquita? IUCN calls for action to save world's smallest, rarest porpoise
(09/19/2014) Since the baiji was declared extinct in the early aughts, the vaquita has taken its unenviable position as the world's most threatened cetacean. The tiny porpoise currently numbers around 100, with accidental entanglement in gillnets primarily responsible for its decline. In response, the IUCN recently issued a statement calling for immediate action to curb vaquita bycatch and head off its extinction – which otherwise may lie just around the corner.
Invasion of the lionfish: new research finds the situation may be worse than we thought
(08/27/2014) You may have recently read the controversial story on invasive lionfish research involving Dr. Zack Jud of Florida International University and a young girl named Lauren Arrington. While the issue of attribution in scientific research is crucial to the discipline, much of the media focus so far has sidestepped the real issue: what lionfish tolerance for brackish water really means for the environment.
Of Prawns and Men on the Bali Strait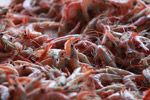 (08/22/2014) Why is shrimp so cheap? The answer: it's not. An in depth look at the shrimp farm industry in Indonesia and the true cost of this universally enjoyed delicacy. This article by Melati Kaye first appeared in the Seashore Issue of the culinary magazine Lucky Peach and was funded under Mongabay.org's Special Reporting Initiatives program.
Demand for shark fin plunging
(08/12/2014) Shark fin demand has dropped precipitously in China in just a few years, according to a new report by WildAid. Shark fin traders in Guangzhou—the current informal capital of the shark fin trade—say their sales have fallen by 82 percent in just two years, according to WildAid.
Seafood apartments and other experiments in fixing Indonesia's fisheries (Part IV)
(07/25/2014) Shrimp farms, industrial plants, and one of Indonesia's busiest thoroughfares make up Java's north coast today. It's a very different scene from the fishing villages with beachfront boat parking that stood here decades earlier. Which begs the question, where will fish live in this new 'coast without mangroves, without coral, without seagrass,' asks Alan Koropitan, a marine biologist based at Bogor Agricultural University.
Over-depleted and undermanaged: can Indonesia turn around its fisheries? (Part III)
(07/22/2014) Compared to maritime ministries worldwide, Indonesia's Ministry of Marine Affairs and Fisheries (MMAF) is a teenaged neophyte. The governing body was formed a mere 13 years ago;a staggering fact for a country made up of two-thirds water where many of the 250 million people depend on fish for both protein and income. Mongabay.org's SRI Fellow Melati Kaye reports on the state of Indonesian fisheries in the third installment of a four-part series.
Boom but mostly bust: fighting over sardines in Indonesia's Bali Strait (Part II)
(07/18/2014) Fifty-five crewmen, stripped to their briefs, sing Madurese sea shanties to synchronized gestures as they haul in giant seine nets, hand-over-hand, onto the swaying wooden deck of the M/V Sinar Indah out in the middle of the Bali Strait. This morning they had offloaded a bumper haul at their homeport of Muncar: seven tons of lemuru sardines Sardinella lemuru, the local specialty, for which dockside cannery agents offered $3,500.
Fishing for coherent regulations along Fiji's coral reefs
(07/16/2014) Will Fiji implement a much-needed update to its fisheries laws before the September election? If you want to quiet a room in Fiji or feel like a lobster in a boiling pot, bring up coastal fishing rights, and ask what's happening with the plan to update the country's fisheries laws.
A tale of two fish: cyanide fishing and foreign bosses off Sulawesi's coast (Part I)
(07/08/2014) In spring and summer, after the monsoon storms have passed, the fishing boats set out again from tiny Kodingareng Island in the Spermonde Archipelago off the coast of South Sulawesi. In the afternoon heat, Abdul Wahid joins his fellow fishermen in the narrow shade of the beachfront village houses to check out the daily fish prices.
Dying for Fiji's Sea Cucumbers
(06/23/2014) Redfish, Greenfish, Blackfish. Pinkfish, Curryfish, Lollyfish. They sound like Dr. Seuss characters and certainly look like they should be. Yet these sausage-shaped, rubbery animals stippled in fleshy bumps are not fish at all, but an invertebrate in the group that includes sea stars, sea urchins and sand dollars. Sea cucumbers, referred to as 'bêche-de-mer' or 'trepang' when sold as dried food have a high value - an individual in Fiji can fetch about $80 US.
Bigger than Mexico? Obama announces major expansion of Pacific protected area
(06/18/2014) President Obama announced yesterday he intends to drastically expand the Pacific Remote Islands Marine National Monument making what will likely be the largest marine protected area on the planet. While the full extent of the ocean park has yet to be determined, it could potentially protect over two million square kilometers, an area larger than Mexico.
By the bones: herring populations were superabundant before commercial fisheries
(06/09/2014) Scientists analyzed almost half a million fish bones to shed light on the population history of Pacific herring (Clupea pallasii) in the North Pacific Ocean. Their paper reveals a decline of unprecedented scale, and suggests that while the abundance of Pacific herring does fluctuate naturally, their numbers have fallen precipitously since commercial fishing started targeting the species in the 19th century.
Trawling: destructive fishing method is turning seafloors to 'deserts'
(05/28/2014) Previous research has linked trawling to significant environmental impacts, such as the harvest of large numbers of non-target species, collectively termed "bycatch," as well as destruction of shallow seabeds. Now, a new study finds this method is also resulting in long-term, far-reaching consequences in the deeper ocean and beyond.
Former Miss South Pacific steps into new conservation role
(05/15/2014) Alisi Rabukawaqa, an articulate, vibrant, 26-year-old Fijian known in Oceania as Miss South Pacific 2011, has set her sights on a novel conservation program in Fiji. The Conservation Officer program, created in 2013, supports natural resource management within villages in Fiji and links them with the government arm overseeing the needs of indigenous Fijians. Mongabay.org Special Reporting Initiative Fellow Amy West sits down for an interview.
Revealed for the first time: the surprising biodiversity of algae 'reefs'
(03/28/2014) Most people are familiar with coral reefs, but very few have ever heard of their algal equivalent – rhodolith beds. Yet, these structures provide crucial habitat for many marine species. In the first study of its kind, published in mongabay.com's Tropical Conservation Science, researchers unveil just how important these beds are for bottom-dwelling organisms, and the species that depend on them.
3 environmental reporting prize winners to explore drivers of deforestation, community forestry, and sustainable seafood in China
(03/19/2014) Mongabay.org, the non-profit arm of environmental science web site Mongabay.com, has selected winners of three environmental reporting prizes under its Special Reporting Initiatives (SRI) program. The three prizes, which were launched in January, explore the impacts of rising human consumption on forest and marine ecosystems. The winners, selected from more than 150 applicants by a panel of issue-area experts, include Robert S. Eshelman, Ruxandra Guidi and Bear Guerra, and Dominic Bracco II and Erik Vance.
Saving sharks one sandwich at a time: conservationists target 'shark bake'
(02/28/2014) Thousands of Carnival revelers in Trinidad wouldn't think of missing the chance to go to Maracas Beach, the most famous strip of sand on the small Caribbean island off the northeast coast of Venezuela. Beachgoers might not think twice about eating a favorite food called "shark bake" either – at least, until now. But this week, conservationists launched a shark-saving campaign timed to get maximum exposure out of the celebration that will bring throngs of visitors to the island.
Indonesia pledges to protect manta rays
(02/21/2014) In a move signaling their commitment to CITES agreements on international trade of plants and animals, the Indonesian government declared two species of manta ray 'protected' under Indonesian law. Decree Number 4/KEPMEN-KP/2014 issued by Ministry of Maritime Affairs and Fisheries states that two manta ray species, Manta birostris and Manta alfredi, now enjoy full protection throughout their entire life cycle. The decree explicitly extends that protection to all parts of their body.
Study: 59% of Marine Protected Areas are ineffective
(02/10/2014) Protecting large, isolated areas of no-take zones for over 10 years with strong enforcement is the key to effective Marine Protected Areas (MPAs), according to a letter published this week in Nature. However, 59% of all MPAs meet less than three of the five criteria, making them protected in name only.
35 pictures of the sharkfin trade that will shock and dismay you
(02/07/2014) Last month scientists released a study warning that one quarter of all sharks and rays are threatened with extinction. The research was the result of collaboration between 300 scientists from 64 countries. It concluded that overfishing is the biggest threat to the most number of species, noting that up to 73 million sharks are killed each year for their fins alone.
Scientists discover new eagle ray imperiled by Japanese pest program (photos)
(01/30/2014) Scientists have described a new species of eagle ray in the northwest Pacific Ocean, which they have named "narutobiei" (Aetobatus narutobiei) after its local name in Japan. While the new species has long been known by scientists, it was clumped together with the longheaded eagle ray (Aetobatus flagellum) for over two hundred years. Splitting the two species has large-scale conservation impacts, according to the paper describing the new species in PLOS ONE.
A series of oil spills sully Caribbean paradise, coating mangroves and wildlife (photos)
(01/29/2014) On December 17th, officials first discovered a massive oil spill in the Caribbean-island nation of Trinidad and Tobago. Since then, a series of oil spills have been discovered, coating beaches, sullying mangrove forests, and very likely decimating wildlife in Trinidad's Gulf of Paria. The oil spills have been linked to the state-owned oil company, Petrotrin, which has claimed that sabotage is behind at least two of the spills. However Trinidad and Tobago's Environmental Management Authority has recently slapped the company with a $3.1 million fine by for the damage, while some politicians have called for an independent investigation into the slew of spills.
Protected forests linked to healthy coral reefs in Fiji
(01/27/2014) Increasing forest protection in the right areas could increase benefits up to 10.4 percent to coral reef condition, according to a recent study of Fiji's forests and reefs in Marine Policy. Benefits from protected forests such as improved water quality due to decreased runoff and increased distribution of the vegetation are more closely linked to coral reef health than previously thought.
One quarter of sharks and rays threatened with extinction
(01/22/2014) One quarter of all shark and ray species are threatened with extinction, according to a new study published in the open-access journal eLife. The paper analyzed the threat and conservation status of 1,041 species of chondrichthyans—the class of fish whose skeletons are made of cartilage instead of bone which includes sharks, rays, skates and chimaeras—and found this group to be among the most threatened animals in the world.
Two journalists awarded prizes for reporting on fisheries in the Pacific
(01/20/2014) Mongabay.org - a non-profit dedicated to raising awareness of social and environmental issues relating to tropical forests and other ecosystems - has announced the winners of two environmental reporting prizes under its Special Reporting Initiative (SRI) program. The prizes sought proposals to investigate questions around marine fisheries management in the Pacific.
Environmental groups: top secret Pacific trade agreement to sacrifice wildlife, environment

(01/16/2014) Environmental groups have blasted draft text of the Trans-Pacific Partnership (TPP) released yesterday by WikiLeaks as potentially devastating to the environment and wildlife. The massive 12-nation free trade agreement has been negotiated in secret now for almost four years, and the information release by WikiLeaks shows that key environmental safeguards in the agreement are being stripped away, including a ban on shark finning and illegal logging, as well as legally-enforced pollution regulations.
Japanese whale hunt stopped, for now

(01/06/2014) Anti-whaling group Sea Shepherd said its fleet of ships has successfully disrupted the annual Japanese whale hunt in the waters off Antarctica.
Indonesia's national airline carrier bans shark fins
(11/23/2013) Indonesia's national carrier Garuda Indonesia has joined a growing number of airlines looking to curb the international shark fin trade by banning the transport of shark fins and other shark products on their aircraft. The airline had previously transported 36 tons of shark fin products a year, the conservation group said in a media release on Nov. 15.
Nearly half a million seabirds die in gillnets every year, but solutions exist
(11/18/2013) A recent study from the Biological Conservation journal brings shocking news: every year across the globe, an estimated 400,000 seabirds are killed by gillnets. Gillnets, a common term for any net used to entangle and catch fish, are used all over the world, and at any depth. These nets, whether used in subsistence or commercial fishing, trap anything that swims through them. When unintended marine wildlife, or "bycatch," is caught in these nets, the results can be significant.
Ultraviolet nets significantly reduce sea turtle bycatch
(11/11/2013) Bycatch, a side-effect of commercial fishing in which non-target species are accidentally caught, is linked to severe population declines in several species. Sea turtles are particularly impacted by small-scale coastal gillnetting practices, in which large nets are deployed and indiscriminately snag anything of a certain size that attempts to swim through them. However, that may soon change.
Fishermen get crafty to circumvent shark fin ban
(11/10/2013) Authorities in Costa Rica have identified a new method used by fishermen to circumvent a ban on killing sharks for their fins. According to an INTERPOL alert, fishermen are now leaving a band of skin to keep the fin attached to the spine when they kill sharks. This approach takes advantage of an apparent loophole in regulations governing the shark fin trade.
DNA tests reveal new dolphin species (photos)
(10/30/2013) With the help of DNA tests, scientists have declared a new dolphin species that dwells off the coast of northern Australia. The discovery was made after a team of researchers looked at the world's humpback dolphins (in the genus Sousa), which sport telltale humps just behind their dorsal fins. While long-known to science, the new, as-yet-unnamed species was previously lumped with other humpback dolphins in the Indo-Pacific region.
Fishermen illegally killing dolphins for shark-bait in Peru (video)
(10/23/2013) Peruvian fishermen slaughtered dolphins to use as bait for shark fishing, an undercover investigation has revealed. Footage showed infant and adult dolphins being harpooned then stabbed and clubbed before, in some cases, being cut open and butchered while still alive. The slaughtered dolphins were cut up and used as bait. Dolphins are also killed for human consumption in Peru even though it is illegal.
The 'dead' ocean: eyewitness says overfishing has emptied the Pacific
(10/22/2013) An Australian sailor has described parts of the Pacific Ocean as "dead" because of severe overfishing, with his vessel having to repeatedly swerve debris for thousands of kilometers on a journey from Australia to Japan. Ivan MacFadyen told of his horror at the severe lack of marine life and copious amounts of rubbish witnessed on a yacht race between Melbourne and Osaka. He recently returned from the trip, which he previously completed 10 years ago.
President's pledge to ban commercial fishing around Pacific island nation slow to materialize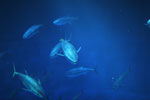 (09/23/2013) In 2010 President Anote Tong of Kiribati made a historic pledge, committing to protect the waters around his island nation in a massive marine protected area. He said the gesture represented Kiribati's contribution to protecting the environment and he urged industrial countries to do the same by cutting their greenhouse gas emissions, which threaten low-lying islands with rising sea levels. The commitment raised Tong's profile, winning him international accolades, and boosted the tiny country's standing in the fight against climate change. But since 2010 questions have begun to emerge about the extent of Tong's commitment.
Are sea turtles responsible for lower fish catches in India?
(08/29/2013) Fishing communities on Agatti Island in Lakshwadeep, India, blame their reduced fish catch on green turtles; according to them, green turtles chomp their way through the seagrass beds lining the shallow reef waters that are essential for fish to breed. This leads some in the community to clandestinely kill sea turtles and destroy their nests.
Eighty sea turtles wash up dead on the coast of Guatemala
(08/27/2013) An assortment of marine animals and birds reside along the black volcanic sand beaches of Guatemala's Pacific coast, but lately both residents and visitors on the southeast beaches of the country have observed a tragic event – the stranding of dead sea turtles. Eighty dead sea turtles have been recorded since the first week of July.
Forgotten species: the arapaima or 'dinosaur fish'
(07/15/2013) Let's go back some 14,000 years (or up to 50,000 depending on who you talk to), since this is the first time humans encountered the meandering, seemingly endless river system of the Amazon. Certainly, the world's first Amazonians would have been astounded by the giant beasts of the region, including ground sloths and mastodons (both now extinct), as well as giant anteaters, armadillos, and tapirs, currently the biggest land animal on the continent. But these first explorers might have been even more surprised by what dwelled in the rivers: anaconda, caiman, and the arapaima. Wait, the what?
San Francisco seafood restaurants go sustainable
(07/02/2013) The Seafood Watch Program, first created by Monterey Bay Aquarium in the late 1990s, is arguably the best-known guide to sustainably-caught seafood in the U.S. Listing seafood choices in three categories—green (best choices), yellow (good alternatives), and red (avoid)—the guide informs consumers of the best options. However, it's one thing to create a well-respected guide, and another issues altogether to get producers and consumers to use it. But a newer partnership, the San Francisco Seafood Watch Alliance, is working to bridge this gap. Maggie Ostdahl of Aquarium of the Bay works with the Seafood Watch Restaurant program and restaurants across San Francisco—one of the best places in the country for seafood—to source sustainable seafood. Restaurant partners avoid seafood on the guide's red list.
Poisonous jellyfish on the rise in the Mediterranean

(06/11/2013) Scientists across the Mediterranean say a surge in the number of jellyfish this year threatens not just the biodiversity of one of the world's most overfished seas but also the health of tens of thousands of summer tourists.
Conserving the long-neglected freshwater fish of Borneo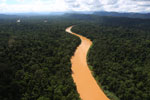 (06/11/2013) Borneo is a vast tropical island known for orangutans, rhinos, elephants, sun bears, proboscis monkeys, hornbills, and ubiquitous leeches. Conservationists have championed all of these species (aside from the leeches) in one way or another, but like many tropical regions Borneo's freshwater species have long been neglected, despite their rich biodiversity and importance to local people. But a new organization, the Kinabatangan River Spirit Initiative, is working to change that.
Monster shark sparks talk of overfishing

(06/06/2013) A giant mako shark caught by a sports-fisherman Monday in California has spurred a conversation about declining shark populations worldwide, reports the Associated Press.
Local economy ruined by pesticide pollution in the Caribbean
(05/29/2013) On 15 April more than 100 fishermen demonstrated in the streets of Fort de France, the main town on Martinique, in the French West Indies. In January they barricaded the port until the government in Paris allocated €2m ($2.6m) in aid, which they are still waiting for. The contamination caused by chlordecone, a persistent organochlorine pesticide, means their spiny lobsters are no longer fit for human consumption. The people of neighboring Guadeloupe are increasingly angry for the same reason. After polluting the soil, the chemical is wreaking havoc out at sea, an environmental disaster that now threatens the whole economy.
Scientists discover high mercury levels in Amazon residents, gold-mining to blame
(05/28/2013) The Madre de Dios region in Peru is recognized for its lush Amazon rainforests, meandering rivers and rich wildlife. But the region is also known for its artisanal gold mining, which employs the use of a harmful neurotoxin. Mercury is burned to extract the pure gold from metal and ore producing dangerous air-borne vapors that ultimately settle in nearby rivers. 'Mercury in all forms is a potent neurotoxin affecting the brain, central nervous system and major organs,'Luis Fernandez, an ecologist and research associate at the Carnegie Institution's Department of Global Ecology, told mongabay.com. 'At extremely high exposure levels, mercury has been documented to cause paralysis, insanity, coma and death.'
Indonesia's largest coal plant will be built despite protests, minister says

(05/26/2013) Indonesia will go ahead with construction of what is set to be its largest coal-fired power plant in Batang, Central Java next year, a senior government official has said, downplaying opposition from environmental groups and the local community. Developers have struggled to acquire the approximately 200 hectares of land needed for the planned PLTU Batang plant, which would have a 2000 megawatt (MW) capacity. Residents of five villages have protested the project, with some refusing to release their land on fears of potential environmental damage to the area. Environmental groups also oppose the plant, saying it overlaps with a marine protected area and runs counter to President Susilo Bambang Yudhoyono's commitment to reduce carbon emissions.
Biosphere conservation: monumental action is critical to avert global environmental crisis
(05/20/2013) Human-caused changes to our biosphere—the global total of the world's ecosystems—are now so great and alarmingly rapid that human lives and societies undoubtedly face epic challenges in the near future as our biosphere deteriorates, planetary boundaries are reached, and tipping points exceeded. We may survive, we may painfully adapt, but it is a fair bet that grave hardship, loss, and sacrifice lay ahead. The nature and extent of impacts among human populations hinges on how successfully we respond to the biosphere crisis with extraordinary leadership, balanced solutions applied at global scales, and unprecedented cooperation—or not.
Industrialized fishing has forced seabirds to change what they eat
(05/14/2013) The bleached bones of seabirds are telling us a new story about the far-reaching impacts of industrial fisheries on today's oceans. Looking at the isotopes of 250 bones from Hawaiian petrels (Pterodroma sandwichensis), scientists have been able to reconstruct the birds' diets over the last 3,000 years. They found an unmistakable shift from big prey to small prey around 100 years ago, just when large, modern fisheries started scooping up fish at never before seen rates. The dietary shift shows that modern fisheries upended predator and prey relationships even in the ocean ocean and have possibly played a role in the decline of some seabirds.
Featured video: saving sea turtles in Mexico's Magdalena Bay

(05/09/2013) A new short film, Viva la tortuga documents the struggle to save loggerhead and green sea turtles in Magdalena Bay, Mexico. Once a region for a massive sea turtle meat market, the turtles now face a new threat: bycatch. Loggerhead sea turtles are drowning in bottom-set gillnets, unable to escape from the nets once entangled. The issue has even raises threats of trade embargoes from the U.S.
What if companies actually had to compensate society for environmental destruction?
(04/29/2013) The environment is a public good. We all share and depend on clean water, a stable atmosphere, and abundant biodiversity for survival, not to mention health and societal well-being. But under our current global economy, industries can often destroy and pollute the environment—degrading public health and communities—without paying adequate compensation to the public good. Economists call this process "externalizing costs," i.e. the cost of environmental degradation in many cases is borne by society, instead of the companies that cause it. A new report from TEEB (The Economics of Ecosystems and Biodiversity), conducted by Trucost, highlights the scale of the problem: unpriced natural capital (i.e. that which is not taken into account by the global market) was worth $7.3 trillion in 2009, equal to 13 percent of that year's global economic output.
China 'looting' Africa of its fish

(04/24/2013) Just 9% of the millions of tonnes of fish caught by China's giant fishing fleet in African and other international waters is officially reported to the UN, say researchers using a new way to estimate the size and value of catches. Fisheries experts have long considered that the catches reported by China to the UN's Food and Agriculture Organization (UNFAO) are low but the scale of the possible deception shocked the authors.
The river of plenty: uncovering the secrets of the amazing Mekong
(04/23/2013) Home to giant catfish and stingrays, feeding over 60 million people, and with the largest abundance of freshwater fish in the world, the Mekong River, and its numerous tributaries, brings food, culture, and life to much of Southeast Asia. Despite this, little is known about the biodiversity and ecosystems of the Mekong, which is second only to the Amazon in terms of freshwater biodiversity. Meanwhile, the river is facing an existential crisis in the form of 77 proposed dams, while population growth, pollution, and development further imperil this understudied, but vast, ecosystem.
Yangtze porpoise down to 1,000 animals as world's most degraded river may soon claim another extinction
(04/16/2013) A survey late last year found that the Yangtze finless porpoise (Neophocaena asiaeorientalis asiaeorientalis) population has been cut in half in just six years. During a 44-day survey, experts estimated 1,000 river porpoises inhabited the river and adjoining lakes, down from around 2,000 in 2006. The ecology of China's Yangtze River has been decimated the Three Gorges Dam, ship traffic, pollution, electrofishing, and overfishing, making it arguably the world's most degraded major river. These environmental tolls have already led to the likely extinction of the Yangtze river dolphin (Lipotes vexillifer), or baiji, and possibly the Chinese paddlefish (Psephurus gladius), which is one of the world's longest freshwater fish.
Breaking the mold: Divya Karnad takes on fisheries and science journalism in India
(04/15/2013) Fishing is not a woman's domain in most countries across the globe. In parts of India there are fishing communities who believe that having a woman onboard a fishing boat brings bad luck. Despite this, Divya Karnad, a scientist who studies marine life in India, has spent several years studying fisheries and their impact on species like sharks and sea turtles. Her work forms a part of global efforts to track declining marine species and encourage more sustainable fishing.
Heavy metal shark meat: dangerous lead levels found in sharks used as fish food
(03/18/2013) A recent study published in mongabay.com's open access journal Tropical Conservation Science raises concerns about levels of heavy metals, particularly lead (Pb), present in shark meat, as well as the decline of shark abundance due to global fishing pressures. Sharks are primarily caught as by-catch for other fishing industries. By one account, 70% of the total catch in swordfish long-line fisheries was sharks. Due to consumer demand, this by-catch is sold to Asian fish markets as fin and trunk meat. Much of the trunk and organ meat is used to make fish-meal, which is then fed to farmed fish.
Sharks and rays win protections at CITES
(03/11/2013) Today, for the first time, sharks and rays have won the vote for better protection under CITES (the Convention on International Trade in Endangered Species), the world's regulating body on trade in threatened species. Five shark species and manta rays, which includes two species, have received enough votes to be listed under Appendix II of CITES, which means tougher regulations, but not an outright ban. However, the votes could still be overturned before the end of the meeting.




Page 1 | Page 2 | Page 3 | Page 4 | Page 5