News articles on Fish

---
Mongabay.com news articles on Fish in blog format. Updated regularly.






Turkey ignores bluefin tuna quotas, further imperiling critically-endangered species

(05/12/2009) A few weeks into the bluefin tuna fishing season and Turkey has decided to go it alone. Breaking international agreements, the Turkish government has announced that it will ignore agreed-upon bluefin tuna quotas. The news is not good for the survival of the critically-endangered fish species, since Turkey operates the largest Mediterranean fleet for bluefin tuna.
Fish operated on at ZSL London Zoo: Photo

(05/11/2009) A female prickly leatherjacket triggerfish Chaetodermis penicilligerus underwent an operation to remove a benign tumor from her tail at the Zoological Society of London (ZSL) Zoo.
Secret movements of the basking shark uncovered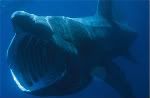 (05/07/2009) Researchers with the Massachusetts Mariner Fisheries have uncovered the secret life of the world's second largest fish, known for its cavernous mouth. The basking shark, which measures over 10 meters and weighs as much as seven tons, has long baffled scientists by disappearing from view half of every year. A new study from Current Biology found that the basking shark spends this time deep in the Atlantic's tropical waters.
Not only do fish feel pain, it changes their behavior

(05/06/2009) Just months after a study made a splash in the media that proved crabs experience pain, a new study of goldfish shows that not only do these fish also feel pain, but it changes their future behavior. Published in Applied Animal Behaviour Science the study tested goldfish by slowly raising the temperature in their tank. In the warming tank, researchers administered one group of fish morphine and the other saline.
U.S. imports 1 billion pet animals from the wild between 2000 and 2006
(04/30/2009) Poor regulation of the international wildlife trade has increased the vulnerability of the U.S. to outbreaks of disease and alien invasive species, report researchers writing in Science. Analyzing Law Enforcement Management Information System (LEMIS) data gathered by the U.S. Fish and Wildlife Service from 2000 through 2006, Katherine Smith of Brown University and colleagues found that of the more than 1.5 billion live wildlife animals legally imported to the United States during the period, only 14 percent were classified to the level of species despite federal mandates for such labeling. The lack of accurate reporting makes it impossible to "accurately assess the diversity of wildlife imported or the risk they pose as invasive species or hosts of harmful pathogens," they write.
Coral reef loss in Caribbean leads to ongoing fish declines
(04/30/2009) Analyzing 48 surveys of Caribbean fish populations over fifty years, from 1955-2007, a new meta-study has found that fish populations in the famously clear waters began to drop in the mid-90s, leading to a consistent decline that hasn't stopped. The study published in Current Biology discovered a region-wide decline of about 3-6 percent per year in three out of six trophic groups of fish, i.e. groupings of species categorized by their place on the food chain. The declines didn't show major differences between species targeted by fishermen and those that are not, implying that overfishing isn't the only cause of the decline in the Caribbean.
New protections for coral reefs and dwindling fish species in Belize

(04/27/2009) Coral reefs in Belize, considered to be some of the most pristine in the west, have secured additional protections. Rene Montero, the Minister of Agriculture and Fisheries, signed a set of new laws this month to protect Belize's coral reefs and the fish that inhabit them. The additional laws protect increasingly overfished species, ban spearfishing in marine reserves, and create no-take zones, according to a press release from the Wildlife Conservation Society (WCS).
Mediterranean bluefin tuna has only three years left unless fishery closes

(04/14/2009) If the Mediterranean bluefin tuna fishery is not closed, the bluefin will be functionally extinct by 2012 according to a new analysis from World Wildlife Fund (WWF). While the population has undergone steep declines for over a decade, fishery managers and policy-makers have continually ignored calls from scientists that fishing must stop if the Mediterranean bluefin tuna is to survive.
Whale sharks threatened by interbreeding
(04/08/2009) The world's largest living fish, the whale shark, is threatened by interbreeding, according to a new study in PLoS ONE. Comparing the DNA of 68 individual whale sharks from eleven locations across the globe, geneticists found that the whale sharks had little genetic variation between the populations.
New technology allows researchers to study mass migrations of fish

(03/26/2009) Employing a new technology, MIT engineers have studied the origins of a mass gathering of hundreds of millions of fish and their subsequent migration. This is the first time a mass migration of animals has been studied from beginning to end, according to their paper published in Science.Until now biologists have depended on theory rather than data from the field, employing computer simulations and experiments in the lab.
Tuna industry launches new organization to save tuna from itself

(03/16/2009) Yesterday saw the launch of the International Seafood Sustainability Foundation (ISSF). Composed of scientists, environmental organizations, and the tuna industry, ISSF will focus on ensuring that tuna populations are preserved from overfishing.
Shortsighted recommendations to eat more fish ignore large-scale environmental impact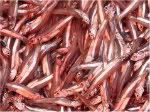 (03/16/2009) Recommendations by international health agencies, doctors, nutritionists, and the media to consume more fish for better health ignore the fact that fish stock are collapsing worldwide, reports a new study published in the Canadian Medical Association Journal. "Even at current levels of fish consumption, fisheries globally have reached a state of severe crisis. Already, the demand from affluent and developing economies, particularly newly affluent China, cannot be met by the world's fisheries," states the new report.
Massive freshwater stingray takes 13 men to pull it ashore in Thailand

(02/27/2009) It took ninety minutes and thirteen men to reel in an astounding specimen of giant freshwater stingray on the Ban Pakong River in Thailand. At seven feet wide and weighing an estimated 580-770 pounds (265-350 kilograms), the monstrous fish is thought to be the largest freshwater fish ever caught with a rod and line, according to Fishsiam, a company that provides fishing tours in Thailand.
Illegal fishing estimated at $10-24B per year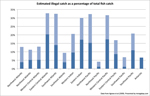 (02/26/2009) Global losses from illegal and unreported fishing are estimated at $10-23.5 billion per year, according to a new study published in PLoS One. Analyzing fishing data from 54 countries, David J. Agnew of Imperial College London and colleagues estimate the "Illegal, Unreported and Unregulated" (IUU) fish catch at 11 to 26 million tons per each year. The authors found a strong link between governance and illegal fishing — illicit practices were most widespread in developing countries with poor monitoring and law enforcement. Estimated catches in West Africa were 40 percent higher than reported catches.
Fishermen - not whales as claimed by Japan - are the cause of fisheries depletion
(02/12/2009) Fishermen calling for a resumption of whaling to restore commercial fish stocks are taking the wrong approach, argue researchers writing in the journal Science. Analyzing data on fish catch and whale abundance off the coast of northwestern Africa and the Caribbean, Leah R. Gerber and colleagues show that fishermen remove far more fish than whales consume, undermining the agreement by whaling nations that whales are driving depletion of fisheries.
As sea ice retreats, swathe of Arctic closed to fishing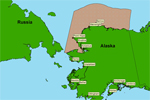 (02/06/2009) The North Pacific Fishery Management Council (NPFMC) voted unanimously to close off more than 150,000 square nautical miles of the Arctic sea to commercial fishing. The decision, welcomed by an array of environmentalists and industry groups, is a preventative measure to protect fisheries that have become more accessible as a result of declining sea ice in the Arctic. It is the first time that the federal government has closed a fishery due to climate change instead of over-fishing, says supporters of the ban.
Nemo at risk from CO2 emissions? Ocean acidification may hurt baby fish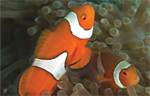 (02/02/2009) Increasing carbon dioxide concentrations in the atmosphere may have an unexpected impact on marine ecosystems: disorienting fish larvae. Research published in this week's issue of the Proceedings of the National Academy of Sciences (PNAS) found that ocean acidification disrupts the olfactory sense of clownfish larvae, making it difficult for the fish to find a habitat, which for clownfish is a sea anemone.
Fish may help fight ocean acidification

(01/19/2009) Fish are a major source of calcium carbonate production in marine ecosystems, a finding that has implications for ocean acidification, report scientists writing in the journal Science.
Tropical ocean dead zones could increase 50 percent by 2050

(11/18/2008) If carbon dioxide levels continue to rise as expected, marine dead zones in the tropics are expected to increase by 50 percent in just over four decades, according to a new study from the Leibniz Institute of Marine Sciences in Germany. The expansion of marine dead zones in tropical seas could have devastating impacts on ocean ecosystems and fisheries.
Monstrous Chinook salmon found in California

(11/14/2008) A fifty-one inch long Chinook salmon, found dead during a salmon survey in Battle Creek by the Department of Fish and Game (DFG), is probably a record for the state of California say Department biologists.
Hundreds of rare and bizarre marine species discovered

(11/09/2008) The evolutionary origin of deep sea octopuses, new species populating an underwater "continent", 12,000 amphipods crowding a square meter in the Gulf of Mexico, massive gatherings of white sharks in the middle of the Pacific: these are just a few highlights from the Census of Marine Life (COML)'s fourth report.
One-third of global marine catch used as livestock feed

(10/30/2008) Despite continuous warnings of emptying oceans due to overfishing, a new report finds that one-third of the world's total marine catch is not feeding humans, but livestock. The fish are ground-up into meal and fed to pigs, poultry, and even farm-raised fish.
Argentina bans fishing, trawling in eco-rich area

(10/09/2008) The government of Argentina has banned commercial fishing along Burdwood Bank, an 1,800 square kilometer (694 square mile) submerged island off its southern coast, according to the Wildlife Conservation Society (WCS).
Mediterranean bluefin tuna originate in the Gulf of Mexico

(10/02/2008) Researchers have discovered a previously unknown migratory route for the northern bluefin tuna, proving for the first time that the species' Mediterranean and North American subpopulations interact. According to the paper published in Science the two groups meet as juveniles then return to their birthplace to spawn. For a critically-endangered species that is still heavily fished, the new finding has large conservation and management implications.
12 fish species go extinct in lake near Istanbul

(09/24/2008) Turkey has lost twelve species of fish to pollution in Lake Sapanca. Lake Sapanca used to be one of Turkey's most bio-diverse lakes. A decade ago the lake's water was pristine enough to be pumped directly to Istanbul for citizen use, but due to rising pollution it no longer serves as a source for the city water.
A solution to worldwide fishery collapse?

(09/18/2008) In November 2006 a study on global fisheries received a lot of attention: employing 53 years worth of fishery data, Boris Worm predicted that by 2048 the ocean would be empty of fish. Essentially there would be nothing left to catch. Already, Worm reported, fishing stocks had collapsed in 29 percent of the world's fisheries. Although scientists called for rapid and overhauling changes to fisheries, the fishing industry carried on business-as-usual. Now, two years later, a study in Science proposes to have found the solution to the global fishery-collapse.
Small-scale fisheries are "best hope" for sustainability in developing world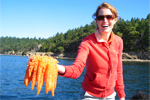 (09/08/2008) Fish stocks are declining globally. While the consumer in the industrial world has yet to feel the full impact of this decline, those in the developing world know it well. Local small-scale fishermen are catching less fish to feed growing populations. Jennifer Jacquet of the Sea Around Us Project believes the hope for sustainable seafood lies in these very fisheries.
Nobu offers critically-endangered species to sushi diners

(09/08/2008) Nobu, a pricey and trendy sushi restaurant with locations around the world, regularly serves critically-endangered Northern bluefin tuna to its clientele, reveals an investigation by the environmental group Greenpeace.
When in season, wolves choose salmon over deer

(09/02/2008) The popular image of hunting wolves is a pack bearing down on a deer, working in concert to make the kill. However, new research has discovered that when available, wolves largely forgo hoofed mammals for salmon.
Carbon market may fund dam in Panama that threatens natural reserve

(09/01/2008) The UN's Clean Development Mechanism (CDM) — a scheme that provides funds to projects that reduce emissions in developing nations — may be used to finance a hydroelectric dam in Panama which, according to environmentalists, threatens a biologically rich World Heritage site and an indigenous tribe, the Ngobe.
Baltic cod are shrinking due to overfishing

(08/26/2008) By comparing Neolithic cod with contemporary cod, researchers have discovered that the species has evolved over a relatively short period due to overexploitation by humans. According to a paper published in Proceedings of the Royal Society B, contemporary cod attain adulthood earlier and are generally smaller than their ancestors.
Coal burning may make food supplies toxic

(08/18/2008) Coal burning is contaminating the Arctic, and may be affecting human health and polar ecosystems, warn scientists writing in the online early edition of the Proceedings of the National Academy of Sciences.
The long-ignored ocean emergency and what can be done to address it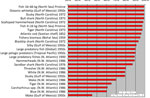 (08/18/2008) This year has been full of bad news regarding marine ecosystems: one-third of coral species threatened with extinction, dead-zones spread to 415 sites, half of U.S. reefs in fair or bad condition, increase in ocean acidification, tuna and shark populations collapsing, and only four percent of ocean considered pristine. Jeremy Jackson, director of the Scripps Center for Marine Biodiversity and Conservation at the University of California, San Diego, synthesizes such reports and others into a new paper, published in the journal Proceedings of the National Academy of Sciences, that boldly lays out the scope of the oceanic emergency and what urgently needs to be done.





How sustainable is your canned tuna? It depends on the retailer

(08/13/2008) To aid concerned tuna-lovers, Greenpeace has ranked eight of the top canned tuna retailers in order from most sustainable to least. Canned tuna from John West, the biggest retailer of tuna in the UK, proves to be the worst of the lot, whereas Sainsbury's is the most environmentally-friendly. In a press release Greenpeace said that Sainsbury's is "the only tinned tuna brand that is fished using sustainable methods".







The end of migrations: wildlife's greatest spectacle is critically endangered

(07/28/2008) If we could turn back the clock about 200 years, one could watch as millions of whales swam along their migration routes. Around 150 years ago, one could witness bison filling the vast America prairie or a billion passenger pigeons blotting out the sky for days. Only a few decades back and a million saiga antelope could be seen crossing the plains of Asia.





Monster manta ray species discovered

(07/25/2008) Researchers have discovered a previously unknown species of manta ray. Previously there was believed to be only a single species of ray but genetic analysis now shows there are at least two, and possibly three, species.





Mangroves are key to healthy fisheries, finds study

(07/21/2008) Mangroves serve as a critical nursery for young marine life and therefore play an important role in the health of fisheries and the economic well-being of fishermen, report researchers writing in the early online edition of the Proceedings of the National Academy of Sciences.







The global rich are eating the poor's fish: new report shows tropical fish catch gravely under-estimated

(07/10/2008) After a week of bad news regarding marine life — it was reported that half of U.S. coral reefs are in fair to poor condition and one-third of all coral species are threatened globally — there is still more: a study of twenty tropical islands showed that recreational and subsistence fishing has gone almost completely unreported from 1950 to 2004. In fifteen of twenty cases the fish take was at least doubled when local fish catches were added, and in the most extreme case, American Samoa, the amount of fish collected was 17 times what was previously recorded.





Census of marine life opens with 122,000 species

(07/01/2008) Discovering a new species can be the highlight of a biologist's career. Yet once a species enters the formal literature, complications may develop. The systen has been especially problematic because for centuries biologists have lacked the tools to construct a full and flexible list of the world's innumerable species. Using the Internet and hundreds of scientists around the world, the Census of Marine Life is attempting to take on this monumental task.




Page 1 | Page 2 | Page 3 | Page 4 | Page 5 | Page 6 | Page 7 | Page 8 | Page 9 | Page 10