News articles on Fish

---
Mongabay.com news articles on Fish in blog format. Updated regularly.






This is a test
(01/01/2013) Part of it was environmental education at a young age. The other part was going to Punjab when I was young and seeing, basically, the trees didn't look like the trees I saw growing up in the United States. The land really looked like it was stripped of a lot of its natural beauty. There weren't birds. A lot of the wildlife described in the Guru Granth Sahib [Sikh scriptures] isn't there anymore. Something had really been taken, something had been removed from this land that I felt was such a piece of what [the land] was — in my own understanding, through my family's knowledge, through the Guru Granth Sahib. That's when I really started to think, this is the issue I want to work on for the rest of my life.
Obama triples area of protected California coastline

(12/20/2012) Today President Obama announced the government would add almost 3,000 square miles of California coastline to the National Marine Sanctuary system, roughly tripling its size, reports the Sierra Club.
Jeff Corwin talks sharks
(12/04/2012) Sharks are among the most feared of all the world's predators, yet humans kill tens of millions of sharks for every person who falls victim to shark attack. Part of our fear stems from lack of understanding. A new eBook however tries to change that. Jeff Corwin, an Emmy Award Winning TV host, has this week released Jeff's Explorer Series: SHARKS, the first of a new eBook series, which Corwin likens to the 21st century version of an encyclopedia. The eBook is rich with video, images, and text. It is narrated by Corwin.
Pledge to end wildlife trafficking for Wildlife Conservation Day

(12/04/2012) Today has been dubbed the first ever global Wildlife Conservation Day. To honor it, a coalition of conservation groups—including WWF and Wildlife Conservation Society (WCS)—are working to raise awareness of illegal wildlife trafficking. Poaching for traditional medicine, bushmeat, and other products has put innumerable species at risk, including tigers, rhinos, sharks, and elephants.
Introducing the 'Obama-fish'

(11/30/2012) Scientists have named five newly discovered fish after former and current U.S. political leaders, including President Barack Obama, Bill Clinton, Al Gore, Jimmy Carter, and Teddy Roosevelt, reports the Tennessee Aquarium Conservation Institute and Scientific American.
World has lost half its wetlands
(11/29/2012) Half of the worlds wetlands have been destroyed in just the last 100 years, says a new report. Published by the Economics of Ecosystems and Biodiversity (TEEB), the report found that of the 25 million square kilometers of wetlands that existed in 1900 just 12.8 million square kilometers now remain. The rate of destruction varies geographically with notable loses in East Asia running at 1.6 per cent per year. In places where aquaculture, over-exploitation (e.g. unsustainable harvesting of fish) and storm damage have been severe, the rate of destruction can be as high as 80 percent.
Legislation leaves future of world's largest temperate rainforest up in the air
(11/27/2012) Although unlikely to pass anytime in the near term, recurring legislation that would hand over 80,000 acres of the Tongass Rainforest to a Native-owned logging corporation has put local communities on guard in Southeast Alaska. "The legislation privatizes a public resource. It takes land that belongs to all of us, and that all of us have a say in the use and management of, and it gives that land to a private for-profit corporation," Andrew Thoms, Executive Director of the Sitka Conservation Society, told mongabay.com in a recent interview.
Could rebuilding global fisheries save hundreds of billions of dollars?
(11/26/2012) Global fisheries are gutting the world economy by US$13 billion annually, according to an economic analysis published July 13 in the journal PLoS ONE. National subsidies that encourage overfishing cause the most losses, the analysis claims. However, researchers believe that allowing fish stocks to rebuild and making fishing more efficient could reverse these losses, leading to net gains of US$600 to US$1,400 billion within 50 years. Such savings won't come cheaply, the analysis suggests. Rebuilding fisheries worldwide could cost US$130 to US$292 billion, the researchers estimate. Most of the cost would go toward retraining or retiring nearly half of the world's 35 million fisheries workers.
Photos: Mozambique creates Africa's biggest marine protected area
(11/13/2012) Last week, the East African nation of Mozambique announced it was protecting 10,411 square kilometers (4,020 square miles) of coastal marine waters, making the new Marine Protected Area (MPA) the biggest on the continent. The protected area, dubbed the Primeiras and Segundas Archipelago ("First" and "Second" islands), includes ten islands as well as mangrove forests, rich coral reefs, and seagrass ecosystems.
Controversial dam gets approval in Laos

(11/07/2012) Laos has given approval to the hugely-controversial $3.5 billion Xayaburi Dam on the Mekong River, reports the BBC. The massive dam, which would provide 95 percent of its energy production to Thailand, has been criticized for anticipated impacts on the river's fish populations, on which many locals depend.
Above the ocean: saving the world's most threatened birds
(11/01/2012) A life on the ocean is a perilous one for any bird. They must expend energy staying aloft for thousands of miles and learn to be marathon swimmers; they must seek food beneath treacherous waves and brave the world's most extreme climates; they must navigate the perils both of an unforgiving sea and far-flung islands. Yet seabirds, which includes 346 global species that depend on marine ecosystems, have evolved numerous strategies and complex life histories to deal with the challenges of the sea successfully, and they have been doing so since the dinosaur's last stand. Today, despite such a track record, no other bird family is more threatened; yet it's not the wild, unpredictable sea that endangers them, but pervasive human impacts.
Future of the Tongass forest lies in salmon, not clear-cut logging
(10/25/2012) The Parnell administration's Timber Task Force recently unveiled a proposal to carve out two million acres of the Tongass National Forest for clear-cut logging under a state-managed "logging trust." The stated goal is to revive Southeast Alaska's timber industry that collapsed two decades ago amid changing market conditions, logging cutbacks and evolving public opinion about timber harvesting on national forests.
A new way to measure the ocean's health
(10/23/2012) A diverse array of institutions have come together to release a new, revolutionary ocean health assessment called the "Ocean Health Index." Researchers formed the index in order to gauge the health of the world's oceans. The index is the result of a huge collaborative effort, including top researchers crossing a diverse range of disciplines such as the National Center for Ecological Analysis and Synthesis (NCEAS) and Conservation International.
Indigenous groups re-occupy Belo Monte dam in the Amazon

(10/09/2012) Construction on Brazil's megadam, Belo Monte, has been halted again as around 150 demonstrators, most of them from nearby indigenous tribes, have occupied the main construction site at Pimental. Over a hundred indigenous people joined local fishermen who had been protesting the dam for 24 days straight. Indigenous people and local fishermen say the dam will devastate the Xingu River, upending their way of life.
Mekong dam spree could create regional food crisis
(08/27/2012) Fish are a hugely important protein source for many people around the world. This is no more evident than along the lower Mekong River delta where an estimated 48 million people depend directly on the river for food and livelihoods. But now a new study in Global Environmental Change cautions that 11 planned hydroelectric dams in the region could cut vital fish populations by 16 percent while putting more strain on water and land resources.
Chinook salmon return to Olympic National Park after dam demolished

(08/21/2012) In March of this year the Elwha Dam, which had stood for 99 years, was demolished in the U.S. state of Washington. Five months later, Chinook salmon (Oncorhynchus tshawytscha) made their way down 70 miles of long-blocked off habitat and entered Olympic National Park.
Featured video: restoring rivers in the Tongass Rainforest

(08/08/2012) A new video highlights recent efforts to restore rivers in the Tongass Forest, the world's largest intact temperate rainforest. Industrial logging in vital watersheds have hurt salmon populations and other wildlife in the region, an issue the government, along with several partners, are now trying to rectify.
Clever whale shark video goes viral

(07/17/2012) Researchers have a caught a juvenile—though still massive—whale shark on camera sucking fish out of a hole in an Indonesian fishing net. Posted on YouTube.com, the video has gone viral and has been viewed by 1.2 million people to date. The footage was captured during a program to tag 30 whale sharks (Rhincodon typus) in Indonesia's Cendrawasih Bay National Marine Park in order to learn more about the world's largest fish.
Bad science journalism: articles spread misinformation about whale sharks
(07/09/2012) The death of one of the world's largest recorded whale sharks (Rhincodon typus) in the Arabian Sea provoked a sudden global interest in these massive shark. Weighing 14.5 tons, the fish in question made 'whale shark 'whale shark' the number 3 top search in Google Trends on the day the news hit. But, according to a new study in mongabay.com's open access journal Tropical Conservation Science, more than half the reports filed by journalists were "factually wrong."
'Time pollution': loss of predators pushes nocturnal fish to take advantage of the day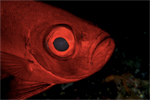 (06/25/2012) Nocturnal fish—which sport big eyes for improved night vision—are taking back the day in the coral reefs of the Tabuaeran Atoll, according to a new study in the open-access journal PLoS ONE. Overfishing has plundered the Pacific atoll of many of its notable predators, including sharks and barracudas, causing ripple effects through the ecosystem. One of these emerging changes appears to be that with less fear of being eaten, nocturnal fish are increasingly venturing out during the day.
World failing to meet promises on the oceans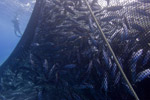 (06/14/2012) Despite a slew of past pledges and agreements, the world's governments have made little to no progress on improving management and conservation in the oceans, according to a new paper in Science. The paper is released just as the world leaders are descending on Rio de Janeiro for Rio+20, or the UN Summit on Sustainable Development, where one of the most watched issues is expected to be ocean policy, in part because the summit is expected to make little headway on other global environmental issues such as climate change and deforestation. But the new Science paper warns that past pledges on marine conservation have moved too slowly or stagnated entirely.
Australia sets aside 40 percent of its waters for protection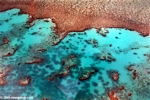 (06/14/2012) In an announcement to coincide with the beginnings of the UN's Rio+20 Summit on Sustainable Development, Australia has announced ambitious plans to protect 3.1 million square kilometers (1.19 million square miles) of its ocean, including the Coral Sea. If enacted, the proposition will increase Australia's marine protected areas from 27 to 60, covering about 40 percent of Australia's waters.
Regulations help fish, and fishermen, recover in the U.S.

(05/30/2012) Marine fish populations in the U.S. are generally recovering, according to a new report by the National Oceanic and Atmospheric Administration (NOAA). Last year six fish populations reached healthy levels in the U.S., boosting the total number of fish populations that have recovered to 27 since 2000. The success is due to the implementation of science-based annual catch limits which regulate how many fish are caught every year.
Nearly 2,000 fish species traded in U.S. tropical aquarium market

(05/24/2012) The U.S. tropical aquarium market poses problems and opportunities for conservation, according to a landmark study published in the open-access journal PLoS ONE. The study reviewed import records in the U.S. for one year (2004-2005) and found that over 11 million wild tropical fish from 1,802 species were imported from 40 different countries. While the number of fish species targeted surprised researchers, the total amount of fish imported was actually less than expected.
Charting a new environmental course in China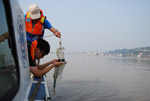 (05/21/2012) Founded in 1951, The Nature Conservancy (TNC) works in more than 30 countries and has projects in all 50 of the United States. The Conservancy has over one million members, and has protected more than 119 million acres of wild-lands and 5,000 miles of rivers worldwide. TNC has taken an active interest in China, the world's most populated nation, and in many important ways, a critical center of global development. The following is an interview with multiple directors of The Nature Conservancy's China Program.
New 'bony-tongue' fish discovered in Myanmar

(05/18/2012) A new species of arowana, a highly valued aquarium fish, has been described from southern Myanmar (Burma). The description is published in last month's issue of the journal Aqua.
Wildlife in the tropics plummets by over 60 percent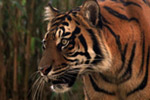 (05/15/2012) In 48 years wildlife populations in the tropics, the region that holds the bulk of the world's biodiversity, have fallen by an alarming 61 percent, according to the most recent update to the Living Planet Index. Produced by the World Wide Fund for Nature (WWF) and the Zoological Society of London (ZSL), the index currently tracks almost 10,000 populations of 2,688 vertebrate species (including mammals, birds, reptiles, amphibians, and fish) in both the tropics and temperate regions.
Educating the next generation of conservation leaders in Colombia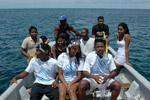 (05/14/2012) Colombia's northern departments of Cordoba and Bolivar are home to an abundance of coral reefs, estuaries, mangroves forests, and forests. Rich in both marine and terrestrial wildlife, local communities depend on the sea and land for survival, yet these ecosystems are imperiled by booming populations, overexploitation, and unsustainable management. Since 2007, an innovative education program in the region, the Guardians of Nature, has worked to teach local children about the ecology of the region, hoping to instill a conservation ethic that will aid both the present and the future.
Manta rays tracked by satellite

(05/11/2012) Satellite tracking technology has revealed new insights into the behavior of manta rays, reports the Wildlife Conservation Society (WCS). The findings are published in this week's issue of the journal PLoS.
Featured video: the oceans and Rio+20

(05/10/2012) A new video by Pew Environment Group and the Zoological Society of London (ZSL) hopes to convince policy-makers attending the Rio+20 Summit on Sustainable Development this summer that urgent action is needed to save the ocean's from an environmental crisis.
Over 30 Yangtze porpoises found dead in China as population nears extinction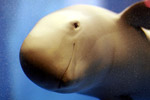 (05/01/2012) Six years after the Yangtze river dolphin (Lipotes vexillifer), or baiji, was declared "functionally extinct" by scientists, another marine mammal appears on the edge of extinction in China's hugely degraded Yangtze River. In less than two months, 32 Yangtze finless porpoises (Neophocaena asiaeorientalis asiaeorientalis), a subspecies of the finless porpoise, have been dead found in Dongting and Poyang Lakes in the Yangtze, reports the World Wide Fund for Nature (WWF).
Carnage in Komodo: world-famous reef destroyed by poachers' bombs

(04/25/2012) Illegal fishermen have been utilizing homemade bombs to kill fish off the coast of Komodo Island, Indonesia, reports the Associated Press (AP); the bombs have not only injured fish populations in the protected area, but has also blasted biodiverse coral reefs popular with tourists. A scuba teacher told the AP that a section of Tatawa Besar coral reef, a popular diving spot, had been "blasted, ripped off, turned upside down."
BP Deepwater Horizon deformities: eyeless shrimp, clawless crabs

(04/24/2012) Two years after the BP-leased Deepwater Horizon drilling rig exploded in the Gulf of Mexico, killing eleven and causing an oil spill that lasted three months, scientists say the impacts on the Gulf ecosystem are only beginning to come to light and the discoveries aren't pretty.
Will mega-dams destroy the Amazon?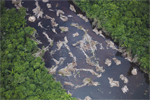 (04/18/2012) More than 150 new dams planned across the Amazon basin could significantly disrupt the ecological connectivity of the Amazon River to the Andes with substantial impacts for fish populations, nutrient cycling, and the health of Earth's largest rainforest, warns a comprehensive study published in the journal PLoS ONE. Scouring public data and submitting information requests to governments, researchers Matt Finer of Save America's Forests and Clinton Jenkins of North Carolina State University documented plans for new dams in Bolivia, Brazil, Colombia, Ecuador, and Peru.
Featured video: Google Earth highlights imperiled coral reefs around the world

(04/18/2012) A new video by Google Earth and the World Resources Institute (WRI) highlights the world's many endangered coral reefs. A part of the WRI's Reefs at Risk program, the video highlights regional and global threats to the oceans' most biodiverse ecosystem. According to the WRI, a stunning 75 percent of the world's reefs are currently threatened.
Whole Foods bans 'red' fish from its stores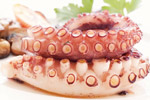 (04/10/2012) Whole Foods has announced it will be the first grocery chain in the U.S. to no longer sell any seafood in the "red." Based on sustainability ratings by the Monterey Bay Aquarium and Blue Ocean Institute, fish labeled red are those that are considered either overfished or fished in a manner that impacts other species or damages marine ecosystems. Beginning Earth Day, April 22nd, Whole Foods will no longer be selling Atlantic halibut, grey sole, skate, octopus, tautog, sturgeon, among others. Already, the store doesn't sell some unsustainable catches such as bluefin tuna and orange roughy.
Beyond Bigfoot: the science of cryptozoology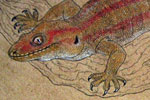 (03/26/2012) Anyone who doubts cryptozoology, which in Greek means the "study of hidden animals," should remember the many lessons of the past 110 years: the mountain gorilla (discovered in 1902), the colossal squid (discovered in 1925, but a full specimen not caught until 1981), and the saola (discovered in 1992) to name a few. Every year, almost 20,000 new species are described by the world's scientists, and a new book by Dr. Karl Shuker, The Encycloapedia of New and Rediscovered Animals, highlights some of the most incredible and notable new animals uncovered during the past century.
Animal picture of the day: a sun-colored weedy scorpion fish

(03/26/2012) This bright yellow weedy scorpion fish (Rhinopias frondosa) is the newest member of the Wildlife Conservation Society's (WCS) New York Aquarium. Weedy scorpion fish are found in the Indo-Pacific Ocean and in a wide variety of colors.
Three U.S. retailers pledge to avoid fish from embattled Ross Sea

(03/14/2012) The Ross Sea, a massive bay off Antarctica, has been dubbed the world's last ocean due to its pristine state, long-untouched by industry and fisheries. However, over the last 15 years New Zealand commercial fisheries have entered the sea, seeking the slow-growing Antarctic toothfish which is usually sold as the high-end Chilean sea bass. Now as conservation groups plead for nations to grant the Ross Sea protected status, Greenpeace has begun a campaign to get good retailers to steer clear of stocking Antarctic toothfish. To date, Safeway, Wegmans, and Harris Teeter has all pledged not to source from the Ross Sea.
Alaskan fishermen tell government to focus on salmon, not logging

(03/12/2012) Alaskan fishermen and tour operators visited Washington D.C. last week to urge the federal government to shift the focus from logging to conservation in the Tongass rainforest. Local Alaskans along with NGOs Trout Unlimited, Alaska Program, and Sitka Conservation Society, made the case that conservation, including the restoration of fish habitat, was a far better strategy for the local economy and jobs than logging. The Tongass rainforest is currently the subject of a controversial logging proposal by the government for the indigenous-owned company, Sealaska.
Cute baby animal photos of the day: baby pot-bellied seahorses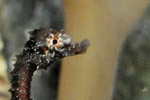 (03/05/2012) The Wildlife Conservation Society's (WCS) New York Aquarium has recently celebrated the arrival of "fry" (baby) pot-bellied seahorses (Hippocampus abdominalis). Found in the seas surrounding Australia, the pot-bellied seahorse is protected under CITES (Convention on International Trade in Endangered Species of Wild Fauna and Flora), since they are stolen from the wild for traditional medicine, decorations, and pets.
Sawfish impale, cleave prey with snout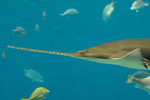 (03/05/2012) Although all seven species of sawfish are nearly extinct, scientists have spent little time studying these vanishing species. However that is changing as a new study in Current Biology sheds light on the sawfishes' most distinguishing feature: its long toothed snout, which gives the fish its name. "I was surprised to see how skilled sawfish are with their saw," said co-author Barbara Wueringer of the University of Queensland in a press release. "They use their saw to impale prey on the rostral teeth by producing several lateral swipes per second."
Paleontologists reconstruct extinct, "elegant" penguin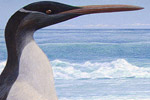 (02/27/2012) Around 25 million years ago a penguin with a long, sharp beak and massive flippers lived in a New Zealand that was almost entirely underwater. The bird, named Kairuku after a Maori word that means "diver who returns with food," was first discovered in 1977, but has only recently been reconstructed by scientists in a study in the Journal of Vertebrate Paleontology.
Scientists recommend marine protected areas for Madagascar

(02/27/2012) With the government of Madagascar planning to increase marine protected areas by one million hectares, a group of researchers have laid out flexible recommendations in a new study in the open access journal PLoS ONE. The researchers employed four different analyses in order to highlight a number of different conservation options, however the different analyses pointed to the need to protect certain areas with high biodiversity, including the Barren Islands' reefs, the reefs of Juan de Nova, the Banc de Leven, and the shallow banks of the Cap Sainte Marie.
Atlantic sturgeon gains protection under the Endangered Species Act

(02/01/2012) The U.S. federal government has listed the massive and bizarre Atlantic sturgeon (Acipenser oxyrinchus) under the protection of the Endangered Species Act (ESA). Historically overfishing decimated the Atlantic sturgeon, while on-going threats include pollution and infrastructure, like dams and bridges that destroy habitat. Fishing for the Atlantic sturgeon has been banned since 1998, they are still caught as bycatch.
Photos: 46 new species found in little-explored Amazonian nation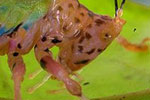 (01/25/2012) South America's tiniest independent nation still hides a number of big surprises: a three week survey to the sourthern rainforests of Suriname found 46 potentially new species and recorded nearly 1,300 species in all. Undertaken by Conservation International's (CI) Rapid Assessment Program (RAP) the survey found new species of freshwater fish, insects, and a new frog dubbed the "cowboy frog" for the spur on its heel. While Suriname may be small, much of its forest, in the Guyana Shield region of the Amazon, remains intact and pristine. The Food and Agriculture Organization (FAO) estimates that 91 percent of Suriname is covered in primary forests, however this data has not been updated in over two decades.




Page 1 | Page 2 | Page 3 | Page 4 | Page 5 | Page 6 | Page 7 | Page 8 | Page 9 | Page 10