News articles on Evolution

---
Mongabay.com news articles on Evolution in blog format. Updated regularly.






Lonesome George passes, taking unique subspecies with him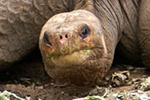 (06/25/2012) Lonesome George, the sole surviving member of the Pinta Island tortoise (Chelonoidis nigra abingdoni), was found dead on Sunday by staff at the Galapagos National Park. With George's passing, the Pinta Island tortoise subspecies officially falls into extinction. First found in 1972, Lonesome George became famous for representing the last of his kind. He was believed to be around 100—middle-aged for a Galapagos tortoise which can live to 200 years old. Staff plan to do an autopsy to determine the cause of death.
New reptile discovered in world's strangest archipelago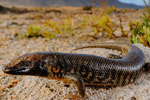 (04/25/2012) Few people have ever heard of the Socotra Archipelago even though, biologically-speaking, it is among the world's most wondrous set of islands. Over one third of Socotra's plants are found no-where else on Earth, i.e. endemic, while 90 percent of its reptiles are also endemic. Adding to its list of unique life-forms, researchers have recently uncovered a new skink species that is found only on the island of Abd al Kuri, which is slightly smaller than New York City's Staten Island. Dubbed the "the other Galapagos," the four Socotra islands are under the jurisdiction of Yemen, although geographically speaking the islands are actually closer to Somalia.
When giant coyotes roamed the Earth

(02/27/2012) Not long ago, geologically speaking, coyotes (Canis latrans) were bigger and more robust than today's animals. In the late Pleistocene, over 10,000 years ago, coyotes rivaled grey wolves (Canis lupus) in size. But, according to a new paper in the Proceedings of the National Academy of Sciences (PNAS), coyotes shrunk significantly following the megafaunal extinction—including the disappearance of big herbivores like giant sloths and mastodons and predators like the smilodon—due to changes in prey and predator competition.
Photos: program devoted to world's strangest, most neglected animals celebrates five years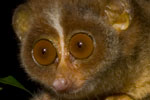 (01/16/2012) What do Attenborough's echidna, the bumblebee bat, and the purple frog have in common? They have all received conservation attention from a unique program by the Zoological Society of London (ZSL) called EDGE. Five years old this week, the program focuses on the world's most unique and imperiled animal species or, as they put it, the most Evolutionarily Distinct and Globally Endangered (EDGE) species. In the past five years the program has achieved notable successes from confirming the existence of long unseen species (Attenborough's echidna) to taking the first photos and video of a number of targeted animals (the purple frog).
Interview with conservation legend, Richard Leakey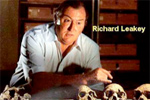 (11/28/2011) Following in his family's footsteps, Dr. Richard Leakey, is considered the heir to the scientific legacy of his parents, Louis and Mary Leakey, icons in the field of paleoanthropology. Dr Richard Leakey has been credited with some of the field's most successful paleoanthropologic finds, including a near complete, groundbreaking, Homo Erectus fossil dubbed 'Turkana Boy'. The scientific contributions of the Leakey family have reshaped our views of the origins of mankind and shed new light on the history and shared ties of the human family.
Photos: bizarre shell of new snail baffles researchers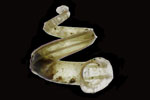 (11/10/2011) A new species of snail with a bizarre shell has surprised scientists. Discovered near massive waterfalls in pristine lowland rainforest in New Guinea, the tiny new species' shell is shaped like a cornucopia, spirals flying freely instead of fused together like most shells. Latvian malacologist (one who study molluscs) Kristine Greke, who described the new species, named it Ditropopsis mirabilis, meaning miraculous or extraordinary. To date, scientists are uncertain why the super small snail—2 to 6 millimeters (0.07 to 0.23 inches)—would have evolved such a strange shell.
Forgotten species: the rebellious spotted handfish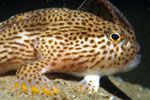 (07/12/2011) Evolution is a bizarre mistress. In her adaptation workshop she has crafted parrots that don't fly, amphibians with lifelong gills, poison-injecting rodents, and tusked whales. In an evolutionary hodge-podge that is reminiscent of such mythical beasts as chimeras and griffins, she has from time-to-time given some species' attributes of others, such as the marine iguana who is as happy underwater as a seal, the duck-billed platypus that lays eggs like a reptile, and the purple frog that has a lifestyle reminiscent of a mole. Then there's one of her least-known hodge-podges: the fish who 'walks' with hands instead of swimming.
The value of the little guy, an interview with Tyler Prize-winning entomologist May Berenbaum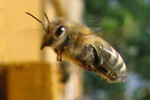 (04/06/2011) May Berenbaum knows a thing or two about insects: in recognition of her lifelong work on the interactions between insects and plants, she has had a character on The X-Files named after her, received the Public Understanding of Science and Technology Award for her work in making science accessible to the public, and this year has been awarded the prestigious Tyler Environmental Prize. "Winning the Tyler Prize is an incredible honor—most of my scientific heroes have been Tyler Prize winners and I'm exceedingly grateful to be considered worthy of being included among their ranks," Berenbaum told mongabay.com in an interview. "The Prize is also tremendously enabling—because the money is unrestricted I can use it to carry out projects that have been difficult to fund."
Cloud forest dung beetles in India point to 'fossil ecosystem'

(03/28/2011) In the cloud forests and grasslands of India's Western Ghats, known as sholas, researchers have for the first time comprehensively studied the inhabiting dung beetle populations. The resulting study in mongabay.com's open access journal Tropical Conservation Science, has led scientists to hypothesize that the beetles in concordance with the sheep-like mammal, the nilgiri tahr (Nilgiritragus hylocrius), may be a sign of a 'fossil ecosystem'.
Updating the top 100 weirdest and most imperiled mammals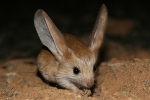 (01/24/2011) A lot can change in three years. In January 2007, the Zoological Society of London (ZSL) jumpstarted a program unique in the conservation world: EDGE, which stands for Evolutionarily Distinct and Globally Endangered, selects the species it works with not based on popularity or fund-raising potential but on how endangered and evolutionary unique (in laymen's terms: weird) they are. When EDGE first arrived in 2007, it made news with its announcement of the world's top 100 most unique and endangered mammals. While this list included a number of well-known species—such as the blue whale and the Asian elephant—it also introduced the public to many little-recognized mammals that share our planet, such as the adorable long-eared jerboa, the ancient poisonous solenodon, and the ET-like aye-aye. However, after three years the EDGE program found that their top 100 mammals list already need updating.
'New' cat in Sumatra: clouded leopard is distinct subspecies

(01/23/2011) Just six years ago the beautiful medium-sized Asian cat, the clouded leopard, was considered a single species. Then in 2006 researchers announced that there were, in fact, two unique species of clouded leopard: one species (Neofelis nebulosa) that inhabited mainland Asia (from Nepal to China and south to peninsular Malaysia) and a more threatened species living on the islands of Borneo and of Sumatra, dubbed the Sunda clouded leopard (Neofelis diardi). Now, researchers have confirmed that clouded leopards living on Sumatra are distinct from those on Borneo, further subdividing these two populations into unique subspecies.
Disappearance of arctic ice could create 'grolar bears', narlugas; trigger biodiversity loss

(12/22/2010) The melting of the Artic Ocean may result in a loss of marine mammal biodiversity, reports a new study published in the journal BNature and conducted jointly by the National Oceanic and Atmospheric Association (NOAA), the University of Alaska, and the University of Massachusetts. The study is the first to project what might happen if species pushed into new habitats because of ice loss hybridize with one another, resulting in such crossbreeds as "narlugas" and "grolar bears".
Extinct giant stork towered over 'hobbits' on Flores

(12/07/2010) Scientists have discovered an extinct massive stork, standing nearly 6 feet tall (1.8 meter) and weighing 35 pounds (15 kilograms), which would have shared the island of Flores with the 'hobbits'—dwarf hominin species known as Homo floresiensis—reports the BBC. According to the researchers the meat-eating stork was big enough to prey on young Homo floresiensis, and stood about 2 and a half feet (0.8 meters) above adult hobbits.
Genetic analysis uncovers new parrot on the edge of extinction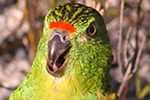 (11/23/2010) Down to just over 100 individuals, DNA analysis has revealed one of the world's most imperiled bird species: the western ground parrot Pezoporus flaviventris.. Genetic evidence collected from museums specimens, some well-over a century old, have led scientists to "cautiously suggest" that Australia's ground parrot be split into two distinct species—the eastern and the western—and not subspecies as they are currently considered. According to the study, the ground parrot species split apart some two million years ago, around the same time as the first members of the genus Homo evolved.
Amazon biodiversity older than believed

(11/11/2010) A new study in Science has found that the incredible biodiversity of the Amazon rainforest goes back much further than expected, perhaps upending old ideas about how the Amazon basin became arguably the world's most biodiverse ecosystem. According to the study, the origin of rich biodiversity in the Amazon likely goes back more than 20 million years when the Andean mountains were rising.
The unruly evolution of island life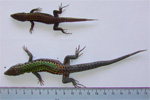 (11/09/2010) From the terrifying Komodo dragon to the diminutive hobbit Homo floresiensis, islands are home to some remarkable curiosities of size. Despite the fame of giant lizards and pygmy humans, a longstanding tenet of evolutionary biology suggests that the size of island animals moves towards the middle of the pack. A study published on 1 September in the Journal of Biogeography explores these two seemingly contradictory notions and finds that neither is a perfect explanation.
New blind snake discovery

(04/06/2010) Call them survivors: blindsnakes have been identified as one of the few groups of organisms that inhabited Madagascar when it broke from the Indian subcontinent around 100 million years ago. According to a new study in Biology Letters, blindsnakes not only survived the split of Madagascar and India, but likely traveled from Asia to Australia and Africa to South America on floating vegetation, the latter a journey that may have taken six months of drifting on ocean currents. "Blindsnakes are not very pretty, are rarely noticed, and are often mistaken for earthworms," says Blair Hedges of her subjects. "Nonetheless, they tell a very interesting evolutionary story."
Scientists discover world's first amphibious insects: Hawaiian caterpillars

(03/22/2010) Scientists have never before discovered a truly amphibious insect until now: writing in the Proceedings of the National Academy of Sciences researchers have announced the discovery of 12 species of Hyposmocoma moths in the Hawaiian islands which they consider truly amphibious—that is a species able to survive both on land and underwater indefinitely.
Extinction outpaces evolution

(03/09/2010) Extinctions are currently outpacing the capacity for new species to evolve, according to Simon Stuart, chair of the Species Survival Commission for the International Union for the Conservation of Nature (IUCN).
Photos: Madagascar's wonderful and wild frogs, an interview with Sahonagasy

(03/03/2010) To save Madagascar's embattled and beautiful amphibians, scientists are turning to the web. A new site built by herpetologists, Sahonagasy, is dedicated to gathering and providing information about Madagascar's unique amphibians in a bid to save them from the growing threat of extinction. "The past 20 years have seen resources wasted because of a poor coordination of efforts," explains Miguel Vences, herpetologist and professor at the Technical University of Braunschweig. "Many surveys and reports have been produced that were never published, many tourists found and photographed amphibians but these photos were not made available to mapping projects, many studies carried out by Malagasy students did not make use of literature because it was not available."
Prehistoric snake gobbled-up dinosaur babies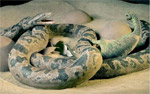 (03/02/2010) A fossilized snake has been discovered inside a titanosaur nest in India, leading researchers to conclude that the snake fed on newly-hatched dinosaur babies, rather than their eggs like modern snakes. Paleontologist and snake expert Jason Head says that the snake, known as Sanajeh indicus, lacked the wipe-jaws needed to swallow eggs, but just-hatched baby titanosaurs would have been perfect prey for the 3.5 meter (nearly 12 feet) long serpent. Titanosaurs belong to the sauropods, long-necked herbivorous dinosaurs which includes the world's largest animals to ever walk the land.
Polar bears are newcomers on the world stage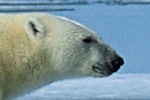 (03/01/2010) One of the most well-known animals, the polar bear, is a newcomer on the world stage, according to research published in the Proceedings of the National Academy of Sciences. By studying the DNA of an ancient polar bear jawbone uncovered in 2004 in Norway scientists have for the first time pinpointed the time when the polar bear split from its closest relative, the brown bear. "Our results confirm that the polar bear is an evolutionarily young species that split off from brown bears some 150,000 years ago and evolved extremely rapidly during the late Pleistocene, perhaps adapting to the opening of new habitats and food sources in response to climate changes just before the last interglacial period."
New study: why plants produce different sized seeds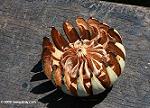 (02/17/2010) The longstanding belief as to why some plants produce big seeds and others small seeds is that in this case bigger-is-better, since large seeds have a better chance of survival. However, Helene Muller-Landau, staff scientist at the Smithsonian Tropical Research Institute and head of the HSBC Climate Partnership's effort to quantify carbon in tropical forests, grew dissatisfied with that explanation. For example, if big seeds were always the 'right' evolutionary path than why would any plants evolve small seeds? In a new paper in the Proceedings of the National Academy of Sciences, Muller-Landau argues for a more complex explanation involving a trade-off between surviving stressful conditions and taking full advantage when the conditions are just right.
After years of controversy: Flores 'hobbits' are a new species of humans

(11/19/2009) When the 'hobbits' were discovered in 2003 they made news worldwide, sparking visions of a world our small relations lived among giant rats, dwarf elephants, and lizards bigger than the Komodo dragon. The small hominin fossils discovered on the island of Flores in Indonesia proved just how little modern humans knew about our deep ancestry. While researchers instantly claimed that the 'hobbits' were a new species of hominin other scientists disagreed: they argued that the 'hobbits' were modern humans that had been dwarfed by disease. A new study inSignificance hopes to put the controversy to rest.
Extinct goat was "similar to crocodiles"
(11/16/2009) It sounds like something out of Greek mythology: a half-goat, half-reptilian creature. But researchers have discovered that an extinct species of goat, the Balearic Island cave goat or Myotragus balearicus, survived in nutrient-poor Mediterranean islands by evolving reptilian-specific characteristics. The goat, much like crocodiles, was able to grow at flexible rates, stopping growth entirely when food was scant. This adaptation—never before seen in a mammal—allowed the species to survive for five million years before being driven to extinction only 3,000 years ago, likely by human hunters.
Present day tropical plant families survived in warmer, wetter tropics 58 million years ago
(10/18/2009) Fifty eight million years ago the tropical rainforests of South America shared many similarities with today's Neotropical forests, according to research published in the Proceedings of the National Academy of Sciences. Looking at over 2,000 fossils in Colombia from one of the world's largest open pit coal mines, scientists were able to recreate for the first time the structure of a long vanished rainforest. One inhabited by a titanic snake, giant turtles, and crocodile-like reptiles.
Will tropical trees survive climate change?, an interview with Kenneth J. Feeley

(09/24/2009) One of the most pressing issues in the conservation today is how climate change will affect tropical ecosystems. The short answer is: we don't know. Because of this, more and more scientists are looking at the probable impacts of a warmer world on the Earth's most vibrant and biodiverse ecosystems. Kenneth J. Feeley, tropical ecologist and new professor at Florida International University and the Center for Tropical Plant Conservation at the Fairchild Tropical Botanic Garden, is conducting groundbreaking research in the tropical forests of Peru on the migration of tree species due to climate change.
New species of ghostshark discovered off California's coast

(09/22/2009) The discovery of Eastern Pacific black ghostshark Hydrolagus melanophasma is notable for a number of reasons. It is the first new species of cartilaginous fish—i.e fish whose skeletons are made entirely of cartilage, such as sharks, rays, and skate—to be described in California water since 1947. It is also a representative of an ancient and little-known group of fish.
Three new species discovered in mile-long underwater cave

(09/01/2009) There are few places in the world more remote, more dangerous, and more unexplored than underwater caves. Cave diving—exploring these unknown abysses—has yielded many strange species unknown to science. A recent expedition to an underwater cave on Lanzarote, one of the Canary Islands, was no exception. Researchers discovered two species of worm smaller than a grain of rice and a primitive poisonous crustacean.
The mysterious, fascinating, and lightning-quick mantis shrimp: An Interview with Maya deVries

(08/26/2009) If you have never heard of the mantis shrimp, don't feel bad. Berkeley graduate student Maya deVries, who is becoming an expert on these small crustaceans (related neither to shrimp or preying mantis) admits that until she began her graduate studies mantis shrimp were also unknown to her: "I did not even learn what a mantis shrimp was until I applied to work with my current Ph.D. advisor, Dr. Sheila Patek, at UC Berkeley". But Maya's first look at the mantis shrimp on her advisor's website left an impression: "I was struck by the amazing capacity of mantis shrimp to capture fish and smash shells with only a few powerful blows, something a fish could only dream of doing."
Fish take less than a decade to evolve
(06/22/2009) Evolution is often thought of being a slow-process, taking thousands, if not millions, of years. However a new study in The American Naturalist found that Trinidadian guppies underwent evolution in just eight years, or thirty generations. Less than a decade ago Swanne Gordon, a graduate student at UC Riverside, and her team introduced Trinidadian guppies into the Damier River in the Caribbean island of Trinidad. They placed the guppies above a waterfall to allow them to flourish in a largely predator-free environment.
The unknown role of coextinctions in the current extinction crisis
(05/28/2009) Scientists have long recognized 'coextinctions' as a major concern when it comes to the current mass extinction crisis. Despite such recognition, however, the role of coextinctions remains largely mysterious and little-studied. A new paper attempts to address this by settling what is known (and unknown) about the phenomenon of coextinctions and where research needs to go next.
Permian mass extinction caused by giant volcanic eruption

(05/28/2009) Two hundred and sixty million years ago the Earth experienced its worst mass extinction: 95 percent of marine life and 70 percent of terrestrial life vanished. Long a subject of dispute, researchers from the University of Leeds believe they have confirmed the reason behind the so-called Permian extinction.
Rooks use tools in captivity rivaling 'habitual tools users such as chimpanzees'

(05/26/2009) The rook, a member of the crow family, is the most recent bird to prove the ability to use tools, a capacity once thought to belong only to humans. Although rooks have never been observed using tools in the wild, researchers were astounded at how quickly—sometimes during the first try—rooks were able to employ tools to attain food.
Fastest evolving bird family produces new species

(03/16/2009) Discovered in the Solomon Island of Vanikoro, a new species of bird from the white-eye family leads credence to the belief that white-eyes are the world's fastest evolving family of birds.
Poison frog diversity linked to the Andes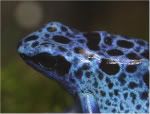 (03/10/2009) Electric colors, wild markings, and toxic skin have made poison frogs well-known inhabitants of the Amazon rainforest. With 353 recognized species, and probably more awaiting discovery, poison frogs are an incredibly diverse group of amphibians. While it has long been believed that the Amazon basin, itself, was the source of their diversity, a new study published in PLoS Biology has uncovered that the Andes mountain chain has served as an oven of evolutionary biodiversity for poison frogs over several million years.
Rediscovery of the solenodon, a rare venomous mammal, in Haiti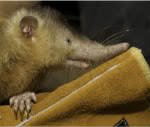 (01/09/2009) In the journal Oryx researchers from EDGE, a program of the Zoological Society of London (ZSL), have announced the rediscovery of a small population of Hispaniolan solenodons in Haiti. At the same time scientists in the Dominican Republic have taken the first ever footage of this endangered mammal.
Did cheetah come from China?
(12/30/2008) The discovery of a fossilized big cat skull in northwestern China provides new evidence that cheetah originated in the Old World, rather than the Americas, report scientists writing in the journal Proceedings of the National Academy of Sciences.







Missing link between fish and land animals discovered

(11/07/2008) A study published in the October 16 issue of Nature details research into and implications of a fossil fish, Tiktaalik roseae, discovered last year at Ellesmere Island in Canada. The Devonian fossil shows an array of features found in both terrestrial and aquatic animals, providing the best glimpse so far into the transitory period during which vertebrates were able to adapt to life out of water. The find provides some of the first osteological evidence of neck development, a crucial adaptation to terrestrial life because it allows an animal's body to remain stationary while it surveys its environment.





Scientists discover 120 million year-old ant in the Amazon rainforest

(09/17/2008) Scientists have discovered a previously unknown species of ant in the Amazon that may shed light on the evolution of ants. The species is believed to be the oldest-known ant at around 120 million years old. The discovery is presented this week in the journal Proceedings of the National Academy of Sciences.





For Australian beetles bigger is better; while American beetles don't care about size

(09/03/2008) Researchers have discovered a dung beetle that may be evolving into separate species in a few decades rather than thousands or millions of years. Separated geographically, sub-populations of the species show large differences in the size of their genitalia and horns. Such distinctions could create new species in a short time, because beetles with largely different genitalia cannot successfully mate.





Aye-aye diverged from other lemurs 66M years ago

(02/25/2008) The aye-aye -- a bizarre, nocturnal lemur that taps on trees with its fingers to find its insect prey -- was the first of its family to branch off from the rest of the lemur line some 66 million years ago, report Duke researchers writing in the March 1 issue of Genome Research.





Evolution of whales challenged

(12/19/2007) Modern whales appear to have evolved from a raccoon-sized creature with the body of a small deer, according to scientists writing in the journal Nature. The results challenge the theory that cetaceans are descended from even-toed ungulates (artiodactyls) like hippos, as previous molecular analysis has suggested.




Page 1 | Page 2 | Page 3 | Page 4