News articles on Evolution

---
Mongabay.com news articles on Evolution in blog format. Updated regularly.





Like ancient humans, some lemurs slumber in caves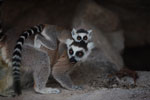 (12/05/2013) After playing, feeding, and socializing in trees all day, some ring-tailed lemurs (Lemur catta) take their nightly respite in caves, according to a new study in Madagascar Conservation and Development. The findings are important because this is the first time scientists have ever recorded primates regularly using caves (see video below).


Sky islands: exploring East Africa's last frontier


(12/04/2013) The montane rainforests of East Africa are little-known to the global public. The Amazon and Congo loom much larger in our minds, while the savannas of East Africa remain the iconic ecosystems for the region. However these ancient, biodiverse forests—sitting on the tops of mountains rising from the African savanna—are home to some remarkable species, many found only in a single forest. A team of international scientists—Michele Menegon, Fabio Pupin, and Simon Loader—have made it their mission to document the little-known reptiles and amphibians in these so-called sky islands, many of which are highly imperiled.


Dolphins, bats and the evolution of echolocation


(11/08/2013) A dolphin swimming through the world's oceans after fish, and a bat flying through the air with its membranous wings to catch insects or eat fruit: at first glance, it looks like no two creatures could be more different. But it turns out they share a superpower - they hunt prey by emitting high-pitched sounds and listening for a returning echo. A recent study published in the journal Nature Letters has shown that the regions of the genome responsible for this ability are strikingly similar between these very different mammals.


Meeting the mammal that survived the dinosaurs


(10/14/2013) So, here I am, running in a forest at night over 2,000 miles from home. This forest—dry, stout, and thorny enough to draw blood—lies just a few miles north of a rural town in the western edge of the Dominican Republic on the border with Haiti. I'm following—or trying to keep pace with—a local hunter and guide as we search for one of the world's most bizarre mammals. It's an animal few people have heard of, let alone actually seen; even most Dominicans don't readily recognize its name or picture. But I've been obsessed with it for six years: it's called a "solenodon," more accurately the Hispaniolan solenodon or its (quite appropriate) scientific name, Solenodon paradoxus.


Featured video: 'this is day one for the olinguito'

(09/04/2013) Last month scientists unveiled a remarkable discovery: a new mammal in the order Carnivora (even though it mostly lives off fruits) in the Andean cloud forests. This was the first new mammal from that order in the Western Hemisphere since the 1970s. The olinguito had long been mistaken for its closest relatives, olingos—small tree-dwelling mammals that inhabit the lowland rainforests of South and Central America—however genetic research showed the olinguito had actually been separated by 3-4 million years from its cousins.


Trinidad and Tobago: a biodiversity hotspot overlooked


(08/26/2013) The two-island nation of Trinidad and Tobago in the Caribbean (just off the coast of Venezuela) may be smaller than Delaware, but it has had an outsized role in the history of rainforest conservation as well as our understanding of tropical ecology. Home to an astounding number of tropical ecosystems and over 3,000 species and counting (including 470 bird species in just 2,000 square miles), Trinidad and Tobago is an often overlooked gem in the world's biodiversity.


Zoo races to save extreme butterfly from extinction


(08/15/2013) In a large room that used to house aquatic mammals at the Minnesota Zoo, Erik Runquist holds up a vial and says, 'Here are its eggs.' I peer inside and see small specks, pale with a dot of brown at the top; they look like a single grain of cous cous or quinoa. Runquist explains that the brown on the top is the head cap of the larva, a fact that becomes more clear under a microscope when you can see the encased larva squirm. I'm looking at the eggs of a Poweshiek skipperling, a species that is more imperiled than pandas, tigers, or bluewhales. Once superabundant, only several hundred Poweshiek skipperlings may survive on Earth today and the eggs I'm looking at are the only ones in captivity.


Scientists discover teddy bear-like mammal hiding out in Andean cloud forests (photos)


(08/15/2013) While the olinguito looks like a wild, tree-climbing teddy bear with a cat's tail, it's actually the world's newest mammalian carnivore. The remarkable discovery—the first mammal carnivore uncovered in the Western Hemisphere since the 1970s—was found in the lush cloud forests of the Andes, a biodiverse region home to a wide-range of species found no-where else. Dubbed the olinguito (Bassaricyon neblina), the new mammal is a member of a little-known, elusive group of mammals—olingos—that are related to raccoons, coatis, and kinkajous. However, according to its description in the journal Zookeys, the olinguito is the most distinct member of its group, separated from other olingos by 3-4 million years (or longer than Homo sapiens have walked the Earth).


Meet Thor's shrew: scientists discover new mammal with a superior spine


(07/30/2013) In 1917, Joel Asaph Allen examined an innocuous species of shrew from the Congo Basin and made a remarkable discovery: the shrew's spine was unlike any seen before. Interlocking lumbar vertebrae made the species' spine four times strong than any other vertebrate on Earth adjusted for its size. The small mammal had been discovered only seven years before and was dubbed the hero shrew (Scutisorex somereni), after the name give to it by the local Mangbetu people, who had long known of the shrew's remarkable abilities.


Madagascar's rate of speciation slowing down

(07/16/2013) While Madagascar is famous for its incredible diversity of plants and animals, a new study suggests that the island's rate of speciation has slowed to a crawl.


Vocal-sac breeding frog possibly extinct


(07/02/2013) Somewhere in the wet pine forests of Chile, a male frog is gulping-up a bunch of eggs. No he's not eating them, he's just being a good dad. Darwin's frogs are known for their unique parenting-style: tadpoles are incubated in the vocal sac of the father. First recorded by Charles Darwin during his world famous voyage aboard the Beagle, the amphibians were common in the native Chilean pine forests until the last few decades. Now, scientists believe that one of the two species, the northern Darwin's frog (Rhinoderma rufum), may have vanished for good. And the other is hanging on by a thread.


Why bioluminescent fungi glow in the dark


(06/13/2013) Aristotle (384–322 BC) reported a mysterious light, distinct from fire, emanating from decaying wood. Pliny the Elder (23–79 AD) mentioned feasting on a glowing, sweet fungus found on trees in France and, in the late fifteenth century, a Dutch consul gave accounts of Indonesian peoples using fungal fruits to illuminate forest pathways. Bioluminescent fungi have intrigued generations of observers, and a handful of scientists still carry that torch of curiosity, answering questions about how and why these mushrooms glow.


Common moth can hear higher frequencies than any other animal on Earth

(05/09/2013) A common little moth turns out to have the best ears in the animal kingdom. According to a new study in Biology Letters, the greater wax moth (Galleria mellonella) is capable of hearing frequencies up to 300,000 hertz (300kHz), which is 15 times the frequency humans can hear at their prime, around 20 kHz.


New insect discovered in Brazil, only third known in its bizarre family (photos)


(04/15/2013) A new species of forcepfly named Austromerope brasiliensis, was recently discovered in Brazil and described in the open access journal Zoo Keys. This is the first discovery of forcepfly in the Neotropics and only the third known worldwide. The forcepfly, often called the earwigfly because the male genital forceps closely resemble the cerci of the common earwig, remains a scientific enigma due to the lack of information on the family.


The Role of Science for Conservation - book review

(03/18/2013) The Role of Science for Conservation, edited by Matthias Wolff and Mark Gardner, celebrates Charles Darwin's Bicentennial and 50 years of research by the Charles Darwin Foundation in The Galápagos, Ecuador.


Beyond the resorts: traveling the real and wild Dominican Republic (photos)


(01/29/2013) For its stunning variety of ecosystems, the Dominican Republic is like a continent squished into half an island. Lowland rainforests, cloud forests, pine forests, dry forests, mangroves, savannah, coastal lagoons, salt lakes, a rift valley, karst land formations, four mountain ranges—including the highest mountain in the Caribbean—and not to mention some of the best beaches, snorkeling, and scuba diving in the hemisphere can all be reached within just a few hours drive of the capital, Santo Domingo. Yet, bizarrely, most tourists who visit the Dominican Republic never venture out of their all-inclusive resort, missing out on some of the most stunning landscapes—and accessible wildlife viewing—in the Caribbean.


Scientists nearly double the number of biogeographic realms


(01/02/2013) In 1876, British biologist Alfred Russell Wallace published a map of the world that outlined how related animals were spread over the Earth. For example, Wallace was the first to publicize that North American biodiversity was substantially different from South America, and that an invisible line separated Southeast Asian biodiversity from that of Australia, New Guinea, and nearby islands. With Wallace's research came the founding of biogeography, or the study of species in relation to geography. Today, scientists with the University of Copenhagen have updated Wallace's map—nearly doubling the number of biogeographic realms—with support from data on over 21,000 species.


New Guinea singing dog photographed in the wild for the first time

(12/03/2012) A rarely seen canine has been photographed in the wild, likely for the first time. Tom Hewitt, director of Adventure Alternative Borneo, photographed the New Guinea singing dog during a 12-day expedition up a remote mountain in Indonesian Papua. Very closely related to the Australian dingo, the New Guinea singing dog, so named for its unique vocalizations, has become hugely threatened by hybridization with domesticated dogs.


Scientists create 'tree of life' mapping all known bird species

(11/02/2012) Scientists have created an evolutionary maps for all the world's nearly 10,000 bird species. The 'tree of life' is published in the current issue of the journal Nature.


Endangered turtle urinates through its mouth

(10/11/2012) One of China's most commonly farmed turtles for consumption, the Chinese soft-shelled turtle (Pelodiscus sinensis), has a unique ability: it urinates out of its mouth. Researchers in Singapore, writing in The Journal of Experimental Biology, have discovered that the Chinese soft-shelled turtle excretes most of its urine from its mouth instead of its kidneys. They hypothesize that the turtle developed this ability in order to survive in brackish waters, which contain considerably more salt than freshwater.


An interview with conservation writer David Quammen


(09/05/2012) David Quammen has done consistent and conscientious reporting from the trenches of ecological and evolutionary research for over thirty years now. Few in the world can claim as intimate and broad an understanding of conservation biology as he can. His books such as The Song of the Dodo and Monster of God match scientific and literary perfection. Nandini Velho and Umesh Srinivasan talk to him about the history of conservation science and what it can seek to create.


Bizarre new rodent discovered in Indonesia has only 2 teeth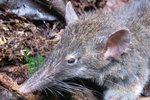 (08/22/2012) The Indonesian island of Sulawesi is a workshop of bizarre evolutionary experiments. Think of the babirusa, pig-like species with tusks that puncture their snouts; or the maleo, a ground-bird that lays its eggs in geothermal heated sand; or the anoa, the world's smallest wild cattle. Now the island, made up of four intersecting peninsulas, can add another bizarre creature to its menagerie of marvels: the Paucidentomys vermidax, a new species of rodent that is different from all others.


Lonesome George passes, taking unique subspecies with him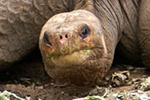 (06/25/2012) Lonesome George, the sole surviving member of the Pinta Island tortoise (Chelonoidis nigra abingdoni), was found dead on Sunday by staff at the Galapagos National Park. With George's passing, the Pinta Island tortoise subspecies officially falls into extinction. First found in 1972, Lonesome George became famous for representing the last of his kind. He was believed to be around 100—middle-aged for a Galapagos tortoise which can live to 200 years old. Staff plan to do an autopsy to determine the cause of death.


New reptile discovered in world's strangest archipelago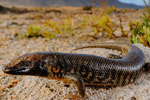 (04/25/2012) Few people have ever heard of the Socotra Archipelago even though, biologically-speaking, it is among the world's most wondrous set of islands. Over one third of Socotra's plants are found no-where else on Earth, i.e. endemic, while 90 percent of its reptiles are also endemic. Adding to its list of unique life-forms, researchers have recently uncovered a new skink species that is found only on the island of Abd al Kuri, which is slightly smaller than New York City's Staten Island. Dubbed the "the other Galapagos," the four Socotra islands are under the jurisdiction of Yemen, although geographically speaking the islands are actually closer to Somalia.


When giant coyotes roamed the Earth

(02/27/2012) Not long ago, geologically speaking, coyotes (Canis latrans) were bigger and more robust than today's animals. In the late Pleistocene, over 10,000 years ago, coyotes rivaled grey wolves (Canis lupus) in size. But, according to a new paper in the Proceedings of the National Academy of Sciences (PNAS), coyotes shrunk significantly following the megafaunal extinction—including the disappearance of big herbivores like giant sloths and mastodons and predators like the smilodon—due to changes in prey and predator competition.


Photos: program devoted to world's strangest, most neglected animals celebrates five years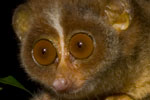 (01/16/2012) What do Attenborough's echidna, the bumblebee bat, and the purple frog have in common? They have all received conservation attention from a unique program by the Zoological Society of London (ZSL) called EDGE. Five years old this week, the program focuses on the world's most unique and imperiled animal species or, as they put it, the most Evolutionarily Distinct and Globally Endangered (EDGE) species. In the past five years the program has achieved notable successes from confirming the existence of long unseen species (Attenborough's echidna) to taking the first photos and video of a number of targeted animals (the purple frog).


Interview with conservation legend, Richard Leakey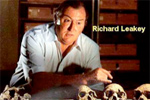 (11/28/2011) Following in his family's footsteps, Dr. Richard Leakey, is considered the heir to the scientific legacy of his parents, Louis and Mary Leakey, icons in the field of paleoanthropology. Dr Richard Leakey has been credited with some of the field's most successful paleoanthropologic finds, including a near complete, groundbreaking, Homo Erectus fossil dubbed 'Turkana Boy'. The scientific contributions of the Leakey family have reshaped our views of the origins of mankind and shed new light on the history and shared ties of the human family.


Photos: bizarre shell of new snail baffles researchers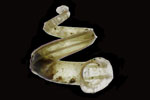 (11/10/2011) A new species of snail with a bizarre shell has surprised scientists. Discovered near massive waterfalls in pristine lowland rainforest in New Guinea, the tiny new species' shell is shaped like a cornucopia, spirals flying freely instead of fused together like most shells. Latvian malacologist (one who study molluscs) Kristine Greke, who described the new species, named it Ditropopsis mirabilis, meaning miraculous or extraordinary. To date, scientists are uncertain why the super small snail—2 to 6 millimeters (0.07 to 0.23 inches)—would have evolved such a strange shell.


Forgotten species: the rebellious spotted handfish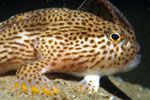 (07/12/2011) Evolution is a bizarre mistress. In her adaptation workshop she has crafted parrots that don't fly, amphibians with lifelong gills, poison-injecting rodents, and tusked whales. In an evolutionary hodge-podge that is reminiscent of such mythical beasts as chimeras and griffins, she has from time-to-time given some species' attributes of others, such as the marine iguana who is as happy underwater as a seal, the duck-billed platypus that lays eggs like a reptile, and the purple frog that has a lifestyle reminiscent of a mole. Then there's one of her least-known hodge-podges: the fish who 'walks' with hands instead of swimming.


The value of the little guy, an interview with Tyler Prize-winning entomologist May Berenbaum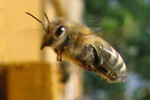 (04/06/2011) May Berenbaum knows a thing or two about insects: in recognition of her lifelong work on the interactions between insects and plants, she has had a character on The X-Files named after her, received the Public Understanding of Science and Technology Award for her work in making science accessible to the public, and this year has been awarded the prestigious Tyler Environmental Prize. "Winning the Tyler Prize is an incredible honor—most of my scientific heroes have been Tyler Prize winners and I'm exceedingly grateful to be considered worthy of being included among their ranks," Berenbaum told mongabay.com in an interview. "The Prize is also tremendously enabling—because the money is unrestricted I can use it to carry out projects that have been difficult to fund."


Cloud forest dung beetles in India point to 'fossil ecosystem'

(03/28/2011) In the cloud forests and grasslands of India's Western Ghats, known as sholas, researchers have for the first time comprehensively studied the inhabiting dung beetle populations. The resulting study in mongabay.com's open access journal Tropical Conservation Science, has led scientists to hypothesize that the beetles in concordance with the sheep-like mammal, the nilgiri tahr (Nilgiritragus hylocrius), may be a sign of a 'fossil ecosystem'.


Updating the top 100 weirdest and most imperiled mammals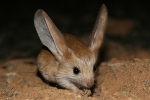 (01/24/2011) A lot can change in three years. In January 2007, the Zoological Society of London (ZSL) jumpstarted a program unique in the conservation world: EDGE, which stands for Evolutionarily Distinct and Globally Endangered, selects the species it works with not based on popularity or fund-raising potential but on how endangered and evolutionary unique (in laymen's terms: weird) they are. When EDGE first arrived in 2007, it made news with its announcement of the world's top 100 most unique and endangered mammals. While this list included a number of well-known species—such as the blue whale and the Asian elephant—it also introduced the public to many little-recognized mammals that share our planet, such as the adorable long-eared jerboa, the ancient poisonous solenodon, and the ET-like aye-aye. However, after three years the EDGE program found that their top 100 mammals list already need updating.


'New' cat in Sumatra: clouded leopard is distinct subspecies



(01/23/2011) Just six years ago the beautiful medium-sized Asian cat, the clouded leopard, was considered a single species. Then in 2006 researchers announced that there were, in fact, two unique species of clouded leopard: one species (Neofelis nebulosa) that inhabited mainland Asia (from Nepal to China and south to peninsular Malaysia) and a more threatened species living on the islands of Borneo and of Sumatra, dubbed the Sunda clouded leopard (Neofelis diardi). Now, researchers have confirmed that clouded leopards living on Sumatra are distinct from those on Borneo, further subdividing these two populations into unique subspecies.


Ancient bird evolved "clubs" to beat predators, each other

(01/07/2011) Researchers have discovered that the thick wing bones of an ancient flightless bird which once lived in Jamaica may have been used as clubs to beat predators and even members of its own species.


Disappearance of arctic ice could create 'grolar bears', narlugas; trigger biodiversity loss

(12/22/2010) The melting of the Artic Ocean may result in a loss of marine mammal biodiversity, reports a new study published in the journal BNature and conducted jointly by the National Oceanic and Atmospheric Association (NOAA), the University of Alaska, and the University of Massachusetts. The study is the first to project what might happen if species pushed into new habitats because of ice loss hybridize with one another, resulting in such crossbreeds as "narlugas" and "grolar bears".


Extinct giant stork towered over 'hobbits' on Flores

(12/07/2010) Scientists have discovered an extinct massive stork, standing nearly 6 feet tall (1.8 meter) and weighing 35 pounds (15 kilograms), which would have shared the island of Flores with the 'hobbits'—dwarf hominin species known as Homo floresiensis—reports the BBC. According to the researchers the meat-eating stork was big enough to prey on young Homo floresiensis, and stood about 2 and a half feet (0.8 meters) above adult hobbits.


Genetic analysis uncovers new parrot on the edge of extinction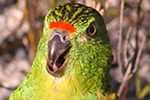 (11/23/2010) Down to just over 100 individuals, DNA analysis has revealed one of the world's most imperiled bird species: the western ground parrot Pezoporus flaviventris.. Genetic evidence collected from museums specimens, some well-over a century old, have led scientists to "cautiously suggest" that Australia's ground parrot be split into two distinct species—the eastern and the western—and not subspecies as they are currently considered. According to the study, the ground parrot species split apart some two million years ago, around the same time as the first members of the genus Homo evolved.


Photographer discovers new species of meat-eating plant in Cambodia

(11/16/2010) British photographer Jeremy Holdren recently discovered a new species of carnivorous pitcher plant in Cambodia's Cardamom Mountains during a survey with Fauna & Flora International (FFI).


Amazon biodiversity older than believed

(11/11/2010) A new study in Science has found that the incredible biodiversity of the Amazon rainforest goes back much further than expected, perhaps upending old ideas about how the Amazon basin became arguably the world's most biodiverse ecosystem. According to the study, the origin of rich biodiversity in the Amazon likely goes back more than 20 million years when the Andean mountains were rising.


The unruly evolution of island life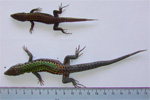 (11/09/2010) From the terrifying Komodo dragon to the diminutive hobbit Homo floresiensis, islands are home to some remarkable curiosities of size. Despite the fame of giant lizards and pygmy humans, a longstanding tenet of evolutionary biology suggests that the size of island animals moves towards the middle of the pack. A study published on 1 September in the Journal of Biogeography explores these two seemingly contradictory notions and finds that neither is a perfect explanation.


New blind snake discovery



(04/06/2010) Call them survivors: blindsnakes have been identified as one of the few groups of organisms that inhabited Madagascar when it broke from the Indian subcontinent around 100 million years ago. According to a new study in Biology Letters, blindsnakes not only survived the split of Madagascar and India, but likely traveled from Asia to Australia and Africa to South America on floating vegetation, the latter a journey that may have taken six months of drifting on ocean currents. "Blindsnakes are not very pretty, are rarely noticed, and are often mistaken for earthworms," says Blair Hedges of her subjects. "Nonetheless, they tell a very interesting evolutionary story."


Scientists discover world's first amphibious insects: Hawaiian caterpillars

(03/22/2010) Scientists have never before discovered a truly amphibious insect until now: writing in the Proceedings of the National Academy of Sciences researchers have announced the discovery of 12 species of Hyposmocoma moths in the Hawaiian islands which they consider truly amphibious—that is a species able to survive both on land and underwater indefinitely.


Extinction outpaces evolution

(03/09/2010) Extinctions are currently outpacing the capacity for new species to evolve, according to Simon Stuart, chair of the Species Survival Commission for the International Union for the Conservation of Nature (IUCN).


Photos: Madagascar's wonderful and wild frogs, an interview with Sahonagasy



(03/03/2010) To save Madagascar's embattled and beautiful amphibians, scientists are turning to the web. A new site built by herpetologists, Sahonagasy, is dedicated to gathering and providing information about Madagascar's unique amphibians in a bid to save them from the growing threat of extinction. "The past 20 years have seen resources wasted because of a poor coordination of efforts," explains Miguel Vences, herpetologist and professor at the Technical University of Braunschweig. "Many surveys and reports have been produced that were never published, many tourists found and photographed amphibians but these photos were not made available to mapping projects, many studies carried out by Malagasy students did not make use of literature because it was not available."


Prehistoric snake gobbled-up dinosaur babies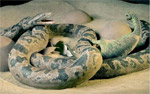 (03/02/2010) A fossilized snake has been discovered inside a titanosaur nest in India, leading researchers to conclude that the snake fed on newly-hatched dinosaur babies, rather than their eggs like modern snakes. Paleontologist and snake expert Jason Head says that the snake, known as Sanajeh indicus, lacked the wipe-jaws needed to swallow eggs, but just-hatched baby titanosaurs would have been perfect prey for the 3.5 meter (nearly 12 feet) long serpent. Titanosaurs belong to the sauropods, long-necked herbivorous dinosaurs which includes the world's largest animals to ever walk the land.


Polar bears are newcomers on the world stage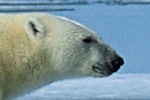 (03/01/2010) One of the most well-known animals, the polar bear, is a newcomer on the world stage, according to research published in the Proceedings of the National Academy of Sciences. By studying the DNA of an ancient polar bear jawbone uncovered in 2004 in Norway scientists have for the first time pinpointed the time when the polar bear split from its closest relative, the brown bear. "Our results confirm that the polar bear is an evolutionarily young species that split off from brown bears some 150,000 years ago and evolved extremely rapidly during the late Pleistocene, perhaps adapting to the opening of new habitats and food sources in response to climate changes just before the last interglacial period."


New study: why plants produce different sized seeds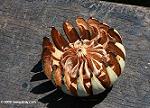 (02/17/2010) The longstanding belief as to why some plants produce big seeds and others small seeds is that in this case bigger-is-better, since large seeds have a better chance of survival. However, Helene Muller-Landau, staff scientist at the Smithsonian Tropical Research Institute and head of the HSBC Climate Partnership's effort to quantify carbon in tropical forests, grew dissatisfied with that explanation. For example, if big seeds were always the 'right' evolutionary path than why would any plants evolve small seeds? In a new paper in the Proceedings of the National Academy of Sciences, Muller-Landau argues for a more complex explanation involving a trade-off between surviving stressful conditions and taking full advantage when the conditions are just right.


After years of controversy: Flores 'hobbits' are a new species of humans

(11/19/2009) When the 'hobbits' were discovered in 2003 they made news worldwide, sparking visions of a world our small relations lived among giant rats, dwarf elephants, and lizards bigger than the Komodo dragon. The small hominin fossils discovered on the island of Flores in Indonesia proved just how little modern humans knew about our deep ancestry. While researchers instantly claimed that the 'hobbits' were a new species of hominin other scientists disagreed: they argued that the 'hobbits' were modern humans that had been dwarfed by disease. A new study inSignificance hopes to put the controversy to rest.


Extinct goat was "similar to crocodiles"


(11/16/2009) It sounds like something out of Greek mythology: a half-goat, half-reptilian creature. But researchers have discovered that an extinct species of goat, the Balearic Island cave goat or Myotragus balearicus, survived in nutrient-poor Mediterranean islands by evolving reptilian-specific characteristics. The goat, much like crocodiles, was able to grow at flexible rates, stopping growth entirely when food was scant. This adaptation—never before seen in a mammal—allowed the species to survive for five million years before being driven to extinction only 3,000 years ago, likely by human hunters.


Present day tropical plant families survived in warmer, wetter tropics 58 million years ago


(10/18/2009) Fifty eight million years ago the tropical rainforests of South America shared many similarities with today's Neotropical forests, according to research published in the Proceedings of the National Academy of Sciences. Looking at over 2,000 fossils in Colombia from one of the world's largest open pit coal mines, scientists were able to recreate for the first time the structure of a long vanished rainforest. One inhabited by a titanic snake, giant turtles, and crocodile-like reptiles.



Page 1 | Page 2 | Page 3