News articles on Environmental Law

---
Mongabay.com news articles on Environmental Law in blog format. Updated regularly.





Hopeful conservation news emerges out of Madagascar political crisis

(03/31/2009) A bit of hopeful conservation news has finally emerged out of the political crisis in Madagascar, report local sources. Wednesday representatives from several NGOs active in conservation in Madagascar met with a minister from island nation's new government. The minister said his top priority was putting an end to illegal logging that emerged when rangers abandoned their posts and armed gangs moved into protected areas in the wake of the political crisis.


Hawaii continues to stand-by as sheep destroy critically-endangered palila bird's habitat

(03/25/2009) The environmental legal organization, Earthjustice, has filed legal papers against the Hawaii State Department of Land and Natural Resources for failing to keep feral sheep and goats out of the critically-endangered palila bird's last habitat. According to Earthjustice, the court has already issued three orders beginning in 1979 that found the state of Hawiai in violation of the Endangered Species Act by not protecting the palila bird from the destructive feeding practices of sheep and goats.


EPA takes first step towards regulating global warming emissions

(03/23/2009) The Obama Administration is reviewing a finding by the Environmental Protection Agency that carbon dioxide emissions — and associated impact on climate — are a danger to public health, reports the Associated Press.


Will palm oil drive deforestation in the Amazon?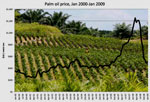 (03/23/2009) Already a significant driver of tropical forest conversion across southeast Asia, oil palm expansion could emerge as threat to the Amazon rainforest due to a proposed change in Brazil's forest law, new infrastructure, and the influence of foreign companies in the region, according to researchers writing in the open-access journal Tropical Conservation Science. William F. Laurance, a senior scientist at the Smithsonian Tropical Research Institute (STRI) in Panama City, Panama, and Rhett A. Butler, founder of environmental science web site Mongabay.com, warn that oil palm expansion in the Brazilian Amazon is likely to occur at the expense of natural forest as a result of a proposed revision to the forest code which requires land owners to retain 80 percent forest on lands in the Amazon. The new law would allow up to 30 percent of this reserve to consist of oil palm.


Historic US law now extends to illegal logging

(03/11/2009) Enacted in 1900 by William F. McKinley the Lacey Act is the oldest wildlife protection law in the US; for a over a century it has protected animals from being illegally hunted and trafficked. An amendment made last year has now extended the law to protect plants for the first time, making it possible for the US to support efforts abroad and at home to combat illegal logging.


Deforestation blamed for tiger maulings in Sumatra

(02/27/2009) WWF has attributed six recent killings of villagers by tigers to deforestation in Sumatra. Habitat loss — together with prey depletion by hunting — is believed to be driving tiger-human conflict on the Indonesia island.


Illegal fishing estimated at $10-24B per year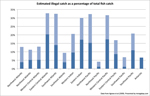 (02/26/2009) Global losses from illegal and unreported fishing are estimated at $10-23.5 billion per year, according to a new study published in PLoS One. Analyzing fishing data from 54 countries, David J. Agnew of Imperial College London and colleagues estimate the "Illegal, Unreported and Unregulated" (IUU) fish catch at 11 to 26 million tons per each year. The authors found a strong link between governance and illegal fishing — illicit practices were most widespread in developing countries with poor monitoring and law enforcement. Estimated catches in West Africa were 40 percent higher than reported catches.


Illegal timber trade to face tough penalties in the E.U.


(02/18/2009) Companies dealing in illegal timber may soon face stiff penalties under a proposed E.U. regulation. The European Parliament voted Monday to impose penalties on companies who use or trade illegally sourced timber. National authorities will have the power to impound timber of illegal origin, fine companies, and even shut down particularly egregious violators. Penalties will be "at least five times the value of the timber products" under the proposal, which will be voted on in April at Parliament's plenary session and then later by EU agriculture ministers.


France's Suez liable for illegal deforestation, "dynamite fishing" in the Amazon rainforest

(02/11/2009) A consortium building the Jirau hydroelectric dam in Brazil near the Bolivian border has been ordered to pay roughly $3.5 million in fines for illegally logging nearly 50 acres (18.6 ha) of forest and using dynamite to kill 11 tons of fish in local rivers, reports the Spanish news agency EFE.


As sea ice retreats, swathe of Arctic closed to fishing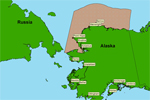 (02/06/2009) The North Pacific Fishery Management Council (NPFMC) voted unanimously to close off more than 150,000 square nautical miles of the Arctic sea to commercial fishing. The decision, welcomed by an array of environmentalists and industry groups, is a preventative measure to protect fisheries that have become more accessible as a result of declining sea ice in the Arctic. It is the first time that the federal government has closed a fishery due to climate change instead of over-fishing, says supporters of the ban.


Malaysian government says forest reserve 'plundered' for oil palm development

(02/03/2009) Responding to allegations by the Human Rights Commission of Malaysia (Suhakam) that indigenous people have been forced from their lands (a charge it denied), the Sabah Forestry Department said that more than 30 percent of Mt. Pock And Tanjong Nagos Forest Reserves were "plundered" by "people with means to plant illegal oil palm including companies" up until 2001. The statement is noteworthy in that leaders of the Malaysian Palm Oil Council, the marketing and lobbying arm of the Malaysian palm oil industry, have maintained that oil expansion has not taken place at the expense of natural forest in Malaysia.


Beef drives 80% of Amazon deforestation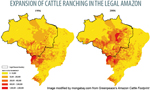 (01/29/2009) Nearly 80 percent of land deforested in the Amazon from 1996-2006 is now used for cattle pasture, according to new maps released today in a report by Greenpeace at the World Social Forum in Belem, Brazil. The report, Amazon Cattle Footprint: Mato Grosso: State of Destruction, confirms that cattle ranching is the primary driver of deforestation in Earth's largest rainforest: the Brazilian Amazon.


Obama pushes for better mileage standards

(01/27/2009) President Obama has moved to allow states set automobile emission rules, opening the door for more fuel efficient vehicles. Monday Obama signed a memorandum requiring the Environmental Protection Agency (EPA) to reconsider California's application to set tighter auto emissions and fuel efficiency standards than required under federal law. Should the waiver be granted, automakers would be forced to sell more fuel efficient vehicles if they want to do business in the state.


High coffee prices spurred deforestation in Sumatra but effective law enforcement slowed forest loss

(01/22/2009) Law enforcement efforts can significantly deter deforestation in protected areas despite high pressure from agricultural expansion, reports a new study that assessed the effectiveness of conservation in Bukit Barisan Selatan National Park in southern Sumatra, Indonesia. However the research suggests that conservation needs extend beyond law enforcement to be effective in the long-run.


Rancher accused of ordering murder of American nun is arrested in Brazil

(12/30/2008) The rancher suspected of ordering the killing of an American nun in the Brazilian Amazon has been arrested and detained at his home in the state of Pará, reports the Associated Press (AP).


Group may sue EPA under Clean Water Act to address ocean acidification

(11/14/2008) An environmental group plans to sue the U.S. Environmental Protection Agency for failing to uphold water standards in the face of ocean acidification.


IP laws not helping indigenous people protect traditional knowledge (repost)

(11/13/2008) Promoting capacity for self-governance rather than using conventional systems governing intellectual property rights may be a more effective way to safeguard traditional knowledge of indigenous groups, argues a new report published by an international team of IP experts. Released at an IP conference convened by Sciences Po, a French research institute, and The Innovation Partnership, a Canadian NGO, the report details how traditional knowledge is treated in Brazil, Kenya and Northern Canada. It finds significant differences in the effectiveness of IP laws and policies in protecting the wisdom and knowledge accumulated by indigenous communities.


Supreme Court lifts ban on sonar testing, whales lose

(11/12/2008) A Supreme Court decision will allow the Navy to continue its of sonar in training exercises off the coast of California, a defeat for environmental groups who say sonar is harmful to whales, reports the Associated Press.


Brazilian rancher claims he owns land American nun was killed defending in the Amazon

(11/12/2008) The rancher suspected or orchestrating the killing of an American nun in the Brazilian Amazon now claims he owns the land she died trying to defend, reports the Associated Press (AP).


Biodiversity of rainforests should not be compared with oil palm plantations says palm oil council chief

(11/11/2008) Scientists should compare the biodiversity oil palm plantations to other industrial monocultures, not the rainforests they replace, said Dr. Yusof Basiron, CEO of the Malaysian Palm Oil Council (MPOC), in a post on his blog. Basiron's comments are noteworthy because until now he has maintained that oil palm plantations are "planted forests" rather than an industrial crop.


First RSPO-certified ("eco-friendly") palm oil shipment to arrive in Europe

(11/10/2008) The first shipment of palm oil certified under the Roundtable on Sustainable Palm Oil (RSPO) is expected to arrive in Europe Tuesday, but an environmental group is already criticizing the initiative's credentials.


In final weeks, President Bush aims to extend his environmental legacy

(11/09/2008) On Tuesday, November 4th, the people of the United States elected a new president, Senator Barack Obama. Many feel a new day is coming on a number of issues, including the environment. However the Bush Administration has 72 days left in its term and appears hopeful to use every one of those to make last-minute changes to environmental rules that will have wide-ranging impacts on the nation's endangered species, air, water, parks, and undeveloped land. As the administration has done since taking office eight years ago, it is working toward such policies—all of them controversial—to benefit industry at the cost of the environment and health safeguards.


South Africa auctions last of 'legal' elephant ivory to China, Japan

(11/07/2008) South Africa sold 47 metric tons of elephant ivory to Chinese and Japanese buyers for $6.7 million in what was the final of four auctions sanctioned by CITES, an international agreement on the wildlife trade.


EU's sustainable biofuels push angers Malaysia, Brazil

(11/07/2008) Eight developing countries threatened to file a World Trade Organization complaint against the E.U. for its proposed legislation to require imported biofuels to meet environmental standards, reports Reuters.


Obama may bring leadership, rather than obstruction, to climate change talks

(11/06/2008) The election of Barack Obama as president of the United States may bring a new era of U.S. leadership on climate.


Sharks in trouble after nations fail to create sustainable management programs

(11/06/2008) Sharks are disappearing from the ocean at startling rates: currently one-in-five of these famous marine predators are threatened with extinction. According to a report from the Australian Government and TRAFFIC—an organization that monitors wildlife trade both legal and illegal—the collapse of shark populations is being caused largely by rising demand for shark fin in Asia. The report shows that legal fishing for sharks has become nearly as detrimental as illegal, since few fisheries have management strategies concerned with sustainability.


20 convicted for poaching Asiatic lions in their last refuge

(11/06/2008) Twenty people have been convicted for poaching Asiatic lions last year in India's Gir National Park. The twenty individuals will spend three years in prison and be fined 10,000 Rs each.


Brazil triples endangered species list

(11/05/2008) Brazil has nearly tripled the number of species on its endangered list due to development, overfishing, pollution, wildlife trafficking and deforestation, reports the Associated Press.


Endangered wildlife in Malaysia falls victim to rampant poaching due to 'outdated' laws

(11/04/2008) In the face of rampant poaching of endangered animals, conservationists are calling for Malaysia to reform its 36-year-old wildlife protection law.


Brazil charges 81 with illegal Amazon deforestation

(11/02/2008) Brazil will file charges against 81 people accused of being the biggest destroyers of the Amazon rainforest, reports the Associated Press.


Ozone hole is second-largest on record in 2008

(10/30/2008) The Antarctic ozone hole reached its second-largest size on record in 2008, reports NASA.


EU moves slowly towards a pact on illegal logging

(10/30/2008) The E.U. is slowly moving towards curtailing the illegal timber trade through import restrictions, reports Reuters.


Elephant ivory auction produces low prices, controversy

(10/30/2008) The first internally-sanctioned auction of elephant ivory since 1999 produced lower-than-expected prices, but plenty of controversy, reports Reuters.


Brazil to have high resolution imagery for 86% of the Amazon by year end

(10/15/2008) Brazil will have high resolution imagery for 86 percent of its Amazon territory by the end of the year, according to Reuters. The images will help the country protect the Amazon rainforest and prosecute alleged environmental crimes, including illegal logging and agricultural expansion.


New Beijing law cuts 800,000 cars from roads per day

(10/13/2008) A new traffic law will cut the number of cars on Beijing roads by 800,000 per day, reports Chinese state media.


Environmental crime worth $10 billion per year

(10/13/2008) Environmental crime is generating $10 billion a year in revenue for gangsters and criminal syndicates reports the Environmental Investigation Agency (EIA) in a paper released today.


Chevron loses attempt to reduce payment in suit by Amazon rainforest natives

(10/08/2008) Chevron lost its attempt to force arbitration in a case in which it could be liable for billions of dollars to pay for cleaning up damages to the Amazon rainforest in eastern Ecuador.


U.S. to ban oil drilling in new Arctic reserves for polar bears

(10/07/2008) The U.S. Department of the Interior will designate two Arctic reserves in areas considered critical habitat for polar bears as part of a legal settlement with environmental groups, reports Reuters. The reserves will be off-limits of oil development and must be established by June 30, 2010.


U.S. needs environmental standards for biofuels

(10/02/2008) The U.S. lacks criteria to ensure that cellulosic ethanol production will not harm the environment, warn scientists writing in the journal Science. The researchers say that with proper safeguards, cellulosic ethanol can help the U.S. meet its energy needs sustainably.


Brazilian government is biggest destroyer of the Amazon rainforest

(09/30/2008) A Brazilian government agency changed with land distribution to the poor is the largest driver of deforestation since 2005, according to the country's environmental ministry.


Brazil plans to cut Amazon deforestation to zero by 2015

(09/26/2008) Brazil aims to cut net deforestation to zero by 2015 according to a plan that will be released by the government next week.


U.S. ignores laws on e-waste disposal

(09/19/2008) U.S. laws for exporting electronic waste (e-waste) are widely ignored, according to a General Accountability Office (GAO) report, which faults the Environmental Protection Agency.


Obama talks science: ocean health, water scarcity, climate change, and more

(09/05/2008) Presidential nominee Barack Obama recently answered fourteen science-related questions for the organization Science Debate 2008. The questions covered a wide-variety of topics, including the importance of innovation, science and math education, energy policies, national security and biosecurity, genetics research, stem cells, space exploration, health, support for research and restoring scientific integrity in the Whitehouse. Below are brief descriptions of his answers on three topics: climate change, water scarcity, and the health of marine ecosystems. Republican presidential nominee John McCain has also been sent the same fourteen questions, so far he has not responded.


Cameroon and Nigeria to protect world's rarest gorilla

(09/05/2008) Cameroon and Nigeria have agreed to protect the the Cross River gorilla, world's most endangered gorilla, reports the Wildlife Conservation Society, which helped broker the deal.


Ghana becomes first country to sign sustainable timber pact with the E.U.

(09/04/2008) The European Union has signed a sustainable forestry deal with Ghana that would stop imports of illegally-harvested timber from the West African nation, according to a statement released by the European Forest Institute. The agreement comes under the European Commission's 2003 Action Plan on Forest Law Enforcement, Governance and Trade (FLEGT), which seeks to address illicit timber imports. The regulation requires chain-of-custody documentation for timber to be imported into the E.U.


Independent of climate, forest cover in southern Amazon may fall to 20% by 2016

(09/03/2008) Forest cover in the "Arc of Deforestation" of southern Amazonia will decline to around 20 percent 2016 due to continued logging and conversion of forests for cattle pasture and soy farms, report researchers writing in the journal Environmental Conservation. Analyzing high resolution satellite data from 1984 through 2004 for the Alta Floresta region in northern Mato Grosso, Fernanda Michalski, Carlos Peres and Iain Lake of the University of East Anglia found that forest cover declined from from 91.1 percent to 41.7 percent between 1984 and 2004. They note that while the deforestation rate has slowed to around 2 percent per year since peaking at more than 8 percent annually in late 1980s to mid-1990s, renewed expansion of road networks will enable loggers to increasingly exploit remaining forests, leading to degradation and likely eventual conversion for agricultural use. Overall Michalski and colleagues forecast that forest cover in Alta Floresta will fall to 21 percent by 2016, a decline of 77 percent since 1984.


Indonesian raids on tiger traffickers yielding arrests in Sumatra

(09/02/2008) A raid on illegal tiger traders in Indonesia resulted in four arrests in Sumatra, reports the Wildlife Conservation Society (WCS). The arrests come under a new crack-down by Indonesian authorities on the sales of tiger parts. 10 traffickers have been arrested in the past 3 months.


Amazon deforestation jumps 69% in 2008

(08/31/2008) Deforestation in the Brazilian Amazon increased 69 percent in the past 12 months as high commodity prices have driven forest conversion for ranches and cropland, according to preliminary figures released by Brazil's National Institute for Space Research (INPE). The increase comes after three consecutive years of declining deforestation in Brazil.


Biofuels 200 times more expensive than forest conservation for global warming mitigation

(08/27/2008) The British government should end subsidies for biofuels and instead use the funds to slow destruction of rainforests and tropical peatlands argues a new report issued by a U.K.-based think tank. The study, titled "The Root of the Matter" and published by Policy Exchange, says that "avoided deforestation" would be a more cost-effective way to address climate change, since land use change generates more emissions than the entire global transport sector and offers ancillary benefits including important ecosystem services.


Scientists condemn Bush plan for endangered species

(08/27/2008) The Ecological Society of America has come down handily against the Bush Administration's proposed changes to the Endangered Species Act (ESA). The changes would eliminate the requirement for independent scientific review of federal projects, such as roads, dams, and mines, instead allowing federal agencies to conduct internal evaluations and then proceed as they see fit.



Page 1 | Page 2 | Page 3 | Page 4 | Page 5 | Page 6 | Page 7 | Page 8 | Page 9 | Page 10 | Page 11