News articles on Energy in China

---
Mongabay.com news articles on Energy in China in blog format. Updated regularly.





'Carbon bubble' could cause next global financial crisis

(04/22/2013) The world could be heading for a major economic crisis as stock markets inflate an investment bubble in fossil fuels to the tune of trillions of dollars, according to leading economists. "The financial crisis has shown what happens when risks accumulate unnoticed," said Lord (Nicholas) Stern, a professor at the London School of Economics. He said the risk was "very big indeed" and that almost all investors and regulators were failing to address it.


'No-one is listening to the entire scientific community': global carbon emissions set to hit new high


(12/03/2012) Global carbon dioxide (CO2) emissions from industrial sources are set to hit a new record high this year according to a new analysis by Global Carbon Project. The analysis in Nature Climate Changes predicts that CO2 emissions will rise another 2.6 percent, hitting 35.6 billion tonnes. The scientists warn that such steep climbs in global emissions year-after-year means that the door is rapidly closing on a global agreement to keep temperatures from rising 2 degree Celsius (3.6 degrees Fahrenheit) above pre-industrial levels.


China's per capita emissions nearly as high as Europe's

(07/19/2012) The average person in China emitted 7.2 tons of carbon last year, according to new figures from BL Netherlands Environmental Assessment Agency and the European commission's Joint Research Centre (JRC). This means that the average Chinese citizen is now very close to the average European, who emits 7.5 tons, in terms of annual emissions. Having been named the world's largest emitter of greenhouse gases in 2009—usurping the U.S. from its long-held position—China continues to lead the pack with emissions that rose 9 percent in 2011.


Another record in global carbon emissions puts globe on track for 'devastating consequences'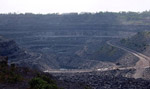 (05/29/2012) Last year global carbon dioxide emissions rose 3.2 percent to a new record of 31.6 gigatons, keeping the planet on track to suffer dangerous climate change, which could propel global crop failures, sea level rise, worsening extreme weather, and mass extinction. According to data from the International Energy Agency (IEA), China's carbon emissions rose the most last year (9.3 percent) while emissions in Europe and the U.S. dipped slightly. China is the currently the world's largest emitter of greenhouse gases, while the U.S. has emitted the most historically.


Public opposition pushes Myanmar to suspend giant Chinese dam

(10/04/2011) Large-scale opposition has pushed the Myanmar government to suspend construction of a massive Chinese dam. Being built on the confluence of the Mayhka amd Malihka rivers at the head of Irrawaddy River, the Myitsone Dam would have created a reservoir the size of Singapore and has already pushed 12,000 people off their land. China Power Investment Corporation, which is building the dam, has fired back at the Myanmar government saying their decision will lead to 'a series of legal issue'.


China leaves US (and Europe) in the dust on renewable energy

(02/01/2010) This year China has become the world's largest manufacturer of solar panels and wind turbines, doubling its wind capacity since 2005. The economically booming nation—and the world's most populous—has also invested heavily in nuclear power and the world's most efficient coal plants, according to the New York Times.


The Yangtze River may have lost another inhabitant: the Chinese paddlefish

(10/22/2009) In December of 2006 it was announced that the Yangtze River dolphin, commonly known as the baiji, had succumbed to extinction. The dolphin had survived on earth for 20 million years, but the species couldn't survive the combined onslaught of pollution, habitat loss, boat traffic, entanglement in fishing hooks, death from illegal electric fishing, and the construction of several massive dams. Now, another flagship species of the Yangtze River appears to have vanished.


Wind could power the entire world

(06/22/2009) Wind power may be the key to a clean energy revolution: a new study in the Proceedings of the National Academy of Science finds that wind power could provide for the entire world's current and future energy needs.


New Yangtze River dam could doom more endangered species

(06/22/2009) Eight Chinese environmentalists and scientists have composed a letter warning that a new dam under consideration for the Yangtze River could lead to the extinction of several endangered species. The letter contends that Xiaonanhia Dam, which would be 30 kilometers upstream from the city of Chongqing, will negatively impact the river's only fish reserve. Spanning 400 kilometers in the upper Yangtze, the reserve is home to 180 fish species, including the Endangered Chinese sturgeon, and the Critically Endangered Chinese paddlefish, as well as the finless porpoise.


China's CO2 emissions 14% higher than America's in 2007

(06/14/2008) China emitted 14 percent more carbon dioxide than the United States in 2007 according to a report released by the Netherlands Environmental Assessment Agency. China's emissions grew 8 percent from 2006.


Will earthquake slow dam-building spree in China?

(05/14/2008) Monday's 7.9 magnitude earthquake in Sichuan province left more than 15,000 dead, 26,000 missing, and 64,000 injured, according to state media. The quake also "seriously damaged" two hydroelectric stations in Maoxian county, leading authorities to warn that the dams could burst. More than 2,000 troops were sent to work on the Zipingku Dam, a dam said to be in "great danger" of collapse upriver from Dujiangyan, the city at the quake's epicenter.


China aims for 100 gigawatts of wind power by 2020

(04/29/2008) China aims to expand its wind power generating capacity to 100,000 megawatts by 2020, more than doubling the current world's installed capacity, according to the Shanghai Daily and The Wall Street Journal's Environmental Capital blog.


China's emissions growth 2-4 times greater than expected

(03/11/2008) China's carbon dioxide emissions are growing far faster than anticipated according to according to a new analysis by economists at the University of California, Berkeley, and the University of California, San Diego. The study, published in the Journal of Environmental Economics and Management, estimates China will see an 11 percent annual growth rate in CO2 emissions between 2004 and 2010, two to four times the 2.5 to 5 percent growth rate estimated by the Intergovernmental Panel on Climate Change.


Carbon tax would make China greener and reduce warming risks

(02/07/2008) Driven by booming economic growth and rapid urbanization, China's carbon dioxide emissions are surging. At the same time, forecasts suggest climate change will have an immense impact on the country, with rising sea levels projected to swamp key industrial areas and diminished rainfall reducing agricultural output. Given this outlook, a new policy paper published in Science argues that China will need to embark on a cleaner path to growth, one that is less dependent on coal. The authors say that international assistance in the form of carbon funds could help persuade Chinese leadership to move towards more environmentally-friendly energy technologies.


China begins blocking river for second largest dam

(11/12/2007) China began damming the Jinsha River for its biggest hydroelectric project after the Three Gorges Project, reports Chinese state media.


China's coal pollutes the U.S.

(11/04/2007) It takes five to 10 days for the pollution from China's coal-fired plants to make its way to the United States, like a slow-moving storm. It shows up as mercury in the bass and trout caught in Oregon's Willamette River. It increases cloud cover and raises ozone levels. And along the way, it contributes to acid rain in Japan and South Korea and health problems everywhere from Taiyuan to the United States. This is the dark side of the world's growing use of coal.


China will not commit to CO2 limits

(07/06/2007) China will not commit to binding greenhouse gas emissions cuts, reports the BBC. Lu Xuedu, deputy director-general of China's Office of Global Environmental Affairs, told British parliamentarians that China does not presently have the "capability to make those commitments."


760,000 Chinese a year die from pollution

(07/04/2007) 760,000 Chinese die prematurely each year from polluted air and water, according to estimates to be released by the World Bank.


Industrialized countries outsource CO2 emissions to China

(06/22/2007) Facing criticism as it surpasses the U.S. as the world's largest producer of carbon dioxide, China says that industrialized countries are hypocritical for criticizing its greenhouse gas emissions while buying its products, according to the Associated Press. China argues that developed countries are effectively outsourcing emissions by shifting manufacturing to its factories.


$100 billion invested in renewable energy in 2006

(06/20/2007) $100 billion poured into renewable energy and energy efficiency in 2006, a 25 percent jump from 2005, reports a new analysis by the UN Environment Programme (UNEP).


China surpasses the U.S. in CO2 emissions

(06/20/2007) China has surpassed the United States as the world's largest producers of greenhouse gas emissions, reports the Netherlands Environmental Assessment Agency (EEA), a group that advises the Dutch government.


China Unveils Global Warming Initiative

(06/05/2007) Scientists documented 467 species, including 24 species believed new to science, during a rainforest survey in eastern Suriname, South America. The expedition, led by conservation International (CI), was sponsored by two mining companies, BHP-Billiton Maatschappij Suriname (BMS) and Suriname Aluminium Company LLC (Suralco), hoping to mine the area for bauxite, the raw material used to make aluminum. conservation International said the Rapid Assessment Survey (RAP) will help "give miners guidance on protecting unique plants and animals during potential future development," according to a statement from the organization.


China finds 7.5 billion barrel oilfield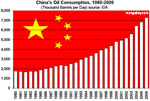 (05/08/2007) PetroChina, Asia's largest oil and gas producer, announced the discovery of a 7.5 billion barrel oil field off the northeast coast of China. The find, in an undersea field in Bohai Bay, is the largest in Asia in four decades and will boost China's known oil reserves by 20 percent. Nevertheless, the discovery will not be enough to offset China's oil imports, which have surged in recent years due to a booming economy and rapid adoption of automobiles.


Chinese traffic restrictions rapidly result in cleaner air

(04/30/2007) Chinese government restrictions on motorists during a three- day conference last fall cut Beijing's emissions of an important class of atmospheric pollutants by up to 40 percent, recent satellite observations indicate. The November restrictions are widely viewed as a dress rehearsal for efforts by the city to slash smog and airborne contaminants when China hosts the 2008 Summer Olympic Games.


China may top U.S. in greenhouse gas emissions in 2007

(03/23/2007) China's carbon dioxide emissions may exceed those of the United States in 2007, making the country the world's largest greenhouse gas polluter, according to analysis of Chinese energy data.


China to build world's largest solar power plant

(11/21/2006) China plans to build the world's largest solar power station in the northwestern province of Gansu according to a report from Xinhua, China's state news agency. Construction of the 100 megawatt facility will take five years and cost 6.03 billion yuan ($766 million).


China may surpass U.S. in carbon dioxide emissions by 2009

(11/07/2006) China's output of carbon dioxide, a gas linked to global warming, may surprass that of the United States by 2009, about a decade earlier than previous estimates according to a report released Tuesday by the International Energy Agency. China currently ranks second behind the United States in carbon dioxide emissions, but rapid economic growth, fueled heavily by coal, is spurring a dramatic rise in greenhouse gas pollution. China's emissions growth is one of the big reasons why the United States and Australia have refused to sign the Kyoto Protocol which calls for emissions limits for industrialized countries but none for developing economies including China, India, and Brazil.


Coal to oil conversion gaining interest in China, U.S.

(08/17/2006) High oil prices are spawning greater interest in technologies that convert coal into liquid fuel, according to an article published yesterday in The Wall Street Journal, but the shift could have a significant impact on the environment. Heightened tensions in the Middle East combined with booming demand and political instability in other regions have put a premium on crude oil and forced China and the United States -- the world's largest energy gluttons -- to look towards secure sources of fuel. Both countries are coal-rich but petroleum-poor. The Wall Street Journal says that China and the United States are actively developing coal-to-oil technology.


Wind turbines could power China says expert

(03/09/2006) Wind could become China's second-largest source of electricity according to a Chinese energy expert. Wang Weicheng, an energy professor at Tsinghua University in Beijing, told reporters that China has the potential to install up to 100 gigawatts of wind power. Wang's comments come as China has been aggressively expanding its interests in renewable energy sources including wind, solar, biofuels, tidal, and small hydroelectric dams.


China to add wind power capacity

(08/15/2005) China plans to construct its first offshore wind power complex next year in hopes of easing chronic electricity shortages, the official Xinhua News Agency reported Monday.


China funds massive palm oil plantation in rainforest of Borneo

(08/12/2005) Plans to create the world's largest palm oil plantation along Indonesia's mountainous border with Malaysia could have a devastating impact on the forests, wildlife and indigenous people of Borneo, warns World Wildlife Fund.


Renewable energy in China, a strategic future?

(08/02/2005) China's failed bid for American petroleum firm Unocal may prompt it to further focus on its development of alternative energy sources.


China announces wave power station changes

(07/27/2005) China announced that it has developed typhoon-resistant technologies for the world's first experimental wave power station. The announcement comes two months after a Norwegian firm signed an agreement to construct a commercial wave farm to harvest electricity from sea swells off the coast of Scottland.