News articles on El Salvador

---
Mongabay.com news articles on El Salvador in blog format. Updated regularly.





El Salvador mulls total ban on mining


(10/22/2012) On hot days the broken stone and dried up silt from the San Sebastian mine in Eastern El Salvador bake in the sun. The slew of refuse is freckled with rock stained bright blue with cyanide, open to the elements that on rainier days will wash it downhill into the Rio San Sebastian below. The openings of passages into the mine dot the mountainside, and further downhill a bright orange stream with a chemical stench flows into another. The American Commerce Group ceased operating here in 1999 but sought to return when the price of gold began its current escalation.


Dry forests disappearing faster than rainforests in Latin America

(08/21/2012) Countries across Latin America lost 78,000 square kilometers of subtropical and tropical dry broadleaf forests between 2001 and 2010, according to a new satellite-based assessment published in the journal Biotropica.


Earth systems disruption: Does 2011 indicate the "new normal" of climate chaos and conflict?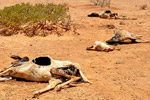 (12/21/2011) The year 2011 has presented the world with a shocking increase in irregular weather and disasters linked to climate change. Just as the 2007 "big melt" of summer arctic sea ice sent scientists and environmentalists scrambling to re-evaluate the severity of climate change, so have recent events forced major revisions and updates in climate science.


Climate change already worsening weird, deadly, and expensive weather

(11/02/2011) Unprecedented flooding in Thailand, torrential rains pummeling El Salvador, long-term and beyond-extreme drought in Texas, killer snowstorm in the eastern US—and that's just the last month or so. Extreme weather worldwide appears to be both increasing in frequency and intensity, and a new report from the Intergovernmental Panel on Climate Change (IPCC) connects the dots between wilder weather patterns and global climate change.


Good stewards of forests at home outsource deforestation abroad

(11/24/2010) As more nations adopt better laws and policies to save and restore forests at home, they may, in fact, be outsourcing deforestation to other parts of the world, according to a new study in the Proceedings of the National Academy of Sciences (PNAS). Looking at six developing nations where forests are recovering—instead of receding—the study found only one of them did not outsource deforestation to meet local demand for wood-products and food, a process known as 'leakage'.


Assessing Tropical Butterfly Communities When Time Is Short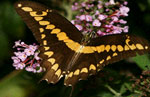 (03/23/2009) Butterflies can be used to quickly assess the conservation value of an area, report researchers writing in the journal Tropical Conservation Science. Timothy Bonebrake of Stanford University and Rubén Sorto of SalvaNATURA managed to sample 40-60% of the butterfly community in Playa El Icacal, El Salvador in just nine days. In the process, they identified areas in the region that hold the most conservation value.


Can remittances and globalization help the environment?

(09/05/2007) Globalization and other economic trends appear to be helping the degraded forests of El Salvador recover, reports new research that evaluated the impact of global trade, land policy changes, and remittances on forest cover. The study, by Susanna B. Hecht of University of California at Los Angeles and Sassan S. Saatchi of the California Institute of Technology, used socioeconomic data, land-use surveys, and satellite imagery to document significant increases in the area of El Salvador covered by both light woodlands and forest since peace accords were signed in the warn-torn country in 1992.


Forest fires burn in Central America

(04/10/2006) Hundreds of fires are burning across Central America according to NASA satellite images and reports from the ground. Fires have been detected in Mexico, Guatemala, El Salvador, Honduras, and Nicaragua.


Red Tide Causes Sea Turtle Die-Off in El Salvador

(03/23/2006) A Red Tide event that occurred off the coast of El Salvador late last year directly caused the deaths of some 200 sea turtles, according to test results released today by the Wildlife conservation Society (WCS) and other organizations.


Poor aid response to storm damage in Central America

(10/05/2005) Tropical storm Stan has killed more than 120 people across Central America, including more than 60 in El Salvador and 50 in Guatemala, but international aid has been slow to arrive in the aftermath of hurricane Katrina.


El Salvador's tropical storm damage worsened by deforestation

(10/04/2005) Heavy rains and mudslides from Tropical Storm Stan have killed at least 30 people in El Salvador. Widespread deforestation has worsened in the impact of the storm by leaving barren hillsides vulnerable to mudslides and rivers susceptible to flooding.