News articles on Desertification

---
Mongabay.com news articles on Desertification in blog format. Updated regularly.






How termites hold back the desert
(02/05/2015) Some termite species erect massive mounds that look like great temples springing up from the world's savannas and drylands. But aside from their aesthetic appeal—and incredible engineering—new research in Science finds that these structures do something remarkable for the ecosystem: they hold back the desert.
How locals and conservationists saved the elephants of Mali amidst conflict and poverty
(04/02/2014) At a time when Africa's elephants are facing a relentless poaching crisis, one community has managed to safeguard their elephants in the most unlikely of places: Mali. In a country that has suffered from widespread poverty, environmental degradation, and, most recently, warfare, a collaboration between conservationists and the local community has kept Mali's elephants from extinction.
Nearly a million people face food crisis in Niger

(05/13/2013) Around 800,000 people in Niger face food insecurity in coming months, according to the UN's Office for the Co-ordination of Humanitarian Affairs (OCHA). Rising food prices and refugees from Mali, which is plagued by conflict, have made access to food difficult in the west African country.
Top security official in Nigeria blames climate change for worsening insecurity

(04/25/2013) Climate change is in part to blame for rising conflict and crime in Nigeria, according to the president's National Security Advisor, Colonel Sambo Dasuki. Speaking to the House Committee on Climate Change, Dasuki said that the rise of Boko Haram insurgents, a jihadist group in northern Nigeria, and worsening crime was linked to climate change reports All Africa.
Scientists give world leaders 'Fs' on climate change, biodiversity, and desertification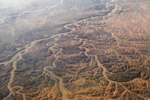 (06/19/2012) It seems world leaders may need to retake environmental studies. As the Rio+20 Summit on Sustainable Development opens, the scientific journal, Nature, has evaluated the progress made on three treaties signed at the Rio Earth Summit in 1992: climate change, biodiversity decline, and desertification. Unfortunately the publication gives progress on all three treaties an 'F', highlighting how little progress has been made on the global environmental crisis.
The vanishing Niger River imperils tourism and livelihoods in the desert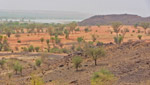 (06/04/2012) Severely affected by recent turmoil across its northern frontiers, Nigerien tourism pins hope on river valley attractions to play a major role in rebuilding its tourism industry in the upcoming years. Even though the river itself is threatened. Located in the heart of the Sahel Region, the vast desert lands of Niger have captivated European tourists seeking a taste of its immensely varied natural landscapes.
Want water? save forests

(03/21/2011) The UN-backed Collaborative Partnership on Forests (CPF) is urging nations to conserve their forests in a bid to mitigate rising water scarcity problem.
Great Green Wall gets go ahead

(02/28/2011) Spanning the entire continent of Africa, including 11 nations, the Great Green Wall (GGW) is an ambitious plan to halt desertification at the Sahara's southern fringe by employing the low-tech solution of tree planting. While the Great Green Wall was first proposed in the 1980s, the grand eco-scheme is closer to becoming a reality after being approved at an international summit last week in Germany as reported by the Guardian.
Desertification threatens 38 percent of the world

(02/10/2010) Over one third of the world's land surface (38 percent) is threatened with desertification, according to a new study published in theInternational Journal of Life Cycle Assessment. The study found that eight of fifteen eco-regions are threatened by desertification, including coastal areas, the prairies, the Mediterranean region, the savannah, the temperate steppes, the temperate deserts, tropical and subtropical steppes, and the tropical and subtropical deserts.
Pope Benedict: environmental crisis requires review of world's economic model

(12/15/2009) Pope Benedict XVI has released a message linking world peace with preserving the environment for the World Day of Peace, which will be held on January 1st 2010. In it Benedict calls for a "long-term review" of the world's current economic model, including "[moving] beyond a purely consumerist mentality" and encouraging a more "sober lifestyle".
Mirrors in the desert may fight global warming

(12/23/2008) Heat reflecting sheets in arid regions could cool climate by increasing Earth's reflectivity or albedo, argue scientists writing in the International Journal of Global Environmental Issues.
Global warming will hurt migratory birds
(05/07/2007) 84 percent of migratory birds have the potential to be affected by climate change warned the United Nations Monday. Lowered water tables, changes in food supplies and prey range, rising sea levels, and increased storm frequency are the greatest threats to birds, said officials with the African Eurasian Migratory Waterbirds Agreement (AEWA) and the Convention on Migratory Species (CMS), two United Nations Environment Programme (UNEP)-led Treaties for the conservation of wildlife.
Looming desertification could spawn millions of environmental refugees

(12/14/2006) Africa may be able to feed just 25% of its population by 2025 if soil degradation on the continent continues at its current pace, according to a water expert presenting at an upcoming United Nations University (UNU) conference on desertification in Algiers, Algeria. Karl Harmsen, Director of UNU's Ghana-based Institute for Natural Resources in Africa, says that should soil conditions continue to decline in Africa, nearly 75% of the continent could come to rely on some sort of food aid by 2025.
Disappearing drylands spell trouble says UN

(03/21/2006) According to the United Nations, the continuing degradation of the world'apos;apos;s dryland ecosystems is threatening biodiversity and worsening poverty around the globe. In an effort to bring attention to the dire condition of these important lands, which cover almost half the planet'apos;apos;s land surface, the world organization has proclaimed 2006 the International Year of Deserts and Desertification.