News articles on Costa Rica

---
Mongabay.com news articles on Costa Rica in blog format. Updated regularly.






Ant surprises on Murciélago Islands in Costa Rica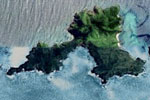 (06/28/2011) The Murciélago Islands are seven small islands off the northwest coast of Costa Rica in the Area de Conservación Guanacaste (ACG), home to one of the largest intact dry tropical forests in Central America. Despite this, few scientists have studied the biodiversity of these small uninhabited islands. A new study in the open access journal Tropical Conservation Science has attempted to rectify this gap by conducting the first survey of insects, specifically ants, on the islands. Researchers were surprised at the richness of ant species on the island: 50 species were documented, only two of which were invasive species.
Environment versus economy: local communities find economic benefits from living next to conservation areas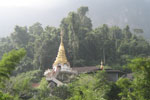 (06/12/2011) While few would question that conserving a certain percentage of land or water is good for society overall, it has long been believed that protected areas economically impoverish, rather than enrich, communities living adjacent to them. Many communities worldwide have protested against the establishment of conservation areas near them, fearing that less access and increased regulations would imperil their livelihoods. However, a surprising study overturns the common wisdom: showing that, at least in Thailand and Costa Rica, protected areas actually boost local economies and decrease poverty.
Amazon still neglected by researchers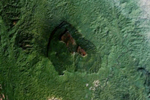 (03/28/2011) Although the Amazon is the world's largest tropical forest, it is not the most well known. Given the difficulty of access along with the fear of disease, dangerous species, indigenous groups, among other perceived perils, this great treasure chest of biology and ecology was practically ignored by scientists for centuries. Over the past few decades that trend has changed, however even today the Amazon remains lesser known than the much smaller, and more secure, tropical forests of Central America. A new study in mongabay.com's open access journal Tropical Conservation Science, which surveyed two prominent international tropical ecology journals (Biotropica and Journal of Tropical Ecology) between 1995 and 2008, finds that Central America was the subject of twice as many studies as the Amazon. In fact, according to the authors, much of the Amazon remains terra incognito to researchers, even as every year more of the rainforest is lost to human impacts.
Good stewards of forests at home outsource deforestation abroad

(11/24/2010) As more nations adopt better laws and policies to save and restore forests at home, they may, in fact, be outsourcing deforestation to other parts of the world, according to a new study in the Proceedings of the National Academy of Sciences (PNAS). Looking at six developing nations where forests are recovering—instead of receding—the study found only one of them did not outsource deforestation to meet local demand for wood-products and food, a process known as 'leakage'.
Photos: ants take top prize at Veolia Wildlife Environment Photography contest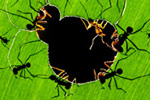 (10/21/2010) An image of nocturnal ant silhouettes systematically devouring a leaf in Costa Rica has given Hungarian photographer, Bence Máté, the much-coveted Veolia Wildlife Environment Photographer of the Year award. In addition to being named Photographer of the year, Máté also won the Erik Hosking award, given to a young photographer (ages 18-26) for a portfolio of images, for images taken in Costa Rica, Brazil, and Hungary.
Photos: world's top ten 'lost frogs'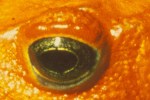 (08/09/2010) The International Union for the Conservation of Nature (IUCN) and Conservation International (CI) have sent teams of researchers to 14 countries on five continents to search for the world's lost frogs. These are amphibian species that have not been seen for years—in some cases even up to a century—but may still survive in the wild. Amphibians worldwide are currently undergoing an extinction crisis. While amphibians struggle to survive against habitat loss, climate change, pollution, and overexploitation, they are also being wiped out by a fungal disease known as chytridiomycosis.
Inga alley cropping: a sustainable alternative to slash and burn agriculture

(06/14/2010) It has been estimated that as many as 300 million farmers in tropical countries may take part in slash and burn agriculture. A practice that is environmentally destructive and ultimately unstable. However, research funded by the EEC and carried out in Costa Rica in the late 1980s and early 1990s by Mike Hands offers hope that it is possible to farm more successfully and sustainably in these tropical regions.
How an agricultural revolution could save the world's biodiversity, an interview with Ivette Perfecto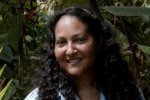 (05/04/2010) Most people who are trying to change the world stick to one area, for example they might either work to preserve biodiversity in rainforests or do social justice with poor farmers. But Dr. Ivette Perfecto was never satisfied with having to choose between helping people or preserving nature. Professor of Ecology and Natural Resources at the University of Michigan and co-author of the recent book Nature's Matrix: The Link between Agriculture, Conservation and Food Sovereignty, Perfecto has, as she says, "combined her passions" to understand how agriculture can benefit both farmers and biodiversity—if done right.
How tree communities respond to distance to edges and canopy openness

(12/06/2009) Tropical forests frequently experience the opening and closing of canopy gaps as part of their natural dynamics. When an edge is created, and the area outside the boundary is a disturbed or unnatural system, forests can be seriously affected even at some distance from the fragmented edge, since sunlight and wind penetrate to a much greater extent. This increases tree mortality and, consequently, canopy openness close to the edge. Thus, canopy openness can be both part of a natural gap-dynamics cycle and the direct manifestation of human edge effects.
Costa Rica proposes to downgrade Las Baulas National Park, threatening leatherback sea turtles
(11/11/2009) Costa Rica is considered by many to be a shining example of environmental stewardship, preserving both its terrestrial and marine biodiversity while benefiting from being a popular tourist location. However, a new move by the Costa Rican government has placed their reputation in question. In May of this year the President of Costa Rica, Oscar Arias, presented a law to the legislature that would downgrade Las Baulas from a National Park to a 'mixed property wildlife refuge'. The downgrading would authorize a number of development projects that conservationists say would threaten the park's starring resident: the leatherback turtle.
Protection of land crabs critical to the conservation of coastal tropical forests

(07/13/2009) The impact of land crabs on the near-ocean forests in which they live has long been overlooked, with emphasis placed instead on water levels, salinity, and other abiotic influences. However, a new research synthesis published in Biological Reviews shows that land crab influence is among the most important factors affecting tropical forest growth along coasts, on islands, and in mangroves.
Conservation through commerce in Costa Rica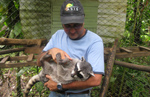 (05/25/2009) While Costa Rica is lauded for its conservation ethic, environmental concerns remain in the country. Overdevelopment is tied to many issues, including pollution, degradation of ecosystems, deforestation, and soil erosion, while unsustainable fishing plagues coastal waters. Costa Rica's wildlife is also directly affected by hunting as crop and livestock pests, predation and displacement by introduced species, and the illegal pet trade.
Infant blue whale filmed underwater

(03/06/2009) Off the waters of Costa Rica in January 2008 scientists and photographers with National Geographic filmed an infant blue whale swimming near its mother. They believe this is the first time a baby blue whale has been filmed underwater.
Biologists attacked in Costa Rica

(08/12/2008) Two ornithologists were attacked by a machete-weilding group while surveying birds in Costa Rica, reports National Geographic.
7 steps to solve the global biodiversity crisis

(08/11/2008) Many biologists believe Earth is entering a sixth mass extinction event, one that has is the direct of human activities, including over-exploitation, habitat destruction and introduction of alien species and pathogens. Climate change — largely driven by anthropogenic forces — is expected to soon increase pressure on Earth's biodiversity. With population and per-capita consumption expected to grow significantly by the mid 21st century, there seems little hope that species loss can be slowed. Nevertheless, writing in the journal PNAS, Stanford biologists Paul R. Ehrlich and Robert M. Pringle suggest seven steps to help improve the outlook for the multitude of species that share our planet.
New Costa Rica guide offers insight on responsible tourism

(08/04/2008) Costa Rica is the world's most popular destination for rainforest tourism thanks to its spectacular biodiversity, relative ease-of-access and safety, and many natural attractions. In 2007 nearly 2 million tourists visited the country, generating almost 2 billion in revenue -- more than the combined income from bananas and coffee.
Birds face higher risk of extinction than conventionally thought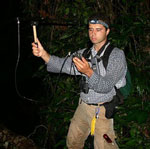 (07/14/2008) Birds may face higher risk of extinction than conventionally thought, says a bird ecology and conservation expert from Stanford University. Dr. Cagan H. Sekercioglu, a senior research scientist at Stanford and head of the world's largest tropical bird radio tracking project, estimates that 15 percent of world's 10,000 bird species will go extinct or be committed to extinction by 2100 if necessary conservation measures are not taken. While birds are one of the least threatened of any major group of organisms, Sekercioglu believes that worst-case climate change, habitat loss, and other factors could conspire to double this proportion by the end of the century. As dire as this sounds, Sekercioglu says that many threatened birds are rarer than we think and nearly 80 percent of land birds predicted to go extinct from climate change are not currently considered threatened with extinction, suggesting that species loss may be far worse than previously imagined. At particular risk are marine species and specialists in mountain habitats.
Regrowing the rainforest

(03/30/2008) Half a century after most of Costa Rica's rainforests were cut down, researchers from the Boyce Thompson Institute took on a project that many thought was impossible - restoring a tropical rainforest ecosystem.
Three salamander species discovered in Costa Rica

(01/06/2008) Scientists from the Natural History Museum of London have discovered three new species of salamander in south-eastern Costa Rica. This brings the nation's total to forty-three species, meaning that this small tropical nation contains approximately nine percent of the world's salamanders.
Study shows that sea turtles can recover

(12/18/2007) conservation of sea turtle nesting sites is paying off for the endangered reptiles, reports a new study published this week in the journal Global Ecology and Biogeography. A team of researchers led researchers from IUCN and conservation International found that green turtle (Chelonia mydas) nesting on four beaches in the Pacific and two beaches in the Atlantic have increased by an four to fourteen percent annually over the past two to three decades as a result of beach protection efforts.
Global warming will significantly increase bird extinctions

(12/06/2007) Where do you go when you've reached the top of a mountain and you can't go back down? It's a question increasingly relevant to plants and animals, as their habitats slowly shift to higher elevations, driven by rising temperatures worldwide. The answer, unfortunately, is you can't go anywhere. Habitats shrink to the vanishing point, and species go extinct. That scenario is likely to be played out repeatedly and at an accelerating rate as the world continues to warm, Stanford researchers say.
Large-scale agriculture 'compromises' forest's ability to recover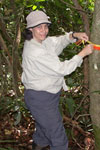 (11/19/2007) As deforestation of tropical forests continues unhindered, one of the future hopes for these damaged ecosystems is regeneration in secondary forests. Some areas that were once slash-and-burned for cattle ranching or subsistence agriculture have been abandoned, allowing scientists to study the possibility of recovery in the rainforest. If anyone has a clear idea of the potential of secondary forests it is Robin L. Chazdon. Dr. Chazdon, a full professor of Ecology and Evolutionary Biology at the University of Connecticut, has been studying the regeneration of secondary forest for over twenty-five years. She has published over 50 papers on tropical ecology, currently she serves as an active member of the Biotropica editorial board and is a member of the Bosques Project, which measures secondary forest recovery in Northern Costa Rica.
Scientists find treatment for killer frog disease

(10/29/2007) New Zealand scientists have found a treatment for a disease blamed for the death of millions of amphibians worldwide, according to a report from BBC News. However, at best, the cure would only be applicable to captive populations. The disease is killing many amphibians in apparently pristine habitats.
Costa Rica gets $26M debt-for-nature swap

(10/18/2007) Under an agreement signed Wednesday by the governments of the United States and environmental groups, $26 million of Costa Rican debt will be forgiven in exchange for tropical forest conservation. The debt-for-nature swap comes under the Tropical Forest conservation Act of 1998, legislation intended to allow eligible developing countries to forego paying back debt owed to the U.S. in exchange for supporting local tropical forest conservation activities.
Do Costa Rica's payments for environmental services work?

(09/17/2007) While Costa Rica is now known as a world leader for conservation policies and ecotourism, the Central American country had some of the world's highest deforestation rates prior to establishing its reputation. Clearing for cattle pasture and agriculture destroyed much of the country's biodiverse rainforests in the 1960s and 1970s.
Two new species of salamander discovered in Panama

(09/09/2007) Scientists have discovered two new species of salamanders from the mountainous Costa Rica-Panama border region. The findings, published by David B. Wake, Jay M. Savage, and James Hanken in the journal Copeia, push the number of salamanders known in the region to 24, making it a hotspot in terms of salamander biodiversity.
"Virgin" rain forests of Costa Rica a misnomer

(07/25/2007) Radiocarbon dating of montane forest soils in Costa Rica uncovered evidence of charcoal that shows its otherwise "virgin" tropical forests are less than 200 years old. The findings, published in the journal Biotropica, have implications for the re-establishment of rain forests after clearing.
Poverty and corruption reduce effectiveness of rainforest parks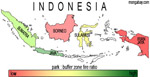 (07/09/2007) Poverty and corruption are linked to higher incidence of fire in tropical forest reserves, reports a new study published in the journal Ecological Applications. Poor, corrupt countries -- like Cambodia, Guatemala, Paraguay, and Sierra Leone -- have the least effective parks when measured in terms of the incidence of fire relative to surrounding "buffer" areas. The findings have significant implications for rainforest conservation efforts.
Coffee plantations may preserve tropical bird species

(06/18/2007) Agricultural areas offer opportunities for conservation in deforested landscapes in the tropics, reports a study published in the April 2007 issue of the journal conservation Biology by Stanford University biologists.
An interview with author and eco-lodge pioneer Jack Ewing

(06/12/2007) In 1970 a young man went to Costa Rica, a place he initially confused with Puerto Rico, on an assignment to accompany 150 head of cattle. 37 years and several lifetimes' worth of adventures later, Jack Ewing runs a eco-lodge that serves as a model for a country now considered the world leader in nature travel.
Stephen Colbert's sea turtle second in race to Galapagos

(04/25/2007) Nearing the end of Great Turtle Race, Stephen Colbert's sea turtle Stephanie Colburtle was in second place, 18 miles behind Billie, a turtle sponsored by Offield Center for Billfish Studies. Billie is just 31 miles from the finish line of the 500-mile race.
AES Corp seeks to flood rainforest World Heritage site
(04/23/2007) American power company AES Corporation seeks to flood sections of Panama's La Amistad World Heritage site, alleges a coalition of more than 30 environmental groups that today filed a petition against the electric utility.
Frogs avoid damaging UV-B radiation, reducing extinction risk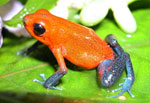 (04/18/2007) Poison arrow frogs appear to make special effort to avoid exposure to damaging ultraviolet-B radiation, according to research published in the journal Biotropica. The findings are significant in light of increasing levels of UV-B radiation due to ozone depletion.
Bad news for frogs; amphibian decline worse than feared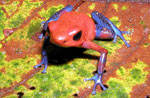 (04/16/2007) Chilling new evidence suggests amphibians may be in worse shape than previously thought due to climate change. Further, the findings indicate that the 70 percent decline in amphibians over the past 35 years may have been exceeded by a sharp fall in reptile populations, even in otherwise pristine Costa Rican habitats. Ominously, the new research warns that protected areas strategies for biodiversity conservation will not be enough to stave off extinction. Frogs and their relatives are in big trouble.
Racing sea turtle named in honor of Stephen Colbert

(04/13/2007) An eleventh turtle named Stephanie Colburtle has joined competitors Yahoo!, Travelocity, Plantronics, West Marine, Dreyer's Ice Cream and other sponsors in The Great Turtle Race, a unique international sea turtle conservation event that will take place online from April 16 to April 29 in a global bid to raise awareness and funds for the critically endangered leatherback turtle.
Pesticides threaten cloud forests in Costa Rica - new study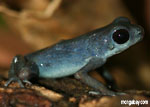 (01/22/2007) Pesticides from coffee and banana cultivation are accumulating in Costa Rica's biodiverse cloud forests according to research published earlier this month in Environmental Science & Technology. The findings have implications for conservation efforts in both the Central American country and in other parts of the world.
Avoided deforestation could send $38 billion to third world under global warming pact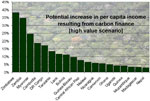 (11/01/2006) Avoided deforestation will be a hot point of discussion at next week's climate meeting in Nairobi, Kenya. Already a coalition of 15 rainforest nations have proposed a plan whereby industrialized nations would pay them to protect their forests to offset greenhouse gas emissions. Meanwhile, last month Brazil -- which has the world's largest extent of tropical rainforests and the world's highest rate of forest loss -- said it promote a similar initiative at the talks. At stake: potentially billions of dollars for developing countries. When trees are cut greenhouse gases are released into the atmosphere -- roughly 20 percent of annual emissions of such heat-trapping gases result from deforestation and forest degradation. Avoided deforestation is the concept where countries are paid to prevent deforestation that would otherwise occur. Policymakers and environmentalists alike find the idea attractive because it could help fight climate change at a low cost while improving living standards for some of the world's poorest people and preserving biodiversity and other ecosystem services. A number of prominent conservation biologists and development agencies including the World Bank and the U.N. have already endorsed the idea.





Brazil proposes compensation plan for rainforest conservation

(10/16/2006) Last month Brazil proposed the establishment of a fund to compensate developing countries that reduce deforestation, a move that follows a similar initiative by a coalition of developing countries led by Papua New Guinea and Costa Rica. The scheme could help cut greenhouse gas emissions that result from forest clearing and conversion. Deforestation currently is responsible for 20-25 percent of such heat-trapping emissions.







Scientists endorse plan to save rainforests through emissions trading

(05/19/2006) The Association for Tropical Biology and conservation (ATBC), the world's largest scientific organization devoted to the study and wise use of tropical ecosystems, has formally endorsed a radical proposal to help save tropical forests through carbon trading. Under the initiative proposed by an alliance of fifteen developing countries led by Papua New Guinea and Costa Rica, tropical nations that show permanent reductions in deforestation would be eligible to receive international carbon funds from industrial nations who could purchase carbon credits to help them meet their emissions targets international climate agreements like the Kyoto Protocol.




Page 1 | Page 2 | Page 3