News articles on Coral Reefs

---
Mongabay.com news articles on Coral Reefs in blog format. Updated regularly.





Pacific islanders are the 'victims of industrial countries unable to control their carbon dioxide emissions'

(05/15/2013) With islands and atolls scattered across the ocean, the small Pacific island states are among those most exposed to the effects of global warming: increasing acidity and rising sea level, more frequent natural disasters and damage to coral reefs. These micro-states, home to about 10 million people, are already paying for the environmental irresponsibility of the great powers.


Samsung admits to using tin linked to child labor, deforestation; Apple mum on sourcing


(04/25/2013) Mobile device giant Samsung has admitted to using tin sourced from a controversial mining operation on the Indonesian island of Bangka, where unregulated mining kills 150 miners a year and causes substantial environmental damage, reports The Guardian and Mongabay-Indonesia.


Double bad: Chinese vessel that collided with protected coral reef holding 22,000 pounds of pangolin meat

(04/15/2013) What do you do when you're smuggling 22,000 pounds of an endangered species on your boat? Answer: crash into a protected coral reef in the Philippines. Last Monday a Chinese vessel slammed into a coral reef in the Tubbataha National Marine Park; on Saturday the Filipino coastguard discovered 400 boxes of pangolin meat while inspecting the ship. Pangolins, which are scaly insect-eating mammals, have been decimated by the illegal wildlife trade as their scales are prized in Chinese Traditional Medicine and their meat is considered a delicacy.


Proposed coal plant threatens Critically Endangered Philippine cockatoo


(04/02/2013) One kilometer off the Philippine island of Palawan lays the Rasa Island Wildlife Sanctuary; here forest grows unimpeded from a coral island surrounded by mangroves and coral reefs. Although tiny, over a hundred bird species have been recorded on the island along with a major population of large flying foxes, while in the waters below swim at least 130 species of coral fish, three types of marine turtles, and that curious-looking marine mammal, dugongs. Most importantly, perhaps, the island is home to the world's largest population of Philippine cockatoos (Cacatua haematuropygia), currently listed as Critically Endangered. But, although uninhabited by people, Rasa Island may soon be altered irrevocably by human impacts.


Warnings of global ecological tipping points may be overstated


(03/05/2013) There's little evidence that the Earth is nearing a global ecological tipping point, according to a new Trends in Ecology and Evolution paper that is bound to be controversial. The authors argue that despite numerous warnings that the Earth is headed toward an ecological tipping point due to environmental stressors, such as habitat loss or climate change, it's unlikely this will occur anytime soon—at least not on land. The paper comes with a number of caveats, including that a global tipping point could occur in marine ecosystems due to ocean acidification from burning fossil fuels. In addition, regional tipping points, such as the Arctic ice melt or the Amazon rainforest drying out, are still of great concern.


Typhoon Bopha decimated coral reefs


(01/24/2013) When Typhoon Bopha, also known as Pablo, ran ashore on Mindanao, it was the largest tropical storm it ever hit the Philippine island. In its wake the massive superstorm left over 1,000 people were dead and 6.2 million affected with officials saying illegal logging and mining worsened the scale of the disaster. However, the Category 5 typhoon also left a trail of destruction that has been less reported: coral reefs.


Photos: Mozambique creates Africa's biggest marine protected area


(11/13/2012) Last week, the East African nation of Mozambique announced it was protecting 10,411 square kilometers (4,020 square miles) of coastal marine waters, making the new Marine Protected Area (MPA) the biggest on the continent. The protected area, dubbed the Primeiras and Segundas Archipelago ("First" and "Second" islands), includes ten islands as well as mangrove forests, rich coral reefs, and seagrass ecosystems.


Threatened Galapagos coral may predict the future of reefs worldwide


(11/07/2012) The Galapagos Islands have been famous for a century and a half, but even Charles Darwin thought the archipelago's list of living wonders didn't include coral reefs. It took until the 1970s before scientists realized the islands did in fact have coral, but in 1983, the year the first major report on Galapagos reef formation was published, they were almost obliterated by El Niño. This summer, a major coral survey found that some of the islands' coral communities are showing promising signs of recovery. Their struggle to survive may tell us what is in store for the rest of the world, where almost three-quarters of corals are predicted to suffer long-term damage by 2030.


Great Barrier Reef loses half its coral in less than 30 years


(10/01/2012) The Great Barrier Reef has lost half of its coral cover in the last 27 years, according to a new study released today in the Proceedings of the National Academy of Sciences (PNAS). Based on over 2,000 surveys from 1985 to this year the study links the alarming loss to three impacts: tropical cyclone damage, outbreaks crown-of-thorns starfish that devour corals, and coral bleaching.


Coral diversity off Madagascar among the world's highest


(09/24/2012) The western Indian Ocean, especially the waters between Madagascar and mainland Africa, may be among the world's most biodiverse for coral species, according to a new study in PLOS ONE. Conducting dive surveys in the region for nearly a decade, David Obura with the Coastal Oceans Research and Development in the Indian Ocean (CORDIO) identified 369 coral species in the western Indian Ocean and predicts there may be nearly another 100 unidentified. If so, this would make the region as biodiverse as the Great Barrier Reef, but still behind the Coral Triangle which has over 600 species.


Coral reefs in Caribbean on life support

(09/11/2012) Only 8 percent of the Caribbean's reefs today retain coral, according to a new report by the International Union for Conservation of Nature (IUCN). With input and data from 36 scientists, the report paints a bleak picture of coral decline across the region, threatening fisheries, tourism, and marine life in general.


Deforestation is killing Madagascar's coral reefs

(09/05/2012) Sediment carried by rivers draining deforested areas in Madagascar is smothering local coral reefs, increasing the incidence of disease and suppressing growth, report new studies.


Coral calcification rates fall 44% on Australia's Great Barrier Reef

(09/04/2012) Calcification rates by reef-building coral communities on Australia's Great Barrier Reef have slowed by nearly half over the past 40 years, a sign that the world's coral reefs are facing a grave range of threats, reports a new study published in the Journal of Geophysical Research - Biogeosciences.


Strangest island in the Caribbean may be a sanctuary for critically endangered coral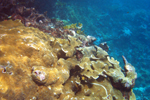 (07/16/2012) Don't feel bad if you've never heard of Navassa Island, even though it's actually part of the U.S. according to the Guano Islands Act of 1856. This uninhabited speck between Haiti and Jamaica, barely bigger than New York City's Central Park, has a bizarre and bloody history—and may be a crucial refuge for endangered coral in the Caribbean.


Indonesia green news: 70% of Indonesia's coral reefs damaged; Authorities exploring corruption charges in Tripa

(07/15/2012) 70 percent of Indonesia's coral reefs have some degree of damage found an assessment by the Indonesian Institute of Sciences (Lembaga Ilmu Pengetahuan Indonesia or LIPI). Coral reef monitoring carried out in 77 regions across Indonesia found only 30 percent of the archipelago's coral reefs are in good condition. 37 percent have low levels of damage, while a third are severely damaged. Reef damage is caused by a variety of factors including explosive fishing, mining waste, and bleaching driven by global warming.


2,600 scientists: climate change killing the world's coral reefs


(07/10/2012) In an unprecedented show of concern, 2,600 (and rising) of the world's top marine scientists have released a Consensus Statement on Climate Change and Coral Reefs that raises alarm bells about the state of the world's reefs as they are pummeled by rising temperatures and ocean acidification, both caused by greenhouse gas emissions. The statement was released at the 12th International Coral Reef Symposium.


Indonesia eco-newswrap: farmers threaten to immolate themselves over plantation plan

(06/28/2012) Pulau Island farmers are threatening to immolate themselves after the Indonesian Ministry of Forestry has ignored their request to stop a part of their island from being converted into eucalyptus plantations by PT Riau Andalan Pulp and Paper. A letter from the farmers, who are members of the Riau Farmer Union, to Indonesian President Susilo Bambang Yudhoyono received no response, and the activists say 10 of them will travel to the presidential palace in Jakarta on June 25 and burn themselves alive in protest.


'Time pollution': loss of predators pushes nocturnal fish to take advantage of the day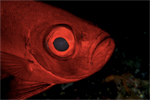 (06/25/2012) Nocturnal fish—which sport big eyes for improved night vision—are taking back the day in the coral reefs of the Tabuaeran Atoll, according to a new study in the open-access journal PLoS ONE. Overfishing has plundered the Pacific atoll of many of its notable predators, including sharks and barracudas, causing ripple effects through the ecosystem. One of these emerging changes appears to be that with less fear of being eaten, nocturnal fish are increasingly venturing out during the day.


Australia sets aside 40 percent of its waters for protection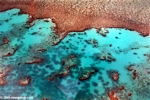 (06/14/2012) In an announcement to coincide with the beginnings of the UN's Rio+20 Summit on Sustainable Development, Australia has announced ambitious plans to protect 3.1 million square kilometers (1.19 million square miles) of its ocean, including the Coral Sea. If enacted, the proposition will increase Australia's marine protected areas from 27 to 60, covering about 40 percent of Australia's waters.


Forgotten Species: the wonder-inducing giant clam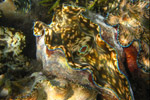 (06/11/2012) The first time I ever saw a giant clam was at a ride in Walt Disney World's Magic Kingdom. My family and I piled into the Nautilus submersible at the 20,000 Leagues Under the Sea: Submarine Voyage and descended into the playtime depths. While we saw sea turtles, sharks, lobsters, mermaids, and even a sea monster, the creature that lingered in my mind most was the giant clam, raising and closing its pearly shell in the weedy abyss. Of course, none of these aquatic wonders were real—they were animatronics—but to a child with a vivid imagination they stirred within me the deep mystery of the boundless ocean, and none more so than that monstrous clam with its gaping maw.


Nearly 2,000 fish species traded in U.S. tropical aquarium market

(05/24/2012) The U.S. tropical aquarium market poses problems and opportunities for conservation, according to a landmark study published in the open-access journal PLoS ONE. The study reviewed import records in the U.S. for one year (2004-2005) and found that over 11 million wild tropical fish from 1,802 species were imported from 40 different countries. While the number of fish species targeted surprised researchers, the total amount of fish imported was actually less than expected.


Educating the next generation of conservation leaders in Colombia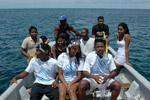 (05/14/2012) Colombia's northern departments of Cordoba and Bolivar are home to an abundance of coral reefs, estuaries, mangroves forests, and forests. Rich in both marine and terrestrial wildlife, local communities depend on the sea and land for survival, yet these ecosystems are imperiled by booming populations, overexploitation, and unsustainable management. Since 2007, an innovative education program in the region, the Guardians of Nature, has worked to teach local children about the ecology of the region, hoping to instill a conservation ethic that will aid both the present and the future.


Carnage in Komodo: world-famous reef destroyed by poachers' bombs

(04/25/2012) Illegal fishermen have been utilizing homemade bombs to kill fish off the coast of Komodo Island, Indonesia, reports the Associated Press (AP); the bombs have not only injured fish populations in the protected area, but has also blasted biodiverse coral reefs popular with tourists. A scuba teacher told the AP that a section of Tatawa Besar coral reef, a popular diving spot, had been "blasted, ripped off, turned upside down."


Featured video: Google Earth highlights imperiled coral reefs around the world

(04/18/2012) A new video by Google Earth and the World Resources Institute (WRI) highlights the world's many endangered coral reefs. A part of the WRI's Reefs at Risk program, the video highlights regional and global threats to the oceans' most biodiverse ecosystem. According to the WRI, a stunning 75 percent of the world's reefs are currently threatened.


Carbon emissions paving way for mass extinction in oceans

(03/05/2012) Human emissions of carbon dioxide may be acidifying the oceans at a rate not seen in 300 million years, according to new research published in Science. The ground-breaking study, which measures for the first time the rate of current acidification compared with other occurrences going back 300 million years, warns that carbon emissions, unchecked, will likely lead to a mass extinction in the world's oceans. Acidification particularly threatens species dependent on calcium carbonate (a chemical compound that drops as the ocean acidifies) such as coral reefs, marine mollusks, and even some plankton. As these species vanish, thousands of others that depend on them are likely to follow.


Scientists recommend marine protected areas for Madagascar

(02/27/2012) With the government of Madagascar planning to increase marine protected areas by one million hectares, a group of researchers have laid out flexible recommendations in a new study in the open access journal PLoS ONE. The researchers employed four different analyses in order to highlight a number of different conservation options, however the different analyses pointed to the need to protect certain areas with high biodiversity, including the Barren Islands' reefs, the reefs of Juan de Nova, the Banc de Leven, and the shallow banks of the Cap Sainte Marie.


Acid oceans: in some regions acidification a 'hundred times greater' than natural variation

(01/24/2012) Emissions of carbon over the last two centuries have raised the acidity of the oceans to the highest levels in 21,000 years and likely beyond, according to a new study in Nature Climate Change. The change threatens a number of marine species, including coral reefs and molluscs.


Photos: program devoted to world's strangest, most neglected animals celebrates five years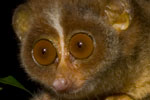 (01/16/2012) What do Attenborough's echidna, the bumblebee bat, and the purple frog have in common? They have all received conservation attention from a unique program by the Zoological Society of London (ZSL) called EDGE. Five years old this week, the program focuses on the world's most unique and imperiled animal species or, as they put it, the most Evolutionarily Distinct and Globally Endangered (EDGE) species. In the past five years the program has achieved notable successes from confirming the existence of long unseen species (Attenborough's echidna) to taking the first photos and video of a number of targeted animals (the purple frog).


Researchers challenge idea that marine reserves promote coral recovery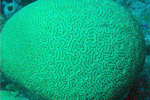 (11/09/2011) Fleshy whorls of thick brown algae blanket the once-vibrant corals in Glover's Reef, Belize. According to a controversial study published August 14 in the journal Coral Reefs, a decade of marine reserve protection has failed to help these damaged Caribbean corals recover.


Unanimous agreement among scientists: Earth to suffer major loss in species


(11/09/2011) The thylacine, the dodo, the great auk, the passenger pigeon, the golden toad: these species have become symbols of extinction. But they are only the tip of the recent extinction crisis, and according to a survey of 583 conservation scientists, they are only the beginning. In a new survey in Conservation Biology, 99.5 percent of conservation scientists said a serious loss in biodiversity was either 'likely', 'very likely', or 'virtually certain'. The prediction of a significant loss of species is not surprising—scientists have been warning for decades that if global society continues with business as usual the world will suffer from mass extinction—what is perhaps surprising is the practically unanimous expectation that a global biodiversity decline will occur.


Coral reef biodiversity may be vastly underestimated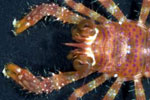 (11/03/2011) Researchers with the Smithsonian have catalogued almost as many crab species on tropical coral reef bits measuring just 20.6 square feet (6.3 square meters) as in all of Europe's seas, finds a new paper in PLoS ONE. The team used DNA barcoding to quickly identify a total of 525 crustaceans (including 168 crab species) from dead coral chunks taken from seven sites in the tropics, including the Indian, Pacific and Caribbean oceans.


Pictures: Turquoise 'dragon' among 1,000 new species discovered in New Guinea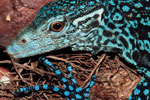 (06/27/2011) Scientists discovered more than 1,000 previously unknown species during a decade of research in New Guinea, says a new report from WWF. While the majority of 1,060 species listed are plants and insects, the inventory includes 134 amphibians, 71 fish, 43 reptiles, 12 mammals, and 2 birds. Among the most notable finds: a woolly giant rat, an endemic subspecies of the silky cuscus, a snub-fin dolphin, a turquoise and black 'dragon' or monitor lizard, and an 8-foot (2.5-m) river shark.


Ocean prognosis: mass extinction


(06/20/2011) Multiple and converging human impacts on the world's oceans are putting marine species at risk of a mass extinction not seen for millions of years, according to a panel of oceanic experts. The bleak assessment finds that the world's oceans are in a significantly worse state than has been widely recognized, although past reports of this nature have hardly been uplifting. The panel, organized by the International Program on the State of the Ocean (IPSO), found that overfishing, pollution, and climate change are synergistically pummeling oceanic ecosystems in ways not seen during human history. Still, the scientists believe that there is time to turn things around if society recognizes the need to change.


Google Earth used to identify marine animal behavior

(06/14/2011) From the all-seeing eye of Google Earth, one can spy the tip of Mount Everest, traffic on 5th Avenue in Manhattan, and the ruins of Machu Picchu, but who would have guessed everyone's favorite interactive globe would also provide marine biologists a God's-eye view of fish behavior? Well, a new study in the just-launched Scientific Reports has discovered visible evidence on Google Earth of the interactions between marine predators and prey in the Great Barrier Reef.


Picture: Fluorescent lizardfish, glowing reefs in Fiji

(06/06/2011) The Wildlife Conservation Society (WCS) and other partners are currently exploring a remote coral reef off Fiji's Totoya Island.


Is Indonesia losing its most valuable assets?


(05/16/2011) Deep in the rainforests of Malaysian Borneo in the late 1980s, researchers made an incredible discovery: the bark of a species of peat swamp tree yielded an extract with potent anti-HIV activity. An anti-HIV drug made from the compound is now nearing clinical trials. It could be worth hundreds of millions of dollars a year and help improve the lives of millions of people. This story is significant for Indonesia because its forests house a similar species. In fact, Indonesia's forests probably contain many other potentially valuable species, although our understanding of these is poor. Given Indonesia's biological richness — Indonesia has the highest number of plant and animal species of any country on the planet — shouldn't policymakers and businesses be giving priority to protecting and understanding rainforests, peatlands, mountains, coral reefs, and mangrove ecosystems, rather than destroying them for commodities?


What does Nature give us? A special Earth Day article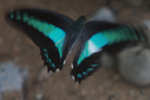 (04/22/2011) There is no question that Earth has been a giving planet. Everything humans have needed to survive, and thrive, was provided by the natural world around us: food, water, medicine, materials for shelter, and even natural cycles such as climate and nutrients. Scientists have come to term such gifts 'ecosystem services', however the recognition of such services goes back thousands of years, and perhaps even farther if one accepts the caves paintings at Lascaux as evidence. Yet we have so disconnected ourselves from the natural world that it is easy—and often convenient—to forget that nature remains as giving as ever, even as it vanishes bit-by-bit. The rise of technology and industry may have distanced us superficially from nature, but it has not changed our reliance on the natural world: most of what we use and consume on a daily basis remains the product of multitudes of interactions within nature, and many of those interactions are imperiled. Beyond such physical goods, the natural world provides less tangible, but just as important, gifts in terms of beauty, art, and spirituality.


Coral crisis: 75% of the world's coral reefs in danger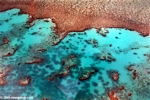 (02/23/2011) Marine scientists have been warning for years that coral reefs, the most biodiverse ecosystems in the ocean, are facing grave peril. But a new comprehensive analysis by the World Resources Institute (WRI) along with twenty-five partners ups the ante, finding that 75% of the world's coral reefs are threatened by local and global impacts, including climate change. An updating of a 1996 report, the new analysis found that threats had increased on 30% of the world's reefs. Clearly conservation efforts during the past decade have failed to save reefs on a large-scale.


Australia's floods threaten Great Barrier Reef

(01/18/2011) The floods ransacking the Queensland coast have cost 20 lives and $500 million worth of property damage. Now, huge volumes of water are pouring into the ocean, threatening the Great Barrier Reef, which extends for thousands of kilometers off the coast. Although it may take years to know the full consequences of the flooding, Australian scientists are already warning of serious damage. For now, the biggest problems are concentrated on the southern part of the reef, where three overflowing rivers—the Burdekin, the Fitzroy, and the Burnett—have released millions of gallons of heavily polluted water into the sea. So far, prevailing winds have confined the majority of the floodwaters to within 65 kilometers of shore. But in time, the damage may grow to affect the entire reef system.


Photos: Scientists race to protect world's most endangered corals

(01/11/2011) As corals around the world disappear at alarming rates, scientists are racing to protect the ones they can. At a workshop led by the Zoological Society of London (ZSL), the world's foremost coral experts met in response to a decade of unprecedented reef destruction to identify and develop conservation plans for the ten most critically endangered coral species.


Atlantic ocean warming confirmed by corals

(01/05/2011) A new study investigating the ability of coral to record sea temperatures indicates that the Northwestern Atlantic has experienced unprecedented warming during the past 150 years.


'Environmental and social aggression': oil exploration threatens award-winning marine protected area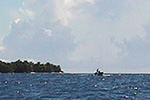 (12/01/2010) The Seaflower Marine Protected Area (MPA), which recently won top honors at the Convention on Biological Diversity (CBD) in Japan, is now under threat by planned oil exploration in the region, according to the Providence Foundation which is devoted to protecting the area. Proposed blocs for exploration by the Colombian government lie in the North Cays adjacent to the park, and perhaps even inside MPA boundaries. Spreading over 65,000 square kilometers (6.5 million hectares), Seaflower MPA lies within the Colombian Caribbean department known as the Archipelago of San Andres, Old Providence and Santa Catalina. This richly diverse Archipelago is home to a known 57 coral species, over 400 fish, and some 150 birds, as well as the ethnic and cultural minority: the Raizal people. The prospect of massive infrastructure or, even worse, oil spills in the area could devastate the park and locals' livelihoods.


Beyond gloom: solutions to the global coral reef decline

(11/10/2010) The world's coral reefs are in trouble. Due to a variety of factors—including ocean acidification, warming temperatures from climate change, overfishing, and pollution—coral cover has decline by approximately 125,000 square kilometers in the past 50 or so years. This has caused some marine biologists, like Charlie Veron, Former Chief Scientist of the Australian Institute of Marine Science, to predict that coral reefs will be largely extinguished within a century. This year alone, large-scale coral bleaching events, whereby coral lose their symbiotic protozoa and become prone to disease and mortality, were seen off the coasts of Indonesia, the Philippines, and some Caribbean islands. However a new paper in Trends in Ecology and Evolution attempts to dispel the gloom over coral reefs by pointing to strategies, and even some successes, to save them.


Carbon emissions hurting coral recruitment

(11/08/2010) While research has shown that ocean acidification from rising CO2 levels in the ocean imperils the growth and survival mature coral reefs, a new study has found that it may also negatively impact burgeoning corals, by significantly lowering the success of coral recruitment. A study in the Proceedings of the National Academy of Sciences (PNAS) has found that coral recruitment could fall by 73% over the next century due to increasing acidification.


Will biodiversity agreement save life on Earth?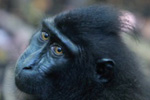 (11/07/2010) On Friday, October 29th, 193 member nations of the Convention on Biological Diversity (CBD) reached a possibly landmark agreement on saving the world's suffering biodiversity in Nagoya, Japan. The agreement was especially notable after nations failed—by all accounts—to live up to the goals from the previous CBD agreement, including stemming the global loss of biodiversity by 2010. According to scientists, the world's species continue to vanish at mass-extinction rates due to habitat loss, deforestation, overconsumption, pollution, climate change, and invasive species. To addresses this crisis the new CBD agreement sets out 20 goals for 2020. But given the global challenges in saving the world's species and the lack-of-teeth in agreement (it is strictly voluntary), will the CBD make a difference or in ten years time will goals be again unmet and life on planet Earth worse off than ever? To answer this mongabay.com turned to a number of experts in the conservation world.


Colombian marine reserve receives top honors at global biodiversity meeting

(10/20/2010) Coralina, a Colombian government agency that established the Seaflower Marine Protected Area (MPA) with local community involvement, is being heralded today by the Convention on Biological Diversity (CBD) in Nagoya, Japan. Proving that conservation and sustainable economic opportunities can go hand-in-hand, Coralina was instrumental in creating a marine park that protects nearly 200 endangered species while providing sustainable jobs for local people in the Western Caribbean Colombian department of Archipelago of San Andrés, Old Providence and Santa Catalina. Coralina was one of over 1,000 agencies and organizations that are apart of the Countdown 2010 program, which highlights effective action to save species at the CBD.


Groundbreaking research shows that rainforests and coral reefs create rainfall #BAD10

(10/15/2010) Coral reefs and rainforests seem to have little in common beyond the fact that they are both hotspots of diversity, yet groundbreaking research is showing how these different ecosystems—when intact—may actually seed clouds and produce rainfall.


Losing nature's medicine cabinet


(10/04/2010) In all the discussions of saving the world's biodiversity from extinction, one point is often and surprisingly forgotten: the importance of the world's species in providing humankind with a multitude of life-saving medicines so far, as well as the certainty that more vital medications are out there if only we save the unheralded animals and plants that contain cures unknown. Already, species have provided humankind everything from quinine to aspirin, from morphine to numerous cancer and HIV-fighting drugs. "As the ethnobotanist Dr. Mark Plotkin commented, the history of medicine can be written in terms of its reliance on and utilization of natural products," physician Christopher Herndon told mongabay.com. Herndon is co-author of a recent paper in the journal Biotropica, which calls for policy-makers and the public to recognize how biodiversity underpins not only ecosystems, but medicine.


Colossal coral bleaching kills up to 95 percent of corals in the Philippines

(09/23/2010) It is one of the most worrisome observations: fast massive death of coral reefs. A severe wide-scale bleaching occurred in the Philippines leaving 95 percent of the corals dead. The bleaching happened as the result of the 2009-2010 El Niño, with the Indian Ocean and Southeast Asia waters experiencing significant thermal increase especially since the beginning of 2010.


As a tiny island nation makes a big sacrifice, will the rest of the world follow suit?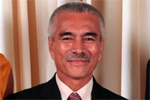 (09/15/2010) Kiribati, a small nation consisting of 33 Pacific island atolls, is forecast to be among the first countries swamped by rising sea levels. Nevertheless, the country recently made an astounding commitment: it closed over 150,000 square miles of its territory to fishing, an activity that accounts for nearly half the government's tax revenue. What moved the tiny country to take this monumental action? President Anote Tong, says Kiribati is sending a message to the world: 'We need to make sacrifices to provide a future for our children and grandchildren.'



Page 1 | Page 2 | Page 3 | Page 4