News articles on Coral Reefs and climate change

---
Mongabay.com news articles on Coral Reefs and climate change in blog format. Updated regularly.






The long-ignored ocean emergency and what can be done to address it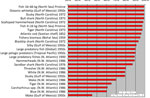 (08/18/2008) This year has been full of bad news regarding marine ecosystems: one-third of coral species threatened with extinction, dead-zones spread to 415 sites, half of U.S. reefs in fair or bad condition, increase in ocean acidification, tuna and shark populations collapsing, and only four percent of ocean considered pristine. Jeremy Jackson, director of the Scripps Center for Marine Biodiversity and Conservation at the University of California, San Diego, synthesizes such reports and others into a new paper, published in the journal Proceedings of the National Academy of Sciences, that boldly lays out the scope of the oceanic emergency and what urgently needs to be done.
Climate change will increase the erosion of coral reefs

(07/28/2008) Coral reefs are particularly susceptible to climate change. Warming waters have been shown to bleach coral, killing off symbiotic algae that provide them with sustenance, and often leading to the death of the coral itself. Much attention has been placed on bleaching coral, but now scientists have discovered an additional danger to coral reefs in a warming world: erosion.
Coral susceptibility to bleaching due to small differences in symbiotic relationship

(07/22/2008) Coral reefs are now considered the second most threatened group of animals in the world, with nearly one-third of corals listed as endangered (amphibians retain the dubious honor of being number one). Although corals face many threats, the greatest is bleaching caused by warming oceans due to climate change. However, some coral populations are more susceptible to bleaching than others, even including corals of the same species. New research has uncovered that the reason lies in small differences in the symbiotic relationship between corals and their symbionts, small marine animals and protozoa. Such differences, however minuscule, have a huge impact on the likelihood of a coral's ability to survive warming oceans.
Moving species may be only way to save them from climate change

(07/17/2008) Desperate times call for desperate measures, according to a new paper in Science. conservation scientists from the US, the UK, and Australia are calling for the consideration of a highly controversial conservation technique: assisted migration. According to the policy piece, species would be relocated to sites "where they do not currently occur or have not been known to occur in recent history".
1/3 of corals face extinction

(07/10/2008) Nearly one-third of reef-building corals are vulnerable to extinction, according to an assessment of 845 species of coral. Rising temperatures, increased incidence of disease, and human disturbance are driving the trend.
Good news for reefs: giant coral structure found off Brazil

(07/07/2008) Amid a series of dire reports on the status of coral reefs, scientists announced the discovery of a reef off the southern coast of Brazil's Bahia state that doubles the size of the Southern Atlantic Ocean's largest and richest reef system, the Abrolhos Bank.
U.S. coral reefs in trouble

(07/07/2008) Nearly half of U.S. coral reefs are in "poor" or "fair" condition according to a new study by the National Oceanic and Atmospheric Administration (NOAA).
CO2 emissions could doom fishing industry

(07/03/2008) Aside from warming climate, rising carbon dioxide emissions are contributing to ocean acidification, threatening sea live, warn researchers writing in the journal Science. This trend makes it all the more important to reduce emissions, argue the authors.
Microbes could be the key to coral death

(04/02/2008) Coral reefs could be dying out because of changes to the microbes that live in them just as much as from the direct rise in temperature caused by global warming, according to scientists speaking today at the Society for General Microbiology's 162nd meeting being held this week at the Edinburgh International Conference Centre.
Expedition finds inverted pyramid where sharks dominate marine ecology

(02/25/2008) A survey of a remote Pacific archipelago turned up pristine coral reefs that could offer a "baseline" for measuring the human impact on reefs worldwide, report researchers from the Scripps Institution of Oceanography (SIO) at the University of California at San Diego.
Widespread butterflyfish may go extinct due to global warming, pollution

(02/24/2008) The Chevroned Butterflyfish, a colorful fish found in tropical oceans around the world, faces extinction due to overexploitation, pollution and climate change, report researchers writing in the journal Behavioural Ecology and Sociobiology. Despite its widespread distribution, the species could be doomed by its specialized feeding habitats: the Chevroned Butterflyfish (Chaetodon trifascialis) feeds on only one type of coral.
Why are oceans at risk from global warming?

(02/17/2008) Climate change is putting the world's oceans at risk by increasing the temperature and acidity of seawater, and altering atmospheric and oceanic circulation, warned a panel of scientists this week at the American Association for the Advancement of Science (AAAS) annual meeting in Boston.
Natural ocean thermostat may protect some coral reefs

(02/07/2008) Natural processes may prevent oceans from warming beyond a certain point, helping protect some coral reefs from the impacts of climate change, new research finds. The study provides evidence that an ocean "thermostat" may be helping regulate sea-surface temperatures in a biologically diverse region of the western Pacific.
Global warming will degrade 98% of coral reefs by 2050

(12/13/2007) Ocean acidification caused by human-induced carbon dioxide emissions could dramatically alter the planet's coral reefs and marine food chains, warns research published in the December 14 issue of Science and presented at the fall meeting of the American Geophysical Union (AGU) in San Francisco.
"Weird" algae key to survival of coral reefs

(08/31/2007) A team of coral researchers has taken a major stride towards revealing the workings of the mysterious "engine" that drives Australia's Great Barrier Reef, and corals the world over.
Coral reefs declining faster than rainforests

(08/08/2007) Coral reefs in the Pacific Ocean are dying faster than previously thought due to costal development, climate change, and disease, reports a study published Wednesday in the online journal PLoS One. Nearly 600 square miles of reef have disappeared per year since the late 1960s, a rate twice that of tropical rainforest loss.
Hurricanes can help coral reefs

(07/17/2007) A close call with a hurricane can be beneficial to a stressed coral reef, reports a study published in Proceedings of the National Academy of Sciences (PNAS).
Coral diseases largely result from human activities

(05/17/2007) The apparent increase in infectious disease among coral is likely the result of environmental change and, as such, researchers should focus on understanding the relationship between coral diseases and environmental changes, rather than the diseases themselves, argues a paper published in the August 2007 issue of the Journal of Experimental Marine Biology and Ecology.
Global warming is killing coral reefs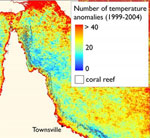 (05/07/2007) A new study provides further evidence that climate change is adversely affecting coral reefs. While previous studies have linked higher ocean temperatures to coral bleaching events, the new research, published in PLoS Biology, found that climate change may increasing the incidence of disease in Great Barrier Reef corals. Omniously, the research also shows that healthy reefs, with the highest density of corals, are hit the hardest by disease.
Some corals may survive acidification caused by rising CO2 levels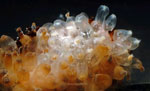 (03/29/2007) Several studies have shown that increased atmospheric carbon dioxide levels are acidifying the world's oceans. This is significant for coral reefs because acidification strips carbonate ions from seawater, making it more difficult for corals to build the calcium carbonate skeletons that serve as their structural basis. Research has shown that many species of coral, as well as other marine microorganisms, fare quite poorly under the increasingly acidic conditions forecast by some models. However, the news may not be bad for all types of corals. A study published in the March 30 issue of the journal Science, suggests that some corals may weather acidification better than others.







Some corals can adapt to ocean acidification

(07/06/2006) While scientists warn that increasing ocean acidity will doom marine animals that build skeletons and structural elements out of calcium carbonate, new research has found that corals can change their skeletons, building them out of different minerals depending on the chemical composition of the seawater around them. However, the research provides further evidence that corals are extremely sensitive to rapid environmental change and will be negatively affected by increased carbon dioxide levels in the short-term.





Increasingly acidic oceans damaging to marine life

(07/05/2006) Carbon dioxide emissions are altering ocean chemistry and putting sea life at risk according to a new report released today. The report, "Impacts of Ocean Acidification on Coral Reefs and Other Marine Calcifiers," summarizes known effects of increased atmospheric carbon dioxide on marine organisms that produce calcium carbonate skeletal structures, such as corals. Oceans worldwide absorbed approximately 118 billion metric tons of carbon between 1800 and 1994 according to the report, resulting in increased ocean acidity, which reduces the availability of carbonate ions needed for the production of calcium carbonate structures.





Severe damage expected for Caribbean coral reefs in 2006

(07/04/2006) Caribbean Sea temperatures have reached their annual high two months ahead of schedule according to a report from The Associated Press. Scientists are concerned that the region's coral reefs may suffer even worse damage than last year when 70 percent of coral was bleached in some areas.





Madagascar's reefs escape damage from global warming

(06/22/2006) A survey of coral along Madagascar's northeast coast suggests that they island's reef may have so far escaped the damaging effects of warmer ocean temperatures attributed to global climate change. Researchers from conservation International (CI), a leading conservation group, found that the region's coral reefs have avoided the bleaching that has affected other Indian Ocean reefs. The scientists believe that cool water currents from adjacent deep ocean areas have helped offset the warming effects of climate change.





Global warming may cause permanent damage to coral reefs

(05/15/2006) Global warming has had a more devastating impact on coral reefs than previously believed says a new study published in the Proceedings of the National Academy of Sciences. The research, the first to show the long-term impact of rising sea temperatures on coral and fish communities, suggests that "large sections of coral reefs and much of the marine life they support may be wiped out for good," according to a news release from the University of Newcastle upon Tyne, an institution involved in the project.





Corals may survive global warming by gorging themselves

(04/26/2006) A new study published in Nature says some coral are able to survive bleaching events by gorging themselves. An experiment with Hawaiian corals showed that when bleached, one species sharply increased its intake of food, increasing the likelihood that it would survive elevated water temperatures.





Damaged Caribbean reefs under attack

(04/10/2006) After experiencing one of the most devastating coral bleaching events on record during September and October of 2005, reefs in the Caribbean are under attack from deadly diseases according to Reuters.





Recent Coral Bleaching at Great Barrier Reef

(04/05/2006) An international team of scientists are working at a rapid pace to study environmental conditions behind the fast-acting and widespread coral bleaching currently plaguing Australia's Great Barrier Reef. NASA's satellite data supply scientists with near-real-time sea surface temperature and ocean color data to give them faster than ever insight into the impact coral bleaching can have on global ecology. Australia's Great Barrier Reef is a massive marine habitat system made up of 2,900 reefs spanning over 600 continental islands. Though coral reefs exist around the globe, researchers actually consider this network of reefs to be the center of the world's marine biodiversity, playing a critical role in human welfare, climate, and economics. Coral reefs are a multi-million dollar recreational destinations, and the Great Barrier Reef is an important part of Australia's economy.





Climate change threatens coldwater reefs

(04/03/2006) Increasing amounts of atmospheric carbon dioxide, driven by the burning of fossil fuels, are dissolving into the oceans, causing them to become slightly more acidic. This change in seawater chemistry could harm deep-sea calcifying animals like corals.





Pacific Ocean getting warmer and more acidic

(03/31/2006) The Pacific Ocean is getting warmer and more acidic, while the amount of oxygen is decreasing, due to increased absorption of atmospheric carbon dioxide say scientists from the National Oceanic and Atmospheric Administration's Pacific Marine Environmental Laboratory and the University of Washington.







Caribbean reefs suffer severe coral bleaching event

(12/20/2005) The Caribbean experienced one of the most devastating coral bleaching events on record during September and October while hurricanes battered the Gulf of Mexico. In response, NASA and National Oceanic and Atmospheric Administration have sent a team to assess the situation.





Coral reefs decimated by 2050, Great Barrier Reef's coral 95% dead

(11/17/2005) Australia's Great Barrier Reef could lose 95 percent of its living coral by 2050 should ocean temperatures increase by the 1.5 degrees Celsius projected by climate scientists. The startling and controversial prediction, made last year in a report commissioned by the World Worldwide Fund for Nature (WWF) and the Queensland government, is just one of the dire scenarios forecast for reefs in the near future. The degradation and possible disappearance of these ecosystems would have profound socioeconomic ramifications as well as ecological impacts says Ove Hoegh-Guldberg, head of the University of Queensland's Centre for Marine Studies.




Page 1 | Page 2