News articles on Climate Modeling

---
Mongabay.com news articles on Climate Modeling in blog format. Updated regularly.





Climate change to hurt Brazil's farm exports by 2020

(08/11/2008) Climate change could have a significant impact on thye value of Brazil's agricultural exports according to a study presented Monday at an agribusiness conference in Sao Paulo, reports the Financial Times.


Global warming increases "extreme" rain storms

(08/07/2008) Global warming is increasing the incidence of heavy rainfall at a rate greater than predicted by current climate models have predicted, reports a new study published in the journal Science. The findings suggest that storm damage from precipitation could worsen as greenhouse gas concentrations continue to rise.


Past greenhouse warming events offer clues on future climate change

(02/16/2008) If carbon dioxide emissions from the burning of fossil fuels continue on a "business-as-usual" trajectory, humans will have added about 5 trillion metric tons of carbon to the atmosphere by the year 2400. A similarly massive release of carbon accompanied an extreme period of global warming 55 million years ago known as the Paleocene-Eocene Thermal Maximum (PETM).


Rising CO2 levels tied to increasing human mortality

(01/03/2008) Rising carbon dioxide levels have been tied to increases in human mortality, reports a study to be published in Geophysical Research Letters.


North Atlantic warming is natural, not due to climate change

(01/03/2008) While overall temperature in the North Atlantic Ocean has risen over the past fifty years, it has not been consistent across all areas with subpolar regions cooling as subtropical and tropical waters warmed, reports a new study published in the journal Science.


Melting of Greenland ice sheet could alter warming trend

(12/06/2007) A massive release from freshwater from the glacial Lake Agassiz 8,200 years ago triggered dramatic cooling in the North Atlantic region, report researchers writing in Science. The sudden and intense cooling, which ended the stable climate that had characterized the Holocene warm period, could have future implications for the melting of Greenland's ice sheet.


Food prices to rise due to energy demand, economic trends

(12/03/2007) Income growth, climate change, high energy prices, globalization, and urbanization are converging to drive food prices higher, threatening livelihoods and nutrition of poor people in developing countries, says a new report from the International Food Policy Research Institute (IFPRI).


Climate risks to global agriculture are underestimated

(12/03/2007) Vulnerability of global agricultural to climate change may be underestimated by experts, warns a trio of papers published in week's issue of the Proceedings of the National Academy of Sciences (PNAS). The research says that "progressive changes predicted to stem from 1- to 5-degree C temperature rises in coming decades fail to account for seasonal extremes of heat, drought or rain, multiplier effects of spreading diseases or weeds, and other ecological upsets," according to a statement from Columbia University's Earth Institute.


Global warming to boost severe thunderstorms in NYC, Atlanta

(12/03/2007) Global warming could lead to weather conditions that spawn severe thunderstorms in the United States, according to research appearing in the early edition of the journal Proceedings of the National Academy of Sciences.


Climate sensitivity to rising CO2 levels still uncertain

(10/25/2007) Climate sensitivity to increasing concentrations of greenhouse gases is still largely uncertain and researchers will likely not be able to further refine their estimates on future climate scenarios, say two University of Washington scientists writing in this week's issue of the journal Science.


Climate change will impact U.S. economy

(10/16/2007) Climate change will have a significant economic impact on the United States, reports a new study published by researchers from the University of Maryland. The report, The U.S. Economic Impacts of Climate Change and the Costs of Inaction, aggregates and analyzes previous economic research in order to develop a better estimate of the costs of climate change.


Scientists: Newsweek Erred in Global Warming Coverage

(08/12/2007) A statement from the University of Alabama argues that a recent Newsweek cover story on climate change made two important mistakes.


Global warming will slow, then accelerate reports ground-breaking model

(08/09/2007) Global warming will slow during the next few years but then accelerate with at least half of the years after 2009 warmer than 1998, the warmest year on record, reports a new study that is the first to incorporate information about the actual state of the ocean and the atmosphere, rather than the approximate ones most models use. The research, published by a team of scientists from the Hadley Center in the United Kingdom, appears in the current issue of the journal Science.


U.S. could offset 20% of emissions through reforestation of marginal lands



(05/03/2007) Reforesting marginal agricultural land could significantly slow the increase of carbon in the atmosphere reports a new study based on NASA data, though it would be no magic bullet in fighting global warming since temperate forests have been shown to increase regional temperatures by absorbing more sunlight. Still, reforestation has the potential to offer other ancillary benefits including watershed services and erosion control.


Ethanol may be greener but have higher health cost

(04/18/2007) Widespread burning of ethanol as fuel may increase the number of respiratory-related deaths and hospitalizations relative to gasoline, according to a new study by Stanford University atmospheric scientist Mark Z. Jacobson. The report comes as mounting environmental concerns cloud the benefits of using ethanol as a green alternative to fossil fuels.


Could global deforestation fight climate change?


(04/09/2007) While many climate change mitigation schemes rely on reforestation schemes to sequester carbon dioxide from the atmosphere, those located in temperate regions may actually be warming the planet, worsening global change, reports a new study published in the April 9-13 online edition of the Proceedings of the National Academy of Sciences. Surprisingly, the research suggests that global-scale deforestation would produce a net cooling effect, but that forest preservation efforts and reforestation in the tropics is more effective in cooling the planet.


Climate report warns of drought, rising sea levels, species extinction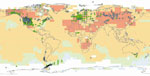 (04/05/2007) Global warming is likely to have wide-ranging impacts on the world's ecosystems, water availablity, and sea levels warned the U.N. Intergovernmental Panel on Climate Change (IPCC) in its latest installment. It said that mitigation and adaption strategies are the best way to reduce and prepare for the coming changes.


Climate change could turn Southwest into 'Dustbowl'


(04/05/2007) Global warming threatens to create a dustbowl in the American Southwest according to a new study published in the journal Science.


Carbon dioxide levels threaten oceans regardless of global warming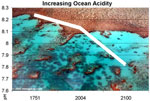 (03/08/2007) Rising levels of carbon dioxide will have wide-ranging impacts on the world's oceans regardless of climate change, reports a study published in the March 9, 2007, issue of the journal Geophysical Research Letters.


Global warming could trigger 8-degree temperature rise in Amazon rainforest


(02/28/2007) Tuesday the Brazilian government announced the release of a series of scientific studies, including one by the national space agency (INPE) that projects a 4 to 8 degree-Celcius rise in temperatures in the Amazon Basin by 2100 if nothing is done to combat global climate change.


Water forecasts in Western U.S. have not improved in 40 years

(02/16/2007) Water supply predictions for the western United States are no better now than they were in the 1960s -- something that should be of particular concern as the effects of climate change become increasingly apparent -- say researchers from the University of Washington (UW).


Antarctic temperatures are not rising

(02/15/2007) Temperatures in Antarctica are not rising as predicted by many climate models, according to research presented at the annual meeting of the American Association for the Advancement of Science in San Francisco. David Bromwich, researcher with the Byrd Polar Research Center at Ohio State University, reports that his work has found no increase in precipitation over Antarctica in the last 50 years. Most climate models predict that precipitation and temperature will increase over Antarctica as the planet warms.


Temperature record for Midwest shows impact of global warming

(01/29/2007) Researchers have developed a new method to create a temperature record for the Great Plains region of the United States. The model, based on analysis of ancient soils, could help predict the impact of global warming on American agricultural production.


Leaf study could produce better global warming models

(01/18/2007) A new study on rotting leaves could produce more accurate climate models say researchers writing in the January 19 issue of the journal Science.


Sea levels may rise higher than predicted due to global warming

(12/15/2006) Global warming could cause sea levels to rise by four-and-a-half feet (140 cm) according to new projections published in Friday's issue of the jounral Science. Stefan Rahmstorf, a scietist at the Potsdam Institute for Climate Impact Research in Potsdam, Germany, uses air temperature measurements and past sea level changes rather than computer models to calculate that ocean levels could rise by 50-140 cm by 2100, well above the 9-88 cm projected by the United Nations Framework Convention on Climate Change. A 140 cm rise in sea levels could swamp low-lying cities like New York and Venice while causing catastrophic flooding in Bengladesh and South Pacific island nations.


UN says man's global warming impact lower than thought

(12/10/2006) When it is released in 2007, the UN Intergovernmental Panel on Climate Change (IPCC) will report that man's impact on global climate is less than previously believed according to a story published in the Sunday edition of the UK-based Telegraph. The Telegraph says that the report will reduce its estimate of man's role in global warming by 25 percent. However, the IPCC will still project global temperatures to climb by 4.5 C druing the next century and rising sea levels, albiet by half the amount -- 17 inches instead of 34 inches by 2100 -- projected by the IPCC's 2001 report. It will also note that atmospheric carbon dioxide levels have continued to climb over the past five years but that the overall human effect on global warming since the industrial revolution has been dampened by cooling caused by particulate matter and aerosol sprays, which accumulate in the upper atmosphere and reflect heat from the sun.


Global warming-fueled storms could devastate coral reefs

(11/23/2006) Australia's Great Barrier Reef and other coral ecosystems could suffer from increasingly powerful storms brought about by global warming according to computer models published by a team of Australian scientists in the journal Nature.


Atmospheric levels of key greenhouse gas stabilize, could begin to decline

(11/20/2006) Atmospheric levels of methane, a potent greenhouse gas have leveled off for the past seven years according to scientists at the University of California, Irvine. Human sources of methane, which is twenty times more potent than carbon dioxide as a greenhouse gas, include production of oil and natural gas, mining, sewage and decomposition of garbage, changes in land use and deforestation, and livestock. About one-third of methane emissions come from oceans, wetlands, wildfires, and termites.


Global warming could put New York City at hurricane, flood risk

(10/25/2006) NASA researchers are investigating the potential impact of climate change on New York City using computer models to simulate future climates and sea level rise. Their studies, to date, forecast a 15 to 19 inch-increase in sea levels by the 2050s that could put the city at higher risk of flooding during storm surges.


Climate change to cause more extreme weather

(10/19/2006) Climate change will cause extreme weather to be a more common occurrence according to new computer modeling by researchers from the National Center for Atmospheric Research (NCAR), Texas Tech University, and Australia's Bureau of Meteorology Research Centre.


Most of world's forests could be gone by 2100

(08/15/2006) New research claims that more than half the world's largest forests will be lost if global temperatures rise by an average of 3 degrees or more by the end of the century.The study, published in the current Proceedings of the National Academy of Sciences, says that a warmer climate also increases the risk of extreme floods, forest fires and droughts.


Snow in Antarctic not falling to counter sea level rise

(08/10/2006) The most precise record of Antarctic snowfall ever generated shows there has been no real increase in precipitation over the southernmost continent in the past half-century, even though most computer models assessing global climate change call for an increase in Antarctic precipitation as atmospheric temperatures rise.


Sun, not carbon dioxide, primary driver of ice ages says new theory

(07/24/2006) A new theory says that carbon dioxide is only a secondary driver of ice ages. In a paper published online in the journal Climate of the Past, William Ruddiman, an environmental scientist with the University of Virginia, argues that "carbon dioxide is a driver of ice sheets only at the relatively small 23,000-year cycle, but not at the much larger ice-volume cycles at 41,000 years and approximately 100,000 years" according to a news release from the university.


War of words over new climate change report, 'hockey stick' model

(07/16/2006) Paleoclimatologist Michael Mann criticized a report challenging the familiar 'hockey stick' temperature record of the past thousand years. The report, commissioned by Texas Representative Joe Barton, chairman of the House Energy Committee, and championed in an op-ed piece appearing in last Friday's issue of The Wall Street Journal said that there is no evidence that the 1990s were the warmest decade in a millennium or that 1998 was the warmest year in the last 1,000.


Alps could lose 80% of glacier cover by 2100

(07/10/2006) The European Alps could lose 80 percent of their glacier cover by the year 2100, if summer air temperatures increase by three degrees Celsius according to a study published in Geophysical Research Letters, a journal of the American Geophysical Union. The research, based on modeling experiments by Swiss scientists, found that should in summer temperature rise more than three degree Celsius, only the largest glaciers and those on the highest mountain peaks could survive into next century.


Future crop yields lower than expected under higher carbon dioxide levels

(06/29/2006) Open-air field trials involving five major food crops grown under carbon-dioxide levels projected for the future are yielding signifcantly less than those raised in earlier enclosed test conditions. Scientists at the University of Illinois at Urbana-Champaign warn that global food supplies could be at risk without changes in production strategies.


Warming could cause rain forests to release more carbon dioxide

(06/20/2006) Extra amounts of key nutrients in tropical rain forest soils cause them to release more carbon dioxide into the atmosphere, according to research conducted by scientists at the University of Colorado (CU) - Boulder. Results of the research, conducted by Cory Cleveland and CU scientist Alan Townsend, are published this week in the journal Proceedings of the National Academy of Sciences.


Extreme global warming likely by end of century

(05/24/2006) Climate models predicting a 5.6 degrees Celsius increase in Earth's temperature by the end of the century may have underestimated the increase by as much as 2.3C according to researchers at the University of California at Berkeley.


Global warming may be worse than predicted

(05/22/2006) Climate change estimates for the next century may have substantially underestimated the potential magnitude of global warming says a new study from a team of European scientists. The paper, published in the May 26 issue of Geophysical Research Letters, says that warming may be 15-to-78 percent higher than estimates that do not consider the feedback mechanism involving carbon dioxide and Earth's temperature.


Birthplace of hurricanes heating up say NOAA scientists

(05/03/2006) The region of the tropical Atlantic where many hurricanes originate has warmed by several tenths of a degree Celsius over the 20th century, and new climate model simulations suggest that human activity, such as increasing greenhouse gas emissions into the atmosphere, may contribute significantly to this warming. This new finding is one of several conclusions reported in a study by scientists at the NOAA Geophysical Fluid Dynamics Laboratory in Princeton, N.J., published today in the Journal of Climate.


Global warming to be more moderate than some expect

(04/19/2006) A new study published in Nature says that climate change will be more moderate than some recent projections. Nevertheless, says lead author Gabriele C. Hegerl of Duke University, we can expect significant changes in the future. The study looked to refine climate sensitivity, or the change in global mean surface temperature in response to a doubling of atmospheric carbon dioxide levels.


Plants may absorb less carbon dioxide than initially believed

(04/12/2006) The world's land plants will probably not be able to absorb as great a share of the rising atmospheric carbon dioxide as some models have predicted, according to a new study led by Peter B. Reich, professor in the department of forest resources at the University of Minnesota. The work showed that limitations on the availability of nitrogen, a necessary nutrient, will likely translate to limitations on the ability of plants to absorb extra carbon dioxide.


Pollution from smog linked to climate warming in the Arctic

(03/15/2006) In a global assessment of the impact of ozone on climate warming, scientists at the NASA Goddard Institute for Space Studies evaluated how ozone in the lowest part of the atmosphere changed surface temperatures over the past 100 years. Using the best available estimates of global emissions of the various gases that produce tropospheric ozone, the GISS computer model study reveals how much this single air pollutant and greenhouse gas has contributed to warming in specific regions of the world.


Tree plantations for carbon sequestration may cause environmental problems

(12/22/2005) Growing tree plantations to remove carbon dioxide from the atmosphere to mitigate global warming -- so called "carbon sequestration" -- could trigger environmental changes that outweigh some of the benefits, a multi-institutional team led by Duke University suggested in a new report. Those effects include water and nutrient depletion and increased soil salinity and acidity, said the researchers.


Changes in forest cover could affect climate as much as greenhouse gases in some areas

(12/09/2005) Deforestation, the growth of forests, and other changes in land cover could produce local temperature changes comparable to those caused by greenhouse gases according to new simulations from the National Center for Atmospheric Research (NCAR).


Future forests may absorb more carbon dioxide than current forests

(12/08/2005) Forests of the future may grow faster and absorb more carbon in a carbon dioxide enriched environment according to a new study by researchers at the Department of Energy (DOE).


Temperate forests may worsen global warming, tropical forests fight higher temperatures

(12/05/2005) Growing a forest might sound like a good idea to combat global warming, since trees draw carbon dioxide from the air and release cool water from their leaves. But they also absorb sunlight, warming the air in the process. According to a new study from the Carnegie Institution's Department of Global Ecology and Lawrence Livermore National Laboratory, planting forests at certain latitudes could make the Earth warmer.


Soil moisture, root depth influence climate models

(12/05/2005) By soaking up moisture with their roots and later releasing it from their leaves, plants play an active role in regulating the climate. In fact, in vegetated ecosystems, plants are the primary channels that connect the soil to the atmosphere, with plant roots controlling the below-ground dynamics.


Atmospheric carbon dioxide levels closely correlated with global temperatures

(11/28/2005) Studying ice cores from Antarctica, scientists of the Alfred Wegener Institute for Polar and Marine Research extended the record of historic concentrations of carbon dioxide, methane and nitrous oxide in the atmosphere by 250,000 years. The team found a close correlation between atmospheric carbon dioxide levels and global temperatures. Over the past 650,000 years, low greenhouse gas concentrations have been associated with cooler conditions. The current concentration of atmospheric carbon dioxide, at 380 parts-per-million, is the highest level recorded over the past 650,000 years.


Average temperatures climbing faster than thought in North America

(11/27/2005) Tree rings and borehole drill samples have added to the evidence that average temperatures in North America have risen steadily in the past 150 years according to a new study by researchers at Oregon State University and the University of Utah. In their paper published in Journal of Geophysical Research, scientists found that average temperatures in the Northern Hemisphere increased about 1.5 degrees since the beginning of the industrial revolution when atmospheric carbon dioxide concentrations began to increase sharply.



Page 1 | Page 2 | Page 3