News articles on China's Environmental Problems

---
Mongabay.com news articles on China's Environmental Problems in blog format. Updated regularly.






What do China, Kenya and India have in common? Wildlife trafficking

(06/16/2015) When it comes to trafficking rhino, elephant, and tiger parts the biggest players are China, Kenya, India, Vietnam, South Africa and Thailand, according to a new paper in PNAS. Examining news media reports aggregated by HealthMap: Wildlife Trade, researchers were able to pinpoint the most important countries for exporting, moving and importing illegal wildlife parts worldwide.
Chinese now emit more carbon per capita than Europeans

(09/22/2014) Last year, the people of China emitted more carbon per person than those in the EU, according this year's Global Carbon Budget. The report, updated annually, also found that global emissions jumped 2.5 percent last year and are set to hit a record high of 40 billion tonnes this year. The findings highlight how little global society has done to stem emissions, despite numerous pledges and past global agreements.
Demand for shark fin plunging
(08/12/2014) Shark fin demand has dropped precipitously in China in just a few years, according to a new report by WildAid. Shark fin traders in Guangzhou—the current informal capital of the shark fin trade—say their sales have fallen by 82 percent in just two years, according to WildAid.
Over a million pangolins slaughtered in the last decade
(07/28/2014) One of the world's most bizarre animal groups is now at risk of complete eradication, according to an update of the IUCN Red List. Pangolins, which look and behave similarly to (scaly) anteaters yet are unrelated, are being illegally consumed out of existence due to a thriving trade in East Asia.
Chinese who eat endangered species could face over ten years in jail

(04/29/2014) It's well known that much of the world's massive illegal wildlife trade ends up in China, including poached tigers, pangolins, and bears. But now those who order pangolin fetuses, tiger blood, or bear bile at a restaurant or market may see significant jail time.
Top 10 HAPPY environmental stories of 2013
(12/19/2013) China begins to tackle pollution, carbon emissions: As China's environmental crisis worsens, the government has begun to unveil a series of new initiatives to curb record pollution and cut greenhouse emissions. The world's largest consumer of coal, China's growth in emissions is finally slowing and some experts believe the nation's emissions could peak within the decade. If China's emissions begin to fall, so too could the world's.
Top 10 Environmental Stories of 2013
(12/10/2013) 1. Carbon concentrations hit 400ppm while the IPCC sets global carbon budget: For the first time since our appearance on Earth, carbon concentrations in the atmosphere hit 400 parts per million. The last time concentrations were this high for a sustained period was 4-5 million years ago when temperatures were 10 degrees Celsius higher. Meanwhile, in the slow-moving effort to curb carbon emissions, the Intergovernmental Panel on Climate Change (IPCC) crafted a global carbon budget showing that most of the world's fossil fuel reserves must be left untouched if we are to avoid catastrophic climate change.
Shanghai to ban coal by 2017

(10/28/2013) China's largest city and one of the world's biggest, Shanghai, is set to ban coal burning in just four years, according to a new Clean Air Action Plan. The city-wide ban on coal burning is one effort among many to get Shanghai's infamous smog under control as well as another sign that China has begun to take its pollution problems more seriously.
China punishes top oil companies for failing to clean up their acts

(09/03/2013) China's top two oil companies have been penalized for missing pollution targets, reports China Central Television (CCTV). The Ministry of Environmental Protection has suspended all refinery projects for China National Petroleum Corporation (CPNC) and the China Petrochemical Corporation (Sinopec) until they meet their pollution targets. The move is a part of a wider crackdown on pollution across China, which has suffered from record air pollution.
China pledges $275 billion over 5 years to cut record air pollution

(08/19/2013) Last week China announced it was going to spend over a quarter of a trillion dollars ($275 billion) to fight rampant and life-threatening pollution in its urban centers over the next five years. Recent decades of unparalleled economic growth has taken a drastic environmental toll in China, including record air pollution levels in Beijing. The announcement follows other news, including that the Chinese government has recently scrapped a massive 2,000 megawatt coal plant project near the cities of Hong Kong and Shenzhen.
Zoos call on governments to take urgent action against illegal wildlife trade (photos)
(07/24/2013) In a single night in March, a band of heavily-armed, horse-riding poachers slaughtered 89 elephants in southern Chad, thirty of which were pregnant females. The carnage was the worst poaching incident of the year, but even this slaughter paled in comparison to the 650 elephants killed in a Cameroon park in 2012. Elephant poaching is hitting new records as experts say some 30,000 elephants are being killed every year for their ivory tusks. But the illegal wildlife trade—estimated at $19 billion—is not just decimating elephants, but also rhinos, big cats, great apes, and thousands of lesser-known species like pangolins and slow lorises. This growing carnage recently led to representatives of over 40 zoos and dozens of wildlife programs to call on governments around the world to take immediate action on long-neglected wildlife crime.
Yangtze finless porpoise drops to Critically Endangered

(07/07/2013) The newest update to the IUCN Red List has downgraded the status of the Yangtze finless porpoise (Neophocaena asiaeorientalis asiaeorientalis) from Endangered to Critically Endangered, reflecting the deteriorating state of arguably the world's most degraded river system. The downgrade follows a survey last year that counted only 1,000 animals, a 50 percent decline from 2006.
China to begin cutting carbon emissions one city at a time

(05/23/2013) China has unveiled details of its first pilot carbon-trading program, which will begin next month in the southern city of Shenzhen. The trading scheme will cover 638 companies responsible for 38% of the city's total emissions, the Shenzhen branch of the powerful National Development and Reform Commission (NDRC) announced on Wednesday. The scheme will eventually expand to include transportation, manufacturing and construction companies.
China 'looting' Africa of its fish

(04/24/2013) Just 9% of the millions of tonnes of fish caught by China's giant fishing fleet in African and other international waters is officially reported to the UN, say researchers using a new way to estimate the size and value of catches. Fisheries experts have long considered that the catches reported by China to the UN's Food and Agriculture Organization (UNFAO) are low but the scale of the possible deception shocked the authors.
'Carbon bubble' could cause next global financial crisis

(04/22/2013) The world could be heading for a major economic crisis as stock markets inflate an investment bubble in fossil fuels to the tune of trillions of dollars, according to leading economists. "The financial crisis has shown what happens when risks accumulate unnoticed," said Lord (Nicholas) Stern, a professor at the London School of Economics. He said the risk was "very big indeed" and that almost all investors and regulators were failing to address it.
Yangtze porpoise down to 1,000 animals as world's most degraded river may soon claim another extinction
(04/16/2013) A survey late last year found that the Yangtze finless porpoise (Neophocaena asiaeorientalis asiaeorientalis) population has been cut in half in just six years. During a 44-day survey, experts estimated 1,000 river porpoises inhabited the river and adjoining lakes, down from around 2,000 in 2006. The ecology of China's Yangtze River has been decimated the Three Gorges Dam, ship traffic, pollution, electrofishing, and overfishing, making it arguably the world's most degraded major river. These environmental tolls have already led to the likely extinction of the Yangtze river dolphin (Lipotes vexillifer), or baiji, and possibly the Chinese paddlefish (Psephurus gladius), which is one of the world's longest freshwater fish.
Chinese government creating secret demand for tiger trade alleges NGO (warning: graphic images)
(02/26/2013) The number of tigers being captive bred in China for consumption exceed those surviving in the wild—across 13 countries—by over a third, according to a new report by the Environmental Investigation Agency (EIA). The report, Hidden in Plain Sight, alleges that while the Chinese government has been taking a tough stance on tiger conservation abroad, at home it has been secretly creating demand for the internationally-banned trade. Few animals in the world have garnered as much conservation attention at the tiger (Panthera tigirs), including an international summit in 2010 that raised hundreds of millions of dollars for the vanishing wild cats.
Nitrogen pollution in China increased 60% annually between 1980 and 2010

(02/25/2013) Nitrogen deposited on land and water in China increased 60 percent annually from the 1980s to the 2000s due to rising use of fertilizer, growth in livestock production, increased coal burning, and a sharp rise in car ownership, reports a study published last week in the journal Nature.
'No-one is listening to the entire scientific community': global carbon emissions set to hit new high
(12/03/2012) Global carbon dioxide (CO2) emissions from industrial sources are set to hit a new record high this year according to a new analysis by Global Carbon Project. The analysis in Nature Climate Changes predicts that CO2 emissions will rise another 2.6 percent, hitting 35.6 billion tonnes. The scientists warn that such steep climbs in global emissions year-after-year means that the door is rapidly closing on a global agreement to keep temperatures from rising 2 degree Celsius (3.6 degrees Fahrenheit) above pre-industrial levels.
'Exporting deforestation': China is the kingpin of illegal logging
(11/29/2012) Runaway economic growth comes with costs: in the case of China's economic engine, one of them has been the world's forests. According to a new report by the Environmental Investigation Agency (EIA), China has become the number one importer of illegal wood products from around the world. Illegal logging—which threatens biodiversity, emits carbon, impoverishes local communities, and is often coupled with other crimes—has come under heavy pressure in recent years from the U.S., the EU, and Australia. Each of these has implemented, or will soon implement, new laws that make importing and selling illegal wood products domestic crimes. However, China's unwillingness to tackle its vast appetite for illegal timber means the trade continues to decimate forests worldwide.
Chinese forest activist arrested for self-publishing books

(10/15/2012) An award-winning forest activist, Liu Futang, is facing trial in China for printing books without the proper licenses, even though he says he gave most of the self-published books away for free. In April, Futang won Best Citizen Journalist in China's Environmental Press Awards for covering deforestation Hainan province on his blog. Seven months later and the 63-year-old, who suffers from diabetes, could face five years in prison.
Corruption still plundering forests in Laos for furniture

(09/26/2012) The forests of Lao are still suffering from widespread destruction with the government turning a blind eye to a thriving black market logging trade on the border of Laos and Vietnam, according to an update report by the Environmental Investigation Agency (EIA). Last year, the EIA found that powerful players, including the Vietnamese military, were plundering Laos of its forests for raw logs. Smuggled from Laos into Vietnam, the raw logs are crafted into furniture, which are eventually exported to Europe and the U.S. Now, over a year later a new report finds little has changed.
Picture of the day: Yao Ming with baby elephant orphaned by ivory trade

(08/27/2012) Former NBA Basketball player and Olympian, Yao Ming is taking his first trip through Africa in order to see the on-the-ground impacts of the black-market ivory and rhino trades in East Asia. Ming, who stands 7-and-a-half feet (2.3 meters), has become not only well-known for his athletic prowess, but also his devotion to endangered wildlife.
China's per capita emissions nearly as high as Europe's

(07/19/2012) The average person in China emitted 7.2 tons of carbon last year, according to new figures from BL Netherlands Environmental Assessment Agency and the European commission's Joint Research Centre (JRC). This means that the average Chinese citizen is now very close to the average European, who emits 7.5 tons, in terms of annual emissions. Having been named the world's largest emitter of greenhouse gases in 2009—usurping the U.S. from its long-held position—China continues to lead the pack with emissions that rose 9 percent in 2011.
Protest in China leads to cancellation of copper smelter

(07/06/2012) A massive protest triggered cancellation of a controversial copper smelter local communities feared would lead to air pollution, reports The New York Times. Outcry also led to the release of jailed protesters who demonstrated against the project.
Another record in global carbon emissions puts globe on track for 'devastating consequences'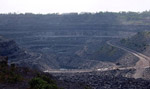 (05/29/2012) Last year global carbon dioxide emissions rose 3.2 percent to a new record of 31.6 gigatons, keeping the planet on track to suffer dangerous climate change, which could propel global crop failures, sea level rise, worsening extreme weather, and mass extinction. According to data from the International Energy Agency (IEA), China's carbon emissions rose the most last year (9.3 percent) while emissions in Europe and the U.S. dipped slightly. China is the currently the world's largest emitter of greenhouse gases, while the U.S. has emitted the most historically.
Charting a new environmental course in China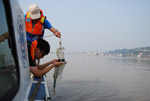 (05/21/2012) Founded in 1951, The Nature Conservancy (TNC) works in more than 30 countries and has projects in all 50 of the United States. The Conservancy has over one million members, and has protected more than 119 million acres of wild-lands and 5,000 miles of rivers worldwide. TNC has taken an active interest in China, the world's most populated nation, and in many important ways, a critical center of global development. The following is an interview with multiple directors of The Nature Conservancy's China Program.
Over 30 Yangtze porpoises found dead in China as population nears extinction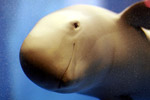 (05/01/2012) Six years after the Yangtze river dolphin (Lipotes vexillifer), or baiji, was declared "functionally extinct" by scientists, another marine mammal appears on the edge of extinction in China's hugely degraded Yangtze River. In less than two months, 32 Yangtze finless porpoises (Neophocaena asiaeorientalis asiaeorientalis), a subspecies of the finless porpoise, have been dead found in Dongting and Poyang Lakes in the Yangtze, reports the World Wide Fund for Nature (WWF).
Doing good and staying sane amidst the global environmental crisis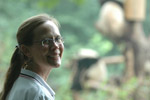 (04/23/2012) Several years ago while teaching a course in environmental science a student raised her hand during our discussion of the circumstances of modern ecological collapse and posed the question, "what happens when there is no more environment?" At the time I had no response and stumbled to formulate some sort of reply based on the typical aseptic, apathetic logic with which we are programmed through education in the scientific tradition: that there will always be some sort of environment, that life has prospered through the five previous mass extinctions and that something will survive. While this may be the case, the time has come for more of us to consider the broader spectrum of what global humanity is facing as the planet's ecology is decimated.
David vs. Goliath: Goldman Environmental Prize winners highlight development projects gone awry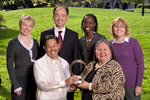 (04/16/2012) A controversial dam, a massive mine, poisonous pesticides, a devastating road, and criminal polluters: many of this year's Goldman Environmental Prize winners point to the dangers of poorly-planned, and ultimately destructive, development initiatives. The annual prize, which has been dubbed the Green Nobel Prize is awarded to six grassroots environmental heroes from around the world and includes a financial award of $150,000 for each winner.
Banning ivory sales to China could save elephants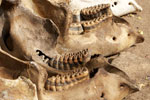 (03/24/2012) Although the international ivory trade has been banned since 1989, last year was the worst ever for elephant poaching, and this year has begun little better as reports come out of Cameroon of hundreds of elephants slaughtered in a single park. What went wrong? According to a new briefing by the Environmental Investigation Agency (IEA), approved legal auctions of ivory by the Convention on International Trade in Endangered Species (CITES) to Japan and, especially, China has fueled, rather than abated as promised, the illegal trade along with mass deaths of elephants across Africa.
Animal photos of the day: green sea turtle saved in China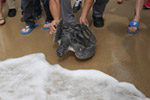 (03/06/2012) Last month, an organization devoted to marine turtles in the China, Sea Turtle 911, released a green sea turtle (Chelonia mydas) back into the wild in an event that included adoring crowds and a lecture on sea turtle conservation. The sea turtle, dubbed "Crush," had been rescued from a local fishing village. Green sea turtles are listed as Endangered by the IUCN Red List. "Despite the endangered status of sea turtles, there remains a thriving illegal market for sea turtle meat and products in China," a press release from Sea Turtle 911 notes.
Tropical ecologist: Australia must follow U.S. and EU in banning illegally logged wood
(02/09/2012) Australia should join the widening effort to stamp out illegal logging, according to testimony given this week by tropical ecologist William Laurance with James Cook University. Presenting before the Australian Senate's rural affairs committee, Laurance argued that the massive environmental and economic costs of illegal logging worldwide should press Australia to tighten regulations against importing illegally logged timber at home.
The dam-maker: China involved in 289 dam projects worldwide

(11/06/2011) China is currently involved in 289 hydroelectric projects worldwide, as reported by International Rivers. Most of the dams are built for hydropower, and over half are considered 'large' projects. The list includes completed dams, one currently under construction, and ones in initial planning stages.
China's new forests aren't necessarily green

(09/21/2011) When most of Asia is cutting down its forests, China stands apart. In the last two decade the massive country has gained over 30 percent forest cover. However, a new opinion piece by Jianchu Xu, with the World Agroforestry Centre and the Kunming Institute of Botany, argues that China's growing forest is not what it appears to be. The problem, according to Xu, is that the statistics of forest cover include monoculture plantations.
Busted: 1,835 elephant tusks confiscated in two seizures connected by Malaysia

(08/31/2011) Two massive seizures in the last week—one in Zanzibar and the other in Hong Kong—have confiscated nearly two thousand ivory tusks as elephant poaching continues to rise. Both seizures have connections to Malaysia, highlighting the growing role of a new intermediate player in the illegal ivory trade.
Conservation groups kicked out of CITES debate on elephants

(08/17/2011) The Standing Committee of CITES (Convention on International Trade in Endangered Species of Wild Fauna and Flora) tossed conservations NGOs out of the room during a debate on the rise in elephant poaching for illegal ivory. A vote of seven to six sent conservation groups making up the Species Survival Network (SSN) packing, however the groups were allowed back in before the day was over.
China opens trade in 'legal' tiger skins

(08/14/2011) The Environmental Investigation Agency (EIA) has warned the US, the UK, and all tiger-range nations that China has re-opened the trade in wild cat skins—including tigers—ahead of a Convention on International Trade in Endangered Species (CITES) meeting this week in Geneva, Switzerland. According to the EIA, China has reinitiated a Skin Registration Scheme that allows the trade of big cat skins from legal sources, such as captive-bred cats and controversial tiger farms, however the NGOS argues the scheme lacks transparency, providing an easy cover for the sale of skins taken from big cats poached in the wild.
How to fight organized wildlife crime in East Asia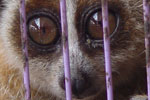 (07/27/2011) Organized criminal syndicates are wiping out some of the world's most charismatic wildlife to feed a growing appetite for animal parts in East Asia#8212;and so far governments and law enforcement are dropping the ball. This is the conclusion from a new paper in Oryx, which warns unless officials start taking wildlife crime seriously a number of important species could vanish from the Earth.
China failing commitment to save tigers

(05/20/2011) Chinese Premier Wen Jiabao pledged that China would work with other nations to end the trade in tiger parts and revive tiger populations at the Global Tiger Forum last fall, but the country has since fallen short of its commitments, says an environmental group.
Reforestation program in China preventing future disasters

(05/13/2011) China's response to large-scale erosion with reforestation is paying off according to a study in the Proceedings of the National Academy of Science (PNAS). The 10-year program, known as Sloping Land Conversion Program (SLCP), is working to turn some 37 million acres back into forest or grasslands after farming on steep slopes in the Yangtze and Yellow River basins had made them perilously susceptible to erosion and flooding.
Top 25 most endangered turtles: Asian species in crisis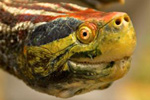 (02/23/2011) Surviving hundreds of millions of years on Earth have not saved turtles from facing extinction at human hands. A new report by the Wildlife Conservation Society (WCS) and the Turtle Conservation Coalition, identifies the world's 25 most imperiled turtles, including one that is practically assured extinction: 'Lonesome George' the last Abdington Island tortoise in the world. The list includes four turtle species from South and Central America, three from Africa, and one from Australia. But Asia is the hotbed for turtles in trouble with 17 of the top 25 species, or 68%. The numbers are even more alarming if one looks only at the top ten: eight of the top ten are in Asia, and six of these in China.
Rebuttal: Slaughtering farmed-raised tigers won't save tigers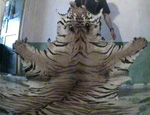 (11/18/2010) A recent interview with Kirsten Conrad on how legalizing the tiger trade could possibly save wild tigers sparked off some heated reactions, ranging from well-thought out to deeply emotional. While, we at mongabay.com were not at all surprised by this, we felt it was a good idea to allow a critic of tiger-farming and legalizing the trade to officially respond. The issue of tiger conservation is especially relevant as government officials from tiger range states and conservationists from around the world are arriving in St. Petersburg to attend next week's World Bank 'Tiger Summit'. The summit hopes to reach an agreement on a last-ditch effort to save the world's largest cat from extinction.
Would legalizing the trade in tiger parts save the tiger?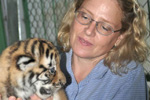 (11/15/2010) Just the mention of the idea is enough to send shivers down many tiger conservationists' spines: re-legalize the trade in tiger parts. The trade has been largely illegal since 1975 under the Convention on International Trade in Endangered Species (CITES). The concept was, of course, a reasonable one: if we ban killing tigers for traditional medicine and decorative items worldwide then poaching will stop, the trade will dry up, and tigers will be saved. But 35 years later that has not happened—far from it. "Words such as 'collapse' are now being used to describe the [tiger's] situation both in terms of population and habitat. Wild tiger numbers continue to drop so that we have about 3,500 today across 13 range states occupying just 7% of their original habitat. It's universally acknowledged that we're losing the battle," Kirsten Conrad, tiger conservation expert, told mongabay.com in a recent interview.
Over 20,000 pangolins illegally poached in Borneo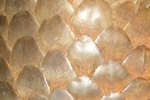 (10/28/2010) Notebooks confiscated by the Sabah Wildlife Department (SWD) reveal that 22,000 Sunda pangolins (Manis javanica) were illegally poached from May 2007 to January 2009 in the Malaysian state in northern Borneo. The number, in fact, may be significantly higher since the logbooks didn't cover over a third of the time period. The logbooks were analyzed by TRAFFIC, an organization devoted to combating the illegal trade in wildlife.
Picture: new monkey discovered in Myanmar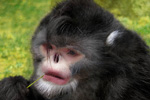 (10/26/2010) Hunters' reports have led scientists to discover a new species of monkey in the northern forests of Myanmar. Discovered by biologists from the Myanmar Biodiversity and Nature Conservation Association with support from primatologists with Fauna & Flora International (FFI) and the People Resources and Biodiversity Foundation, the strange looking primate is a member of the snub-nosed monkey family, adding a fifth member to this unmistakably odd-looking group of Asian primates. However, the species survives in only a small single population, threatened by Chinese logging and hunting.
Chinese court sentences rhino horn smuggler to 12 years

(10/07/2010) A traditional Chinese medicine businessman has been sentenced to 12 years in prison for attempting to smuggler rhino horn from Vietnam to China, according to Saving Rhinos which has been following the case on ChinaCourt.org.
The Nestlé example: how responsible companies could end deforestation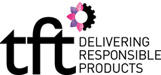 (10/06/2010) The NGO, The Forest Trust (TFT), made international headlines this year after food giant Nestlé chose them to monitor their sustainability efforts. Nestlé's move followed a Greenpeace campaign that blew-up into a blistering free-for-all on social media sites. For months Nestle was dogged online not just for sourcing palm oil connected to deforestation in Southeast Asia—the focus of Greenpeace's campaign—but for a litany of perceived social and environmental abuses and Nestlé's reactions, which veered from draconian to clumsy to stonily silent. The announcement on May 17th that Nestlé was bending to demands to rid its products of deforestation quickly quelled the storm. Behind the scenes, Nestlé and TFT had been meeting for a number of weeks before the partnership was made official. But can TFT ensure consumers that Nestlé is truly moving forward on cutting deforestation from all of its products?
Into the Congo: saving bonobos means aiding left-behind communities, an interview with Gay Reinartz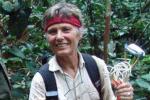 (09/23/2010) Unlike every other of the world's great apes—the gorilla, chimpanzee, and orangutan—saving the bonobo means focusing conservation efforts on a single nation, the Democratic Republic of the Congo. While such a fact would seem to simplify conservation, according to the director of the Bonobo and Congo Biodiversity Initiative (BCBI), Gay Reinartz, it in fact complicates it: after decades of one of world's brutal civil wars, the DRC remains among the world's most left-behind nations. Widespread poverty, violence, politically instability, corruption, and lack of basic infrastructure have left the Congolese people in desperate straits.
Nation's wealth does not guarantee green practices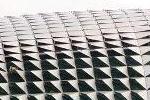 (08/11/2010) Developing countries are not the only ones that could benefit from a little environmental support. Wealthier countries may need to 'know themselves' and address these issues at home too. According to a recent study in the open access journal PLoS ONE, wealth may be the most important factor determining a country's environmental impact. The team had originally planned to study "country-level environmental performance and human health issues," lead author Corey Bradshaw, Director of Ecological Modeling and professor at the University of Adelaide, told mongabay.com. Once they began looking at the available indexes, however, they saw the need for a purely environmental analysis.
Citibank's shark fin soup promotion draws ire, ends early

(07/22/2010) Citibank Hong Kong has canceled its promotion of shark fin soup after activists cried foul, according to the New York Times. The branch had offered Citibank card holders 15 percent off a shark fin soup dinner at Maxim's Chinese Cuisine for the month of July.
The growing impacts of China's oil spill

(07/22/2010) Two oil pipelines exploded Friday in the Chinese province of Liaoning beginning China's worst oil spill; nearly a week later 400,000 gallons of oil have spread over 166 square miles, according to China's state media. The pipeline has since been fixed and is operating again. While the spill is small compared to the BP oil disaster in the Gulf of Mexico—which currently covers nearly 3,000 square miles with approximately 100 to 200 million gallons of oil—its impact regionally will likely be very large.
Illegal logging declining worldwide, but still 'major problem'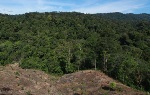 (07/15/2010) A new report by the Chatham House finds that illegal logging in tropical forest nation is primarily on the decline, providing evidence that new laws and international efforts on the issue are having a positive impact. According to the report, the total global production of illegal timber has fallen by 22 percent since 2002. Yet the report also finds that nations—both producers and consumers—have a long way to go before illegal logging is an issue of the past.
China seizes over 2,000 illegally trafficked pangolins

(07/14/2010) Boarding a suspect fishing vessel in the early morning of June 6th, Chinese customs officials discovered 2,090 frozen pangolins and 92 cases of pangolin scales, weighing an astounding 3,960 pounds. Manned by five Chinese and one Malaysian national, the boat was awaiting instructions via satellite phone as to where to meet another ship to transfer the illegal cargo while still at sea.
Children's books about rainforests linked to rainforest destruction

(06/01/2010) Purchasing a book children's book may be directly causing deforestation of biodiverse and carbon-heavy rainforests, according to a new report by the Rainforest Action Network (RAN). In a discovery that highlights the irony of the issue, RAN even found children's books about protecting rainforests contained fiber from Indonesian forests.
Hawaii bans shark fin soup

(05/31/2010) Governor of Hawaii, Linda Lingle, has signed into law a ban on shark-fin soup beginning July 1st, 2011, according to Reuters. The soup is currently served in a number of Chinese restaurants in Hawaii, but the trade has decimated certain shark species due to overfishing.
World failing on every environmental issue: an op-ed for Earth Day
(04/22/2010) The biodiversity crisis, the climate crisis, the deforestation crisis: we are living in an age when environmental issues have moved from regional problems to global ones. A generation or two before ours and one might speak of saving the beauty of Northern California; conserving a single species—say the white rhino—from extinction; or preserving an ecological region like the Amazon. That was a different age. Today we speak of preserving world biodiversity, of saving the 'lungs of the planet', of mitigating global climate change. No longer are humans over-reaching in just one region, but we are overreaching the whole planet, stretching ecological systems to a breaking point. While we are aware of the issues that threaten the well-being of life on this planet, including our own, how are we progressing on solutions?
Jane Goodall renews her faith in nature and humanity during the "Gombe 50" anniversary, An interview with Dr. Jane Goodall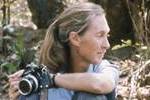 (04/12/2010) 2010 marks a monumental milestone for the Jane Goodall Institute (JGI) and its founder, Dr. Jane Goodall, DBE. Fifty years ago, Goodall, who is today a world-renowned global conservation leader, first set foot on the shores of Lake Tanganyika, in what is now Tanzania's Gombe National Park. The chimpanzee behavioral research she pioneered at Gombe has produced a wealth of scientific discovery, and her vision has expanded into a global mission 'to empower people to make a difference for all living things.' Time, however, has not stood still for Gombe. The wild chimps of the area have suffered as the local human population has swelled. Gombe National Park is now a forest fragment, a 35-square-kilometer island of habitat isolated in a sea of subsistence farming. Because the problems facing Gombe—unsustainable land practices, overpopulation, and a cycle of poverty—are typical of many other areas, lessons learned by Dr. Goodall and her team provide valuable insights for solutions at Gombe and beyond.
What happened to China?: the nation's environmental woes and its future
(04/01/2010) China has long been an example of what not to do to achieve environmentally sustainability. Ranking 133rd out of 146 countries in 2005 for environmental performance, China faces major environmental problems including severe air and water pollution, deforestation, water-issues, desertification, extinction, and overpopulation. A new article in Science discusses the complex issues that have led to China's environmental woes, and where the nation can go to from here.
Environmental groups call on Delmas to cancel shipment of illegally logged wood from Madagascar

(03/15/2010) Pressure is building on the French shipping company Delmas to cancel large shipments of rosewood, which was illegally logged in Madagascar during the nation's recent coup. Today two environmental groups, Global Witness and the Environmental Investigation Agency (EIA) called on Delmas to cancel the shipment, which is currently being loaded onto the Delmas operated ship named 'Kiara' in the Madagascar port of Vohemar.
Thousands of tons of illegal timber in Madagascar readied for export

(03/13/2010) As the President of France, Nicholas Sarkozy, argues in Paris that more funding is needed to stop deforestation and mitigate climate change, a shipment of illegal rosewood is being readied for export in Madagascar by a French company with the tacit approval of the French government.
Consumption habits cause rich countries to outsource emissions

(03/08/2010) Over a third of the greenhouse gas emissions related to the consumption of goods in wealthy nations actually occur in developing countries, according to a new analysis by researchers with the Carnegie Institution. Annually, each person if the United States outsources 2.5 tons of carbon due to consumption habits, most frequently in China. In Europe the figure of 'outsourced' emissions rises to 4 tons per person.
Extinct animals are quickly forgotten: the baiji and shifting baselines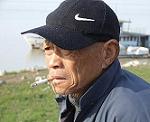 (02/23/2010) In 2006 a survey in China to locate the endangered Yangtze River dolphin, known as the baiji, found no evidence of its survival. Despondent, researchers declared that the baiji was likely extinct. Four years later and the large charismatic marine mammal is not only 'likely extinct', but in danger of being forgotten, according to a surprising new study 'Rapidly Shifting Baselines in Yangtze Fishing Communities and Local Memory of Extinct Species' in Conservation Biology. Lead author of the study, Dr. Samuel Turvey, was a member of the original expedition in 2006. He returned to the Yangtze in 2008 to interview locals about their knowledge of the baiji and other vanishing megafauna in the river, including the Chinese paddlefish, one of the world's largest freshwater fish. In these interviews Turvey and his team found clear evidence of 'shifting baselines': where humans lose track of even large changes to their environment, such as the loss of a top predator like the baiji.
Chinese farming practices are acidifying soils

(02/11/2010) A new study in Science shows that farming practices in China are acidifying the nation's soils and threatening long term productivity at a time when food concerns worldwide have never been higher. The culprit is the increasing use of nitrogen fertilizer.
Desertification threatens 38 percent of the world

(02/10/2010) Over one third of the world's land surface (38 percent) is threatened with desertification, according to a new study published in theInternational Journal of Life Cycle Assessment. The study found that eight of fifteen eco-regions are threatened by desertification, including coastal areas, the prairies, the Mediterranean region, the savannah, the temperate steppes, the temperate deserts, tropical and subtropical steppes, and the tropical and subtropical deserts.
India to track every tiger death on-line

(02/07/2010) Due to increased problems with poaching, the conservation organization TRAFFIC has joined with the National Tiger Conservation Authority (NTCA) to begin tracking every tiger mortality in India with a new website called Tigernet.
Iceland leads world on environmental issues, but China, US, and Canada plummet

(01/27/2010) Evaluating 163 nations on their environmental performance, the Environmental Performance Index (EPI) has named Iceland the most environmental nation. Released every two years, the EPI also found that the world's two largest super-powers—China and the US—have both fallen behind on confronting environmental challenges.
Protest in China against sludge incinerator

(01/27/2010) Approximately 400 hundred citizens protested the proposal to build a sludge incinerator in Southern China in Foshan, according to the Guangzhou Daily and Reuters.
Gone: a look at extinction over the past decade

(01/03/2010) No one can say with any certainty how many species went extinct from 2000-2009. Because no one knows if the world's species number 3 million or 30 million, it is impossible to guess how many known species—let alone unknown—may have vanished recently. Species in tropical forests and the world's oceans are notoriously under-surveyed leaving gaping holes where species can vanish taking all of their secrets—even knowledge of their existence—with them.
Is the US sinking climate change talks at Copenhagen?

(12/16/2009) While it's difficult to know what's truly going on inside the Bella Center at the UN Climate Change Conference in Copenhagen, a pattern seems to be emerging of the United States being unwilling to compromise on, well, anything.
Europe says US and China emission targets don't go far enough

(12/07/2009) At a press conference during the first day of the UN Copenhagen Climate Change Conference, the European Union has stated it will not raise its emissions cuts from 20 percent to 30 percent by 2020 (over 1990 levels) unless the US and China go further in their cuts.
World leaders falling over themselves to show up at Copenhagen

(12/01/2009) If you're a world leader and you won't be in Copenhagen next week you might feel out of the loop. Currently 98 heads of state have agreed to attend the Climate Change Summit in Copenhagen—nearly half of the 192 member nations of the UN.
Face-to-face with what may be the last of the world's smallest rhino, the Bornean rhinoceros

(12/01/2009) Nothing can really prepare a person for coming face-to-face with what may be the last of a species. I had known for a week that I would be fortunate enough to meet Tam. I'd heard stories of his gentle demeanor, discussed his current situation with experts, and read everything I could find about this surprising individual. But still, walking up to the pen where Tam stood contentedly pulling leaves from the hands of a local ranger, hearing him snort and whistle, watching as he rattled the bars with his blunted horn, I felt like I was walking into a place I wasn't meant to be. As though I was treading on his, Tam's space: entering into a cool deep forest where mud wallows and shadows still linger. This was Tam's world; or at least it should be.
Record year for CO2 emissions, even with economic slowdown

(11/17/2009) 8.7 billion tons of carbon dioxide was emitted into the earth's atmosphere in 2008, a growth of 2 percent despite the economic crisis. This averages out to each person contributing a record high of 1.3 tons of carbon, according to a report in the journal Nature Science. While the global recession slowed the growth of fossil fuel emissions for the first time this decade, it did not lower emissions altogether.
Hunting across Southeast Asia weakens forests' survival, An interview with Richard Corlett
(11/08/2009) A large flying fox eats a fruit ingesting its seeds. Flying over the tropical forests it eventually deposits the seeds at the base of another tree far from the first. One of these seeds takes root, sprouts, and in thirty years time a new tree waits for another flying fox to spread its speed. In the Southeast Asian tropics an astounding 80 percent of seeds are spread not by wind, but by animals: birds, bats, rodents, even elephants. But in a region where animals of all shapes and sizes are being wiped out by uncontrolled hunting and poaching—what will the forests of the future look like? This is the question that has long occupied Richard Corlett, professor of biological science at the National University of Singapore.
Illegal logging trade from Myanmar to China slows, but doesn't stop

(10/28/2009) The illegal wood trade from Myanmar to China has slowed, but it still threatens Myanmar's tropical forests and species, according to a new report by Global Witness. From 2005 and 2008 improved border controls into China led to a drop in imports of logs and sawn wood by 70 percent.
The Yangtze River may have lost another inhabitant: the Chinese paddlefish

(10/22/2009) In December of 2006 it was announced that the Yangtze River dolphin, commonly known as the baiji, had succumbed to extinction. The dolphin had survived on earth for 20 million years, but the species couldn't survive the combined onslaught of pollution, habitat loss, boat traffic, entanglement in fishing hooks, death from illegal electric fishing, and the construction of several massive dams. Now, another flagship species of the Yangtze River appears to have vanished.
Kenya's pain, part two: decades of wildlife decline exacerbated by drought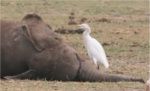 (10/20/2009) Not many years ago if you were planning a trip to Africa to see wildlife, Kenya would be near the top of the list, if not number one. Then violent riots in late 2007 and early 2008 leaving a thousand dead tarnished the country's image abroad. When calm and stability returned, Kenya was again open for tourism, and it's true that most travelers were quick to forget: articles earlier this year announced that even with the global economic crisis Kenya was expecting tourism growth. However, a new disaster may not be so quickly overcome.
Illegal ivory demand could wipe out Africa's elephants by 2025

(10/20/2009) Nearly twenty years ago the ivory trade was banned by Convention on International Trade in Endangered Species (CITES). Many saw this as the most important step in preventing the continued loss of elephants at the hands of poachers, and for awhile poaching slowed down. But now elephants are in danger again: a report by the International Fund for Wildlife Welfare (IFWW) states that an astounding 38,000 elephants are killed for their tusks annually—over a hundred every day.
Tiger success story turns bleak: poachers decimating great cats in Siberia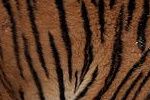 (10/18/2009) There were two bright spots in tiger conservation, India and Russia, but both have dimmed. Last year India announced that a new survey found only 1,411 tigers, instead of the previous estimation of 3,508, and now Russian tigers may be suffering a similar decline. The Siberian Tiger Monitoring Program—a collaboration between the Wildlife Conservation Society (WCS) and several Russia government organizations—has found evidence that after a decade of stability the Siberian tiger's population may be falling. This year's annual survey, which covers only a portion of tiger habitat in Russia, found only 56 adult tigers: a forty percent decrease from the average of 95 tigers. While the cause of this year's decline may be weather-related, researchers fear something far more insidious is going on.
Major Chinese Lead Smelter Admits Fault in Poisoning, Environmental Contamination

(10/17/2009) The largest lead smelting company in China has recently admitted responsibility in contributing to pollution leading to poisoning in almost 1,000 children residing near lead factories. Out of 2,743 children tested for lead poisoning, 968 were determined to have excessive lead levels in their blood. Lead poisoning causes anemia, brain damage, and muscle atrophy, among other serious medical and environmental problems. Lead levels in blood samples from the children were 5 times higher than safe limits.
Malayan tiger rescued from poacher's snare proves need for increased enforcement
(10/13/2009) Last week a Malayan tiger (Panthera tigris jacksoni) was found with its front right paw caught in a snare set by poachers. World Wildlife Fund's (WWF) Wildlife Protection Unit discovered the snared tiger in the Belum-Temengor forest, a wildlife-rich reserve that has become a hotspot for poaching. After finding the wounded tiger the anti-poaching team called in officials from the Department of Wildlife and National Parks (PERHILITAN) who freed the great cat. The animal was then transported to Malacca Zoo for treatment.
Dangers for journalists who expose environmental issues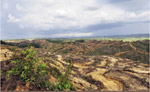 (09/19/2009) Guinean journalist Lai Baldé has been threatened. Egyptian blogger Tamer Mabrouk has been sued. Russian journalist Grigory Pasko has just spent four years in prison. His Uzbek colleague, Solidzhon Abdurakhmanov, has just been given a 10-year jail sentence. Mikhail Beketov, another Russian journalist, has lost a leg and several fingers as a result of an assault. Bulgarian reporter Maria Nikolaeva was threatened with having acid thrown in her face. Filipino journalist Joey Estriber has been missing since 2006... What do these journalists and many others have in common? They are or were covering environmental issues in countries where it is dangerous to do so.
Air pollution in China reduces rainfall

(08/31/2009) Air pollution in eastern China over the past half century has reduced rainfall and exacerbated the risk of drought and crop failures, reports a study published in the Journal of Geophysical Research.
China moves forward on global warming: top scientists recommend emissions peak in 2030
(08/17/2009) In a move that many have seen as a step forward for China in terms of its willingness to combat climate change, the nation's top climatologists have released a report recommending that China begin drawing down greenhouse gas emissions after 2030. The report comes just four months before a widely anticipated global meeting to set up a new international framework to combat climate change in Copenhagen, Denmark.
Chinese factory closes following cadmium pollution protest

(08/05/2009) The Xianghe Chemical Factory in China was closed after protests from local residents in the central Human Province. The plant had recently been the target of several widely-covered "mass-incidents" of violent protest. Nearly 1,000 protestors called for immediate closure of the plant last week.
New Yangtze River dam could doom more endangered species

(06/22/2009) Eight Chinese environmentalists and scientists have composed a letter warning that a new dam under consideration for the Yangtze River could lead to the extinction of several endangered species. The letter contends that Xiaonanhia Dam, which would be 30 kilometers upstream from the city of Chongqing, will negatively impact the river's only fish reserve. Spanning 400 kilometers in the upper Yangtze, the reserve is home to 180 fish species, including the Endangered Chinese sturgeon, and the Critically Endangered Chinese paddlefish, as well as the finless porpoise.
What is the crop productivity and environmental impact of too much or too little fertilizer?

(06/18/2009) While the use of synthetic fertilizer has greatly increased agricultural production globally—helping to feed a global population that is not slowing down—it has brought with it high environmental costs. Fertilizer runoff has polluted many coastal regions creating 'dead zones' where the ocean is starved of oxygen by the influx of nitrogen. Synthetic fertilizers have also polluted the air with ammonia, and sent emissions of nitrous oxide into the atmosphere, contributing to global warming.
Deadly 'brown cloud' over South Asia caused by wood and dung burning

(01/23/2009) Long a subject of debate, the cause of the infamous brown cloud that hovers over the Indian Ocean and South Asia every winter has finally been discovered. Researchers led by Dr Orjan Gustafsson from the University of Stockholm in Sweden announced in Science that 70 percent of the cloud is made up of soot from the burning of biomasses, largely wood and animal dung used for cooking.
Wildlife trade creating 'empty forest syndrome' across the globe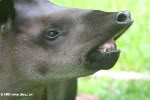 (01/19/2009) For many endangered species it is not the lack of suitable habitat that has imperiled them, but hunting. In a talk at a Smithsonian Symposium on tropical forests, Elizabeth Bennett of the Wildlife Conservation Society (WCS) outlined the perils for many species of the booming and illegal wildlife trade. She described pristine forests, which although providing perfect habitat for species, stood empty and quiet, drained by hunting for bushmeat, traditional medicine, the pet trade, and trophies.




Page 1 | Page 2