News articles on China logging

---
Mongabay.com news articles on China logging in blog format. Updated regularly.






Corruption still plundering forests in Laos for furniture

(09/26/2012) The forests of Lao are still suffering from widespread destruction with the government turning a blind eye to a thriving black market logging trade on the border of Laos and Vietnam, according to an update report by the Environmental Investigation Agency (EIA). Last year, the EIA found that powerful players, including the Vietnamese military, were plundering Laos of its forests for raw logs. Smuggled from Laos into Vietnam, the raw logs are crafted into furniture, which are eventually exported to Europe and the U.S. Now, over a year later a new report finds little has changed.
Tropical ecologist: Australia must follow U.S. and EU in banning illegally logged wood
(02/09/2012) Australia should join the widening effort to stamp out illegal logging, according to testimony given this week by tropical ecologist William Laurance with James Cook University. Presenting before the Australian Senate's rural affairs committee, Laurance argued that the massive environmental and economic costs of illegal logging worldwide should press Australia to tighten regulations against importing illegally logged timber at home.
Camera traps snap first ever photo of Myanmar snub-nosed monkey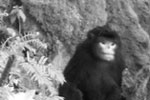 (01/10/2012) In 2010 researchers described a new species of primate that reportedly sneezes when it rains. Unfortunately, the new species was only known from a carcass killed by a local hunter. Now, however, remote camera traps have taken the first ever photo of the elusive, and likely very rare, Myanmar snub-nosed monkey (Rhinopithecus strykeri), known to locals as mey nwoah, or 'monkey with an upturned face'. Locals say the monkeys are easy to locate when it rains, because the rain catches on their upturned noses causing them to sneeze.
World's most endangered primate still losing habitat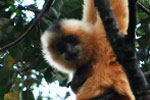 (12/04/2011) Just twenty-three Hainan gibbons (Nomascus hainanus) survive in the world. Confined to a single protected area on a lone island, Hainan gibbons are losing their habitat at a steady rate of 20 hectares per day finds a new study by Greenpeace. In all, nearly a quarter of the Critically Endangered lesser ape's habitat has been lost since 2001.
5 million hectares of Papua New Guinea forests handed to foreign corporations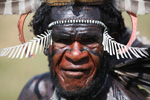 (03/23/2011) During a meeting in March 2011 twenty-six experts—from biologists to social scientists to NGO staff—crafted a statement calling on the Papua New Guinea government to stop granting Special Agricultural and Business Leases. According to the group, these leases, or SABLs as they are know, circumvent Papua New Guinea's strong community land rights laws and imperil some of the world's most intact rainforests. To date 5.6 million hectares (13.8 million acres) of forest have been leased under SABLs, an area larger than all of Costa Rica. "Papua New Guinea is among the most biologically and culturally diverse nations on Earth. [The country's] remarkable diversity of cultural groups rely intimately on their traditional lands and forests in order to meet their needs for farming plots, forest goods, wild game, traditional and religious sites, and many other goods and services," reads the statement, dubbed the Cairns Declaration. However, according to the declaration all of this is threatened by the Papua New Guinea government using SABLs to grant large sections of land without going through the proper channels.
What happened to China?: the nation's environmental woes and its future
(04/01/2010) China has long been an example of what not to do to achieve environmentally sustainability. Ranking 133rd out of 146 countries in 2005 for environmental performance, China faces major environmental problems including severe air and water pollution, deforestation, water-issues, desertification, extinction, and overpopulation. A new article in Science discusses the complex issues that have led to China's environmental woes, and where the nation can go to from here.
Illegal logging trade from Myanmar to China slows, but doesn't stop

(10/28/2009) The illegal wood trade from Myanmar to China has slowed, but it still threatens Myanmar's tropical forests and species, according to a new report by Global Witness. From 2005 and 2008 improved border controls into China led to a drop in imports of logs and sawn wood by 70 percent.
China's paper recycling industry can help shield forests from destruction

(07/15/2007) China's massive paper recycling capacity is helping shield global forests worldwide from destruction by supporting an international market for wastepaper as an alternative to pulpwood, says a new report released by Forest Trends, an international forestry organization. Nevertheless, wastepaper alone is not enough to meet demand from China's growing paper industry.
China calls for sustainable logging by Chinese firms overseas

(07/11/2007) China unveiled a draft sustainable forestry handbook for Chinese companies operating overseas. The move comes as the country faces increasing criticism from environmentalists who say China's booming demand for timber and other materials is destroying the world's tropical forests.
Home improvement giant bans illegal wood products

(07/08/2007) B&Q, the third largest retailer of home improvement materials, announced that within three years, all Brazilian wood products sold in China would come from certified sources. B&Q has 60 stores in China.
Chinese demand drives global deforestation

(06/10/2007) From outside, Cameroon's Ngambe-Tikar forest looks like a compact, tangled mass of healthy emerald green foliage. But tracks between the towering tropical hardwood trees open up into car park-sized clearings littered with logs as long as buses. Forestry officers say the reserve is under attack from unscrupulous commercial loggers who work outside authorized zones and do not respect size limits in their quest for maximum financial returns.
China tropical log imports jump at Jiangsu port

(05/16/2007) Logs imports through Zhangjiagang Port in Jiangsu Province, China have increased significantly in 2007, reports the International Tropical Timber Organization (ITTO) in its bi-weekly update.
China fuels illegal logging in Burma

(10/31/2005) A new report, launched today by Global Witness at the Foreign Correspondents' Club in Bangkok , "A Choice for China -- Ending the destruction of Burma's northern frontier forests" , details shocking new evidence of the massive illicit plunder of Burma's forests by Chinese logging companies. Much of the logging takes place in forests that form part of an area said to be "very possibly the most bio-diverse, rich, temperate area on earth."
Timber hungry China moves into Africa

(04/20/2005) With its projected growth rates, China will soon surpass the United States in wood consumption. This voracious appetite for timber is threatening tropical forests around the globe but nowhere is this more apparent than in Africa where China is increasingly focusing its development efforts and adding fuel to a booming trade in illegally harvested timber.