News articles on Cameroon

---
Mongabay.com news articles on Cameroon in blog format. Updated regularly.





Invasion of the oil palm: western Africa's native son returns, threatening great apes


(07/28/2014) As palm oil producers increasingly look to Africa's tropical forests as suitable candidates for their next plantations, primate scientists are sounding the alarm about the destruction of ape habitat that can go hand in hand with oil palm expansion. A recent study sought to take those warnings a step further by quantifying the overlap in suitable oil palm land with current ape habitat.


Surrounded by deforestation, critically endangered gorillas hang on by a thread


(07/17/2014) The mountain forests at the Nigeria-Cameroon border are home to one of the rarest and most threatened subspecies of African apes – the Cross River gorilla (Gorilla gorilla diehli). Today, fewer than 300 individuals survive in the wild. These occur in 14 small, fragmented populations spread over a 12,000-square kilometer (4,633-square mile) landscape, characterized by rugged, hilly terrain and a matrix of farmlands, villages, and forests.


Is Cameroon becoming the new Indonesia? Palm oil plantations accelerating deforestation


(06/25/2014) The potential for new laws governing the use of forest resources this year in Cameroon promises an opportunity to stem the rapid loss of forest in the biologically diverse country. But the changes may ultimately not be what's needed to save Cameroon's forests.


Discarded cell phones to help fight rainforest poachers, loggers in real-time


(06/24/2014) A technology that uses discarded mobile phones to create a real-time alert system against logging and poaching will soon be deployed in the endangered rainforests of Central Africa. Rainforest Connection (RFCx), a San Francisco-based non-profit startup, is partnering with the Zoological Society of London (ZSL) to install its real-time anti-deforestation technology at sites in Cameroon. 30 RFCx devices — recycled from old Android handsets — will monitor 10,000 hectares or nearly 40 square miles of rainforest, listening for audio signals associated with logging and poaching.


Greenpeace accuses controversial palm oil company and Cameroon government of illegal logging


(05/28/2014) Greenpeace has just accused one of the world's most controversial oil palm companies, Herakles Farms, of colluding with top government officials to sell off illegally logged timber to China. According to a new report, an agreement between Cameroon's Minister of Forestry and Herkales Farms—through a shell company—could torpedo the country's agreement with the EU for better timber management.


U.S. palm oil company fined $4.6m in discrimination suit

(01/08/2014) Herakles Farms, an American agribusiness company, has been ordered to pay $4.6 million by a court in Cameroon over alleged discrimination in its hiring practices.


Controversial palm oil project approved in Cameroon rainforest


(11/26/2013) A controversial palm oil project set in the West African rainforest in Cameroon has won a three-year provisional lease to convert 20,000 hectares of land for plantations. The project, which is run by U.S.-based Herakles Farms, has been heavily opposed by environmental groups who say it will destroy blocks of wildlife-rich forest.


African manatee hanging on in Cameroon

(09/30/2013) In the Lower Basin of the Sanaga River in Cameroon, near Lake Ossa and the Douala-Edea National Parks, manatees swim and float about like round, potato-shaped mermaids. This region is home to the West African manatee (Trichechus senegalensis), an aquatic mammal facing a decline in population. Classed as Vulnerable by the IUCN Red List, the West African manatee is threatened by excessive kills, habitat loss, and habitat degradation. Given this, and the dearth of information about manatees, a group of Cameroon scientists have taken an ethnobiological approach (i.e. the interaction between people and wildlife) by employing skilled, knowledgable locals to collect data on the manatees.


Controversial oil palm company now accused of illegal logging in Cameroon rainforest

(09/18/2013) Environmental group, Greenpeace, has accused Herakles Farms of illegal logging in Cameroon after the company has already been lambasted by scientists and conservationists for its plan to build a 70,000 hectare palm oil plantation in one of Africa's most biodiverse rainforests. Herakles Farms has been under fire from green groups—both in Cameroon and abroad—for years over its oil palm plantation plans, including facing protests from locals who live in the forest to be cleared.


Endangered chimps and forest elephants found in rainforest to be logged for palm oil


(08/08/2013) A biological survey of forests slated for destruction for a palm oil project in Cameroon has uncovered 23 species of large mammals, including the world's most endangered chimpanzee subspecies, the Nigeria-Cameroon chimpanzee (Pan troglodytes ellioti). The project in question, operated by U.S.-based company Herakles Farms, has come under stiff criticism both locally and abroad for threatening one of Africa's most biologically rich forest lands and arguably undercutting local peoples' access to traditional lands.


Deforestation rate falls in Congo Basin countries


(07/22/2013) Deforestation has fallen in Congo Basin countries over the past decade despite a sharp increase in the rate of forest clearing in the Democratic Republic of the Congo, according to a new study published in the Philosophical Transactions of the Royal Society B as part of a set of 18 papers on the region's tropical forests. The special issue, which was put together by Oxford University's Yadvinder Malhi, covers a range of issues relating to the rainforests of the Congo Basin, including deforestation, the impacts of global change, the history and key characteristics of the region's forests, and resource extraction, among others.


Controversial palm oil project in Cameroon rainforest to resume

(06/06/2013) The Cameroonian government has lifted the suspension on controversial palm oil project in the northwestern part of the Central African nation, reports the AFP.


Controversial palm oil project halted in Cameroon

(05/24/2013) An American company has halted work on a controversial palm oil project in Cameroon due to opposition from local communities and environmentalists, reports Reuters.


A thousand soldiers sent after marauding elephant poachers [warning: graphic photos]


(03/26/2013) Eight Central African nations have announced they will send a thousand soldiers after poachers responsible for slaughtering 89 elephants, including over 30 pregnant mothers, in Chad earlier this month. The mobilization of soldiers and law enforcement officers could be a sign that Central African countries are beginning to take elephant poaching, which has decimated populations across Africa, more seriously.


What happened to the elephants of Bouba Ndjida? [warning: graphic photos]


(03/07/2013) A new report released by the Wildlife Conservation Society says that poachers have killed a staggering 62 percent of Africa's forest elephants in the last decade. The insatiable demand for elephant ivory hails mainly from China and Thailand, which is ironically hosting this year's CITES (CoP16) meeting. The meeting will continue until March 13 2013. The study is based on a survey of five elephant range states including Cameroon. Cameroon is the home of Bouba Ndjida National Park, where the dizzying massacre of 650 elephants occurred last year.


62% of all Africa's forest elephants killed in 10 years (warning: graphic images)


(03/04/2013) More than 60 percent of Africa's forest elephants have been killed in the past decade due to the ivory trade, reports a new study published in the online journal PLOS ONE. The study warns that the diminutive elephant species — genetically distinct from the better-known savanna elephant — is rapidly heading toward extinction.


Controversial palm oil project concession in Cameroon is 89 percent 'dense natural forest'


(02/21/2013) Satellite mapping and aerial surveys have revealed that a controversial palm oil concession in Cameroon is almost entirely covered by "dense natural forest," according to a new report by Greenpeace. The activist group alleges that the concession, owned by Herakles Farms, is under 89 percent forest cover. The U.S.-based corporation intends to build a 70,000 hectare palm oil plantation in a region surrounded by four protected areas, including Korup National Park, but has faced stiff criticism from numerous environmental groups as well as conflict with locals.


The year in rainforests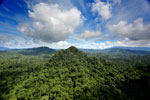 (12/31/2012) 2012 was another year of mixed news for the world's tropical forests. This is a look at some of the most significant tropical rainforest-related news stories for 2012. There were many other important stories in 2012 and some were undoubtedly overlooked in this review. If you feel there's something we missed, please feel free to highlight it in the comments section. Also please note that this post focuses only on tropical forests.


Photos reveal destruction of Cameroon rainforest for palm oil


(11/26/2012) Newly released photos by Greenpeace show the dramatic destruction of tropical forest in Cameroon for an oil palm plantation operated by SG Sustainable Oils Cameroon (SGSOC), a subsidiary of the U.S. company Herakles Farm. The agriculture company is planning to convert 73,000 hectares to palm oil plantations on the edge of several protected areas, but has faced considerable opposition from environmentalists and some local communities. In addition to the aerial photos, Greenpeace alleges that ongoing forest clearing by Herakles is illegal since the companies 99-year lease has yet to be fully approved by the Cameroonian government.


Activists protesting controversial Cameroon palm plantation arrested

(11/17/2012) Activists protesting conversion of rainforest to an oil palm plantation have been arrested in Cameroon, reports Greenpeace.


Rarest gorillas lose half their habitat in 20 years

(10/01/2012) Cross River gorillas and eastern gorillas lost more than half their habitat since the early 1990s due to deforestation, logging, and other human activities, finds a comprehensive new assessment across great apes' range in West and Central Africa.


Palm oil company in Cameroon drops bid for eco-certification of controversial plantation

(09/05/2012) Herakles Farm, a U.S.-based agricultural developer, will no longer seek eco-certification of its 70,000-hectare oil palm plantation in Cameroon, reports the Roundtable on Sustainable Palm Oil (RSPO). The move comes amid criticism from environmental groups that Herakles is converting high conservation value rainforest for the plantation.


10 African countries to develop satellite-based deforestation tracking systems with help of Brazil

(07/30/2012) Ten tropical African countries will receive training and support to develop national forest monitoring systems, reports the United Nations. Brazil, which has an advanced deforestation tracking system, will guide the initiative in partnership with the Central Africa Forests Commission (COMIFAC) and the UN Food and Agriculture Organization (FAO).


Tracking elephants in Cameroon to mitigate conflict with locals

(07/09/2012) Elephant conservation is imperiled by poor spatial planning, according to a new study in mongabay.com's open access journal Tropical Conservation Science. Tracking two elephant matriarchs in and around Bénoué National Park in Cameroon, scientists found that the herds spent over half their time outside of the park, highlighting the potential for human-wildlife conflict as elephants are known to raid fields.


10,000 sq mi of Congo rainforest declared World Heritage site

(07/02/2012) Central Africa has the newest World Heritage site.


Gabon torches their ivory stock as poachers attack okapi reserve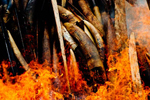 (07/02/2012) Last week, the west African nation of Gabon committed over 1,200 ivory tusks and carvings to the fire. The act, which was meant to send a strong signal to illegal wildlife poachers across Africa, came only a few days after militia poachers stormed the Okapi Wildlife Reserve in the Democratic Republic of the Congo (DRC). The assailants killed 13 okapis and six people, including two wildlife rangers, in retaliation for a crackdown against poaching and mining in the protected area. Poaching has reached epidemic levels in Africa due to increasing bushmeat consumption and a rise in East Asian demand for black-market ivory and rhino horns.


Alarm rising over food crisis in Sahel region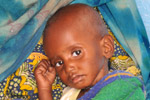 (06/13/2012) Warnings over a possible famine in Africa's Sahel region are becoming louder and more intense. Abnormal drought, locally high food prices, and regional conflict have ramped up concerns that 18 million people could suffer from malnutrition and starvation as the lean season sets in. UNICEF says it needs $238 million to save over a million children from severe malnourishment in the region, but has to date only raised $93 million.


First camera trap video of world's rarest gorilla includes shocking charge

(05/08/2012) Ever wonder what it would be like to be charged by a male gorilla? A new video (below) released by the Wildlife Conservation Society (WCS), gives one a first hand look. Shot in Cameroon's Kagwene Gorilla Sanctuary, the video is the first camera trap footage of the incredibly rare Cross River gorilla subspecies (Gorilla gorilla diehli); listed as Critically Endangered, the subspecies is believed to be down to only 250 individuals.


15 million facing food shortages in Africa's Sahel region

(03/29/2012) The UN announced yesterday that food security in the Sahel region is deteriorating, putting over 15 million people at risk. Ongoing drought combined with conflict, has pushed the region into a crisis. The situation appears eerily similar to last year when Somalia was hit by a devastating famine due to drought and political instability; the famine left an estimated 30,000 children dead.


Scientists say massive palm oil plantation will "cut the heart out" of Cameroon's rainforest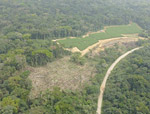 (03/15/2012) Eleven top scientists have slammed a proposed palm oil plantation in a Cameroonian rainforest surrounded by five protected areas. In an open letter, the researchers allege that Herakles Farm, which proposes the 70,000 hectare plantation in southwest Cameroon, has misled the government about the state of the forest to be cleared and has violated rules set by the Roundtable on Sustainable Palm Oil (RSPO), of which it's a member. The scientists, many of whom are considered leaders in their field, argue that the plantation will destroy rich forests, imperil endangered species, and sow conflict with local people.


New reports from inside Cameroon confirm grisly mass killing of elephants (warning: graphic photos)

(03/14/2012) The International Fund for Animal Welfare (IFAW) has recently returned from Bouba Ndjida National Park in northern Cameroon, where at least 400 elephants have been slaughtered since mid-January. IFAW is the only international organization that has assessed the situation within the park.


Military called in to stop Cameroon elephant slaughter - but may be too late

(03/05/2012) Cameroon's military has been called in to Bouba Ndjida National Park to take on foreign poachers that have slaughtered hundreds of elephants for their ivory, according to the World Wide Fund for Nature (WWF). Reports vary, but between 200-480 elephants have been killed in recent weeks in the park by what is widely assumed to be poachers from Sudan.


Elephant death-toll rises to almost 500 in one park in Cameroon (warning: graphic photo)

(02/29/2012) Wildlife officials have found 458 dead elephants in Cameroon's embattled Bouba Ndjida National Park, reports the AFP. However officials fear the actual number is even higher around 480. Over the last six weeks a well-organized group of poachers has run free in the park, slaughtering elephants for their ivory tusks which will make their way to markets in Asia.


Elephant massacre in Cameroon (warning: graphic photo)

(02/17/2012) More than 200 elephants have been slaughtered for their tusks in less than a month in Cameroon, reports the International Fund for Animal Welfare (IFAW). The group blames Sudanese poachers for cross-border raids from Chad into Bouba Ndjida National Park in northern Cameroon.


Girl Scouts activists win forest heroes award for challenging organization on sustainability

(02/10/2012) The United Nations on Thursday honored five 'Forest Heroes' for their contributions toward protecting forests.


REDD project gets initial go-ahead in Cameroon

(12/05/2011) The government of Cameroon approved a feasibility assessment for the first REDD+ project in the Central African nation, reports the Global Green Carbon Corporation, which is developing the project.


Community mapping of African rainforests could show way forward for preservation, REDD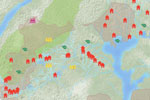 (12/01/2011) A new initiative to place community mapping of central African rainforests online could prove key to local rights in the region, says the UK-based NGO Rainforest Foundation. Working with forest communities in five African countries, Rainforest Foundation has helped create digital maps of local forests, including use areas, parks, and threats such as logging and mining. The website, MappingForRights.org, includes interactive maps, photos, and video.


Giant rat plays big ecological role in dispersing seeds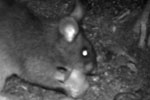 (11/16/2011) Rats are rarely thought of as heroes. In fact, in many parts of the world they are despised, while in others they serve largely as food. But, scientists are now discovering that many tropical forest rodents, including rats, serve as heroic seed dispersers, i.e. eating fruits and nuts, and carrying seeds far from the parent tree, giving a chance to a new sapling. While this has been documented with tropical rodents in South America like agoutis and acouchis, a new study in Biotropica documents the first successful seed dispersal by an African rodent: the Kivu giant pouched rat (Cricetomys kivuensis), one of four species of giant African rats.


A final farewell: the Western Black Rhino goes extinct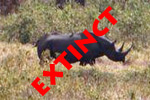 (11/12/2011) The western black rhinoceros (Diceros bicornis longipes) roams the woodlands of Africa no more. The rhino, one of four sub-species of black rhino, was declared extinct this week by the IUCN, five years after the last extensive survey of its habitat in Cameroon. The rhino becomes the second declared extinct this year. All rhinos are threatened by the rhino horn trade.


Gorilla poachers brutally murder forest ranger

(10/09/2011) Forest ranger, Zomedel Pierre Achille, was brutally murdered by gorilla poachers near Lobéké National Park in Cameroon, according to the World Wide Fund for Nature (WWF).


Palm oil, poverty, and conservation collide in Cameroon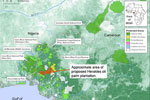 (09/13/2011) Industrial palm oil production is coming to Africa, its ancestral home. And like other places where expansion has occurred rapidly, the crop is spurring hope for economic development while generating controversy over its potential impacts. The world's most productive oil seed has been a boon to southeast Asian economies, but the looming arrival of industrial plantations in Africa is raising fears that some of the same detriments that have plagued leading producers Malaysia and Indonesia—deforestation, greenhouse gas emissions, biodiversity loss, conflicts with local people, social displacement, and poor working conditions—could befall one of the world's most destitute regions. While there is no question that oil palm is a highly lucrative crop that can contribute to economic development, there is also little doubt that conversion of native forests for plantations exacts a heavy toll on the environment. The apparent conflict seems to pit agroindustrial goliaths against greens, with communities falling somewhere in between. But Herakles, a New York-based investment firm planning to construct a 60,000-hectare plantation in the Central African country of Cameroon, says its approach will bridge this gap between economic development and the environment. Social and environmental campaigners are skeptical.


Conservationists seek $15M for rarest chimp

(06/27/2011) A new conservation plan calls for $14.6 million to save the world's rarest subspecies of chimp: the Nigeria-Cameroon chimpanzee, reports the Wildlife Conservation Scoeity (WCS).


How do we save Africa's forests?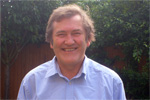 (06/19/2011) Africa's forests are fast diminishing to the detriment of climate, biodiversity, and millions of people of dependent on forest resources for their well-being. But is the full conservation of Africa's forests necessary to mitigate global climate change and ensure environmental stability in Africa? A new report by The Forest Philanthropy Action Network (FPAN), a non-profit that provides research-based advice on funding forest conservation, argues that only the full conservation of African forests will successfully protect carbon stocks in Africa.


Forest Governance Measuring Tools within Collaborative Governance of Tropical Landscapes: Book Review

(04/19/2011) Conservation projects at the landscape level in the tropics often require collaborative governance because there are many factors that may be involved with conserving and enhancing the ecosystem services with a landscape-based project. Yet as eloquently described in Collaborative Governance of Tropical Landscapes, significant issues remain in designing and implementing effective collaborative governance models for tropical landscapes.


What's behind the 85% decline of mammals in West Africa's parks?

(03/28/2011) A recent, well-covered study found that African mammals populations are in steep decline in the continent's protected areas. Large mammal populations over forty years have dropped by 59% on average in Africa [read an interview on the study here] and by 85% in west and central Africa, according to the study headed by Ian Craigie, which links the decline to continuing habitat degradation as well as hunting and human-wildlife conflict. However, a new opinion piece in mongabay.com's open access journal Tropical Conservation Science argues that this study missed an important factor in central and west Africa where the decline in mammals was the worst: rainfall.


'Land grab' fears in Africa legitimate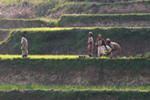 (01/31/2011) A new report by the International Institute for Environment and Development (IIED) has found that recent large-scale land deals in Africa are likely to provide scant benefit to some of the world's poorest and most famine-prone nations and will probably create new social and environmental problems. Analyzing 12 recent land leasing contracts investigators found a number of concerns, including contracts that are only a few pages long, exclusion of local people, and in one case actually giving land away for free. Many of the contracts last for 100 years, threatening to separate local communities from the land they live on indefinitely. "Most contracts for large-scale land deals in Africa are negotiated in secret," explains report author Lorenzo Cotula in a press release. "Only rarely do local landholders have a say in those negotiations and few contracts are publicly available after they have been signed."


Financial crisis pummels wildlife and people in the Congo rainforest

(09/27/2010) Spreading over three central African nations—Cameroon, Central African Republic, and Republic of Congo—the Sangha tri-national landscape is home to a variety of actors: over 150,000 Bantu people and nearly 20,000 pygmies; endangered species including forest elephants and gorillas; and, not least, the Congo rainforest ecosystem itself, which here remains largely intact. Given its interplay of species-richness, primary rainforest, and people—many of whom are among the poorest in the world—the landscape became internationally important in 2002 when under the Congo Basin Forest Partnership (CBFP) conservation groups and development agencies agreed to work together to preserve the ecosystems while providing development in the region.


Could biochar save the world?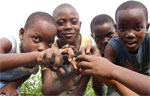 (08/16/2010) Biochar—the agricultural application of charcoal produced from burning biomass—may be one of this century's most important social and environmental revolutions. This seemingly humble practice—a technology that goes back thousands of years—has the potential to help mitigate a number of entrenched global problems: desperate hunger, lack of soil fertility in the tropics, rainforest destruction due to slash-and-burn agriculture, and even climate change. "Biochar is a recalcitrant form of carbon that will stay almost entirely unaltered in soils for very long periods of time. So you can sequester carbon in a simple, durable and safe way by putting the char in the soil. Other types of carbon in soils rapidly turn into carbon dioxide. Char doesn't," managing director of the Biochar Fund, Laurens Rademakers, told mongabay.com in a recent interview.


Cameroon says goodbye to cheetahs and African wild dogs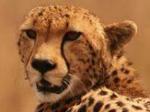 (07/28/2010) Researchers have confirmed that cheetahs (Acinonyx jubatus) and African wild dogs (Lycaon pictus) have become essentially extinct in Cameroon. A three year study by the Institute of Environmental Sciences at Leiden University in the Netherlands found that the same factors that pushed cheetahs and African wild dogs to local extinction, have also left Cameroon's other big predators hanging by a thread, including the lion, the leopard, and two species of hyena: the spotted and the striped.


Illegal logging declining worldwide, but still 'major problem'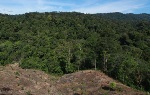 (07/15/2010) A new report by the Chatham House finds that illegal logging in tropical forest nation is primarily on the decline, providing evidence that new laws and international efforts on the issue are having a positive impact. According to the report, the total global production of illegal timber has fallen by 22 percent since 2002. Yet the report also finds that nations—both producers and consumers—have a long way to go before illegal logging is an issue of the past.


Inga alley cropping: a sustainable alternative to slash and burn agriculture

(06/14/2010) It has been estimated that as many as 300 million farmers in tropical countries may take part in slash and burn agriculture. A practice that is environmentally destructive and ultimately unstable. However, research funded by the EEC and carried out in Costa Rica in the late 1980s and early 1990s by Mike Hands offers hope that it is possible to farm more successfully and sustainably in these tropical regions.


Gabon bans log exports

(06/07/2010) On May 15th the West African nation of Gabon implemented a total ban on log exports. According to the International Timber Trade Organization (ITTO) the ban has been efficiently enforced to date and log exports from Gabon have "completely halted".


Long-distance seed dispersal and hunting, an interview with Kimberly Holbrook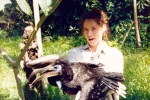 (05/24/2010) Scientists are just beginning to uncover the complex relationship between healthy biodiverse tropical forests and seed dispersers—species that spread seeds from a parent tree to other parts of the forest including birds, rodents, primates, and even elephants. By its very nature this relationship consists of an incredibly high number of variables: how abundant are seed dispersers, which animals spread seeds the furthest, what species spread which seeds, how are human impacts like hunting and deforestation impacting successful dispersal, as well as many others. Dr. Kimberly Holbrook has begun to answer some of these questions.


A nation of tragedies: the unseen elephant wars of Chad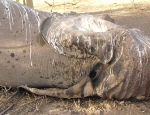 (05/12/2010) Stephanie Vergniault, head of SOS Elephants in Chad, says she has seen more beheaded corpses of elephants in her life than living animals. In the central African nation, against the backdrop of a vast human tragedy—poverty, hunger, violence, and hundreds of thousands of refugees—elephants are quietly vanishing at an astounding rate. One-by-one they fall to well-organized, well-funded, and heavily-armed poaching militias. Soon Stephanie Vergniault believes there may be no elephants left. A lawyer, screenwriter, and conservationist, Vergniault is a true Renaissance-woman. She first came to Chad to work with the government on electoral assistance, but in 2009 after seeing the dire situation of the nation's elephants she created SOS Elephants, an organization determined to save these animals from local extinction.


Cameroon agrees to cut illegal wood out of its supply chain

(05/10/2010) One of Africa's largest exporters of tropical hardwoods, Cameroon, has announced today a trade agreement with the European Union (EU) to rid all illegal wood from its supply chain to the EU and worldwide. Cameroon signed a legally-binding Voluntary Partnership Agreement (VPA) that will cover all wood products produced in Cameroon.


Farming snails to save the world's rarest gorillas

(04/28/2010) In a place of poverty and hunger, how do you save a species on the edge of extinction? A difficult question that conservationists have long-been working to tackle, the Wildlife Conservation Society (WCS) has come up with a new plan to protect the world's most endangered gorilla, the Cross River gorilla, from poachers by providing locals with an alternate and better income from farming snails.


Forestry sector needs transparency to reduce risks of REDD

(01/25/2010) A new project aims to increase transparency in the forestry sector, an area long plagued by corruption and mismanagement.


Congo basin rainforest countries

(01/15/2010) Payments for ecosystem services may be a key component in maintaining Central Africa's rainforests as healthy and productive ecosystems, finds a comprehensive assessment of the region's forests.


Gone: a look at extinction over the past decade



(01/03/2010) No one can say with any certainty how many species went extinct from 2000-2009. Because no one knows if the world's species number 3 million or 30 million, it is impossible to guess how many known species—let alone unknown—may have vanished recently. Species in tropical forests and the world's oceans are notoriously under-surveyed leaving gaping holes where species can vanish taking all of their secrets—even knowledge of their existence—with them.


World's rarest gorilla caught on film

(12/16/2009) The first ever professional footage of the world's rarest gorilla, the Cross River gorilla ( Gorilla gorilla diehli), has been shot deep in the forested mountains of Cameroon. The only other existing footage of this Critically Endangered subspecies was taken from far away by a field researcher in 2005.


Commercial fish smoking is the "most pervasive" threat to mangrove forests in West Africa

(12/06/2009) An improved system for commercial fish smoking could reduce destruction of mangrove forests and generate human health benefits, report researchers writing in Tropical Conservation Science, an open-access journal published by mongabay.com.


Did malaria come from chimps?

(08/03/2009) Malaria may have jumped from chimpanzees to humans much like AIDS did, report researchers writing in Proceedings of the National Academy of Sciences.


A New Idea to Save Tropical Forests Takes Flight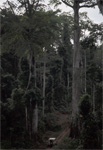 (06/29/2009) Every year, tens of millions of acres of tropical forests are destroyed. This is the most destabilizing human land-use phenomenon on Earth. Tropical forests store more aboveground carbon than any other biome. They harbor more species than all other ecosystems combined. Tropical forests modulate global water, air, and nutrient cycles. They influence planetary energy flows and global weather patterns. Tropical forests provide livelihoods for many of the world's poorest and marginalized people. Drugs for cancer, malaria, glaucoma, and leukemia are derived from rainforest compounds. Despite all these immense values, tropical forests are vanishing faster than any other natural system. No other threat to human welfare has been so clearly documented and simultaneously left unchecked. Since the 1992 Rio Earth Summit (when more than 100 heads of State gathered to pledge a green future) 500 million acres of tropical forests have been cut or burned. For decades, tropical deforestation has been the No. 1 cause of species extinctions and the No. 2 cause of human greenhouse gas emissions, after the burning of fossil fuels. For decades, a few conservation heroes tried their best to plug holes in the dikes, but by and large the most diverse forests on Earth were in serious decline.


Cameroon rainforest given 30 days to be conserved or sold off for logging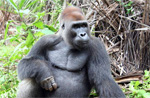 (06/18/2009) An 830,000-hectare tract of rainforest in Cameroon has been granted a 30-day reprieve from logging following a 4-week exploratory expedition that turned up large populations of lowland gorillas, forest elephants, mandrills, and chimpanzees, according to expedition leader Mike Korchinsky, founder of the conservation group Wildlife Works. The Cameroonian government has given Wildlife Works, which pioneered the first forest-based carbon project in Kenya, 30 days to come up with a competitive proposal to logging. The group is now scrambling to secure necessary funding to finance the early stages of the project.


Indigenous people, forest communities in Africa control less than 2% of forest land

(05/28/2009) Less than 2 percent of Africa's tropical forests are under community control, hindering efforts to slow deforestation and alleviate rural poverty, reports a new assessment from the International Tropical Timber Organization (ITTO) and the Rights and Resources Initiative (RRI), a global coalition of non-governmental and community organizations.


Cameroon may liquidate rainforest reserve if conservationists don't step forward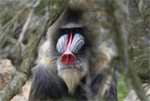 (03/02/2009) The opportunity to conserve a one million hectare tract rainforest in Cameroon is fast dwindling due financial pressures in the Central African country, reports a bulletin from the Ngoyla Mintom Foundation. In 2002 the government of Cameroon suspended logging rights and extended an offer to protect Ngoyla Mintom — a forest reserve that houses 4,000 lowland gorillas, 1,500 endangered chimpanzees, 3,000 forest elephants and an important population of vulnerable Mandrills — provided someone step forward to pay for it. To date there have been no takers. Now facing a mounting economic crisis, the government of Cameroon says it will soon concession Ngoyla Mintom for logging.


Cameroon gets gorilla park

(02/18/2009) Cameroon has created a new national park to protect a population of 600 gorillas, along with other threatened species such as chimpanzees, forest elephants, buffaloes, and bongo.


Cameroon moves to protect rarest gorilla

(11/26/2008) The government of Cameroon has created a national park to help protect the world's most endangered great ape: the Cross River gorilla, reports the Wildlife Conservation Society (WCS), a group that provided scientific and technical support for the initiative.


Mangrove destruction for fish trade may undermine fishermen in West Africa

(09/15/2008) The harvesting of mangrove forests in West Africa for the smoked fish trade threatens to undermine the primary source of income for the very fishermen who supply fish to the market, reports a study published Monday in the open-access journal Tropical Conservation Science.


New rainforest sanctuary in Cameroon already at risk from plantations, hunting

(09/15/2008) The forests of southern Cameroon bordering Gabon are biodiversity-rich and harbor important populations of gorillas, chimpanzees, and elephants. In 1998 the government of Cameroon established the Mengamé Gorilla Sanctuary and in 2002, working in close partnership with the government of Cameroon, the Jane Goodall Institute launched a project to protect habitat and biodiversity in the reserve while creating a connection between conservation and socio-economic improvement in communities bordering the sanctuary. The sanctuary now plays an important role in emerging trans-boundary protected area initiatives.


Cameroon and Nigeria to protect world's rarest gorilla

(09/05/2008) Cameroon and Nigeria have agreed to protect the the Cross River gorilla, world's most endangered gorilla, reports the Wildlife Conservation Society, which helped broker the deal.


Ghana becomes first country to sign sustainable timber pact with the E.U.

(09/04/2008) The European Union has signed a sustainable forestry deal with Ghana that would stop imports of illegally-harvested timber from the West African nation, according to a statement released by the European Forest Institute. The agreement comes under the European Commission's 2003 Action Plan on Forest Law Enforcement, Governance and Trade (FLEGT), which seeks to address illicit timber imports. The regulation requires chain-of-custody documentation for timber to be imported into the E.U.


China's log imports fall 19% in first half of 2008 due to high prices

(08/27/2008) China's imports of raw logs plunged 18.7 percent by volume for the first half of 2008 due to rising prices and a cooling Chinese economy, reports the International Tropical Timber Organization.


Markets could save rainforests: an interview with Andrew Mitchell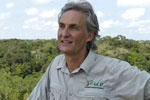 (08/17/2008) Markets may soon value rainforests as living entities rather than for just the commodities produced when they are cut down, said a tropical forest researcher speaking in June at a conservation biology conference in the South American country of Suriname. Andrew Mitchell, founder and director of the London-based Global Canopy Program (GCP), said he is encouraged by signs that investors are beginning to look at the value of services afforded by healthy forests.


Britain, Norway commit $210 million towards Congo rainforest conservation

(06/24/2008) The governments of Britain and Norway last week announced a $211 million (108 million) initiative to conserve rainforests in the Congo Basin. The plan calls for the use of an advanced satellite camera to monitor deforestation in the region and funding for community-based conservation projects.


World's rarest gorilla gets its own forest reserve

(04/18/2008) The government of Cameroon has established the first sanctuary exclusively for the world's rarest type of ape: the Cross River gorilla, according to the Wildlife conservation Society (WCS), which helped support the project.


Biochar fund to fight hunger, energy poverty, deforestation, and global warming

(03/10/2008) Biopact, a leading bioenergy web site, has announced the creation of a "Biochar Fund" to help poor farmers improve their quality of life without hurting the environment.


Carbon traders, not conservationists, could save Cameroon rainforest

(02/15/2008) The government of Cameroon is looking to lease 830,000 hectares of biodiverse tropical forest to conservationists for an annual sum of $1.6 million. The problem? No conservation groups are interested. Apparently the asking price is too high, according to The Economist.


Rare gorillas use weapons to attack forest-intruding humans

(12/05/2007) Following the first documented cases of the Cross River gorillas -- world's most endangered gorilla -- throwing sticks and clumps of grass when threatened by people, the Wildlife conservation Society (WCS) has announced new research to better protect the species from poaching and encroachment.


Time running out for world's rarest gorilla

(06/21/2007) Time is running out for the world's rarest subspecies of gorilla, the Cross River gorilla (Gorilla gorilla diehli) from the mountainous border region between Cameroon and Nigeria. With less than 300 individuals remaining, conservationists have drawn up a new plan to save the great ape from extinction.


Chinese demand drives global deforestation

(06/10/2007) From outside, Cameroon's Ngambe-Tikar forest looks like a compact, tangled mass of healthy emerald green foliage. But tracks between the towering tropical hardwood trees open up into car park-sized clearings littered with logs as long as buses. Forestry officers say the reserve is under attack from unscrupulous commercial loggers who work outside authorized zones and do not respect size limits in their quest for maximum financial returns.


Logging roads rapidly expanding in Congo rainforest

(06/07/2007) Logging roads are rapidly expanding in the Congo rainforest, report researchers who have constructed the first satellite-based maps of road construction in Central Africa. The authors say the work will help conservation agencies, governments, and scientists better understand how the expansion of logging is impacting the forest, its inhabitants, and global climate.


Congo forest elephants declining from logging roads, illegal ivory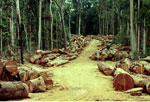 (04/02/2007) Fast-expanding logging roads in the Congo basin are becoming 'highways of death' for the fierce but elusive forest elephant, according to a new study published in the journal Public Library of Science. Logging roads both provide access to remote forest areas for ivory poachers and serve as conduits of advancing human settlement.


Important Congo basin parks get funding

(03/28/2007) A network of national parks and protected areas spanning three nations in Central Africa's Congo Basin, has received long-term funding through the establishment of a trust fund, thus ensuring further protection of the region's wildlife, according to the Wildlife conservation Society.


Cameroon could make millions of dollars under emissions deal

(11/06/2006) Cameroon could net tens of millions of dollars under a carbon-trading initiative proposed by a coalition of developing countries and under discussion this week at U.N. climate talks in Nairobi, Kenya. The key: cutting deforestation rates.


West African black rhino may be extinct

(07/17/2006) Recent surveys conducted by IUCN in northern Cameroon found no evidence of the West African black rhino (Diceros bicornis longipes). The organization fears the sub-species is now extinct in the wild.


Debt-for-Nature Swap Protects Forest in Cameroon

(06/22/2006) France and Cameroon signed the first ever Central African debt for nature swap today. This agreement will invest at least $25 million over the next five years to protect part of the world's second largest tropical forest, home to elephants, gorillas, hundreds of bird species and indigenous people such as the Ba'Aka pygmies.


Goodbye to West Africa's Rainforests

(01/22/2006) West Africa's once verdant and extensive rainforests are now a historical footnote. Gone to build ships and furniture, feed hungry mouths, and supply minerals and gems to the West, the band of tropical forests that once extended from Guinea to Cameroon are virtually gone. The loss of West Africa's rainforests have triggered a number of environmental problems that have contributed to social unrest and exacerbated poverty across the region.