News articles on Aquaculture

---
Mongabay.com news articles on Aquaculture in blog format. Updated regularly.








Could inland aquaculture help save the oceans and feed the world?
(04/02/2015) Mark Kwok has always loved the ocean. An avid diver and spear fisherman, he has travelled the planet in search of exotic fish and undersea adventure. Born into a wealthy Hong Kong family, he had the freedom to explore the world's oceans. But in the last decade or so, he hasn't been content just looking at fish. He's been growing them. In a squat, unassuming cluster of buildings in an industrial suburb north of Hong Kong, Kwok is experimenting with a potentially revolutionary technology.
Indonesia's new president, ministers have big plans for fish
(11/06/2014) Indonesia's new president, Joko Widodo (or Jokowi, as he's popularly called) spent half his 11-minute inaugural address thanking God, his partisans and the citizenry at large. For the rest of the speech he talked about oceans. Was this just rhetorical flourish, or does it portend a new seriousness about maritime management?
Of Prawns and Men on the Bali Strait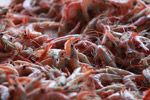 (08/22/2014) Why is shrimp so cheap? The answer: it's not. An in depth look at the shrimp farm industry in Indonesia and the true cost of this universally enjoyed delicacy. This article by Melati Kaye first appeared in the Seashore Issue of the culinary magazine Lucky Peach and was funded under Mongabay.org's Special Reporting Initiatives program.
Frankenfish or scientific marvel?: giant GM salmon await U.S. approval

(05/07/2013) It is hard to think of a more unlikely setting for genetic experimentation or for raising salmon: a rundown shed at a secretive location in the Panamanian rainforest miles inland and 1,500m above sea level. But the facility, which is owned by an American company AquaBounty Technologies, stands on the verge of delivering the first genetically modified food animal—a fast-growing salmon—to supermarkets and dinner tables.
Vanishing mangroves are carbon sequestration powerhouses

(04/05/2011) Mangroves may be the world's most carbon rich forests, according to a new study in Nature Geoscience. Measuring the carbon stored in 25 mangrove forests in the Indo-Pacific region, researchers found that mangroves forests stored up to four times as much carbon as other tropical forests, including rainforests. "Mangroves have long been known as extremely productive ecosystems that cycle carbon quickly, but until now there had been no estimate of how much carbon resides in these systems. That's essential information because when land-use change occurs, much of that standing carbon stock can be released to the atmosphere," explains co-author Daniel Donato, a postdoctoral research ecologist at the Pacific Southwest Research Station in Hilo, Hawaii.
A slow comeback for the endangered Eurasian otter in France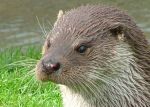 (08/29/2010) In the late 1970s, the fate of the Eurasian Otter (Lutra lutra) in France was very gloomy. By just looking at the otter's range map, one could see that most of the country was left with vast regions devoid of a species that was once found in every region. Estimations barely reached 1,500 otters left in the wild for the whole country. Today, 2,000 to 3,000 individuals are believed to room in creeks and rivers mostly in the Massif Central, the Atlantic side (Bretagne) and western area, in particular in the wetland of Poitevin. The upward trend in population size is good news and a step towards reconstituting sustainable populations, however, the overall population is still critically low. By contrast, in the early 1900s otters were quite abundant in France with over 50,000 wild animals.
Pre-Colombian Amazonians lived in sustainable 'urban' society

(08/28/2008) Researchers have uncovered new evidence to support the controversial theory that parts of the Amazon were home to dense 'urban' settlements prior to the arrival of Europeans in the 15th century. The study is published this Friday in the journal Science. Conducting archeological excavations and aerial imagery across a number of sites in the Upper Xingu region of the Brazilian Amazon, a team of researchers led by Michael Heckenberger found evidence of a grid-like pattern of 150-acre towns and smaller villages, connected by complex road networks and arranged around large plazas where public rituals would take place.
The long-ignored ocean emergency and what can be done to address it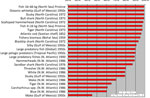 (08/18/2008) This year has been full of bad news regarding marine ecosystems: one-third of coral species threatened with extinction, dead-zones spread to 415 sites, half of U.S. reefs in fair or bad condition, increase in ocean acidification, tuna and shark populations collapsing, and only four percent of ocean considered pristine. Jeremy Jackson, director of the Scripps Center for Marine Biodiversity and Conservation at the University of California, San Diego, synthesizes such reports and others into a new paper, published in the journal Proceedings of the National Academy of Sciences, that boldly lays out the scope of the oceanic emergency and what urgently needs to be done.
How to save the world's oceans from overfishing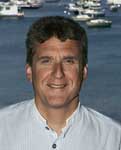 (07/08/2007) Global fishing stocks are in trouble. After expanding from 18 millions tons in 1950 to around 94 million tons in 2000, annual world fish catch has leveled off and may even be declining. Scientists estimate that the number of large predatory fish in the oceans has fallen by 90 percent since the 1950s, while about one-quarter of the world's fisheries are overexploited, depleted, or recovering from depletion. Despite these dire trends, the situation is changing. Today some of the world's largest environmental groups are focused on addressing the health of marine life and oceans, while sustainable fisheries management is at the top of the agenda for intergovenmental bodies. At the forefront of these efforts is Mike Sutton, director of the Monterey Bay Aquarium's conservation program: the Center for the Future of the Oceans. The aquarium, which has long been recognized as one of the world's most important marine research facilities, is pioneering new strategies for protecting the planet's oceans. Sutton says the approach has four parts: establishing new marine protected areas, pushing for ocean policy reform, promoting sustainable seafood, and protecting wildlife and marine ecosystems.
Aquaculture key to seafood crisis

(02/16/2007) A scientific panel at the American Association for the Advancement of Science annual meeting in San Francisco Friday revealed that rising demand for seafood has exceeded the capacity of the marine ecosystem and that expansion of aquaculture will need to continue to help meet consumer appetite for seafood products.
Summit explores how fish could feed Africa

(08/22/2005) This week policy makers, industry leaders, and development experts are meeting in Abuja, Nigeria to discuss the future of African fisheries and aquaculture. The fisheries sector, consisting of both inland (freshwater) and marine fisheries, is a vital source of food and income to millions of Africans. Fish production, processing and trade provides employment for more than 10 million, while fish exports from Africa are worth US$ 2.7 billion annually. The following is a description of the summit from Fish for All, an initiative seeking to shape public policy on issues from issues as fish and development, fish and nutrition, health, livelihood, environment, gender, water, river basins and coasts, trade and economic growth.
Farming the world's largest fish - an alternative to deforestation

(05/19/2005) Integrated aquaculture offers great potential for sustainable poverty allievation in the Amazon region. It reduces the need to clear land for subsistence agriculture while generating significant economic and nutritional benefits for poor Amazonian colonists.
Freshwater aquarium fish are important food source in many tropical countries

(05/05/2005) Those fish in your home aquarium may be important food sources in their native lands. According to figures recently released by the United Nations Food and Agriculture Organization's (FAO) Fisheries Department many fish typically kept by aquarium owners figure significantly in the daily nutrition of people in tropical Africa, Asia, and South America.