News articles on Antarctica

---
Mongabay.com news articles on Antarctica in blog format. Updated regularly.





For the first time, Sea Shepherd targets Antarctic toothfish poachers


(12/09/2014) For the first time, marine conservation group, Sea Shepherd, is employing their controversial methods to protect Antarctic and Patagonian toothfish. Dubbed 'Operation Icefish,' Sea Shepherd Australia is sending two ships into Antarctic waters to disrupt illegal vessels targeting the little-known species that are often sold in luxury markets as Chilean seabass.


Genetic sleuthing reveals grisly details of historic whale hunting


(11/05/2014) In 1904, Carl Anton Larsen, a Norwegian Antarctic explorer, arrived at Grytviken on the British island of South Georgia with three ships and 60 men, to establish its first commercial whaling station. The number of whaling stations soon increased, and by 1965 these had caught and processed an estimated 175,250 whales.


Russia and China blamed for blocking Antarctic marine reserve


(11/03/2014) Another year, another failed attempt to protect a significant chunk of the Ross Sea, which sits off the coast of Antarctica. According to observers, efforts to create the world's biggest marine protected area to date were shot down by Russia and China during a meeting in Hobart, Tasmania of the Commission for the Conservation of Antarctic Marine Living Resources (CCAMLR).


Olinguito, tinkerbell, and a dragon: meet the top 10 new species of 2013


(05/22/2014) Out of around 18,000 new species described and named last year, scientists have highlighted ten in an effort to raise awareness about the imperiled biodiversity around us. Each species—from a teddy-bear-like carnivore in the Andes to a microbe that survives clean rooms where spaceships are built—stands out from the crowd for one reason or another.


Climate change's ominous secret


(05/21/2014) Climate change is happening and humans are causing it, primarily from the increase in atmospheric carbon dioxide caused by burning fossil fuels. This much we know. The 'secret' comes from changes happening in the fast-warming Arctic: we may be surprisingly close to an Earth that supports far fewer humans than it does today.


Tipping point already reached? West Antarctica in slow-motion, unstoppable melt


(05/14/2014) Two hundred years from now, the planet could look very different. This week two landmark studies revealed that West Antarctica's ice sheet is in a state of seemingly inevitable collapse linked to climate change. The slow-motion collapse would by itself eventually lead to a rise in global levels of 3.6-4.5 meters (12-15 feet).


Japan changes its mind about Antarctic whaling ban, plans to continue hunts in 2015


(04/25/2014) Conservation groups were jubilant in response to last month's ruling by the International Court of Justice (ICJ) banning Japan's long-standing "research" whaling practices in the Antarctic. However, the celebrations proved short-lived after news last week that Japan has rescinded its agreement to abide by the ruling and stop whaling altogether, opting instead to redesign its program and continue whale hunts in the Southern Ocean.


Court partially stops Japan's 'scientific' whaling, but Pacific harvests to continue


(04/01/2014) Japan has harvested thousands of whales in North Pacific and Antarctic waters since the implementation of a global ban on whaling, eliciting harsh criticism from the international community. Now, in a landmark decision, the International Court of Justice (ICJ) has ruled that Japan must cease its whaling activities in the Antarctic.


Can penguins cope with climate change? Scientists find different types of ice elicit different responses


(03/13/2014) Human-caused climate change is altering the habitat of Adélie penguins (Pygoscelis adeliae). In an article recently published in PLOS ONE, a team of researchers led by Amélie Lescroël from the Centre d'Ecologie Fonctionnelle et Evolutive (CNRS) in France, found that changes in sea-ice content and newly formed icebergs significantly impacted Adélie penguin communities in the Ross Sea.


Amazing discovery in Antarctica: sea anemones found living upside down under ice (photos)


(01/27/2014) Sea anemones are supposed to sit on the bottom of the ocean, using their basal disc (or adhesive foot) to rest on a coral reef orsand. So, imagine the surprise of geologists in Antarctica when they discovered a mass of sea anemones hanging upside from the underside of the Ross Ice Shelf like a village of wispy ghosts. The researchers weren't even there to discover new life, but to learn about south pole currents through the Antarctic Geological Drilling (ANDRILL) Program via a remotely-operated undersea robot.


Global warming could upset Antarctic food chain


(01/02/2014) Resting near the bottom of the foodchain, Antarctic krill (Euphausia superba) underpin much of the Southern Ocean's ecosystem. But in a rapidly warming world, these hugely-abundant crustaceans could see their habitat shrink considerably. In a recent paper in PLOS ONE, scientists predict that Antarctic krill could lose 20 percent of their growth habitat, or 1.2 million square kilometers.


Conservationists work to give South Georgia back to the birds


(07/18/2013) A team on South Georgia has successfully completed the world's largest rodent eradication in an effort to rid the British territory of millions of rats and mice. Against the backdrop of an approaching Antarctic winter between February and May, three helicopters encountered perilous flying conditions while peppering the southern Atlantic island with 183 tonnes of the poison Brodifacoum. The team of 25 baited an area of 224 sq miles (580 sq km). The area targeted dwarfed the previous largest rodent eradication, on New Zealand's Campbell Island, by five times.


Plan to preserve the world's 'last ocean' killed by Russia

(07/16/2013) As the most pristine marine ecosystem on the planet, Antarctica's Ross Sea has become dubbed the world's "last ocean." Home to an abundance of penguins, whales, orcas, seals, and massive fish, the Ross Sea has so far largely avoided the degradation that has impacted much of the world's other marine waters. However, a landmark proposal to protect the Ross Sea, as well as the coastline of East Antarctica, has failed today due to opposition by Russia.


Last 30 years were the warmest in the last 1,400 years

(04/21/2013) From 1971 to 2000, the world's land areas were the warmest they have been in at least 1,400 years, according to a new study in Nature Geoscience. The massive new study, involving 80 researchers from around the world with the Past Global Changes (PAGES) group, is the first to look at continental temperature changes over two thousand years, providing insights into regional climatic changes from the Roman Empire to the modern day. According to the data, Earth's land masses were generally cooling until anthropogenic climate change reversed the long-term pattern in the late-19th Century.


Temperature in West Antarctica rising twice as fast as previously thought, finds study

(12/23/2012) The West Antarctic Ice Sheet is warming twice as fast as previously believed, spurring new concerns about broader melting in Antarctica and associated sea level rise, according to a new study published in the journal Nature Geoscience.


Greenland and Antarctica ice melt accelerating, pushing sea levels higher


(12/03/2012) A massive team of scientists have used multiple methods to provide the best assessment yet of ice loss at the world's poles, including Greenland and a number of Antarctic ice sheets. Their findings—that all major ice sheets are shrinking but one; that ice loss is speeding up; and that this is contributing to the rise in sea levels—add more evidence to the real-time impacts from global climate change. Melting ice sheets at the poles have raised sea levels 11.1 millimeters, or about 20 percent of observed sea level rise, in the past twenty years, according to the landmark study in Science.


Above the ocean: saving the world's most threatened birds


(11/01/2012) A life on the ocean is a perilous one for any bird. They must expend energy staying aloft for thousands of miles and learn to be marathon swimmers; they must seek food beneath treacherous waves and brave the world's most extreme climates; they must navigate the perils both of an unforgiving sea and far-flung islands. Yet seabirds, which includes 346 global species that depend on marine ecosystems, have evolved numerous strategies and complex life histories to deal with the challenges of the sea successfully, and they have been doing so since the dinosaur's last stand. Today, despite such a track record, no other bird family is more threatened; yet it's not the wild, unpredictable sea that endangers them, but pervasive human impacts.


Photos: emperor penguins take first place in renowned wildlife photo contest


(10/18/2012) Photographer, Paul Nicklen, says he'll never forget the moment when a slew of emperor penguins burst by him in the frigid Ross Sea; he'd waited in the cold water, using a snorkel, to capture this image. Now, Nicklen has won the much-coveted Veolia Environnement Wildlife Photographer of the Year Competition for the antic, bubbling photograph. Owned by the Natural History Museum and BBC Worldwide, this is the 48th year of the Veolia Environnement Wildlife Photographer of the Year, which hands out awards to 100 notable wildlife and environment photos.


Penguins face a slippery future


(09/26/2012) Penguins have spent years fooling us. With their image seemingly every where we turn—entertaining us in animated films, awing us in documentaries, and winking at us in commercials—they have made most of us believe they are doing just fine; the penguin's charming demeanor has lulled us into complacency about their fate. But penguin populations are facing historic declines even as their popularity in human society rises. Overfishing is decimating some of their prey species, climate change is shifting their resources and imperiling their habitat, meanwhile pollution, such as oil spills, are putting even healthy colonies at risk. Now, a young organization, the Global Penguin Society (GPS), is working to save all of the world's 18 penguin species by working with scientists, governments, and local communities.


Jungles in Antarctica? High CO2 levels contributed to tropical conditions on the icy continent 50M years ago

(08/02/2012) Tropical vegetation grew along the coast of Antarctica 52 million years ago, an indication to dramatic climate shifts linked to elevated carbon dioxide levels in the atmosphere, report scientists in Nature.


Humpback whales delaying migration due to Antarctic changes

(07/30/2012) Humpback whales in the Antarctic are delaying their migration to feed on krill that are staying later due to reduced extent of sea ice, a possible consequence of climate change, reports a study published in the journal Endangered Species Research.


Scientists discover 'Grand Canyon' of Antarctica buried deep in ice

(07/27/2012) British researchers have discovered a one mile deep rift valley hidden beneath the icy surface of West Antarctica, according to research published this week in Nature. The canyon may be hastening ice loss in the region.


Scientists count penguins by satellite, find twice as many as expected (photos)

(04/14/2012) The population of emperor penguins in Antarctica is nearly twice as high as previously estimated according to a new satellite-based assessment.


Three U.S. retailers pledge to avoid fish from embattled Ross Sea

(03/14/2012) The Ross Sea, a massive bay off Antarctica, has been dubbed the world's last ocean due to its pristine state, long-untouched by industry and fisheries. However, over the last 15 years New Zealand commercial fisheries have entered the sea, seeking the slow-growing Antarctic toothfish which is usually sold as the high-end Chilean sea bass. Now as conservation groups plead for nations to grant the Ross Sea protected status, Greenpeace has begun a campaign to get good retailers to steer clear of stocking Antarctic toothfish. To date, Safeway, Wegmans, and Harris Teeter has all pledged not to source from the Ross Sea.


The camera trap revolution: how a simple device is shaping research and conservation worldwide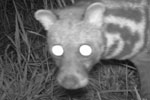 (02/14/2012) I must confess to a recent addiction: camera trap photos. When the Smithsonian released 202,000 camera trap photos to the public online, I couldn't help but spend hours transfixed by the private world of animals. There was the golden snub-monkey (Rhinopithecus roxellana), with its unmistakably blue face staring straight at you, captured on a trail in the mountains of China. Or a southern tamandua (Tamandua tetradactyla), a tree anteater that resembles a living Muppet, poking its nose in the leaf litter as sunlight plays on its head in the Peruvian Amazon. Or the dim body of a spotted hyena (Crocuta crocuta) led by jewel-like eyes in the Tanzanian night. Or the less exotic red fox (Vulpes vulpes) which admittedly appears much more exotic when shot in China in the midst of a snowstorm. Even the giant panda (Ailuropoda melanoleuca), an animal I too often connect with cartoons and stuffed animals, looks wholly real and wild when captured by camera trap: no longer a symbol or even a pudgy bear at the zoo, but a true animal with its own inner, mysterious life.


The Cryosphere-Princeton primers in climate: A Book Review

(01/23/2012) The Cryosphere by Dr. Shawn J. Marshall, Canada Research Chair in Climate Change, University of Calgary, is an excellent book because it summarizes leading scientific research into easily accessible chapters each one on a different component of the cryosphere. The cryosphere, which incorporates the Earth's snow and ice mass including seasonal snow, permafrost (both land-based permafrost and below water permafrost), river and lake ice, sea ice, glaciers, ice sheets, and ice shelves, is intrinsically related to global climate change. Hence, understanding how the cryosphere interacts with and is at risk because of climate change and its greenhouse gases is fundamental to developing effective policy mechanisms that mitigate climate change.


Hugh Powell: birds lend invaluable insight into ecosystems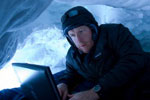 (01/23/2012) Hugh Powell is science editor at the Cornell Lab of Ornithology as well as a contributor to Woods Hole Oceanographic Institution's Oceanus and other publications. He's traveled extensively while writing, including stints in Antarctica for WHOI's Live from the Poles. Before finding his niche as a science writer, Hugh studied the interconnections between black-backed woodpeckers, insects, and forest fires in Montana. He currently resides in Ithaca, New York.


'Lost world' dominated by Yeti crabs discovered in the Antarctic deep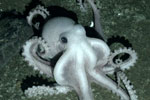 (01/03/2012) Scientists have discovered a deep sea ecosystem dominated by hairy pale crabs off of Antarctica. The new species of "Yeti crabs" survive alongside many other likely new species, including a seven-armed meat-eating starfish, off of hydrothermal vents, which spew heat and chemicals into the lightless, frigid waters. According to the paper published in PLoS ONE, this is the first discovery of a hydrothermal vent ecosystem in the Southern Ocean though many others have been recorded in warmer waters worldwide.


Discovery Channel backtracks, promises to air climate change episode of new Frozen Planet series

(12/07/2011) Discovery Channel has announced that it will, in fact, air the last episode of the new series Frozen Planet, which focuses solely on the impact of climate change at the world's poles. By the creators of universally-acclaimed Planet Earth, the full series explores the wildlife and environs of the Arctic and Antarctic, but the Discovery Channel came under fire after it announced it would not air the last episode, called "On Thin Ice", which deals specifically with climate change. A petition on Change.org garnered 75,000 signatures calling on the Discovery Channel to air the full series, before the network caved and announced it would do so.


Discovery Channel cuts climate change episode from Planet Earth follow-up

(11/17/2011) The new series Frozen Planet, by the creators of the super-popular and universally-acclaimed Planet Earth, details the wildlife and changing nature of the world's poles: the Antarctic and the Arctic. But while the four-year production filmed seven episodes, American audiences will only be treated to six. Discovery Channel has dropped the last episode that deals specifically with climate change.


PHOTO: Adorable penguin chicks score their own blog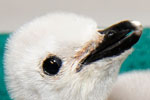 (11/15/2011) A new blog, dubbed the Real Chicks of Central Park, is allowing visitors an intimate look at eight impossibly-cute penguin chicks. Including video, photos, and interviews the blog is an attempt to raise awareness about penguins. The highlighted chicks include four gentoo penguins (Pygoscelis papua) and four chinstrap penguins (Pygoscelis antarcticus).


Antarctic king crabs warming up to invade continental shelf, threatening unique marine community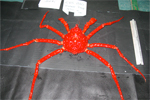 (11/15/2011) Dangerous and disruptive king crabs lurk in a deep pocket of the Antarctic continental shelf, clamoring to escape their cold-water prison to reach and permanently change the shallower, prehistoric paradise above. A team led by University of Hawaii oceanographer Craig Smith spotted the meter-long monsters in February 2010. It was the first time researchers have seen king crabs on the continental shelf.


Ocean prognosis: mass extinction


(06/20/2011) Multiple and converging human impacts on the world's oceans are putting marine species at risk of a mass extinction not seen for millions of years, according to a panel of oceanic experts. The bleak assessment finds that the world's oceans are in a significantly worse state than has been widely recognized, although past reports of this nature have hardly been uplifting. The panel, organized by the International Program on the State of the Ocean (IPSO), found that overfishing, pollution, and climate change are synergistically pummeling oceanic ecosystems in ways not seen during human history. Still, the scientists believe that there is time to turn things around if society recognizes the need to change.


Antarctic penguins losing to climate change through 80% krill decline

(04/11/2011) Climate change has hit species of Antarctic penguins by causing a staggering decline in their prey: krill. A new study in the Proceedings of the National Academy of Sciences (PNAS) has found that both chinstrap penguins (Pygoscelis antarcticus) and Adélie penguins (Pygoscelis adeliae) have seen their populations decline likely do to less krill, instead of habitat changes. Since 1970 krill populations have fallen by 80% in the Southern Ocean surrounding Antarctica. Because krill require sea ice to reproduce, shrinking sea ice from climate change has made it more difficult for them to breed.


Melting ice sheets largest contributor to rising sea levels

(03/08/2011) Researchers expected the shrinking ice sheets of Antarctica and Greenland to eventually become the greatest contributor to the world's rising sea levels; they just didn't expect it to happen so quickly. A new study in Geophysical Research Letters has found that ice sheets have overtaken melting glaciers and ice caps.


Sustainability of Antarctic toothfish fishery, legitimacy of Marine Stewardship Council called into question

(01/05/2011) In November of 2010, the Antarctic toothfish fishery was deemed sustainable by the Marine Stewardship Council. This certification goes against the advice of many marine scientists who claim that insufficient research has been done to determine the full impact of commercial fishing on this enigmatic species.


In the midst of marine collapse will we save our last ocean?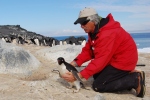 (07/05/2010) Imagine an ocean untouched by oil spills: a sea free of pollution, invasive species, dead zones, and over-exploitation; waters where marine animals exist in natural abundance and play ecological roles undimmed by mankind. Such a place may sound impossible in today's largely depleted oceans, but it exists: only discovered in 1841, the Ross Sea spreads over nearly a million kilometers adjacent to the Antarctic continent. Here killer whales, penguins, sea birds, whales, and giant fish all thrive. However, even with its status as the world's 'last ocean', the Ross Sea has not escaped human impact. Over the last 15 years commercial fisheries have begun to catch one of its most important species in the ecosystem to serve them up on the dinner plates of the wealthy.


The penguin crisis: over 60 percent of the world's penguins threatened with extinction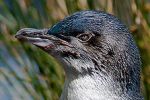 (06/10/2010) Everyone loves penguins. With their characteristic black-and-white 'tuxedo' markings, upright waddle, and childlike stature, penguins seem at once exotic and familiar: exotic because they live far from most human habitations, familiar because they appear in innumerable books and movies. From Mr. Popper's Penguins to Happy Feet, and from March of the Penguins to And Tango Makes Three, penguins pop-up everywhere. The flightless birds have even provided the name and symbol to one of the world's most successful publishing houses. Yet despite their popularity amid the human kingdom, few people seem aware that penguins worldwide are facing an extinction crisis.


Killer whales split into three separate species

(04/25/2010) Using genetic evidence scientists have discovered that the world's killer whales, also known as orcas (Orcinus orca), likely represent at least three separate species.


Video: no sunlight, no food, frozen conditions, but NASA finds complex life

(03/16/2010) In a discovery at the bottom of the world that could have implications on the search for extraterrestrial life, researchers were astounded to find an amphipod swimming beneath a massive Antarctic ice sheet.


Photos: Giant iceberg breaks off Antarctica

(02/26/2010) An iceberg the size of Luxembourg broke off from Antarctica after it was hit by another iceberg, reports Reuters. The separation could impact ocean circulation and affect marine life say researchers.


Climate change melting southern Antarctic Peninsula ice shelves

(02/23/2010) The US Geological Survey (USGS) has found that every ice front in the southern part of the Antarctic Peninsula—the coldest part—has been retreating overall for the past sixty years with the greatest changes visible since 1990.


Climate change pushes massive Antarctic glacier past tipping point

(01/14/2010) A new study shows that a major Antarctic glacier has likely passed its tipping point, putting it on track to lose 50 percent of its ice in 100 years. Such a loss is estimated to raise global sea levels by 24 centimeters (9.4 inches), according to the study published in the Proceedings of Royal Society A.


Catastrophic sea level rise could occur with only two degrees Celsius warming

(12/17/2009) Allowing the climate to rise by just two degrees Celsius—the target most industrialized nations are currently discussing in Copenhagen—may still lead to a catastrophic sea level rise of six to nine meters, according to a new study in Nature. While this rise in sea levels would take hundreds of years to fully occur, inaction this century could lock the world into this fate.


Photos: ten beloved species threatened by global warming



(12/14/2009) The International Union for the Conservation of Nature (IUCN) has released a list of ten species that are likely to be among the hardest hit by climate change, including beloved species such as the leatherback sea turtle, the koala, the emperor penguin, the clownfish, and the beluga whale. The timing of the list coincides with the negotiations by world leaders at the UN Climate Change Conference to come up with an international agreement to combat climate change.


Oceans' ability to sequester carbon diminishing

(11/18/2009) A new study—the first of its kind—has completed an annual accounting of the oceans' intake of carbon over the past 250 years, and the news is troubling. According to the study, published in Nature, the oceans' ability to sequester carbon is struggling to keep-up with mankind's ever-growing emissions. Since 2000 researchers estimate that while every year the oceans continue to sequester more anthropogenic carbon emission, the overall proportion of carbon taken in by the oceans is declining.


Satellite lasers show melting of Greenland, Antarctic worse than expected

(09/23/2009) Researchers examining 43 million satellite measurements of Antarctica's thinning ice sheets and 7 million of Greenland's, show that the ice is melting faster than expected. Published in Nature the research is the most comprehensive picture to date of the melting glaciers, allowing scientists to better predict how sea levels may rise.


Photo: guano stains helps researchers track penguins by satellite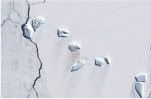 (06/10/2009) Researchers from the British Antarctic Survey (BAS) have uncovered a novel way to locate the world's largest penguin's breeding sites, employing satellite imagery they seek out Emperor penguin guano, droppings which show up starkly on the otherwise unsullied white sea ice of Antarctica. Searching for the penguins themselves had proven too difficult, since the birds' black-and-white coloring allowed them to blend in with the shadows made by the ice. The penguin droppings however are light-brown—a colors that has no other source on sea ice, besides guano.


Antarctica's sea ice increasing due to ozone hole, but scientists predict global warming will catch-up

(04/23/2009) Increasing ice in Antarctica is not a sign that the earth is actually cooling instead of warming as some climate change-skeptics have attested. A new study finds that the growth in Antarctic ice during the last 30 years is actually due to shifting weather patterns caused by the hole in the ozone layer. The researchers predict that eventually global warming will catch up to Antarctica leading to overall melting as it has in the Arctic.


Extremophiles discovered below Antarctic glacier are remnants of marine life

(04/16/2009) Living in isolation for millions of years, cut off from sunlight and oxygen, surviving by breathing iron beneath an Antarctic glacier—such are the conditions of newly-discovered microbes living under Taylor Glacier in Antarctica's desert-waste, the McMurdo Dry Valleys.


Ice bridge collapses, leaving Wilkins Ice Shelf vulnerable

(04/05/2009) As though commenting on world leader's lack of progress in combating climate change at the G20 conference last week, an ice bridge connecting the Wilkins Ice Shelf to the Antarctic continent broke off over the weekend. Long expected by scientists, the break is perhaps the beginning of the Wilkins Ice Shelf completely coming loose from Antarctica.


Experts forecast probability of global warming tipping points

(03/16/2009) The probability of Earth's climate passing a "tipping point" that could result in large impacts within the next two centuries is greater than 50 percent, according to research published in Proceedings of the National Academy of Sciences


Photos: 13,000 species found in Arctic, Antarctic Oceans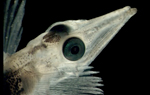 (02/16/2009) A marine census has documented more than 13,000 species in the Arctic and Antarctic Oceans, including several hundred that may be new to science. Conducted over a two-year period under often perilous conditions — including monster waves and dangerous polar bears — the series of 18 surveys turned up a wealth of information on the diversity, distribution and abundance of marine life. The research will also help establish a baseline for measure changes in polar ecosystems.


Global warming may doom emperor penguins to extinction

(01/27/2009) Disappearing sea ice around Antarctica may put emperor penguins at risk of extinction within the next century, warn scientists writing in this week's Proceedings of the National Academy of Sciences.


Antarctica shows net warming over past 50 years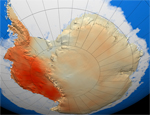 (01/22/2009) Despite a cooling trend in the East Antarctic Ice Sheet, Antarctica has experienced net warming over the past 50 years, report researchers writing in the January 22 edition of Nature. Analyzing data from satellites and weather stations authors led by Eric Steig of the University of Washington (UW) found that "warming in West Antarctica exceeded one-tenth of a degree Celsius per decade for the last 50 years and more than offset the cooling in East Antarctica", according to a statement from UW.


Ozone hole is second-largest on record in 2008

(10/30/2008) The Antarctic ozone hole reached its second-largest size on record in 2008, reports NASA.


2-degree rise in temperature may doom penguins colonies

(10/10/2008) More than half Antarctica's penguin colonies are at risk by a 2-degree global rise in temperatures, according to a report released by the environmental group WWF.


Study confirms strong link between CO2 and climate over 70,000 years

(09/11/2008) Analysis of ice core samples from Greenland show a strong correlation between atmospheric carbon dioxide levels and abrupt changes in climate, reports a paper published in Science.


Sea level rise likely limited to 2-6 feet by 2100

(09/04/2008) Global sea level rise is unlikely to exceed 2 meters (6 1/2 feet) by the end of century argues a new study published in the journal Science.


Seals used for climate change research

(08/11/2008) Animals have aided humanity for millennia. We are used to considering animals like dogs, horses, cows, and lamas as utilitarian in a very direct way, but what about elephant seals?


Fossils grant new insight into the Antarctica's natural history

(08/07/2008) At one time an alpine lake was inhabited by mosses and diatoms; insects such as beetles and midges crawled among sparse ferns and various crustaceans lived amid the lake's calm waters. This tundra-like landscape was the last stand of life in Antarctica, and it existed up to 14 million years ago before suddenly vanishing.


Carbon dioxide levels at highest level in 800,000 years

(05/28/2008) Greenhouse gases are at the highest levels in the past 800,000 years according to a study published in the journal Nature.


Geoengineering solution to global warming could destroy the ozone layer

(04/24/2008) A proposed plan to fight global warming by injecting sulfate particles into Earth's upper atmosphere could damage the ozone layer over the Arctic and Antarctic, report researchers writing in the journal Science.


Ozone-hole recovery may spur Antarctic warming

(04/24/2008) A full recovery of the stratospheric ozone hole could strongly modify climate change in the Southern Hemisphere and possibly amplify warming of the Antarctic continent, a new study finds.


Swan finds love with paddleboat

(03/25/2008) In a bizarre story out of Muenster, Germany, a black swam will be reunited with its companion — a paddleboat shaped like an outsized white swan, reports the Associated Press.


Photos: Warming triggers massive Antarctic ice shelf collapse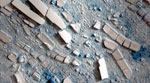 (03/25/2008) Satellites have captured the collapse of a massive ice shelf in Antarctica. At 160 square miles the area of collapsed ice was seven times the size of Manhattan. Scientists say the collapse is the beginning of a "runaway" disintegration of the 13,680 square kilometer (5,282 square mile) Wilkins Ice Shelf on the southwest Antarctic Peninsula. The region has experienced the largest temperature increase on the planet, rising by 0.5 degree Celsius (0.9 degree Fahrenheit) per decade over the past 50 years.


Giant sea creatures discovered in Antarctica

(03/21/2008) An eight week long survey of New Zealand's Antarctic waters has turned up giant creatures including jellyfish with 12-foot tentacles and 2-foot-wide starfish, as well as up to eight previously undiscovered species of mollusc, reports the Associated Press (A.P.).


Deep-sea krill discovered in Antarctica

(02/25/2008) Antarctic krill have been found living at depths up to 3000 meters near the Antarctic Peninsula, a finding that changes scientists' understanding of a fundamental part of the ocean food chain. Previously researchers believed that krill lived only in the upper ocean.


Photos of bizarre creatures discovered in Antarctica

(02/19/2008) Researchers aboard the Aurora Australis, an Australian vessel, have discovered a trove of strange creatures on the sea floor near East Antarctica.


Warming could bring sharks to Antarctica with devastating ecological consequences

(02/15/2008) Global warming could make the waters around Antarctica hospitable to sharks for the first time in 40 million years. Their return could have devastating ecological consequences report researchers from the University of Rhode Island.


Global warming puts penguins at risk of extinction

(02/11/2008) Climate change could put the long-term survival of sub-Antarctic King Penguins at risk by reducing the availability of prey, reports a new study published in Proceedings of the National Academy of Sciences.


Climate system approaching 9 critical tipping points

(02/04/2008) Earth is approaching and may pass nine important climate tipping points this century, according to research published this week in Proceedings of the National Academy of Science (PNAS).


Scientists: cut emissions now to avoid climate tipping point

(12/14/2007) Countries need to act soon to cut carbon dioxide emissions if the worst impacts of global warming are to be avoided, warned a panel of scientists speaking Thursday at the fall meeting of the American Geophysical Union in San Francisco.


NASA releases high-resolution map of Antarctica

(11/27/2007) A team of researchers from NASA, the U.S. Geological Survey, the National Science Foundation and the British Antarctic Survey today unveiled a high resolution, true-color map of Antarctica. The map is expected to help scientists better understand changes occurring on the icy continent.


Ozone Hole makes Early Appearance in 2007

(08/28/2007) The Antarctic ozone hole was discovered in 1985 by British scientists Joseph Farman, Brian Gardiner, and Jonathan Shanklin of the British Antarctic Survey. Though called a hole, it is rather a location in the ozone shield -- a layer that keeps ultra-violet rays from affecting us directly -- that is substantially lacking in ozone concentration.


Melting glaciers and ice cap will drive sea level rise

(07/19/2007) Melting glaciers and ice caps will contribute more to global sea level rise this century than the melting of the Greenland and Antarctic ice sheets, reports a study published in the current issue of Science.


Melting Antarctic icebergs help increase biodiversity, slow climate change

(06/21/2007) Icebergs breaking off Antarctica are unexpected hotspots of biological productivity and have a surprising role in climate change, reports a new study published in the journal Science.


Glaciers speed up due to global warming

(06/05/2007) Antarctic glaciers are moving faster due to global warming, reports the British Antarctic Survey.


California-sized area of snow melt spotted in Antarctica

(05/16/2007) NASA has found clear evidence of a California-sized area of snow melting in west Antarctica in January 2005 in response to warm temperatures.


Deep-sea creatures discovered near the Antarctic

(05/16/2007) Scientists have found hundreds of new marine creatures in the depths of the Weddell Sea near Antarctica, including Carnivorous sponges, free-swimming worms, crustaceans, and mollusks, reports research published in the current issue of the journal Nature.


Can penguins be used as bio-indicators of climate change?

(04/04/2007) Scientists at the University of Birmingham are working to determine whether the king penguin can be used as a bio-indicator for global warming.


Antarctic insects make natural anti-freeze to survive cold

(04/02/2007) Insects in the some of the world's coldest places produce natural anti-freeze that enables them to survive sub-freezing temperatures for months on end according to research represented at the Society for Experimental Biology's Annual Meeting in Glasgow.


Melting Antarctic glaciers could trigger sea level rise

(03/15/2007) Scientists have identified four melting Antarctic glaciers that could trigger a rapid rise in global sea levels according to a study published in the journal Science.


Melting ice reveals unknown species in Antarctica

(02/26/2007) An expedition to an area of seabed recently exposed by melting ice in Antarctica has discovered several previously unknown species of marine life, including deep sea lilies, gelatinous sea squirts, glass sponges, amphipod crustaceans, and orange starfish. The findings were announced Sunday by the Census of Antarctic Marine Life, a 10-year effort to map the biodiversity of the world's oceans.


Antarctic Peninsula warming affects penguins, krill

(02/15/2007) While much of Antarctica has cooled over the past decade, a warming trend in the Antarctic Peninsula may indicate what the future holds for the rest of the icy continent's wildlife. Researchers at Ohio State University say that higher temperatures have already forced penguin populations to migrate south and may have reduced the availability of krill that serve as the based of the Antarctic food chain.


Antarctic temperatures are not rising

(02/15/2007) Temperatures in Antarctica are not rising as predicted by many climate models, according to research presented at the annual meeting of the American Association for the Advancement of Science in San Francisco. David Bromwich, researcher with the Byrd Polar Research Center at Ohio State University, reports that his work has found no increase in precipitation over Antarctica in the last 50 years. Most climate models predict that precipitation and temperature will increase over Antarctica as the planet warms.


Antarctic subglacial lakes plumbed by satellite

(02/15/2007) The discovery of a network of rapidly filling and emptying lakes lying beneath at least two of West Antarctica's ice streams suggests that change in the Antarctic could be more rapid than previously believed, according to a team of scientists writing in Friday's edition of the journal Science.


Climate change caused dramatic changes in Antarctica 14 million years ago

(08/25/2006) Climate change 14 million years ago produced catastrophic drainage of subglacial lakes in Antarctica causing dramatic changes in the continent's landscape according to new research.


Ozone hole recovery slower than expected

(06/29/2006) Scientists from NASA and other agencies have concluded that the ozone hole over the Antarctic will recover around 2068, nearly 20 years later than previously believed. Researchers from NASA, the National Oceanic and Atmospheric Administration (NOAA) and the National Center for Atmospheric Research (NCAR) have developed a new tool, a math-based computer model, to predict the timing of ozone hole recovery. Their findings will be published tomorrow in Geophysical Research Letters.


Antarctic glaciers show Earth's climate system capable of rapid shifts

(05/08/2006) Researchers at Syracuse University have determined that glaciers once covered a much larger area of Antarctica than originally thought, suggesting that Earth's climate system is capable of rapid shifts. Looking at sediments from marine deposits and rock sources on Seymour Island, Syracuse University Professors Linda C. Ivany and Scott D. Samson along with colleagues at the University of Leuven in Belgium and Hamilton College found evidence that glaciers once covered extensive parts of the West Antarctica ice sheet. Previously, scientists had assumed that glaciers were confined to the eastern part of Antarctica, where the biggest ice sheet is today. The findings are significant because they suggest that the climatic response to the drop in greenhouse gas concentrations in the atmosphere 34 million years ago was greater than initially believed.


Greenhouse gases hit record in 2005

(05/01/2006) Atmospheric levels of gases believed to be fueling global warming continued to climb in 2005 according to analysis released by the U.S. National Oceanic and Atmospheric Administration. The agency said its index of greenhouse gases -- the Annual Greenhouse Gas Index or AGGI -- showed an increase in carbon dioxide (CO2) and nitrous oxide but a leveling off of methane, and a decline in two chlorofluorocarbons (CFCs), gases that contribute to the hole in the ozone layer above Antarctica. NOAA reports that overall, the AGGI "shows a continuing, steady rise in the amount of heat-trapping gases in the atmosphere."


Long-term cooling driven by Antarctica, not glaciers in Northern Hemisphere

(04/10/2006) Researchers from Brown University have reconstructed 5-million years of climate using tiny marine fossils found in mud off the coast of South America. The climate record unearthed by the Brown team is the longest continuous record of ocean temperatures on Earth.


Air above Antarctica warming rapidly

(03/30/2006) Winter air temperatures over Antarctica have risen by more than 2C in the last 30 years, according to a study by scientists from the British Antarctic Survey. The increase Antarctic temperature is three times larger than that observed globally over the same time period.


Sea levels to rise 20 feet if ice melting trend continues

(03/23/2006) New research says if current warming trends continue, the Greenland and Antarctic ice sheets are on track to melt sooner than previously thought, leading to a global sea level rise of at least 20 feet.


Antarctic and Greenland ice sheets are melting find new studies

(03/17/2006) Scientists have confirmed that climate warming is changing how much water remains locked in the Antarctic and Greenland ice sheets, according to an article published in the Journal of Glaciology.


Antarctica is melting, finds study

(03/05/2006) The Antarctic ice sheet continues to shrink according to a NASA study released last week.


Atmospheric carbon dioxide levels closely correlated with global temperatures

(11/28/2005) Studying ice cores from Antarctica, scientists of the Alfred Wegener Institute for Polar and Marine Research extended the record of historic concentrations of carbon dioxide, methane and nitrous oxide in the atmosphere by 250,000 years. The team found a close correlation between atmospheric carbon dioxide levels and global temperatures. Over the past 650,000 years, low greenhouse gas concentrations have been associated with cooler conditions. The current concentration of atmospheric carbon dioxide, at 380 parts-per-million, is the highest level recorded over the past 650,000 years.


Singing iceberg discovered in Antarctica

(11/25/2005) Scientists believe they have found a singing iceberg in Antarctica, according to research published in Science on Friday.


Carbon dioxide at highest level in 650,000 years

(11/24/2005) Carbon dioxide levels are now 27 percent higher than at any point in the last 650,000 years, according to research into Antarctic ice cores published on Thursday in Science.


Climate change boosts visitors to Alaska, Antarctica

(10/04/2005) A new advertising campaign launched Monday urges tourists to visit Alaska before they die. The billboards posted in Seattle, Washington; Los Angeles, California; and Minneapolis, Minnesota, show an Alaska license plate that reads "Alaska B4UDIE" -- or Alaska, before you die.



Page 1 | Page 2