News articles on Amazon river

---
Mongabay.com news articles on Amazon river in blog format. Updated regularly.





Groups call on world leaders to stop incentives for big dams

(12/09/2014) Nearly 200 civil society organizations have called on world leaders to exclude large hydroelectric projects from receiving green climate funds and other incentives.


Brazilian tribes demarcate territory in bid to block dams


(11/06/2014) Indigenous communities in Brazil have taken the unusual step of demarcating their own land — without the approval of the Brazilian government — in a bid to block two dams they say threaten their territory and traditional livelihoods, report International Rivers and Amazon Watch, advocacy groups that are fighting the projects. Last week the Munduruku people annexed the 178,000-hectare Sawré Muybu territory after authorities failed to recognize their claims.


Brazil cancels Tapajos dam auction due to indigenous concerns

(09/19/2014) Brazilian authorities have suspended the auction of the centerpiece of the massive Tapajos hydroelectric complex, reports Agencia Brasil.


Brazil's planned Tapajós dams would increase Amazon deforestation by 1M ha

(09/14/2014) A plan to build a dozen dams in the Tapajós river basin would drive the loss of an additional 950,000 hectares of rainforest by 2032 by spurring land speculation and mass migration to the region, suggests a new study published by Imazon, a Brazilian NGO.


Peruvian oil spill sparks concern in indigenous rainforest community

(07/29/2014) A ruptured pipeline that spilled tens of thousands of gallons of crude oil into the Marañón River in late June is fueling concerns about potential health impacts for a small indigenous community.


No longer 'deaf as a stump': researchers find turtles chirp, click, meow, cluck


(07/25/2014) Turtles comprise one of the oldest living groups of reptiles, with hundreds of species found throughout the world. Many have been well-researched, and scientists know very specific things about their various evolutionary histories, metabolic rates, and the ways in which their sexes are determined. But there was one very obvious thing that has been largely left unknown by science until very recently. Turtles can make sounds.


Oil drilling causes widespread contamination in the Amazon rainforest

(06/13/2014) Decades of oil extraction in the Western Amazon has caused widespread pollution, raising questions about the impact of a new oil boom in the region, according to a team of Spanish researchers presenting at a conference in California.


Uncovering the impact of big banks on the Amazon


(05/13/2014) Mongabay.org announces up to $30,000 environmental reporting grant: The Brazilian Development Bank & The Amazon. In recent years the Brazilian Development Bank BNDES as emerged as a goliath financier of large-scale energy and infrastructure development in the Amazon and elsewhere in South America. But as projects have mushroomed across the continent, so have the social and environmental impacts.


New dolphin discovered in the Amazon surprises scientists


(01/23/2014) Researchers have discovered a new species of river dolphin from the Amazon. Writing in the journal Plos One, scientists led by Tomas Hrbek of Brazil's Federal University of Amazonas formally describe Inia araguaiaensis, a freshwater dolphin that inhabits the Araguaia River Basin. It is the first true river dolphin discovered since 1918.


Rainforest news review for 2013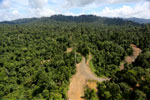 (12/26/2013) 2013 was full of major developments in efforts to understand and protect the world's tropical rainforests. The following is a review of some of the major tropical forest-related news stories for the year. As a review, this post will not cover everything that transpired during 2013 in the world of tropical forests. Please feel free to highlight anything this post missed via the comments section at the bottom. Also please note that this review focuses only on tropical forests.


Gold mine near controversial Belo Monte dam suspended

(11/22/2013) A gold mining project proposed near the Belo Monte dam site in the Amazon rainforest has been suspended by a Brazilian court, reports Reuters.


Belo Monte dam suspended

(10/29/2013) Construction on Belo Monte, Brazil's largest dam, was again halted by a federal court due to concerns over its license, reports Amazon Watch, an NGO that is mobilizing opposition to the project.


Scientist splits Amazonian giants into separate species

(10/23/2013) It's hard to mistake an arapaima for anything else: these massive, heavily-armored, air-breathing fish (they have to surface every few minutes) are the megafauna of the Amazon's rivers. But despite their unmistakability, and the fact that they have been hunted by indigenous people for millennia, scientists still know relatively little about arapaima, including just how many species there are. Since the mid-Nineteenth Century, scientists have lumped all arapaima into one species: Arapaima gigas. However, two recent studies in Copeia split the arapaimas into at least five total species—and more may be coming.


Judge halts construction of Amazon dam on Brazil's Teles Pires river

(09/19/2013) A federal judge in Brazil has ordered the suspension of construction activities on the Teles Pires due to shortcomings in the environmental licensing process, including the project's impacts on three local tribes, reports International Rivers.


Indigenous peoples resume occupation of Brazil's Belo Monte dam site

(09/19/2013) 150 indigenous protesters have once again occupied the Belo Monte dam site in an effort to block the controversial project, reports Amazon Watch, an NGO that is helping lead the fight against the dam.


Forgotten species: the arapaima or 'dinosaur fish'


(07/15/2013) Let's go back some 14,000 years (or up to 50,000 depending on who you talk to), since this is the first time humans encountered the meandering, seemingly endless river system of the Amazon. Certainly, the world's first Amazonians would have been astounded by the giant beasts of the region, including ground sloths and mastodons (both now extinct), as well as giant anteaters, armadillos, and tapirs, currently the biggest land animal on the continent. But these first explorers might have been even more surprised by what dwelled in the rivers: anaconda, caiman, and the arapaima. Wait, the what?


Stand up paddleboarding in the Amazon for conservation


(07/09/2013) This week an international team is setting off on a unique journey, aiming to be the first to descend the Amazon River using inflatable Stand Up Paddle boards. The group, led by Dr. Mika Peck, a conservation biologist from the University of Sussex with years of work in Ecuador and Colombia, includes Brazilian and Colombian researchers as well as an indigenous community leader.


Mystery of Amazon River carbon emissions solved

(05/21/2013) Bacteria living in the Amazon River digest nearly all wood plant matter that enters the river before it reaches the Atlantic Ocean, triggering the release of carbon locked up in the vegetation instead of sequestering it in the deep ocean, finds a new study published in Nature Geoscience. The research explains the mechanism by which the world's largest river 'exhales' large amounts of CO2.


Amazon's flood/drought cycle becoming more extreme, less predictable


(05/14/2013) The Amazon River's hydrological cycle has become more extreme over the past two decades with increasing seasonal precipitation across much of the basin despite drier conditions in the southern parts of Earth's largest rainforest, finds a new study published in Geophysical Research Letters. The research analyzed monthly Amazon River discharge at Óbidos, a point that drains 77 percent of the Amazon Basin, and compared it with regional precipitation patterns.


Deforestation will undercut effectiveness of rainforest dams


(05/13/2013) Deforestation may significantly decrease the hydroelectric potential of tropical rainforest regions, warns a new study published in Proceedings of the National Academy of Science. The study, used climate, hydrological, and land use models to forecast the impact of potential forest loss on hydropower generation on the Xingu River, a major tributary of the Amazon where the world's third largest dam — Belo Monte — is currently under construction.


Tribesmen launch 'occupy' protest at dam site in the Amazon rainforest

(05/03/2013) On Thursday roughly 200 indigenous people launched an occupation of a key construction site for the controversial Belo Monte dam in the Brazilian Amazon. The protestors, who represent communities that will be affected by the massive dam, are demanding immediate suspension of all work on hydroelectric projects on the Xingu, Tapajós and Teles Pires rivers until they are properly consulted, according to a coalition of environmental groups opposing the projects.


Scientists describe new species of see-through fish from the Amazon

(04/03/2013) Scientists have documented an entirely new genus of fish from the Amazon rainforest.


Tribe rejects payment from electricity company behind destructive Amazon dam

(03/14/2013) Leaders of more than two dozen Kayapó indigenous communities have rejected a $9 million offer from Brazilian state energy company Eletrobras to fund development projects in their region due to the the firm's involvement in the construction of the Belo Monte dam, reports Amazon Watch, an activist group fighting the hydroelectric project.


Brazilian agency rejects Canadian company's bid to mine controversial Amazon dam site for gold

(02/13/2013) Brazil's Federal Public Ministry rejected a proposed gold mining project adjacent to a controversial dam site in the heart of the Amazon rainforest, reports Amazon Watch, an environmental activist group that is campaigning against both the mine and the dam.


Amazon river ecosystems being rapidly degraded, but remain neglected by conservation efforts

(02/08/2013) The world's largest river system is being rapidly degraded and imperiled by dams, mining, overfishing, and deforestation, warns a study published last week by an international team of scientists.


Dams are rapidly damning the Amazon

(12/08/2012) Dam-builders seeking to unlock the hydroelectric potential of the Amazon are putting the world's mightiest river and rainforest at risk, suggests a new assessment that charts the rapid expansion of dams in the region.


Brazilian bank approves $10.8 billion loan for controversial Amazon rainforest dam

(11/30/2012) Brazil's National Development Bank (BNDES) on Monday announced it has approved a $10.8 billion (22.5 billion Brazilian reais) loan to the consortium that is building the controversial Belo Monte dam in the state of Par´ in the heart of the Amazon rainforest, reports International Rivers, a group that is campaigning against the dam. The loan in the largest in the bank's 60-year history, according to the group.


Brazil's controversial Belo Monte back on track after court decision overruled

(08/29/2012) Brazil's Supreme Court on Tuesday ordered work on the controversial Belo Monte dam in the Amazon to resume, overturning a lower court order that suspended the project less than two weeks ago. Construction activities by the Norte Energia, the consortium building the dam, resumed immediately, according to the Associated Press.


Construction of controversial Belo Monte dam stopped

(08/24/2012) Belo Monte dam developer Norte Energia, S.A. has stopped all work on the Belo Monte dam after receiving formal notification of the decision last week by the Brazilian Federal Appeals Court to suspend the project, reports International Rivers. Norte Energia said it would take 'all available measures to reverse the decision.'


'Penis snake' discovered in Brazil is actually a rare species of amphibian

(08/01/2012) A creature discovered by engineers building a dam in the Amazon is a type of caecilian, a limbless amphibian that resembles an earthworm or as some are noting, part of the male anatomy.


Dams are 'centerpiece of greenwashing' in the Amazon

(06/25/2012) Brazil's ambitious plans to build 30 dams in the Amazon basin could trump the country's efforts to protect the world's largest rainforest, said a leading Amazon scientist speaking at the annual meeting of the Association for Tropical Biology and Conservation (ATBC) in Bonito, Brazil.


Photo: Human canvas on Rio beach protests Brazil's dam-building spree in the Amazon

(06/20/2012) Nearly 1500 people formed a human banner on a beach in Rio de Janeiro today to protest plans to build dozens of dams in the Amazon basin, reports Amazon Watch, an NGO campaigning against Brazil's controversial Belo Monte dam.


Protesters dig canal through Belo Monte dam in Brazil (Photos)

(06/16/2012) In an symbolic protest of the giant Belo Monte Dam, Friday morning some 300 locals dug a channel in an earthen dam that blocks a portion of the Xingu River and serves as the first step of the controversial hydroelectric project, reports Amazon Watch.


Tropical dams are a false solution to climate change

(05/27/2012) Tropical dams emit considerably more greenhouse gas emissions than their temperate counterparts yet are being treated as a solution to climate change, warns a report published in Nature Climate Change.


Protesters hit Brazilian mining giant Vale over involvement in Belo Monte

(04/20/2012) More than 150 demonstrators protested outside Vale's headquarters in Rio de Janeiro during the Brazilian mining giant's annual shareholder meeting over the company's social and environmental record, reports Amazon Watch, a group that is fighting the massive Belo Monte dam.


Will mega-dams destroy the Amazon?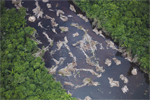 (04/18/2012) More than 150 new dams planned across the Amazon basin could significantly disrupt the ecological connectivity of the Amazon River to the Andes with substantial impacts for fish populations, nutrient cycling, and the health of Earth's largest rainforest, warns a comprehensive study published in the journal PLoS ONE. Scouring public data and submitting information requests to governments, researchers Matt Finer of Save America's Forests and Clinton Jenkins of North Carolina State University documented plans for new dams in Bolivia, Brazil, Colombia, Ecuador, and Peru.


Belo Monte Dam: A spearhead for Brazil's dam-building attack on the Amazon?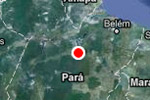 (03/23/2012) Brazil's Belo Monte Dam on the Xingu River is now under construction despite its many controversies. The Brazilian government has launched an unprecedented drive to dam the Amazon's tributaries, and Belo Monte is the spearhead for its efforts. Brazil's 2011-2020 energy-expansion plan calls for building 48 additional large dams, of which 30 would be in the country's Legal Amazon region1. Building 30 dams in 10 years means an average rate of one dam every four months in Brazilian Amazonia through 2020. Of course, the clock doesn't stop in 2020, and the total number of planned dams in Brazilian Amazonia exceeds 60.


Brazil's plan to cut protected areas for dams faces constitutional challenge

(02/17/2012) Federal public prosecutors in Brazil have challenged a plan to strip protected status from 86,288 hectares of land to make way for five new dams, reports International Rivers. The challenge is set to be heard by Brazil's Supreme Court.


Geology has split the Amazon into two distinct forests


(01/19/2012) The common view of the Amazon is that it is one massive, unbroken forest. This impression is given by maps which tend to mark the Amazon by a large glob of green or even by its single name which doesn't account for regional changes. Of course, scientists have long recognized different ecosystems in the Amazon, most especially related to climate. But a new study in the Journal of Biogeography has uncovered two distinct forest ecosystems, sharply divided, caused by million of years of geologic forces.


Deforestation, climate change threaten the ecological resilience of the Amazon rainforest

(01/19/2012) The combination of deforestation, forest degradation, and the effects of climate change are weakening the resilience of the Amazon rainforest ecosystem, potentially leading to loss of carbon storage and changes in rainfall patterns and river discharge, finds a comprehensive review published in the journal Nature.


Indigenous do not have right to free, prior and informed consultation on Amazon dam, rules Brazilian court

(11/09/2011) Indigenous communities do not have the right to free, prior and informed consultation on the Belo Monte dam because its infrastructure and reservoirs would not be physically located on tribal lands, ruled a Brazilian court.


Occupy Belo Monte: indigenous stage "permanent" protest against Amazon dam in Brazil

(10/27/2011) Hundreds of people are participating in a protest against the controversial Belo Monte dam in Altamira, Brazil, reports Amazon Watch.


Brazil boycotts OAS meeting after sharp human rights rebuke over giant Amazon dam

(10/27/2011) Brazil refused to attend a hearing convened by the Inter-American Commission on Human Rights (IACHR) of the Organization of American States (OAS) over the the controversial Belo Monte dam, reports Amazon Watch, a group campaigning against the hydroelectric project.


Tribal leader to the UN: Indigenous peoples of the Amazon are in danger

(09/22/2011) Amazonian indigenous peoples and their traditional territories are living under constant threat.


Scientists discover massive underground river 13,000 feet beneath the Amazon

(08/25/2011) Researchers at Brazil's National Observatory have discovered evidence of a massive underground river flowing deep beneath the Amazon River, reports the AFP.


Protesters demand end to controversial Amazon dam

(08/23/2011) Protesters in dozens of cities demanded Brazil abandon a plan to build a dam on one of the Amazon's largest tributaries, reports Amazon Watch, an NGO that helped organize the events.


Amazon rainforest communities added to Google Street View

(08/22/2011) Google is adding addresses along sections of the Amazon River and Rio Negro to its Street View service.


Last chance to see: the Amazon's Xingu River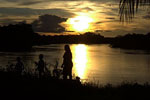 (06/15/2011) Not far from where the great Amazon River drains into the Atlantic, it splits off into a wide tributary, at first a fat vertical lake that, when viewed from satellite, eventually slims down to a wild scrawl through the dark green of the Amazon. In all, this tributary races almost completely southward through the Brazilian Amazon for 1,230 miles (1,979 kilometers)—nearly as long as the Colorado River—until it peters out in the savannah of Mato Grosso. Called home by diverse indigenous tribes and unique species, this is the Xingu River.


Brazil's shame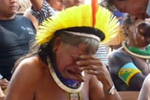 (06/03/2011) As an American I know a lot about shame — the U.S. government and American companies have wrought appalling amounts of damage the world over. But as an admirer of Brazil's recent progress toward an economy that recognizes the contributions of culture and the environment, this week's decision to move forward on the Belo Monte dam came as a shock. Belo Monte undermines Brazil's standing as a global leader on the environment. Recent gains in demarcating indigenous lands, reducing deforestation, developing Earth monitoring technologies, and enforcing environmental laws look more tenuous with a project that runs over indigenous rights and the environment.


Photos: two new freshwater stingrays discovered in the Amazon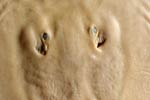 (03/09/2011) Few people probably realize that in the rivers and lakes of the Amazon rainforest large stingrays glide, searching for crustaceans and small fish. Equipped with a powerful barbed tail they are often feared by locals. However, even as big as these fish are, new species continue to be described. Recently, scientists have identified two new species of Amazonian freshwater stingray near Iquitos, Peru. The new stingrays are unique enough to be placed in a new genus (the taxonomic level above species) called Heliotrygon, the first new Amazonian stingray genus to be described in nearly 25 years.


Despite fierce opposition, work begins on Belo Monte dam

(01/27/2011) Arguably the most opposed dam project in the world received the go-ahead this week, reports the BBC. Brazil's environmental agency, IBAMA, has approved the first step of the massive hydroelectric project: clearing 588 acres of rainforest in the Amazon, although the dam would flood nearly 200 square miles (500 square kilometers) of forest.


Marathon swimmer: an interview with the first man to swim the length of the Amazon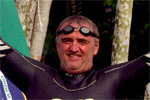 (01/23/2011) Explorers have been making their way down the world's mightiest river for hundreds of years. Untold numbers of people have not completed the journey, drowning in its murky waters, being eaten by animals, losing their way, succumbing to tropical disease, being killed by pirates or hostile local populations. But today a trip down the Amazon is less special—it has even been rafted and kayaked by a few intrepid souls. Traversing the majority of the Amazon can be done easily by commercial boat, provided you have the time and a lot of patience. But then in 2007 a Slovenian did something amazing: he swam the entire length of the river. The adventure took 66 days and exacted a heavy physical and mental toll, but Martin Strel survived and in so doing conveyed a simple, but powerful message to the world: we are part of the our environment.


Brazil's environment chief resigns over controversial Amazon dam

(01/14/2011) The president of Brazil's environmental agency IBAMA has resigned over pressure to grant a license for the Belo Monte dam, a hydroelectric project on the Xingu River that faces strong opposition from environmental groups and indigenous tribes, reports O Globo.


Renewed conflict between tribes and oil companies looms in Peru

(01/06/2011) Indigenous peoples and their allies have intensified their fight against two oil companies over contamination in the Peruvian Amazon. Last week, a group of indigenous protesters blockaded portions of the Marañon and Corrientes Rivers in the province of Loreto in northeastern Peru. The protesters were demanding that Pluspetrol, an Argentinean oil company, compensate them for a recent oil spill. As of December 28th, after eight days, the blockade remained unbroken.


Lack of schools, trade drive exodus from remote parts of the Amazon

(12/17/2010) Lack of school access and higher costs of trade are driving an exodus from remote areas in the Amazon, a new study published in Population & Environment reveals. The research sheds light on to why people are leaving remote forest areas. It follows an earlier publication indicating that migration away from remote rural areas may have repercussions on deforestation.


NASA image reveals worst drought on record for the Amazon river

(12/15/2010) A new image released by NASA reveals the impact of the worst drought on record on the world's largest river.


Formal petition filed against Belo Monte dam

(11/11/2010) The struggle against Brazil's Belo Monte dam on the Xingu River continues as today indigenous groups sent a formal petition to the Inter-American Commission on Human Rights (IACHR) to suspend the dam's construction, stating the dam violates human rights. The dam, which has been contentious in Brazil for decades, would flood 500 square miles of rainforest, lead to the removal of at least 12,000 people in the region, and upturn the lives of 45,000 indigenous people who depend on the Xingu River for survival.


Amazon biodiversity older than believed

(11/11/2010) A new study in Science has found that the incredible biodiversity of the Amazon rainforest goes back much further than expected, perhaps upending old ideas about how the Amazon basin became arguably the world's most biodiverse ecosystem. According to the study, the origin of rich biodiversity in the Amazon likely goes back more than 20 million years when the Andean mountains were rising.


Amazon suffers worst drought in decades

(10/24/2010) The worst drought since 1963 has created a regional disaster in the Brazilian Amazon. Severely low water levels have isolated communities dependent on river transport. Given a worsening situation, Brazil announced on Friday an emergency package of $13.5 million for water purification, tents, and food airdrops.


Google Earth animation shows Brazilian plans to turn Amazon into 'series of stagnant reservoirs'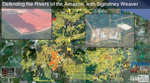 (08/30/2010) The decision last week by the Brazilian government to move forward on the $17 billion Belo Monte Dam on the Xingu river will set in motion a plan to build more than 100 dams across the Amazon basin, potentially turning tributaries of the world's largest river into 'an endless series of stagnant reservoirs', says a new short film released by Amazon Watch and International Rivers.


146 dams threaten Amazon basin

(08/19/2010) Although developers and government often tout dams as environmentally-friendly energy sources, this is not always the case. Dams impact river flows, changing ecosystems indefinitely; they may flood large areas forcing people and wildlife to move; and in the tropics they can also become massive source of greenhouse gases due to emissions of methane. Despite these concerns, the Amazon basin—the world's largest tropical rainforest—is being seen as prime development for hydropower projects. Currently five nations—Brazil, Bolivia, Colombia, Ecuador, and Peru—are planning over 146 big dams in the Amazon Basin. Some of these dams would flood pristine rainforests, others threaten indigenous people, and all would change the Amazonian ecosystem. Now a new website, Dams in Amazonia, outlines the sites and impacts of these dams with an interactive map.


'Prepare for war': tensions rising over Brazil's controversial Belo Monte dam

(05/25/2010) Tensions are flaring after Brazil's approval of the Belo Monte dam project last month to divert the flow of the Xingu River. The dam, which will be the world's third larges, will flood 500 square miles of rainforest, lead to the removal of at least 12,000 people in the region, and upturn the lives of 45,000 indigenous people who depend on the Xingu. After fighting the construction of the dam for nearly thirty years, indigenous groups are beginning to talk of a last stand.


BP and the Perilous Voyage of Bama the Manatee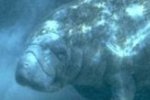 (05/23/2010) To the degree that Americans are paying attention to the environmental plight of marine wildlife in the Gulf of Mexico, they may focus most upon dolphins and whales. However, the U.S. public is much less familiar with another marine mammal, the manatee, which could also be placed in jeopardy as a result of the BP oil spill. One of the most outlandish creatures on the planet, the shy and retiring manatee, which gets its name from an American Indian word meaning "Lady of the Water", is one of my favorite animals.


Off and on again: Belo Monte dam goes forward, protests planned

(04/20/2010) An auction to build the Belo Monte dam, a massive hydroelectric project in Brazil, is going ahead despite two court-ordered suspensions, both of which have been overturned. The dam, which would be the world's third-largest, has been criticized by indigenous groups, environmental organizations, and most recently filmmaker James Cameron who created the wildly popular Avatar.


Brazil suspends Amazon dam project targeted by Avatar director

(04/15/2010) A Brazilian judge on Wednesday suspended the preliminary license for the Belo Monte hydroelectric dam, a controversial project in the heart of the Amazon rainforest, citing "danger of irreparable harm," reports the Amazon Watch, an NGO that has been campaigning on the issue. The move comes just days after a high-profile visit by James Cameron, director of the box office hit Avatar, and Sigourney Weaver, one of the stars of Avatar, to indigenous communities potentially affected by the dam.


Secrets of the Amazon: giant anacondas and floating forests, an interview with Paul Rosolie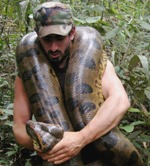 (03/10/2010) At twenty-two Paul Rosolie has seen more adventure than many of us will in our lifetime. First visiting the Amazon at eighteen, Rosolie has explored strange jungle ecosystems, caught anaconda and black caiman bare-handed, joined indigenous hunting expeditions, led volunteer expeditions, and hand-raised a baby giant anteater. "Rainforests were my childhood obsession," Rosolie told Mongabay.com. "For as long as I can remember, going to the Amazon had been my dream […] In those first ten minutes [of visiting], cowering under the bellowing calls of howler monkeys, I saw trails of leaf cutter ants under impossibly large, vine-tangled trees; a flock of scarlet macaws crossed the sky like a brilliant flying rainbow. I saw a place where nature was in its full; it is the most amazing place on earth."


Guyana expedition finds biodiversity trove in area slated for oil and gas development, an interview with Robert Pickles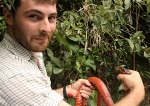 (11/29/2009) An expedition deep into Guyana's rainforest interior to find the endangered giant river otter—and collect their scat for genetic analysis—uncovered much more than even this endangered charismatic species. "Visiting the Rewa Head felt like we were walking in the footsteps of Wallace and Bates, seeing South America with its natural density of wild animals as it would have appeared 150 years ago," expedition member Robert Pickles said to Mongabay.com.


Ecological benefits of REDD boosted by inclusion of private landowners, potentially harmed by plantations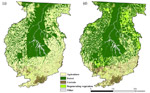 (11/17/2009) Reducing Emissions from Deforestation and Degradation [REDD] programs that include landowners will conserve more habitat and ensure greater ecosystem services function than programs that focus solely on protected areas, report researchers from the Woods Hole Research Center (WHRC), the Instituto de Pesquisa Ambiental da Amazônia (IPAM), and the Universidade Federal de Minas Gerais (UFMG).


Concerns over deforestation may drive new approach to cattle ranching in the Amazon


(09/08/2009) While you're browsing the mall for running shoes, the Amazon rainforest is probably the farthest thing from your mind. Perhaps it shouldn't be. The globalization of commodity supply chains has created links between consumer products and distant ecosystems like the Amazon. Shoes sold in downtown Manhattan may have been assembled in Vietnam using leather supplied from a Brazilian processor that subcontracted to a rancher in the Amazon. But while demand for these products is currently driving environmental degradation, this connection may also hold the key to slowing the destruction of Earth's largest rainforest.


New Amazonian reserve saves over a million acres in Peru


(08/30/2009) On August 27th Peru's Ministry of the Environment approved the creation of the Matses National Reserve to protect the region's biodiversity, ensure its natural resources, and preserve the home of the Matses indigenous peoples (known as the Mayorunas in Brazil). The park is 1,039,390 acres (or 420,626 hectares) of lowland Amazonian rainforest in eastern Peru. The park is the culmination of over a decade of work by the local non-profit CEDIA (the Center for the Development of the Indigenous Amazonians) funded in part by the Worldland Trust.


NASA photos show severe flooding in the Amazon

(07/22/2009) Photos released by NASA highlight last month's severe flooding of the Amazon River near the Brazilian city of Manaus.


Age of the Amazon River estimated at 11 million years

(07/08/2009) A new study, published in the journal Geology, estimates the age of the Amazon river at 11 million years.


Near-record flooding in the Amazon

(05/13/2009) Near-record flooding has displaced thousands of people in the Brazilian Amazon, reports the Associated Press.


14,000-barrel oil spill in the Ecuadorean Amazon

(02/27/2009) A ruptured oil pipeline caused 14,000 barrels of crude to spill into a river in the Napo region in northeast Ecuador, an area known for its high biological diversity, reports Reuters.


Captive breeding of monster Amazon fish could feed people and save it from depletion

(11/26/2008) A new technique for sexing a giant Amazon fish may help create a sustainable source of protein in South America, report researchers writing in Fish Physiology and Biochemistry.


Brazil OKs $4 billion dam in the Amazon rainforest

(11/13/2008) Brazil has given final go-ahead on a controversial dam on the Madeira river in the Amazon rainforest provided environmental conditions are met, reports the Associated Press.


Aquarium fish trade linked to cocaine, timber smuggling in Brazil

(08/10/2008) Smugglers are using the ornamental fish trade to traffic cocaine and illegally logged timber according to a report from Sérgio Abranches of O Eco, a leading Brazilian environmental web site.


New species of river dolphin discovered in the Amazon

(04/30/2008) Researchers have identified a new species of river dolphin in the Bolivian Amazon according to the Whale and Dolphin conservation Society (WDCS). The announcement was made at a conservation workshop in Santa Cruz de la Sierra in Bolivia.


Overfishing may hurt Amazon forest trees

(02/05/2008) Overfishing is reducing the effectiveness of seed dispersal by fish in the Brazilian Pantanal, reports Nature. The research suggests that fishing practices can affect forest health.


Controversial dam in the Amazon gets Brazilian go-ahead

(12/11/2007) The Brazilian government has awarded rights to build and operate a controversial R$10bn hydroelectric power plant on the Madeira river in the Amazon rainforest near the border with Bolivia, according to FT.com.


Piranhas originated when Amazon was flooded by seawater

(12/04/2007) South America's piranha family of fish -- notorious as eaters of flesh -- can be traced back to a single ancestor which dispersed when the Amazon was flooded by seawater some five million years ago, report researchers from the Institut de Recherche Pour le Développement (IRD). Today piranhas are exclusively freshwater fish found from the Orinoco River basin in Venezuela to the Paraná in Argentina.


Whale stranded 1,000 miles up the Amazon river

(11/17/2007) An 18-foot minke whale was found beached on a sandbar 1,000 miles up a tributary of the Amazon river, reported Globo television and the Associated Press.


$11B Amazon rainforest dam gets initial approval

(07/10/2007) The Brazilian government has given preliminary go-ahead on a massive Amazon dam project that environmentalists and scientists say could be a potential ecological disaster.


NASA maps newly proposed source of the Amazon River

(07/03/2007) NASA released a map showing the newly proposed source of the Amazon River, a change that would make it the longest river in the world. Last month Brazilian researchers proposed Mount Mismi, a snow-covered mountain in southern Peru as the source of the Amazon River. Previously, the generally accepted source was in northern Peru. If the revision holds, the length of the Amazon would exceed that of the Nile by roughly 60 miles (105 km). However the claim is likely to be contested.


Man-eating piranha are actually cowards

(07/01/2007) Despite their reputations as aggressive blood-thirsty carnivores, piranha schooling behvaior is a defensive measure to protect against predators rather than an offensive hunting maneuver, reports new research presented at the Royal Society's summer science exhibition in London. Piranhas face many predators in their Amazon habitat, including caiman, freshwater dolphins, and giant fish like the pirarucu or arapaima.


Is the Amazon longer than the Nile?

(06/18/2007) Brazilian researchers claim they have evidence proving that the Amazon is the longest river in the world, some 65 miles (105 km) longer than the Nile, reports BBC News.


Brazil debates $11B Amazon dam project

(06/10/2007) The eternal tension between Brazil's need for economic growth and the damage that can cause to the environment are nowhere more visible than here in this corner of the western Amazon. Now a proposal to build an $11 billion hydroelectric project here on the Madeira River, which may have the world's most diverse fish stocks, has set off a new controversy.


Amazon tribe blocks major Brazilian highway

(06/08/2007) Indigenous Amazonians have blocked a major highway in the Brazilian state of Mato Grosso to protest a series of hydroelectric dams planned on the Xingu river, one of the Amazon's largest tributaries, according to Brazzil Mag and Survival International.


Can cattle ranchers and soy farmers save the Amazon?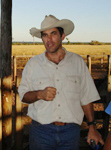 (06/06/2007) John Cain Carter, a Texas rancher who moved to the heart of the Amazon 11 years ago and founded what is perhaps the most innovative organization working in the Amazon, Alianca da Terra, believes the only way to save the Amazon is through the market. Carter says that by giving producers incentives to reduce their impact on the forest, the market can succeed where conservation efforts have failed. What is most remarkable about Alianca's system is that it has the potential to be applied to any commodity anywhere in the world. That means palm oil in Borneo could be certified just as easily as sugar cane in Brazil or sheep in New Zealand. By addressing the supply chain, tracing agricultural products back to the specific fields where they were produced, the system offers perhaps the best market-based solution to combating deforestation. Combining these approaches with large-scale land conservation and scientific research offers what may be the best hope for saving the Amazon.


Globalization could save the Amazon rainforest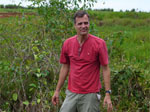 (06/03/2007) The Amazon basin is home to the world's largest rainforest, an ecosystem that supports perhaps 30 percent of the world's terrestrial species, stores vast amounts of carbon, and exerts considerable influence on global weather patterns and climate. Few would dispute that it is one of the planet's most important landscapes. Despite its scale, the Amazon is also one of the fastest changing ecosystems, largely as a result of human activities, including deforestation, forest fires, and, increasingly, climate change. Few people understand these impacts better than Dr. Daniel Nepstad, one of the world's foremost experts on the Amazon rainforest. Now head of the Woods Hole Research Center's Amazon program in Belem, Brazil, Nepstad has spent more than 23 years in the Amazon, studying subjects ranging from forest fires and forest management policy to sustainable development. Nepstad says the Amazon is presently at a point unlike any he's ever seen, one where there are unparalleled risks and opportunities. While he's hopeful about some of the trends, he knows the Amazon faces difficult and immediate challenges.


Man swims entire length of Amazon river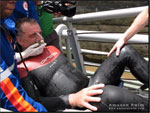 (04/09/2007) Slovenian marathon swimmer Martin Strel became the first person to swim the entire length of the Amazon River Saturday when he arrived in Belem, Brazil. Strel was immediately taken to the hospital in critical condition but is now recovering in a local hotel.


Amazon river flowed into the Pacific millions of years ago

(10/24/2006) A new study adds further evidence the theory that the world's largest river, the Amazon, once flowed in the opposite direction, emptying into the Pacific Ocean. Researchers at the University of North Carolina at Chapel Hill (UNC) discovered "ancient mineral grains" in the central Amazon that could only have originated in now-eroded mountains that once existed in the central and eastern South America, not the more recently formed Andes in the west


Amazon Port Pits Farmers Vs. Rainforest

(07/18/2006) When U.S. grain giant Cargill opened a $20 million port in this sleepy Amazon River city three years ago, it expected to cash in on the rising global demand for soybeans that had become Brazil's richest agricultural export.


The Amazon: Fisherman's paradise

(05/02/2006) The following is an update from The Wilderness Classroom's expedition to the Peruvian rainforest. This morning, I joined Warren and our new guide, Ramon, for a paddle in search of animals. At Lake El Dorado, you do not have to go far to find animals. It seemed like everywhere we looked we found something new to look at.


Flooded forest habitat in the Amazon rainforest

(05/02/2006) The following is an update from The Wilderness Classroom's expedition to the Peruvian rainforest. We are near the end of our journey through the Pacaya Samiria National Reserve, and we have experienced so many new sights and sounds that it is hard to recount all of them in our updates. Each week we've focused on a different topic to pass on the information that we are gathering for you. This week we will focus on habitat.


Rivers are the highways of the Amazon

(04/11/2006) Rivers are the highways of the Amazon. Instead of driving cars and trucks, people use use boats to travel from place to place. Launchas are large boats powered by strong engines that travel up and down all the major rivers in the Amazon Basin. We have spent the last two day nights and two night on a launcha that is traveling up the Amazon River at about 10 miles an hour.


Exploring the Flooded Streets of Iquitos, Peru

(04/09/2006) Belen is on the edge of the large city of Iquitos. Belen is unique because much of the city is covered in water for most of the year. From January to May the streets, soccer fields, and gardens are underwater. Many of the houses are built on rafts that float up and down as the river rises and falls. Other houses are built on stilts so that the water does not cover the house when the water rises. The floating city was full of life: people paddling canoes, children swimming and laughing, people going about their daily lives in houses floating on the Amazon River.


Brazil to flood Amazon rainforest for hydroelectric power

(03/17/2006) Brazil's plans to dam two rivers in the Amazon basin to generate power threaten a treasure trove of animals and plants in a region with one of the world'apos;apos;s richest arrays of wildlife, environmentalists say.


Amazon drought continues, worst on record

(12/11/2005) The worst drought ever recorded in the Amazon continues according to an update from The New York Times. The drought has turned rivers into grassy mud flats, killed tens of millions of fish, stranded hundreds of communities, and brought disease and economic despair to the region.


Amazon at record low -- communities isolated, commerce stalled

(10/11/2005) The Amazon River in Peru and parts of Brazil is at its lowest level in 30 years of record keeping. While variable water levels are characteristic of the Amazon river ecosystem, the increasingly extreme fluctuations are of great concern. Low water levels are wreaking havoc on the shipping industry in the region. In Iquitos, a city in the heart of the Peruvian Amazon which is only accessible by plane or boat, ships and barges are having difficulty navigating the river, resulting in serious shipping delays. Local officials in Peru are blaming deforestation of the upper reaches of the Amazon in the Andes for the fall in river levels, although it is likely that larger forces are at least equally important. Warmer ocean surface temperatures in the Pacific and low sunspot activity is also affecting weather in the region, while warming in the north Atlantic -- which has helped trigger an unusually strong and destructive hurricane season -- may be preventing the formation of rain clouds over the Amazon Basin.



Page 1 | Page 2