News articles on Amazon rainforest

---
Mongabay.com news articles on Amazon rainforest in blog format. Updated regularly.






Saving the world's biggest river otter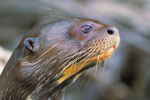 (01/30/2012) Charismatic, vocal, unpredictable, domestic, and playful are all adjectives that aptly describe the giant river otter (Pteronura brasiliensis), one of the Amazon's most spectacular big mammals. As its name suggest, this otter is the longest member of the weasel family: from tip of the nose to tail's end the otter can measure 6 feet (1.8 meters) long. Living in closely-knit family groups, sporting a complex range of behavior, and displaying almost human-like capricious moods, the giant river otter has captured a number of researchers and conservationists' hearts, including Dutch conservationist Jessica Groenendijk.
Photo of the Day: Critically Endangered brown spider monkey discovered in park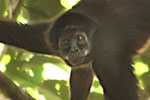 (01/26/2012) Researchers with The Wildlife Conservation Society (WCS) and Colombia's National Parks Unit have located at least two individuals of brown-spider monkey (Ateles hybridus) in Colombia's Selva de Florencia National Park. The discovery is important because its the only known population of this particular subspecies (Ateles hybridus brunneus) in a protected area.
Photos: 46 new species found in little-explored Amazonian nation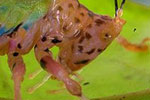 (01/25/2012) South America's tiniest independent nation still hides a number of big surprises: a three week survey to the sourthern rainforests of Suriname found 46 potentially new species and recorded nearly 1,300 species in all. Undertaken by Conservation International's (CI) Rapid Assessment Program (RAP) the survey found new species of freshwater fish, insects, and a new frog dubbed the "cowboy frog" for the spur on its heel. While Suriname may be small, much of its forest, in the Guyana Shield region of the Amazon, remains intact and pristine. The Food and Agriculture Organization (FAO) estimates that 91 percent of Suriname is covered in primary forests, however this data has not been updated in over two decades.
Brazil begins preliminary damming of Xingu River as protests continue

(01/19/2012) Damming of the Xingu River has begun in Brazil to make way for the eventual construction of the hugely controversial, Belo Monte dam. The Norte Energia (NESA) consortium has begun building coffer dams across the Xingu, which will dry out parts of the river before permanent damming, reports the NGO International Rivers. Indigenous tribes, who have long opposed the dam plans on their ancestral river, conducted a peaceful protest that interrupted construction for a couple hours.
Geology has split the Amazon into two distinct forests
(01/19/2012) The common view of the Amazon is that it is one massive, unbroken forest. This impression is given by maps which tend to mark the Amazon by a large glob of green or even by its single name which doesn't account for regional changes. Of course, scientists have long recognized different ecosystems in the Amazon, most especially related to climate. But a new study in the Journal of Biogeography has uncovered two distinct forest ecosystems, sharply divided, caused by million of years of geologic forces.
Ecuador makes $116 million to not drill for oil in Amazon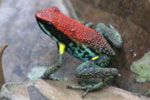 (01/02/2012) A possibly ground-breaking idea has been kept on life support after Ecuador revealed its Yasuni-ITT Initiative had raked in $116 million before the end of the year, breaking the $100 million mark that Ecuador said it needed to keep the program alive. Ecuador is proposing to not drill for an estimated 850 million barrels of oil in the Ishpingo-Tambococha-Tiputinin (ITT) blocs of Yasuni National Park if the international community pledges $3.6 billion to a United Nations Development Fund (UNDF), or about half of what the oil is currently worth. The Yasuni-ITT Initiative would preserve arguably the most biodiverse region on Earth from oil exploitation, safeguard indigenous populations, and keep an estimated 410 million tons of CO2 out of the atmosphere. However, the initiative is not without its detractors, some arguing the program is little more than blackmail; meanwhile proponents say it could prove an effective way to combat climate change, deforestation, and mass extinction.
Top 10 Environmental Stories of 2011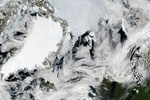 (12/22/2011) Many of 2011's most dramatic stories on environmental issues came from people taking to the streets. With governments and corporations slow to tackle massive environmental problems, people have begun to assert themselves. Victories were seen on four continents: in Bolivia a draconian response to protestors embarrassed the government, causing them to drop plans to build a road through Tipnis, an indigenous Amazonian reserve; in Myanmar, a nation not known for bowing to public demands, large protests pushed the government to cancel a massive Chinese hydroelectric project; in Borneo a three-year struggle to stop the construction of a coal plant on the coast of the Coral Triangle ended in victory for activists; in Britain plans to privatize forests created such a public outcry that the government not only pulled back but also apologized; and in the U.S. civil disobedience and massive marches pressured the Obama Administration to delay a decision on the controversial Keystone XL pipeline, which would bring tar sands from Canada to a global market.
Is the Russian Forest Code a warning for Brazil?
(12/19/2011) Brazil, which last week moved to reform its Forest Code, may find lessons in Russia's revision of its forest law in 2007, say a pair of Russian scientists. The Brazilian Senate last week passed a bill that would relax some of forest provisions imposed on landowners. Environmentalists blasted the move, arguing that the new Forest Code — provided it is not vetoed by Brazilian President Dilma Rousseff next year — could undermine the country's progress in reducing deforestation.
Peru's Cocha Cashu biological station changes management

(12/08/2011) The San Diego Zoo Global Wildlife Conservancy is taking over management of the productive Cocha Cashu field station in Manu National Park, Peru. To date, nearly 600 scientific papers have come out of research conducted at the station, making it among the five most productive research stations in the Amazon and Andes. Located in a part of the Amazon rainforest that has seen little human impact, the station was founded in 1969, four years before Manu National Park was gazetted.
Yasuni ITT: the virtues and vices of environmental innovation

(12/07/2011) As the 17th Conference of the Parties to the United Nations Framework Convention on Climate Change (UNFCCC) is taking place in Durban, Ecuador has embarked on the development of a project presented as highly innovative. This project targets Yasuni National Park, which has been protected since 1979. Yasuni is home to several indigenous peoples and is a biodiversity hotspot. But it so happens that the park also sits atop a vast oil field of 846 million barrels, representing about 20 percent of the country's oil reserves. The acronym Yasuni ITT stands for Ishpingo-Tambococha-Tiputinin, which are the names of three potential zones for oil extraction.
Ecotourism isn't bad for wildlife in the Amazon

(11/23/2011) Ecotourism doesn't hurt biodiversity, and in some cases may even safeguard vulnerable areas, concludes a new study from the Amazon in Mammalian Biology. Surveying large mammals in an ecotourism area in Manu National Biosphere, the researchers found that ecotourists had no effect on the animals. However, the researchers warn that not all ecotourism is the same, and some types may, in fact, hurt the very animals tourists come to see.
Bolivian road project through Amazon reserve canceled

(10/23/2011) Following a violent crackdown on protestors which deeply embarrassed the Bolivian government, president Evo Morales has thrown-out plans to build a road through an indigenous reserve, reports the BBC. Protestors marched 310 miles (498 kilometers) from the Amazon to La Paz to show their opposition to the road, saying that the project would destroy vast areas of biodiverse rainforest and open up their land to illegal settlers.
Isolated indigenous people and tourists collide in Peru park

(10/19/2011) New video released by the Peruvian government shows a potentially disastrous encounter between tourists and indigenous people long isolated from the outside world. In a motor boat tourists follow a group of Mashco-Piro people walking along the shores of the Manu River in Manu National Park. At one point one of the tribal members prepares to fire at the boat with an arrow. But danger doesn't only come from the possibility of a violent clash: uncontacted indigenous people, those who have chosen isolation from the world, are incredibly susceptible to disease.
Judge: work must halt on monster dam, Belo Monte

(09/29/2011) The decades-long fight over Brazilian megadam, the Belo Monte, has taken another U-turn after a judge ordered work to stop immediately since the dam would devastate vital fishing grounds for local people. In June the Brazilian government gave a go-ahead to the $11-17 billion dam, despite large-scale opposition from indigenous groups along the Xingu River and international outcry, including a petition signed by 600,000 people.
Following violent crackdown against protestors, Bolivia puts Amazon road project on ice

(09/27/2011) After a police crackdown against indigenous activists, Bolivian President Evo Morales has suspended a large highway project through the Amazon rainforest. The police reaction—which included tear gas, rounding up protestors en masse, and allegations of violence—resulted in several officials stepping down in protest of the government's handling. Some indigenous people marched 310 miles (498 kilometers) from the Amazon to La Paz to show solidarity against the road, saying they had not been consulted and the project would destroy vast areas of biodiverse rainforest.
Repeated burning undercuts Amazon rainforest recovery

(09/26/2011) The Amazon rainforest can recover fromlogging, but has a far more difficult time returning after repeated burning, reports a new study in mongabay.com's open-access journal Tropical Conservation Science. In areas where the Amazon had been turned to pasture and was subject to repeated burning, Visima trees become the dominant tree inhibiting the return of a biodiverse forest. The key to the sudden domination of Visima trees, according to the study, is that these species re-sprout readily following fires; a capacity most other Amazonian trees lack.
New map reveals the most biodiverse place on Earth, but already threatened by oil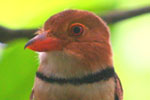 (09/22/2011) A new map highlights the importance of conserving Yasuni National Park as the most biodiverse ecosystem in the Western Hemisphere, and maybe even on Earth. Scientists released the map to coincide with the United National General Assembly in support of a first-of-its-kind initiative to save the park from oil exploration through international donations to offset revenue loss. Known as the Yasuni-ITT Initiative, the plan, if successful, would protect a 200,000 hectare bloc in Yasuni National Park from oil drilling in return for a trust fund of over $3 billion.
Indigenous people blockade river against 'murderous' oil company

(09/21/2011) Over the weekend more than 100 Shuar indigenous people, also known as Wampis, blockaded the Morona River in Peru in an effort to stop exploratory oil drilling by Canadian-owned Talisman Energy. The blockade in meant to prevent oil drilling in an area of the Peruvian Amazon known as Block 64, home to four indigenous tribes in total and the Pastaza River Wetland Complex, a Ramsar wetland site.
Two arrested in connection with murdering Amazon activists

(09/20/2011) Two suspects have been arrested for allegedly taking part in the killing of Amazon activist, José Cláudio Ribeiro da Silva, and his wife, Maria do Espírito Santo da Silva. The men, who are brothers, were arrested after police stormed their remote jungle camp on Sunday in Brazilian state of Para. A third man remains at large.
Loving the tapir: pioneering conservation for South America's biggest animal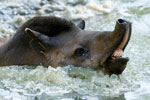 (09/11/2011) Compared to some of South America's megafauna stand-out species—the jaguar, the anaconda, and the harpy eagle come to mind—the tapir doesn't get a lot of love. This is a shame. For one thing, they're the largest terrestrial animal on the South American continent: pound-for-pound they beat both the jaguar and the llama. For another they play a very significant role in their ecosystem: they disperse seeds, modify habitats, and are periodic prey to big predators. For another, modern tapirs are some of the last survivors of a megafauna family that roamed much of the northern hemisphere, including North America, and only declined during the Pleistocene extinction. Finally, for anyone fortunate enough to have witnessed the often-shy tapir in the wild, one knows there is something mystical and ancient about these admittedly strange-looking beasts.
Peru president signs indigenous rights act into law

(09/07/2011) Peru's new president, Ollanta Humala, has signed into law a measure requiring that indigenous groups are consulted prior to any mining, logging, or oil and gas projects on their land. If properly enforced, the new legislation will give indigenous people free, prior and informed consent (FPIC) over such industrial projects, though the new law does not go so far as to allow local communities a veto over projects. Still, the law puts Peru in line with the Indigenous and Tribal Peoples Convention of 1989, which the South American nation ratified nearly two decades ago.
Photo: new titi monkey discovered in Amazon area under siege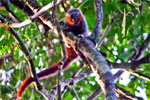 (08/25/2011) A new species of titi monkey has been discovered in the Brazilian Amazon. Found during a 2010 December expedition, this is the second new titi monkey discovered in the Amazon in three years. In 2008 another new titi, dubbed the Caquetá titi, was discovered in the Colombian Amazon, although it was only announced last year. An expedition backed by WWF-Brazil found the new titi between the Guariba River and the Roosevelt River in northwestern part of Mato Grosso, a state of Brazil known as a center of Amazon destruction.
Indigenous protestors embark on 300-mile walk to protest Amazon road in Bolivia

(08/21/2011) Indigenous protesters are targeting a new road in the Bolivian Amazon, reports the BBC. The 190-mile highway under construction in the Bolivian Amazon will pass through the Isiboro-Secure Indigenous Territory and National Park (Tipnis), a 4,600-square mile (11,900 square kilometers) preserve which boasts exceptional levels of rainforest biodiversity, including endangered blue macaws and fresh-water dolphins. Indigenous peoples who live in Tipnis are participating in a month-long protest march against the road, which they claim violates their right to self-governance.
Lessons from the world's longest study of rainforest fragments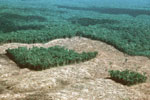 (08/15/2011) For over 30 years, hundreds of scientists have scoured eleven forest fragments in the Amazon seeking answers to big questions: how do forest fragments' species and microclimate differ from their intact relatives? Will rainforest fragments provide a safe haven for imperiled species or are they last stand for the living dead? Should conservation focus on saving forest fragments or is it more important to focus the fight on big tropical landscapes? Are forest fragments capable of regrowth and expansion? Can a forest—once cut-off—heal itself? Such questions are increasingly important as forest fragments—patches of forest that are separated from larger forest landscapes due to expanding agriculture, pasture, or fire—increase worldwide along with the human footprint.
Indigenous peoples in Suriname still wait for land rights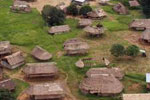 (07/31/2011) Legal rights and recognition for the diverse indigenous peoples of Suriname have lagged behind those in other South American countries. Despite pressure from the UN and binding judgments by the Inter-American Court of Human Rights, Suriname has yet to recognize indigenous and tribal land rights, a situation that has disconnected local communities from decisions regarding the land they have inhabited for centuries and in some cases millennia. A new report, Securing Indigenous Peoples' Rights in Conservation in Suriname: A Review outlines how this lack of rights has alienated indigenous communities from conservation efforts in Suriname. Instead of having an active say in the creation of conservation reserves, as well as their management, decisions on indigenous lands have traditionally been imposed from the 'top-down' either by government officials or NGOs.
Suspects named for assassination of husband and wife activists in Brazil

(07/21/2011) Brazilian authorities have fingered three men for the killing of environmental activist, José Cláudio Ribeiro da Silva, and his wife, Maria do Espírito Santo da Silva, in May. The grisly murders received international attention, since José da Silva was a well known activist against illegal logging in Pará, a state in Brazil that is rife with deforestation and violence.
Oil company hires indigenous people to clean up its Amazon spill with rags and buckets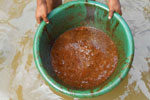 (07/13/2011) On Sunday morning children swimming in the Mashiria River in the Peruvian Amazon noticed oil floating on the water. A pipeline owned by Maple Energy had ruptured in Block 31-E, polluting the Mashiria River which is used by the Shipibo indigenous community in Nuevo Sucre for fishing and drinking water. In response to the spill, Maple Energy's local operator—Dublin incorporate transnational—hired 32 Shipibo community members to clean up the spills using only rags and buckets.
Peru cancels massive dam project after years of protests

(06/16/2011) Three years of sustained community opposition have brought down plans for a massive dam on the Madre de Dios River in Peru. Yesterday the Peruvian government announced it was terminating the contract with Empresa de Generación Eléctrica Amazonas Sur (Egasur) to build a 1.5 gigawatt dam, known as the Inambari Dam. The dam was one of six that were agreed upon between Peru and Brazil to supply the latter with energy.
Last chance to see: the Amazon's Xingu River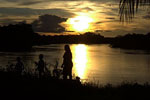 (06/15/2011) Not far from where the great Amazon River drains into the Atlantic, it splits off into a wide tributary, at first a fat vertical lake that, when viewed from satellite, eventually slims down to a wild scrawl through the dark green of the Amazon. In all, this tributary races almost completely southward through the Brazilian Amazon for 1,230 miles (1,979 kilometers)—nearly as long as the Colorado River—until it peters out in the savannah of Mato Grosso. Called home by diverse indigenous tribes and unique species, this is the Xingu River.
Germany backs out of Yasuni deal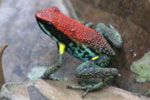 (06/13/2011) Germany has backed out of a pledge to commit $50 million a year to Ecuador's Yasuni ITT Initiative, reports Science Insider. The move by Germany potentially upsets an innovative program hailed by environmentalists and scientists alike. This one-of-a-kind initiative would protect a 200,000 hectare bloc in Yasuni National Park from oil drilling in return for a trust fund of $3.6 billion, or about half the market value of the nearly billion barrels of oil lying underneath the area. The plan is meant to mitigate climate change, protect biodiversity, and safeguard the rights of indigenous people.
Shareholders to Chevron: company showing 'poor judgment' in Ecuador oil spill case

(05/26/2011) After being found guilty in February of environmental harm and ordered to pay $8.6 billion in an Ecuador court of law, Chevron this week faced another trial: this time by shareholders in its Annual General Meeting in California. While Chevron has appealed the Ecuador case and a US court has put an injunction barring the enforcement of the ruling in the US, notable Chevron investors say the company has gone astray in its seemingly endless legal battle with indigenous groups in the Ecuadorian Amazon.
Killing in the name of deforestation: Amazon activist and wife assassinated

(05/24/2011) José Cláudio Ribeiro da Silva and his wife, Maria do Espírito Santo da Silva, were gunned down last night in an ambush near their home in the Brazilian state of Pará. Da Silva was known as a community leader and an outspoken critic of deforestation in the region. Police believe the da Silvas were killed by hired assassins because both victims had an ear cut off, which is a common token for hired gunmen to prove their victims had been slain, according to local police investigator, Marcos Augusto Cruz, who spoke to Al Jazeera. Suspicion immediately fell on illegal loggers linked to the charcoal trade that supplies pig iron smelters in the region.
Uncovering the private lives of Amazon wildlife through camera traps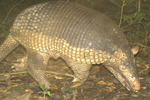 (05/20/2011) One of the best words to describe Amazon wildlife, including large mammals and birds, is cryptic. A person can spend a day trekking through the dense green and brown foliage of the Amazon and see nothing more than a few insects, maybe a frog here and there if they have good eyes. In fact, researchers have spent years in the jungle and never seen a jaguar, let alone a tapir. Some species like the bushdog and the giant armadillo are even more cryptic. Almost never encountered by people, in some parts of the Amazon they have taken on a mythic status, more rumor around the fire than reality. However, camera traps—automated cameras that take a flash photo whenever an animal triggers an infrared sensor—in the Amazon have begun to reveal long-sought information about the presence and abundance of species, providing new data on range and territories. And even at times giving glimpses into the private lives of species that remain largely shrouded in mystery.
ConocoPhillips withdraws from oil exploitation in uncontacted indigenous territory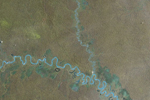 (05/11/2011) ConocoPhillips has announced it is withdrawing from its 45% share of oil drilling in Block 39 of Peru's Amazon rainforest. The withdrawal comes after pressure from indigenous-rights and environmental groups to leave two Peruvian oil blocks—39 and 67—alone, due to the presence of indigenous people who have chosen to remain uncontacted. ConocoPhillips and other companies have been warned they will 'decimate' tribes if they remain. However, Spanish oil company Repsol-YPF still operates in block 39 and is currently doing seismic testing for oil reserves in the untouched region. ConocoPhillips has not divulged what company is taking their place.
Demand for gold pushing deforestation in Peruvian Amazon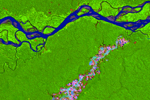 (04/19/2011) Deforestation is on the rise in Peru's Madre de Dios region from illegal, small-scale, and dangerous gold mining. In some areas forest loss has increased up to six times. But the loss of forest is only the beginning; the unregulated mining is likely leaching mercury into the air, soil, and water, contaminating the region and imperiling its people. Using satellite imagery from NASA, researchers were able to follow rising deforestation due to artisanal gold mining in Peru. According the study, published in PLoS ONE, Two large mining sites saw the loss of 7,000 hectares of forest (15,200 acres)—an area larger than Bermuda—between 2003 and 2009.
NASA image reveals extent of 2010 Amazon drought

(04/17/2011) NASA has revealed a satellite image of the crippling effect of last year's record-breaking drought on the Amazon ecosystem. For those of you counting, that's two record droughts in the Amazon Basin in 5 years.
Giant fish help grow the Amazon rainforest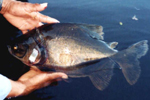 (04/12/2011) A fruit in the flooded Amazon falls from a tree and plops in the water. Before it can even sink to the floor, a 60-pound monster fish with a voracious appetite gobbles it. Nearly a week later—and miles away—the fish expels its waste, including seeds from the fruit eaten long ago and far away. One fortunate seed floats to a particularly suitable spot and germinates. Many years later the new fruit tree is thriving, while the same monster-fish returns from time-to-time, waiting for another meal to drop from the sky. This process is known as seed-dispersal, and while researchers have studied the seed-dispersal capacity of such species as birds, bats, monkeys, and rodents, one type of animal is often overlooked: fish.
Indigenous group claims Ecuadorian government complicit in 'genocide'

(04/06/2011) Ecuador's paramount indigenous organization has filed a legal complaint against the government, including President Rafael Correa, for allegedly participating in 'genocide' against indigenous people in the Amazon. The Confederation of Indigenous Nationalities of Ecuador (CONAIE) is arguing that expanding oil exploration and mining is imperiling the lives of uncontacted tribes that have chosen voluntary isolation known as the Tagaeri and the Tarmenane, reports the AFP.
'Luck and perseverance': new plant genus discovered in Amazon

(03/31/2011) The discovery of a new plant species is not uncommon, especially in places of remarkable biodiversity such as the Amazon rainforest. However, discovering a new plant genus, a taxonomic rank above species, is, according to Henk van der Werff fromt the Missouri Botanical Garden (MBG), "a matter of luck and perseverance". Researchers with the Missouri Botanical Garden have been blessed with both as they have announced two new species of Amazonian plants, one from Ecuador and one from Peru, that comprise a completely new genus: named, Yasunia, since the plant was originally discovered in Ecuador's vast Yasuni National Park.
Last year's drought hit Amazon hard: nearly a million square miles impacted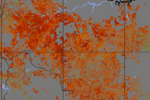 (03/29/2011) A new study on its way to being published shows that the Amazon rainforest suffered greatly from last year's drought. Employing satellite data and supercomputing technology, researchers have found that the Amazon was likely hit harder by last year's drought than a recent severe drought from 2005. The droughts have supported predictions by the Intergovernmental Panel on Climate Change's (IPCC) that climate change, among other impacts, could push portions of the Amazon to grasslands, devastating the world's greatest rainforest. "The greenness levels of Amazonian vegetation—a measure of its health—decreased dramatically over an area more than three and one-half times the size of Texas and did not recover to normal levels, even after the drought ended in late October 2010," explains the study's lead author Liang Xu of Boston University.
Amazon still neglected by researchers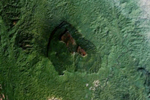 (03/28/2011) Although the Amazon is the world's largest tropical forest, it is not the most well known. Given the difficulty of access along with the fear of disease, dangerous species, indigenous groups, among other perceived perils, this great treasure chest of biology and ecology was practically ignored by scientists for centuries. Over the past few decades that trend has changed, however even today the Amazon remains lesser known than the much smaller, and more secure, tropical forests of Central America. A new study in mongabay.com's open access journal Tropical Conservation Science, which surveyed two prominent international tropical ecology journals (Biotropica and Journal of Tropical Ecology) between 1995 and 2008, finds that Central America was the subject of twice as many studies as the Amazon. In fact, according to the authors, much of the Amazon remains terra incognito to researchers, even as every year more of the rainforest is lost to human impacts.
Leaf harvesting impacts Amazon palm

(03/28/2011) Overexploitation of wildlife doesn't just threaten animals such as bluefin tuna, pangolins, and parrots, but plants as well. Leaves from the carana or puy palm (Lepidocaryum tenue) are used for thatching buildings in the northwestern Amazon, however a recent study in mongabay.com's open access journal Tropical Conservation Science finds that the overharvesting could imperil a palm's ability to survive.
Bill Clinton takes on Brazil's megadams, James Cameron backs tribal groups

(03/28/2011) Former US President, Bill Clinton, spoke out against Brazil's megadams at the 2nd World Sustainability Forum, which was also attended by former California governor, Arnold Schwarzenegger, and film director, James Cameron, who has been an outspoken critic of the most famous of the controversial dams, the Belo Monte on the Xingu River.
Photos: two new freshwater stingrays discovered in the Amazon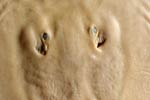 (03/09/2011) Few people probably realize that in the rivers and lakes of the Amazon rainforest large stingrays glide, searching for crustaceans and small fish. Equipped with a powerful barbed tail they are often feared by locals. However, even as big as these fish are, new species continue to be described. Recently, scientists have identified two new species of Amazonian freshwater stingray near Iquitos, Peru. The new stingrays are unique enough to be placed in a new genus (the taxonomic level above species) called Heliotrygon, the first new Amazonian stingray genus to be described in nearly 25 years.
World's most controversial dam, Brazil's Belo Monte, back on

(03/06/2011) A recent injunction against controversial dam, Belo Monte, in Brazil has been overturned, allowing the first phase of construction to go ahead. The ruling by a higher court argued that not all environmental conditions must be met on the dam in order for construction to start.
Report: 90 oil spills in Peruvian Amazon over 3 years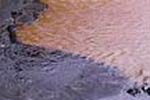 (03/03/2011) A new report has uncovered 90 oil spills by Pluspetrol in northern Peru's Amazon rainforest over the past 3 years. Covering two oil blocs—1-AB and 8—the report, complied by the Federation of Indigenous Communities of the Corrientes River (FECONACO), recorded 18 major oil spills in just the last year. "A week after the landmark ruling against Chevron in Ecuador for $9 billion of damage from operations in the 1970's and 80's, this new report highlights the ongoing devastation caused by the oil industry on the fragile Amazon ecosystem and the people that live there," said Atossa Soltani, Executive Director at Amazon Watch, in a press release.




Page 1 | Page 2 | Page 3 | Page 4 | Page 5 | Page 6