News articles on Amazon People

---
Mongabay.com news articles on Amazon People in blog format. Updated regularly.





Indigenous tribes, ranchers team to battle Amazon fires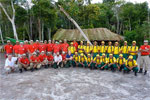 (09/14/2010) Facing the worst outbreak of forest fires in three years, cattle ranchers and indigenous tribesmen in the southern Amazon have teamed up to extinguish nearly two dozen blazes over the past three months, offering hope that new alliances between long-time adversaries could help keep deforestation rates in the Brazilian Amazon on a downward trajectory.


146 dams threaten Amazon basin

(08/19/2010) Although developers and government often tout dams as environmentally-friendly energy sources, this is not always the case. Dams impact river flows, changing ecosystems indefinitely; they may flood large areas forcing people and wildlife to move; and in the tropics they can also become massive source of greenhouse gases due to emissions of methane. Despite these concerns, the Amazon basin—the world's largest tropical rainforest—is being seen as prime development for hydropower projects. Currently five nations—Brazil, Bolivia, Colombia, Ecuador, and Peru—are planning over 146 big dams in the Amazon Basin. Some of these dams would flood pristine rainforests, others threaten indigenous people, and all would change the Amazonian ecosystem. Now a new website, Dams in Amazonia, outlines the sites and impacts of these dams with an interactive map.


Vampire killing spree in Peru

(08/16/2010) At least four children died after rabid vampire bats attacked Awajun indigenous communities in a remote part of Peru, reports the BBC.


Hunting threatens the other Amazon: where harpy eagles are common and jaguars easy to spot, an interview with Paul Rosolie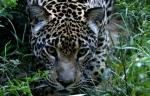 (08/05/2010) If you have been fortunate enough to visit the Amazon or any other great rainforest, you've probably been wowed by the multitude and diversity of life. However, you also likely quickly realized that the deep jungle is not quite what you may have imagined when you were a child: you don't watch as jaguars wrestle with giant anteaters or anacondas circle prey. Instead life in the Amazon is small: insects, birds, frogs. Even biologists will tell you that you can spend years in the Amazon and never see a single jaguar. Yet rainforest guide and modern day explorer Paul Rosolie says there is another Amazon, one so pristine and with such wild abundance that it seems impossible to imagine if not for Rosolie's stories, photos, and soon videos. This is an Amazon where the big animals—jaguars, tapir, anaconda, giant anteaters, and harpy eagles—are not only abundant but visible. Free from human impact and overhunting, these remote places—off the beaten path of tourists—are growing ever smaller and, according to Rosolie, are in danger of disappearing forever.


Oil devastates indigenous tribes from the Amazon to the Gulf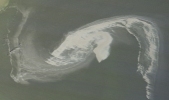 (07/27/2010) For the past few months, the mainstream media has focused on the environmental and technical dimensions of the Gulf mess. While that's certainly important, reporters have ignored a crucial aspect of the BP spill: cultural extermination and the plight of indigenous peoples. Recently, the issue was highlighted when Louisiana Gulf residents in the town of Dulac received some unfamiliar visitors: Cofán Indians and others from the Amazon jungle. What could have prompted these indigenous peoples to travel so far from their native South America? Victims of the criminal oil industry, the Cofán are cultural survivors. Intent on helping others avoid their own unfortunate fate, the Indians shared their experiences and insights with members of the United Houma Nation who have been wondering how they will ever preserve their way of life in the face of BP's oil spill.


Environmentalists and indigenous groups condemn plan for six dams in Peruvian Amazon

(06/21/2010) Environmentalists and indigenous groups have come together to condemn a 15 million US dollar plan for six hydroelectric dams in the Peruvian Amazon, signed last week by Brazilian President Luiz Inácio Lula da Silva and Peruvian President, Alan Garcia. While the six dams would produce over 6,000 megawatts, mostly for Brazil, critics say the dams will flood tens of thousands of hectares of rainforest, devastate the lifestyles of a number of indigenous groups, and only serve big Brazilian corporations.


'Prepare for war': tensions rising over Brazil's controversial Belo Monte dam

(05/25/2010) Tensions are flaring after Brazil's approval of the Belo Monte dam project last month to divert the flow of the Xingu River. The dam, which will be the world's third larges, will flood 500 square miles of rainforest, lead to the removal of at least 12,000 people in the region, and upturn the lives of 45,000 indigenous people who depend on the Xingu. After fighting the construction of the dam for nearly thirty years, indigenous groups are beginning to talk of a last stand.


More of the Amazon opened to oil development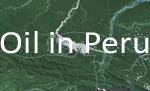 (05/24/2010) Perupetro, the Peruvian government's oil and gas corporate leasing body, announced last week that it will open an additional 25 lots for oil and gas exploration in the Amazon covering an area of 10 million hectares (nearly 25 million acres). Peru's national Amazon indigenous group, AIDESEP, criticized the move calling it a 'new threat' to Peru's indigenous group. According to Amazon Watch these new lots mean that 75 percent of the Peruvian Amazon is now open to oil and gas exploration and drilling.


Talking the Amazon rainforest with Avatar's James Cameron

(05/11/2010) Recently, I got an invitation to attend an interesting panel dealing with indigenous issues on Earth Day. The talk, held at the Paley Center for Media in midtown Manhattan, would host a number of Native Americans but also James Cameron, creator of the blockbuster movie Avatar as well as other hits such as Terminator and Titantic. What, you might ask, was a Hollywood director doing at such an event? If you've seen Cameron's movie you know that it deals with a fictional tribe of humanoid creatures called the Na'vi who inhabit the rainforest world of Pandora. In the film, the Na'vi must fight to preserve the forest from a mineral corporation backed up by the U.S. military. Avatar, a true technological feat, brought the Pandora rainforest to movie-going audiences in 3-D. Though Avatar doesn't attempt to teach anything to the audience per se, it does convey a sense of moral outrage.


Taking back the rainforest: Indians in Colombia govern 100,000 square miles of territory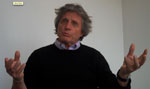 (05/10/2010) Indigenous groups in the Colombian Amazon have long suffered deprivations at the hands of outsiders. First came the diseases brought by the European Conquest, then came abuses under colonial rule. In modern times, some Amazonian communities were virtually enslaved by the debt-bondage system run by rubber traders: Indians could work their entire lives without ever escaping the cycle of debt. Later, periodic invasions by gold miners, oil companies, colonists, and illegal coca-growers took a heavy toll on remaining indigenous populations. Without title to their land, organization, or representation, indigenous Colombians in the Amazon seemed destined to be exploited and abused. But new hope would emerge in the 1980s, thanks partly to the efforts of Martin von Hildebrand, an ethnologist who would help indigenous Colombians eventually win control over 260,000 square kilometers (100,000 square miles) of Amazon rainforest—an area larger than the United Kingdom.


Off and on again: Belo Monte dam goes forward, protests planned

(04/20/2010) An auction to build the Belo Monte dam, a massive hydroelectric project in Brazil, is going ahead despite two court-ordered suspensions, both of which have been overturned. The dam, which would be the world's third-largest, has been criticized by indigenous groups, environmental organizations, and most recently filmmaker James Cameron who created the wildly popular Avatar.


Brazil suspends Amazon dam project targeted by Avatar director

(04/15/2010) A Brazilian judge on Wednesday suspended the preliminary license for the Belo Monte hydroelectric dam, a controversial project in the heart of the Amazon rainforest, citing "danger of irreparable harm," reports the Amazon Watch, an NGO that has been campaigning on the issue. The move comes just days after a high-profile visit by James Cameron, director of the box office hit Avatar, and Sigourney Weaver, one of the stars of Avatar, to indigenous communities potentially affected by the dam.


Cochabamba Climate Conference: the Coca Contradiction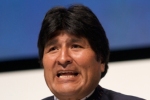 (04/11/2010) In the high stakes game of geopolitics, the small and economically disadvantaged Andean nation of Bolivia has little clout. Now, however, the country's indigenous president Evo Morales wants to establish more of a significant voice on the world stage. Recently, he has turned himself into something of a spokesperson on the issue of climate change. Decrying the failure of world leaders to come to a satisfactory agreement on global warming, he is intent on shaming the Global North into addressing climate change. Whatever Bolivia lacks in terms of political and economic muscle, Morales would like to offset through skilled use of moral persuasion.


James Cameron, in real life, fights to save indigenous groups from massive dam construction in Brazil

(04/01/2010) After creating a hugely successful science-fiction film about a mega-corporation destroying the indigenous culture of another planet, James Cameron has become a surprisingly noteworthy voice on environmental issues, especially those dealing with the very non-fantastical situation of indigenous cultures fighting exploitation. This week Cameron traveled to Brazil for a three-day visit to the Big Bend (Volta Grande) region of the Xingu River to see the people and rainforests that would be affected by the construction of the Belo Monte Hydroelectric Dam. Long-condemned by environmentalists and indigenous-rights groups, the dam would destroy 500 square kilometers of pristine rainforest and force the relocation of some 12,000 people.


Spanish oil company develops own rules for contacting uncontacted Amazon tribes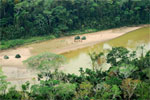 (03/26/2010) Imagine you're in one of the remotest parts of the Amazon rainforest and suddenly you come across members of an uncontacted tribe. What should you do? The experts say, "Turn around. At all costs, make no attempt at contact." Repsol YPF, exploring for oil in northern Peru, has taken a different approach. Despite the extreme vulnerability of the tribes to any form of contact, the company suggests that its workers talk to them in certain instances, and even provides specific phrases to use and conversation topics to address.


Secrets of the Amazon: giant anacondas and floating forests, an interview with Paul Rosolie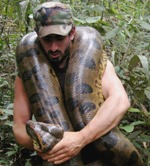 (03/10/2010) At twenty-two Paul Rosolie has seen more adventure than many of us will in our lifetime. First visiting the Amazon at eighteen, Rosolie has explored strange jungle ecosystems, caught anaconda and black caiman bare-handed, joined indigenous hunting expeditions, led volunteer expeditions, and hand-raised a baby giant anteater. "Rainforests were my childhood obsession," Rosolie told Mongabay.com. "For as long as I can remember, going to the Amazon had been my dream […] In those first ten minutes [of visiting], cowering under the bellowing calls of howler monkeys, I saw trails of leaf cutter ants under impossibly large, vine-tangled trees; a flock of scarlet macaws crossed the sky like a brilliant flying rainbow. I saw a place where nature was in its full; it is the most amazing place on earth."


Under siege: oil and gas concessions cover 41 percent of the Peruvian Amazon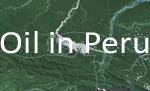 (02/16/2010) A new study in the Environmental Research Letter finds that the Peruvian Amazon is being overrun by the oil and gas industries. According to the study 41 percent of the Peruvian Amazon is currently covered by 52 separate oil and gas concessions, nearly six times as much land as was covered in 2003. "We found that more of the Peruvian Amazon has recently been leased to oil and gas companies than at any other time on record," explained co-author Dr. Matt Finer of the Washington DC-based Save America's Forests in a press release. The concessions even surpass the oil boom in the region during the 1970s and 80s, which resulted in extensive environmental damage.


Environmentalists and indigenous groups decry approval of massive dam in Amazon

(02/02/2010) The approval of the hydro-electric Belo Monte Dam from the Brazilian environmental agency, IBAMA, has raised condemnations from environmentalists and indigenous groups. The dam will divert the flow of the Xingu River, a tributary of the Amazon River, which runs through the Amazon in northeast Brazil. According to critics the dam will destroy vast areas of pristine rainforest, disrupt sensitive ecosystems, and relocate 12,000 people.


Photos: park in Ecuador likely contains world's highest biodiversity, but threatened by oil



(01/19/2010) In the midst of a seesaw political battle to save Yasuni National Park from oil developers, scientists have announced that this park in Ecuador houses more species than anywhere else in South America—and maybe the world. "Yasuní is at the center of a small zone where South America's amphibians, birds, mammals, and vascular plants all reach maximum diversity," Dr. Clinton Jenkins of the University of Maryland said in a press release. "We dubbed this area the 'quadruple richness center.'"


Uncontacted natives confirmed in Brazil

(01/10/2010) An uncontacted tribe of about 60 people has been confirmed by FUNAI (Brazil's Indigenous Affairs Department) in the Indigenous Territory of Arariboia, located in the eastern Amazonian state, Maranhao.


Ecuador to be paid to leave oil in the ground

(12/23/2009) Ecuador will establish a trust fund for receiving payments to leave oil reserves unexploited in Yasuni National Park, one of the world's most biodiverse rainforest reserves, reports the UN Development Programme, the agency that will administer the fund.


Brazil establishes 20,000 sq mi of new indigenous reserves in the Amazon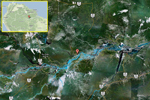 (12/23/2009) On Monday, Brazil decreed nine new indigenous reserves covering 51,000 square kilometers (19,700 square miles) of the Amazon rainforest, an areas larger than Denmark or Switzerland, reports the AFP. Five of the reserves are located in the state of Amazonas, two are in Pará, one is in Roraima, and another is in Mato Grosso do Sul. The protected areas house about seven thousand Indians from 29 ethnic groups, according to FUNAI (Fundação Nacional do Índio), Brazil's indigenous affairs agency.


The real Avatar story: indigenous people fight to save their forest homes from corporate exploitation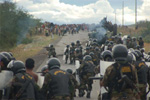 (12/22/2009) In James Cameron's newest film Avatar an alien tribe on a distant planet fights to save their forest home from human invaders bent on mining the planet. The mining company has brought in ex-marines for 'security' and will stop at nothing, not even genocide, to secure profits for its shareholders. While Cameron's film takes place on a planet sporting six-legged rhinos and massive flying lizards, the struggle between corporations and indigenous people is hardly science fiction.


Brazilian tribe owns carbon rights to Amazon rainforest land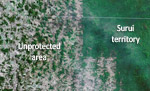 (12/09/2009) A rainforest tribe fighting to save their territory from loggers owns the carbon-trading rights to their land, according to a legal opinion released today by Baker & McKenzie, one of the world's largest law firms. The opinion, which was commissioned by Forest Trends, a Washington, D.C.-based forest conservation group, could boost the efforts of indigenous groups seeking compensation for preserving forest on their lands, effectively paving the way for large-scale indigenous-led conservation of the Amazon rainforest. Indigenous people control more than a quarter of the Brazilian Amazon.


Ethnographic maps built using cutting-edge technology may help Amazon tribes win forest carbon payments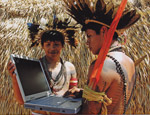 (11/29/2009) A new handbook lays out the methodology for cultural mapping, providing indigenous groups with a powerful tool for defending their land and culture, while enabling them to benefit from some 21st century advancements. Cultural mapping may also facilitate indigenous efforts to win recognition and compensation under a proposed scheme to mitigate climate change through forest conservation. The scheme—known as REDD for reducing emissions from deforestation and degradation—will be a central topic of discussion at next month's climate talks in Copenhagen, but concerns remain that it could fail to deliver benefits to forest dwellers.


Guyana expedition finds biodiversity trove in area slated for oil and gas development, an interview with Robert Pickles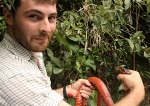 (11/29/2009) An expedition deep into Guyana's rainforest interior to find the endangered giant river otter—and collect their scat for genetic analysis—uncovered much more than even this endangered charismatic species. "Visiting the Rewa Head felt like we were walking in the footsteps of Wallace and Bates, seeing South America with its natural density of wild animals as it would have appeared 150 years ago," expedition member Robert Pickles said to Mongabay.com.


How rainforest shamans treat disease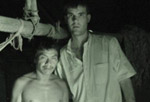 (11/10/2009) Ethnobotanists, people who study the relationship between plants and people, have long documented the extensive use of medicinal plants by indigenous shamans in places around the world, including the Amazon. But few have reported on the actual process by which traditional healers diagnose and treat disease. A new paper, published in the Journal of Ethnobiology and Ethnomedicine, moves beyond the cataloging of plant use to examine the diseases and conditions treated in two indigenous villages deep in the rainforests of Suriname. The research, which based on data on more than 20,000 patient visits to traditional clinics over a four-year period, finds that shamans in the Trio tribe have a complex understanding of disease concepts, one that is comparable to Western medical science. Trio medicine men recognize at least 75 distinct disease conditions—ranging from common ailments like fever [këike] to specific and rare medical conditions like Bell's palsy [ehpijanejan] and distinguish between old (endemic) and new (introduced since contact with the outside world) illnesses. In an interview with mongabay.com, Lead author Christopher Herndon, currently a reproductive medicine physician at the University of California, San Francisco, says the findings are a testament to the under-appreciated healing prowess of indigenous shaman.


Google partners with Amazon tribe

(10/29/2009) The story of an indigenous Amazon tribe that has embraced technology in its fight to protect its homeland and culture is now highlighted as a layer in Google Earth.


Crisis averted for now, Peruvian natives will meet with Hunt Oil

(10/28/2009) Indigenous groups in a dispute with Hunt Oil, over the company performing seismic tests their land, have scheduled a meeting with the Texas based oil corporation, according to Reuters.


Will Ecuador's plan to raise money for not drilling oil in the Amazon succeed?

(10/27/2009) Ecuador's Yasuni National Park is full of wealth: it is one of the richest places on earth in terms of biodiversity; it is home to the indigenous Waorani people, as well as several uncontacted tribes; and the park's forest and soil provides a massive carbon sink. However, Yasuni National Park also sits on wealth of a different kind: one billion barrels of oil remain locked under the pristine rainforest.


Amazonian natives say they will defend tribal lands from Hunt Oil with "their lives"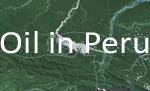 (10/25/2009) Indigenous natives in the Amazon are headed to the town of Salvacion in Peru with a plan to forcibly remove the Texas-based Hunt Oil company from their land as early as today. Peruvian police forces, numbering in the hundreds, are said to be waiting in the town. The crisis has risen over an area known as Lot 76, or the Amarakaeri Communal Reserve. The 400,000 hectare reserve was created in 2002 to protect the flora and fauna of the area, as well as to safeguard watersheds of particular importance to indigenous groups in the region.


Heavy oil pollution remains in Amazon, despite company claiming clean-up is finished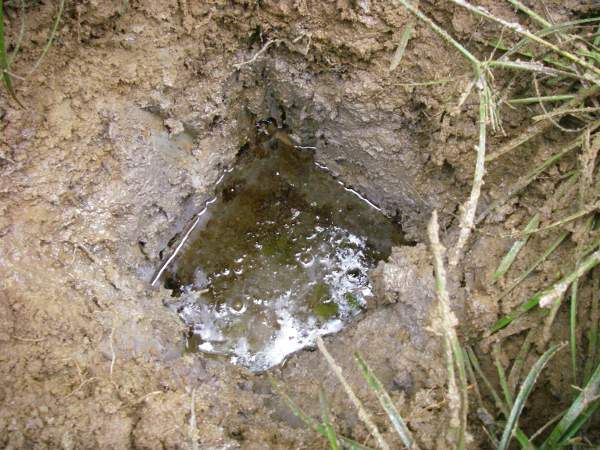 (09/17/2009) A new report shows that the Corrientes region of the Peruvian Amazon, which suffered decades of toxic contamination by Occidental Petroleum (OXY), is far from being cleaned-up. The survey, conducted by US non-profit E-Tech International, found that heavy metals, volatile organic compounds, and hydrocarbons still exist at levels above the safety limits set by Peru and continue to threaten the Achuar indigenous community, who have long fought against the oil companies.


Oil road transforms indigenous nomadic hunters into commercial poachers in the Ecuadorian Amazon


(09/13/2009) The documentary Crude opened this weekend in New York, while the film shows the direct impact of the oil industry on indigenous groups a new study proves that the presence of oil companies can have subtler, but still major impacts, on indigenous groups and the ecosystems in which they live. In Ecuador's Yasuni National Park—comprising 982,000 hectares of what the researchers call "one of the most species diverse forests in the world"—the presence of an oil company has disrupted the lives of the Waorani and the Kichwa peoples, and the rich abundance of wildlife living within the forest.


Concerns over deforestation may drive new approach to cattle ranching in the Amazon


(09/08/2009) While you're browsing the mall for running shoes, the Amazon rainforest is probably the farthest thing from your mind. Perhaps it shouldn't be. The globalization of commodity supply chains has created links between consumer products and distant ecosystems like the Amazon. Shoes sold in downtown Manhattan may have been assembled in Vietnam using leather supplied from a Brazilian processor that subcontracted to a rancher in the Amazon. But while demand for these products is currently driving environmental degradation, this connection may also hold the key to slowing the destruction of Earth's largest rainforest.


New Amazonian reserve saves over a million acres in Peru


(08/30/2009) On August 27th Peru's Ministry of the Environment approved the creation of the Matses National Reserve to protect the region's biodiversity, ensure its natural resources, and preserve the home of the Matses indigenous peoples (known as the Mayorunas in Brazil). The park is 1,039,390 acres (or 420,626 hectares) of lowland Amazonian rainforest in eastern Peru. The park is the culmination of over a decade of work by the local non-profit CEDIA (the Center for the Development of the Indigenous Amazonians) funded in part by the Worldland Trust.


Photos reveal illegal logging near uncontacted natives in Peru

(08/17/2009) Ariel photos show proof of illegal logging for mahogany occurring in a Peruvian reserve set aside for uncontacted natives. The photos, taken by Chris Fagan from Round River Conservation Studies, show logging camps set-up inside the Murunahua Reserve, meant to protect the uncontacted indigenous group, known as the Murunahua Indians, in the Peruvian Amazon.


Police face murder charges in killing of indigenous protesters in Peru

(08/16/2009) A federal prosecutor in Peru filed murder charges against two police generals and 15 other officers over the deaths of indigenous protesters at a roadblock in June, reports the Associated Press. The Indians were protesting new rules that would have made it easier for foreign developers to exploit oil and gas, timber, and minerals in Peru's Amazon rainforest. The skirmish left 23 police and at least ten protesters dead.


Peru to proceed with oil and gas auctions in the Amazon despite indigenous protests

(08/07/2009) Despite violent protests by indigenous groups over plans to expand oil and gas exploration in the Peru's Amazon rainforest, energy investments in the South American country are expected to increase to $1.5 billion in both 2009 and 2010, reports Reuters.


Peru to raise payment to indigenous communities for Amazon forest conservation


(08/03/2009) Peru's environment minister now says the government will pay indigenous communities 10 sols ($3.30) for every hectare of rainforest they help to preserve, reports the Latin American Herald. Previously Antonio Brack said that communities would see about half that amount. The $3.30-per-hectare figure is low by international standards. Under a proposed mechanism that compensates countries for reducing deforestation (REDD), forest land could be worth $800 or more per hectare for its carbon (225 tons of carbon/ha), depending on its level of threat. Forests in areas of high deforestation would be compensated at a higher rate than inaccessible forests at low-risk of development. But Brack left open the possibility that communities could receive higher payment if parties agree to include REDD compensation in a future climate framework.


Indigenous communities threatened by climate change

(08/03/2009) Indigenous cultures around the world are facing increasing threats with the effects of climate change. In addition to the myriad organisms condemned to extinction by climate change, many indigenous human cultures are also in danger. Entire island populations must relocate as rising ocean levels bring devastating storm surges, food supplies for tropical communities are becoming scarcer, and remote Arctic populations are becoming more isolated as polar ice vanishes.


Weeks after bloodshed, American oil moves into Peruvian Amazon, putting rainforest, possible archeological site at risk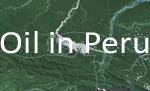 (08/03/2009) Barely six weeks after a dozen Amazon natives were gunned down by the Peruvian Army in the oil town of Bagua for protesting the cozy relationship between Big Oil and the government of President Alan Garcia, I find myself on the banks of the Mother of God River in Salvacion, Peru, wondering if all those folks died in vain. Any day now, the bulldozers will be moving in as Texas-based Hunt Oil Company – with the full go-ahead of the Peruvian government -- fires its first salvo in its assault against the million-acre pristine rainforest wilderness of the little-known and largely unexplored Amarakaeri Communal Reserve.


Are we on the brink of saving rainforests?


(07/22/2009) Until now saving rainforests seemed like an impossible mission. But the world is now warming to the idea that a proposed solution to help address climate change could offer a new way to unlock the value of forest without cutting it down.Deep in the Brazilian Amazon, members of the Surui tribe are developing a scheme that will reward them for protecting their rainforest home from encroachment by ranchers and illegal loggers. The project, initiated by the Surui themselves, will bring jobs as park guards and deliver health clinics, computers, and schools that will help youths retain traditional knowledge and cultural ties to the forest. Surprisingly, the states of California, Wisconsin and Illinois may finance the endeavor as part of their climate change mitigation programs.


Peru revokes decrees that sparked Amazon Indian uprising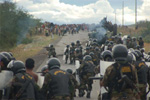 (06/19/2009) Peru's Congress revoked two controversial land laws that sparked violent conflicts between indigenous protesters and police in the country's Amazon region. The move temporarily defuses a two-week crisis, with protesters agreeing to stand down by removing blockades from roads and rivers. Congress voted 82-14 Thursday to overturn legislative decrees 1090 and 1064, which would have facilitated foreign development of Amazon land. Indigenous groups said the decrees threatened millions of hectares of Amazon rainforest and undermined their traditional land use rights.


Oil or Death in the Amazon

(06/06/2009) More than 70% of the Peruvian Amazon has been allocated for oil and gas extraction, and the current government of Alan Garcia has been pushing for more. Unfortunately, as usual, these policies are promoted by and only benefit a handful of people, but negatively impact the lives of many. However, Garcia's government did not foresee the potential consequences of their actions.


Peruvian police kill 10 Indians in battle over Amazon oil drilling

(06/06/2009) At least 30 are dead following a clash between police and Indians protesting oil development in Peru's Amazon region.


Tribes in Peru to get $0.68/acre for protecting Amazon forest

(06/03/2009) Indigenous communities in Peru will be paid 5 soles ($1.70) per hectare ($0.68/acre) of preserved forest under a new conservation plan proposed by Peru's Ministry of Environment, reports the International Tropical Timber Organization (ITTO) in its bi-monthly update.


Chevron faces shareholder rebuke on claims by Amazon rainforest Indians

(05/21/2009) Calpers, the country's largest public pension fund with $170 billion in assets, announced Thursday it will support a resolution calling on Chevron to examine whether it complies with environmental regulations in Ecuador. The move comes as the oil giant faces a potential $27 billion dollar liability for environmental damage caused by Texaco, a company Chevron (NYSE:CVX) acquired in 2001. In court filings Texaco has admitted to dumping and spilling billions of gallons of toxic waste and oil in eastern Ecuador's Amazon rainforest between 1964 and 1990.


Peru may take military action against Indians protesting Amazon energy development

(05/19/2009) Indigenous protesters have stepped up demonstrations over the Peruvian government's moves to support energy development in the Amazon rainforest, reports Reuters.


Indigenous people serve as guardians of forest carbon, must be involved in climate solutions

(04/22/2009) Efforts to create an international climate framework — including a carbon financing mechanism for forest conservation — must involve forest people, said indigenous leaders attending the Indigenous Peoples Global Summit on Climate Change meeting this week in Anchorage, Alaska.


Land rights victory for Amazon Indians in Brazil

(03/20/2009) In what is being hailed as a victory for indigenous groups in the Brazilian Amazon, Brazil's Supreme Court sided with Indians from the Raposa Serra do Sol reservation in a 30-year land dispute with large-scale farmers in the northern state of Roraima, near the border with Venezuela, reports the Associated Press.



Page 1 | Page 2 | Page 3 | Page 4 | Page 5