News articles on Amazon People

---
Mongabay.com news articles on Amazon People in blog format. Updated regularly.





Police face murder charges in killing of indigenous protesters in Peru

(08/16/2009) A federal prosecutor in Peru filed murder charges against two police generals and 15 other officers over the deaths of indigenous protesters at a roadblock in June, reports the Associated Press. The Indians were protesting new rules that would have made it easier for foreign developers to exploit oil and gas, timber, and minerals in Peru's Amazon rainforest. The skirmish left 23 police and at least ten protesters dead.


Peru to proceed with oil and gas auctions in the Amazon despite indigenous protests

(08/07/2009) Despite violent protests by indigenous groups over plans to expand oil and gas exploration in the Peru's Amazon rainforest, energy investments in the South American country are expected to increase to $1.5 billion in both 2009 and 2010, reports Reuters.


Peru to raise payment to indigenous communities for Amazon forest conservation


(08/03/2009) Peru's environment minister now says the government will pay indigenous communities 10 sols ($3.30) for every hectare of rainforest they help to preserve, reports the Latin American Herald. Previously Antonio Brack said that communities would see about half that amount. The $3.30-per-hectare figure is low by international standards. Under a proposed mechanism that compensates countries for reducing deforestation (REDD), forest land could be worth $800 or more per hectare for its carbon (225 tons of carbon/ha), depending on its level of threat. Forests in areas of high deforestation would be compensated at a higher rate than inaccessible forests at low-risk of development. But Brack left open the possibility that communities could receive higher payment if parties agree to include REDD compensation in a future climate framework.


Indigenous communities threatened by climate change

(08/03/2009) Indigenous cultures around the world are facing increasing threats with the effects of climate change. In addition to the myriad organisms condemned to extinction by climate change, many indigenous human cultures are also in danger. Entire island populations must relocate as rising ocean levels bring devastating storm surges, food supplies for tropical communities are becoming scarcer, and remote Arctic populations are becoming more isolated as polar ice vanishes.


Weeks after bloodshed, American oil moves into Peruvian Amazon, putting rainforest, possible archeological site at risk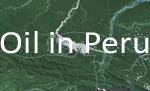 (08/03/2009) Barely six weeks after a dozen Amazon natives were gunned down by the Peruvian Army in the oil town of Bagua for protesting the cozy relationship between Big Oil and the government of President Alan Garcia, I find myself on the banks of the Mother of God River in Salvacion, Peru, wondering if all those folks died in vain. Any day now, the bulldozers will be moving in as Texas-based Hunt Oil Company – with the full go-ahead of the Peruvian government -- fires its first salvo in its assault against the million-acre pristine rainforest wilderness of the little-known and largely unexplored Amarakaeri Communal Reserve.


Are we on the brink of saving rainforests?


(07/22/2009) Until now saving rainforests seemed like an impossible mission. But the world is now warming to the idea that a proposed solution to help address climate change could offer a new way to unlock the value of forest without cutting it down.Deep in the Brazilian Amazon, members of the Surui tribe are developing a scheme that will reward them for protecting their rainforest home from encroachment by ranchers and illegal loggers. The project, initiated by the Surui themselves, will bring jobs as park guards and deliver health clinics, computers, and schools that will help youths retain traditional knowledge and cultural ties to the forest. Surprisingly, the states of California, Wisconsin and Illinois may finance the endeavor as part of their climate change mitigation programs.


Peru revokes decrees that sparked Amazon Indian uprising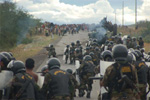 (06/19/2009) Peru's Congress revoked two controversial land laws that sparked violent conflicts between indigenous protesters and police in the country's Amazon region. The move temporarily defuses a two-week crisis, with protesters agreeing to stand down by removing blockades from roads and rivers. Congress voted 82-14 Thursday to overturn legislative decrees 1090 and 1064, which would have facilitated foreign development of Amazon land. Indigenous groups said the decrees threatened millions of hectares of Amazon rainforest and undermined their traditional land use rights.


Oil or Death in the Amazon

(06/06/2009) More than 70% of the Peruvian Amazon has been allocated for oil and gas extraction, and the current government of Alan Garcia has been pushing for more. Unfortunately, as usual, these policies are promoted by and only benefit a handful of people, but negatively impact the lives of many. However, Garcia's government did not foresee the potential consequences of their actions.


Peruvian police kill 10 Indians in battle over Amazon oil drilling

(06/06/2009) At least 30 are dead following a clash between police and Indians protesting oil development in Peru's Amazon region.


Tribes in Peru to get $0.68/acre for protecting Amazon forest

(06/03/2009) Indigenous communities in Peru will be paid 5 soles ($1.70) per hectare ($0.68/acre) of preserved forest under a new conservation plan proposed by Peru's Ministry of Environment, reports the International Tropical Timber Organization (ITTO) in its bi-monthly update.


Chevron faces shareholder rebuke on claims by Amazon rainforest Indians

(05/21/2009) Calpers, the country's largest public pension fund with $170 billion in assets, announced Thursday it will support a resolution calling on Chevron to examine whether it complies with environmental regulations in Ecuador. The move comes as the oil giant faces a potential $27 billion dollar liability for environmental damage caused by Texaco, a company Chevron (NYSE:CVX) acquired in 2001. In court filings Texaco has admitted to dumping and spilling billions of gallons of toxic waste and oil in eastern Ecuador's Amazon rainforest between 1964 and 1990.


Peru may take military action against Indians protesting Amazon energy development

(05/19/2009) Indigenous protesters have stepped up demonstrations over the Peruvian government's moves to support energy development in the Amazon rainforest, reports Reuters.


Indigenous people serve as guardians of forest carbon, must be involved in climate solutions

(04/22/2009) Efforts to create an international climate framework — including a carbon financing mechanism for forest conservation — must involve forest people, said indigenous leaders attending the Indigenous Peoples Global Summit on Climate Change meeting this week in Anchorage, Alaska.


Land rights victory for Amazon Indians in Brazil

(03/20/2009) In what is being hailed as a victory for indigenous groups in the Brazilian Amazon, Brazil's Supreme Court sided with Indians from the Raposa Serra do Sol reservation in a 30-year land dispute with large-scale farmers in the northern state of Roraima, near the border with Venezuela, reports the Associated Press.


FARC killing Rainforest Indians in Colombia

(02/18/2009) Several members of the Awa indigenous community have been killed by Revolutionary Armed Forces of Colombia (FARC) guerrillas in Nariño, a state bordering Ecuador, reports Human Rights Watch.


Amazon indian tribe accused of killing and eating farmer

(02/10/2009) Five members of the Kulina tribe in the Brazilian Amazon are on the run after allegedly killing and eating a farmer in a "ritual act of cannibalism", reports CNN.


Photo: Indigenous leaders form giant human banner to protest Amazon destruction



(01/28/2009) Gathering at the World Social Forum in Belem, Brazil, indigenous people from across Latin America today called upon world leaders to protect the Amazon rainforest which is under continued threat from loggers, ranchers, and agroindustrial companies. Nearly 12,000 square kilometers (4,600 sq miles) of Amazon rainforest were destroyed last year while another 25,000 square kilometers were damaged or degraded. More than 1000 forum participants formed a human banner that spelled out the message "SALVE A AMAZONIA" ("Save the Amazon" in Portuguese) around a silhouette of an indigenous warrior taking aim with a bow and arrow.


Brazil to use body-heat sensing technology to find uncontacted Amazon tribes

(11/19/2008) Brazil will use a plane equipped with body-heat sensing technology to locate tribes in the Amazon rainforest, reports the Associated Press.


Ecuador's plan to protect rainforest from oil drilling looks doomed

(10/09/2008) Ecuador's proposal to protect one of the world's most biodiverse rainforests from oil development has failed to secure any funding ahead at its December deadline, reports the Guardian Unlimited.


Indigenous people demand greater say in using forests to fight global warming

(10/08/2008) Indigenous leaders renewed their call for greater say in how tropical forests are managed to reduce greenhouse gas emissions, according to AFP.


'Children of the Amazon' looks at cultural loss of Amazon tribe confronted by deforestation

(10/05/2008) 'Children of the Amazon', a new documentary by Denise Zmekhol, looks at the cultural transformation of the Surui and Negarote tribes following the development and improvement of a highway that penetrates deep into the Amazon rainforest of western Brazil.


Indian protesters win land rights battle against Peru's President Garcia

(08/31/2008) Peru's Congress rejected two decrees by President Alan García that made it easier for foreign developers to buy Amazon rainforest land. The repeal came just two days after lawmakers struck a deal with indigenous rights groups whose protests over the law had shut down oil and gas operations. The groups were worried that the laws weakened their land rights in favor of loggers, miners, and drillers.


Pre-Colombian Amazonians lived in sustainable 'urban' society

(08/28/2008) Researchers have uncovered new evidence to support the controversial theory that parts of the Amazon were home to dense "urban" settlements prior to the arrival of Europeans in the 15th century. The study is published this Friday in the journal Science. Conducting archeological excavations and aerial imagery across a number of sites in the Upper Xingu region of the Brazilian Amazon, a team of researchers led by Michael Heckenberger found evidence of a grid-like pattern of 150-acre towns and smaller villages, connected by complex road networks and arranged around large plazas where public rituals would take place. The authors argue that the discoveries indicate parts of the Amazon supported "urban" societies based around agriculture, forest management, and fish farming.


Brazil may allow mining on indigenous lands in the Amazon

(08/21/2008) Lawmakers in Brazil are debating whether to allow mining companies to partner with indigenous groups to exploit mineral deposits deep in the Amazon rainforest, reports Bloomberg.


In Peru, a showdown between the president and tribes over mining and drilling in the Amazon

(08/21/2008) In Peru indigenous rights groups and congressional leaders are pairing up against President Alan Garcia to revoke a controversial land law passed last week, reports Reuters.


High mineral prices drive rainforest destruction

(08/13/2008) The surging price of minerals is contributing to degradation and destruction of rainforests worldwide, warns a researcher writing in the current issue of New Scientist.


Oil development could destroy the most biodiverse part of the Amazon

(08/12/2008) 688,000 square kilometers (170 million acres) of the western Amazon is under concession for oil and gas development, according to a new study published in the August 13 edition of the open-access journal PLoS ONE. The results suggest the region, which is considered by scientists to be the most biodiverse on the planet and is home to some of the world's last uncontacted indigenous groups, is at great risk of environmental degradation.


An interview a shaman in the Amazon rainforest



(07/28/2008) Deep in the Suriname rainforest, an innovative conservation group is working with indigenous tribes to protect their forest home and culture using traditional knowledge combined with cutting-edge technology. The Amazon Conservation Team (ACT) is partnering with the Trio, an Amerindian group that lives in the remote Suriname-Brazil border area of South America, to develop programs to protect their forest home from illegal gold miners and encroachment, improve village health, and strengthen cultural ties between indigenous youths and elders at a time when such cultures are disappearing even faster than rainforests. In June 2008 mongabay.com visited the community of Kwamalasamutu in Suriname to see ACT's programs in action. During the visit, Amasina, a Trio shaman who works with ACT, answered some questions about his role as a traditional healer in the village.


Kayapo tribe gets trust fund for Amazon protection

(06/11/2008) The government of the Brazilian state of Pará and conservation International-Brasil (CI) have established a trust fund to support conservation and sustainable development initiatives by indigenous Kayapó groups in the Amazon rainforest. The fund will have an initial endowment of 10 million reals (US$6.2 million).


Heavily-populated Amazon was decimated by old world disease

(06/09/2008) Ecologists and archaeologists agree that when Columbus struck the Americas in 1492 everything changed, but questions persist over the kind of world Columbus and his followers would soon transform. Recently the state of the pre-Columbian Amazon has been under increasing debate among scientists across numerous fields. In a lecture given at the ATBC conference (Association of Tropical Biology and conservation) in Paramaribo, Suriname, Dr. Francis Mayle weighed in on the debate.


Pictures of uncontacted Indian tribe in the Amazon (update)

(05/30/2008) A helicopter fly-over of a remote part of the Brazilian Amazon captured photos of what is believed to be one of the world's last uncontacted tribes, reports a group that works to protect indigenous peoples. Images released by London-based Survival International show an angry response from members of the tribe — warriors in red war paint took aim at the chopper with bows and arrows. The photos, taken by José Carlos dos Reis Meirelles Junior of FUNAI, the Brazilian government's Indian affairs department, were released to bring attention to encroachment on indigenous lands near the border with Peru. Brazil says illegal loggers from Peru are threatening tribes deep in the Amazon rainforest.


Photos of arrow-wielding uncontacted tribe in the Amazon rainforest

(05/30/2008) A fly-over of a remote part of the Amazon rainforest spotted members of what is believed to be one of the world's last uncontacted tribes. The Amazonians reacted aggressively to the fly-over, with bow and arrows aimed at the plane, according to Survival International, a group that works to protect indigenous peoples.


40 arrested in illegal timber raid in the Brazilian Amazon

(05/29/2008) Brazilian federal police arrested at least 40 members of an illegal logging operation in an Amazon Indian reserve in the state of Mato Grosso, reports Reuters.


Amazon farming technique may fight global warming

(04/11/2008) Fifteen hundred years ago, tribes people from the central Amazon basin mixed their soil with charcoal derived from animal bone and tree bark. Today, at the site of this charcoal deposit, scientists have found some of the richest, most fertile soil in the world. Now this ancient, remarkably simple farming technique seems far ahead of the curve, holding promise as a carbon-negative strategy to rein in world hunger as well as greenhouse gases.


Rainforest peoples form alliance to demand payments for forest carbon credits

(04/07/2008) Rainforest peoples from 11 nations have formed a coalition to demand a greater say in future climate negotiations.


Global warming solutions are harming indigenous people, says U.N.

(04/02/2008) Large-scale solutions intended to help mitigate global warming are harming the very indigenous people who are likely to bear the brunt of climate change, warned the United Nations University (UNU) at a conference in Darwin, Australia.


Skoll Foundation puts $1M toward indigenous groups, conservation in the Amazon

(03/11/2008) The Skoll Foundation has awarded the Amazon conservation Team, an innovative organization the promotes biocultural conservation among indigenous groups in the Amazon, $1,015,000 to map, manage, and protect 100 million acres of rainforest. The award is one of 11 Skoll Awards for Social Entrepreneurship presented by the Skoll Foundation in 2008.


Deforestation a greater threat to the Amazon than global warming

(02/25/2008) If past conditions are any indication of future conditions, the Amazon rainforest may survive considerable drying and warming caused by global warming, argue researchers in a paper published in Philosophical Transactions of the Royal Society B.


Ancient Amazon fires linked to human populations

(02/20/2008) Analysis of soil charcoal in South America confirms that from a historical perspective, fire is rare in the Amazon rainforest, but when it does occur, it appears linked to human activities. The research, published in Philosophical Transactions of the Royal Society B, is based on dating of soil carbon, which provides a good indication of when fires occurred in Amazonia, according to lead author Mark Bush, head of the Department of Biology at Florida Institute of Technology.


Steel production drives deforestation in Brazil's Pantanal

(02/11/2008) A steel mill in Corumbá, in the heart of Brazil's Pantanal wetland, is fueling destruction of forests for charcoal and undermining the rights of Amazonian forest dwellers, reports the Inter Press Service.


Controversial dam in the Amazon gets Brazilian go-ahead

(12/11/2007) The Brazilian government has awarded rights to build and operate a controversial R$10bn hydroelectric power plant on the Madeira river in the Amazon rainforest near the border with Bolivia, according to FT.com.


Amazon conservation Team wins "Innovation in conservation Award" for path-breaking work with Amazon tribes

(12/11/2007) The Amazon conservation Team (ACT) was today awarded mongabay.com's inaugural "Innovation in conservation Award" for its path-breaking efforts to enable indigenous Amazonians to maintain ties to their history and cultural traditions while protecting their rainforest home from illegal loggers and miners.


Amazon rainforest children to get medicinal plant training from shamans

(11/21/2007) The Amazon conservation Team (ACT) -- a group using innovative approaches to preserving culture and improving health among Amazonian rainforest tribes -- has been awarded a $100,000 grant from Nature's Path, an organic cereal manufacturer. The funds will allow ACT to address one of the most pressing social concerns for Amazon forest dwellers by expanding its educational and cultural "Shamans and Apprentice" program for indigenous children in the region.


Uncontacted Amazon tribe spotted by plane in Peru

(10/21/2007) A group of uncontacted indigenous tribesmen were spotted by plane in a remote part of the Peruvian Amazon last month, according to Survival International. The region is threatened by illegal mahogany loggers.


Rainforest tribe establishes massive sustainable-use reserve

(10/04/2007) An indigenous group in Guyana has established one of the world's largest sustainable forest reserves, reports conservation International.


Killers of renowned anthropologist sentenced in Brazil

(07/12/2007) The men charged with the 2005 killing of University of Vermont anthropology professor James Petersen in the Amazon rainforest were sentenced Tuesday to nearly 30 years in prison, close to the maximum under Brazilian law.


Google helps protect Amazon rainforest

(06/10/2007) Google is working with a indigenous tribe deep in the Amazon rainforest to protect their lands from illegal encroachment, reports the San Francisco Chronicle. For the first time, Google has confirmed details of the project. Working in conjuction with the Amazon conservation Team, Google Earth's technology is being used to monitor illegal mining and logging that threaten the lands of the Surui tribe in Brazil. Google is working with satellite providers to significantly improve image resolution in some of the most remote parts of the Amazon basin.


Amazon tribe blocks major Brazilian highway

(06/08/2007) Indigenous Amazonians have blocked a major highway in the Brazilian state of Mato Grosso to protest a series of hydroelectric dams planned on the Xingu river, one of the Amazon's largest tributaries, according to Brazzil Mag and Survival International.


Can cattle ranchers and soy farmers save the Amazon?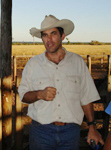 (06/06/2007) John Cain Carter, a Texas rancher who moved to the heart of the Amazon 11 years ago and founded what is perhaps the most innovative organization working in the Amazon, Alianca da Terra, believes the only way to save the Amazon is through the market. Carter says that by giving producers incentives to reduce their impact on the forest, the market can succeed where conservation efforts have failed. What is most remarkable about Alianca's system is that it has the potential to be applied to any commodity anywhere in the world. That means palm oil in Borneo could be certified just as easily as sugar cane in Brazil or sheep in New Zealand. By addressing the supply chain, tracing agricultural products back to the specific fields where they were produced, the system offers perhaps the best market-based solution to combating deforestation. Combining these approaches with large-scale land conservation and scientific research offers what may be the best hope for saving the Amazon.


Unknown tribe found in the Amazon

(06/04/2007) An unknown Indian tribe has been discovered in the Amazon rainforest reports the Associated Press. The Metyktire tribe, with about 87 members, was found in late May around 1,200 northwest of Rio de Janeiro. Brazil's Federal Indian Bureau (FUNAI) says the tribe is a subgroup of the Kayapo tribe and lives on the Kayapos, 12.1-million-acre Menkregnoti Indian reservation.



Page 1 | Page 2 | Page 3 | Page 4 | Page 5