News articles on Amazon People

---
Mongabay.com news articles on Amazon People in blog format. Updated regularly.






Amazon tribe creates 500-page traditional medicine encyclopedia
(06/24/2015) In one of the great tragedies of our age, indigenous traditions, stories, cultures and knowledge are winking out across the world. Whole languages and mythologies are vanishing, and in some cases even entire indigenous groups are falling into extinction. This is what makes the news that a tribe in the Amazon have created a 500-page encyclopedia of their traditional medicine all the more remarkable.
Satellite images provide new view of uncontacted Amazonian communities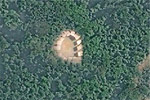 (06/10/2015) A laundry list of dangers threaten Amazonia's few remaining uncontacted indigenous communities. Colonists and industry workers often grab tribal land for mining, logging, drug trafficking, or hydrocarbon extraction, which damage the groups' environment and bring them into conflict with armed settlers. Careless encroachment by outsiders can also bring diseases to which uncontacted groups have no immunity.
9 months after Amazonian oil pipeline spill, effects and fears linger
(03/30/2015) When Peru's state-run oil company pulled out of this small Kukama Indian village in mid-December after cleaning up an oil pipeline spill, residents thought life could slowly return to normal. But more than three months later, wisps of oil floating down the Cuninico River—along with a larger spill in the neighboring community of San Pedro—are a reminder that the problems are not over.
Photos: expedition to Amazon's white sands may have found new primate
(03/24/2015) Most people think of the Amazon rainforest as one massive, homogenous ecosystem—a giant castle of green. However, within the Amazon rainforest lie a myriad of distinct ecosystems, sporting unique characteristics and harboring endemic species. One of the rarer ecosystems in the Amazon is the white sands forest.
Photo essay: filming in the remote Amazon
(03/09/2015) You wake up at 4:30 AM, a little before the first rays of tropical sun begin to dance behind the treetops. You put on your wet clothes from the previous day, pack your bag, and pick up your tripod. The jungle is shrouded in a thick mist from the previous nights rain. As you walk, you recognize many of the strange calls that echo between the trees.
Partnering for conservation benefits Tacana people, Bolivian park
(02/25/2015) Kneeling in a small clearing amid tropical trees, Baldemar Mazaro skillfully arranges a circle of sticks and a noose of cord in the community of San Miguel de Bala. He hands a branch to a tourist and asks her to prod the sticks as if the branch were the nose of an animal snuffling around, looking for food.
Brazilian indigenous populations grow quickly after first contact devastation

(02/18/2015) Indigenous communities in South America have long experienced devastating impacts from contact with Western society. In the Sixteenth Century, European colonists brought slavery, war, and violence, but disease proved the most devastating. In all, European contact destroyed over 95 percent of the native population.
How do parks affect the poor? Jury's still out, some experts say
(02/13/2015) In Peru's vast northeastern region, where roads are scarce and forests abundant, crackdowns on the illegal plundering of timber, fish, and wildlife are sporadic and expensive. To fill the gap, the Peruvian National Park Service and non-profit conservation organizations encourage community groups to patrol their lakes and forests and control fishing and hunting.
Innovating Brazil nuts: a business with roots in the rainforest
(02/11/2015) Scientist and entrepreneur turn to Brazil nuts to protect Peru's threatened forests. Sofía Rubio was eight years old when she decided she wanted to be a biologist. 'I would skip school to go to the woods with my father or mother,' who did research in what is now the Tambopata National Reserve in the southeastern Peruvian Amazon, she says.
Video: innovative tourism helps protect forests in Amazonian Peru
(02/05/2015) A new short documentary highlights the innovative, locally-grown tourist ventures sprouting up in the buffer zone around Peru's Tambopata National Reserve. Not only do these tourist adventures--some specializing in rehabilitating wildlife, others in finding out how locals live, and some even in jungle yoga--help provide jobs and income in a region dominated by extractive industries, but they are also help to keep forests standing.
Mercury fish: gold mining puts downstream communities at risk in Peru
(02/02/2015) Artisanal, often illegal gold-mining, has swept across portions of the Peruvian Amazon over last decade, driven in part by a rising price in gold. The unregulated industry has resulted in widespread deforestation leading to an environmental disaster. Now a new study finds that mercury pollution has moved rapidly downstream and could be impacting communities at least 560 kilometers away.
Community tourism fills niche around Tambopata National Reserve
(01/29/2015) When Víctor Zambrano retired from the military and returned to his family's old homestead outside the fast-growing jungle town of Puerto Maldonado in Peru, he got an unpleasant surprise. Strangers had moved in and cleared the trees to raise cattle. As Zambrano tells it, he ran up the Peruvian flag, chased the invaders off, and set to work planting 19,000 native tree seedlings.
Environmental wisdom: keeping indigenous stories alive
(01/21/2015) Enchanted lakes and magic hills: how traditional stories support conservation and abundance. 'Long ago, when animals were gente...' Those words, uttered countless times by indigenous Amazonian storytellers, blur the boundary between humans and other creatures in the forests and rivers, revealing a different view of the way human and non-human worlds intertwine.
Amazon tribe attacks oilfield in Ecuador

(01/15/2015) Indigenous leaders are calling for the release of six tribesmen implicated in a raid on an oilfield in Eastern Ecuador that left six soldiers injured, reports Andina and El Comercio.
Top 10 Environmental Stories of 2014
(12/23/2014) In 2014, the unimaginable happened: companies representing the majority of palm oil production and trade agreed to stop cutting down rainforests and draining peatlands for new oil palm plantations. After years of intense campaigning by environmentalists and dire warnings from scientists, nearly two dozen major producers, traders, and buyers established zero deforestation policies.
Indigenous leader murdered before he could attend Climate Summit
(12/08/2014) Days before José Isidro Tendetza Antún was supposed to travel to the UN Climate Summit in Lima to publicly file a complaint against a massive mining operation, he went missing. Now, the Guardian reports that the body of the Shuar indigenous leader has been found, bound and buried in an unmarked grave on the banks of the Zamora River.
Giant stone face unveiled in the Amazon rainforest (video)
(12/04/2014) A new short film documents the journey of an indigenous tribe hiking deep into their territory in the Peruvian Amazon to encounter a mysterious stone countenance that was allegedly carved by ancient peoples. According to Handcrafted Films, which produced the documentary entitled The Reunion, this was the first time the Rostro Harakbut has been filmed.
Threatened indigenous forests store more than half the Amazon's carbon
(12/02/2014) A new study released today finds the total carbon load locked up in parts of the Amazon rainforest held by indigenous groups to be much higher than previously estimated – an amount that, if released, would be capable of destabilizing the earth's atmosphere. But because of flimsy land rights, these areas stand at risk of deforestation.
What we can learn from uncontacted rainforest tribes
(11/26/2014) If you have ever wondered about the connection between hallucinogenic frogs, uncontacted peoples, conservation, and climate change — and who hasn't? — check out this TED talk from ethnobotanist Mark Plotkin. An ethnobotanist by training, Plotkin serves as President of the Amazon Conservation Team. Plotkin took a few minutes from his busy schedule to answer a few questions from Mongabay.
A tale of 2 Perus: Climate Summit host, 57 murdered environmentalists
(11/18/2014) On September 1st, indigenous activist, Edwin Chota, and three other indigenous leaders were gunned down and their bodies thrown into rivers. Chota, an internationally-known leader of the Asháninka in Peru, had warned several times that his life was on the line for his vocal stance against the destruction of his peoples' forests, yet the Peruvian government did nothing to protect him—or others.
Brazilian tribes demarcate territory in bid to block dams
(11/06/2014) Indigenous communities in Brazil have taken the unusual step of demarcating their own land — without the approval of the Brazilian government — in a bid to block two dams they say threaten their territory and traditional livelihoods, report International Rivers and Amazon Watch, advocacy groups that are fighting the projects. Last week the Munduruku people annexed the 178,000-hectare Sawré Muybu territory after authorities failed to recognize their claims.
An impossible balancing act? Forests benefit from isolation, but at cost to local communities
(10/07/2014) The indigenous people of the Amazon live in areas that house many of the Amazon's diverse species. The Rupununi region of Guyana is one such area, with approximately 20,000 Makushi and Wapishana people living in isolation. According to a recent study published in Environmental Modelling & Software, a simulation model revealed a link between growing indigenous populations and gradual local resource depletion.
4 Ashaninka tribesmen killed by loggers in Peru

(09/08/2014) One of those killed was Edwin Chota, the leader of the Alto Tamaya-Saweto indigenous community who won fame for fighting illegal loggers. As such, Chota was a top target for assassination, according to a conservationist familiar with the situation.
Phone-based logging alert system eyes expanding to the Amazon

(07/23/2014) After exceeding an ambitious fundraising target to launch a near-real time forest monitoring system in the Congo Basin, a San-Francisco based start-up is now eyeing expansion in the Amazon where it hopes to help an indigenous rainforest tribe fight illegal logging.
Using Google Earth to protect uncontacted tribes in the Amazon rainforest
(06/19/2014) In 2008, images of an uncontacted tribe in the Amazon rainforest in Brazil created ripples. With bodies painted in bright colors, members of the tribe aimed their arrows at a Brazilian government plane flying overhead, occupants of which were attempting to photograph the tribe to prove their existence. Now, a new study has found another way to survey such tribes safely and remotely—using satellite images.
53 indigenous activists on trial for police-protester massacre in Peru
(05/15/2014) In the summer of 2009, on a highway in Peru known as Devil's Curve: everything went wrong. For months, indigenous groups had protested new laws by then President Alan Garcia opening up the Amazon to deregulated logging, fossil fuels, and other extractive industries as a part of free trade agreements with the U.S.
Stolen information may derail Yasuni drilling referendum
(04/30/2014) Environmental activists in Ecuador are accusing the country's National Electoral Council of breaking into sealed boxes to interfere with completed petitions that call for a referendum on oil drilling in the Amazonian region of Yasuní. The environmentalists had spent six months collecting signatures to oppose Rafael Correa's plans to extract oil in the eastern portion of the country.
Small monkeys take over when big primates have been hunted out in the Amazon
(04/21/2014) The barbecued leg of a spider monkey might not be your idea of a sumptuous dinner, but to the Matsés or one of the fifteen tribes in voluntary isolation in Peru, it is the result of a successful hunt and a proud moment for the hunter's family. However, a spider monkey tends to have only a single infant once every 30 months, which necessarily limits the number of adult monkeys available to subsistence hunters.
Featured video: celebrities speak out for Yasuni

(04/02/2014) A group of celebrities, including recent Academy Award winner Jared Leto, Law and Order's Benjamin Bratt, and Kill Bill's Daryl Hannah, have lent their voices to a new Public Service Announcement to raise signatures to protect Ecuador's Yasuni National Park from oil drilling.
Mother of God: meet the 26 year old Indiana Jones of the Amazon, Paul Rosolie
(03/17/2014) Not yet 30, Paul Rosolie has already lived a life that most would only dare dream of—or have nightmares over, depending on one's constitution. With the Western Amazon as his panorama, Rosolie has faced off jaguars, wrestled anacondas, explored a floating forest, mentored with indigenous people, been stricken by tropical disease, traveled with poachers, and hand-reared a baby anteater. It's no wonder that at the ripe age of 26, Rosolie was already written a memoir: Mother of God.
New $20,000 reporting grant explores benefits of Amazonian protected areas
(02/21/2014) With six Special Reporting Initiatives (SRI) already under way, Mongabay.org is excited to announce a call for applications for its latest journalism grant topic: Amazonian protected areas: benefits for people. The Amazon's system of protected areas has grown exponentially in the past 25 years. In many South American nations, the mission of protected areas has expanded from biodiversity conservation to improving human welfare. However, given the multiple purposes and diverse management of many protected areas, it is often difficult to measure their effect on human populations.
Helping the Amazon's 'Jaguar People' protect their culture and traditional wisdom
(02/11/2014) Tribes in the Amazon are increasingly exposed to the outside world by choice or circumstance. The fallout of outside contact has rarely been anything less than catastrophic, resulting in untold extinction of hundreds of tribes over the centuries. For ones that survived the devastation of introduced disease and conquest, the process of acculturation transformed once proud cultures into fragmented remnants, their self-sufficiency and social cohesion stripped away, left to struggle in a new world marked by poverty and external dependence





Gas company to drill in Manu National Park buffer zone, imperiling indigenous people

(02/04/2014) The Peruvian government has approved plans for gas company Pluspetrol to move deeper into a supposedly protected reserve for indigenous peoples and the buffer zone of the Manu National Park in the Amazon rainforest. The approval follows the government rescinding a highly critical report on the potential impacts of the operations by the Culture Ministry (MINCU), the resignation of the Culture Minister and other Ministry personnel, and repeated criticism from Peruvian and international civil society.





Brazil begins evicting illegal settlers from hugely-imperiled indigenous reserve

(01/06/2014) Months after closing sawmills on the fringes of an indigenous reserve for the hugely-imperiled Awá people, the Brazil government has now moved into the reserve itself to evict illegal settlers in the eastern Amazon. According to the NGO Survival International, Brazil has sent in the military and other government agents to deal with massive illegal settlements on Awá land for logging or cattle.







Ecuador's government shuts down indigenous rights organization over oil battle

(12/10/2013) Last Wednesday, the government of Ecuador shutdown the indigenous rights NGO, Fundación Pachamama, in Quito over the group's opposition to oil drilling in indigenous areas. More than a dozen government officials showed up at Pachamama's office with a resolution by the Ministry of Environment that officially dissolved the organization, the first such moved by the government which in June passed an Executive Decree that tightened governmental oversight of the country's NGOs.













Amazon rainforest tribe sells REDD+ credits to Brazilian cosmetics giant

(09/10/2013) The Paiter-Suruí, a rainforest tribe that in June became the first indigenous group to generate REDD+ credits under the Verified Carbon Standard (VCS), has now closed their first deal. As reported by Ecosystem Marketplace, Brazilian cosmetics giant Natura Cosméticos has purchased 120,000 tons of carbon offsets from the the Surui Forest Carbon Project in Rondônia, Brazil.




Page 1 | Page 2 | Page 3 | Page 4 | Page 5 | Page 6