News articles on Afghanistan

---
Mongabay.com news articles on Afghanistan in blog format. Updated regularly.






An avalanche of decline: snow leopard populations are plummeting

(01/03/2013) The trading of big cat pelts is nothing new, but recent demand for snow leopard pelts and taxidermy mounts has added a new commodity to the illegal trade in wildlife products, according to the Environmental Investigation Agency (EIA). Traditionally, the market for large cat products has centered around tiger bones and parts for traditional Chinese medicine. Snow leopards (Uncia uncia), however, are a novel trend in the illegal wildlife trade arena and skins and taxidermy mounts are the most recent fad in luxury home décor.
First snow leopards collared in Afghanistan as species faces rising threat from climate change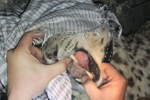 (07/18/2012) Scientists have captured and collared two snow leopards (Panthera uncia), arguably one of the world's most elusive predators, in Afghanistan for the first time. Undertaken by researchers with Wildlife Conservation Society (WCS) and Afghani vets, the successful operation was conducted as a new study finds that snow leopard habitat could shrink by nearly one-third due to anthropogenic climate change in the Himalayas.
Animal picture of the day: rare image of Asiatic cheetah and cubs

(07/03/2012) The Asiatic cheetah (Acinonyx jubatus venaticus), also known as the Iranian cheetah, is one the world's rarest cat subspecies with somewhere between 70-110 individuals left. No surprisingly it is considered Critically Endangered by the IUCN Red List.
Pictures of the day: activists highlight personal impacts of climate change worldwide

(05/07/2012) On Saturday, people around the world gathered to highlight the varied impacts of climate change on their lives. Organized by 350.org, the global day of action was a call to "connect the dots" between a warming Earth and extreme weather events, such as droughts, floods, and fires among other impacts. Nearly 1,000 events were held worldwide.
Photos: biologists surprised by world's biggest leopard in Afghanistan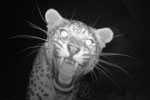 (12/05/2011) When biologists with the Wildlife Conservation Society (WCS) reviewed recent photos from camera traps in the Hindu Kush region of Afghanistan they were shocked to find a snarling image of the world's largest leopard: the Persian leopard (Panthera pardus saxicolor). Listed as Endangered by the IUCN Red List, the subspecies was thought long-vanished from the Hindu Kush. Photos from the camera traps—automated cameras that use an infrared trigger to catch wildlife—also showed lynx (Lynx lynx), wild cat (Felis silvestris), Eurasian wolf (Canis lupus lupus), red fox (Vulpes vulpes), and stone marten (Martes foina).
Chemotherapy tree facing extinction

(11/10/2011) A yew tree in the Himalayas that produces the chemotherapy drug, Taxol, is in danger of extinction. An update to the IUCN Red List, has moved the tree, named Taxus contorta, from Vulnerable to Endangered. Overharvesting for medicine and fuelwood have placed the species in serious danger.
Viable population of snow leopards still roam Afghanistan (pictures)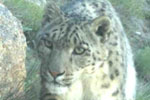 (07/13/2011) Decades of war and poverty has not exterminated snow leopards (Panthera uncia) in Afghanistan according to a new paper in the International Journal of Environmental Studies, written by researchers with the Wildlife Conservation Society (WCS). Instead the researchers report a healthy population of the world's most elusive big cat in Afghanistan's remote and peaceful Wakhan Corridor region. Monitored by camera trap in the region, WCS researchers were able to identify 30 snow leopards in 16 different locations.
Afghanistan protects 15 additional endangered species

(03/02/2010) Afghanistan's National Environment Protection Agency (NEP) has added 15 species to its Protected Species List, totaling 48 species now under protection. The new species includes the large-billed reed warbler, which was only recently discovered in the Central Asian nation. Fortunately, by law newly discovered species in Afghanistan receive automatic legal protection.
Breeding area of 'world's least known bird' discovered in Afghanistan

(01/13/2010) Named in 2007 the 'world's least known bird', the large-billed reed warbler has officially lost that title as researchers with the Wildlife Conservation Society (WCS) have discovered its breeding ground in the remote Wakham Corridor in the Pamir Mountains of Afghanistan. "Practically nothing is known about this species, so this discovery of the breeding area represents a flood of new information on the large-billed reed warbler," said Colin Poole, Executive Director of WCS's Asia Program said in a press release.
Apple's Snow Leopard helps real-life cats

(09/07/2009) Apple's release of its new operating system, dubbed "Snow Leopard", is helping raise awareness of the plight of one of the world's most endangered big cats, reports the Snow Leopard Trust, a group working to protect the real-life snow leopard in its mountainous habitat across Central Asia.
Photos: snow leopard in Afghanistan

(08/31/2009) Using camera traps, the Wildlife Conservation Society (WCS) has captured the elusive and rare snow leopard on film in Afghanistan for a second time. The feline was caught on film in the Sast Valley in Afghanistan's Wakhan Corridor. The snow leopard is currently listed as Endangered by the IUCN. The cat is also listed as protected under Afghanistan's new endangered species list, which outlaws hunting it. The IUCN estimates that only 100-200 snow leopards still survive in Afghanistan.
Photos: camera traps capture snow leopards in Afghanistan
(06/09/2009) It has been estimated that Afghanistan only has 100 snow leopards left, however photos from camera traps placed by the Wildlife Conservation Society (WCS) show that there may be hope for snow leopards in the war-torn nation after all. Working in Afghanistan's Wakhan Corridor, WCS set up five camera traps. Four of the five camera traps took photos of snow leopards, including 22 images in total.
Another milestone in Afghanistan: listing of endangered species

(06/08/2009) Thirty-three species are included in Afghanistan's first-ever listing of protected wildlife. Well-known animals like the snow leopard, wolves, and brown bears received full legal protection from hunting and harvesting alongside lesser-known species like the paghman salamander, goitered gazelle, and Himalayan elm tree. The protected species list consists of twenty mammals, seven birds, four plants, one amphibian, and one insect.
UN: Population growth rates fall to 1.1 percent in Asia-Pacific

(05/19/2009) The population growth rate in the Asia-Pacific region has dropped to 1.1 percent, according to the Statistical Yearbook for Asia and the Pacific 2008, compiled by the UN's Economic and Social Commission for Asia and the Pacific (ESCAP). The 1.1 percent growth rate is the lowest in the developing world.
Afghanistan announces first national park on Earth Day
(04/22/2009) War-wearied Afghanis received uplifting news on Earth Day this year. Their nation has announced the creation of the nation's first national park, Band-e-Amir, protecting a one-of-a-kind landscape encompassing six sky-blue lakes separated by natural dams. Announced by Afghanistan's National Environmental Protection Agency (NEPA) at a ceremony in the FAO Building at the Ministry of Agriculture, Irrigation, and Livestock in Kabul this morning, key funding for the park was provided by The United States Agency for International Development (USAID).
How to Save Snow Leopards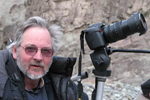 (10/28/2008) The snow leopard (Panthera uncia) is one of the rarest and most elusive big cat species with a population of 4,500 to 7,500 spread across a range of 1.2 to 1.6 million kilometers in some of the world's harshest and most desolate landscapes. Found in arid environments and at elevations sometimes reaching 18,000 feet (5,500 meters), the species faces great threats despite its extreme habitat. These threats vary across its range, but in all countries where it is found — Afghanistan, Bhutan, China, India, Kyrgyzstan, Kazakhstan, Nepal, Mongolia, Pakistan, Russia, Tajikistan, Uzbekistan and possibly Myanmar — the species is at risk. In some countries snow leopard are directly hunted for their pelt, in others they are imperiled by depletion of prey, loss of habitat, and killing as a predator of livestock. These threats, combined with the cat's large habitat requirements, means conservation through the establishment of protected areas alone may not be enough save it from extinction in the wild in many of the countries in which it lives. Working to stave off this fate in half a dozen of its range countries is the Snow Leopard Conservancy. Founded by Dr. Rodney Jackson, a biologist who has been studying snow leopard in the wild for 30 years, the Conservancy seeks to conserve the species by "promoting innovative grassroots measures that lead local people to become better stewards of endangered snow leopards, their prey, and habitat."