Conservation news
Founded in 1999, Mongabay is a leading provider of environmental science and conservation news.
Global food prices set record in 2011

(01/16/2012) Last year saw the highest average food prices since recording began in 1990, according to the Food and Agriculture Organization's (FAO) Food Price Index. The Food Price Index's average for the year was 228 points, 28 points higher than the past record set in 2008.


Featured video: tuna industry bycatch includes sea turtles, dolphins, whales

(01/16/2012) A Greenpeace video, using footage from a whistleblower, shows disturbing images of the tuna industry operating in the unregulated waters of the Pacific Ocean. Using fish aggregation devices (FADs) and purse seine nets, the industry is not only able to catch entire schools of tuna, including juvenile, but also whatever else is in the area of the net.


Elephant poachers kill unarmed wildlife ranger in Kenya

(01/16/2012) Abdullahi Mohammed, an wildlife ranger, was killed in the line of duty in Kenya this weekend by elephant poachers. A ranger with the conservation organization Wildlife Works, Mohammed was shot by poachers in Wildlife Works Kasigau Corridor project, a REDD program (Reduced Emissions From Deforestation and Degradation).


Beyoncé honored with new horse fly named after her

(01/16/2012) Musical artists, and dancer extraordinare, Beyoncé has been awarded a new honor this week: entomologists in Australia have named a new horse fly after the American singer. The new horse fly, dubbed Scaptia beyonceae, is found in Queensland's Atherton Tablelands.


How much is the life of a whale worth?

(01/16/2012) How do you end a decades-long conflict between culture and conservation? How do you stop a conflict where both sides are dug in? A new paper in Nature proposes a way to end the long and bitter battle over whaling: environmentalists could pay whalers not to whale.


Climate change may make lizards smarter, if they don't go extinct first

(01/12/2012) A new study in Biology Letters has found that warmer temperatures may make lizards smarter, even as past studies have linked a global decline in lizards to climate change.


New frog trumps miniscule fish for title of 'world's smallest vertebrate'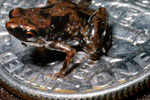 (01/12/2012) How small can you be and still have a spine? Scientists are continually surprised by the answer. Researchers have discovered a new species of frog in Papua New Guinea that is smaller than many insects and dwarfed by a dime. The frog trumps the previously known smallest vertebrate—a tiny fish—by nearly 1 millimeter.


Targeting methane, black carbon could buy world a little time on climate change


(01/12/2012) A new study in Science argues that reducing methane and black carbon emissions would bring global health, agriculture, and climate benefits. While such reductions would not replace the need to reduce CO2 emissions, they could have the result of lowering global temperature by 0.5 degrees Celsius (0.9 degree Fahrenheit) by mid-century, as well as having the added benefits of saving lives and boosting agricultural yields. In addition, the authors contend that dealing with black carbon and methane now would be inexpensive and politically feasible.


Cute animal picture of the day: pygmy killer whale saved after stranding

(01/12/2012) On Tuesday a female pygmy killer whale (Feresa attenuata) was found stranded on Tanjung Aru beach, in the Malaysian state of Sabah on the island of Borneo. After being moved to a swimming enclosure at a local resort for recuperation, the whale was released back into the wild with aid from the Sabah Wildlife Department, marine biologist Lindsay Porter, the local NGO LEAP, and WWF Malaysia.


Indonesia could earn billions from well-designed deforestation-reduction program, finds study

(01/12/2012) Indonesia could have earned $5 billion in revenue and avoided 1 billion tons of carbon dioxide emissions between 2000 and 2005 had a reducing emissions from deforestation and degradation (REDD+) program been in place, reports an assessment published in the journal Proceedings of the National Academy of Science.


Peruvian smugglers traffic illegal rainforest timber from Brazil to America

(01/11/2012) An investigation by Brazil's Federal Police has detailed a significant trade of illegally logged rainforest wood by Peruvian nationals making its way from northern Brazil to the U.S. and Mexico, reports O Globo.


Bycatch-reducing fish trap wins $20,000

(01/11/2012) An innovative fish trap that allows small non-target fish to escape won a new content by RARE Conservation and National Geographic to fund solutions to overfishing. Developed through studies in Curaçao and Kenya with the Wildlife Conservation Society, the trap has gaps for juvenile fish to swim out of reportedly reducing bycatch by 80 percent. The entry won a $20,000 grant.


Borneo's most elusive feline photographed at unexpected elevation



(01/11/2012) Although known to science for 138 years, almost nothing is actually known about the bay cat (Pardofelis badia). This reddish-brown wild feline, endemic to the island of Borneo, has entirely eluded researchers and conservationists. The first photo of the cat wasn't taken until 1998 and the first video was shot just two years ago, but basic information remains lacking. A new camera trap study, however, in the Kelabit Highlands of the Malaysian state of Sarawak has added to the little knowledge we have by photographing a bay cat at never before seen altitudes.


Seals, birds, and alpine plants suffer under climate change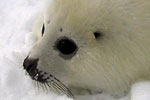 (01/11/2012) The number of species identified by scientists as vulnerable to climate change continues to rise along with the Earth's temperature. Recent studies have found that a warmer world is leading to premature deaths of harp seal pups (Pagophilus groenlandicus) in the Arctic, a decline of some duck species in Canada, shrinking alpine meadows in Europe, and indirect pressure on mountain songbirds and plants in the U.S. Scientists have long known that climate change will upend ecosystems worldwide, creating climate winners and losers, and likely leading to waves of extinction. While the impacts of climate change on polar bears and coral reefs have been well-documented, every year scientists add new species to the list of those already threatened by anthropogenic climate change.


Happy rhino news: no rhinos poached in Nepal last year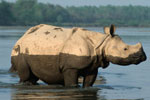 (01/10/2012) As rhinos again fell to poachers in record numbers in 2011, there was one bright-spot: Nepal. Not a single rhino was killed by poachers in the Himalayan nation, home to an estimated 534 greater one-horned rhinos (Rhinoceros unicornis), categorized as Vulnerable by the IUCN Red List. Conservationists celebrated at Chitwan National Park, which holds the vast majority of the country's rhinos.


Camera traps snap first ever photo of Myanmar snub-nosed monkey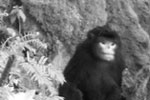 (01/10/2012) In 2010 researchers described a new species of primate that reportedly sneezes when it rains. Unfortunately, the new species was only known from a carcass killed by a local hunter. Now, however, remote camera traps have taken the first ever photo of the elusive, and likely very rare, Myanmar snub-nosed monkey (Rhinopithecus strykeri), known to locals as mey nwoah, or 'monkey with an upturned face'. Locals say the monkeys are easy to locate when it rains, because the rain catches on their upturned noses causing them to sneeze.


Photos: scientists find new species at world's deepest undersea vent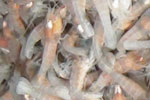 (01/10/2012) It sounds like a medieval vision of hell: in pitch darkness, amid blazing heat, rise spewing volcanic vents. But there are no demons and devils down here, instead the deep sea vent, located in the very non-hellish Caribbean sea, is home to a new species of pale shrimp. At 3.1 miles below (5 kilometers) the sea's surface, the Beebe Vent Field south of the Cayman islands, is the deepest yet discovered.


Industrial palm oil production expands at expense of rainforests in Peru

(01/10/2012) Intensive palm oil production is expanding at the expense of biolologically-rich lowland rainforests in the Peruvian Amazon, reports a study published in Environmental Research Letters. The research indicates that enthusiasm for oil palm — one of the world's most lucrative crops — is taking a toll on forests outside of Southeast Asia, where the vast majority of palm oil is produced.


Colonization program remains important driver of deforestation in Brazil

(01/10/2012) Government-subsidized colonization of the Amazon rainforest remains an important driver of forest loss in Brazil, but has mixed economic value, argues a paper published in Biological Conservation.


Extreme mouth-sewing protest in Indonesia leads to logging inquiry

(01/09/2012) A protest in which 28 Indonesian sewed their mouths shut has led to an inquiry into a logging concession on Padang Island. The Ministry of Forestry has formed a mediation team to look into the controversial concession, reports Kompas. Around a hundred natives of Padang Island rallied for weeks against the logging concession held by PT Riau Andalan Pulp and Paper (RAPP), which covers 37 percent of the island's total land.


As Amazon deforestation falls, food production rises

(01/09/2012) A sharp drop in deforestation has been accompanied by an increase in food production in the Brazilian state of Mato Grosso, reports a new study published in the journal Proceedings of the National Academy of Science. The research argues that policy interventions, combined with pressure from environmental groups, have encouraged agricultural expansion in already-deforested areas, rather than driving new forest clearing.


Weird carnivorous flower devours worms underground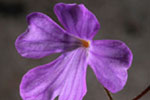 (01/09/2012) A worm measuring only a millimeter in length scoots its way through relatively massive grains of white sand. The worm, known as a nematode or roundworm, is seeking lunch in the form of bacteria. Suddenly, however, its journey is interrupted: it is caught on a large green surface. Unable to wiggle free the worm is slowly digested, becoming lunch itself for an innocuous purple flower called Philcoxia minensis.


Animal picture of the day: the pitch-black robin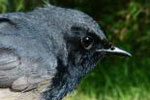 (01/09/2012) A species of robin with a black head, aptly named the blackthroat (Luscinia obscura), had rarely been seen since its first description in 1891 until last year when researchers located some of the species' breeding grounds. They documented fourteen singing males in the Quingling mountains of its native China.


How lemurs fight climate change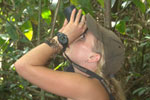 (01/09/2012) Kara Moses may have never become a biologist if not for a coin toss. The coin, which came up heads and decided Moses' direction in college, has led her on a sinuous path from studying lemurs in captivity to environmental writing, and back to lemurs, only this time tracking them in their natural habitat. Her recent research on ruffed lemurs is attracting attention for documenting the seed dispersal capabilities of Critically Endangered ruffed lemurs as well as theorizing connections between Madagascar's lemurs and the carbon storage capacity of its forests. Focusing on the black-and-white ruffed lemur's (Varecia variegata) ecological role as a seed disperser—animals that play a major role in spreading a plant's seeds far-and-wide—Moses suggests that not only do the lemurs disperse key tree species, but they could be instrumental in dispersing big species that store large amounts of carbon.


Critically Endangered Hawaiian monk seals bludgeoned to death


(01/08/2012) To date three Hawaiian monk seals (Monachus schauinslandi), and possibly a fourth mortality under investigation, have been found bludgeoned to death by an as yet undiscovered assailant, reports the Associated Press. Authorities believe the seals may have been killed by local fishermen who fear new regulations meant to save the species from extinction. The seal is currently down to 1,100 individuals.


Photo: Tiny lemur discovered in Madagascar forest

(01/08/2012) A new species of mouse lemur has been discovered in eastern Madagascar, report researchers from Germany. The species is described in a recent issue of the journal Primates.


Climate change media coverage drops 20 percent in 2011

(01/05/2012) Global media reporting on climate change issues was down again last year, according to a new analysis from The Daily Climate. The news organization counted around 19,000 stories on climate issues during the year written by 7,140 journalists, falling 20 percent from 2010 levels.


Will Taiwan save its last pristine coastline?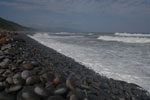 (01/05/2012) Voters in the January 14 Taiwanese presidential election will decide the fate of the island's last pristine wilderness known as the Alangyi Trail. Amongst the three candidates, only one (Tsai Ing-wen from the Democratic Progressive Party) may support the conservation of Alangyi Trail and its coastline. One of the top domestic stories of 2011 were the efforts by the Pingtung County government, indigenous tribes, and NGOs to preserve the Alangyi Trail, according to the Taiwan Environmental Information Center. Alangyi is now a major issue reflecting steadily growing environmental concern amongst the Taiwanese, but its fate is sadly uncertain.


World's most expensive tuna

(01/05/2012) A 593 pound Pacific bluefin tuna sold for $735,000 (56.49 million yen) in Tokyo's Tsukiji market today. This beats the previous record price hit last year by over $260,000. Why so expensive? Bluefin tuna, considered the best sashimi and sushi in the world, have been fished to near extinction with the population of the Pacific bluefin the most stable to date.


Eco-toilets help save hippos and birds in Kenya


(01/04/2012) It may appear unintuitive that special toilets could benefit hippos and other wetland species, but the Center for Rural Empowerment and the Environment (CREE) has proven the unique benefits of new toilets in the Dunga Wetlands on Lake Victoria's Kenyan side. By building ecologically-sanitary (eco-san) toilets, CREE has managed to alleviate some of the conflict that has cropped up between hippos and humans for space.


Camera traps snap 35 Javan rhinos, including calves

(01/04/2012) Camera traps have successfully taken photos of 35 Javan rhinos (Rhinoceros sondaicus) in Ujung Kulon National Park. The small population, with an estimated 45 or so individuals, is the species' last stand against extinction. Late last year, a subspecies of the Javan rhino, the Vietnamese rhino (Rhinoceros sondaicus annamiticus), was declared extinct.


'Lost world' dominated by Yeti crabs discovered in the Antarctic deep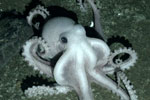 (01/03/2012) Scientists have discovered a deep sea ecosystem dominated by hairy pale crabs off of Antarctica. The new species of "Yeti crabs" survive alongside many other likely new species, including a seven-armed meat-eating starfish, off of hydrothermal vents, which spew heat and chemicals into the lightless, frigid waters. According to the paper published in PLoS ONE, this is the first discovery of a hydrothermal vent ecosystem in the Southern Ocean though many others have been recorded in warmer waters worldwide.


Frog plague found in India

(01/03/2012) The chytrid fungus, which is responsible for the collapse of numerous amphibian populations as well as the extinction of entire species, has been located for the first time in India, according to a paper in Herpetological Review. Researchers took swabs of frog in the genus Indirana in the Western Ghats and found the killer fungus known as chytridiomycosis.


Mouths are sewn shut in protest against deforestation in Indonesia

(01/03/2012) Twenty-eight Indonesians have taken the extreme measure of sewing their mouths shut in a protest turned hunger-strike against a forest concession on Padang Island, reports the Jakarta Globe. Around a hundred protesters, mostly natives of Padang Island, have camped outside the Indonesian Senate building since December 19th to protest a logging concession held by PT Riau Andalan Pulp and Paper (RAPP) on their island, which lies off the east coast of Sumatra.


Sarah Laskow: even renewable energy has a dark side

(01/03/2012) Sarah Laskow is a freelance writer who has covered environmental issues for Grist, GOOD, and Newsweek.com, among others. Raised in New Jersey and educated at Yale where she studied literature, Sarah now lives across the river in Manhattan with her partner. She's done extensive traveling in West Africa, Europe, and Central America. Sarah can be found on twitter as @slaskow.


Animal picture of the day: dueling green iguanas

(01/03/2012) Found throughout Central and South America and parts of the Caribbean, the green iguana (Iguana iguana) is a large, mostly herbivorous lizard.


Small town rises up against deforestation in Pakistan

(01/02/2012) The town of Ayun, home to 16,000 people in the Chitral district of Pakistan, has been rocked by large-scale protests and mass arrests over the issue of corruption and deforestation in recent days. Villagers are protesting forest destruction in the Kalasha Valleys, the home of the indigenous Kalash people.


Ecuador makes $116 million to not drill for oil in Amazon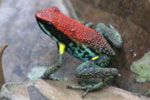 (01/02/2012) A possibly ground-breaking idea has been kept on life support after Ecuador revealed its Yasuni-ITT Initiative had raked in $116 million before the end of the year, breaking the $100 million mark that Ecuador said it needed to keep the program alive. Ecuador is proposing to not drill for an estimated 850 million barrels of oil in the Ishpingo-Tambococha-Tiputinin (ITT) blocs of Yasuni National Park if the international community pledges $3.6 billion to a United Nations Development Fund (UNDF), or about half of what the oil is currently worth. The Yasuni-ITT Initiative would preserve arguably the most biodiverse region on Earth from oil exploitation, safeguard indigenous populations, and keep an estimated 410 million tons of CO2 out of the atmosphere. However, the initiative is not without its detractors, some arguing the program is little more than blackmail; meanwhile proponents say it could prove an effective way to combat climate change, deforestation, and mass extinction.


The year in review for rainforests


(12/28/2011) 2011 was designated as "Year of the Forests" by the United Nations. While there was relatively little progress on intergovernmental forest protection programs during the year, a lot happened elsewhere. Below is a look at some of the biggest tropical forest-related news stories for 2011. We at mongabay readily acknowledge there were a number of important temperate and boreal forest developments, including Britain's decision not to privatize its forests and the severe drought in Texas, but this article will cover only tropical forest news.


Our top nature pictures of 2011


(12/27/2011) My reporting for mongabay.com took me to six continents in 2011 and I managed to take photos on many of the trips. Overall I added more than 10,000 new photos to the travel section of the site. Below are some of my favorite pictures from 2011. Thank you for reading mongabay.com in 2011 and I wish you the best for 2012!


The biggest new species discoveries in 2011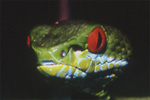 (12/26/2011) Every year scientists describe thousands of species for the first time. 2011 was no different, so here's a look at some of the significant new species discoveries for the year. New species discoveries are bound to continue as genetic analysis becomes more widespread and scientists conduct surveys of ever more habitats. But species loss also continues, and that is something considerably more difficult to quantify. Cataloging the disappearance of a species is extremely costly -- final proof can take years. Nonetheless in 2011 the book was closed on two particularly conspicuous creatures: neither the Vietnamese rhino nor the western black rhino roam the wilds any more.


Photos: Red-and-green animals for Christmas

(12/24/2011) For the holidays, a set of red-and-green animals.


'Christmas miracle' for endangered rhinos

(12/24/2011) Conservationists and wildlife officials in the Malaysian state of Sabah airlifted a young female Sumatran Rhinoceros — one of the world's most endangered animals — to an area of forest where she would encounter a potential partner, reports the Sabah Wildlife Department and Borneo Rhino Alliance. Sumatran Rhinoceros populations are so low, some individuals live in areas where they have no hope of ever finding another rhino.


CI refutes Cambodian logging story

(12/23/2011) Conservation International (CI) issued a sharp rebuke of a Phnom Pehn Post story that alleged involvement in illegal rosewood logging in Cambodia's Central Cardamom Protected Forest.


Giant monkey frog pic takes prize in photo contest

(12/23/2011) Gowri Varanashi has won mongabay.com's amphibian photo contest with her picture of a Giant Monkey Frog (Phyllomedusa bicolor) taken along the Tambopata river in the Peruvian Amazon.


Kroger, America's largest grocery chain, stops carrying APP products due to deforestation concerns

(12/22/2011) Kroger, America's largest grocery store chain, will stop carrying products sourced by Asia Pulp & Paper (APP) due to concerns about deforestation, according to a statement on the company's web site. The move comes after a Greenpeace campaign targeting Paseo, a fast-growing toilet paper brand owned by APP.


Animal picture of the day: pronghorn in the snow

(12/22/2011) Pronghorn (Antilocapra americana) are the only surviving animal in the Antilocapridae family, and contrary to popular belief they are not antelopes.


Featured holiday video: Oh, what a wonderful world!

(12/22/2011) The celebrated David Attenborough introduces us, once again, to the wonders of the world. Happy holidays from mongabay.com to you and yours! And best wishes for 2012.


Top 10 Environmental Stories of 2011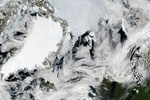 (12/22/2011) Many of 2011's most dramatic stories on environmental issues came from people taking to the streets. With governments and corporations slow to tackle massive environmental problems, people have begun to assert themselves. Victories were seen on four continents: in Bolivia a draconian response to protestors embarrassed the government, causing them to drop plans to build a road through Tipnis, an indigenous Amazonian reserve; in Myanmar, a nation not known for bowing to public demands, large protests pushed the government to cancel a massive Chinese hydroelectric project; in Borneo a three-year struggle to stop the construction of a coal plant on the coast of the Coral Triangle ended in victory for activists; in Britain plans to privatize forests created such a public outcry that the government not only pulled back but also apologized; and in the U.S. civil disobedience and massive marches pressured the Obama Administration to delay a decision on the controversial Keystone XL pipeline, which would bring tar sands from Canada to a global market.


The dark side of new species discovery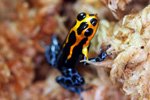 (12/21/2011) Scientists and the public usually rejoice when a new species is discovered. But biologist Bryan Stuart has learned the hard way that the discovery of new species, especially when that species is commercially valuable, has a dark side-one that could potentially wipe out the new species before protections can be put in place. Stuart has discovered 27 species unknown previously to scientists - so far. That includes 22 species of frogs, three types of snakes, and two salamanders. His experience with one of these, a warty salamander from Laos with striking markings (Laotriton laoensis), opened his eyes to a dark side of scientific discovery: commercial overexploitation before protections are in place. Shortly after Stuart described the previously unknown species Paramesotriton laoensis in a scientific paper published in 2002, commercial dealers began collecting this Lao newt for sale into the pet trade. In essence, the dealers used Stuart's geographic description in the paper as a "roadmap" to find the rare newt.



Page 1
|
Page 2
|
Page 3
|
Page 4
|
Page 5
|
Page 6
|
Page 7
|
Page 8
|
Page 9
|
Page 10
|
Page 11
|
Page 12
|
Page 13
|
Page 14
|
Page 15
|
Page 16
|
Page 17
|
Page 18
|
Page 19
|
Page 20
|
Page 21
|
Page 22
|
Page 23
|
Page 24
|
Page 25
|
Page 26
|
Page 27
|
Page 28
|
Page 29
|
Page 30
|
Page 31
|
Page 32
|
Page 33
|
Page 34
|
Page 35
|
Page 36
|
Page 37
|
Page 38
|
Page 39
|
Page 40
|
Page 41
|
Page 42
|
Page 43
|
Page 44
|
Page 45
|
Page 46
|
Page 47
|
Page 48
|
Page 49
|
Page 50
|
Page 51
|
Page 52
|
Page 53
|
Page 54
|
Page 55
|
Page 56
|
Page 57
|
Page 58
|
Page 59
|
Page 60
|
Page 61
|
Page 62
|
Page 63
|
Page 64
|
Page 65
|
Page 66
|
Page 67
|
Page 68
|
Page 69
|
Page 70
|
Page 71
|
Page 72
|
Page 73
|
Page 74
|
Page 75
|
Page 76
| Page 77 |
Page 78
|
Page 79
|
Page 80
|
Page 81
|
Page 82
|
Page 83
|
Page 84
|
Page 85
|
Page 86
|
Page 87
|
Page 88
|
Page 89
|
Page 90
|
Page 91
|
Page 92
|
Page 93
|
Page 94
|
Page 95
|
Page 96
|
Page 97
|
Page 98
|
Page 99
|
Page 100
|
Page 101
|
Page 102
|
Page 103
|
Page 104
|
Page 105
|
Page 106
|
Page 107
|
Page 108
|
Page 109
|
Page 110
|
Page 111
|
Page 112
|
Page 113
|
Page 114
|
Page 115
|
Page 116
|
Page 117
|
Page 118
|
Page 119
|
Page 120
|
Page 121
|
Page 122
|
Page 123
|
Page 124
|
Page 125
|
Page 126
|
Page 127
|
Page 128
|
Page 129
|
Page 130
|
Page 131
|
Page 132
|
Page 133
|
Page 134
|
Page 135
|
Page 136
|
Page 137
|
Page 138
|
Page 139
|
Page 140
|
Page 141
|
Page 142
|
Page 143
|
Page 144
|
Page 145
|
Page 146
|
Page 147
|
Page 148
|
Page 149
|
Page 150
|
Page 151
|
Page 152
|
Page 153
|
Page 154
|
Page 155
|
Page 156
|
Page 157
|
Page 158
|
Page 159
|
Page 160
|
Page 161
|
Page 162
|
Page 163
|
Page 164
|
Page 165
|
Page 166
|
Page 167
|
Page 168
|
Page 169
|
Page 170
|
Page 171
|
Page 172
|
Page 173
|
Page 174
|
Page 175
|
Page 176
|
Page 177
|
Page 178
|
Page 179
|
Page 180
|
Page 181
|
Page 182
|
Page 183
|
Page 184
|
Page 185
|
Page 186
|
Page 187
|
Page 188
|
Page 189
|
Page 190
|
Page 191
|
Page 192
|
Page 193
|
Page 194
|
Page 195
|
Page 196
|
Page 197
|
Page 198
|
Page 199
|
Page 200
|
Page 201
|
Page 202
|
Page 203
|
Page 204
|
Page 205
|
Page 206
|
Page 207
|
Page 208
|
Page 209
|
Page 210
|
Page 211
|
Page 212
|
Page 213