Conservation news
Founded in 1999, Mongabay is a leading provider of environmental science and conservation news.
Experts propose measures to save India's Western Ghats
(07/30/2012)


Cute animal picture of the day: spur-winged lapwing chick

(07/30/2012) A baby spur-winged lapwing (Vanellus spinosus) hatched recently at the Wildlife Conservation Society's Bronx Zoo. Spur-winged lapwings are found throughout sub-Saharan Africa, but some populations breed in the Mediterranean. It is named 'spur-winged' for a spur hidden in its wing, which is uses to fight off predators and defend its chicks.


New Malaysian snail named after late conservation mentor

(07/30/2012) Researchers have discovered a new snail, which is so unusual that it has been granted its own genus: Kenyirus. To date, the mysterious forest snail, found in Malaysia's Kenyir Forest, is only known from its unique shell.


Chart: Tropical forest loss between 2000-2005

(07/29/2012) A study published last month in the journal Science came up with new estimates of tropical forest loss between 2000 and 2005. The research — led by Nancy Harris of Winrock International and also involving scientists from Applied GeoSolutions, NASA's Jet Propulsion Laboratory and the University of Maryland — was based on analysis of remote sensing data calibrated with field studies.


APP's new 'sustainability roadmap' won't spare unprotected tiger habitat in Sumatra

(07/27/2012) Asia Pulp & Paper's new sustainability commitment represents a scaling back of earlier environmental pledges and does not offer new protection for natural forests in Sumatra, alleges a new report from Eyes on the Forest, a coalition of green groups based in Riau, Sumatra.


First pictures of newly discovered monkey in China published

(07/27/2012) Researchers have published the first evidence that a recently discovered monkey ranges into China, releasing pictures of the Rhinopithecus strykeri snub-nosed monkey in its natural habitat in Yunnan province. The photos are published in the current issue of the American Journal of Primatology.


Scientists discover 'Grand Canyon' of Antarctica buried deep in ice

(07/27/2012) British researchers have discovered a one mile deep rift valley hidden beneath the icy surface of West Antarctica, according to research published this week in Nature. The canyon may be hastening ice loss in the region.


Dozens of elephants massacred in Chad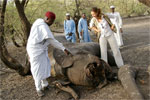 (07/26/2012) Poachers killed at least 30 elephants in southwestern Chad during the early hours of Tuesday, July 24. During the night, Stephanie Vergniault, president of the organization SOS Elephants, described on her Facebook page how a group of armed horsemen chased a herd of elephants with "war weapons near the SOS Elephants camp in the Chari Baguirmi area. After daybreak, the SOS Elephants team counted 28 carcasses, most with missing tusks. The exact number of carcasses with missing tusks is unclear because the team was afraid to stay and investigate further due to the presence of the poachers hiding on the other side of the Chari River.


Brazil decree opens tribal lands to mining, dams in 'national interest'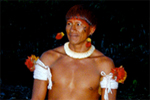 (07/26/2012) A directive signed Monday by Brazil's Solicitor-General could hamper the efforts of indigenous tribes to win government recognition of their traditional lands, reports Survival International, a human rights group focused on native peoples. The directive 'opens up all indigenous areas to mineral, dams, roads, military bases and other developments of 'national interest' without the need to consult with or address concerns of indigenous peoples', according to an expert familiar with the directive.


Cute animal picture of the day: African penguin chick

(07/26/2012) Found along the coast of southern Africa, the African penguin (Spheniscus demersus) is listed as Endangered by the IUCN Red List largely due to overfishing, which is decreasing the penguins' prey species, and oil pollution. Two oil spills in the last ten years have oiled over 30,000 African penguins.


Gang raids remote national park in the Democratic Republic of the Congo

(07/26/2012) Mai mai rebels, likely linked to poachers, raided the headquarters of the remote Upemba National Park last weekend, reports the Frankfurt Zoological Society (FZS) which is working to rehabilitate the park in the Democratic Republic of the Congo (DRC). Fortunately, no one was injured in the raid, but equipment was stolen. The raid comes only a few weeks after a different group of rebels murdered seven people and shot dead 13 captive okapis at the Okapi Wildlife Reserve.


Indigenous tribes hold 3 engineers hostage over Belo Monte dam

(07/26/2012) Three engineers are being held hostage by the Juruna and Arara indigenous tribes as tensions rise over the on-going construction of the Belo Monte dam in Brazil, reports the Indigenous rights NGO Amazon Watch. The company building the dam, Norte Energia, has confirmed that three of its employees were being held against their will. Tribal groups in the region say the massive dam will upend their way of life, and that construction is already making travel along the Xingu river difficult.


165,000 sq km of Colombian rainforest mapped in stunning detail using lasers, satellites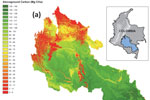 (07/25/2012) Scientists have created high-resolution carbon maps for 165,000 square kilometers (64,000 square miles) of forest across roughly 40 percent of the Colombian Amazon, greatly boosting the ability of the South American nation to measure emissions from deforestation and forest degradation, reports the Carnegie Institution for Science at Stanford University, which led the effort.


Campaign cuts Norway's palm oil consumption 64%

(07/25/2012) A campaign run by environmental activists has helped lead to a 87 percent reduction in palm oil use by eight major food companies in Norway, reports Rainforest Foundation Norway, which led the effort.


Camera traps discover new populations of nearly extinct chinchillas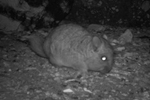 (07/25/2012) The short-tailed chinchilla (Chinchilla chinchilla) once inhabited a range including the mountainous regions of Argentina, Bolivia, Chile and Peru, but today the species survives in only a handful of areas in northern Chile and Argentina. Worse still, evidence of the Argentinean populations are restricted to remains discovered in the droppings of their natural predators. But, since 2011, Pablo Valladares from the University of Tarapaca in conjunction with the National Forestry Corporation of Chile (CONAF) has been searching Tres Cruces National Park for previously undocumented populations, and it has finally paid off: Valladares and colleagues discovered two new colonies with remote camera traps.


Half of tropical forest parks losing biodiversity


(07/25/2012) Governments have set up protected areas, in part, to act as reservoirs for our Earth's stunning biodiversity; no where is this more true than in the world's tropical forests, which contain around half of our planet's species. However a new study in Nature finds that wildlife in many of the world's rainforest parks remains imperiled by human pressures both inside and outside the reserves, threatening to undercut global conservation efforts. Looking at a representative 60 protected areas across 36 tropical nations, the scientists found that about half the parks suffered an "erosion of biodiversity" over the last 20-30 years.


Conservationists pledge to double number of tiny buffalo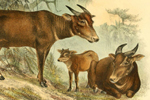 (07/25/2012) Ten thousand mighty tamaraw buffalo (Bubalus mindorensis) once grazed the mountain slopes of Mindoro Island in the Philippines. However, these dwarf buffalo are now classified as Critically Endangered on the IUCN Red List, with fewer than 300 individuals remaining on the small island to which they are wholly endemic. Yet hope remains for the tamaraw: an enormous effort has been mounted to revive this iconic species and to protect its unique island habitat.


Pictures: 40 years of NASA's Earth-observing satellite program

(07/25/2012) Landsat, NASA's Earth-observing satellite program, turned 40 on Monday. The space agency celebrated by releasing some of the program's best images showing how landscapes have changed in the past 40 years, including the five most popular 'Earth as Art' images.


Map reveals sharp increase in U.S. fires since 2001

(07/24/2012) A new map using NASA data reveals an increase in the severity of fires in the United States since 2000.


Record 97 percent of Greenland's ice sheet experienced melting in July

(07/24/2012) 97 percent of Greenland's ice sheet experienced some degree of melting this July, a record extent of melt, says NASA.


Indonesia green news roundup: Indonesia's dolphin circuses are haven for abuse

(07/24/2012) The Jakarta Animal Aid Network (JAAN) asked the government to shut down a dolphin traveling circus because they are abusing animals. JAAN said that when traveling from one city to another, the dolphins often only covered with Vaseline or a damp towel to keep their skin wet. JAAN is in the midst of a social media campaign to immediately close all dolphin circuses in Indonesia.


Cute animal picture of the day: sitatunga calf

(07/24/2012) The sitatunga (Tragelaphus spekii) is a swamp-dwelling antelope that makes its home in Central and Southern Africa, including the Congo Rainforest. They have waterproof coats and often take to the water to help avoid predators. The sitatunga is listed as Least Concern by the IUCN Red List.


Featured video: climate change bringing on the extremes

(07/24/2012) Focusing on extreme weather events in the U.S. this summer, a new compilation video highlights the connection between climate change and increasing and worsening extremes, such as heatwaves, droughts, and floods.


Conservation success: markhor population climbing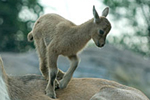 (07/24/2012) Pakistan's national mammal, the markhor, is making a remarkable comeback in the country as a result of community conservation efforts, according to the Wildlife Conservation Society (WCS). Surveys this year in the Kargah region of Northern Pakistan's Gilgit Baltistan territory, have estimated 300 individuals of this large wild goat, up from a low of 40-50 animals in 1991. What's more, the surveys suggest that numbers across the whole Gilgit Baltistan territory may have boomed to 1,500 individuals, whereas in 1999, there were believed to be fewer than 1,000 left. This represents an impressive climb—even for the markhor.


New mammal discovered in Indonesia

(07/24/2012) Researchers have discovered a new species of rodent in Indonesia's Mekongga Mountains, reports the Jakarta Post. The new rodent, Christine's Margareta rat (Margaretamys christinae), is only the fourth in the genus Margaretamy, all of which are found on the island of Sulawesi.


Past climate change reduced lemur population in Madagascar

(07/24/2012) Climate change that took place 4,000-10,000 years ago may have contributed to the endangered status of one of Madagascar's rarest lemurs by reducing the extent of its habitat, argues a new study published in the journal Proceedings of the Natural Academy of Sciences.


U.S. drought could set in motion global food crisis

(07/23/2012) The U.S. is suffering drought levels not seen in over 50 years—and drawing comparisons to the Dust Bowl—with 56 percent of the contiguous U.S. in moderate to extreme drought. Some experts fear that the drought, and resulting hikes in food prices, could propel another global food crisis like those seen in 2008 and 2010.


Cute animal picture of the day: baby Yemen chameleons

(07/23/2012) Ten Yemen chameleons (Chamaeleo calyptratus) were recently born at the Zoological Society of London's (ZSL) Whipsnade Zoo. A popular pet species, the chameleons, also known as veiled chameleons, still thrive in the mountainous wilds of Yemen and Saudi Arabia. It is listed as Least Concern by the IUCN Red List.


Scientists testing anti-fungal bacteria on diseased frogs in California

(07/23/2012) Researchers are treating tadpoles in Kings Canyon National Park with a bacteria they hope will provide immunity to an infamous fungal disease, reports the San Francisco Gate. The bacteria could be key not only to saving California's mountain yellow-legged frog (Rana muscosa), which is listed as Endangered by the IUCN Red List, but also frog species around the planet, many of which have been decimated by the chytrid fungal disease.


Saving 'Avatar Grove': the battle to preserve old-growth forests in British Columbia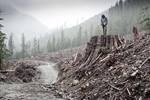 (07/23/2012) A picture is worth a thousand words: this common adage comes instantly to mind when viewing T.J. Watt's unforgettable photos of lost trees. For years, Watt has been photographing the beauty of Vancouver Island's ancient temperate rainforests, and documenting their loss to clearcut logging. The photographer and environmental activist recently helped co-found the Ancient Forest Alliance (AFA), a group devoted to saving the island's and British Columbia's (BC) last old-growth while working with the logging industry to adopt sustainable practices. This February the organization succeeded in saving Avatar Grove—which was only discovered in 2009—from being clearcut. The grove, a rare stand of massive and ancient trees named after the popular eco science-fiction movie, has become a popular tourist destination, providing a new economic incentive for communities to protect rather than cut Canada's last great forests.


Smartphones promoted as a tool for indigenous forest protection

(07/23/2012) Smartphones beeping in the woods may be a welcome presence that augurs the increased ability of indigenous communities to be stewards of their own biodiverse forests. Representatives of these communities and their supporters have advocated that international conservation policies like Reduced Emissions through Deforestation and Degradation (REDD) be increasingly managed by the communities themselves.


New Madagascar rainforest park invaded by sapphire miners

(07/23/2012) One of Madagascar's newest national parks has been invaded by miners following the discovery of sapphires, reports AFP.


Indonesia to investigate palm oil company's alleged breach of deforestation moratorium

(07/23/2012) Indonesia's top official charged with implementing the country's moratorium on new concessions in peatlands and primary forest areas is calling for an investigation into alleged violations by a palm oil company operating in Central Kalimantan, reports the REDD+ Task Force.


Chart: Indonesia's forest moratorium

(07/22/2012) Indonesia's moratorium on new forestry concessions was proposed in 2010 under an agreement with Norway to reduce emissions from deforestation and peatlands degradation. Set to begin Jan 1, 2011, the moratorium was not defined until May 2011 due to battles over what lands would be included. The moratorium was originally expected to include all forest areas, but lobbying by industrial sectors led to significant weakening, resulting in only peatlands and primary forests being included in the moratorium, with loopholes for mining and some energy and food crops.


Deepwater Horizon oil spill may have played role in dolphin deaths

(07/22/2012) In the first four months of 2011, 186 bottlenose dolphins (Tursiops truncatus) were found dead in the Gulf of Mexico, nearly half of them dolphin calves many of whom were perinatal, or near birth. Researchers now believe a number of factors may have killed the animals. Writing in the open-access journal PLoS ONE, scientists theorize that the dolphins died a sudden influx of freshwater from snowmelt after being stressed and weakened by an abnormally cold winter and the impacts of the BP oil spill.


The Human Quest: Prospering Within Planetary Boundaries – Book Review

(07/22/2012) Icarus, according to ancient Greek myth, attempted to escape Crete by flying using wings that his father constructed from feathers and wax. Icarus willfully flew too close to the sun causing his wings to melt resulting in him falling into the sea and drowning.


Panda vs. orangutans: With native species at risk, Malaysia's panda bear project a boondoggle

(07/20/2012) Prime Minister Datuk Seri Najib Tun Razak's plan to spend nearly $16 million (50 million Malaysian ringgits) to lease two baby pandas from China for ten years is a waste of money and resources at a time when its own native species are suffering from a range of threats, warned a leading Malaysian conservationist in an open letter.


NASA satellites register deforestation hotspots in Cambodia, Myanmar, Ecuador for Apr-Jun 2012 period

(07/19/2012) NASA satellites picked up extensive signals of potential deforestation across large parts of the tropics between April 1, 2012 and June 30, 2012, according to the latest update on Mongabay.com's Global Forest Disturbance Alert System.


Drought, heat, fires push more Americans to accept reality of climate change

(07/19/2012) Record temperatures, wildfires, drought, and crop failures have is helping convince more Americans that climate change is real and occurring, reports Bloomberg.


China's per capita emissions nearly as high as Europe's

(07/19/2012) The average person in China emitted 7.2 tons of carbon last year, according to new figures from BL Netherlands Environmental Assessment Agency and the European commission's Joint Research Centre (JRC). This means that the average Chinese citizen is now very close to the average European, who emits 7.5 tons, in terms of annual emissions. Having been named the world's largest emitter of greenhouse gases in 2009—usurping the U.S. from its long-held position—China continues to lead the pack with emissions that rose 9 percent in 2011.


Animal picture of the day: leopard with giant prey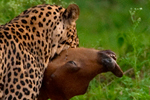 (07/19/2012) It's true: a leopard cannot change its spots—even after eight years! Using a computer program that looks at leopard spot patterns, researchers were able to identify the above leopard, which was snapped by an Indian photographer, with a leopard individual photographed eight years before by camera trap. This Indian leopard (Panthera pardus fusca) is known as BPL-123, and has made its home in India Bandipur Tiger Reserve.


Experts: sustainable logging in rainforests impossible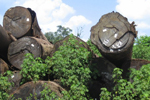 (07/19/2012) Industrial logging in primary tropical forests that is both sustainable and profitable is impossible, argues a new study in Bioscience, which finds that the ecology of tropical hardwoods makes logging with truly sustainable practices not only impractical, but completely unprofitable. Given this, the researchers recommend industrial logging subsidies be dropped from the UN's Reducing Emissions from Deforestation and Forest Degradation (REDD+) program. The study, which adds to the growing debate about the role of logging in tropical forests, counters recent research making the case that well-managed logging in old-growth rainforests could provide a "middle way" between conservation and outright conversion of forests to monocultures or pasture.


Borneo's forests face dire future from global warming

(07/18/2012) Already wracked by extensive deforestation and forest degradation, the future looks grim for Borneo's tropical rainforests, reports a new study published in the Journal of Geophysical Research-Biogeosciences.


Struggling to conserve seed biodiversity: the gaps and wisdom in current research

(07/18/2012) Biodiversity conservation is huge field, but at its heart we find something very small: the seed. From seeds come the plants we need and food for the animals we hope to conserve as well. Knowledge of seed dispersal, or how seeds are generated and move through the landscape, is essential if we are to understand the influence of human activity on biodiversity.


Better conservation requires better communication

(07/18/2012) Conservation science, though mission driven, often achieves only 'tenuous relevance' to conservation policy, asserts a recent commentary in Biological Conservation.


Scientists: iron fertilization could be a big climate help

(07/18/2012) For a long time, oceanic iron fertilization was seen as a promising mechanism to combat global climate change. But then in 2009 a well-publicized study found that iron fertilization stored 80 times less carbon than expected, dampening enthusiasm and support around the geoengineering scheme. Now, however, the idea of fertilizing the ocean with iron may be back: a new study in Nature reports that iron fertilization, in the right conditions, could store carbon in the deep ocean for centuries.


Pictures of the day: sea turtle and whale shark release in China

(07/18/2012) Earlier this month, Sea Turtles 911, a conservation organization in China, released two green sea turtles (Chelonia mydas) and a juvenile whale shark (Rhincodon typus) back into the wild.


Brazil cripples illegal gold mining operations in indigenous territory

(07/18/2012) Brazilian police have arrested 26 people and confiscated gold and aircraft in a coordinated effort to tackle illegal gold-mining in the Yanomami Indigenous Reserve, reports the BBC. Along with illegal miners the year-long investigation also arrested complicit airplane pilots, engineers, and business people in a bid to undercut the trade's funders and infrastructure.


First snow leopards collared in Afghanistan as species faces rising threat from climate change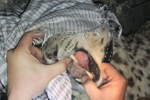 (07/18/2012) Scientists have captured and collared two snow leopards (Panthera uncia), arguably one of the world's most elusive predators, in Afghanistan for the first time. Undertaken by researchers with Wildlife Conservation Society (WCS) and Afghani vets, the successful operation was conducted as a new study finds that snow leopard habitat could shrink by nearly one-third due to anthropogenic climate change in the Himalayas.


NASA satellite reveals iceberg twice the size of Manhattan breaking off Greenland's ice sheet

(07/18/2012) A 119-square-kilometer (46-square-mile) iceberg twice the size of Manhattan has broken off Greenland's Petermann Glacier, report researchers from the the University of Delaware and the Canadian Ice Service.



Page 1
|
Page 2
|
Page 3
|
Page 4
|
Page 5
|
Page 6
|
Page 7
|
Page 8
|
Page 9
|
Page 10
|
Page 11
|
Page 12
|
Page 13
|
Page 14
|
Page 15
|
Page 16
|
Page 17
|
Page 18
|
Page 19
|
Page 20
|
Page 21
|
Page 22
|
Page 23
|
Page 24
|
Page 25
|
Page 26
|
Page 27
|
Page 28
|
Page 29
|
Page 30
|
Page 31
|
Page 32
|
Page 33
|
Page 34
|
Page 35
|
Page 36
|
Page 37
|
Page 38
|
Page 39
|
Page 40
|
Page 41
|
Page 42
|
Page 43
|
Page 44
|
Page 45
|
Page 46
|
Page 47
|
Page 48
|
Page 49
|
Page 50
|
Page 51
|
Page 52
|
Page 53
|
Page 54
|
Page 55
|
Page 56
|
Page 57
|
Page 58
|
Page 59
|
Page 60
|
Page 61
|
Page 62
|
Page 63
|
Page 64
|
Page 65
|
Page 66
|
Page 67
|
Page 68
|
Page 69
| Page 70 |
Page 71
|
Page 72
|
Page 73
|
Page 74
|
Page 75
|
Page 76
|
Page 77
|
Page 78
|
Page 79
|
Page 80
|
Page 81
|
Page 82
|
Page 83
|
Page 84
|
Page 85
|
Page 86
|
Page 87
|
Page 88
|
Page 89
|
Page 90
|
Page 91
|
Page 92
|
Page 93
|
Page 94
|
Page 95
|
Page 96
|
Page 97
|
Page 98
|
Page 99
|
Page 100
|
Page 101
|
Page 102
|
Page 103
|
Page 104
|
Page 105
|
Page 106
|
Page 107
|
Page 108
|
Page 109
|
Page 110
|
Page 111
|
Page 112
|
Page 113
|
Page 114
|
Page 115
|
Page 116
|
Page 117
|
Page 118
|
Page 119
|
Page 120
|
Page 121
|
Page 122
|
Page 123
|
Page 124
|
Page 125
|
Page 126
|
Page 127
|
Page 128
|
Page 129
|
Page 130
|
Page 131
|
Page 132
|
Page 133
|
Page 134
|
Page 135
|
Page 136
|
Page 137
|
Page 138
|
Page 139
|
Page 140
|
Page 141
|
Page 142
|
Page 143
|
Page 144
|
Page 145
|
Page 146
|
Page 147
|
Page 148
|
Page 149
|
Page 150
|
Page 151
|
Page 152
|
Page 153
|
Page 154
|
Page 155
|
Page 156
|
Page 157
|
Page 158
|
Page 159
|
Page 160
|
Page 161
|
Page 162
|
Page 163
|
Page 164
|
Page 165
|
Page 166
|
Page 167
|
Page 168
|
Page 169
|
Page 170
|
Page 171
|
Page 172
|
Page 173
|
Page 174
|
Page 175
|
Page 176
|
Page 177
|
Page 178
|
Page 179
|
Page 180
|
Page 181
|
Page 182
|
Page 183
|
Page 184
|
Page 185
|
Page 186
|
Page 187
|
Page 188
|
Page 189
|
Page 190
|
Page 191
|
Page 192
|
Page 193
|
Page 194
|
Page 195
|
Page 196
|
Page 197
|
Page 198
|
Page 199
|
Page 200
|
Page 201
|
Page 202
|
Page 203
|
Page 204
|
Page 205
|
Page 206
|
Page 207
|
Page 208
|
Page 209
|
Page 210
|
Page 211
|
Page 212
|
Page 213
|
Page 214
|
Page 215
|
Page 216
|
Page 217
|
Page 218
|
Page 219