Conservation news
Founded in 1999, Mongabay is a leading provider of environmental science and conservation news.
Indonesia recognizes bribery might have enabled slavery in eastern waters
(04/09/2015) The composition of Indonesia's special team tasked with investigating slavery allegations against fishing company Pusaka Benjina Resources reflects the government's acknowledgement that the crimes might have happened with the assent of corrupt officials.


New group hopes to raise global profile of the peace-loving bonobo


(04/08/2015) Of the world's six species of great ape (not including us), it's safe to say that bonobos (Pan paniscus) are the least studied and least known publicly. But a new organization, the Bonobo Project, is hoping to change that. To the untrained eye, a bonobo looks little different from their closest relative, the chimpanzee. But the differences between these two cousins are actually quite large.


Condition of tropical forests 'worsening', could become 'critical'


(04/07/2015) World leaders are continuing to overlook the worsening condition of tropical forests despite the biome's vast potential to help mitigate climate change, support local livelihoods and ecosystem services, and stabilize global agriculture, warns a comprehensive review published by a body founded by Prince Charles.


Tiny Brazilian opossum could be farmers' friend


(04/07/2015) André Mendonça pops open the spring-loaded door on the shoebox-sized trap and peeks inside. Two bulging, black eyes glare back at him. He pulls the trap off the tree limb and shakes the stunned, sopping wet creature into a clear plastic bag. "One more!" he says excitedly.


Brazilian farmers urge return of big cats to Cerrado to protect crops from rampaging peccaries


(04/07/2015) Margie Peixoto was driving her pickup across her farm in the Brazilian state of Mato Grosso do Sul one February afternoon when she spotted some broken corn stalks and a trio of white-lipped peccaries ambling along the red-clay road as if they owned it. The moment these wild pig relatives spotted the truck, they snorted, snarled and disappeared into the head-high crop, where dozens more likely hid.


Overfishing leads to crashes in sardines and other forage fish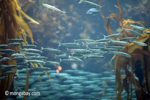 (04/07/2015) Some of the smallest fish in the sea play an outsize role in marine ecosystems. Populations of sardines, anchovies, and other so-called "forage fish" have undergone stupendous crashes whose effects ripple outward across the food web. New research shows that overfishing has caused or worsened these crashes and suggests some simple tweaks to fisheries management that could help fishermen and fish alike.


Who's to blame for forest loss in Borneo timber concession?


(04/06/2015) The apparent loss of some 4,000 hectares of forested peatland in Indonesian Borneo is raising questions on who bears responsibility for forest clearing in un-utilized concessions. On Monday, Greenomics-Indonesia issued a report revealing the loss of significant tracts of peat forest in a West Kalimantan concession held by PT Bumi Mekar Hijau (BMH), a plantation company whose operation in South Sumatra supplies Asia Pulp & Paper (APP) with woodpulp for its mills.


Where the wild things aren't: study says U.S. protected lands aren't where most biodiversity is found


(04/06/2015) The United States has one of the oldest, best-established park systems in the world. But what if those public lands -- mostly created to preserve scenic natural wonders -- are in the wrong place to conserve the lion's share of the nation's unique biodiversity?


Palm oil companies, NGOs endorse new deforestation-limiting toolkit


(04/06/2015) Forests not only house many of the world's species, but also much of its carbon. Now, a toolkit has been developed by a group of companies and organizations with the aim of helping other companies and NGOs identify High Carbon Stock (HCS) forests. The toolkit was endorsed last week by major NGOs and plantation companies in Singapore.


Restoration of artificial swamps could be a key to restoring rainforest health in Sumatra

(04/06/2015) The term "artificial" has acquired negative connotations in recent years. However, a recent study in Sumatra's Harapan rainforest details not only the ecological benefits, but rather the necessity, of improving artificial wetlands found along waterways in this rainforest ecosystem.


Paper or paperless? Navigating the ecological impact strait between Scylla and Charybdis


(04/06/2015) Where would we be without cell phones? According to the United States Census Bureau, the USA has about as many cell phones as people. Such electronic devices are only one of many technological products, such as tablets, laptops, desktops, and television sets that are nearly ubiquitous in today's world. All of these gizmos and gadgets, as well as electronic and hybrid vehicles, cannot operate without rare earth elements.


Fighting fire with money: can finance protect Indonesia's forests?


(04/06/2015) In previous articles, we have seen an overview of the problems with the Indonesian palm oil industry. Such problems are largely caused by rent-seeking politicians and businessmen, who are willing to sacrifice endangered wildlife, the health of their countrymen and long-term environmental stability in the pursuit of profit. These actors exert a significant influence on and within the Indonesian government. As a result, Indonesia remains conflicted between the opposing goals of conservation and economic growth.


Kaiduan dam in Borneo meets fierce opposition


(04/06/2015) Activists are calling on the government of Sabah, Malaysia, to reconsider the proposed Kaiduan dam, saying it has not considered other solutions to Sabah's looming water crisis and has failed to consult with the indigenous people who will be displaced if the project proceeds.


Aceh's purge of illegal oil palm at 3,000 hectares and counting


(04/06/2015) A joint effort to eradicate illegal oil palm in an area of Indonesia's Aceh province that was devastated by flash flooding in 2006 has passed the 3,000-hectare mark. The plantations lie within the protected Leuser Ecosystem, the last place on earth where the Sumatran rhino, elephant, tiger and orangutan coexist in the wild.


KFC, Taco Bell, Pizza Hut adopt zero deforestation policy for palm oil


(04/03/2015) Yum! Brands, the company that owns KFC, Taco Bell and Pizza Hut, on Thursday announced a zero deforestation policy for its palm oil sourcing. The move came after aggressive campaigns by environmental groups that argued the chains weren't doing enough to ensure the palm oil they used to fry foods wasn't linked to human rights abuses, destruction of peatlands, and logging of rainforests.


Kenya crackdown on terrorism threatens NGOs, wildlife, media


(04/03/2015) The terrorist attack that killed at least 147 people at Garissa University on April 2nd was another tragic milestone in Kenya's ongoing battle with the al-Shabab terrorist group based in Somalia. In response to several other brutal attacks on civilians, Kenya's government recently passed and proposed harsh new laws that are alarming environmental activists, non-governmental organizations (NGOs), the media, opposition politicians and the public.


'Lazy' sea lion sons rely on mothers' milk while diligent daughters learn to hunt


(04/03/2015) Young male Galápagos sea lions barely lift a flipper to hunt, new research from the Galápagos Islands shows. By comparison, young females are much more independent, providing many of their own calories by hunting at sea long before their mothers wean them.


Blockade at Wilmar mill could erupt into full-blown strike


(04/03/2015) Local people blocked the road to a Wilmar palm oil mill in Indonesia's West Kalimantan province, demanding the release of nine day laborers who were arrested during an earlier protest over delayed wages. Trucks carrying fresh fruit bunches from nearby plantations were unable to deliver their cargo.


Common ground: balancing rights and responsibilities for natural resource investments and community development


(04/03/2015) Given globalization and rising demands for energy and raw natural resources, extractive industries and their investors deepen the search to the last reaches of the planet for fuel and material. Despite rapid urbanization, millions of people in remote and underserved regions from Colombia to Zambia increasingly come into contact if not conflict with mining, timber or agribusiness interests every day.


Turning prairies into gas: study finds U.S. biofuel production has big impacts on grasslands


(04/02/2015) Corn and soybean cultivation soared in the late 2000s, as U.S. agribusiness rushed to respond to federal legislation rewarding biofuels production. Debate since the institution of the program has centered on the question of whether biofuel crop expansions have come at the expense of plowed-under biodiverse grasslands and prairie ecosystems.


Could inland aquaculture help save the oceans and feed the world?


(04/02/2015) Mark Kwok has always loved the ocean. An avid diver and spear fisherman, he has travelled the planet in search of exotic fish and undersea adventure. Born into a wealthy Hong Kong family, he had the freedom to explore the world's oceans. But in the last decade or so, he hasn't been content just looking at fish. He's been growing them. In a squat, unassuming cluster of buildings in an industrial suburb north of Hong Kong, Kwok is experimenting with a potentially revolutionary technology.


Reservations about Indonesian 'land reform' as details unclear


(04/02/2015) Indonesian civil society groups and experts welcome President Joko "Jokowi" Widodo's campaign promise to redistribute nine million hectares of land to farmers – in principle. But they remain wary of what the program, whose details have yet to be made clear, might look like in practice. These reservations were expressed at a discussion on the plan held in Jakarta on April 1.


Russia and Canada lead the world in forest loss in 2013


(04/02/2015) Russia and Canada led the world in forest loss, accounting for nearly forty percent of the 18 million hectares of forest lost globally in 2013, reveals a new analysis based on high resolution satellite imagery. The research — released today on Global Forest Watch, a forest monitoring and research platform — was led by Matt Hansen of the University of Maryland and involved Google, World Resources Institute (WRI), and other institutions


Domino's, DairyQueen, Taco Bell, Burt's Bees score terribly on eliminating deforestation from supply chains


(04/01/2015) Despite a worldwide trend of companies establishing social and environmental safeguards for palm oil sourcing, some of America's best-known brands are still failing to adopt policies to eliminate deforestation from their supply chains, concludes a updated assessment from The Union of Concerned Scientists (UCS).


Illegal deforestation driven by EU appetite for beef, palm oil, soy, say new reports


(04/01/2015) A new report finds that the European Union is driving international trade in commodities grown on land cleared outside of the law. In 2012 alone, the report says, the EU imported $6.5 billion worth of illegally sourced beef, leather, palm oil and soy, which amounts to nearly one-fourth of all global trade and some 2.4 million hectares (59.3 million acres) of forest illegally cleared.


Tropical soundscapes offer clues to forest and animal community health


(04/01/2015) Marine biologists were the first to continuously eavesdrop on marine mammals using a technique called passive acoustic monitoring (PAM). By simply listening to these animals' sounds, researchers could collect valuable information about animal population density and distribution, population health, and responses to human disturbance. Given the challenges of studying animal communities as they migrate across the sweep of the world's oceans, acoustic surveys gained popularity as a tool for gathering data from otherwise inaccessible study sites.


Pollution from East Asia affecting air quality in Borneo's rainforests


(04/01/2015) A study published in the journal Atmospheric Chemistry and Physics finds that industrial activities in East Asia are polluting the air in the rainforests of Borneo and that, once there, the pollutants could be traveling into the upper atmosphere and impacting Earth's ozone layer.


Indonesia, Brazil subsidizing forest loss far more than REDD+ slows it


(04/01/2015) International aid to protect forests in Indonesia and Brazil pales in comparison to domestic subsidies for commodities driving deforestation there. A study finds that while the countries received an annual average of $1 billion via REDD+, their agricultural and biofuel subsidies for palm oil, timber, soy and beef amounted to $41 billion per year.


Archer Daniels Midland to demand suppliers stop chopping down forests


(03/31/2015) Agribusiness giant Archer Daniels Midland (NYSE:ADM) will establish a zero deforestation policy for its global commodity supply chains, potentially forcing its soy, palm oil, and cattle suppliers to also eliminate deforestation from their operations or face losing business with the firm. The move, announced today and expected to be formally approved in May, came after a campaign by institutional investors and environmentalist groups.


Here comes progress: what will planned megaprojects mean for an Amazon city?


(03/31/2015) The city of Itaituba, in western Pará state, is home to several construction projects of strategic interest for the Brazilian government. However, with local infrastructure fragile, residents are worried they will not share in the spoils.


Chinese-backed smelter plan causes concern among Sulawesi fishermen


(03/31/2015) As a pair of Chinese-owned miners companies proceed with plans to construct nickel smelters in Indonesia's Central Sulawesi province, in line with a national edict to increase in-country mineral processing capacity, locals fear the factories will only intensify environmental degradation from the same firms' mining operations and harm fishing communities that rely on the area.


Tracking companies' zero deforestation commitments


(03/31/2015) Over the past three years dozens of companies have made 'zero deforestation commitments', establishing policies that set social and environmental safeguards for commodity sourcing and production. However these agreements are highly variable — some policies are quite strong, while others aren't worth the paper they're printed on. Furthermore, no one knows whether there will be follow through on the pledges.


Big surprise in the greenhouse: study finds economic costs of climate change hugely underestimated


(03/30/2015) Look at most climate change projection graphs and you will see a smoothly rising red line of increasing temperature, melting ice and other impacts. But climate does not work that way. Studies of the paleoclimate record indicate that when heat energy is rapidly added to the atmosphere -- as humans are doing today -- the climate can experience "tipping points," with abrupt shifts and potentially disastrous results.


Nobody listened to them: fishing communities to be displaced by dams want a say in their future


(03/30/2015) Hydroelectric dams planned along the Brazil's Tapajós River will evict over 2,500 people from small fishing communities and kill the fish they depend upon for survival, but the government is refusing to consult them about its plans.


9 months after Amazonian oil pipeline spill, effects and fears linger


(03/30/2015) When Peru's state-run oil company pulled out of this small Kukama Indian village in mid-December after cleaning up an oil pipeline spill, residents thought life could slowly return to normal. But more than three months later, wisps of oil floating down the Cuninico River—along with a larger spill in the neighboring community of San Pedro—are a reminder that the problems are not over.


Chocolate company, NGO work together to save lemurs


(03/30/2015) Despite its biodiversity and unique plants and animals, Anjanaharibe-Sud Special Reserve hosts only around a dozen tourists each year. In an effort to increase tourism and research opportunities, the Lemur Conservation Foundation will be using the money raised during the Madécasse promotion to develop Camp Indri - the reserve's only authorized tourist site.


Large animals invaluable for tree-seed dispersal and regeneration of tropical forests


(03/30/2015) Nearly two-thirds of tropical forests in Southeast Asia have been degraded by logging, agriculture and other human uses, and their fauna have been decimated by hunting and the bushmeat trade. But if those degraded tropical forests are to recover naturally, they will need to rely on their remaining large wild animals to disperse large tree seeds, according to a new study.


Locals revolt against gold miner in Sulawesi


(03/30/2015) Residents of Indonesia's Buyat Bay and a national legal aid institute are preparing a case against a gold miner they say began operating in secret without locals' consent. They also accuse the company, owned by a prominent politician, of failing to acquire the proper licenses, clearing forest in a protected area and damaging the environment.


Mobile app reveals what products contain palm oil

(03/30/2015) A new app enables iPhone and Android users to scan barcodes to reveal whether household products contain palm oil.


Record heat in Antarctica

(03/29/2015) The temperature in Antarctica hit a record high last week, reports Weather Underground.


APRIL suspends contractor after environmentalists expose ongoing deforestation

(03/28/2015) Asia Pacific Resources International Holdings Limited (APRIL) has suspended a contractor and a plantation manager after environmentalists exposed deforestation that violates the logging giant's sustainability policy.


Low crop prices means time is ripe for new forest protection programs


(03/27/2015) Today, conservation compliance is a U.S. policy between governments and farmers that reward farmers with federal subsidies for good conservation practices on designated vulnerable lands. But economist Clayton Ogg believes it could now be used to save forests in countries like Brazil, China, India, and Indonesia. "The main drivers for deforestation in recent years are high crop prices. However, as crop prices fall to more normal levels, farmers depend very heavily on government subsidies, and the subsidies become the major driver for deforestation," Ogg told mongabay.com.


Just how useful is forest restoration? New study seeks to find out


(03/27/2015) Across the world, scientists estimate there are about two billion hectares of degraded forestland. In Indonesia alone, 25 million hectares of former logging concessions currently have no management, according to research. A study recently published in mongabay.com's open access journal Tropical Conservation Science suggests this may represent an important opportunity for biodiversity conservation through restoration.


New species of monitor lizards found on the black market


(03/27/2015) Searching the globe for undiscovered species takes biologists to far and remote locations, trekking through exotic locales that may yield a new discovery. However, exploring the black market can also produce results. And this is just the case for Rafe Brown, curator of the University Of Kansas (KU) Biodiversity Institute, during a recent visit to the Philippines. In a black market in Manila, Brown and his colleagues discovered two new species of water monitor lizard for sale.


Aceh unveils protected area in beleaguered Tripa peat swamp


(03/27/2015) As Indonesia's Supreme Court prepares to rule on an appeal from oil palm developer Kallista Alam, ordered to pay Rp366 billion in fines and reparations for cut-and-burning forest in the Tripa peat swamp region, the Aceh government has established a protected zone in the company's former concession, the culmination of a months-long program to rehabilitate the area.


APRIL violates sustainability policy by clearing peat forest after Jan cut-off


(03/26/2015) New data shows Asia Pacific Resources International Holdings Limited (APRIL) is continuing to destroy rainforests on deep peat despite a high profile pledge to clean up its operations. Today Greenomics-Indonesia released an analysis of two NASA Landsat images confirming that APRIL's subsidiary PT Riau Andalan Pulp Paper (RAPP) has cleared significant tracts of peat forest on Pulau Pedang island off Sumatra's coast since January 2015.


Why palm oil expanded, and what keeps it growing


(03/26/2015) Today, oil palm is Indonesia's most important cash crop. In 2014, Indonesia produced 33.5 million tons of palm oil, generating $18.9 billion in export revenue. This makes palm oil Indonesia's third most valuable export, behind only coal and petroleum gas. However, the rise of Indonesian palm oil is only a relatively recent phenomenon. The chart below shows the remarkable growth that the industry has displayed over the past 30 years.


Mexico's club mosses at risk of extinction


(03/26/2015) All nine species of the club moss genus Phlegmariurus found in the state of Veracruz in eastern Mexico are at risk of extinction, according to a new study published in the journal Tropical Conservation Science. One of these species, P. orizabae, has not been recorded in the wild since 1854.


Indonesia's biodiversity-protected areas no match for encroachers, finds study


(03/26/2015) Indonesia's biodiversity-focused protected areas are failing to slow deforestation, while other categories have achieved mixed results, finds a new study. The coupling of poor law enforcement with the presence of high-value timber seems to be the main culprit.


Deer 'kissing' fawn among finalists in camera trap photo contest


(03/26/2015) A camera trap photo of a young buck touching noses with a fawn is among the finalists in a picture contest organized by the Wildlife Conservation Society (WCS). The image was snapped in a camera trap set up in Apopka, Florida.



Page 1
|
Page 2
|
Page 3
|
Page 4
|
Page 5
|
Page 6
| Page 7 |
Page 8
|
Page 9
|
Page 10
|
Page 11
|
Page 12
|
Page 13
|
Page 14
|
Page 15
|
Page 16
|
Page 17
|
Page 18
|
Page 19
|
Page 20
|
Page 21
|
Page 22
|
Page 23
|
Page 24
|
Page 25
|
Page 26
|
Page 27
|
Page 28
|
Page 29
|
Page 30
|
Page 31
|
Page 32
|
Page 33
|
Page 34
|
Page 35
|
Page 36
|
Page 37
|
Page 38
|
Page 39
|
Page 40
|
Page 41
|
Page 42
|
Page 43
|
Page 44
|
Page 45
|
Page 46
|
Page 47
|
Page 48
|
Page 49
|
Page 50
|
Page 51
|
Page 52
|
Page 53
|
Page 54
|
Page 55
|
Page 56
|
Page 57
|
Page 58
|
Page 59
|
Page 60
|
Page 61
|
Page 62
|
Page 63
|
Page 64
|
Page 65
|
Page 66
|
Page 67
|
Page 68
|
Page 69
|
Page 70
|
Page 71
|
Page 72
|
Page 73
|
Page 74
|
Page 75
|
Page 76
|
Page 77
|
Page 78
|
Page 79
|
Page 80
|
Page 81
|
Page 82
|
Page 83
|
Page 84
|
Page 85
|
Page 86
|
Page 87
|
Page 88
|
Page 89
|
Page 90
|
Page 91
|
Page 92
|
Page 93
|
Page 94
|
Page 95
|
Page 96
|
Page 97
|
Page 98
|
Page 99
|
Page 100
|
Page 101
|
Page 102
|
Page 103
|
Page 104
|
Page 105
|
Page 106
|
Page 107
|
Page 108
|
Page 109
|
Page 110
|
Page 111
|
Page 112
|
Page 113
|
Page 114
|
Page 115
|
Page 116
|
Page 117
|
Page 118
|
Page 119
|
Page 120
|
Page 121
|
Page 122
|
Page 123
|
Page 124
|
Page 125
|
Page 126
|
Page 127
|
Page 128
|
Page 129
|
Page 130
|
Page 131
|
Page 132
|
Page 133
|
Page 134
|
Page 135
|
Page 136
|
Page 137
|
Page 138
|
Page 139
|
Page 140
|
Page 141
|
Page 142
|
Page 143
|
Page 144
|
Page 145
|
Page 146
|
Page 147
|
Page 148
|
Page 149
|
Page 150
|
Page 151
|
Page 152
|
Page 153
|
Page 154
|
Page 155
|
Page 156
|
Page 157
|
Page 158
|
Page 159
|
Page 160
|
Page 161
|
Page 162
|
Page 163
|
Page 164
|
Page 165
|
Page 166
|
Page 167
|
Page 168
|
Page 169
|
Page 170
|
Page 171
|
Page 172
|
Page 173
|
Page 174
|
Page 175
|
Page 176
|
Page 177
|
Page 178
|
Page 179
|
Page 180
|
Page 181
|
Page 182
|
Page 183
|
Page 184
|
Page 185
|
Page 186
|
Page 187
|
Page 188
|
Page 189
|
Page 190
|
Page 191
|
Page 192
|
Page 193
|
Page 194
|
Page 195
|
Page 196
|
Page 197
|
Page 198
|
Page 199
|
Page 200
|
Page 201
|
Page 202
|
Page 203
|
Page 204
|
Page 205
|
Page 206
|
Page 207
|
Page 208
|
Page 209
|
Page 210
|
Page 211
|
Page 212
|
Page 213
|
Page 214
|
Page 215
|
Page 216
|
Page 217
|
Page 218
|
Page 219