Conservation news
Founded in 1999, Mongabay is a leading provider of environmental science and conservation news.
Tigers gobble up 49 percent of India's wildlife conservation funds, more imperiled species get nothing

(02/12/2013) Nearly half of India's wildlife budget goes to one species: the tiger, reports a recent article in Live Mint. India has devoted around $63 million to wildlife conservation for 2013-2013, of which Project Tiger receives $31 million. The Bengal tiger (Panthera tigris tigris) is currently listed as Endangered by the IUCN Red List; however India is also home to 132 species currently considered Critically Endangered, the highest rating before extinction.


Rosewood in Belize: the truth behind the smoke

(02/11/2013) In Belize, the uncontrolled and often illegal harvesting of rosewood has been, and still is, one of the major environmental issues in the country. In March of last year, the government established a moratorium on the export and extraction of rosewood, however illegal harvesting continued. On Friday 11 January, the Minister of Forestry, Fisheries and Sustainable Development made the bold move of burning confiscated illegally cut rosewood flitches.


Activists blast World Bank on continued support of industrial rainforest logging

(02/11/2013) Two environmental activist groups blasted the World Bank over its reported decision to block a probe into its support of industrial-scale rainforest logging.


Fossil fuel company looking to exploit deposits in Manu National Park

(02/11/2013) Pluspetrol, an Argentine oil and gas company, is eyeing a UNESCO World Heritage site in the Amazon rainforest for gas production, according to documents seen by the Guardian. Manu National Park in eastern Peru is considered one of the most biodiverse places on Earth and is home to indigenous tribes living in voluntary isolation.


Pity the pangolin: little-known mammal most common victim of the wildlife trade


(02/11/2013) Last year tens-of-thousands of elephants and hundreds of rhinos were butchered to feed the growing appetite of the illegal wildlife trade. This black market, largely centered in East Asia, also devoured tigers, sharks, leopards, turtles, snakes, and hundreds of other animals. Estimated at $19 billion annually, the booming trade has periodically captured global media attention, even receiving a high-profile speech by U.S. Secretary of State, Hillary Clinton, last year. But the biggest mammal victim of the wildlife trade is not elephants, rhinos, or tigers, but an animal that receives little notice and even less press: the pangolin. If that name doesn't ring a bell, you're not alone.


Child labor caught on film at palm oil plantation in Indonesian Borneo

(02/09/2013) School-age children were caught on camera working for a palm oil plantation company, PT Sinar Sawit Andalan (SSA), in Indonesia's West Kalimantan province.


Snake pictures celebrating the Year of the Snake

(02/09/2013) Sunday, February 10, marks start of Chinese New Year. 2013 is the "Year of the Snake" — specifically the water snake.


New wind power cheaper than coal or gas in Australia

(02/08/2013) Electricity supplied from a new wind farm is cheaper than that from a new gas or coal-fired power plant in Australia, reports a new analysis published by Bloomberg New Energy Finance.


Amazon river ecosystems being rapidly degraded, but remain neglected by conservation efforts

(02/08/2013) The world's largest river system is being rapidly degraded and imperiled by dams, mining, overfishing, and deforestation, warns a study published last week by an international team of scientists.


China's forest privatization move threatens pandas

(02/08/2013) China's decision to open up collective forest for sale by individuals to outside interests will put 345,700 hectares or 15 percent of the giant panda's remaining habitat at risk, warns a letter published in the journal Science.


Carbon release, storage by rainforests may increase by 50b tons for each degree of climate warming in the tropics

(02/08/2013) Faster plant growth due to higher concentrations of carbon dioxide may offset increased emissions from forest die-off in the tropics, claims a new study based on climate modeling.


Catching Borneo's mysterious wild cats on film


(02/07/2013) In my childhood's biology books from the 50's, the Australian marsupial tiger Thylacine is classified rare but alive. Today we know that the last thylacine died in a Tasmanian zoo 7th September, 1936, after a century of intensive hunting encouraged by bounties. The local government had finally introduced official protection 59 days before the last specimen died. Despite the optimism in my old books, no more thylacines were ever found. No film of it in the wild exists.


Report: nearly half the timber from Mozambique to China is illegal


(02/07/2013) Forty-eight percent of the timber making its way from Mozambique's forests to Chinese companies was harvested illegally, according to a new report by the Environmental Investigation Agency (EIA), which blames the problem on widespread corruption and poor governance. The illegal logging cost Mozambique, the world's fourth least-developed country in the world according to the UN, $29 million in tax revenue, says the report.


Investors beware: global land grabbing ends in 'financial damage' and human rights violations


(02/07/2013) Investing in companies that flout local community rights in developing countries often leads to severe economic losses, according to a new report from the Rights and Resources Initiative (RRI). A rising trend in "land grabbing" from Africa to South America by corporations and even foreign governments results in social instability, which can lead to large-scale protests, violence, and even murder, delaying and sometimes derailing projects. Such instability poses massive risk to any investor, not to mention supporting corporate entities that are accused of ignoring human rights.


Animal picture of the day: the world's biggest cat

(02/07/2013) The Amur tiger (Panthera tigris altaica), also known as the Siberian tiger, is the world's biggest cat. An adult male weighs on average about 390 pounds (176 kilograms). The largest yet recorded weighed 460 pounds (207 kilograms), although there are reports of considerably larger animals in the past.


Finance and carbon markets dictionary with English and Spanish versions

(02/07/2013) The United States Agency for International Development (USAID) recently released a lexicon—or dictionary—of carbon finance and markets terms.


Over 11,000 elephants killed by poachers in a single park [warning: graphic photo]


(02/06/2013) Surveys in Gabon's Minkebe National Park have revealed rare and hard data on the scale of the illegal ivory trade over the last eight years: 11,100 forest elephants have been slaughtered for their tusks in this remote protected area since 2004. In all, poachers have cut down the park's elephant population by two-thirds, decimating what was once believed to be the largest forest elephant population in the world.


Amphibian, tapir paradise in Honduras being ravaged by illegal deforestation

(02/06/2013) Located in a mountainous area near the border with Guatemala, Cusuco National Park in Honduras is recognized by researchers as a critical refuge for endangered amphibians in a country that has suffered from widespread deforestation. But while the park largely escaped the devastation that has affected other protected areas in Honduras, the situation seems to be changing: since 2010 there has been a sharp increase in deforestation. Poachers, small farmers, and cattle ranchers are moving into the park using a network of research trails and camps established by Operation Wallacea, a British conservation science NGO.


Palm oil company thugs attack Sulawesi villagers, injuring 8

(02/06/2013) Local thugs, allegedly linked to an oil palm plantation company, attacked a group of villagers in Indonesia's Gorontalo province on the island of Sulawesi last week, injuring eight people, including a woman and a small child.


Over 1,500 wolves killed in the contiguous U.S. since hunting legalized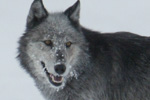 (02/06/2013) Hunters and trappers have killed approximately 1,530 wolves over the last 18 months in the contiguous U.S., which excludes Alaska. After being protected under the Endangered Species Act (ESA) for 38 years, gray wolves (Canis lupus) were stripped of their protected states in 2011 by a legislative rider (the only animal to ever be removed in this way). Hunting and trapping first began in Montana and Idaho and has since opened in Wyoming, Minnesota, and Wisconsin.


Head of IMF: climate change is 'the greatest economic challenge of the 21st century'

(02/06/2013) Climate change not debt or austerity is "the greatest economic challenge of the 21st Century," according to Christine Lagarde, the head of the International Monetary Fund (IMF). Speaking at the World Economic Forum in Davos, Switzerland, Lagarde painted a stark picture of the challenges the world faces when up against rising temperatures.


U.S. proposes to list wolverine under Endangered Species Act

(02/05/2013) Arguably one of the toughest animals on Earth, the wolverine (Gulo gulo) may soon find itself protected under the U.S.'s Endangered Species Act (ESA) as climate change melts away its preferred habitat. Last week, the U.S. Fish and Wildlife Service (FWS) announced it was proposing to place the world's largest terrestrial mustelid on the list. Only 250-300 wolverines are believed to survive in the contiguous U.S.


EU pushes ban on pesticides linked to bee downfall


(02/05/2013) Following a flood of damning research on the longterm impact of neonicotinoid pesticides on bee colonies, the EU is proposing a two year ban on the popular pesticides for crops that attract bees, such as corn, sunflower, oil seed rape, cotton. The proposal comes shortly after European Food Safety Authority (EFSA) released a report that found neonicotinoid pesticides posed a "number of risks" to bees.


Sri Lanka to give poached ivory to Buddhist temple, flouting international agreements


(02/05/2013) The Sri Lankan government is planning to give 359 elephant tusks to a Buddhist temple, a move that critics say is flouting the Convention on International Trade in Endangered Species (CITES). The illegal tusks were seized in Sri Lanka last May en route to Dubai from Kenya; they are believed to stem from hundreds of butchered elephants, including juveniles, inside Africa, possibly Uganda. The decision comes after a high-profile National Geographic article, Ivory Worship, outlined how demand for ivory religious handicrafts, particularly by Catholics and Buddhists, is worsening the current poaching crisis. In 2011, it was estimated that 25,000 elephants were illegally slaughtered for their tusks.


The beginning of the end of deforestation in Indonesia?


(02/05/2013) Asia Pulp & Paper, a forestry giant that has been widely criticized for its role in driving deforestation and contributing to social conflict in Indonesia, today announced a zero deforestation policy that could have a dramatic impact on efforts to slow the Southeast Asian nation's high rate of deforestation. The policy, which went into effect February 1, is ambitious enough that one of APP's most vocal critics and agitators, Greenpeace, will suspend its highly-damaging campaign against the paper giant. The campaign against APP has cost the paper giant tens of millions of dollars in lost business since 2009. The new policy targets several of the major criticisms against APP, including deforestation, degradation of high carbon peatlands, conservation of critical wildlife habitat, and social conflict with local communities.


Geneticists discover distinct lion group in squalid conditions


(02/04/2013) They languished behind bars in squalid conditions, their very survival in jeopardy. Outside, an international team of advocates strove to bring worldwide attention to their plight. With modern genetics, the experts sought to prove what they had long believed: that these individuals were special. Like other cases of individuals waiting for rescue from a life of deprivation behind bars, the fate of those held captive might be dramatically altered with the application of genetic science to answer questions of debated identity. Now recent DNA analysis has made it official: this group is special and because of their scientifically confirmed distinctiveness they will soon enjoy greater freedom.


Scientist: releasing invasive birds in Turkey to eat ticks will backfire


(02/04/2013) As Turkey raises and releases thousands of non-native helmeted guineafowl (Numida meleagris) to eat ticks that carry the deadly Crimean-Congo hemorrhagic fever virus, new research suggests guineafowl actually eat few ticks, carry the parasites on their feathers, and further spread the disease.


WWF and National Geographic ask: 'How much stuff do you need?'

(02/04/2013) Seven billion people inhabit the planet and all require food and water, but less than one percent of the water found on the planet is fresh and accessible and 70 percent of that goes to growing crops. Meanwhile temperatures are rising worldwide due to the overuse of fossil fuel energy. Given these issues, a new series of videos by WWF and National Geographic, entitled Make Choices Count, aims to get people thinking about the environmental impact of commonly used items. The first video (see below) focuses on one of our most ubiquitous items: the cotton T-shirt.


Vatican condemns elephant poaching, pledges steps

(02/04/2013) Responding to an investigative report by National Geographic, the Vatican has condemned elephant poaching for ivory and pledged three steps to help in the battle to save the world's elephants. The National Geographic article Ivory Worship, by Bryan Christy, looked at how religions—specifically religious items for Christians and Buddhists—were playing in the growing demand for black-market ivory, which is currently resulting in the violent deaths of tens-of-thousands of endangered elephants every year.


Lean Design Management: Applications to Natural Resource Management

(02/04/2013) Lean Design Management is a design management process that is applied most often within the construction sector. Its applicability to natural resources management is evident through the similarities between construction management and natural resources management.


Indonesian province of East Kalimantan imposes moratorium on deforestation

(02/02/2013) The Indonesian province of East Kalimantan has imposed a one-year moratorium on new permits for logging, mining, and oil palm plantations, reports Reuters.


Rate of tree die-off in Amazon higher than conventionally believed

(02/01/2013) The rate of tree mortality in the Amazon rainforest due to storm damage and drought is 9-17 percent higher than conventionally believed, reports a study published in the Proceedings of the National Academy of Sciences (PNAS).


Man drove Tasmanian Tiger to extinction in Australia

(02/01/2013) Man, not disease, drove the Tasmanian Tiger to extinction, according to a new study published in the Journal of Animal Ecology.


Palm oil, paper, biofuels production on peatlands drive large GHG emissions

(01/31/2013) Degradation of peat swamps for oil palm and timber plantations is a substantially larger source of greenhouse gas emissions than previously believed, finds a new study published in the journal Nature.


From slash-and-burn to Amazon heroes: new video series highlights agricultural transformation


(01/31/2013) A new series of short films is celebrating the innovation of rural farmers in the Manu region of Peru. Home to jaguars, macaws, and tapirs, the Manu region is also one of the top contenders for the world's most biodiverse place. It faces a multitude of threats from road-building to mining to gas and oil concessions. Still the impact of smallscale slash-and-burn farming—once seen as the greatest threat to the Amazon and other rainforest—may be diminishing as farmers, like the first film's Reynaldo (see below), turn to new ways of farming, ones that preserve the forest while providing a better life overall.


Gorilla paradise: new park safeguards 15,000 western lowland gorillas

(01/31/2013) In 2008 the Wildlife Conservation Society (WCS) announced a jaw-dropping discovery: remote swamp forests in northern Republic of Congo contained a stunning population of 125,000 western lowland gorillas that had somehow gone unnoticed by scientists. At the time the President of WCS, Steven E. Sanderson, called the area the "mother lode of gorillas," and expressed hope that the discovery would lead to a new park. Well, late last year, a park was finalized.


14 Bornean elephants found dead, likely poisoned


(01/31/2013) Wildlife officials in the Malaysian state of Sabah have found the bodies of 14 Bornean elephants in Gunung Rara Forest Reserve, and suspect that more may be found dead. While tests are pending, they believe the elephants were likely poisoned due to damage in the animals' digestive tracts. Only around 2,000 Bornean elephants (Elephas maximus borneensis) are left on the island of Borneo with the vast bulk found in Sabah.


Asian bear farming: breaking the cycle of exploitation (warning: graphic images)


(01/31/2013) In the forests of Asia, bears are being captured. These captives will be sent to bear farms, most unregulated and illegal, where they will be kept alive in a small cage, locked away for life. Their bodies will be used as renewable natural resources, from which profit will be made through the extraction of internal organs and fluids. By surgically inserting a permanent catheter into the bears' gall bladders, "farmers" extract several ounces of their bile. In a cycle of exploitation across east Asia, traditional medicine shops receive these daily shipments of bear bile products, while consumers support the industry through the purchase of these products, sustaining a supply-and-demand chain that puts more and more bears in cages as wild populations dwindle.


China responsible for 46 percent of global coal consumption

(01/30/2013) A new chart by the U.S. Energy Information Administration shows how China's coal habit has grown to such an extent that it now accounts for 46.9 percent of the world's consumption. In 2011 coal consumption hit 3.8 billion tons in China, making up nearly half the world's coal use of 8.1 billion tons. Coal comes with a number of environmental issues—including toxic air and water pollution—but the most pressing globally is climate change.


Featured video: the miracle of mangroves

(01/30/2013) Mangroves are among the most important ecosystems in the world: they provide nurseries for fish, protect coastlines against dangerous tropical storms, mitigate marine erosion, store massive amounts of carbon, and harbor species found no-where else. However, they are vanishing at astonishing rates: experts say around 35 percent of the world's mangroves were lost in just twenty years (1990 to 2010).


Controversial research outlines physics behind how forests may bring rain


(01/30/2013) It took over two-and-a-half-years for the journal Atmospheric Chemistry and Physics to finally accept a paper outlining a new meteorological hypothesis in which condensation, not temperature, drives winds. If proven correct, the hypothesis could have massive ramifications on global policy—not to mention meteorology—as essentially the hypothesis means that the world's forest play a major role in driving precipitation from the coast into a continent's interior. The theory, known as the biotic pump, was first developed in 2006 by two Russian scientists, Victor Gorshkov and Anastassia Makarieva of the St. Petersburg Nuclear Physics, but the two have faced major pushback and delays in their attempt to put the theory before the greater scientific community.


Loans tied to environmental compliance reduced Amazon deforestation by 15%

(01/30/2013) A rural credit law that ties loans to environmental compliance made a significant contribution to reducing deforestation in the Brazilian Amazon between 2008 and 2011, argues a study published by the Climate Policy Initiative (CPI).


World Bank's forestry investments failing to meet conservation, rights, and anti-poverty goals, finds internal audit

(01/30/2013) The World Bank's investments in forestry over the past decade have failed to meet key objectives of reducing poverty, preserving forests, slowing climate change, or benefitting local communities, according to a report developed by its internal auditing body.


Killer kittens: U.S. cats kill up to 25 billion birds and small mammals per year

(01/30/2013) Domesticated cats in the United States kill far more animals than previously thought — 1.4 to 3.7 billion birds and 6.9 – 20.7 billion small mammals per year — finds a study published this week in the journal Nature Communications.


100 companies disclose their forest impact

(01/30/2013) 100 companies have reported on the impact of their operations on the world's forests.


Claim of human and tiger 'coexistence' lacks perspective


(01/29/2013) Nepal's Chitwan National Park was the site of a study, published in September 2012 by Carter and others, which concluded that, tigers coexist with humans at fine spatial scales. This paper has ignited a scientific debate regarding its implications for large carnivore conservation worldwide, with scientists at institutions worldwide questioning the validity of claims of coexistence. At the foundation of this debate, perhaps, is the unresolved question, "what is coexistence?"


Beyond the resorts: traveling the real and wild Dominican Republic (photos)


(01/29/2013) For its stunning variety of ecosystems, the Dominican Republic is like a continent squished into half an island. Lowland rainforests, cloud forests, pine forests, dry forests, mangroves, savannah, coastal lagoons, salt lakes, a rift valley, karst land formations, four mountain ranges—including the highest mountain in the Caribbean—and not to mention some of the best beaches, snorkeling, and scuba diving in the hemisphere can all be reached within just a few hours drive of the capital, Santo Domingo. Yet, bizarrely, most tourists who visit the Dominican Republic never venture out of their all-inclusive resort, missing out on some of the most stunning landscapes—and accessible wildlife viewing—in the Caribbean.


Miners win ruling over indigenous groups in Guyana

(01/29/2013) A judge in Guyana's high court has ruled that indigenous groups do not have the right to expel legal miners from their land. The judge, Diana Insanally, found that if the miners in question held a government-approved license than the local community had no right to dispute the mining. The ruling has sparked protests by indigenous groups and is expected to be appealed.


NASA data registers strong deforestation signals in Sumatra, Borneo, Brazil, Gabon

(01/29/2013) NASA satellites picked up signals of extensive potential deforestation in Sumatra, Borneo, Central Africa, the Brazilian and Peruvian Amazon, the Chocó in Colombia and Ecuador, and the Chaco region of Paraguay between October 1 and December 31, 2012, according to the latest update on Mongabay.com's Global Forest Disturbance Alert System (GloF-DAS).


HarperCollins establishes policy barring paper sourced from rainforest destruction


(01/29/2013) HarperCollins has established a policy that excludes paper sourced from destruction of tropical rainforests and old growth forests. The revised policy, posted on its web site earlier this month, is a response to a campaign by the Rainforest Action Network (RAN), an activist group that is targeting companies linked to clearing of Indonesian rainforests and peatlands for pulp and paper production:



Page 1
|
Page 2
|
Page 3
|
Page 4
|
Page 5
|
Page 6
|
Page 7
|
Page 8
|
Page 9
|
Page 10
|
Page 11
|
Page 12
|
Page 13
|
Page 14
|
Page 15
|
Page 16
|
Page 17
|
Page 18
|
Page 19
|
Page 20
|
Page 21
|
Page 22
|
Page 23
|
Page 24
|
Page 25
|
Page 26
|
Page 27
|
Page 28
|
Page 29
|
Page 30
|
Page 31
|
Page 32
|
Page 33
|
Page 34
|
Page 35
|
Page 36
|
Page 37
|
Page 38
|
Page 39
|
Page 40
|
Page 41
|
Page 42
|
Page 43
|
Page 44
|
Page 45
|
Page 46
|
Page 47
|
Page 48
|
Page 49
|
Page 50
|
Page 51
|
Page 52
|
Page 53
|
Page 54
| Page 55 |
Page 56
|
Page 57
|
Page 58
|
Page 59
|
Page 60
|
Page 61
|
Page 62
|
Page 63
|
Page 64
|
Page 65
|
Page 66
|
Page 67
|
Page 68
|
Page 69
|
Page 70
|
Page 71
|
Page 72
|
Page 73
|
Page 74
|
Page 75
|
Page 76
|
Page 77
|
Page 78
|
Page 79
|
Page 80
|
Page 81
|
Page 82
|
Page 83
|
Page 84
|
Page 85
|
Page 86
|
Page 87
|
Page 88
|
Page 89
|
Page 90
|
Page 91
|
Page 92
|
Page 93
|
Page 94
|
Page 95
|
Page 96
|
Page 97
|
Page 98
|
Page 99
|
Page 100
|
Page 101
|
Page 102
|
Page 103
|
Page 104
|
Page 105
|
Page 106
|
Page 107
|
Page 108
|
Page 109
|
Page 110
|
Page 111
|
Page 112
|
Page 113
|
Page 114
|
Page 115
|
Page 116
|
Page 117
|
Page 118
|
Page 119
|
Page 120
|
Page 121
|
Page 122
|
Page 123
|
Page 124
|
Page 125
|
Page 126
|
Page 127
|
Page 128
|
Page 129
|
Page 130
|
Page 131
|
Page 132
|
Page 133
|
Page 134
|
Page 135
|
Page 136
|
Page 137
|
Page 138
|
Page 139
|
Page 140
|
Page 141
|
Page 142
|
Page 143
|
Page 144
|
Page 145
|
Page 146
|
Page 147
|
Page 148
|
Page 149
|
Page 150
|
Page 151
|
Page 152
|
Page 153
|
Page 154
|
Page 155
|
Page 156
|
Page 157
|
Page 158
|
Page 159
|
Page 160
|
Page 161
|
Page 162
|
Page 163
|
Page 164
|
Page 165
|
Page 166
|
Page 167
|
Page 168
|
Page 169
|
Page 170
|
Page 171
|
Page 172
|
Page 173
|
Page 174
|
Page 175
|
Page 176
|
Page 177
|
Page 178
|
Page 179
|
Page 180
|
Page 181
|
Page 182
|
Page 183
|
Page 184
|
Page 185
|
Page 186
|
Page 187
|
Page 188
|
Page 189
|
Page 190
|
Page 191
|
Page 192
|
Page 193
|
Page 194
|
Page 195
|
Page 196
|
Page 197
|
Page 198
|
Page 199
|
Page 200
|
Page 201
|
Page 202
|
Page 203
|
Page 204
|
Page 205
|
Page 206
|
Page 207
|
Page 208
|
Page 209
|
Page 210
|
Page 211
|
Page 212
|
Page 213
|
Page 214
|
Page 215
|
Page 216
|
Page 217