Conservation news
Founded in 1999, Mongabay is a leading provider of environmental science and conservation news.
Biochar: a brief history and developing future

(01/02/2013) Biochar - charcoal produced from pyrolysis of biomass - has received tremendous attention and support in recent years, and championed as one of the potentially most useful techniques for soil restoration and carbon sequestration in the modern era. Although a multitude of initiatives in biochar research and application have sprung into action many critical details remain uncertain.


This is a test of the system

(01/01/2013) The fossil fuel divestment campaign won a major victory today.


Most popular environmental news articles of 2012

(01/01/2013) The most popular environmental news article on mongabay.com during 2012 was a post about the so-called "penis snake" discovered in a Brazilian river. The article, which explained that the creature was actually an amphibian and that its habitat was being destroyed by a hydroelectric dam, was viewed 238,000 times.


This is a test


(01/01/2013) Part of it was environmental education at a young age. The other part was going to Punjab when I was young and seeing, basically, the trees didn't look like the trees I saw growing up in the United States. The land really looked like it was stripped of a lot of its natural beauty. There weren't birds. A lot of the wildlife described in the Guru Granth Sahib [Sikh scriptures] isn't there anymore. Something had really been taken, something had been removed from this land that I felt was such a piece of what [the land] was — in my own understanding, through my family's knowledge, through the Guru Granth Sahib. That's when I really started to think, this is the issue I want to work on for the rest of my life.


The year in rainforests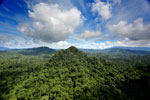 (12/31/2012) 2012 was another year of mixed news for the world's tropical forests. This is a look at some of the most significant tropical rainforest-related news stories for 2012. There were many other important stories in 2012 and some were undoubtedly overlooked in this review. If you feel there's something we missed, please feel free to highlight it in the comments section. Also please note that this post focuses only on tropical forests.


Becky Tarbotton, head of the Rainforest Action Network, dies in accident in Mexico


(12/28/2012) Rebecca Tarbotton, the executive director of the Rainforest Action Network (RAN) died Wednesday. She was 39. Tarbotton died in rough surf off a beach in Puerto Vallarta, Mexico where she was vacationing with her husband and friends. Tarbotton was born in Vancouver, British Columbia on July, 30, 1973. She assumed the leadership role of the activist group in August 2010 after three years with the organization.


Photos: the top new species discoveries in 2012


(12/26/2012) Thousands of species were described for the first time by scientists in 2012. Some of these were 'cryptic species' that were identified after genetic analysis distinguished them from closely related species, while others were totally novel. Either way, here are some of the "new species" highlights from 2012.


Paper giant breaks pledge to end rainforest logging in Sumatra, says group


(12/26/2012) Pulp and paper giant Asia Pacific Resources International Limited (APRIL) continues to destroy large areas of rainforests and peatlands despite a commitment to end natural forest logging by 2009, says a new report issued by a coalition of Indonesian environmental groups. The Eyes on the Forest report finds that APRIL and its suppliers cleared at least 140,000 hectares (346,000 acres) of natural forest between 2008 and 2011 in Riau, accounting for 27 percent of all forest loss in the province during the period. Some of the area cleared by APRIL and its subsidiaries consisted of deep peat swamp forest, which stores massive amount of carbon.


Making the connection: environmentalism as a family value


(12/26/2012) Passing values from one generation to the next is a central theme for most families. For career conservationists, Chip and Jill Isenhart, passing along a passion for the environment to their children took more than just lectures, and their efforts offer insights into furthering the cause of global environmental education.


Pictures: Christmas-colored animals

(12/25/2012) There are a surprising number of Christmas-colored animals. Below is a small set of red-and-green creatures photographed by Rhett A. Butler during his reporting travels.


Amazon rainforest failing to recover after droughts

(12/24/2012) The impact of a major drought in the Amazon rainforest in 2005 persisted far longer than previously believed, raising questions about the world's largest tropical forest to cope with the expected impacts of climate change, reports a new study published in the journal Proceedings of the National Academy of Sciences.


Amazon deforestation obliterates soil biodiversity, with wider ecological implications

(12/24/2012) Deforestation in the Amazon leads to a substantial loss in microbial biodiversity potentially reducing the ecological resilience of affected areas, report researchers writing in the Proceedings of the National Academy of Sciences.


Our favorite nature photos of 2012


(12/24/2012) In the course of reporting for Mongabay.com, I spent time in several countries in 2012, including Indonesia, Brazil, Madagascar, and Malaysia, among others. The following are some of my favorite nature pictures I took in the field. Overall I added more than 20,000 images to the site in 2012. For more, check out travel.mongabay.com, which now has nearly 100,000 captioned photos.


Norway to send Guyana $45m for maintaining low deforestation rate

(12/24/2012) Norway will pay Guyana $45 million for maintaining its low deforestation rate under a climate partnership between the two countries.


Photo: New spider species named after Obama

(12/24/2012) One of 33 newly described species of trapdoor spiders is named after President Barack Obama, reports Wired.


Temperature in West Antarctica rising twice as fast as previously thought, finds study

(12/23/2012) The West Antarctic Ice Sheet is warming twice as fast as previously believed, spurring new concerns about broader melting in Antarctica and associated sea level rise, according to a new study published in the journal Nature Geoscience.


Ivory smuggling surged in 2011

(12/23/2012) Ivory smuggling surged in 2011, reaching its highest levels in nearly 20 years, says a new report released by the Convention on International Trade in Endangered Species of Wild Fauna and Flora (CITES).


Mystery surrounds disappearance of prominent environmental activist in Laos

(12/23/2012) Questions surrounding the disappearance of 60-year-old Sombath Somphone deepened after the government of Laos denied kidnapping and holding the prominent social activist, reports the Associated Press.


Photos: one of the world's rarest turtles hatches at the Bronx Zoo

(12/21/2012) Turtle conservationists received some good news this week when five critically endangered Chinese yellow-headed box turtles hatched at Wildlife Conservation Society's Bronx Zoo.


Lessons From Sandy: extreme weather will be the new normal

(12/21/2012) In a recent forum held at the Harvard School of Public Health four expert panelists discussed the most important lessons learned from Hurricane Sandy.


Obama triples area of protected California coastline

(12/20/2012) Today President Obama announced the government would add almost 3,000 square miles of California coastline to the National Marine Sanctuary system, roughly tripling its size, reports the Sierra Club.


RSPO rules against palm oil company in controversial deforestation case

(12/20/2012) The body that sets social and environmental criteria for greener palm oil production has taken action against a palm oil accused of clearing community forest in Indonesian Borneo, reports the Environmental Investigation Agency (EIA).


DR Congo gets first validated and verified REDD+ project

(12/20/2012) The Democratic Republic of the Congo (DRC) has its first Reducing Emissions from Deforestation and Degradation (REDD+) project validated and verified under the Verified Carbon Standard (VCS).


Brazil launches forest trading system

(12/19/2012) Brazil has launched a new platform that enables farmers and ranchers who have cleared forest beyond the legal minimum to come into compliance by purchasing forest 'quotas' from landowners who have more than the mandated level of forest cover, reports the Associated Press. The system could spur increased compliance with the country's Forest Code, according to some experts.


Photos: 3 colorful lizard species discovered in Australia

(12/19/2012) Researchers in Australia have described three new lizard species from the northwestern part of the continent.


Congo ranger ambushed and killed defending wildlife


(12/18/2012) Atamato Madrandele, Chief Warden of Upemba National Park, was ambushed and killed December 16, 2012 by Mai Mai militia in the Democratic Republic of the Congo, reports the Upemba Conservation Project.


Top 10 Environmental Stories of 2012


(12/18/2012) Below is a quick review of some of the biggest environmental stories of 2012. The 'top stories' are listed in no particular order. Climate change, overpopulation, consumption, and ecological destruction is pushing planet Earth toward a tipping point according to a major study in Nature released over the summer. This could result in a new 'planetary state' that would be far harsher and bleaker than the current one (beginning around 12,000 years ago), which saw the rise and success of human society.


2 small companies recognized for tropical forest-friendly approaches

(12/18/2012) Two Latin American companies have won the WWF Switzerland Tropical Forest Challenge, a competition that aims to highlight and support for-profit entities that have a positive impact on conserving tropical forests.


Pictures: 126 new species discovered in Greater Mekong region last year

(12/18/2012) Some 126 new species were described in Asia'a Mekong region last year, notes a new report published by the World Wildlife Fund (WWF).


Indonesia's big REDD+ project announcement "premature", but moving forward

(12/18/2012) The Indonesian government's announcement at climate talks in Doha that it had approved the country's forest conservation project under its Reducing Emissions from Deforestation and Degradation (REDD+) program was premature, argues a new report from an Indonesian environmental group.


Google puts $5M toward anti-poaching drone technology

(12/18/2012) Google.org, Google Corp's philanthropic arm, earlier this month pledged $5 million toward efforts combat wildlife poaching.


From catastrophic to the sustainable: the flight of the Amur Falcon


(12/17/2012) It is said that the price of 'freedom and justice' is constant vigilance. It seems the same can be said of conservation and sustainability in our ever changing world. In a story and allegory appropriate for many of the challenges that face our global environment, two Indian conservation champions, Shashank Dalvi and Ramki Sreenivasan (both protégés and associates of famed conservation leader, Dr Ullas Karanth of the WCS India), have stepped to work with a host of international and local interests to help save one species of beleaguered bird, the Amur Falcon of Eurasia.


Brazil sues to block unlicensed REDD deal between Irish company and indigenous group

(12/17/2012) Brazil's Attorney General Office has filed a lawsuit against an Irish company and an indigenous group for unlicensed sales of carbon credits generated from an reducing emissions from deforestation and degradation (REDD+) project, reports Reuters Point Carbon.


Some Amazon trees more than 8 million years old

(12/14/2012) Some Amazon rainforest tree species are more than eight million years old found a genetic study published in the December 2012 edition of Ecology and Evolution.


Indonesian NGO voluntarily joins lawsuit as co-defendant in palm oil deforestation case

(12/14/2012) An Indonesian environmental group has taken the unusual step of asking to be named as a co-defendant in a case brought against the Aceh government by a palm oil company over the governor's decision to cancel a controversial concession in a peat forest on the island of Sumatra.


Cutting through the rhetoric on palm oil production


(12/14/2012) Palm oil is widely acknowledged as one of the most important drivers of deforestation and forest diminishment in Southeast Asia. Conversion of forests and peatlands for oil palm plantations is both a substantial source of greenhouse gas emissions and a major threat to biodiversity — one study called palm oil the 'single most immediate threat to the greatest number of species'.


Children's Christmas books published by HarperCollins linked to deforestation in Indonesia, says group

(12/14/2012) Fancy Nancy's Splendiferous Christmas and other children's books sold by publisher HarperCollins show traces of rainforest fiber and are therefore linked to deforestation in Indonesia, says the Rainforest Action Network (RAN), an environmental activist group.


New species of cute, but venomous, primate discovered in Borneo

(12/13/2012) Researchers have described a new species of slow loris, a type of primate that is imperiled by the pet trade.


Rainforests teem with insects, most of which are unknown, finds study

(12/13/2012) Researchers in Panama have published the results of the most comprehensive survey of arthropods in a small area of tropical rainforest. At a high level, the findings surprise no one: the Panamanian rainforest is full of insects, spiders, and crustaceans. Yet the results also show how little is known about this large group of organisms — 60-70 percent of the species are thought to be new to science.


Most Indonesians aware of climate change, but failing to take adaptive measures

(12/13/2012) Nearly 90 percent of Indonesians in East Kalimantan and Central Java are aware of climate change, reports a study published in Nature Climate Change.


99.999% chance 2012 will be hottest year on record for continental U.S

(12/13/2012) 2012 will almost certainly be the hottest year on record across the 48 contiguous United States, says a new analysis published by Climate Central.


African governments and China must respond as ivory trade reaches preposterous proportions


(12/13/2012) Royal Malaysian Customs have just announced the seizure of 24 tons of ivory in Port Klang. This is the largest-ever seizure of ivory in transit through the country. The 1,500 pieces of ivory came from over 750 elephants and were exported from Togo, a tiny west African country that has fewer than 200 elephants. The ivory was hidden in containers containing wooden crates that were built to look like stacks of sawn timber. The two crates were shipped from the port of Lomé in Togo, and were going to China via Algeria, Spain and Malaysia. Richard Leakey, the former Director of the Kenya Wildlife Service (KWS), who set Kenya's ivory stockpile alight in 1989, responded to the announcement.


Malaysia intercepts 24 tons of elephant ivory being smuggled to China

(12/12/2012) Malaysian authorities made their largest-ever ivory bust after uncovering 24 tons of 'white gold' hidden in crates designed to look like stacks of sawn wood.


Wildlife trafficking is $19 billion-per-year illicit business, but governments fail to treat it as such

(12/12/2012) Illegal wildlife trafficking is a $19 billion-a-year business, making it the fourth largest illicit market after drugs, counterfeiting, and human trafficking, yet efforts to control it are "failing", asserts a new report commissioned by WWF.


Replacing lemur meat with insect protein in Madagascar

(12/12/2012) Poaching is a major threat to endangered lemurs in some parts of Madagascar, but a group has come up with an innovative solution to the problem: replace lemur meat with silkworm pupae, a byproduct of silk production.


Rare jungle cat filmed for only the second time

(12/12/2012) A biologist on vacation in Malaysian Borneo caught one of the world's rarest cats on video for only the second time, reports the BBC.


Advanced technology reveals massive tree die-off in remote, unexplored parts of the Amazon


(12/12/2012) Severe drought conditions in 2010 appear to have substantially increased tree mortality in the Western Amazon, a region thought largely immune from the worst effects of changes occurring in other parts of the world's largest rainforest, reported research presented last week at the fall meeting of the American Geophysical Union (AGU). The findings suggest that the Amazon may face higher-the-expected vulnerability to climate change, potentially undercutting its ability to help mitigate greenhouse gas emissions by absorbing carbon dioxide through faster growth.


Tribes to sue Peru over planned oil expansion

(12/12/2012) Indigenous groups plan to sue the government of Peru over the expansion of a oil concession they say intrudes on their native lands.


Why it's time to ban the ivory trade for good [Graphic images: viewer discretion advised]


(12/12/2012) This week the Kenya Wildlife Service (KWS) announced a 14% decline in elephants in the Samburu/Laikipia ecosystem over the last 4 years. The decline has occurred in a population whose natural growth rate was measured at 5.3% between 2002 and 2008 according to the previous survey, suggesting that over 300 elephants are dying annually in the Samburu and Laikipia's landscape, denting the poster child image of one of Kenya's most important wildlife landscapes. Poaching and drought are the main causes of mortality in this population. The impact of poaching on tourism cannot be ignored, heavily armed bandits threaten more than elephants, if we can't protect elephants how can we protect international tourists? But it's the long term consequence that are of greater concern.


Uncontacted tribes still exist, but extinction threat looms


(12/11/2012) The world is more interconnected than ever. Globally, there are six billion cell phone subscribers and 900 million Facebook users. Nearly 32 million people follow Lady Gaga on Twitter. Given this content it may seem hard to believe that there remain people who have never had contact with the outside world. Yet such people do exist today. Most of them live in the most remote parts of the world's wildest forests. One of this year's best paperback books takes a close look at one uncontacted group — the Arrow People of the Brazilian Amazon. Written by veteran journalist Scott Wallace, The Unconquered is a gripping first-person account of a journey to learn more about this little-known tribe.



Page 1
|
Page 2
|
Page 3
|
Page 4
|
Page 5
|
Page 6
|
Page 7
|
Page 8
|
Page 9
|
Page 10
|
Page 11
|
Page 12
|
Page 13
|
Page 14
|
Page 15
|
Page 16
|
Page 17
|
Page 18
|
Page 19
|
Page 20
|
Page 21
|
Page 22
|
Page 23
|
Page 24
|
Page 25
|
Page 26
|
Page 27
|
Page 28
|
Page 29
|
Page 30
|
Page 31
|
Page 32
|
Page 33
|
Page 34
|
Page 35
|
Page 36
|
Page 37
|
Page 38
|
Page 39
|
Page 40
|
Page 41
|
Page 42
|
Page 43
|
Page 44
|
Page 45
|
Page 46
|
Page 47
|
Page 48
|
Page 49
|
Page 50
|
Page 51
| Page 52 |
Page 53
|
Page 54
|
Page 55
|
Page 56
|
Page 57
|
Page 58
|
Page 59
|
Page 60
|
Page 61
|
Page 62
|
Page 63
|
Page 64
|
Page 65
|
Page 66
|
Page 67
|
Page 68
|
Page 69
|
Page 70
|
Page 71
|
Page 72
|
Page 73
|
Page 74
|
Page 75
|
Page 76
|
Page 77
|
Page 78
|
Page 79
|
Page 80
|
Page 81
|
Page 82
|
Page 83
|
Page 84
|
Page 85
|
Page 86
|
Page 87
|
Page 88
|
Page 89
|
Page 90
|
Page 91
|
Page 92
|
Page 93
|
Page 94
|
Page 95
|
Page 96
|
Page 97
|
Page 98
|
Page 99
|
Page 100
|
Page 101
|
Page 102
|
Page 103
|
Page 104
|
Page 105
|
Page 106
|
Page 107
|
Page 108
|
Page 109
|
Page 110
|
Page 111
|
Page 112
|
Page 113
|
Page 114
|
Page 115
|
Page 116
|
Page 117
|
Page 118
|
Page 119
|
Page 120
|
Page 121
|
Page 122
|
Page 123
|
Page 124
|
Page 125
|
Page 126
|
Page 127
|
Page 128
|
Page 129
|
Page 130
|
Page 131
|
Page 132
|
Page 133
|
Page 134
|
Page 135
|
Page 136
|
Page 137
|
Page 138
|
Page 139
|
Page 140
|
Page 141
|
Page 142
|
Page 143
|
Page 144
|
Page 145
|
Page 146
|
Page 147
|
Page 148
|
Page 149
|
Page 150
|
Page 151
|
Page 152
|
Page 153
|
Page 154
|
Page 155
|
Page 156
|
Page 157
|
Page 158
|
Page 159
|
Page 160
|
Page 161
|
Page 162
|
Page 163
|
Page 164
|
Page 165
|
Page 166
|
Page 167
|
Page 168
|
Page 169
|
Page 170
|
Page 171
|
Page 172
|
Page 173
|
Page 174
|
Page 175
|
Page 176
|
Page 177
|
Page 178
|
Page 179
|
Page 180
|
Page 181
|
Page 182
|
Page 183
|
Page 184
|
Page 185
|
Page 186
|
Page 187
|
Page 188
|
Page 189
|
Page 190
|
Page 191
|
Page 192
|
Page 193
|
Page 194
|
Page 195
|
Page 196
|
Page 197
|
Page 198
|
Page 199
|
Page 200
|
Page 201
|
Page 202
|
Page 203
|
Page 204
|
Page 205
|
Page 206
|
Page 207
|
Page 208
|
Page 209
|
Page 210
|
Page 211