Conservation news
Founded in 1999, Mongabay is a leading provider of environmental science and conservation news.
China pledges $275 billion over 5 years to cut record air pollution

(08/19/2013) Last week China announced it was going to spend over a quarter of a trillion dollars ($275 billion) to fight rampant and life-threatening pollution in its urban centers over the next five years. Recent decades of unparalleled economic growth has taken a drastic environmental toll in China, including record air pollution levels in Beijing. The announcement follows other news, including that the Chinese government has recently scrapped a massive 2,000 megawatt coal plant project near the cities of Hong Kong and Shenzhen.


On Gaia: A Critical Investigation of the Relationship between Life and Earth - book review

(08/19/2013) In the new book, On Gaia: A Critical Investigation of the Relationship between Life and Earth, Dr. Toby Tyrrell analyzes 40-years of data for and against the Gaia hypothesis. Dr. James Lovelock, along Dr. Lynn Margulis, co-developed the Gaia Hypothesis in the 1970s. The Gaia Hypothesis suggests that life itself, in unison across species and through complex interactions, controls the inorganic structures and forms of the Earth.


Meet the BABY olinguito


(08/18/2013) Since its announcement on Thursday, the olinguito—the world's newest mammal—has taken the world by storm. Hundreds of articles have been written about the new species, while its cuddly appearance has already been made the subject of cartoons. Now, conservationists have released the first photos of a baby olinguito. The new photos come from La Mesenia Conservation Project in Colombia, an Andean cloud forest reserve that is a project area for the NGO SavingSpecies.


Deforestation alerts for Madagascar, DRC, Bolivia during Q2-2013

(08/16/2013) Loss of forest, woodland, and savanna increased sharply in Madagascar, the Democratic Republic of the Congo (DRC), and Bolivia during the second quarter of 2013, reports a new assessment by NASA scientists.


Colombia establishes giant rainforest park to protect 'uncontacted' tribes

(08/16/2013) Next week the Colombian government will officially double the size of its largest national park, reports El Espectador.


Ecuador shelves big idea for saving the Amazon

(08/16/2013) The fate of the most biodiverse rainforest on Earth has been decided: it will be drilled for oil.


New tiny insect named after Peter Pan fairy discovered in Central America


(08/16/2013) A new genus of fairyfly has been discovered in Costa Rica. The new species aptly named Tinkerbella nana after the fairy in J.M. Barrie's play 'Peter Pan' is one of the smallest winged insects in the neotropics. Found in both temperate and tropical climates, the fairyfly is not actually a fly as its name suggests, but instead is more closely related to wasps – being classed within the superfamily Chalcidoidea, or the "chalcid wasps".


Solomon Islands' banks shut down logging company accounts

(08/16/2013) Banks in the Solomon Islands have shut down bank accounts belonging to several foreign logging companies.


Teddy bear-like carnivorous creature discovered in South America

(08/15/2013) While the olinguito looks like a wild, tree-climbing teddy bear with a cat's tail, it's actually the world's newest mammalian carnivore. The remarkable discovery—the first mammal carnivore uncovered in the Western Hemisphere since the 1970s—was found in the lush cloud forests of the Andes, a biodiverse region home to a wide-range of species found no-where else.


Sahyadris – Mountains of the Monsoon


(08/15/2013) Stunning images, snippets of video and a compelling narrative come together in a "showcase" app for the iPad. The Sahyadris app is an immersive experience, which taps the full potential of the iPad as a story telling medium. It acts as a "showcase" for the Western Ghats, a mountain range found parallel to the western coast of southern India.


Zoo races to save extreme butterfly from extinction


(08/15/2013) In a large room that used to house aquatic mammals at the Minnesota Zoo, Erik Runquist holds up a vial and says, 'Here are its eggs.' I peer inside and see small specks, pale with a dot of brown at the top; they look like a single grain of cous cous or quinoa. Runquist explains that the brown on the top is the head cap of the larva, a fact that becomes more clear under a microscope when you can see the encased larva squirm. I'm looking at the eggs of a Poweshiek skipperling, a species that is more imperiled than pandas, tigers, or bluewhales. Once superabundant, only several hundred Poweshiek skipperlings may survive on Earth today and the eggs I'm looking at are the only ones in captivity.


New Android app helps you identify frogs in the Western Ghats


(08/15/2013) Amphibians hop onto your Android phone in an app that focuses on ease of use. There are many among us who have gone out for a walk in the night, during the rains, and heard frogs chorusing. Or looked upon a small amphibian perched perilously by the wayside, and wondered what it is called.


Fracking sucks up all the water from Texas town

(08/15/2013) Beverly McGuire saw the warning signs before the town well went dry: sand in the toilet bowl, the sputter of air in the tap, a pump working overtime to no effect. But it still did not prepare her for the night last month when she turned on the tap and discovered the tiny town where she had made her home for 35 years was out of water.


Scientists discover teddy bear-like mammal hiding out in Andean cloud forests (photos)


(08/15/2013) While the olinguito looks like a wild, tree-climbing teddy bear with a cat's tail, it's actually the world's newest mammalian carnivore. The remarkable discovery—the first mammal carnivore uncovered in the Western Hemisphere since the 1970s—was found in the lush cloud forests of the Andes, a biodiverse region home to a wide-range of species found no-where else. Dubbed the olinguito (Bassaricyon neblina), the new mammal is a member of a little-known, elusive group of mammals—olingos—that are related to raccoons, coatis, and kinkajous. However, according to its description in the journal Zookeys, the olinguito is the most distinct member of its group, separated from other olingos by 3-4 million years (or longer than Homo sapiens have walked the Earth).


Scientists map human-wildlife conflict in India


(08/15/2013) Designating protected areas in a country with 1.27 billion people comes with its own consequences: around each protected area in India lies a zone where wildlife strays out, and people stray in. Inevitably, there is contact, and more often than not, conflict. Human wildlife conflict has been under the lens for a long time. How humans respond to conflict situations varies.


Endangered Chinese monkey population recovering

(08/14/2013) The number of black snub-nosed monkeys in southwestern China has increased by more than 50 percent since the 1990's due to conservation efforts, reports Chinese state media.


Five Aceh elephants die in just six weeks

(08/14/2013) Police in Indonesia's Aceh province are investigating the killings of three critically endangered Sumatran elephants, as conflicts with humans led to a series of elephant deaths across the province last month. Five elephants have died in Aceh since late June, including two orphaned calves, highlighting the need to mitigate conflicts between elephants and local communities as deforestation drives the animals into villages and plantations in search of food.


China's growing wine industry threatening pandas and other endangered species

(08/14/2013) In 1985, Li Hua visited a valley in the foothills of the Tibetan plateau. The area was better known for its panda population, but the oenologist realized that its high altitude, hours of sunshine, sandy soil and low precipitation also offered ideal conditions for growing grapes.


Palm oil licenses provide cover for logging in New Guinea


(08/14/2013) Developers are seeking palm oil concessions to as a means to circumvent restrictions on industrial logging in Papua New Guinea, finds a new study published in the journal Conservation Letters. The research, led by Paul Nelson and Jennifer Gabriel of James Cook University, is based on analysis of 36 proposed oil palm concessions covering nearly 950,000 hectares in PNG. The study assessed the likelihood of the concessions coming to fruition. It found that only five concessions, covering 181,700 ha, are likely to be developed.


Certification body officially terminates ties with controversial logging company

(08/14/2013) The Forest Stewardship Council (FSC) has formally ended its association with Indonesian logging giant Asia Pacific Resources International Limited (APRIL), reports the certification body.


Scientists map plan to save lemurs

(08/14/2013) Primatologists and researchers have devised a wide-ranging plan to protect Madagascar's most endangered lemurs from extinction.


Scientists develop new model to estimate poaching in animal populations


(08/13/2013) Keeping track of the number of wild animals killed illegally has never been easy. From counting carcasses, to looking at official records and trade logs, managers have had to innovate. Now, a recent paper in the journal Biological Conservation has suggested simple recipe-book mathematics as a tool to get more accurate numbers.


Rhino slaughtered for its horn in city park

(08/13/2013) In another sign that the rhino poaching crisis has gone out-of-control, Kenyan officials announced late last night that a pregnant rhino was poached in Nairobi National Park, which sits on the edge of Kenya's capital. Home to lions, leopard, giraffes and hippos in addition to rhinos, the park is known for its views of iconic wildlife flanked by Nairobi's skyline.


Forest fragmentation leading to higher extinction rates


(08/13/2013) The world's species are in worse trouble than widely-assumed, according to a new paper in the Proceedings of the National Academy of Sciences (PNAS), which reevaluates how scientists estimate extinction rates. The new model takes into account the impact of forest fragmentation on extinction rates for the first time, filling in a gap in past estimates. Much of the world's tropical forests, which house the bulk of the world's species, have been whittled down to fragments: small forest islands that no longer connect to larger habitat. According to the paper, species confined to fragments have a higher likelihood of vanishing.


Two children given lifetime gag order on fracking impacts

(08/13/2013) Two young children in Pennsylvania were banned from talking about fracking for the rest of their lives under a gag order imposed under a settlement reached by their parents with a leading oil and gas company. The sweeping gag order was imposed under a $750,000 settlement between the Hallowich family and Range Resources Corp, a leading oil and gas driller. It provoked outrage on Monday among environmental campaigners and free speech advocates.


Hope rises as new malaria vaccine shows promise


(08/12/2013) Last week U.S. scientists with the biotech company, Sanaria, announced a possible breakthrough on an experimental malaria vaccine: an early trial led to a success rate of 80 percent for the two highest doses. Malaria remains one of the world's worst scourges. In 2010, the World Health Organization reported 219 million documented cases of malaria (millions more likely went undocumented) and estimated that between 660,000 and 1.2 million died of the disease, mostly children in Africa, that year alone. Mortality is not the only impact of the disease, however: experts have long noted circular links between malaria, poverty, and stalled development.


Nutrient deficiency in Amazon rainforest linked to megafauna extinction


(08/12/2013) Around twelve thousand of years ago, the Amazon was home to a menagerie of giant creatures: the heavily armored glyptodons, the elephant-sized ground sloth, and the rhino-like toxodons among others. But by 10,000 B.C. these monsters were largely gone, possibly due to overhunting by humans or climatic changes. There's no question that the rapid extinction of these megafauna changed the environment, but a new study in Nature Geoscience posits a novel theory: did the mass extinction of big mammals lead to nutrient deficiency, especially of nitrogen, in parts of the Amazon rainforest?


Little NGO takes on goliath task: conserving the vanishing ecosystems of Paraguay


(08/12/2013) Landlocked in the navel of South America, the forests, wetlands and savannahs of Paraguay boast rich biodiversity and endemic species, yet the unique landscapes of Paraguay also face increasing threats, primarily from agricultural expansion. Controlled burns and clear cutting have become common practice as wildlands are converted for soy and cattle production. In some areas this land conversion is rapid: the Paraguayan Chaco, for instance, is being lost at a rate of 10% per year. One organization is working to reverse this trend. Para La Tierra (PLT) is a small NGO dedicated to the conservation of threatened habitats in Paraguay. Located on the Reserva Natural Laguna Blanca, in-between two of South America's most threatened habitats: the Atlantic Forest and the vast topical savannah known as the cerrado, PLT is in a unique position to champion conservation.


Novel Ecosystems: Intervening in the New Ecological World Order - book review

(08/12/2013) Novel Ecosystems: Intervening in the New Ecological World Order is a recent textbook published by Wiley-Blackwell edited by Richard J. Hobbs, Eric S. Higgs, and Carol M. Hall that describes the emerging issues around novel ecosystems. Novel ecosystems are rapidly developing globally in response to land conversion, climate change, invasive species, and other ecological crises. Novel ecosystems are anthropogenically modified ecosystems that have developed during the Anthropocene.


Does size matter (for lemur smarts, that is)?


(08/09/2013) Does size matter? When referring to primate brain size and its relation to social intelligence, scientists at Duke University do not think the answer is a simple yes or no. In the past, scientists have correlated large brain size to large group size. However, in a new study published in PLoS ONE, scientists at Duke University provide evidence that large social networks, rather than large brains, contribute to social cognition, favoring the evolution of social intelligence.


Endangered chimps and forest elephants found in rainforest to be logged for palm oil


(08/08/2013) A biological survey of forests slated for destruction for a palm oil project in Cameroon has uncovered 23 species of large mammals, including the world's most endangered chimpanzee subspecies, the Nigeria-Cameroon chimpanzee (Pan troglodytes ellioti). The project in question, operated by U.S.-based company Herakles Farms, has come under stiff criticism both locally and abroad for threatening one of Africa's most biologically rich forest lands and arguably undercutting local peoples' access to traditional lands.


Climate change scattering marine species

(08/08/2013) Rising ocean temperatures are rearranging the biological make-up of our oceans, pushing species towards the poles by 7kms every year, as they chase the climates they can survive in, according to new research. The study, conducted by a working group of scientists from 17 different institutions, gathered data from seven different countries and found the warming oceans are causing marine species to alter their breeding, feeding and migration patterns.


First of its kind rescue and release for sloth bear in India


(08/08/2013) For a young wild sloth bear who found himself amidst a panic-stricken village in India, rescue was fortunately, and surprisingly, close at hand. In a one-of-a-kind heartwarming story, a team from Wildlife SOS (WSOS) India – a conservation and welfare NGO – successfully rescued, treated and subsequently released the sloth bear back into the wild, but this time with a radio collar fitted around its neck.


Last disease-free Tasmanian devils imperiled by mine


(08/07/2013) The federal environment minister, Mark Butler, has given the go-ahead to a controversial mine that the courts halted amid concerns it could drastically affect the last stronghold of the Tasmanian devil. Butler said he had granted approval to Shree Minerals to proceed with its iron ore mine at Nelson Bay River in the north-west of Tasmania, subject to 30 conditions.


Old-growth trees store half rainforest carbon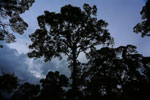 (08/07/2013) Large trees store store up to half the above-ground biomass in tropical forests, reiterating their importance in buffering against climate change, finds a study published in Global Ecology and Biogeography. The research, which involved dozens of scientists from more than 40 institutions, is based on data from nearly 200,000 individual trees across 120 lowland rainforest sites in Africa, Asia, and Latin America. It found that carbon storage by big trees varies across tropical forest regions, but is substantial in all forests.


Scientists discover new flying mammal in bushmeat market


(08/06/2013) The bushmeat markets of Lao PDR (Laos) are filled with racks of wild game harvested both legally and illegally from the surrounding landscapes. While these meat markets certainly provide local protein to patrons, for wildlife biologists they offer something more. These bizarre zoological exhibits are a rich source of information about wildlife populations and wildlife consumption in remote areas.


Foodies eat lab-grown burger that could change the world

(08/06/2013) Yesterday at a press event in London, two food writers took a bite into the world's most unusual hamburger. Grown meticulously from cow stem cells, the hamburger patty represents the dream (or pipedream) of many animal rights activists and environmentalists. The burger was developed by Physiologist Mark Post of Maastricht University and funded by Google co-founder Sergey Brin in an effort to create real meat without the corresponding environmental toll.


Climate change to increase violent crime

(08/06/2013) Bring on the cool weather – climate change is predicted to cause extreme weather, more intense storms, more frequent floods and droughts, but could it also cause us to be more violent with one another?


Deforestation ban working in Costa Rica


(08/05/2013) Costa Rica's ban on clearing of "mature" forests appears to be effective in encouraging agricultural expansion on non-forest lands, finds a study published today in the journal Environmental Research Letters. The study, which was led by Matthew Fagan of Columbia University, found that since Costa Rica implemented its ban on conversion of mature forests in 1996, the annual rate of old-growth forest loss dropped 40 percent despite an agricultural boom in the region. The results suggest that Costa Rica is intensifying agricultural production while simultaneously sparing forests.


$20,000 grant for reporting on the next big idea for forest conservation


(08/05/2013) Today Mongabay's non-profit arm launched a new journalism program that funds in-depth or investigative reporting on key environmental topics. The first reporting opportunity under the Special Reporting Initiatives program asks: what is the next big idea in tropical biodiversity conservation? The application window closes Sept. 30, 2013.


Featured video: Sumatra's last elephants versus palm oil

(08/05/2013) A new video by The Ecologist documents the illegal destruction of the Leuser protected area in Sumatra for palm oil production, a vegetable oil which has become ubiquitous in many mass-produced foods and cosmetics. The destruction of the forest has pushed elephants and people together, leading to inevitable conflict with casualties on both sides. Elephants are increasingly viewed as agricultural pests for crop-raiding while locals—some of them squatting in protected land—lack the means and resources to keep elephants at bay. Meanwhile, palm oil plantations often see elephants as a threat to the palms.


Journey to the Edge of Eden: the struggle to preserve Southwest Florida


(08/05/2013) Gary Schmelz, in a Journey to the Edge of Eden, takes us through a wonderful personal account of the conservation history of Southwest Florida. Journey to the Edge of Eden is one part personal memoir similar to the English naturalist Gerald Durrell and one part Florida conservation history. With hilarious stories of unintended naturalist misadventures and recounting conservation "as it happened," a Journey to the Edge of Eden is one of those rare books you read in a coffee shop and with gusto and pride while laughing along out loud at Gary Schmelz stories.


Coming to terms with the evil Jane Goodall and the mystery of the dragonfly incident


(08/04/2013) [The Ethical Ape Column by Shawn Thompson] It is the easiest of premises to make that Jane Goodall is a good person who has lived a moral life. It is more troubling to explain why that is. Even Jane Goodall herself has difficulty explaining it, and she is an authority on her own life.


Suspects arrested in Costa Rican sea turtle conservationist's murder

(08/03/2013) Eight suspects were arrested during early-morning raids Wednesday in the murder of Costa Rican sea turtle conservationist Jairo Mora.


Jumbo problems for the Indian railways


(08/02/2013) Running late that morning, the Kanchankanya Express train zipped past Gulma and entered the Mahananda Wildlife Sanctuary in northern West Bengal, India. Till a few minutes ago, impatience was writ large on every face. Now with the fog having finally lifted and the green forest cover glistening under the sun, things were finally looking up. But before my co-passengers could sigh with relief, the train came to a screeching halt, right in the middle of the forest. I looked out the door of my compartment.


Kellogg hit on palm oil sourcing

(08/02/2013) Kellogg Co. CEO John Bryant was challenged by a shareholder group over the food giant's palm oil sourcing policy during the company's conference call yesterday.


New bird species discovered in Peruvian cloud forest

(08/02/2013) A new bird species has been discovered in the montane forests of Peru.


Florida declares two butterfly species extinct as pollinator crisis worsens


(08/01/2013) Conservationist's faced a crushing blow last month as two butterfly species native to Florida were declared extinct. 'Occasionally, these types of butterflies disappear for long periods of time but are rediscovered in another location,' said Larry Williams, U.S. Fish and Wildlife state supervisor for ecological services. We think it's apparent now these two species are extinct.'


Elephant killer gets five years in prison in the Republic of Congo

(08/01/2013) The Congolese Supreme Court has ordered Ghislain Ngondjo (known as Pepito) to five years in prison for slaughtering dozens of elephants for their ivory tusks. The five year sentence is the maximum in the Republic of Congo for poaching. Ngondjo was considered the "kingpin" of an elephant poaching group; in addition to killing pachyderms, Ngondjo recruited new poachers and made death threats to park rangers and staff in Odzala National Park.


Climate could warm more rapidly than any time in the last 65 million years


(08/01/2013) According to a new review of 27 climate models, scientists say the global climate is likely to experience a warmth as great as any in the last 65 million years, only much, much faster. According to the study published today in Science, the Earth's land temperature will rise by 4 degrees Celsius (7.2 degrees Fahrenheit) from pre-industrial levels by 2100 if we continue on our current emissions trajectory.



Page 1
|
Page 2
|
Page 3
|
Page 4
|
Page 5
|
Page 6
|
Page 7
|
Page 8
|
Page 9
|
Page 10
|
Page 11
|
Page 12
|
Page 13
|
Page 14
|
Page 15
|
Page 16
|
Page 17
|
Page 18
|
Page 19
|
Page 20
|
Page 21
|
Page 22
|
Page 23
|
Page 24
|
Page 25
|
Page 26
|
Page 27
|
Page 28
|
Page 29
|
Page 30
|
Page 31
|
Page 32
|
Page 33
|
Page 34
|
Page 35
|
Page 36
|
Page 37
|
Page 38
| Page 39 |
Page 40
|
Page 41
|
Page 42
|
Page 43
|
Page 44
|
Page 45
|
Page 46
|
Page 47
|
Page 48
|
Page 49
|
Page 50
|
Page 51
|
Page 52
|
Page 53
|
Page 54
|
Page 55
|
Page 56
|
Page 57
|
Page 58
|
Page 59
|
Page 60
|
Page 61
|
Page 62
|
Page 63
|
Page 64
|
Page 65
|
Page 66
|
Page 67
|
Page 68
|
Page 69
|
Page 70
|
Page 71
|
Page 72
|
Page 73
|
Page 74
|
Page 75
|
Page 76
|
Page 77
|
Page 78
|
Page 79
|
Page 80
|
Page 81
|
Page 82
|
Page 83
|
Page 84
|
Page 85
|
Page 86
|
Page 87
|
Page 88
|
Page 89
|
Page 90
|
Page 91
|
Page 92
|
Page 93
|
Page 94
|
Page 95
|
Page 96
|
Page 97
|
Page 98
|
Page 99
|
Page 100
|
Page 101
|
Page 102
|
Page 103
|
Page 104
|
Page 105
|
Page 106
|
Page 107
|
Page 108
|
Page 109
|
Page 110
|
Page 111
|
Page 112
|
Page 113
|
Page 114
|
Page 115
|
Page 116
|
Page 117
|
Page 118
|
Page 119
|
Page 120
|
Page 121
|
Page 122
|
Page 123
|
Page 124
|
Page 125
|
Page 126
|
Page 127
|
Page 128
|
Page 129
|
Page 130
|
Page 131
|
Page 132
|
Page 133
|
Page 134
|
Page 135
|
Page 136
|
Page 137
|
Page 138
|
Page 139
|
Page 140
|
Page 141
|
Page 142
|
Page 143
|
Page 144
|
Page 145
|
Page 146
|
Page 147
|
Page 148
|
Page 149
|
Page 150
|
Page 151
|
Page 152
|
Page 153
|
Page 154
|
Page 155
|
Page 156
|
Page 157
|
Page 158
|
Page 159
|
Page 160
|
Page 161
|
Page 162
|
Page 163
|
Page 164
|
Page 165
|
Page 166
|
Page 167
|
Page 168
|
Page 169
|
Page 170
|
Page 171
|
Page 172
|
Page 173
|
Page 174
|
Page 175
|
Page 176
|
Page 177
|
Page 178
|
Page 179
|
Page 180
|
Page 181
|
Page 182
|
Page 183
|
Page 184
|
Page 185
|
Page 186
|
Page 187
|
Page 188
|
Page 189
|
Page 190
|
Page 191
|
Page 192
|
Page 193
|
Page 194
|
Page 195
|
Page 196
|
Page 197
|
Page 198
|
Page 199
|
Page 200
|
Page 201
|
Page 202
|
Page 203
|
Page 204
|
Page 205
|
Page 206
|
Page 207
|
Page 208
|
Page 209
|
Page 210
|
Page 211
|
Page 212
|
Page 213
|
Page 214
|
Page 215