Conservation news
Founded in 1999, Mongabay is a leading provider of environmental science and conservation news.
Hong Kong to destroy 4,000 dead elephants' worth of ivory
(01/24/2014) The government of Hong Kong will destroy 28 tons of ivory confiscated from traffickers, reports CNN. The announcement, which comes just weeks after China destroyed six tons of seized ivory, suggests that the leaders of the world's largest market for ivory may be getting more serious about addressing a global poaching boom, say conservationists.


Next big idea in forest conservation? Using drones to catch poachers, monitor forests


(01/24/2014) At the foothills of the Himalayas, elephants, rhinoceroses, and tigers stir in the green forests. Protecting and monitoring these animals and the health of tropical forests worldwide is a significant challenge, often requiring large amounts of time, money and risk. Fortunately, an affordable new tool is soaring into the conservation sphere: autonomous flying vehicles, or drones. Lian Pin Koh, is a founding director of the non-profit ConservationDrones.org, which builds capacity in the use of drones for conservation in the developing tropics.


New dolphin discovered in the Amazon surprises scientists


(01/23/2014) Researchers have discovered a new species of river dolphin from the Amazon. Writing in the journal Plos One, scientists led by Tomas Hrbek of Brazil's Federal University of Amazonas formally describe Inia araguaiaensis, a freshwater dolphin that inhabits the Araguaia River Basin. It is the first true river dolphin discovered since 1918.


The next best thing: how well do secondary forests preserve biodiversity?


(01/23/2014) Secondary forests, which are areas that were previously cleared of old-growth cover, now comprise the majority of the forested areas in the United States, Europe, and elsewhere. A heavily debated issue is to what extent secondary forests are able to contribute to the preservation of biodiversity. In an article published in PLOS ONE, a group of researchers from the Smithsonian Tropical Research Institute led by Michiel van Breugel evaluated the biodiversity preservation potential of secondary forests.


How "insect soup" might change the face of conservation


(01/23/2014) Much of what we know about patterns of biodiversity has come from extensive fieldwork, with expert researchers sampling and identifying species in a process that takes thousands of man-hours. But new technologies may revolutionize this process, allowing us to monitor changes in biodiversity at speeds and scales unimaginable just a decade ago.


EU proposes 40% emissions reduction target for 2030

(01/22/2014) The European Commission has proposed setting a binding greenhouse gas emissions reduction target of 40 percent below 1990 levels for 2030, reports Thomson Reuters Point Carbon.


Cambodian communities best placed to prevent illegal logging


(01/22/2014) A study on deforestation in Cambodia has found that forests are better protected when local communities are given the responsibility to manage them locally. Cambodia has one of the highest rates of deforestation in the world, losing 1.2 per cent each year from 2005-2010. The loss of forests due to illegal logging, commercial agriculture, and other factors can have a devastating impact on local communities, as well as contributing to global climate change. In a country beset by corruption and ineffectual state forest management, alternative models of forest protection are clearly needed.


One quarter of sharks and rays threatened with extinction


(01/22/2014) One quarter of all shark and ray species are threatened with extinction, according to a new study published in the open-access journal eLife. The paper analyzed the threat and conservation status of 1,041 species of chondrichthyans—the class of fish whose skeletons are made of cartilage instead of bone which includes sharks, rays, skates and chimaeras—and found this group to be among the most threatened animals in the world.


New frog species discovered on tallest mountain in Indochina


(01/22/2014) A team of Australian and Vietnamese researchers recently discovered a new species of frog in the high elevations of Vietnam's Mount Fansipan, according to a new paper in Zootaxa. The amphibian was named Botsford's leaf-litter frog (Leptolalax botsfordi) as a tribute to Christopher Botsford for his role in amphibian biodiversity research in Asia.


Bromeliads may actually protect fruit trees from pest damage


(01/22/2014) Imagine a plant. Now remove the soil, for it's not essential. In fact, an estimated one-tenth of all plant species have liberated themselves from soil and evolved into epiphytes — plants that grow on other plants.


One lizard, four species: the collared treerunner


(01/21/2014) Now, that's a horse of a different color. Or, in this case, a lizard of another species--four species. Recent research suggests that the collared treerunner (Plica plica), previously thought of as one widespread species, is actually four distinct species inhabiting diverse geographical areas east of the Andes in northern South America.


Photos: Japanese fishermen slaughter 41 dolphins, capture 52 in 'The Cove'

(01/21/2014) The annual dolphin hunt in Taiji, Japan ended on Monday with dozens being slaughtered for meat and captured for sale to amusement parks, reports Sea Shepherd, an ocean activist group that campaigns against the practice and just released photos documenting the weekend's harvest.


The smoothtooth blacktip shark and four other species rediscovered in markets


(01/21/2014) Scientific American) magazine recently ran an article on the rediscovery of the smoothtooth blacktip shark (Carcharhinus leiodon) in a Kuwaiti fish market. Believed extinct for over 100 years, the smoothtooth had not been seen since the naturalist Wilhelm Hein returned from a trip to Yemen in 1902. With its reappearance, scientists scoured Kuwaiti markets and discovered an astounding 47 individual smoothtooth blacktips.


Spectacular new beetle discovered in French Guiana


(01/21/2014) The discovery of a new, bi-colored beetle species in the lowland rainforest of French Guiana just added a little pizzazz to the ranks of the Pseudomorphini tribe of beetles. With wing cases (elytra) that sport black spots against a rusty red background, the newcomer was dubbed Guyanemorpha spectabilis, or the spectacular Guyane false-form beetle, by entomologist Terry Erwin in the journal ZooKeys.


Emissions outsourced to China return to U.S. in form of air pollution

(01/20/2014) Twenty percent of China's air pollution can be attributed to goods exported to America, with some of those emissions drifting back to the Western United States, finds a study published this week in the journal Proceedings of the National Academy of Sciences.


Two journalists awarded prizes for reporting on fisheries in the Pacific


(01/20/2014) Mongabay.org - a non-profit dedicated to raising awareness of social and environmental issues relating to tropical forests and other ecosystems - has announced the winners of two environmental reporting prizes under its Special Reporting Initiative (SRI) program. The prizes sought proposals to investigate questions around marine fisheries management in the Pacific.


Handful of species key to ecosystem health, finds study


(01/20/2014) While conducting field research in the humid salt marshes of Sapelo Island, scientists Marc Hensel and Brian Silliman made an astonishing discovery: species type, not just quantity, is vital for maintaining healthy ecosystems. For decades, scientists believed that preserving the largest number of species was critical for ecosystem function, regardless of their genetic makeup.


Red toad discovered in the upper reaches of the Amazon

(01/19/2014) Scientists have described a previously unknown species of toad in the Peruvian Andes.


Indonesian logger faces expulsion from business sustainability group

(01/17/2014) Indonesian pulp and paper giant Asia Pacific Resources International Limited (ARPIL) faces expulsion from the World Business Council for Sustainable Development (WBCSD), a body of 200 large companies that have made sustainability commitments, if it fails to stop clearing rainforests and peatlands on the island of Sumatra, reports Greenpeace.


Over 1,000 rhinos killed by poachers in South Africa last year

(01/17/2014) In another sign that Africa's poaching crisis has gotten completely out of control, South Africa lost 1,004 rhinos to poachers last year. According to the numbers released today by the South African Department of Environmental Affairs, 2013 was the worst year yet for rhino poaching in the country with nearly 3 rhinos killed every day.


Court orders logging company to clean up pollution disaster in Chile wetlands


(01/17/2014) Chile is probably best known for its volcanoes, earthquakes and the formidable peaks of the Andes, but as a country that spans 4,300 km (2,670 miles) from top to bottom, it also boasts a huge variety of bird life. And, until recently, it was home to what was thought to be the largest population of black-necked swans (Cygnus melancoryphus) in South America. Not long ago, these swans, as well as 100 other species of rare or vulnerable bird species, could be seen nesting in the Carlos Anwandter Nature Sanctuary in Valdivia, a Ramsar site that covers 12,000 acres in the south of Chile. But in 2004 the swans began to die.


Wonderful Creatures: A nematode drama played out in a millipede's gut


(01/17/2014) Nematodes are typically small animals that to the naked eye look very much alike; however, these creatures are fantastically diverse —on a par with the arthropods in terms of species diversity. At face value, nematodes lack the charisma of larger animals, so there are very few biologists who have made it their life's work to understand them. Those who do have been rewarded with a glimpse of the incredible diversity of these animals, an example of which is the complex menagerie of nematodes that dwell in the guts of large, tropical millipedes.


Land conflicts complicate effort to spare forests from palm oil in Borneo


(01/17/2014) A widely-heralded effort to spare carbon-dense rainforests and peatlands from palm oil development in Indonesian Borneo is facing new criticism after an investigation by rights groups found evidence of unresolved conflicts over community land. The report, published Friday by the Forest Peoples Program and TUK-Indonesia, looked at a carbon conservation pilot project run by Golden Agri Resources (GAR), a Singapore-based agribusiness giant that is one of Indonesia's largest palm oil producers.


Next big idea in forest conservation? Global road map to mitigate damage from roads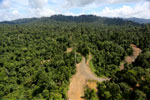 (01/17/2014) In the world of conservation, Dr. William Laurance is a household name. He has worked in tropical systems, worldwide, for over 25 years, publishing over 300 articles, five books and receiving numerous awards and honors for his work as a researcher, science communicator, and conservation practitioner, including one of Australia's highest scientific honors, the Australian Laureate Award.


WALHI Jambi: Forestry giant allegedly evaded $15m in taxes


(01/16/2014) Sinar Mas Group allegedly defrauded the Indonesian government of $15 million by avoiding reforestation taxes on 2,000 hectares in Jambi province. The land is reportedly managed by subsidiaries of Sinar Mas Group which do not have the proper concession permits. The discovery came after analysis of public reports and an audit conducted last year by BPK (The Audit Board of the Republic of Indonesia), as reported by the non-profit Indonesian Forum for the Environment (WALHI), an Indonesian affiliate of Friends of the Earth.


Snow leopards and other mammals caught on camera trap in Uzbekistan (photos)


(01/16/2014) Scientists knew that snow leopards (Panthera uncia) still survived in the Central Asian country of Uzbekistan, but late last year they captured the first ever photos. Camera traps in the Gissar Nature Reserve took photos of the big cats, along with bear, lynx, ibex, wild boar, and other mammals. The camera trap program was led by biologists Bakhtiyor Aromov and Yelizaveta Protas working with Panthera, WWF's Central Asia Program, and Uzbekistan's Biocontrol Agency.


Environmental groups: top secret Pacific trade agreement to sacrifice wildlife, environment

(01/16/2014) Environmental groups have blasted draft text of the Trans-Pacific Partnership (TPP) released yesterday by WikiLeaks as potentially devastating to the environment and wildlife. The massive 12-nation free trade agreement has been negotiated in secret now for almost four years, and the information release by WikiLeaks shows that key environmental safeguards in the agreement are being stripped away, including a ban on shark finning and illegal logging, as well as legally-enforced pollution regulations.


Population growth and associated food demand to take heavy toll on rainforests


(01/16/2014) Human population growth and associated food demand will likely take a heavy toll on tropical ecosystems unless major shifts occur in how crops are produced and consumed, warns a new review published in Trends in Ecology & Evolution. Noting that projections published by the U.N. now forecast the human population to swell to 11 billion before the end of the century, William F. Laurance, Jeffrey Sayer, and Kenneth Cassman highlight potential impacts of agricultural expansion on biodiversity in the tropics.


iPhone app allows Americans to identify backyard birds

(01/15/2014) A new iPhone app enables North Americans to identify bird species by asking just five simple questions.


Tree growth accelerates with age


(01/15/2014) Old, large trees may be even more important ecologically than long-believed, according to a new study in Nature. Looking at over half a million individual trees from over 400 species (both tropical and temperate), scientists have determined that most trees actually grow faster in their dotage than in their youth.


Underestimating global warming: gaps in Arctic temperature data lead scientists and public astray


(01/15/2014) No place on Earth is heating up faster than the Arctic, but just how fast has remained an open question due to large gaps in temperature data across the vast region. Now, a recent study in the Quarterly Journal of the Royal Meteorological Society finds that not only is the Arctic warming eight times faster than the rest of the planet, but failure to account for temperature gaps has led global datasets to underestimate the rise of temperatures worldwide.


For agoutis, the night is fraught with peril


(01/15/2014) In a study recently published in the online Animal Behavior journal, scientists from the US and the Netherlands have examined the impact of predation patterns on prey's food foraging habits. The two-year long study on Barro Colorado Island, Panama, focused on the predator-prey relationship between the Central American agouti (Dasyprocta punctata), a common rainforest rodent, and the ocelot (Leopardus pardalis).


Carbon emissions rise 2 percent in U.S. due to increase in coal

(01/14/2014) Carbon dioxide emissions rose two percent in the U.S. last year, according to preliminary data from the Energy Information Administration. Emissions rose largely due to increased coal consumption, the first such rise in U.S. emissions since 2010. Still, the annual emissions remain well below the peak hit in 2007 when emissions hit 6 billion tons.


Climate fail: Geoengineering would cool planet, but screw up rainfall patterns


(01/14/2014) For decades, scientists have been grappling with the consequences of climate change and working toward viable solutions. Climate engineering, also known as geoengineering, is the most controversial possible solution. Currently, one of the most talked about geoengineering ideas is Solar Radiation Management (SRM), which intends to block shortwave solar radiation, thus cooling the Earth to offset rising temperatures. In other words, SRM may be one way in which global temperatures could be artificially stabilized.


German government gives tigers $27 million

(01/14/2014) At a summit in 2010, the world's 13 tiger range states pledged to double the number of tigers (Panthera tigris) in the wild by 2020. Today, non-tiger state Germany announced its assistance toward that end. Through its KfW Development Bank, the German government has pledged around $27 million (20 million Euro) to a new program run by the International Union for Conservation of Nature.


High-living frogs hurt by remote oil roads in the Amazon


(01/14/2014) Often touted as low-impact, remote oil roads in the Amazon are, in fact, having a large impact on frogs living in flowers in the upper canopy, according to a new paper published in PLOS ONE. In Ecuador's Yasuni National Park, massive bromeliads grow on tall tropical trees high in the canopy and may contain up to four liters of standing water. Lounging inside this micro-pools, researchers find a wide diversity of life, including various species of frogs. However, despite these frogs living as high as 50 meters above the forest floor, a new study finds that proximity to oil roads actually decreases the populations of high-living frogs.


Colombia to protect remote region bordering Venezeula


(01/13/2014) The Colombian government plans to declare a remote area bordering Venezuela a new protected area. Colombian Minister of Environment, Luz Helena Sarmiento, told the El Espectador that President Juan Manuel Santos will declare the Estrella Fluvial de Inirida river area a Ramsar Wetland of International Importance. The designation would give Colombia six Ramsar sites.


Trophy hunters auction off life of Critically Endangered black rhino

(01/13/2014) The Dallas Safari Club has auctioned off a permit to shoot-and-kill a Critically Endangered black rhino in Namibia for $350,000. The club says the proceeds from the auction will aid rhino conservation, but the move has upset many wildlife organizations and attracted protestors outside the closed-door auction. In fact the issue has become so contentious that the FBI is currently investigating purported death threats against the Dallas Safari Club members over the issue. Currently, less than 5,000 black rhinos survive in the wild today, a drop of 90 percent since 1960 as the species has been decimated by poaching and habitat loss.


Indonesia police nab illegal wildlife traffickers in sting operation


(01/12/2014) Police in Indonesia's Aceh province have arrested two wildlife trafficking suspects allegedly behind five tiger poaching rings operating in the forests of northern Sumatra. The arrests followed a months-long investigation and an undercover sting operation in which police seized thousands of dollars worth of illegal animal parts.


PHOTOS: Glowing fish - study finds widespread biofluorescence among fish


(01/10/2014) Biofluorescence is widespread among marine fish species, indicating its importance in communication and avoiding detection, finds a new study published in the journal PLOS ONE. The research shows that biofluorescence — a phenomenon where organisms absorb light, transform it, and emit it as a different color — is more common in the animal kingdom than previously known.


Next big idea in forest conservation? Integrating forest conservation, use, and restoration


(01/10/2014) The next big idea is to integrate the social and natural components of forest conservation, use of forest products, and restoration. In reality, these aspects are completely intertwined, but in practice they are completely separated. I believe (along with many others) that the scale at which we can begin to integrate these components is at the landscape scale.


Primary school children build fuel-efficient stoves in Uganda


(01/10/2014) A group of young children have become a catalyst in the effort to save Kibale National Park from deforestation. Children from Iruhuura Primary School in Uganda have collaborated with the Kasiisi Project and Camp Uganda to build fuel-efficient stoves, developing a more sustainable method of wood consumption around the hugely-biodiverse Kibale National Park.


Not seen in over 130 years, 'extinct' frog rediscovered in Sri Lanka


(01/10/2014) In 1876—the same year that the first telephone call was made—the British scientist Albert Günther described a new species of frog from Sri Lanka, but the species, known as the webless shrub frog (Pseudophilautus hypomelas), was never seen again. Having disappeared into history, scientists considered the species extinct—that is until a 2010 expedition stumbled on 40 mystery frogs.


Wonderful Creatures: the lightning-fast Stenus beetles


(01/10/2014) Rove beetles are among the most diverse animals on the planet, with around 56,000 species currently described. Amongst this multitude of species is a dazzling array of adaptations perhaps best illustrated by the genus Stenus. These beetles, with their bulbous eyes and slender bodies are often found near water running swiftly over the wet ground and clambering among the vegetation.


In precedent-setting case, palm oil company fined $30M for destroying orangutan forest


(01/09/2014) In a precedent-setting case, an Indonesian court has found a palm oil company guilty of violating environmental laws and ordered it to pay $30 million in fines and reparations for clearing an area of protected peat forest that is a stronghold for endangered orangutans in Indonesia's Aceh Province. In a ruling handed down Wednesday, the Meulaboh district court concluded that PT Kallista Alam illegally cleared and burned forest within the the protected Tripa peat swamp in northwestern Sumatra.


Over 75 percent of large predators declining


(01/09/2014) The world's top carnivores are in big trouble: this is the take-away message from a new review paper published today in Science. Looking at 31 large-bodied carnivore species (i.e those over 15 kilograms or 33 pounds), the researchers found that 77 percent are in decline and more than half have seen their historical ranges decline by over 50 percent. In fact, the major study comes just days after new research found that the genetically-unique West African lion is down to just 250 breeding adults.


Tree islands more effective way to replant the world's forests


(01/09/2014) Worldwide, large swaths of land lay barren in the wake of agricultural expansion, and as global forest cover continues to decline, carbon and water cycles, biodiversity, and human health are impacted. But efforts to restore abandoned pastures and agricultural plots back into functioning forest ecosystems are often hindered by high costs and time requirements. Fortunately, scientists have developed a new method for a more cost effective solution to forest restoration, the establishment of 'tree islands.'


Lions face extinction in West Africa: less than 250 survive


(01/08/2014) The lions of West Africa, which may represent a distinct subspecies, are on the precipice of extinction. A sober new study in PLOS ONE reports that less than 250 mature lions survive in the region. Scientists have long known that West Africa's lions were in trouble, but no one expected the situation to be as dire as it was. In fact, in 2012 scientists estimated the population at over 500. But looking at 21 parks, scientists were shocked to find lions persisted in just four with only one population containing more than 50 individuals.


U.S. palm oil company fined $4.6m in discrimination suit

(01/08/2014) Herakles Farms, an American agribusiness company, has been ordered to pay $4.6 million by a court in Cameroon over alleged discrimination in its hiring practices.


Requiem or recovery?: the Sumatran rhino 200 years after its description


(01/08/2014) In 1893, William Bell, a surgeon in the service of the Dutch East India Company stationed in Bencoolen, Sumatra, examined the body of a dead rhinoceros. The animal, a male, was relatively small as rhinoceroses go, measuring only four feet four inches at the shoulder and eight feet five inches from its nose to the tip of its tail. Dr. Bell noted that the animal resembled a large hog and judged it to be a young individual based upon the condition of the bones and teeth.



Page 1
|
Page 2
|
Page 3
|
Page 4
|
Page 5
|
Page 6
|
Page 7
|
Page 8
|
Page 9
|
Page 10
|
Page 11
|
Page 12
|
Page 13
|
Page 14
|
Page 15
|
Page 16
|
Page 17
|
Page 18
|
Page 19
|
Page 20
|
Page 21
|
Page 22
|
Page 23
|
Page 24
|
Page 25
|
Page 26
|
Page 27
|
Page 28
|
Page 29
|
Page 30
|
Page 31
|
Page 32
|
Page 33
| Page 34 |
Page 35
|
Page 36
|
Page 37
|
Page 38
|
Page 39
|
Page 40
|
Page 41
|
Page 42
|
Page 43
|
Page 44
|
Page 45
|
Page 46
|
Page 47
|
Page 48
|
Page 49
|
Page 50
|
Page 51
|
Page 52
|
Page 53
|
Page 54
|
Page 55
|
Page 56
|
Page 57
|
Page 58
|
Page 59
|
Page 60
|
Page 61
|
Page 62
|
Page 63
|
Page 64
|
Page 65
|
Page 66
|
Page 67
|
Page 68
|
Page 69
|
Page 70
|
Page 71
|
Page 72
|
Page 73
|
Page 74
|
Page 75
|
Page 76
|
Page 77
|
Page 78
|
Page 79
|
Page 80
|
Page 81
|
Page 82
|
Page 83
|
Page 84
|
Page 85
|
Page 86
|
Page 87
|
Page 88
|
Page 89
|
Page 90
|
Page 91
|
Page 92
|
Page 93
|
Page 94
|
Page 95
|
Page 96
|
Page 97
|
Page 98
|
Page 99
|
Page 100
|
Page 101
|
Page 102
|
Page 103
|
Page 104
|
Page 105
|
Page 106
|
Page 107
|
Page 108
|
Page 109
|
Page 110
|
Page 111
|
Page 112
|
Page 113
|
Page 114
|
Page 115
|
Page 116
|
Page 117
|
Page 118
|
Page 119
|
Page 120
|
Page 121
|
Page 122
|
Page 123
|
Page 124
|
Page 125
|
Page 126
|
Page 127
|
Page 128
|
Page 129
|
Page 130
|
Page 131
|
Page 132
|
Page 133
|
Page 134
|
Page 135
|
Page 136
|
Page 137
|
Page 138
|
Page 139
|
Page 140
|
Page 141
|
Page 142
|
Page 143
|
Page 144
|
Page 145
|
Page 146
|
Page 147
|
Page 148
|
Page 149
|
Page 150
|
Page 151
|
Page 152
|
Page 153
|
Page 154
|
Page 155
|
Page 156
|
Page 157
|
Page 158
|
Page 159
|
Page 160
|
Page 161
|
Page 162
|
Page 163
|
Page 164
|
Page 165
|
Page 166
|
Page 167
|
Page 168
|
Page 169
|
Page 170
|
Page 171
|
Page 172
|
Page 173
|
Page 174
|
Page 175
|
Page 176
|
Page 177
|
Page 178
|
Page 179
|
Page 180
|
Page 181
|
Page 182
|
Page 183
|
Page 184
|
Page 185
|
Page 186
|
Page 187
|
Page 188
|
Page 189
|
Page 190
|
Page 191
|
Page 192
|
Page 193
|
Page 194
|
Page 195
|
Page 196
|
Page 197
|
Page 198
|
Page 199
|
Page 200
|
Page 201
|
Page 202
|
Page 203
|
Page 204
|
Page 205
|
Page 206
|
Page 207
|
Page 208
|
Page 209
|
Page 210
|
Page 211
|
Page 212
|
Page 213
|
Page 214
|
Page 215
|
Page 216
|
Page 217
|
Page 218
|
Page 219