Conservation news
Founded in 1999, Mongabay is a leading provider of environmental science and conservation news.
Where have all the big animals gone? Indian park devoid of many species, further threatened by forest loss
(08/04/2014) Namdapha National Park is part of the Indo-Myanmar biodiversity hotspot. However, locating many species in the park is becoming increasingly difficult, the region has lost thousands of hectares of forest in the past decade, and studies project the situation may simply worsen in the coming years.


2 prize-winning journalists will report on Amazon, 2 new prizes announced


(08/01/2014) Mongabay.org's Special Reporting Initiative (SRI) program has recently awarded two different reporting prizes to journalists to tackle these vital and complicated issues in-depth. The non-profit has also launched a call for applications to two new SRIs: The social and environmental impacts of foreign development finance in the Amazon and Food spoilage and waste in Sub-Saharan Africa.


Ndoki Forest, charmed or cursed? Conservationists admit sustainable logging wilting in naïve chimp habitat


(08/01/2014) 'You come across that crest, and … you're going from forest that has already been exploited to this kind on no-man's land… It just felt like you were going into this vast unknown wilderness' – Mike Fay from Eating Apes by Dale Peterson and Karl Ammann. Mike Fay, famed explorer and conservationist, said this of the Ndoki Forest in the Republic of the Congo.


Brazil releases video showing first contact with rainforest tribe

(07/31/2014) The Brazilian government has released footage showing 'first contact' with an isolated group of indigenous people in the Amazon rainforest.


Ecologists are underestimating the impacts of rainforest logging


(07/31/2014) Ecologists may be underestimating the impact of logging in old-growth tropical forests by failing to account for subtleties in how different animal groups respond to the intensity of timber extraction, argues a paper published today in the journal Current Biology. The study, led by Zuzana Burivalova of ETH Zurich, is based on a meta-analysis of 48 studies that evaluated the impact of selective logging on mammals, birds, amphibians, and invertebrates in tropical forests.


World Ranger Day: honoring our wildlife protectors

(07/31/2014) Like Memorial Day, when we honor our nation's military veterans, World Ranger Day is a day to recognize and celebrate the thousands of rangers who put their lives on the line as they protect wildlife and natural resources around the world.


The Philippines: where 'megadiversity' meets mega deforestation


(07/31/2014) Ongoing loss of forest cover in the Philippines places it among the top ten most threatened forest hotspots in the world, with the archipelago ranking fourth, behind Indo-Burma, New Caledonia and Sundaland (a region encompassing Australia and parts of Southeast Asia). According to a report issued by Conservation International, only seven percent of Philippine forests remain intact.


Seeking justice for Corazón: jaguar killings test the conservation movement in Mexico


(07/31/2014) Eight years ago, a female jaguar cub was caught on film by a motion-triggered camera trap set in the foothills of canyons, oak forest, and scrubland that make-up the Northern Jaguar Reserve, just 125 miles south of the U.S.-Mexico border. Three years later, in 2009, the jaguar reappeared on film as an adult. They called her 'Corazón' for the distinctive heart-shaped spot on her left shoulder.


Poachers target elephants, tigers in Sumatran park

(07/31/2014) The Leuser Ecosystem in Aceh, Indonesia is gaining the attention of international animal traffickers, according to the Leuser Conservation Forum (FKL). From the beginning of 2013, FKL patrols have dismantled 282 makeshift traps targeting high value threatened species, and the situation is getting worse.


Cargill to cut off suppliers who don't provide deforestation-free palm oil


(07/30/2014) Agricultural giant Cargill, America's largest palm oil importer, will no longer buy palm oil from sources associated with deforestation, conversion of peatlands, and social conflict. The policy follows similar commitments made by other major palm oil buyers, including Unilever and Nestle, and comes after years of campaigning led by the Rainforest Action Network.


Conservation controversy: are bonobos protected in the right ways and in the right places?


(07/30/2014) Bonobos, endangered great apes, continue to survive in forests south of the Congo River in the DRC, albeit under constant threat of hunting, loss of habitat and the growing demands of an increasing human population. Conservationists have, over the years, tried and tested different conservation strategies to protect the last of the bonobos. And some of these strategies have invited considerable debate.


The world's best mother: meet the octopus that guards its eggs for over four years


(07/30/2014) The ultimate goal of all species on the planet is procreation, the act of making anew. But few mothers could contend with a deep-sea octopus, known as Graneledone boreopacifica, which researchers have recently observed guarding its eggs for four-and-a-half years (53 months), before likely succumbing to starvation soon after.


The future of tropical biology research and conservation


(07/30/2014) Last week, the Association for Tropical Biology and Conservation (ATBC) held its 51st annual meeting in Cairns, Australia. In addition to the normal symposia, plenaries, and poster sessions on a wide range of conservation topics, the convening produced a declaration calling for stronger protection of the Great Barrier Reef and two resolutions on expanding research funding in Papua New Guinea and >imploring Australia to restore its environmental leadership.


Stunning high-resolution map reveals secrets of Peru's forests


(07/30/2014) Peru's landmass has just been mapped like never before, revealing important insights about the country's forests that could help it unlock the value healthy and productive ecosystems afford humanity.


87 new bird species considered threatened with extinction


(07/29/2014) Scientists have added 361 new bird species to the IUCN Red List following a major taxonomic review of non-passerine birds, i.e. non-perching or non-songbirds. Worryingly, 87 of these new birds are threatened with extinction, a percentage nearly double the overall threatened percentage for all birds, which currently sits at 13 percent.


Peruvian oil spill sparks concern in indigenous rainforest community

(07/29/2014) A ruptured pipeline that spilled tens of thousands of gallons of crude oil into the Marañón River in late June is fueling concerns about potential health impacts for a small indigenous community.


Deforestation ramping up in Yasuni as Ecuador sets to open up national park to drilling


(07/29/2014) Yasuni National park has been in the conservation spotlight in recent years, with oil drilling threatening the forests and wildlife of this biodiversity hotspot. Recently, disturbance in the park may have ramped up, with satellite data showing a significant increase in deforestation alerts within Yasuni National Park since 2011.


Don't eat or touch bat bushmeat amid worsening Ebola outbreak, UN warns

(07/29/2014) The world's worst Ebola outbreak was likely begun by a hunter shooting a fruit bat for their dinner or the market, according to the UN. The outbreak has killed over 660 people in six months to date, and recently spread via plane to Nigeria. The disease is particularly deadly with a mortality rate of around 90 percent.


Palm oil company clears rainforest in New Guinea


(07/29/2014) An Indonesian Stock Exchange-listed company whose commissioner is a member of The Nature Conservancy-Indonesia's board has been clearing dense rainforest in New Guinea, finds a new report from Greenomics-Indonesia. The report is based on analysis of data from Global Forest Watch, NASA satellites, Indonesia's Ministry of Forestry, and company documents.


Over a million pangolins slaughtered in the last decade


(07/28/2014) One of the world's most bizarre animal groups is now at risk of complete eradication, according to an update of the IUCN Red List. Pangolins, which look and behave similarly to (scaly) anteaters yet are unrelated, are being illegally consumed out of existence due to a thriving trade in East Asia.


Invasion of the oil palm: western Africa's native son returns, threatening great apes


(07/28/2014) As palm oil producers increasingly look to Africa's tropical forests as suitable candidates for their next plantations, primate scientists are sounding the alarm about the destruction of ape habitat that can go hand in hand with oil palm expansion. A recent study sought to take those warnings a step further by quantifying the overlap in suitable oil palm land with current ape habitat.


Short-eared dog? Uncovering the secrets of one of the Amazon's most mysterious mammals


(07/28/2014) Fifteen years ago, scientists knew next to nothing about one of the Amazon's most mysterious residents: the short-eared dog. Although the species was first described in 1883 and is considered the sole representative of the Atelocynus genus, biologists spent over a century largely in the dark about an animal that seemed almost a myth.


No longer 'deaf as a stump': researchers find turtles chirp, click, meow, cluck


(07/25/2014) Turtles comprise one of the oldest living groups of reptiles, with hundreds of species found throughout the world. Many have been well-researched, and scientists know very specific things about their various evolutionary histories, metabolic rates, and the ways in which their sexes are determined. But there was one very obvious thing that has been largely left unknown by science until very recently. Turtles can make sounds.


Seafood apartments and other experiments in fixing Indonesia's fisheries (Part IV)


(07/25/2014) Shrimp farms, industrial plants, and one of Indonesia's busiest thoroughfares make up Java's north coast today. It's a very different scene from the fishing villages with beachfront boat parking that stood here decades earlier. Which begs the question, where will fish live in this new 'coast without mangroves, without coral, without seagrass,' asks Alan Koropitan, a marine biologist based at Bogor Agricultural University.


True stewards: new report says local communities key to saving forests, curbing global warming


(07/24/2014) Deforestation is compromising forests around the world, destroying vital habitat and causing greenhouse gases emissions that are contributing to global warming. A new report released today finds a possible solution: protecting forests by empowering the local communities that live within them.


A letter to Indonesia's new president on his environmental policy


(07/24/2014) Congratulations on your successful bid for the Indonesian presidency. Although neither you nor your opponent spent much time focusing on the environment, the world hopes your previous record in Surakarta (Solo) and Jakarta, coupled with the idealistic language in your campaign platform, is evidence enough of your intent to slow the rapid destruction of Indonesia's environment. It will be a long and challenging road, but the Indonesian people have entrusted their country to you based on the promises you made to them. The world looks forward to watching you enact policies that keep these promises.


It's not just extinction: meet defaunation


(07/24/2014) Get ready to learn a new word: defaunation. Fauna is the total collection of animals—both in terms of species diversity and abundance—in a given area. So, defaunation, much like deforestation, means the loss of animals in all its myriad forms, including extinction, extirpation, or population declines.


Desperate measures: researchers say radical approaches needed to beat extinctions


(07/24/2014) Today, in the midst of what has been termed the "Sixth Great Extinction" by many in the scientific community, humans are contributing to dizzying rates of species loss and ecosystem changes. A new analysis suggests the time may have come to start widely applying intensive, controversial methods currently used only as "last resort" strategies to save the word's most imperiled species.


Next big idea in forest conservation: Reconnecting faith and forests


(07/24/2014) 'In Africa, you can come across Kaya forests of coastal Kenya, customary forests in Uganda, sacred forest groves in Benin, dragon forests in The Gambia or church forests in Ethiopia...You can also come across similar forest patches in South and Southeast Asia including numerous sacred groves in India well-known for their role in conservation of biological diversity,' Dr. Shonil Bhagwat told mongabay.com.


Targeted enforcement saved a Massachusetts-worth of Amazon rainforest in 3 years

(07/24/2014) Targeted law enforcement efforts via Brazil's green municipalities programs were responsible for reducing deforestation by 10,653 square kilometers — an area the size of Massachusetts — between 2009 and 2011, argues a paper published in the journal Land Use Policy.


Brazil could meet all its food demand by 2040 without cutting down another tree


(07/24/2014) Better utilization of its vast areas of pasturelands could enable Brazil to dramatically boost agricultural production without the need to clear another hectare of Amazon rainforest, cerrado, or Atlantic forest, argues a new study published in the journal Global Environmental Change.


Scientists ask Australia to strengthen, not weaken, protection for Great Barrier Reef

(07/24/2014) A convening of nearly 600 tropical biologists and conservation scientists has called upon the Australian government to strengthen protection of the Australia's Great Barrier Reef. The declaration, issued at the annual meeting of the Association for Tropical Biology and Conservation (ATBC), comes as Prime Minister Tony Abbott pushes to allow industrial dumping in the Great Barrier Reef Marine Park as well as port development in a nearby coastal area.


Lush Cosmetics launches bid to protect pangolins

(07/24/2014) Lush Cosmetics has agreed to support an effort to battle trafficking of the Sunda pangolin.


Scientists ask PNG to support conservation research

(07/24/2014) The Association for Tropical Biology and Conservation (ATBC), the world's largest group of tropical researchers, is calling on the government of Papua New Guinea to increase support for biology training programs in the densely-forested and wildlife-rich country.


Rebuilding Kissama: war-torn Angola's only national park affected by deforestation, but refaunation gives hope


(07/24/2014) The story of Kissama National Park is one of perseverance, vision and disaster in waiting. The only functional national park in Angola, a country wracked by war for decades, Kissama (also called Quiçama) lost much of its wildlife, with that which is left still impacted by poaching and deforestation. However, a project is attempting to bring the park back to life.


Peru slashes environmental protections to attract more mining and fossil fuel investment


(07/23/2014) In an effort to kickstart investment in mining and fossil fuels, Peru has passed a controversial law that overturns many of its environmental protections and essentially defangs its Ministry of Environment. The new law has environmentalists not only concerned about its impact on the country but also that the measures will undermine progress at the up-coming UN Climate Summit in December.


Phone-based logging alert system eyes expanding to the Amazon

(07/23/2014) After exceeding an ambitious fundraising target to launch a near-real time forest monitoring system in the Congo Basin, a San-Francisco based start-up is now eyeing expansion in the Amazon where it hopes to help an indigenous rainforest tribe fight illegal logging.


NASA: Sumatra fires in the rise

(07/22/2014) The number of fires burning in Sumatra's Riau Province doubled on Sunday, raising concerns that dry conditions could unleash an especially severe haze this dry season in Indonesia.


'A high price to pay': new Indonesian peatland regulation may do more harm than good


(07/22/2014) The Government Regulation on Peatland Ecosystem Protection and Management, initially drafted by the Ministry of Forestry in 2013, is getting mixed acceptance from civil society. On one hand, the regulation would offer more protection to the country's vast peatland areas. However, on the other, some NGOs have slammed the draft as a potential source of new conflicts for local people.


Rare bird paradise protected in war-torn Colombian mountain range (photos)


(07/22/2014) A coalition of conservation groups have established a new protected area in one of Latin America's most neglected ecosystems: the Colombian-side of the Serranía de Perijá mountain range. Following decades of bloody conflict and rampant deforestation, experts say only five percent of rainforest is left on the Colombian side of this embattled mountain range.


Over-depleted and undermanaged: can Indonesia turn around its fisheries? (Part III)


(07/22/2014) Compared to maritime ministries worldwide, Indonesia's Ministry of Marine Affairs and Fisheries (MMAF) is a teenaged neophyte. The governing body was formed a mere 13 years ago;a staggering fact for a country made up of two-thirds water where many of the 250 million people depend on fish for both protein and income. Mongabay.org's SRI Fellow Melati Kaye reports on the state of Indonesian fisheries in the third installment of a four-part series.


Setting the stage: theater troupe revives tradition to promote conservation in DRC


(07/22/2014) Two years ago, environmental artist Roger Peet set off to the Democratic Republic of Congo to support the new Lomami National Park with bandanas that he designed. This time, Peet is back in Congo to carry out a conservation theater project in remote villages near the proposed Lomami National Park.


Monkeys use field scientists as human shields against predators


(07/22/2014) If you're monkey—say a samango monkey in South Africa—probably the last thing you want is to be torn apart and eaten by a leopard or a caracal. In fact, you probably spend a lot of time and energy working to avoid such a grisly fate. Well, now there's a simpler way: just stick close to human researchers.


Scientists blast Australian government's moves to dismantle environmental protections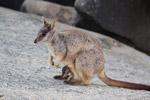 (07/22/2014) On Tuesday a prominent group of conservation scientists condemned the Australian government's recent moves to eliminate protections for native ecosystems, cut research funding, backtrack on commitments to reduce greenhouse gas emissions, and step up persecution of individuals and organizations that speak out for the environment.


Global warming emissions from meat consumption rising rapidly


(07/22/2014) Greenhouse gas emissions from livestock production have increased by more than 50 percent over the past 50 years and are set to zoom higher as the developing world consumes more meat, finds a new study published in the journal Proceedings of the National Academy of Sciences (PNAS).


Roads through the rainforest: an overview of South America's 'arc of deforestation'


(07/21/2014) When a new road centipedes its way across a landscape, the best of intentions may be laid with the pavement. But roads, by their very nature, are indiscriminate pathways, granting access for travel and trade along with deforestation and other forms of environmental degradation. And as the impacts of roads on forest ecosystems become clear, governments and planning agencies reach a moral crossroads.


Surprising habitat: camera traps reveal high mammal diversity in forest patches within oil palm plantations


(07/21/2014) After more than four and a half years of camera trap footage, the results are encouraging: 36 mammal species, of which more than half are legally protected, are prospering in this most surprising of spots: an oil palm plantation in the province of East Kalimantan in Indonesian Borneo.


Germany tops energy efficiency rating while U.S. remains stuck near the bottom

(07/21/2014) Two years after the first energy efficiency ranking report put out by the American Council for an Energy-Efficient Economy (ACEEE), and the U.S. still lags widely behind most of the world's other large economies. In the second report, the U.S. came in at number 13 out of 16 nations—even beaten by new-comer to the report, India—while Germany took the top spot.


What is peat swamp, and why should I care?


(07/20/2014) Long considered an unproductive hindrance to growth and development, peat swamp forests in Southeast Asia have been systematically cleared, drained and burned away to make room plantations and construction. Now, as alternating cycles of fires and flood create larger development problems, while greenhouse gas emissions skyrocket, it is time to take a closer look at peat, and understand why clearing it is a very bad idea.


Is there hope for bonobos? Researchers, NGOs, gov't officials, local communities band together to save iconic ape (Part III)


(07/18/2014) Sankuru Nature Reserve was established in 2007 primarily for bonobo protection. The largest continuous protected great ape habitat in the world, Sankuru is still losing large swaths of forests to burning and other activities, primarily along roads that transect the center of the reserve. However, hope exists, both from human efforts – and from the apes themselves.



Page 1
|
Page 2
|
Page 3
|
Page 4
|
Page 5
|
Page 6
|
Page 7
|
Page 8
|
Page 9
|
Page 10
|
Page 11
|
Page 12
|
Page 13
|
Page 14
|
Page 15
|
Page 16
|
Page 17
|
Page 18
|
Page 19
|
Page 20
|
Page 21
| Page 22 |
Page 23
|
Page 24
|
Page 25
|
Page 26
|
Page 27
|
Page 28
|
Page 29
|
Page 30
|
Page 31
|
Page 32
|
Page 33
|
Page 34
|
Page 35
|
Page 36
|
Page 37
|
Page 38
|
Page 39
|
Page 40
|
Page 41
|
Page 42
|
Page 43
|
Page 44
|
Page 45
|
Page 46
|
Page 47
|
Page 48
|
Page 49
|
Page 50
|
Page 51
|
Page 52
|
Page 53
|
Page 54
|
Page 55
|
Page 56
|
Page 57
|
Page 58
|
Page 59
|
Page 60
|
Page 61
|
Page 62
|
Page 63
|
Page 64
|
Page 65
|
Page 66
|
Page 67
|
Page 68
|
Page 69
|
Page 70
|
Page 71
|
Page 72
|
Page 73
|
Page 74
|
Page 75
|
Page 76
|
Page 77
|
Page 78
|
Page 79
|
Page 80
|
Page 81
|
Page 82
|
Page 83
|
Page 84
|
Page 85
|
Page 86
|
Page 87
|
Page 88
|
Page 89
|
Page 90
|
Page 91
|
Page 92
|
Page 93
|
Page 94
|
Page 95
|
Page 96
|
Page 97
|
Page 98
|
Page 99
|
Page 100
|
Page 101
|
Page 102
|
Page 103
|
Page 104
|
Page 105
|
Page 106
|
Page 107
|
Page 108
|
Page 109
|
Page 110
|
Page 111
|
Page 112
|
Page 113
|
Page 114
|
Page 115
|
Page 116
|
Page 117
|
Page 118
|
Page 119
|
Page 120
|
Page 121
|
Page 122
|
Page 123
|
Page 124
|
Page 125
|
Page 126
|
Page 127
|
Page 128
|
Page 129
|
Page 130
|
Page 131
|
Page 132
|
Page 133
|
Page 134
|
Page 135
|
Page 136
|
Page 137
|
Page 138
|
Page 139
|
Page 140
|
Page 141
|
Page 142
|
Page 143
|
Page 144
|
Page 145
|
Page 146
|
Page 147
|
Page 148
|
Page 149
|
Page 150
|
Page 151
|
Page 152
|
Page 153
|
Page 154
|
Page 155
|
Page 156
|
Page 157
|
Page 158
|
Page 159
|
Page 160
|
Page 161
|
Page 162
|
Page 163
|
Page 164
|
Page 165
|
Page 166
|
Page 167
|
Page 168
|
Page 169
|
Page 170
|
Page 171
|
Page 172
|
Page 173
|
Page 174
|
Page 175
|
Page 176
|
Page 177
|
Page 178
|
Page 179
|
Page 180
|
Page 181
|
Page 182
|
Page 183
|
Page 184
|
Page 185
|
Page 186
|
Page 187
|
Page 188
|
Page 189
|
Page 190
|
Page 191
|
Page 192
|
Page 193
|
Page 194
|
Page 195
|
Page 196
|
Page 197
|
Page 198
|
Page 199
|
Page 200
|
Page 201
|
Page 202
|
Page 203
|
Page 204
|
Page 205
|
Page 206
|
Page 207
|
Page 208
|
Page 209
|
Page 210
|
Page 211
|
Page 212
|
Page 213
|
Page 214
|
Page 215
|
Page 216
|
Page 217
|
Page 218
|
Page 219