Conservation news
Founded in 1999, Mongabay is a leading provider of environmental science and conservation news.
Oil, wildlife, and people: competing visions of development collide in Virunga National Park
(07/07/2014) What does SOCO's withdrawal really mean for the future of Virunga National Park? - Part II. Located in the eastern DRC, Virunga is the first national park created in Africa, a World Heritage Site and home to mountain gorillas, of which fewer than 900 remain. As such, SOCO's announcement to suspend activities followed in the wake of a concerted campaign led by WWF to "draw the line" to save Virunga from devastation by prospective oil drilling.


They think, therefore they spread: plants can make complex conditional decisions


(07/07/2014) Strong memory, being able to predict the future, and acting based on one's surroundings are traits typically associated only with the most advanced types of animals. However, a team of German and Dutch scientists from the Helmholtz Center for Environmental Research (UFZ) and the University of Göttingen found ecological evidence that plants also have these abilities.


Price of ivory triples in China

(07/07/2014) In the last four years the price of ivory in China has tripled, according to new research from Save the Elephants. The news has worrying implications for governments and conservationists struggling to save elephants in Africa amidst a poaching epidemic, which has seen tens-of-thousands of elephants butchered for their tusks across the continent annually


APP: Indonesia needs a new business model


(07/04/2014) In response to news that Indonesia has now surpassed Brazil as the world's top deforester, the head of sustainability at one of Indonesia's biggest forestry companies is calling for a new business model in how the Southeast Asian nation manages its forest. In a letter published Friday, Aida Greenbury, Asia Pulp & Paper's Managing Director Sustainability, said Indonesia needs to take a more comprehensive approach to tackling deforestation.


Do Indonesians really want more big plantations?

(07/04/2014) How to best use Indonesia's land resources? This is one of the more crucial questions facing the Presidential candidates in Indonesia's upcoming elections.


No restrictions: Japan's demand for illegal wood driving rampant deforestation in Siberia


(07/03/2014) Illegal logging is taking a huge toll on forests around the world. In response, many countries have banned the import of timber whose legal harvest cannot be verified. However, Japan has made no strides to reduce its import of illegal timber. Instead, it is knowingly importing mass quantities of wood sourced from vulnerable forests in Siberia, according to a recent report.


A fine line: new program predicts when human impact becomes too much


(07/03/2014) Scientists at Stanford University recently unveiled a new modeling program that can predict the response of the environment to the land-use changes of human communities. Using their model, they found that natural resources can support humanity – up to a certain point.


U.S should sanction Mozambique for its role in elephant, rhino poaching, urges NGOs

(07/03/2014) Two prominent NGOs U.S should sanction Mozambique for its role in elephant, rhino poaching, urges NGOsare petitioning the U.S government to slap Mozambique with trade sanctions due to the country's role in regional poaching. The groups contend that Mozambique has done little to combat both its own poaching epidemic or stop its nationals from spilling over the border to kill rhinos and elephants in South Africa and Tanzania.


Next big idea in forest conservation? The 'double-edged sword' of democracy


(07/03/2014) Dr. Douglas Sheil considers himself an ecologist, but his research includes both conservation and management of tropical forests. Currently teaching at the Norwegian University of Life Sciences (NMBU) Sheil has authored and co-authored over 200 publications including scholarly articles, books, and popular articles on the subject.


A children's book inspired by murder: the 25th anniversary of 'The Great Kapok Tree'


(07/03/2014) "The Great Kapok Tree" was written by Lynne Cherry in response to the murder of Brazilian environmental activist Chico Mendes, who was assassinated by a rancher in 1988 in Brazil. Mendes' murder was a significant international incident galvanizing support for environmental activists working to protect the Amazon forest.


On a whim: Equatorial Guinea building new capital city in the middle of the rainforest


(07/02/2014) More than 8,000 hectares of rainforest are under threat as the nation builds a new $600 million capital city from scratch. Called Oyala, and also known as Djibloho, the city is expected be completed by 2020 and house up to 200,000 people -- about an eighth of the entire population of Equatorial Guinea.


Horror movie bugs: new wasp species builds nest with the bodies of dead ants


(07/02/2014) If ants made horror movies this is probably what it would look like: mounds of murdered ants sealed up in a cell. The villain of the piece—at least from the perspective of the ants—is a new species of spider wasp, which scientists have aptly dubbed the bone-house wasp (Deuteragenia ossarium) in a paper released today in PLOS ONE.


NASA successfully launches carbon-sensing satellite

(07/02/2014) On Wednesday NASA successfully launched the Orbiting Carbon Observatory-2 (OCO-2), a satellite that will track carbon dioxide in the atmosphere.


Bigfoot found? Nope, 'sasquatch hairs' come from cows, raccoons, and humans


(07/01/2014) Subjecting 30 hairs purportedly from bigfoot, the yeti, and other mystery apes has revealed a menagerie of sources, but none of them giant primates (unless you count humans). Using DNA testing, the scientists undertook the most rigorous and wide-ranging examination yet of evidence of these cryptic—perhaps mythical—apes, according to a new study in the Proceedings of Royal Society B.


On the brink of extinction: Javan rhino has new enemy in invasive palm


(07/01/2014) The last of Indonesia's critically endangered Javan rhinoceroses have survived poachers, rapid deforestation and life in the shadow of one of the archipelago's most active volcanoes. But an invasive plant is now posing a new threat to the world's rarest species of rhino.


On babies and motherhood: how giant armadillos are surprising scientists (photos)


(07/01/2014) Until ten years ago scientist's knowledge of the reproductive habits of the giant armadillo— the world's biggest— were basically regulated to speculation. But a long-term research project in the Brazilian Pantanal is changing that: last year researchers announced the first ever photos of a baby giant armadillo and have since recorded a second birth from another female.


Oil palm plantations degrade local water quality relative to community forests

(06/30/2014) Oil palm plantations are not only encroaching on forests, they are also degrading water quality, finds a new study published in the Journal of Geophysical Research: Biogeosciences.


Malaysian citizens want govt to spend more to save native rainforests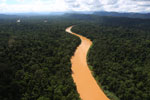 (06/30/2014) As developing countries reach upper middle income (UMI) status, their populations are willing to pay increasing amounts toward tropical forest conservation, yet government spending on these programs lags far behind, concludes a study available today in the PNAS Online Early Edition.


Super cute, but tiny, elephant-relative discovered in Namibia


(06/30/2014) Forget marsupials, the world's strangest group of mammals are actually those in the Afrotheria order. This superorder of mammals contains a motley crew that at first glance seems to have nothing in common: from elephants to rodent-sized sengi. Last week, scientists announced the newest, and arguably cutest, member of Atrotheria: the Etendeka round-eared sengi.


New report: illegal logging keeps militias and terrorist groups in business


(06/30/2014) Released last week by the United Nations Environment Programme (UNEP) during the first United Nations Environment Assembly in Nairobi, Kenya, a new report found that together with other other illicit activities such as poaching, illegal deforestation is one of the top money-makers for criminal groups like Boko Haram and Al-Shabaab.


Featured video: What would you change in conservation?

(06/30/2014) What would you change in conservation? It's a simple question, but like so many fundamental quandaries it's bound to elicit a wide diversity of answers. Recently, a pair of students in the MSc Conservation Science program at Imperial College London posed this question to their fellow students, recording a fascinating string of ideas about the future of conservation.


Despite moratorium, Indonesia now has world's highest deforestation rate


(06/29/2014) Despite a high-level pledge to combat deforestation and a nationwide moratorium on new logging and plantation concessions, deforestation has continued to rise in Indonesia, according to a new study published in Nature Climate Change. Annual forest loss in the southeast Asian nation is now the highest in the world, exceeding even Brazil.


Is REDD+ bad for wildlife? New study says lowland forest protection bias unfair, urges change


(06/27/2014) A study published this week found tree cover does not necessarily correlate with habitat importance. It suggests that using such a metric may be leading to false assumptions of habitat importance, and that REDD+ and other carbon-centric conservation programs may actually be propelling some species towards extinction.


Ecotopia emerging: sustainable forests and healthy livelihoods go hand in hand


(06/26/2014) Callenbach's 1975 utopian novel Ecotopia became wildly popular among environmental-leaning folks, hippies, and progressive thinkers of the day. Set in 1999, the novel took place twenty years after Oregon, Washington and northern California seceded from the union to form an imperfect, in-process sustainable nation. For a book that has fallen mostly off the radar, certain aspects of Ecotopian society fall remarkably in line with research of Arun Agrawal, a professor of political science at the University of Michigan.


Next big idea in forest conservation? Playing games to understand what drives deforestation


(06/26/2014) Dr. Claude Garcia plays games, but you won't find him betting his shirt at the casino. As leader of the Forest Management and Development Research Group at ETH Zürich, Garcia and his team use participatory modeling and role-playing games, merged with more traditional disciplinary sciences such as ecology, economics, and sociology to understand and manage complex landscape change in the tropics.


'Exciting implications' for conservation: new technology brings the lab to the field


(06/26/2014) Times have changed, and technological advancements have scaled down scientific equipment in terms of both size and cost. Among them are the tools and procedures needed to conduct molecular genetic analysis. A study published this week explored the potential applications of this new technology, and found that it allows both researchers and novices alike to analyze DNA in the field easily, cheaply, and effectively.


Unrelenting population growth driving global warming, mass extinction


(06/26/2014) It took humans around 200,000 years to reach a global population of one billion. But, in two hundred years we've septupled that. In fact, over the last 40 years we've added an extra billion approximately every dozen years. And the United Nations predicts we'll add another four billion—for a total of 11 billion—by century's end.


Super warm oceans make May the hottest on record

(06/26/2014) Last month was the warmest May on record, according to new data from the National Oceanic and Atmospheric Administration (NOAA). While global land surface temperatures were the fourth warmest, it was the ocean surface where things really heated up.


Despite early headwinds, Indonesia's biggest REDD+ project moves forward in Borneo


(06/26/2014) Just over a year ago, the Indonesian government officially approved the country's first REDD+ forest carbon conservation project: Rimba Raya, which aims to protect more than 64,000 hectares of peat forest in Central Kalimantan. The approval came after years of delays from the Ministry of Forestry and a substantial reduction in the project's concession area. But InfiniteEarth, the firm behind the project, pressed on. Now a year later, Rimba Raya's is not only still in business, but is scaling up its operations.


Is Cameroon becoming the new Indonesia? Palm oil plantations accelerating deforestation


(06/25/2014) The potential for new laws governing the use of forest resources this year in Cameroon promises an opportunity to stem the rapid loss of forest in the biologically diverse country. But the changes may ultimately not be what's needed to save Cameroon's forests.


Brazil should convert pasture, not cerrado for biofuel crops

(06/25/2014) If Brazil wants to respect its commitment to reducing greenhouse gas emissions it should target low productivity cattle pasture rather than native cerrado for biofuel crops like sugar cane, argues a new paper published in Nature Climate Change.


Global warming puts trillions at stake, but mitigation offers big economic gains

(06/25/2014) Two new reports this week look at the economics of global warming. The first, Risky Business, tallies the cost of climate change to the U.S., including tens-of-billions lost to destruction of coastal property, crop failures, drought, wildfires, and heatwaves. In contrast, the second report, by the World Bank, turns climate change economics on its head.


Size matters: small animals abundant in fragmented forests, large animals not


(06/25/2014) Habitat fragmentation and hunting are both distinct critical issues facing forests today that require their own countermeasures. Yet, much research has chosen to conflate the two, potentially leading to ineffective ecosystem management. According to a new study, the interaction of both factors can contradict the effects of hunting and fragmentation alone, revealing a research and management gap that urgently needs to be filled.


Logging in Vietnam still affecting rare trees 30 years later


(06/25/2014) Restricted geographic ranges, high habitat specificity, and small local population sizes all contribute to the natural rarity of many tree species. Anthropogenic activities such as selective logging can compound this rarity by modifying habitats and altering the competitive balance among tree species. According to a new study, previous logging in the forests of Vietnam continue to put rare tree species at risk.


A taste for wildlife: what's driving bushmeat hunting in Tanzania?


(06/25/2014) Barbed-wire snares, spent shotgun shells, the lingering smell of gunpowder, and strips of curing meat: glimpses from a bushmeat hunt. Bushmeat hunting is the illegal hunting of wildlife for food and income. A new study reports regular bushmeat consumption by a large proportion of Tanzania's tribal populations. Co-authors Silvia Ceppi and Martin Nielson were hunting for their own answers: who was eating bushmeat and why?


Discarded cell phones to help fight rainforest poachers, loggers in real-time


(06/24/2014) A technology that uses discarded mobile phones to create a real-time alert system against logging and poaching will soon be deployed in the endangered rainforests of Central Africa. Rainforest Connection (RFCx), a San Francisco-based non-profit startup, is partnering with the Zoological Society of London (ZSL) to install its real-time anti-deforestation technology at sites in Cameroon. 30 RFCx devices — recycled from old Android handsets — will monitor 10,000 hectares or nearly 40 square miles of rainforest, listening for audio signals associated with logging and poaching.


Study finds tiny cloud forests have big biodiversity


(06/24/2014) Tropical cloud forests are situated in mountains and are characterized by the frequent presence of low-level clouds. Scientists have always regarded them as having high biodiversity, but a recent study adds a new dimension: it found cloud forests contain a significant and surprising array of tree and bromeliad species, even when they are relatively small.


Indonesian presidential candidates ignore environmental concerns as haze returns

(06/24/2014) New data from NASA and the World Resources Institute (WRI) show that peat fires are again burning in Sumatra, yet both leading presidential contenders are ignoring the issue of climate change, says a top official.


'Hope springs eternal': the anniversary of the death of Lonesome George


(06/24/2014) Today marks the two-year anniversary of the death of Lonesome George, the world's last Pinta Island tortoise. The occasion calls attention to the declines of many turtle and tortoise species, which together form one of the most swiftly disappearing groups of animals on the planet.


Scientists: Neotropical otter should not be considered threatened

(06/24/2014) The Neotropical otter (Lontra longicaudis) should not be considered threatened by the IUCN Red List, according to a new paper in mongabay.com's open-access journal Tropical Conservation Science. Currently the species is listed as Data Deficient, but was considered Vulnerable until 2000.


Shot Egyptian vulture leads conservationists to bizarre black-market for bird parts


(06/24/2014) Around 11 AM on Thursday, 27 February 2014, Angoulou Enika was lying hidden in the tall grass on the side of a large water hole in the Sahel region of Niger. He was staying as quiet as he could while aiming his custom-made rifle at an Egyptian vulture which had landed nearby to drink from the water. He took a breath, held it and fired. The large bird fell to its side.


Is the banteng making a comeback? Researchers find new population in Cambodia


(06/23/2014) Researchers have discovered a new population of banteng, a species of wild cattle, in northwestern Cambodia. The discovery was announced June 4, 2014 by Fauna and Flora International (FFI), and efforts are underway to implement conservation initiatives to protect the area and its newfound banteng, which are listed as Endangered by the IUCN.


Wilmar to investigate palm oil company allegedly destroying orangutan forest


(06/23/2014) A Wilmar supplier is allegedly destroying orangutan habitat in Indonesian Borneo, potentially putting it in breach of the plantation giant's zero deforestation policy, reports Greenomics. According to analysis of satellite data by Greenomics, PT Sumatera Jaya Agro Lestari (SJAL) has cleared an area of forest that is classified as orangutan habitat.


World Heritage Committee takes ten minutes to reject Australia's bid to strip forests of protection

(06/23/2014) The UNESCO World Heritage Committee today unanimously rejected a controversial proposal by the Australian government to strip 74,000 hectares of temperate rainforest from a World Heritage Site in Tasmania. In an embarrassing setback for the Australia government, it took the committee less than ten minutes to unanimously reject the proposal.


Monkeys reset camera trap, capture first-ever images of flat-headed cats in park


(06/23/2014) Photo trapping is a popular technique for gathering images and information about elusive wildlife. Recently, camera traps captured the first-ever images of wild flat-headed cats in the Pasoh Forest Reserve, an unexpected find in the forestland southeast of Kuala Lumpur, according to a new report in mongabay.com's open access journal Tropical Conservation Science.


Dying for Fiji's Sea Cucumbers


(06/23/2014) Redfish, Greenfish, Blackfish. Pinkfish, Curryfish, Lollyfish. They sound like Dr. Seuss characters and certainly look like they should be. Yet these sausage-shaped, rubbery animals stippled in fleshy bumps are not fish at all, but an invertebrate in the group that includes sea stars, sea urchins and sand dollars. Sea cucumbers, referred to as 'bêche-de-mer' or 'trepang' when sold as dried food have a high value - an individual in Fiji can fetch about $80 US.


Regional court kills controversial Serengeti Highway


(06/23/2014) The Serengeti ecosystem got a major reprieve last week when the East African Court of Justice (EACJ) ruled against a hugely-controversial plan to build a paved road through Tanzania's Serengeti National Park. The court dubbed the proposed road 'unlawful' due to expected environmental impacts.


Broken promises no more? Signs Sabah may finally uphold commitment on wildlife corridors


(06/23/2014) Five years ago an unlikely meeting was held in the Malaysian state of Sabah to discuss how to save wildlife amid worsening forest fragmentation. Although the meeting brought together longtime adversaries—conservationists and the palm oil industry—it appeared at the time to build new relationships and even point toward a way forward for Sabah's embattled forests.


Deforestation drives tigers into contact, conflict with humans


(06/20/2014) Conflicts between tigers and humans will continue to increase unless the destruction and loss of Sumatra's forests is halted, warns Dr. Erni Suyanti Musabine, a wildlife conservation veterinarian with Indonesia's Ministry of Forestry. According to Yanti, the critically endangered Sumatran tiger (Panthera tigris sumatrae) traditionally lived deep in the forest, but habitat loss forces them closer to human habitation where they are at risk of being hunted or contracting diseases, and are increasingly becoming a nuisance or threat to humans.


The palm oil diet: study finds displaced orangutans have little else to eat


(06/20/2014) In a recent study, researchers assessed how orangutans have adapted to living among oil palm plantations on Borneo. They found that while orangutans have adapted to the island's human-transformed landscapes better than expected, oil palm plantations are unable to sustain orangutan populations in the long-term.



Page 1
|
Page 2
|
Page 3
|
Page 4
|
Page 5
|
Page 6
|
Page 7
|
Page 8
|
Page 9
|
Page 10
|
Page 11
|
Page 12
|
Page 13
|
Page 14
|
Page 15
|
Page 16
|
Page 17
|
Page 18
| Page 19 |
Page 20
|
Page 21
|
Page 22
|
Page 23
|
Page 24
|
Page 25
|
Page 26
|
Page 27
|
Page 28
|
Page 29
|
Page 30
|
Page 31
|
Page 32
|
Page 33
|
Page 34
|
Page 35
|
Page 36
|
Page 37
|
Page 38
|
Page 39
|
Page 40
|
Page 41
|
Page 42
|
Page 43
|
Page 44
|
Page 45
|
Page 46
|
Page 47
|
Page 48
|
Page 49
|
Page 50
|
Page 51
|
Page 52
|
Page 53
|
Page 54
|
Page 55
|
Page 56
|
Page 57
|
Page 58
|
Page 59
|
Page 60
|
Page 61
|
Page 62
|
Page 63
|
Page 64
|
Page 65
|
Page 66
|
Page 67
|
Page 68
|
Page 69
|
Page 70
|
Page 71
|
Page 72
|
Page 73
|
Page 74
|
Page 75
|
Page 76
|
Page 77
|
Page 78
|
Page 79
|
Page 80
|
Page 81
|
Page 82
|
Page 83
|
Page 84
|
Page 85
|
Page 86
|
Page 87
|
Page 88
|
Page 89
|
Page 90
|
Page 91
|
Page 92
|
Page 93
|
Page 94
|
Page 95
|
Page 96
|
Page 97
|
Page 98
|
Page 99
|
Page 100
|
Page 101
|
Page 102
|
Page 103
|
Page 104
|
Page 105
|
Page 106
|
Page 107
|
Page 108
|
Page 109
|
Page 110
|
Page 111
|
Page 112
|
Page 113
|
Page 114
|
Page 115
|
Page 116
|
Page 117
|
Page 118
|
Page 119
|
Page 120
|
Page 121
|
Page 122
|
Page 123
|
Page 124
|
Page 125
|
Page 126
|
Page 127
|
Page 128
|
Page 129
|
Page 130
|
Page 131
|
Page 132
|
Page 133
|
Page 134
|
Page 135
|
Page 136
|
Page 137
|
Page 138
|
Page 139
|
Page 140
|
Page 141
|
Page 142
|
Page 143
|
Page 144
|
Page 145
|
Page 146
|
Page 147
|
Page 148
|
Page 149
|
Page 150
|
Page 151
|
Page 152
|
Page 153
|
Page 154
|
Page 155
|
Page 156
|
Page 157
|
Page 158
|
Page 159
|
Page 160
|
Page 161
|
Page 162
|
Page 163
|
Page 164
|
Page 165
|
Page 166
|
Page 167
|
Page 168
|
Page 169
|
Page 170
|
Page 171
|
Page 172
|
Page 173
|
Page 174
|
Page 175
|
Page 176
|
Page 177
|
Page 178
|
Page 179
|
Page 180
|
Page 181
|
Page 182
|
Page 183
|
Page 184
|
Page 185
|
Page 186
|
Page 187
|
Page 188
|
Page 189
|
Page 190
|
Page 191
|
Page 192
|
Page 193
|
Page 194
|
Page 195
|
Page 196
|
Page 197
|
Page 198
|
Page 199
|
Page 200
|
Page 201
|
Page 202
|
Page 203
|
Page 204
|
Page 205
|
Page 206
|
Page 207
|
Page 208
|
Page 209
|
Page 210
|
Page 211
|
Page 212
|
Page 213
|
Page 214
|
Page 215