Conservation news
Founded in 1999, Mongabay is a leading provider of environmental science and conservation news.
Colorful bird on remote Indonesian islands should be classified as distinct species, say scientists

(06/04/2014) A colorful bird found on the Wakatobi islands south of Sulawesi in Indonesia is sufficiently distinct from birds in nearby areas to be classified as a unique species, argue scientists writing in the current issue of the open-access journal PLoS ONE.


Ignoring boreal forests could speed up global warming


(06/04/2014) Greenhouse gas emissions from human activity have caused global air and sea surface temperatures to rise approximately 0.8 Celsius (1.4 degrees Fahrenheit) since the beginning of the 20th century, contributing to a plethora of problems worldwide from rising sea levels to desertification. A new study finds that global temperatures may start to increase even faster if more is not done to protect Earth's boreal forests.


April 2014: 350th month in a row with temperatures above average

(06/04/2014) This April was notable for being the 350th month in a row where temperatures exceeded the 20th Century average. This means, monthly global temperatures have not fallen below average for even a single month since February 1985.


RSPO plantations publicly mapped for the first time

(06/04/2014) A global map of the world's Roundtable on Sustainable Palm Oil (RSPO) certified oil palm plantations is available for the first time.


Intact Amazon forests show possible signs of global warming impact


(06/04/2014) Climate change may be taking a hidden toll on intact rainforests in the heart of the Amazon, finds a new study based on 35 years of observations. The research, published in the journal Ecology, focused on the ecological impacts of fragmentation but unexpectedly found changes in the control forests.


Guatemala establishes new reserve for endangered animals


(06/04/2014) Guatemala has formally established a 19,000-hectare (47,000-acre) reserve that protects several endangered bird and amphibian species, reports the American Bird Conservancy (ABC). The Sierra Caral Water and Forest Reserve received overwhelming support during a vote by Guatemala's Congress. It is the first new protected area designated by Congress since 2005


Philippines targets 8M ha for palm oil production

(06/04/2014) The Philippines is proposing to convert 8 million hectares (20 million acres) of 'idle, denuded and unproductive lands' for oil palm plantations, reports the Philippine Daily Inquirer.


Lab-grown meat: a taste of the future?


(06/03/2014) A new analysis describes one solution to the environmental and ethical problems of conventional meat production: growing meat without growing the animal. The authors write that cultured meat could someday replace conventional meat – if its price is brought down and its quality is improved.


Singapore intercepts massive illegal shipment of Madagascar rosewood


(06/03/2014) Authorities in Singapore have made the largest-ever international seizure of rosewood logs, providing further evidence that industrial-scale smuggling of Madagascar's rainforest timber continues despite an official ban on the trade. Details of the seizure remain sparse since the investigation is still active, but leaked correspondence between officials in Madagascar indicates that the shipment amounts to 3,000 tons, or more than 29,000 illicit rosewood logs.


Four donors pledge $80 million for big cats

(06/03/2014) Four donors from around the world have pledged $80 million to cat conservation group, Panthera. The money will fund projects working to preserve tigers, lions, jaguars, cheetahs, leopards, snow leopards, and cougars over ten years.


Turning point? U.S. and China announce major actions on global warming

(06/03/2014) Could 2014 be a turning point for efforts to slash global greenhouse gas emissions? Maybe: in less than 24 hours the world's two largest emitters of carbon dioxide announced plans to finally rein-in the gas most responsible for global warming.


Newly discovered snails at risk of extinction


(06/03/2014) A team of Dutch and Malaysian scientists has recently completed one part of a taxonomic revision of Plectostoma, a genus of tiny land snails in Southeast Asia. Unfortunately, according to their article published recently in ZooKeys, it seems that these animals may be going extinct as fast as they are being discovered.


Logger continues to destroy Indonesian rainforest despite green promises (Photos)


(06/03/2014) Indonesian logging giant Asia Pacific Resources International Limited (APRIL) is continuing to destroy endangered rainforests on Sumatra despite a high profile commitment to clean up its operations, reveal aerial photos captured by Greenpeace last month.


Animals bark, screech, and howl for action on global warming (PHOTOS)


(06/02/2014) On May 22nd, zoos and aquariums around the world creatively called for action on global warming. Dubbed 'Show the Wild Face of Climate Change,' the event involved over 70 institutions from 25 countries on all seven continents.


After throwing out referendum, Ecuador approves oil drilling in Yasuni's embattled heart

(06/02/2014) By 2016, oil drilling will begin in what scientists believe is the most biodiverse place on the planet: remote Yasuni National Park. Late last month, Ecuador announced it had approved permits for oil drilling in Yasuni's Ishpingo-Tambococha-Tiputinin (ITT) block, an untouched swathe of primary rainforest covering around 100,000 hectares or about 10 percent of the park.


Of jaguars and loggers: new film to showcase one of the least-known regions in the deep Amazon


(06/02/2014) In August, three young filmmakers will go on the expedition of a lifetime. They plan to spend six months filming in one of the most remote, most spectacular, and most endangered ecosystems on the planet: the Las Piedras River system. This unprotected swathe of Amazon jungle contains massive anacondas, prowling jaguars, and even uncontacted indigenous people.


U.S. govt puts financial muscle behind REDD+ forest carbon conservation projects

(05/30/2014) The U.S. government will put financial support behind an initiative that offers finance for emissions-reducing forest conservation projects.


Culling elephants leaves an impact on their social structure decades later


(05/30/2014) Researchers from the University of Sussex studied and compared the social behavior of two elephant herds: one that was severely affected by 1970 and 1980 culling operations and a herd that was relatively unaffected. In their results, the researchers found that the elephant herds that had experienced culling operations exhibited signs of post traumatic stress disorder.


Acoustic surveying: new monitoring technique beats bats at their own game


(05/29/2014) Species monitoring can be a very invasive form of research. However, the use of non-invasive techniques made possible through advancements in technology has been on the rise. A new study published in Ecological Informatics examined one such technique: an innovative and inexpensive non-invasive monitoring tool, known as acoustic surveying.


Tipping the scale: how a political economist could save the world's forests


(05/29/2014) Can Elinor Ostrom's revolutionary ideas halt climate change, improve people's livelihoods, and save the world's forests? The Nobel-prize winning economist famously said, 'There's a five-letter word I'd like to repeat and repeat and repeat: Trust.' Mongabay Special Reporting Initiative Fellow Wendee Nicole reports on Ostrom's innovative ideas of global forest conservation.


Zebras for the win! Africa's longest land migration discovered


(05/29/2014) With food and water scarce in many parts of Africa, many species migrate long-distances in order to survive. A new study published in the journal, Oryx has found a new record-breaker for the continent's longest tracked terrestrial migration: a huge group of zebras that traveled a total distance of 500 kilometers (300 miles).


Facebook, Twitter to carry 24 hours of live rainforest animal sightings on Monday


(05/29/2014) Next week, the rainforests of Southeast Asia are going live. On June 2nd, 11 organizations in the region will be posting lives video, photos, and wildlife sightings over 24 hours on Facebook and Twitter (see #rainforestlive). Dubbed Rainforest: Live, the initiative hopes to raise awareness of quickly vanishing ecosystems and species.


Extinction rates are 1,000x the background rate, but it's not all gloomy


(05/29/2014) Current extinction rates are at the high end of past predictions, according to a new paper published today in Science, however conservation efforts combined with new technologies could make a big difference. New research led by Stuart Pimm of Duke University argues that humans have pushed the current extinction rate to 1,000 times the historical rate.


Next big idea in forest conservation? Making community protection economically viable


(05/29/2014) After years of discovering new species and setting up protected areas, Neil Burgesses' career changed. Currently he is focused on community-driven conservation and on how to improve protected areas in Africa's Eastern Arc mountains region. Neil Burgess has worked in the conservation field for over twenty years, mainly in Tanzania where he also lived for five years.


Singapore: companies must accept responsibility in addressing haze crisis

(05/29/2014) Corporations will have to step up as better stewards of the environment if Southeast Asia's haze crisis is to be addressed, said Singaporean officials during a meeting held last week to discuss regional sustainability efforts.


Trawling: destructive fishing method is turning seafloors to 'deserts'


(05/28/2014) Previous research has linked trawling to significant environmental impacts, such as the harvest of large numbers of non-target species, collectively termed "bycatch," as well as destruction of shallow seabeds. Now, a new study finds this method is also resulting in long-term, far-reaching consequences in the deeper ocean and beyond.


Logging, fires take a hidden toll on Amazon rainforest


(05/28/2014) Selective logging and small sub-canopy fires are degrading vast areas of rainforest across the Brazilian Amazon, contributing to largely hidden carbon emissions, argues a study published today in Global Change Biology. The research found stark differences in carbon storage between primary forests, selectively logged forests, logged and burned forests, and regrowing or secondary forests.


Greenpeace accuses controversial palm oil company and Cameroon government of illegal logging


(05/28/2014) Greenpeace has just accused one of the world's most controversial oil palm companies, Herakles Farms, of colluding with top government officials to sell off illegally logged timber to China. According to a new report, an agreement between Cameroon's Minister of Forestry and Herkales Farms—through a shell company—could torpedo the country's agreement with the EU for better timber management.


Scientists discover 'shark' in Sumatran forest


(05/28/2014) In early April, Indonesian scientists discovered an endangered freshwater fish in the Harapan rainforest of Jambi. The species had never before been observed in the region, and is declining elsewhere throughout its range.


Pope Francis: 'if we destroy Creation, Creation will destroy us!'

(05/28/2014) Pope Francis I, who named himself after the nature-loving Saint from Assisi, spoke about the need to safeguard creation during an audience at the Vatican last week.


Indonesia's haze from forest fires kills 110,000 people per year


(05/28/2014) Haze caused by burning peat forests in Indonesia kills an average of 110,000 people per year and up to 300,000 during el Niño events, while releasing hundreds of millions of tons of greenhouse gases into the atmosphere, warns a new report from Greenpeace. Sumatra: Going up in smoke argues that peatland and forest protection are the best way to protect the region from the effects of haze.


Upcoming EPA Proposal could put America back on track to lead on global warming


(05/27/2014) A regulation proposal on coal plants that the U.S. Environmental Protection Agency (EPA) will release in June could be great news for the climate change initiative. The EPA rolled out tough regulations on new constructions of electric generation facilities in January, but the nation's 1,500 existing power plants were left unaffected.


Deutsche Bank dumps controversial palm oil company

(05/27/2014) Deutsche Bank has sold its stake in Bumitama, an Indonesian palm company that has been embroiled in controversy over alleged destruction of rainforests and peatlands in Borneo, reports Friends of the Earth Europe.


Plan to shrink World Heritage forest in Tasmania 'clearly inappropriate,' says IUCN


(05/27/2014) The International Union for Conservation of Nature (IUCN) has roundly criticized Australia's proposal to remove 74,000 hectares of temperate rainforest from the World Heritage Committee. In a report to the global organization, the IUCN argues that the removal of these forests would "impact negatively" on the site's overall value.


April ties for warmest on record


(05/27/2014) Globally, this April was a scorcher, tying with 2010 for the warmest April on record, according to new data released by the National Oceanic and Atmospheric Administration (NOAA) last week. This makes 2014, to date, the sixth warmest year on record going back to 1880 when comparing the first four months.


RSPO calls for greater collaboration on zero deforestation commitments

(05/27/2014) The Roundtable on Sustainable Palm Oil (RSPO) today called for greater collaboration between it and the leading implementer of zero deforestation policies, The Forest Trust (TFT).


Brunei to limit agricultural land use to 1 percent

(05/25/2014) The tiny, but densely forested country of Brunei Darussalam says it will limit agricultural conversion to one percent of its land mass, preserving much of the rest for biodiversity and other services afforded by healthy forest ecosystems.


Oxfam: Despite zero deforestation pledges, big food companies remain weak on climate commitments

(05/25/2014) Despite several high profile pledges to phase deforestation out of their supply chains, big food and drink companies still aren't doing enough to curb their annual emissions of 264 million tons of greenhouse gas emissions, argues a new report published by Oxfam.


Indonesia's forests increasingly empty of wildlife

(05/25/2014) Tropical rainforests are the most species-rich ecosystems in the world. Each square kilometer has hundreds of tree species, birds and mammals, and countless other creatures. The idea that these forests could be devoid of animal life therefore seems ludicrous. Still the disappearance of birds, mammals and other species is what is happening in Indonesian forests. The 'empty forest' syndrome is becoming an increasing reality in this country.


Malaysian palm oil giant loses PNG case, plantations declared illegal

(05/24/2014) Papua New Guinea's National Court has declared two leases held by Malaysia-based Kuala Lumpur Kepong Berhad (KLK) null and void, and ordered the government to cancel the licenses to convert nearly 40,000 hectares of rainforest and community forest for oil palm plantations, reports the Rainforest Action Network (RAN).


Extreme cold and drought in U.S. linked to climate change


(05/23/2014) The U.S. Midwest and Northeast experienced one of the coldest, snowiest winters on record this past season. This might seem contrary to warming trends forecast by climate scientists, but a new analysis released today in Science points out that climate change caused by greenhouse gas emissions may actually have contributed to the well-below average temperatures seen in parts of the U.S.


Indonesian activist: strong company commitments, media push government on forest issues


(05/23/2014) Indonesia has become notorious for its high rate of forest loss, but there are nascent signs of progress. The central government has implemented a moratorium across some 14.5 million hectares of forest and peatlands, while a handful of Indonesian companies have adopted policies that establish social and environmental safeguards.


WWF accuses APRIL of breaking sustainability commitment by logging rainforest in Borneo

(05/23/2014) Environmental group WWF has accused Singapore-based pulp and paper giant Asia Pacific Resources International Limited (APRIL) of breaking its recent conservation commitment by destroying rainforest in Indonesian Borneo. APRIL has denied the charges.


Emerald-faced reptile discovered in Ecuador

(05/23/2014) Researchers have discovered a colorful lizard species in the cloud forests of northwestern Ecuador.


Next big idea in forest conservation? Linking public health and environmental degradation


(05/22/2014) Dr. Christopher Golden is an explorer on a mission. As both an epidemiologist and ecologist, he is investigating and expanding the interface between human and ecosystem health. This year, Golden was appointed the Director of Wildlife Conservation Society's HEAL (Health & Ecosystems: Analysis of Linkages) Program.


Zero-deforestation commitments pose acute challenges for commercial giants in the palm oil industry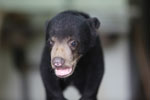 (05/22/2014) The path to zero-deforestation appears to be paved with good intentions, but how successful are these companies in staying on that path? A controversial proposal to construct a refinery in the wildlife-rich Balikpapan Bay in Indonesian Borneo highlights the challenges faced by both palm oil companies and conservationists in the face of zero-deforestation commitments.


DRC seeks $1B to save its rainforest

(05/22/2014) The Democratic Republic of Congo is seeking a billion dollars for a plan to protect up to 9 million hectares of rainforests, reports the Financial Times.


Olinguito, tinkerbell, and a dragon: meet the top 10 new species of 2013


(05/22/2014) Out of around 18,000 new species described and named last year, scientists have highlighted ten in an effort to raise awareness about the imperiled biodiversity around us. Each species—from a teddy-bear-like carnivore in the Andes to a microbe that survives clean rooms where spaceships are built—stands out from the crowd for one reason or another.


Happy Amazon: $215 million raised for world's largest protected area network


(05/21/2014) By all standards the Amazon Region Protected Areas (ARPA) program is gargantuan: the network includes over 90 parks, covers 51 million hectares, and comprises 15 percent of Brazil's Amazon. But protecting an area bigger than Spain isn't cheap or easy. Today, a broad coalition of government donors and private funders have announced $215 million to secure ARPA over the next 25 years.


Timber concessions in Sumatra have high conservation value, according to report


(05/21/2014) Five industrial plantation forest concessions that supply timber to PT Asia Pulp and Paper (APP) in South Sumatra – locally known as HTI concessions – are areas of high conservation value inhabited by endangered Sumatran tigers (Panthera tigris sumatrae) and other endemic wildlife, according to a report issued at the end of March.



Page 1
|
Page 2
|
Page 3
|
Page 4
|
Page 5
|
Page 6
|
Page 7
|
Page 8
|
Page 9
|
Page 10
|
Page 11
|
Page 12
|
Page 13
|
Page 14
|
Page 15
|
Page 16
|
Page 17
|
Page 18
| Page 19 |
Page 20
|
Page 21
|
Page 22
|
Page 23
|
Page 24
|
Page 25
|
Page 26
|
Page 27
|
Page 28
|
Page 29
|
Page 30
|
Page 31
|
Page 32
|
Page 33
|
Page 34
|
Page 35
|
Page 36
|
Page 37
|
Page 38
|
Page 39
|
Page 40
|
Page 41
|
Page 42
|
Page 43
|
Page 44
|
Page 45
|
Page 46
|
Page 47
|
Page 48
|
Page 49
|
Page 50
|
Page 51
|
Page 52
|
Page 53
|
Page 54
|
Page 55
|
Page 56
|
Page 57
|
Page 58
|
Page 59
|
Page 60
|
Page 61
|
Page 62
|
Page 63
|
Page 64
|
Page 65
|
Page 66
|
Page 67
|
Page 68
|
Page 69
|
Page 70
|
Page 71
|
Page 72
|
Page 73
|
Page 74
|
Page 75
|
Page 76
|
Page 77
|
Page 78
|
Page 79
|
Page 80
|
Page 81
|
Page 82
|
Page 83
|
Page 84
|
Page 85
|
Page 86
|
Page 87
|
Page 88
|
Page 89
|
Page 90
|
Page 91
|
Page 92
|
Page 93
|
Page 94
|
Page 95
|
Page 96
|
Page 97
|
Page 98
|
Page 99
|
Page 100
|
Page 101
|
Page 102
|
Page 103
|
Page 104
|
Page 105
|
Page 106
|
Page 107
|
Page 108
|
Page 109
|
Page 110
|
Page 111
|
Page 112
|
Page 113
|
Page 114
|
Page 115
|
Page 116
|
Page 117
|
Page 118
|
Page 119
|
Page 120
|
Page 121
|
Page 122
|
Page 123
|
Page 124
|
Page 125
|
Page 126
|
Page 127
|
Page 128
|
Page 129
|
Page 130
|
Page 131
|
Page 132
|
Page 133
|
Page 134
|
Page 135
|
Page 136
|
Page 137
|
Page 138
|
Page 139
|
Page 140
|
Page 141
|
Page 142
|
Page 143
|
Page 144
|
Page 145
|
Page 146
|
Page 147
|
Page 148
|
Page 149
|
Page 150
|
Page 151
|
Page 152
|
Page 153
|
Page 154
|
Page 155
|
Page 156
|
Page 157
|
Page 158
|
Page 159
|
Page 160
|
Page 161
|
Page 162
|
Page 163
|
Page 164
|
Page 165
|
Page 166
|
Page 167
|
Page 168
|
Page 169
|
Page 170
|
Page 171
|
Page 172
|
Page 173
|
Page 174
|
Page 175
|
Page 176
|
Page 177
|
Page 178
|
Page 179
|
Page 180
|
Page 181
|
Page 182
|
Page 183
|
Page 184
|
Page 185
|
Page 186
|
Page 187
|
Page 188
|
Page 189
|
Page 190
|
Page 191
|
Page 192
|
Page 193
|
Page 194
|
Page 195
|
Page 196
|
Page 197
|
Page 198
|
Page 199
|
Page 200
|
Page 201
|
Page 202
|
Page 203
|
Page 204
|
Page 205
|
Page 206
|
Page 207
|
Page 208
|
Page 209
|
Page 210
|
Page 211
|
Page 212
|
Page 213