Conservation news
Founded in 1999, Mongabay is a leading provider of environmental science and conservation news.
Invasive species worsen damage from Hawaii's storms
(08/22/2014) Damage from Hurricane Iselle, which recently battered Hawaii's Big Island, was exacerbated by invasion of non-native tree species, say experts who have studied the transformation of Hawaii's native forests. selle, which made landfall on the Big Island on August 7, was the third-strongest tropical cyclone to hit Hawaii since 1950. It caused upwards of $50 million in damage.


Under pressure over pollution complaints, Aceh calls for closure of gold mines

(08/22/2014) In the wake of massive fish die-offs and repeated calls from environmental groups to do more than just talk about the issue, the government of Aceh has called for the closure of all illegal gold mines throughout the province. Several members of the Regional Leadership Coordination Forum signed a written appeal for illegal miners to immediately stop their operations.


Of Prawns and Men on the Bali Strait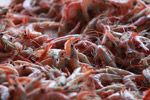 (08/22/2014) Why is shrimp so cheap? The answer: it's not. An in depth look at the shrimp farm industry in Indonesia and the true cost of this universally enjoyed delicacy. This article by Melati Kaye first appeared in the Seashore Issue of the culinary magazine Lucky Peach and was funded under Mongabay.org's Special Reporting Initiatives program.


Have scientists discovered a new primate in the Philippines?


(08/21/2014) Despite some media reports, scientists have not yet discovered a new species of big-eyed, nocturnal primate—known as tarsiers—in the Philippines. Instead what they have discovered is an intriguing population that is genetically-distinct even from nearby relatives, according to a new open-access paper in PLOS ONE.


Running to reforest: communities, NGOs work to save Ugandan reserve in the midst of massive deforestation


(08/21/2014) Stung by massive loss of forest cover in Bugoma central forest reserve, part of a vast chimpanzee habitat in the western part of Uganda, seven private local and international organizations in the east African country have joined hands to raise awareness of forest issues and money for reforestation efforts -- by launching a conservation-themed quarter-marathon.


Next big idea in forest conservation? DNA fingerprinting trees to stem illegal logging


(08/21/2014) As a professor at Texas Tech, Dr. Chuck Cannon has been, among other things, working to create a system of DNA fingerprinting for tropical trees to undercut the global illegal logging trade. 'If we just enforced existing laws and management policies, things would be pretty good, but unfortunately, that is where things fall apart in many tropical countries,' Cannon said.


Selective logging hurts rainforest frogs


(08/21/2014) Selective logging in India's Western Ghats forests continues to affect frogs decades after harvesting ended, finds a new study published in Biotropica. The research assessed frog communities in logged and unlogged forests in Kalakad Mundanthurai Tiger Reserve and found that unlogged forests had twice the density of frogs as areas logged in the 1970s.


Indonesia's forests so damaged they burn whether or not there's drought


(08/21/2014) Air pollution caused by fires set for land-clearing on Sumatra has become a regularly occurrence in Southeast Asia. While these fires are often termed forest fires, the reality is much of the area that burns each year has already been deforested and today mostly consists of grass, scrub, and remnants of what was once forest. But the impacts are nonetheless very substantial, finds a new study published in the journal Scientific Reports.


New skeleton frog from Madagascar is already Critically Endangered


(08/20/2014) Sometimes all it takes is fewer clicks. Scientists have discovered a new species of frog from Madagascar that stuck out because it "clicked" less during calls than similar species. Unfortunately the scientists believe the new species—dubbed the Ankarafa skeleton frog—is regulated to a single patch of forest, which, despite protected status, remains hugely threatened.


Looming mining 'tsunami' set to take Africa by storm


(08/20/2014) Africa remains something of an untapped mineral resource, as the vast majority of extraction occurs elsewhere. However, a new report documents a surging tide of foreign interest in mining in Africa and cautions that the sector's unchecked development and expansion could devastate the environment.


Challenging the 'tragedy of the commons': new documentary explores how humans and nature can coexist (VIDEO)


(08/20/2014) In Guatemala, a vast community forest has prospered for centuries despite an ever-growing population, challenging the idea that human inhabitation of an area will inevitably lead to its ecological degradation.


Why conservationists need a little hope: saving themselves from becoming the most depressing scientists on the planet


(08/19/2014) Here's a challenge: take a conservationist out for a drink and ask them about their work. Nine times out of ten—or possibly more—you'll walk away feeling frustrated, despondent, and utterly hopeless. Yet a few conservation scientist are not just trying to save species from extinction, but also working to save their field—their life's work—from slipping into total despair.


Logging of Russian Far East damaging tiger habitat, few intact forests protected (Part I)


(08/19/2014) The destruction of Russian forests to supply timber to international markets is becoming one of the biggest threats to the world's largest cat, the Siberian tiger. Russia has more forests than any other country, with more than half of the world's coniferous forests. However, worldwide demand for high quality timber, along with weak regulations, has led to widespread logging of Russia's trees.


20 percent of Africa's elephants killed in three years


(08/19/2014) Around 100,000 elephants were killed by poachers for their ivory on the African continent in just three years, according to a new paper in the Proceedings of the National Academy of Sciences. Between 2010 and 2012 an average of 6.8 percent of the elephant population was killed annually, equaling just over 20 percent of the continent's population in that time.


Norway puts $1.6B into rainforest conservation


(08/19/2014) Since 2008 Norway has been the single largest foreign donor to tropical forest conservation, putting more than 10 billion Norwegian Krone, or $1.6 billion, toward programs in several countries under its International Climate and Forest Initiative. But how effective have those funds been in actually protecting forests?


20 orangutan pictures for World Orangutan Day


(08/19/2014) August 19 is World Orangutan Day, a designation intended to raise awareness about the great red ape, which is threatened by habitat loss, the pet trade, and hunting. Once distributed across much of southeast Asia, today orangutans are only found on the islands of Borneo and Sumatra. Both species of orangutan — the Sumatran and the Bornean — are considered endangered.


When forests aren't really forests: the high cost of Chile's tree plantations


(08/18/2014) At first glance, the statistics tell a hopeful story: Chile's forests are expanding. On the ground, however, a different scene plays out: monocultures have replaced diverse natural forests while Mapuche native protesters burn pine plantations, blockade roads and destroy logging equipment. At the crux of these two starkly contrasting narratives is the definition of a single word: "forest."


13 newly-discovered birds declared extinct


(08/18/2014) In a recent update of the IUCN Red List, scientists have identified 13 new bird species that have gone extinct since 1500. In total the list now finds that at least 140 bird species gone extinct in the past five hundred years, representing 1.3 percent of the world's total known birds.


Google Earth spurs discovery of a 'new' chameleon species


(08/17/2014) Google Earth has spurred the discovery of another new species. In this case, the creature is a pygmy chameleon, one of four previously unknown Rhampholeon chameleon species described from the remote 'sky islands' in Mozambique. The Mount Mabu pygmy chameleon was discovered after Google Earth images of a tract of forest led Julian Bayliss to launch a scientific expedition to the region.


Indonesian govt reiterates plan to clear 14M ha of forest by 2020

(08/16/2014) The Indonesian government is pressing forward with plans to clear 14 million hectares of forest between 2010 and 2020 despite a commitment to curb greenhouse gas emissions.


Bali uprising: Plan to convert protected area into golf courses, mall spurs outrage


(08/16/2014) In a reversal sparking outrage from locals, and concern from environmentalists, the Governor of Bali, Indonesia has given the green light to a controversial development project in Benoa Bay. The plan would convert 700 acres of theoretically protected mangrove and ocean front into a tourist haven of golf courses, hotels, luxury shopping and attractions rumored to include a race track and theme park. The move has sparked a series of protests and demonstrations by local citizens and environmental groups concerned that the development will kill livelihoods and destroy the fragile marine ecosystem.


Nothing else left to log: are eco-certified timber companies stripping Russia of its last old growth forests?


(08/15/2014) Among Russia's forested lands lie intact forest landscapes (or IFLs). These IFLs are large swaths of unbroken, old growth forests that encompass at least 50,000 hectares, harbor high biodiversity, and have remained mostly undisturbed by development. However, less than 10 percent of the world's IFLs are currently protected. Now, a new report reveals Russia's IFLs may be threatened by certified sustainable logging companies.


ConAgra adopts greener palm oil policy

(08/14/2014) U.S. food giant ConAgra has adopted a new sourcing policy that will exclude palm oil produced at the expense of rainforests and peatlands.


Elephant poaching soars as Sumatran forests turn into plantations


(08/14/2014) There has been a spike in elephant deaths in Sumatra this year, and conversion of rainforest to plantations is one of the main causes. The number of Sumatran elephants poached in the province of Riau so far this year is staggering, with 22 reported kills in the first six months of 2014 compared to 14 for the entirety of 2013.


China and Europe's outsourcing of soy production impacts the Amazon

(08/14/2014) Soy consumption in China and Europe is having significant ecological impacts in the Brazilian state of Mato Grosso, finds a study published in Environmental Research Letters.


Indonesia cracks down on illegal burning, investigates more suspect companies


(08/14/2014) Every year, thousands of hectares of Indonesian forest are illegally burned by development companies. However, Indonesia's Minister of Environment, Balthasar Kambuaya, is optimistic that legal charges over such fires can be completed – even though he has just three months left in office.


Big palm oil companies move forward on carbon study


(08/14/2014) Seven palm oil giants have agreed to fund a study that will define what constitutes "High Carbon Stock" (HCS) forest, a move that will potentially determine the fate of ecosystems around the world as more companies commit to "zero-deforestation" policies based on the amount of carbon stored in vegetation.


'Natural Reserves' no more: illegal colonists deforest huge portions of Nicaraguan protected areas


(08/13/2014) In southeastern Nicaragua, abutting the coastal Caribbean town of Bluefields, lie two nature reserves - Cerro Silva and Punta Gorda - that are embroiled in a bitter battle for survival against the speedily encroaching agricultural frontier. The forest is all but decimated here, with disconnected patches whose very existence rests precariously in the hands of its occupiers - both legal and illegal.


Aceh backtracking on mining moratorium, continues to issue permits


(08/13/2014) The Governor of Aceh Province, Indonesia appears unwilling to implement a mining moratorium, despite repeated statements he intends to do so. Governor Zaini Abdullah, a co-founder of the separatist Free Aceh Movement (GAM), has said on several occasions that he believes there should be a moratorium on mining licenses, however watch-groups claim no official policy has been enacted.


Titanium vs. Millipedes: new species discovered in Madagascar threatened by mining


(08/13/2014) A team of scientists from the United States and Germany has recently described seven new species of Malagasy giant pill-millipede. All but one of these species are considered "microendemics," in that they have only been found in small, isolated forest patches.


Unreal Thailand: stunning wildlife photographed in flooded Khlong Saeng Wildlife Sanctuary


(08/13/2014) If someone told you there was a place where 200 million year old coral reefs had erupted from beneath the sea and were now draped in the oldest rain forest in the world, a place where marbled cats and clouded leopards prowl the sharp crags and their dark caves in search of dead bats and small prey, would you believe them?


Forgotten species: the exotic squirrel with a super tail


(08/13/2014) With among the world's largest tails compared to body-size, the tufted ground squirrel just might be the most exotic squirrel species on the planet. Found only on the island of Borneo, this threatened species is also surrounded by wild tales, including the tenacity to take down a deer for dinner. New research explores the squirrel's monster tail and whether other tales about it may be true.


Governors pledge massive cuts in deforestation

(08/12/2014) Governors from 13 states have pledged to reduce deforestation 80 percent by 2020 provided rich companies step forward with adequate levels of financial support.


A paradise being lost: Peru's most important forests felled for timber, crops, roads, mining


(08/12/2014) In 1988, when British environmentalist Norman Myers first described the concept of a "biodiversity hotspot," he could have been painting a picture of the highly threatened Peruvian Andes mountain range. Today, the Andes are an immediate and looming portent of the fate of the Peruvian Amazon rainforest.


Demand for shark fin plunging


(08/12/2014) Shark fin demand has dropped precipitously in China in just a few years, according to a new report by WildAid. Shark fin traders in Guangzhou—the current informal capital of the shark fin trade—say their sales have fallen by 82 percent in just two years, according to WildAid.


Jane Goodall: how many elephants will be killed on World Elephant Day?

(08/12/2014) Marking World Elephant Day, a designation intended to raise awareness about the plight of elephants that are being widely poached for the ivory trade, primatologist Jane Goodall urged people to have greater compassion for Earth's largest land animals.


An untapped resource: new study finds local people may trump scientists at biodiversity surveys


(08/12/2014) Figuring out what species live in a given area is important to the determination of its conservation importance. Traditionally, these biodiversity assessments have been done directly by scientists via surveys, which can be very time-intensive and expensive. However, a new study found that interviewing people in local communities who are familiar with the species of their regions could be just as effective – and much cheaper.


China failing to take effective action against timber smugglers

(08/12/2014) Voluntary guidelines established by the Chinese government won't be enough to curb rampant timber smuggling by Chinese companies, putting 'responsible' actors at risk of having their reputations tarnished, argues a new campaign by the Environmental Investigation Agency (EIA).


Half of Riau's oil palm plantations are illegal

(08/12/2014) Half of the oil palm plantations in Sumatra's Riau Province are illegal, said Indonesia's top forestry official.


Planting meadows in the ocean: technique may help restore disappearing seagrass beds


(08/11/2014) Eelgrass is an important part of many ocean ecosystems, but is disappearing due to human impacts. However, a study published recently in found eelgrass beds could benefit from a restoration technique using seed-filled pearl nets.


Indonesia's children see ravaged environment in their future


(08/11/2014) A generation ago, Borneo was one of the wildest places on the planet. But decades of logging and oil palm plantations has changed the landscape of Borneo forever: in fact a recent study found that the island has lost 30 percent of its total forest cover since 1973. In the face of this large-scale environmental destruction, a new study finds that Indonesian Borneo's children have a pessimistic view of their future.


Aceh's largest peat swamp at risk from palm oil

(08/11/2014) Oil palm plantations and other developments are threatening Rawa Singkil Wildlife Preserve—Aceh's largest peat swamp, and home to the densest population of Sumatran orangutan in the Leuser Ecosystem. The lack of clear boundaries, and construction of roads bisecting the area has fostered encroachment by local and outside entrepreneurs, including some former local officials, reports Abu Hanifah Lubis, Program Manager of Yayasan Leuser Internasional (YLI).


The threat of traditional medicine: China's boom may mean doom for turtles


(08/08/2014) Despite a lack of scientific evidence demonstrating a causative link between turtle consumption and medicinal benefits, many people in China believe they can be used to cure disease and maintain health. Because of this, turtles have been highly sought after for more than 3,000 years. However, in recent years, China's economy has changed in a way that has become increasingly threatening to the country's wild turtle populations.


NASA: Forest loss leaps in Bolivia, Mekong region

(08/08/2014) New satellite data from NASA suggests that deforestation is sharply increasing in Bolivia and Mekong countries during the second quarter of 2014.


The 90 Percent Diet: reducing our environmental impact by eating less meat


(08/07/2014) In Brian Machovina's life, a serendipitous influence of people and places have all contributed to his current passion for inspiring people to eat less meat. With fewer grazing animals, Machovina's studies show that we could make better conservation and production choices with land that would otherwise be used to raise or feed livestock.


Want to save Africa's elephants? Close all ivory markets


(08/07/2014) The only way to save the long-suffering elephants of Africa is to close every ivory market on the planet and destroy all ivory stockpiles, according to a bold new essay in Conservation Biology. Written by Elizabeth Bennett, the Vice President for Species Conservation at the Wildlife Conservation Society, the paper is likely to prove controversial.


Singapore to fine domestic, foreign companies for causing haze

(08/07/2014) Singapore's parliament has approved a controversial measure that could penalize companies — both foreign and domestic — that are responsible for causing haze overseas, reports Reuters.


Blue-footed boobies on the decline, plummeting sardine stocks may be to blame


(08/06/2014) The iconic blue-footed booby of the Galapagos Islands has suffered a population decline of 50 percent in less than 20 years, according to research conducted by biologists from Wake Forest University.


Elephants under the sea: awkward-looking fish modify the coral-reef ecosystem in mixed ways


(08/06/2014) Bumphead parrotfish are noisy feeders. They break off large branches of corals using their powerful beaks, grind them up in their bodies to extract nutrients, and expel the undigested material in large cloudy plumes of feces. Their voracious feeding is, however, not just a loud, messy affair. During the course of their feeding, they also change the coral reef ecosystem in numerous ways.


Oil palm, mining prompts local govt in Borneo to declare water unsafe for drinking

(08/06/2014) The Environment Ministry of Sintang Regency, West Kalimantan, Indonesia declared that the water in many rivers and lakes is unsuitable for consumption due to high levels of pollution.



Page 1
|
Page 2
|
Page 3
|
Page 4
|
Page 5
|
Page 6
|
Page 7
|
Page 8
|
Page 9
|
Page 10
|
Page 11
|
Page 12
|
Page 13
|
Page 14
|
Page 15
|
Page 16
|
Page 17
| Page 18 |
Page 19
|
Page 20
|
Page 21
|
Page 22
|
Page 23
|
Page 24
|
Page 25
|
Page 26
|
Page 27
|
Page 28
|
Page 29
|
Page 30
|
Page 31
|
Page 32
|
Page 33
|
Page 34
|
Page 35
|
Page 36
|
Page 37
|
Page 38
|
Page 39
|
Page 40
|
Page 41
|
Page 42
|
Page 43
|
Page 44
|
Page 45
|
Page 46
|
Page 47
|
Page 48
|
Page 49
|
Page 50
|
Page 51
|
Page 52
|
Page 53
|
Page 54
|
Page 55
|
Page 56
|
Page 57
|
Page 58
|
Page 59
|
Page 60
|
Page 61
|
Page 62
|
Page 63
|
Page 64
|
Page 65
|
Page 66
|
Page 67
|
Page 68
|
Page 69
|
Page 70
|
Page 71
|
Page 72
|
Page 73
|
Page 74
|
Page 75
|
Page 76
|
Page 77
|
Page 78
|
Page 79
|
Page 80
|
Page 81
|
Page 82
|
Page 83
|
Page 84
|
Page 85
|
Page 86
|
Page 87
|
Page 88
|
Page 89
|
Page 90
|
Page 91
|
Page 92
|
Page 93
|
Page 94
|
Page 95
|
Page 96
|
Page 97
|
Page 98
|
Page 99
|
Page 100
|
Page 101
|
Page 102
|
Page 103
|
Page 104
|
Page 105
|
Page 106
|
Page 107
|
Page 108
|
Page 109
|
Page 110
|
Page 111
|
Page 112
|
Page 113
|
Page 114
|
Page 115
|
Page 116
|
Page 117
|
Page 118
|
Page 119
|
Page 120
|
Page 121
|
Page 122
|
Page 123
|
Page 124
|
Page 125
|
Page 126
|
Page 127
|
Page 128
|
Page 129
|
Page 130
|
Page 131
|
Page 132
|
Page 133
|
Page 134
|
Page 135
|
Page 136
|
Page 137
|
Page 138
|
Page 139
|
Page 140
|
Page 141
|
Page 142
|
Page 143
|
Page 144
|
Page 145
|
Page 146
|
Page 147
|
Page 148
|
Page 149
|
Page 150
|
Page 151
|
Page 152
|
Page 153
|
Page 154
|
Page 155
|
Page 156
|
Page 157
|
Page 158
|
Page 159
|
Page 160
|
Page 161
|
Page 162
|
Page 163
|
Page 164
|
Page 165
|
Page 166
|
Page 167
|
Page 168
|
Page 169
|
Page 170
|
Page 171
|
Page 172
|
Page 173
|
Page 174
|
Page 175
|
Page 176
|
Page 177
|
Page 178
|
Page 179
|
Page 180
|
Page 181
|
Page 182
|
Page 183
|
Page 184
|
Page 185
|
Page 186
|
Page 187
|
Page 188
|
Page 189
|
Page 190
|
Page 191
|
Page 192
|
Page 193
|
Page 194
|
Page 195
|
Page 196
|
Page 197
|
Page 198
|
Page 199
|
Page 200
|
Page 201
|
Page 202
|
Page 203
|
Page 204
|
Page 205
|
Page 206
|
Page 207
|
Page 208
|
Page 209
|
Page 210
|
Page 211
|
Page 212
|
Page 213
|
Page 214
|
Page 215
|
Page 216