Conservation news
Founded in 1999, Mongabay is a leading provider of environmental science and conservation news.
Is Indonesia the third largest greenhouse gas polluter?
(11/03/2006) Is Indonesia the world's third largest producer of greenhouse gases? A new study by Wetlands International says it is, if the country's destruction of peat bogs is taken into account. A report released Thursday by Wetlands International and Delft Hydraulics, a Dutch research institute, estimates that emissions from Indonesia's destruction of its extensive peat bogs releases 2 billion tonnes of carbon dioxide a year -- about ten percent of world greenhouse gas emissions from human activities. For comparison, the United States, the world's largest emitter of heat-trapping gases, produces about 7.3 billion tons of greenhouse gases per year. 70 percent of emissions result from the burning of peatlands, while 30 percent result from drainage, according to the report, titled
Peatland degradation fuels climate change
.
Beetle biomimicry could allow robots to climb vertical glass walls
(11/03/2006) Researchers at Max Planck Institute for Metals Research are developing adhesives based on biomimicry of beetles' feet. The design enables the materials to stick to smooth walls without any adhesives. The researchers say the technology, which uses microhairs "reminiscent of tiny mushrooms", could someday allow robots to climb vertical glass walls and refrigerator magnets to be replaced by non-magnetic objects.
Coral reefs can be saved from global warming
(11/03/2006) The outlook for coral reefs -- often termed the rainforests of the sea -- is dire. Overfishing, pollution, damage from anchors, mining for construction materials, and over-collection for the pet trade are all over-shadowed by climate change which could decimate reefs by higher water temperatures and increasingly acidic conditions which could render many coral species incapable of forming carbonate support structures. Nevertheless a new report from the World conservation Union (IUCN) and The Nature Conservancy says that measures can be taken to help increase the survival chances for coral reefs. The report, "Coral Reef Resilience and Resistance to Bleaching", outlines strategies for helping reefs to be better adapt to the impacts of climate change.
All stocks of wild seafood species to collapse by 2048 says new study
(11/03/2006) All stocks of currently fished wild seafood species are projected to collpase by 2048 according to a study published in the November 3 issue of the journal Science. The four-year analysis by an international group of ecologists and economists shows the marine biodiversity loss is reducing its resilience due to overfishing, pollution, and other stresses like climate change.
Tropical biodiversity results from age of species argues new theory
(11/02/2006) Why are there more species in the tropics than in the temperate regions of the globe? Many of the world's species live in the tropics (perhaps more than half), but the reason has been debated for more than 100 years.
British firm looks to Amazon rainforest for new drugs
(11/02/2006) A British drug discovery company has partnered with a Brazilian firm to look for medicines from Amazonian and Atlantic rainforests according to a news release from the University of Newcastle upon Tyne.
Shift toward toward service-based economy won't end global warming
(11/02/2006) The shift toward a service-based economy won't automatically reduce the amount of greenhouse gases in the air, a University of Minnesota researcher has found. His research contradicts assumptions about global warming often preferred by some economists and national policy experts.
Researchers find the missing link for elephant evolution
(11/02/2006) A pig-sized, tusked creature that roamed the earth some 27 million years ago represents a missing link between the oldest known relatives of elephants and the more recent group from which modern elephants descended.
Lots of sex produces healthier offspring -- for carnivorous marsupials
(11/02/2006) Promiscuous females are more likely to give birth to healthier offspring -- at least in mouse-sized, insect-eating marsupials -- say researchers at The Australian National University (ANU). ANU scientists showed, for the first time, that promiscuity increases the survival rate of offspring in an animal species, the brown antechinus (Antechinus stuartii) nocturnal, forest-dwelling, carnivorous marsupial. Their results are published in the current edition of the journal Nature.
Ancient climate record preserved in prehistoric plants
(11/02/2006) About 350 million years ago, at the boundary of the Devonian and Carboniferous ages, the climate changed. There was no one around to record it, but there are records nonetheless in the rocks deposited by glaciers and in tissues preserved in fossils of ancient life.
Hotspot conservation may not save endangered species
(11/02/2006) New research suggests conservation efforts based on biological hotspots might need to be re-prioritized since threatened species across different groups of animals -- mammals, birds and amphibians -- don't necessarily occur in the same areas. The study, published in the current edition (Nov. 2) of the journal Nature, shows a geographical discrepancy in hotspots of endangered species from different groups: geographical areas with a high concentration of endangered species from one group, do not necessarily have high numbers from other groups.
Australia says global warming pact pointless without India and China
(11/01/2006) Australia said there is "no point" of Australia signing the Kyoto Protocol on global warming unless it applies to China and India too, according to the BBC News web site
Low-use and abandoned logging roads negatively impact wildlife in the United States
(11/01/2006) A new study says that forest roads adversely affect wildlife populations. Writing in an article to be published in the journal conservation Biology, researchers at the University of Missouri-Columbia have found that low-use and abandoned logging, mining, and oil access roads create a significant ecological footprint in heavily forested areas.
Shark biomimicry produces renewable energy system
(11/01/2006) An Australian firm has developed a renewable tidal energy conversion system based on the highly efficient fin structure of shark, tuna, and mackerel. BioPower Systems Pty Ltd., a renewable energy systems company based in Eveleigh, New South Wales, says that its bioSTREAM technology for converting tidal and marine current energy into electricity is modeled on biological species, such as shark and tuna, that use Thunniform-mode swimming propulsion.
Avoided deforestation could send $38 billion to third world under global warming pact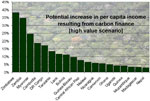 (11/01/2006) Avoided deforestation will be a hot point of discussion at next week's climate meeting in Nairobi, Kenya. Already a coalition of 15 rainforest nations have proposed a plan whereby industrialized nations would pay them to protect their forests to offset greenhouse gas emissions. Meanwhile, last month Brazil -- which has the world's largest extent of tropical rainforests and the world's highest rate of forest loss -- said it promote a similar initiative at the talks. At stake: potentially billions of dollars for developing countries. When trees are cut greenhouse gases are released into the atmosphere -- roughly 20 percent of annual emissions of such heat-trapping gases result from deforestation and forest degradation. Avoided deforestation is the concept where countries are paid to prevent deforestation that would otherwise occur. Policymakers and environmentalists alike find the idea attractive because it could help fight climate change at a low cost while improving living standards for some of the world's poorest people and preserving biodiversity and other ecosystem services. A number of prominent conservation biologists and development agencies including the World Bank and the U.N. have already endorsed the idea.
Global warming tops list of Americans' environmental concerns
(10/31/2006) Americans now rank climate change as the country's most important environmental concern according to a survey released today by MIT. The poll found that almost three-quarters of the respondents felt the government should do more to deal with global warming and 60 percent agreed that there's enough evidence to warrant some level of action. It also found that individuals were willing to contribute their own money to help prevent climate change - am average of $21 more per month on their electricity bill to "solve" global warming.
Indians are key to rainforest conservation efforts says renowned ethnobotanist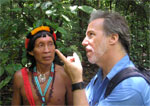 (10/31/2006) Tropical rainforests house hundreds of thousands of species of plants, many of which hold promise for their compounds which can be used to ward off pests and fight human disease. No one understands the secrets of these plants better than indigenous shamans -medicine men and women - who have developed boundless knowledge of this library of flora for curing everything from foot rot to diabetes. But like the forests themselves, the knowledge of these botanical wizards is fast-disappearing due to deforestation and profound cultural transformation among younger generations. The combined loss of this knowledge and these forests irreplaceably impoverishes the world of cultural and biological diversity. Dr. Mark Plotkin, President of the non-profit Amazon conservation Team, is working to stop this fate by partnering with indigenous people to conserve biodiversity, health, and culture in South American rainforests. Plotkin, a renowned ethnobotanist and accomplished author (Tales of a Shaman's Apprentice, Medicine Quest) who was named one of Time Magazine's environmental "Hero for the Planet," has spent parts of the past 25 years living and working with shamans in Latin America. Through his experiences, Plotkin has concluded that conservation and the well-being of indigenous people are intrinsically linked -- in forests inhabited by indigenous populations, you can't have one without the other. Plotkin believes that existing conservation initiatives would be better-served by having more integration between indigenous populations and other forest preservation efforts.
Greenhouse gas emissions from rich countries rising finds UN
(10/31/2006) A rise in greenhouse gas emissions from industrialized countries during the 2000-2004 period was called "worrying" by a United Nations report released today.
Oregon dead zone event over, but cause still unknown
(10/30/2006) The hypoxic dead zone off the coast of Oregon has finally dissipated but researchers still don't know why it has formed each of the past summers.
Blair: U.S. must act on global warming
(10/30/2006) Delaying action on global warming will take the planet into "dangerous territory" warns a new report released Monday by the British government. In
The Sun
Tony Blair, Britain's Prime Minister called the report "the important document on the future" he's read since becoming Prime Minister.
Global warming could cause insect population explosion
(10/30/2006) Global warming may prove to be a boon to insects according to new research published in the October edition of the journal The American Naturalist.
100 species discovered in Hawaii
(10/30/2006) A three-week scientific expedition to America's newest marine park, the Northwestern Hawaiian Islands Marine National Monument, may have discovered 100 species of marine creatures including crabs, corals, sea cucumbers, sea quirts, worms, sea stars, snails, and clams. While some of these species are known from other areas, this will be the first time they have been recorded in the French Frigate Shoals of the Northwestern Hawaiian Islands.
Energy development threatens Pumalin nature sanctuary in Chlie's Pantagonia
(10/27/2006) The Pumalin nature sanctuary, 700,000 acres of dense, primordial green, belongs to a wealthy American named Douglas Tompkins. The biodiversity of the place is staggering. Half the plants here grow nowhere else on the planet. Soaring above the forest canopy are Pumalin's prized alerce trees, known as "the redwoods of the Andes." The Linnaean name for the alerce is Fitzroya cupressoides; Charles Darwin named the tree for Robert FitzRoy, captain of the HMS Beagle, when he visited Chile in the 1830s. The alerce can grow as high as 200 feet. Smitten by its light weight, straight grain, and resistance to rot, loggers loved it almost to death. The alerces in Pumalin are some of the last survivors, and the near destruction of the tree is a kind of Chilean morality tale, for this is a country whose economy is based, to an extreme degree, on the extraction of raw materials and the destruction of natural resources.
Amazon deforestation rate plunges 41 percent
(10/27/2006) Today the Brazilian government announced a sharp drop in Amazon deforestation. Forest loss for the 2005-2006 year was 13,100 square kilometers (5,057 square miles) of rainforest, down more than 40 percent from last year. The figure is the lowest since 1991 when 11,130 square kilometers (4,258 square miles) of forest were lost. Deforestation peaked in 1995 when 29,059 square kilometers (11,219 square miles) of forest were cut. Deforestation has plunged by almost 50 percent since 2004. Falling commodity prices, increased enforcement efforts, and government conservation initiatives are credited for the drop. &quotWe aggressively increased enforcement of environmental laws in the past years and it has worked,&quot Joao Paulo Capobianco, Brazil's minister-secretary of biodiversity and forests, told the Associated Press.
Rain bring haze reprieve in Indonesia, Singapore
(10/27/2006) Rain has brought a temporary reprieve for areas affected by forest fires-caused haze in Indonesia according to a report from Reuters. Officials at Sultan Thaha airport in Jambi province, on the island of Sumatra, said that planes are again taking off and landing after a 10-day closure due to low visibility, according to Reuters. In Singapore, the pollution index was at 19, down from Thursday's reading of 38, and a high of 128 on October 7, its worst level since the 1997-1998 fires. In Kuala Lumpur, the Air Pollution Index stood at 24 on Thursday, down from 72 on Tuesday, according to local reports.
Bacteria can generate renewable energy from pollution, help fight global warming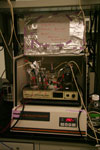 (10/26/2006) Currently, most energy production generates carbon dioxide, a potent greenhouse gas that contributes to global warming and local pollution. At the same time that carbon dioxide concentrations are rising in the atmosphere, fueling higher temperatures, burgeoning population growth of humans and livestock is producing ever-increasing amounts of organic pollution and waste. Now researchers at the Center for Biotechnology at the Biodesign Institute of Arizona State University are working on a way to solve both problems using bacteria to convert organic wastes into a source of electricity. Bruce Rittmann, Director of the Center for Environmental Biotechnology at the Biodesign Institute, and his team of researchers are developing microbial fuel cells (MFC) that can oxidize organic pollutants and create electricity from pollution.
Brazil claims soy and beef not responsible for Amazon deforestation
(10/26/2006) Brazil rejected claims that soybean farms and cattle pasture were destroying the Amazon rainforest, according to a report from Reuters. At the opening of an organic food products fair in Sao Paulo, Agriculture Minister Luis Carlos Guedes Pinto said that only 0.27 percent of Brazil's soybean crop is grown in the Amazon region, while less than 1.5 percent of Brazil's beef for export comes from the rainforest.
Biodiversity extinction crisis will disrupt important ecological services warns study
(10/25/2006) Loss of biodiversity will have an ecologically-costly impact according to a study published in the journal Nature this week. The new study, headed by a biologist at the University of California, Santa Barbara (UCSB), found that species extinction will reduce nature's ability to maintain ecological balance and "services" such as water filtration, nutrient cycling, and pollination.
Blood-sucking lamprey is 360 million years old
(10/25/2006) The parasitic blood-sucking lamprey has remained unchanged for 360 million years according to research to be published in the Oct. 26, 2006 issue of the jounral Nature.
Global warming could put New York City at hurricane, flood risk
(10/25/2006) NASA researchers are investigating the potential impact of climate change on New York City using computer models to simulate future climates and sea level rise. Their studies, to date, forecast a 15 to 19 inch-increase in sea levels by the 2050s that could put the city at higher risk of flooding during storm surges.
Animal pollinators responsible for 35 percent of world food crop
(10/25/2006) A new study calculates that 35 percent of the world's crop production is dependent on pollinators, like bats, bees, and birds. The research suggests that biodiversity loss could directly impact global food crops.
Wood stoves in poor countries worse than expected for global warming
(10/25/2006) Wood stoves used in developing countries emit more harmful smoke particles and could have a much greater impact on global climate change than previously thought, according to research published in the Nov. 1 issue of the American Chemical Society journal Environmental Science & Technology. The study's lead authors, Dr. Tami Bond of the Department of Civil & Environmental Engineering the University of Illinois, Urbana-Champaign and graduate student Christoph Roden, estimate that some 400 million of these stoves are used on a daily basis for cooking and heating by more than 2 billion people.
Satellite photo of Dubai's artificial islands, The World and the Palms
(10/25/2006) NASA released new images showing artificial islands being constructed in Dubai, a city-state in the United Arab Emirates. The sand islands, which are the largest human-made islands in the world, are being built at an incredible cost in both monetary and environmental terms. Two of the islands -- Palm Jebel Ali and Palm Jumeirah -- resemble encircled palm trees, while "The World" island will resemble a world map once completed, though this will only be apparent from airplaces and aerial photos.
Bacteria can ensure clean water say researchers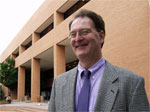 (10/24/2006) Water is shaping up to be one of the most critical problems facing humanity. With water consumption far outstripping population growth rates due to surging industrial and agricultural demand, the World Bank estimates that 40 percent of the world's population -- more than 2.5 billion people -- are enduring some form of water scarcity. In China, where massive river relocation projects to shift water from the south to the dry north are under consideration, an official government survey found that some 300 million Chinese drink unsafe water tainted by chemicals and other contaminants, while 90% of China's cities have polluted ground water. Elsewhere, development experts say that access to reliable, safe and affordable water is key to poverty alleviation efforts and that addressing declining groundwater supplies and water pollution is be critical to raising the quality of life in poor regions.
Eco vacationers engage in cutting-edge environmental research
(10/24/2006) There is a species of vacationer who, like me, cannot do what vacationers are meant to do: relax. I am incapable of lying on a beach and sipping an umbrella drink while listening drowsily to reggae hits. I need to be doing something. And given the deteriorating state of our planet, I would prefer it be something useful. This is not about moral strength. It's simply a case of obstinate curiosity, and a certain kind of incurable restlessness. For people like me, there exists the "volunteer vacation." Habitat for Humanity is among the best-known organizations to arrange such trips, but there are others whose missions focus on environmental rather than social causes. Global Vision and the Earthwatch Institute, for example, offer motivated travelers the opportunity to transport their curiosity and energy to exotic locales.
Amazon river flowed into the Pacific millions of years ago
(10/24/2006) A new study adds further evidence the theory that the world's largest river, the Amazon, once flowed in the opposite direction, emptying into the Pacific Ocean. Researchers at the University of North Carolina at Chapel Hill (UNC) discovered "ancient mineral grains" in the central Amazon that could only have originated in now-eroded mountains that once existed in the central and eastern South America, not the more recently formed Andes in the west
World Bank says carbon trading will save rainforests
(10/24/2006) Monday the World Bank endorsed carbon trading as a way to save tropical rainforests which are increasingly threatened by logging, agricultural development, subsistence agriculture, and climate change itself. The World Bank report comes on the heels of a proposal by a coalition of developing countries to seek compensation from industrialized countries for conserving their rainforests to fight global warming. Brazil is expected to announce a similar plan at upcoming climate talks in Nairobi.
Global warming will threaten health through dirtier air, hotter days, and more natural disasters
(10/23/2006) Global warming will threaten human health through dirtier air, hotter days, and more natural disasters that will worsen water quality, stress emergency systems, and create environmental refugees, warns a public health physician.
Pet trade and habitat loss decimating wild macaw populations
(10/23/2006) Macaws, the world's largest parrots, are declining in the wild due to over-zealous collecting for the pet trade, poaching, and habitat loss according to a researcher at Texas A&M University. Dr. Don Brightsmith, a bird specialist at Texas A&M University's Schubot Exotic Bird Center, says that of the world's 17 species of macaws, one is extinct, another is extinct in the wild, and seven are endangered. All are suffering population declines in the wild.
Evolution: less food = smaller brain in orangutans
(10/23/2006) A new study has linked diet to evolutionary brain size in orangutans living on the Indonesian islands of Borneo and Sumatra.
Rising sea levels could flood Gulf bays in Texas, Louisiana
(10/23/2006) Rising sea levels and increased sedimentation threaten to flood bays and delta areas in U.S Gulf Coast regions in Texas and Louisiana warned a Rice University researcher.
Tiny crab protects coral
(10/23/2006) Researchers have discovered a symbiotic relationship between tiny crabs and coral in the South Pacific. The relationship between the crab and the coral is detailed in the November 2006 issue of the journal Coral Reefs.
Common wood duck and laughing gull could transmit bird flu in America
(10/23/2006) The common wood duck and laughing gull are very susceptible to H5N1 avian influenza viruses (bird flu) and have the potential to transmit them according to scientists at the University of Georgia. Their research, published in the November issue of the journal Emerging Infectious Diseases, shows that different species birds respond differently to bird flu viruses.
Largest seizure of illegally logged Amazon rainforest timber announced by authorities
(10/23/2006) IBAMA, Brazil's environmental agency, announced the largest seizure ever of illegally logged timber from the Amazon rainforest. During a week-long operation -- code named Kojima -- in late September, authorities impounded nearly 15,000 cubic meters of unlicensed wood in the Amazonian state of Para. The agency said it was probably the largest seizure ever in the state. Para was the state where last year Sister Dorothy Stang, an American nun who worked with rural poor, was killed by gunman associated with local plantation owners. In response to the murder, the Brazilian government sent in the army to quell violence in the region and promised to step up environmental monitoring efforts.
Grey whales missing from traditional feeding grounds
(10/23/2006) Researchers found few grey whales in their traditional feeding grounds in the North Pacific last summer according to a scientist at the University of Bath. Dr. William Megill, a professor of mechanical engineering with special interest in biomimetics at the University of Bath, said that the absence of the 17,000 grey whales from traditional summer feeding grounds in the North Pacific could be cause for concern, despite the species' recent removal from the endangered species list.
Global warming could cause catastrophic die-off of Amazon rainforest by 2080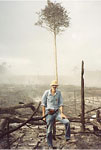 (10/23/2006) For the Amazon, there is an immense threat looming on the horizon: climate change could well cause most of the Amazon rainforest to disappear by the end of the century. Dr. Philip Fearnside, a Research Professor at the National Institute for Research in the Amazon in Manaus, Brazil and one of the most cited scientists on the subject of climate change, understands the threat well. Having spent more than 30 years in Brazil and now recognized as one of the world's foremost experts on the Amazon rainforest, Fearnside is working to do nothing less than to save this remarkable ecosystem. Fearnside believes saving the Amazon will require a fundamental shift in perception where the Amazon is recognized as an asset beyond the current price of mahogany, soybeans, or cattle, where its value is only unlocked by its destruction. The Amazon is far worth more than this he says. It can play a key role in fighting climate change while providing economic sustenance for millions through sustainable agriculture and rational utilization of its renewable products. It can serve as a storehouse for biodiversity while at the same time ensuring reliable water supplies and moderating regional temperature and precipitation. In short, maintaining the Amazon as a viable ecosystem makes sense economically and ecologically -- it is in our best interest to preserve this resource while we still can.
Extremophile bacteria suggest possibility of life on other plants
(10/22/2006) A community of bacteria found feeding on radioactive rocks nearly two miles underground provides potential clues on the nature of life on other worlds say researchers at Princeton University.
Climate change to cause more extreme weather
(10/19/2006) Climate change will cause extreme weather to be a more common occurrence according to new computer modeling by researchers from the National Center for Atmospheric Research (NCAR), Texas Tech University, and Australia's Bureau of Meteorology Research Centre.
Tremendous loss of ice in Greenland finds new NASA study
(10/19/2006) For the first time NASA scientists have confirmed that Greenland's ice sheet is shrinking. Using a new remote sensing technique that reveals regional changes in the weight of the massive ice sheet across the entire continent, researchers at NASA's Goddard Space Flight Center found that Greenland suffered a net loss of 25 cubic miles (101 gigatons) of ice per year between 2003 and 2005.
Ozone hole is the largest and deepest ever recorded
(10/19/2006) NASA and National Oceanic and Atmospheric Administration scientists that this year's Antarctic ozone hole is the largest and deepest ever recorded. "From September 21 to 30, the average area of the ozone hole was the largest ever observed, at 10.6 million square miles," said Paul Newman, atmospheric scientist at NASA's Goddard Space Flight Center in Greenbelt, Maryland. At the same time, scientists from the NOAA"s Earth System Research Laboratory in Boulder, Colo., found that nearly all of the ozone in the layer between eight and 13 miles above the Earth"s surface has been destroyed.
Page 1
|
Page 2
|
Page 3
|
Page 4
|
Page 5
|
Page 6
|
Page 7
|
Page 8
|
Page 9
|
Page 10
|
Page 11
|
Page 12
|
Page 13
|
Page 14
|
Page 15
|
Page 16
|
Page 17
|
Page 18
|
Page 19
|
Page 20
|
Page 21
|
Page 22
|
Page 23
|
Page 24
|
Page 25
|
Page 26
|
Page 27
|
Page 28
|
Page 29
|
Page 30
|
Page 31
|
Page 32
|
Page 33
|
Page 34
|
Page 35
|
Page 36
|
Page 37
|
Page 38
|
Page 39
|
Page 40
|
Page 41
|
Page 42
|
Page 43
|
Page 44
|
Page 45
|
Page 46
|
Page 47
|
Page 48
|
Page 49
|
Page 50
|
Page 51
|
Page 52
|
Page 53
|
Page 54
|
Page 55
|
Page 56
|
Page 57
|
Page 58
|
Page 59
|
Page 60
|
Page 61
|
Page 62
|
Page 63
|
Page 64
|
Page 65
|
Page 66
|
Page 67
|
Page 68
|
Page 69
|
Page 70
|
Page 71
|
Page 72
|
Page 73
|
Page 74
|
Page 75
|
Page 76
|
Page 77
|
Page 78
|
Page 79
|
Page 80
|
Page 81
|
Page 82
|
Page 83
|
Page 84
|
Page 85
|
Page 86
|
Page 87
|
Page 88
|
Page 89
|
Page 90
|
Page 91
|
Page 92
|
Page 93
|
Page 94
|
Page 95
|
Page 96
|
Page 97
|
Page 98
|
Page 99
|
Page 100
|
Page 101
|
Page 102
|
Page 103
|
Page 104
|
Page 105
|
Page 106
|
Page 107
|
Page 108
|
Page 109
|
Page 110
|
Page 111
|
Page 112
|
Page 113
|
Page 114
|
Page 115
|
Page 116
|
Page 117
|
Page 118
|
Page 119
|
Page 120
|
Page 121
|
Page 122
|
Page 123
|
Page 124
|
Page 125
|
Page 126
|
Page 127
|
Page 128
|
Page 129
|
Page 130
|
Page 131
|
Page 132
|
Page 133
|
Page 134
|
Page 135
|
Page 136
|
Page 137
|
Page 138
|
Page 139
|
Page 140
|
Page 141
|
Page 142
|
Page 143
|
Page 144
|
Page 145
|
Page 146
|
Page 147
|
Page 148
|
Page 149
|
Page 150
|
Page 151
|
Page 152
|
Page 153
|
Page 154
|
Page 155
|
Page 156
|
Page 157
|
Page 158
|
Page 159
| Page 160 |
Page 161
|
Page 162
|
Page 163
|
Page 164
|
Page 165
|
Page 166
|
Page 167
|
Page 168
|
Page 169
|
Page 170
|
Page 171
|
Page 172
|
Page 173
|
Page 174
|
Page 175
|
Page 176
|
Page 177
|
Page 178
|
Page 179
|
Page 180
|
Page 181
|
Page 182
|
Page 183
|
Page 184