Conservation news
Founded in 1999, Mongabay is a leading provider of environmental science and conservation news.
Carbon dioxide could be frozen and stored to fight global warming

(02/07/2007) Carbon dioxide could be frozen and stored huge underground reservoirs as a way to fight global warming according to scientists from the University of Leicester and the British Geological Society (BGS).


Extinction risk accelerated when interacting human threats interact

(02/07/2007) A new study warns that the simultaneous effect of habitat fragmentation, overexploitation, and climate warming could increase the risk of a species' extinction.


North America hit by sudden, severe climate cooling 65 M years ago

(02/07/2007) The largest climate change in central North America since the age of the dinosaurs 65 million years ago, a temperature drop of nearly 15 degrees Fahrenheit, is documented within the fossilized teeth of horses and other plant-eating mammals, a new study reveals.


Photos of the ancient Romeo and Juliet skeleton

(02/07/2007) Archaeologists unearthed a pair of human skeletons lying in an eternal embrace at a construction site outside Mantua, 25 miles south of Verona, the city featured in Shakespeare's "Roeo and Juliet." The skeletons date are thought to be 5,000-6,000 years ago.


Lemurs at risk due to invasion of feral beasts, global warming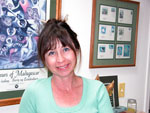 (02/07/2007) The lemurs of Madagascar are among the world's most threatened primates. Extensive habitat destruction, hunting, and the introduction of alien species have doomed dozens of species to extinction since humans first arrived on the island within the past 2000 years. Most of the casualties were Madagascar's largest lemurs -- today the biggest lemur is but a fraction of the gorilla-sized giants that once ruled the island. Despite this relative impoverishment of megafauna, Madagascar still boasts nearly 90 kinds of lemurs, all of which are unique to the island (save one species that was probably introduced to some nearby islands). Lemurs display a range of unusual behvaiors from singing like a whale (the indri) to sashaying across the sand like a ballet dancer (the sifaka). Interest in lemurs has helped Madagascar become a global conservation priority, though they are still at risk. Continued deforestation, scattered hunting, and looming climate change all pose significant threats to some lemur populations. One largely unexamined threat comes from introduced species such as the Indian civet and mongoose, but especially dogs and cats that have become feral.


Just how bad is the biodiversity extinction crisis?



(02/06/2007) In recent years, scientists have warned of a looming biodiversity extinction crisis, one that will rival or exceed the five historic mass extinctions that occurred millions of years ago. Unlike these past extinctions, which were variously the result of catastrophic climate change, extraterrestrial collisions, atmospheric poisoning, and hyperactive volcanism, the current extinction event is one of our own making, fueled mainly by habitat destruction and, to a lesser extent, over-exploitation of certain species. While few scientists doubt species extinction is occurring, the degree to which it will occur in the future has long been subject of debate in conservation literature. Looking solely at species loss resulting from tropical deforestation, some researchers have forecast extinction rates as high as 75 percent. Now a new paper, published in Biotropica, argues that the most dire of these projections may be overstated. Using models that show lower rates of forest loss based on slowing population growth and other factors, Joseph Wright from the Smithsonian Tropical Research Institute in Panama and Helene Muller-Landau from the University of Minnesota say that species loss may be more moderate than the commonly cited figures. While some scientists have criticized their work as "overly optimistic," prominent biologists say that their research has ignited an important discussion and raises fundamental questions about future conservation priorities and research efforts. This could ultimately result in more effective strategies for conserving biological diversity, they say.


98% of orangutan habitat in Borneo, Sumatra gone by 2022


(02/06/2007) A report from the United Nations Environment Programme (UNEP) today warns that illegal logging is rapidly destroying the last remaining habitat for orangutans in Borneo and Sumatra. The report says that up to 98 percent may be destroyed by 2022 without urgent action.


Brazil calls out rich countries on global warming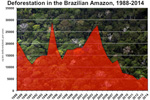 (02/06/2007) Reuters reports that Brazilian President Luiz Inacio Lula da Silva criticized wealthy countries for their contributions to global warming and told them to stay out of Brazil's business when it comes to the fate of the Amazon rainforest.


Rare vulture colony found in Cambodia

(02/06/2007) Working in the remote forests of Cambodia, conservationists from the Wildlife conservation Society (WCS) have just discovered Southeast Asia's only known breeding colony of slender-billed vultures, one of the world's most threatened bird species.


13% of Florida's whooping cranes killed in weekend storms

(02/05/2007) 17 whooping cranes were killed in severe storms in Florida according to a report from the Associated Press. The whooping crane, the tallest bird in North America, is one of North America's most endangered birds with a wild population of less than 360. Until the recent storms, Florida was home to a non-migratory population of 53 and a migratory population of 83, according to the Whooping Crane conservation Association.


Unknown mollusks and crustaceans discovered in the Philippines

(02/05/2007) A French-led marine expedition team may have discovered hundreds of previously unknown species of mollusks and crustaceans around Panglao, an island in the Philippines, according to a report from the Associated Press.


Female butterflies become more promiscuous when males are scarce

(02/05/2007) Female butterflies become more promiscuous when males die from bacteria outbreaks, according to a new study published in the journal Current Biology. The research suggests that surviving males have a tough time keeping up their frisky mates, showing "signs of fatigue and put less effort into mating."


Toxin from 'translucent doughnut' could produce cancer treatment

(02/05/2007) A toxin derived from a reclusive sea creature resembling a translucent doughnut has inspired UT Southwestern Medical Center researchers to develop a related compound that shows promise as a cancer treatment.


In search of wildlife, while dodging leeches, in Madagascar's unexplored rainforest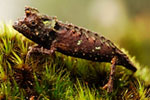 (02/05/2007) It is called a rainforest for a reason--because it rains.... and rains. As my field partner, Angelin Razafimanantsoa, and I make our way down muddy mountainsides in the endless downpour, we stop only long enough to pick squirming, bloodthirsty leeches off each other's face. Hours pass as we wade through knee-deep streams rushing over smooth, slippery rocks and thick forest stands. Seven hours ago, we anticipated arriving at our next base camp in three hours' time. Now, as night is falling, it seems we have at least five hours more to go.


Limitations of Global conservation Efforts in Madagascar

(02/04/2007) The success of the conservation efforts in a local context is usually primarily dependent on legal support and financial assistance. Recent experience however suggests that other factors may be just as important. Of particular importance is the management approach taken by the conservation authority. While the financial and regulatory incentives are sufficient in establishing protected areas, they maybe unsuccessful in protecting and maintaining them from local socioeconomic pressures. Madagascar as a case study clearly demonstrates this.


Global warming report released in Paris



(02/02/2007) The Intergovernmental Panel on Climate Change (IPCC) officially unveiled its long-waited report on global climate change. The report was produced by some 600 authors from 40 countries and representatives from 113 governments reviewed and signed off on the report the course of this week.


Anti-China movement rises in Africa

(02/02/2007) Chinese firms doing business in Africa are starting see backlash from their rapid investment expansion on the continent according to an article in today's issue of The Wall Street Journal.


Gold Rush Tears Up a Patch of the Amazon

(02/02/2007) It's a gold rush in the Amazon jungle, driven by the Internet. Speeding past unbroken walls of foliage, a motorboat packed with gritty prospectors veers toward the shore of the Juma river and spills its passengers into a city of black plastic lean-tos veiled by greasy smoke. All around them are newly dug pits, felled trees, misery and tales of striking it rich. This is Eldorado do Juma, scene of Brazil's biggest gold rush in more than 20 years.


Starbucks, Earthwatch team up to improve eco-friendly coffee

(02/01/2007) Earthwatch Institute, a leading environmental volunteering organization, and Starbucks Coffee Company announced they will team up to support environmentally-friendly coffee plantations in Costa Rica..


Industrial waste dump becomes biofuel source

(02/01/2007) Shrub willows growing on land that was once considered an industrial waste site will be used to produce green energy according to researchers at the SUNY College of Environmental Science and forestry (ESF).


Global warming is a threat to fly fishing in the United States


(02/01/2007) An estimated thirty-five million Americans fly fish. George Black is one of them. Black, based in New York City, has written two books on the subject: Casting a Spell: The Bamboo Fly Rod and the American Pursuit of Perfection and The Trout Pool Paradox: The American Lives of Three Rivers. He has also written for the New York Times, the Los Angeles Times, and a number of other publications as well as authoring three books on foreign affairs.


Global warming may be beneficial to some fishermen

(02/01/2007) Climate change may be a boon to fisheries off northwestern Africa according to research published in Friday's issue of the journal Science. Lead by Dr. Helen McGregor, a paleoclimatologist at the University of Bremen's Research Center Ocean Margins in Germany, a team of scientists using data from sediment cores linked coastal upwelling off the coast of Morocco to 20th century climate warming. The results are significant because coastal upwelling zones, where nutrient-rich waters rise to the ocean's surface, yield roughly 20 percent of the world's fish harvest but represent less than one percent of the world ocean surface area.


Sea levels rising at fastest rate on record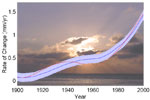 (02/01/2007) A group of prominent scientists criticized the Intergovernmental Panel on Climate Change (IPCC) climate report due to be released Friday. Writing in Friday's issue of the journal Science, the scientists say the IPCC report understates the risk of rising sea levels by accounting for melting ice in Antarctica and Greenland.


Wal-Mart looks to eliminate non-renewable energy product offerings

(02/01/2007) Wal-Mart Stores announced a new Sustainability 360 environmental initiative on Thursday, encouraging employees, suppliers, communities and customers to reduce the company's direct environmental footprint.


California bill would outlaw incandescent lightbulbs to help fight global warming

(01/31/2007) This week California Assemblyman Lloyd Levine (D-Van Nuys) will introduce legislation that would ban the sale of incandescent light bulbs in California by the year 2012. Levine says that incandescent light bulbs waste energy and better, more-cost alternatives are available.


Indonesia wants to be paid for slowing deforestation

(01/31/2007) Indonesia voiced support for a proposal by a coalition of developing countries seeking compensation for forest conservation, according to a report from Reuters. Rachmat Witoelar, Indonesia's minister of the environment, told Reuters that poor countries should be paid for conserving forests and the services they provide the world.


Cuteness may determine whether a species goes extinct or not

(01/30/2007) Cuteness or physical attractiveness to humans may determine whether a species goes extinct or not, says a conservation biologist from the University of Washington, Bothell. Writing in the online edition of the journal Human Ecology, David Stokes says that human preference for details as trivial as the "small color highlights a creature displays" could influence whether the species is protected or ignored as it approaches extinction. His results lend support to the use of "flagship species" in conservation. A flagship species is one that chosen to represent an environmental cause, such as an ecosystem in need of conservation. Generally this is a charismatic species like the Panda in China that is sufficiently attractive to garner public support for saving an ecosystem.


To find life on Mars scientists will need to dig deep

(01/29/2007) Probes seeking life on Mars must dig deeply into young craters, gullies, or recently exposed ice to have a chance of finding any living cells that were not annihilated by radiation, researchers report in a new study. One promising place to look for them is within the ice at Elysium, site of a recently discovered frozen sea, they say.


Caves may reveal if global warming is causing stronger hurricanes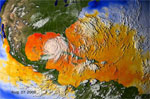 (01/29/2007) Scientists have shown that cave formations could help settle the contentious debate on whether hurricanes are strengthening in intensity due to global warming. Measuring oxygen isotope variation in stalagmites in Actun Tunichil Muknal cave in central Belize, a team of researchers have identified evidence of rainfall from 11 tropical cyclones over a 23 year period (1978-2001). The research -- the study of ancient storms is called paleotempestology -- could help create a record of hurricanes that would help researchers understand hurricane frequency and intensity. "Tropical cyclones (including hurricanes, tropical storms, typhoons, and cyclones) produce rainwater that is different from other summertime precipitation," explained Amy Benoit Frappier, an assistant professor in the Department of Geology and Geophysics at Boston College and lead author of the study published in Geology. "Tropical cyclones produce isotopically light rainwater primarily because 1) their cloud tops are very high and cold, and 2) their humid air tends to prevent lighter water molecules from evaporating back out of the raindrop as they fall."


Captive chimpanzees 'talk' to humans

(01/29/2007) Captive chimpanzees use specific vocalizations to communicate with humans according to new research published in the current issue of the journal Animal Behaviour. The researchers, lead by Dr. William Hopkins of Yerkes National Primate Research Center at Emory University, say these sounds are not used in other contexts -- only to elicit attention from humans. The researchers say the findings may help explain the evolution of language in primates.


Temperature record for Midwest shows impact of global warming

(01/29/2007) Researchers have developed a new method to create a temperature record for the Great Plains region of the United States. The model, based on analysis of ancient soils, could help predict the impact of global warming on American agricultural production.


Snake becomes poisonous by eating toxic frogs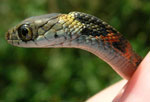 (01/29/2007) A new study shows that the Asian snake Rhabdophis tigrinus becomes poisonous by sequestering toxins from its prey which consists of venomous toads. While sequestering defensive toxins from prey is unusual among terrestrial vertebrates it is not unknown. Research published last year by Valerie C. Clark of Cornell University showed that poison dart frogs (Dendrobates species) and their Madagascar counterparts, the Mantella frogs, sequester toxic skin chemicals, called alkaloids, from the ants they eat. These alkaloids protect the frogs from predation. Similarly, some garter snakes are known to store tetrodotoxin from ingested newts while birds in New Guinea appear to sequester poisons from insects.


Females fish whisper to initiate sex

(01/29/2007) Female Croaking gouramis whisper to initiate sex according to research published in the current edition of the journal Animal Behaviour that describes the use of sound by this freshwater aquarium fish species during aggressive displays and courtship.


Lemurs communicate by scent

(01/29/2007) Ringtailed lemurs can recognize each other by scent according to a study published in the current issue of the journal Animal Behaviour. The research, conducted by Elizabeth S. Scordato and Christine M. Drea of Duke University, looked at olfactory communication in the ringtailed lemur, a charismatic primate that forms complex social groups led by a dominant female, so see what information is contained within the scent marks of the species.


Savvy environmentalists challenge corporations to go green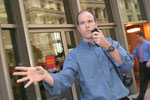 (01/29/2007) Increasing rates of tropical deforestation in the 1970s and 1980s helped trigger the rise of several forest activist groups specifically interested in rainforests. Among the earliest of these organizations was the Rainforest Action Network (RAN). Founded in 1985 by Randall Hayes, RAN lead its first direct campaign in 1987 against Burger King, which at the time was using beef raised on deforested lands in Central America. In response to the nationwide boycott, which caused sales to drop 12%, Burger King canceled $35 million worth of beef contracts from the region and announced they would no longer import beef from the rainforest. Hailed as a major victory for rainforest protection, RAN initiated consumer boycotts of other firms engaged in destructive practices, eventually developing an effective strategy for promoting change at the corporate level. Today San Francisco-based RAN has expanded well beyond its original mission of protecting rainforests. Recently dubbed "the most savvy environmental agitators in the business" by the Wall Street Journal, the small but efficient organization (36 staff members and a $3 million budget) pressures some of the world's largest and most respected firms -- including Citigroup, Bank of America, JP Morgan Chase, Goldman Sachs, Home Depot, and Boise Cascade -- to adopt wide-ranging green policies that impact everything from where they source their energy to how they finance development projects.


New maps reveal causes of Amazon deforestation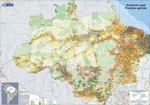 (01/26/2007) Brazil's National Statistics Office (IBGE) released a set of maps showing how farmers are converting the Amazon rainforest into cattle pasture and soybean farms. The maps show for the first time the impact of deforestation and agricultural expansion on the Amazon rainforest, according to the agency.


Is global warming causing stronger hurricanes? Caves may hold the answer

(01/26/2007) Scientists have shown that cave formations could help settle the contentious debate on whether hurricanes are strengthening in intensity due to global warming. Measuring oxygen isotope variation in stalagmites in Actun Tunichil Muknal cave in central Belize, a team of researchers lead by Amy Benoit Frappier of Boston College have identified evidence of rainfall from 11 tropical cyclones over a 23 year period. The research -- the study of ancient storms is called paleotempestology -- could help create a record of hurricanes that would help researchers understand hurricane frequency and intensity. Currently, reliable history for hurricanes only dates back a generation or so. Prior to that, the official hurricane records kept by the National Oceanic and Atmospheric Administration's Atlantic basin hurricane database (HURDAT) are controversial at best since storm data from more than 20 years ago is not nearly as accurate as current hurricane data due to improvements in tracking technology. The lack of a credible baseline makes it nearly impossible to accurately compare storm frequency and strength over the period.


Giant carnivorous marsupial beasts not killed by climate change in Australia

(01/25/2007) Humans, not climate change, caused the extinction of megafauna in Australia contends a team of Australian researchers writing in the January issue of the journal Science. Australia lost 90 percent of its largest animals, including a saber-toothed kangaroo, a marsupial lion and giant goannas, within 20,000 years of man's arrival some 50,000 years ago. Scientists have long debated whether the demise of Australian megafauna was due to human arrival, climate change, or a combination of the two factors. The new research found that the climate in southeastern Australia was little different 500,000 years ago, suggesting that climate change was not the ultimate cause of extinction.


Europeans may have caused extinction of large mammals in Caribbean

(01/25/2007) New evidence suggests that the arrival of Europeans in the New World corresponds with the extinction of mammal species on the Caribbean islands.


Biofuels could decimate environment, stymie developing countries, says report


(01/25/2007) In his State of the Union Address Tuesday night, U.S. President George W. Bush highlighted ethanol fuel production as a means to improve domestic security by reducing dependence on foreign oil while at the same time helping to fight global warming. His call echoes a broader shift in sentiment among business and political leaders who believe that biofuels -- liquid fuels produced 'energy crops' including sugarcane, corn, soybeans, oil palms -- are a key future liquid energy source. In fact, next week, biofuels are likely to take a prominent position at the European Union's 'Sustainable Energy Week' in Brussels when 650 delegates will listen to speeches by the likes of Al Gore and UK foreign minister Margaret Beckett. With all the enthusiasm it may seem that biofuels are the end-all solution. A new report argues that this is not the case. In its briefing, 'International trade in biofuels: Good for development? And good for environment?' the International Institute for Environment and Development (IIED) cautions policymakers not to get caught up in all the hype. IIED warns that serious concerns still remain when it comes to the widespread adoption of these renewable energy sources.


Pentagon pushes land conservation, partners with green groups

(01/24/2007) The Pentagon is actively funding conservation efforts around military bases in an effort to stem urban sprawl and other threats to facilities, according to an article in today's issue of The Wall Street Journal. Congress has budgeted more than $40 million in the current fiscal year for the Readiness and Environmental Protection Initiative, which works with environmental groups to conserve land around bases. The program is currently working to protect more than 45,000 acres near 30 U.S. bases.


Strange spiny rodent discovered in the Amazon



(01/24/2007) Scientists have discovered a previously unknown species of arboreal rodent in the cloud forests of Peru. The species, named Isothrix barbarabrownae, is described in the current issue of Mastozoologia, the principal mammalogy journal of South America.


Two 'dragon' species discovered in Brazil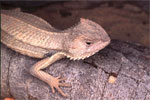 (01/24/2007) Two previously unknown species of lizard that are said to resemble miniature ground-dwelling dragons have been found in the threatened cerrado region of Brazil. The species, Stenocercus squarrosus and Stenocercus quinarius are described in the current issue of the South American Journal of Herpetology.


Rare fish from Madagascar named after renowned ichthyologist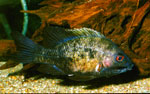 (01/24/2007) An ichthyologist from the Wildlife conservation Society's New York Aquarium received the ultimate honor recently, when a freshwater fish discovered on the African island nation of Madagascar was named after him.


5 Komodo Dragons Hatch at British Zoo

(01/24/2007) Five immaculately conceived Komodo dragons hatched at the Chester Zoo in northern England. Scientists say the birth could have conservation implications for the endangered species of reptile.


Live fish trade causing massive depletion of coral reef species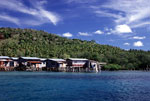 (01/24/2007) According to a new study conducted by Cambridge University researchers off the northern coast of Borneo, the live reef fish trade is having a major impact on marine populations.


Unusual prehistoric shark beast captured in Japan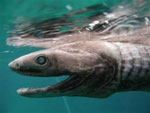 (01/24/2007) A rare frilled shark was captured live by fishermen off the coast of Japan. The toothy eel-like creature was taken to Awashima Marine Park in Shizuoka where it later died according to Reuters.


Congo guerrillas agree to protect rare gorillas


(01/24/2007) Rebels in eastern Congo have agreed to stop hunting mountain gorillas according to a report from the Associated Press.


Carnivorous 'terror bird' stalked America before isthmus formation

(01/23/2007) A prehistoric 7-foot-tall flightless 'terror bird,' arrived in North America from South America well before the formation of the Panamanian land bridge according to a study led by University of Florida (UF) researchers. The results will be published January 23 in the online version of the journal Geology.


Global warming cap to cost U.S. 0.26% of GDP says Energy Department

(01/23/2007) A proposed cap-and-trade system to curb U.S. greenhouse-gas emissions will cost the U.S. economy 0.26 percent of annual GDP according to a new study by the Department of Energy's Energy Information Agency (EIA). The EIA says that the plan would lead to higher energy prices inlcuding a 5 percent rise in the price of gasoline, an 8 percent climb in the price of heating-oil an 11 percent increase in the price of natural gas and electricity.



Page 1
|
Page 2
|
Page 3
|
Page 4
|
Page 5
|
Page 6
|
Page 7
|
Page 8
|
Page 9
|
Page 10
|
Page 11
|
Page 12
|
Page 13
|
Page 14
|
Page 15
|
Page 16
|
Page 17
|
Page 18
|
Page 19
|
Page 20
|
Page 21
|
Page 22
|
Page 23
|
Page 24
|
Page 25
|
Page 26
|
Page 27
|
Page 28
|
Page 29
|
Page 30
|
Page 31
|
Page 32
|
Page 33
|
Page 34
|
Page 35
|
Page 36
|
Page 37
|
Page 38
|
Page 39
|
Page 40
|
Page 41
|
Page 42
|
Page 43
|
Page 44
|
Page 45
|
Page 46
|
Page 47
|
Page 48
|
Page 49
|
Page 50
|
Page 51
|
Page 52
|
Page 53
|
Page 54
|
Page 55
|
Page 56
|
Page 57
|
Page 58
|
Page 59
|
Page 60
|
Page 61
|
Page 62
|
Page 63
|
Page 64
|
Page 65
|
Page 66
|
Page 67
|
Page 68
|
Page 69
|
Page 70
|
Page 71
|
Page 72
|
Page 73
|
Page 74
|
Page 75
|
Page 76
|
Page 77
|
Page 78
|
Page 79
|
Page 80
|
Page 81
|
Page 82
|
Page 83
|
Page 84
|
Page 85
|
Page 86
|
Page 87
|
Page 88
|
Page 89
|
Page 90
|
Page 91
|
Page 92
|
Page 93
|
Page 94
|
Page 95
|
Page 96
|
Page 97
|
Page 98
|
Page 99
|
Page 100
|
Page 101
|
Page 102
|
Page 103
|
Page 104
|
Page 105
|
Page 106
|
Page 107
|
Page 108
|
Page 109
|
Page 110
|
Page 111
|
Page 112
|
Page 113
|
Page 114
|
Page 115
|
Page 116
|
Page 117
|
Page 118
|
Page 119
|
Page 120
|
Page 121
|
Page 122
|
Page 123
|
Page 124
|
Page 125
|
Page 126
|
Page 127
|
Page 128
|
Page 129
|
Page 130
|
Page 131
|
Page 132
|
Page 133
|
Page 134
|
Page 135
|
Page 136
|
Page 137
|
Page 138
|
Page 139
|
Page 140
|
Page 141
|
Page 142
|
Page 143
|
Page 144
|
Page 145
|
Page 146
|
Page 147
|
Page 148
|
Page 149
|
Page 150
|
Page 151
|
Page 152
|
Page 153
|
Page 154
|
Page 155
|
Page 156
|
Page 157
|
Page 158
|
Page 159
| Page 160 |
Page 161
|
Page 162
|
Page 163
|
Page 164
|
Page 165
|
Page 166
|
Page 167
|
Page 168
|
Page 169
|
Page 170
|
Page 171
|
Page 172
|
Page 173
|
Page 174
|
Page 175
|
Page 176
|
Page 177
|
Page 178
|
Page 179
|
Page 180
|
Page 181
|
Page 182
|
Page 183
|
Page 184
|
Page 185
|
Page 186
|
Page 187
|
Page 188
|
Page 189