Conservation news
Founded in 1999, Mongabay is a leading provider of environmental science and conservation news.
Does drought cause war?

(05/30/2007) A new study links drought to the outbreak of war, reports New Scientist Magazine.


Tasmania agrees to logging moratorium

(05/30/2007) Forestry Tasmania, the forest service of Tasmania, has signed an agreement with environmental activists to cease logging activities in the Upper Florentine Valley of the island. The moratorium will last through federal elections this in October..


Sea ice forecasts to be used to save polar bears

(05/30/2007) In the wake of the U.S. government's watershed decision to propose listing the polar bear as 'Threatened' under the Endangered Species Act, the Wildlife conservation Society (WCS) is launching a bold initiative to save the Earth's largest terrestrial predator, not by following the bears themselves, but the receding sea ice habitat that may drastically shrink as a result of global warming. In a project named 'Warm Waters for Cool Bears,' WCS will use both current and historical satellite imagery to predict where sea ice is likely to persist and where subsequent conservation efforts to save the species will be most effective.


Cheetah are unfaithful mates

(05/30/2007) Female cheetah are highly promiscuous reports a new study by Zoological Society of London (ZSL) scientists.


Mahogany logging threats tribal people, says report

(05/30/2007) Ahead of the CITES meeting in the Hague, a new report alleges widespread illegal mahogany logging in Peru.


Global warming may be key factor in frog deaths

(05/30/2007) Three papers published in this week's issue of the journal Nature debate the proximate causes for the global decline of amphibians, but nonetheless reveal mounting concerns among scientists over the continuing disappearance of frogs, salamanders, and their relatives.


Greenpeace pressures China on global warming

(05/30/2007) Greenpeace stepped up the pressure on China to do something about its surging greenhouse gas emissions, launching a campaign that warns melting glaciers could hurt Chinese agriculture and hydroelectric projects. The environmental group cited a Chinese Academy of Sciences' projection that 80 percent of the glaciers in Tibet and the surrounding region could melt by 2035, though other research suggests more moderate melting.


HSBC puts $100 towards global warming research

(05/30/2007) HSBC announced Wednesday it would spend $100 million on climate change research. The investment, which will go to the Climate Group, Earthwatch Institute, Smithsonian Tropical Research Institute (STRI) and WWF over a five year period, is the largest donation ever made by a British company.


HSBC invests $100M in global warming research

(05/30/2007) HSBC announced Wednesday it would spend $100 million on climate change research. The investment, which will go to the Climate Group, Earthwatch Institute, Smithsonian Tropical Research Institute (STRI) and WWF over a five year period, is the largest donation ever made by a British company.


EPA sued for San Francisco Bay Area pesticide use

(05/30/2007) The Center for Biological Diversity, an environmental group, sued the U.S. Environmental Protection Agency on Wednesday, accusing the agency of approving the use of 46 pesticides without determining whether the chemicals threaten 11 endangered species in the San Francisco Bay Area.


U.S. responsible for 44% of global warming bill-Oxfam

(05/29/2007) The U.S.is responsible for 44% of the annual $50 billion needed to fight global warming said aid agency Oxfam as expectations mount that the United States will reject stiff targets and timetables for reducing carbon dioxide emissions. The U.S. and other G8 nations are meeting next week in Germany to discuss climate change.


Will Amazon drought worsen in 2007?

(05/29/2007) Contrary to popular belief, the Amazon rainforest is not rainy year round. Further from the equator, rainfall is more seasonal, with dry periods that sometimes last for months.


U.S. tropical timber imports fall by half in 2006

(05/28/2007) Tropical lumber imports into the United States fell from 353,985 cubic meters in 2005 to 176,806 cubic meters in 2006, reports the International Tropical Timber Organization (ITTO) in its latest update. Tropical timber made up only 12 percent of U.S. hardwood lumber imports by volume for the year.


Indonesia could earn $100-$180 million from carbon trading

(05/28/2007) Indonesia says it hopes to soon see millions of dollars from carbon trading, reports the International Tropical Timber Organization (ITTO) in its latest update.


Hurricanes occur during cool periods as well

(05/28/2007) A team of scientists have found evidence of intense hurricane activity during both cool and warm periods reports The New York Times. The findings suggest that factors other than sea temperature play a role in the formation and intensity of tropical storms.


New snake-like lizard discovered in India

(05/28/2007) A previously unknown species of legless lizard as been discovered in a remote Indian forest, reports the Associated Press. Sushil Kumar Dutta, leader of a team of researchers from NGO Vasundhra and the North Orissa University, found the 7-inch long creature in the forests of Khandadhar near Raurkela in Orissa state, about 625 miles southeast of New Delhi.


Dinosaurs were on Noah's Ark claims new museum

(05/27/2007) The new Creation Museum in Kentucky includes a display featuring dinosaurs on Noah's Ark, reports Reuters. The $27 million museum, which says it depicts the Bible's first book, Genesis, as literal truth, opens Monday near Cincinnati.


Uganda abandons rainforest logging for palm oil

(05/27/2007) The Ugandan government abandoned plans to log thousands of hectares of rainforest on Bugala island in Lake Victoria for a palm oil plantation, Reuters reported Saturday.


Army ants form living pothole plugs to speed up delivery

(05/27/2007) Certain army ants in the rainforests of Central and South America conduct spectacular predatory raids containing up to 200,000 foraging ants. Remarkably, some ants use their bodies to plug potholes in the trail leading back to the nest, making a flatter surface so that prey can be delivered to the developing young at maximum speed.


Chinese support shark conservation, but still demand shark fin

(05/25/2007) There is growing public support in China for shark conservation measures, but little understanding of the role of shark finning in declining shark populations, reveals a survey by WildAid, an environmental group.


EU will demand sustainable biofuel production

(05/24/2007) The European Commission is planning new criteria to ensure that biofuels are produced in an environmentally-friendly manner, reports Reuters. The move comes a month after the Dutch issued voluntary guidelines for biofuel production.


Prehistoric bear-like beast discovered in North Dakota

(05/24/2007) The skeleton of a 60-million year old bear-like beat was discovered at an oil drilling site in the North Dakota Badlands, reports the Associated Press.


Possible baby dinosaur tracks discovered near Denver

(05/24/2007) A researcher may have discovered incredibly rare dinosaur tracks of baby stegosaurs near downtown Denver, reports the Denver Post.


Dinosaurs could swim

(05/24/2007) Researchers found evidence that terrestrial dinosaurs were capable of swimming. Examining fossilized footmarks left on the floor of an ancient lake bed in northern Spain 125 million years ago, scientists led by Loic Costeur of the Universite de Nantes in France said the tracks were left by a swimming meat-eating dinosaur.


Extortion or global warming mitigation?

(05/24/2007) Marketwatch reported more details on Ecuador's proposal to forgo development of Amazonian oil fields in exchange for payments from industrialized nations. Last month Ecuadorian President Rafael Correa said that if the South American country is compensated with half of the forecasted lost revenues, it will not exploit oil in Yasuni National Park, setting aside the area for wildlife and indigenous people. Correa said the cost would be about $350 million per year.


Scientists find possible cure for global amphibian-killing disease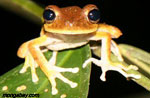 (05/23/2007) Scientists have discovered a possible treatment for the fungal disease that has killed millions of amphibians worldwide. Presenting Wednesday at the General Meeting of the American Society for Microbiology in Toronto, Professor Reid N. Harris at James Madison University reported that Pedobacter cryoconitis, a bacteria found naturally on the skin of red-backed salamanders, wards off the deadly chytridiomycosis fungus, an infection cited as a contributing factor to the global decline in amphibians observed over the past three decades.


First U.S. offshore wind farm wins preliminary approval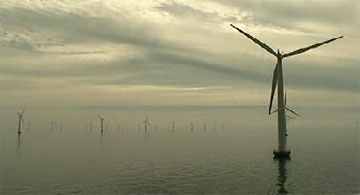 (05/23/2007) The first offshore wind farm in the United States won preliminary approval Tuesday from a panel of Delaware state officials. According to published reports, four Delaware state agencies ordered Delmarva Power, an electric utility, to buy wind-generated power from Bluewater Wind, the wind farm's developer.


Experts: Borneo in urgent need of protection


(05/23/2007) A prominent group of 1500 scientists in over 70 countries have called for the urgent conservation of Borneo's forests, which are fast-disappearing on the southeast Asian island due to logging, fires, and conversion for oil palm plantations.


Uganda rainforest reserve safe, for now

(05/23/2007) Uganda's cabinet has suspended a proposal to allow a sugarcane grower to convert part of Mabria rainforest reserve for a plantation, reports Reuters. The plan, a pet project of president Yoweri Museveni, faced widespread opposition that was capped by deadly riots.


Shark has virgin birth

(05/23/2007) A captive hammerhead shark gave birth to a pup without mating, reported researchers on Wednesday. It is the first time that parthenogenesis, as virginal birth as called, has been observed in a shark.


Intel pushes its environmental initiatives

(05/23/2007) Intel Corp. said is removing lead from its next generation of computer chips. Instead the company will use an alloy made up of tin, silver, and copper.


China city officials to get $258,000 bonus for environmental gains

(05/23/2007) Shanxi Province in China will pay city government officials 2 million yuan ($258,000) each if they are able to pull their cities out of the ranking of China's five most polluted cities, reports China state media. Cities that see their air quality improve 10 spots in the national ranking system, world reward city heads 2 million yuan ($258,000).


Global warming may worsen infectious disease

(05/22/2007) Outbreaks of infectious disease will likely worsen due to global warming, warn scientists at the 107th General Meeting of the American Society for Microbiology in Toronto.


Photo of rare Indonesian coelacanth

(05/22/2007) Reuters has published photos taken of the rare coelacanth captured off the northern coast of the Indonesian island of Sulawesi on May 19, 2007. The coelacanth is fish species that dates back more than 400 million years in the fossil record.


IBM launches "green" chip

(05/22/2007) IBM is touting the "green" credentials of its newest and most powerful microprocessor, the "Power6."


conservationists team with justice dept to fingerprint carnivores

(05/22/2007) A new study in the May issue of the Journal of Wildlife Management reports that scientists from the New York State Museum, Wildlife conservation Society and other groups have teamed up with the New York State Department of Criminal Justice to developed a new technique that uses fingerprints to track the fisher -- an elusive member of the weasel family, and the only carnivore species known to have unique fingerprints.


NASA issues guide on global warming

(05/22/2007) NASA issued a guide to global warming on its Earth Observatory web site, possibly marking a shift for the agency, which in recent years has often skirted use of the term "global warming", famously censoring comments on the subject by James E. Hansen, the director of the agency's Goddard Institute for Space Studies.


Sugar could power hydrogen fuel cars says VTU researcher

(05/22/2007) Sugary carbohydrates could be used to produce low-cost hydrogen to power fuel cells report researchers writing in the May 23 issue of PLoS ONE, the online, open-access journal from the Public Library of Science ( www.plosone.org)


Plan to bring lions, elephants to U.S. excludes Africans


(05/22/2007) Writing in the June 2007 Scientific American one of the scientists who helped put forth a radical proposal to reintroduce historical megafauna -- including camels, cheetah, elephants, and lions -- revisits the scheme, reviewing its basic points and refuting some of the criticism the plan received from the general public and other conservation biologists.


Saving big cats depends on science, practical interventions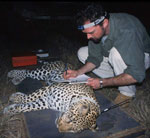 (05/21/2007) Big cats are some of Earth's largest and most threatened predators. Long persecuted as perceived threats to livestock and humans, hunted for their skins and purported medicinal values, and losing critical habitat to deforestation and conversion for agriculture, big cat populations have dwindled around the world for the past century. Given these trends, it should come as no surprise that big cats have become the focus of conservation efforts. Not only are large predators often the most vulnerable to human pressures and the first to disappear from ecosystems, but efforts to conserve them effectively help protect thousands of other species that share their habitat. At the forefront of these efforts in Dr. Luke Hunter, a biologist with the Wildlife conservation Society (WCS) where he heads their Great Cats Program. In a May 2007 interview with mongabay.com, Hunter discussed strategies for conserving carnivores and offered insight for students interested in pursuing careers in conservation science.


Photos of newborn baby giraffe at the Bronx Zoo

(05/21/2007) A baby giraffe born October 30, 2006 at the Bronx Zoo in New York is doing well reports the Wildlife conservation Society (WCS). The youngster is the second offspring of Margaret Sukari, a 12-year old giraffe that lives on the African Plains' Giraffe Lawn at the zoo.


Viagra helps hamsters recover from jet lag

(05/21/2007) A small dose of Viagra (sildenafil) can help hamsters recover more quickly from a six-hour advance in its daily cycle, report researchers in the early online edition of the Proceedings of the National Academy of Sciences (PNAS).


CO2 emissions growth surges as global energy efficiency falls

(05/21/2007) Worldwide growth in carbon dioxide emissions has doubled since the close of the 1990s, reports a study published in the early on-line edition of the Proceedings of the National Academy of Sciences. The findings suggest that the global economy is more dependent on fossil fuels than ever before, with carbon intensity--the amount of carbon needed to produce a unit of economic output--decreasing after a period of increases.


Congo guerillas threaten to kill rare gorillas

(05/21/2007) Fresh off killing a park ranger, a group of Congo guerillas said they will slaughter highly endangered mountain gorillas in Congo's Virunga National Park if their demands for immunity aren't met, says WildlifeDirect, a wildlife conservation organization active in the region.


Rare coelacanth captured in Indonesia

(05/20/2007) An Indonesian fisherman caught a coelacanth, a species so ancient it is called a 'living fossil', off the coast of Sulawesi, Indonesia, according to the Associated Press. The fisherman managed to keep the specimen alive for 17 hours in a pool before it expired.


Improving energy efficiency will require overcoming market distortions

(05/20/2007) In a new study, McKinsey&Company, one the world's most respected management consulting firms, reports that the world should be able to cut energy demand growth by half over the next 15 years without compromising economic growth. However it says that market forces along will not drive the transition--targeted policies will be needed to overcome present market failures and policy distortions.


High corn price mean pigs eat candy bars, french fries

(05/20/2007) Near record high prices for corn mean that farmers are feeding their pigs people food according to an article in The Wall Street Journal.


Abalone poaching drives meth drug trade in South Africa

(05/20/2007) Abalone poaching helps drive the methamphetamine trade in South Africa, reports an article in The Wall Street Journal.


U.S. ethanol may drive Amazon deforestation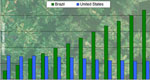 (05/17/2007) Ethanol production in the United States may be contributing to deforestation in the Brazilian rainforest said a leading expert on the Amazon. Dr. Daniel Nepstad of the Woods Hole Research Center said the growing demand for corn ethanol means that more corn and less soy is being planted in the United States. Brazil, the world's largest producer of soybeans, is more than making up for shortfall, by clearing new land for soy cultivation. While only a fraction of this cultivation currently occurs in the Amazon rainforest, production in neighboring areas like the cerrado grassland helps drive deforestation by displacing small farmers and cattle producers, who then clear rainforest land for subsistence agriculture and pasture.


16 cities to get energy-saving retrofits

(05/17/2007) Sixteen cities will get financing to make buildings "greener" through environmental renovations, former President Clinton announced Wednesday at the C40 Large Cities Climate Summit in New York, where mayors and local government officials are meeting to discuss strategies to flight global warming. The green building initiatives will cut carbon emissions and reduce waste.



Page 1
|
Page 2
|
Page 3
|
Page 4
|
Page 5
|
Page 6
|
Page 7
|
Page 8
|
Page 9
|
Page 10
|
Page 11
|
Page 12
|
Page 13
|
Page 14
|
Page 15
|
Page 16
|
Page 17
|
Page 18
|
Page 19
|
Page 20
|
Page 21
|
Page 22
|
Page 23
|
Page 24
|
Page 25
|
Page 26
|
Page 27
|
Page 28
|
Page 29
|
Page 30
|
Page 31
|
Page 32
|
Page 33
|
Page 34
|
Page 35
|
Page 36
|
Page 37
|
Page 38
|
Page 39
|
Page 40
|
Page 41
|
Page 42
|
Page 43
|
Page 44
|
Page 45
|
Page 46
|
Page 47
|
Page 48
|
Page 49
|
Page 50
|
Page 51
|
Page 52
|
Page 53
|
Page 54
|
Page 55
|
Page 56
|
Page 57
|
Page 58
|
Page 59
|
Page 60
|
Page 61
|
Page 62
|
Page 63
|
Page 64
|
Page 65
|
Page 66
|
Page 67
|
Page 68
|
Page 69
|
Page 70
|
Page 71
|
Page 72
|
Page 73
|
Page 74
|
Page 75
|
Page 76
|
Page 77
|
Page 78
|
Page 79
|
Page 80
|
Page 81
|
Page 82
|
Page 83
|
Page 84
|
Page 85
|
Page 86
|
Page 87
|
Page 88
|
Page 89
|
Page 90
|
Page 91
|
Page 92
|
Page 93
|
Page 94
|
Page 95
|
Page 96
|
Page 97
|
Page 98
|
Page 99
|
Page 100
|
Page 101
|
Page 102
|
Page 103
|
Page 104
|
Page 105
|
Page 106
|
Page 107
|
Page 108
|
Page 109
|
Page 110
|
Page 111
|
Page 112
|
Page 113
|
Page 114
|
Page 115
|
Page 116
|
Page 117
|
Page 118
|
Page 119
|
Page 120
|
Page 121
|
Page 122
|
Page 123
|
Page 124
|
Page 125
|
Page 126
|
Page 127
|
Page 128
|
Page 129
|
Page 130
|
Page 131
|
Page 132
|
Page 133
|
Page 134
|
Page 135
|
Page 136
|
Page 137
|
Page 138
|
Page 139
|
Page 140
|
Page 141
|
Page 142
|
Page 143
|
Page 144
|
Page 145
|
Page 146
|
Page 147
|
Page 148
|
Page 149
|
Page 150
|
Page 151
|
Page 152
|
Page 153
|
Page 154
|
Page 155
|
Page 156
|
Page 157
|
Page 158
|
Page 159
| Page 160 |
Page 161
|
Page 162
|
Page 163
|
Page 164
|
Page 165
|
Page 166
|
Page 167
|
Page 168
|
Page 169
|
Page 170
|
Page 171
|
Page 172
|
Page 173
|
Page 174
|
Page 175
|
Page 176
|
Page 177
|
Page 178
|
Page 179
|
Page 180
|
Page 181
|
Page 182
|
Page 183
|
Page 184
|
Page 185
|
Page 186
|
Page 187
|
Page 188
|
Page 189
|
Page 190
|
Page 191
|
Page 192
|
Page 193
|
Page 194
|
Page 195
|
Page 196
|
Page 197
|
Page 198