Conservation news
Founded in 1999, Mongabay is a leading provider of environmental science and conservation news.
New flycatcher bird species discovered in Peru

(08/13/2007) Scientists have discovered a previously unknown species of bird in dense bamboo thickets in the Peruvian Amazon.


Low deforestation countries to see least benefit from carbon trading

(08/13/2007) Countries that have done the best job protecting their tropical forests stand to gain the least from proposed incentives to combat global warming through carbon offsets, warns a new study published in Tuesday in the journal Public Library of Science Biology (PLoS). The authors say that "high forest cover with low rates of deforestation" (HFLD) nations "could become the most vulnerable targets for deforestation if the Kyoto Protocol and upcoming negotiations on carbon trading fail to include intact standing forest."


Amazon deforestation in Brazil falls 29% for 2007

(08/13/2007) Deforestation in the Brazilian Amazon fell 29 percent for the 2006-2007 year, compared with the prior period. The loss of 3,863 square miles (10,010 square kilometers) of rainforest was the lowest since the Brazilian government started tracking deforestation on a yearly basis in 1988.


Global warming to stunt growth of rainforest trees

(08/12/2007) Global warming could reduce the growth rates of rainforest trees by 50 percent, reported research presented last week at the annual meeting of the Ecological Society of America in San Jose, California by Ken Feeley of Harvard University's Arnold Arboretum in Boston.


Scientists: Newsweek Erred in Global Warming Coverage

(08/12/2007) A statement from the University of Alabama argues that a recent Newsweek cover story on climate change made two important mistakes.


Climate change claims a snail

(08/12/2007) The Aldabra banded snail (Rachistia aldabrae), a rare and poorly known species found only on Aldabra atoll in the Indian Ocean, has apparently gone extinct due to declining rainfall in its niche habitat. While some may question lamenting the loss of a lowly algae-feeding gastropod on some unheard of chain of tropical islands, its unheralded passing is nevertheless important for the simple reason that Rachistia aldabrae may be a pioneer. As climate change increasingly brings local and regional shifts in precipitation and temperature, other species are expected to follow in its path.


Controversy over flawed NASA climate data changes little

(08/11/2007) NASA corrected an error on its U.S. air temperature data after a blogger, Steve McIntyre of Climate Audit, discovered a discrepancy for the years 2000-2006. The revised figures show that 1934, not 1998, was America's hottest year on record. The change has little affect on global temperature records and the average temperatures for 2001-2006 (at 0.66 C) is still warmer than 1930-1934 (0.63 C) in the United States.


European heat waves double in length since 1880

(08/11/2007) The most accurate measures of European daily temperatures ever indicate that the length of heat waves on the continent has doubled and the frequency of extremely hot days has nearly tripled in the past century. The new data shows that many previous assessments of daily summer temperature change underestimated heat wave events in western Europe by approximately 30 percent.


Floods affect 500 million people per year, will worsen with warming

(08/10/2007) Floods affect 500 million people a year and cause billions of dollars in damage, said U.N. officials Thursday.


New shrew species, orchid discovered in the Philippines

(08/10/2007) An unknown shrew species has been discovered on Palawan, a large island in the Philippines, by a conservation International-led expedition.


Papua seeks funds for fighting global warming through forest conservation

(08/10/2007) In an article published today in The Wall Street Journal, Tom Wright profiles the nascent "avoided deforestation" carbon offset market in Indonesia's Papua province. Barnabas Suebu, governor of the province which makes up nearly half the island of New Guinea, has teamed with an Australian millionaire, Dorjee Sun, to develop a carbon offset plan that would see companies in developing countries pay for forest preservation in order to earn carbon credits. Compliance would be monitored via satellite.


U.N. sends team to investigate gorilla killings

(08/10/2007) The U.N. said it will send a team of experts to probe the killings of critically endangered mountain gorillas in the Democratic Republic of the Congo (DRC). Four gorillas were shot "execution-style" last month, while three others have been killed so far this year. Rangers believe illegal charcoal harvesters from Goma are to blame.


Melting permafrost affects greenhouse gas emissions

(08/10/2007) Permafrost -- the perpetually frozen foundation of the north -- isn't so permanent anymore, and scientists are scrambling to understand the pros and cons when terra firma goes soft.


Apple comes up a bit short on eco-credentials of new iMac

(08/10/2007) While Apple has touted the environmental attributes of its newest iMac, critics say the new computer failed to live up to the company's goals for the use of mercury, reports the San Jose Mercury. In May, Apple said it would eventually replace mercury-containing fluorescent backlights in its LCD monitors with LEDs backlights, but the new computers don't use the new technology. The company said it still face technological hurdles in rolling out the new LCDs.


Floating sea ice shrinks in the Arctic

(08/10/2007) By one estimate, the extent of floating sea ice in the Arctic has shrunk more than in any summer ever recorded, reports the New York Times.


Temperate forests not a fix for global warming

(08/10/2007) Carbon sequestration projects in temperate regions -- already facing doubts by scientists -- were dealt another blow by Duke University-led research that found pine tree stands grown under elevated carbon dioxide conditions only store significant amounts of carbon when they receive sufficient amounts of water and nutrients.


U.S. government weather agency cuts hurricane outlook

(08/10/2007) The U.S. National Oceanic and Atmospheric Administration on Thursday reduced its forecast for the number of tropical storms and hurricanes expected during the 2007 Atlantic season. NOAA said it now expected between 13 and 16 named storms, with seven to nine becoming hurricanes and three to five of them classified as "major" hurricanes (categories 3, 4, or 5).


Amazon deforestation rate falls to lowest on record

(08/10/2007) Deforestation rates in the Brazilian Amazon for the previous year were the lowest on record, according to preliminary figures released by INPE, Brazil's National Institute of Space Research.


New Park in Argentina Protects 500,000 Penguins

(08/09/2007) The government of Argentina will create a new marine park along the coast of Patagonia, reports the Bronx Zoo-based Wildlife conservation Society. Located in Golfo San Jorge, the park will protect more than half a million penguins and other rare seabirds.


Industrial pollution has caused Arctic warming since 1880s

(08/09/2007) Industrial soot emissions have been warming the Arctic since at the least the 1880s, reports a new study that examined "black carbon" levels in the Greenland ice sheet over the past 215 years. The research is published in current issue of the journal Science.


Global warming will slow, then accelerate reports ground-breaking model

(08/09/2007) Global warming will slow during the next few years but then accelerate with at least half of the years after 2009 warmer than 1998, the warmest year on record, reports a new study that is the first to incorporate information about the actual state of the ocean and the atmosphere, rather than the approximate ones most models use. The research, published by a team of scientists from the Hadley Center in the United Kingdom, appears in the current issue of the journal Science.


Experts: parks effectively protect rainforest in Peru

(08/09/2007) High-resolution satellite monitoring of the Amazon rainforest in Peru shows that land-use and conservation policies have had a measurable impact on deforestation rates. The research is published in the August 9, 2007, on-line edition of Science Express.


Wild ferrets, America's most endangered mammal, recover

(08/09/2007) Black-footed ferrets (Mustela nigripes), North America's most endangered mammal species, are recovering in their native Wyoming, reports a study published in the current issue of the journal Science.


Internet drives trafficking of endangered species

(08/09/2007) It's true, said U.S. Fish and Wildlife Service Special Agent Ed Newcomer, that the Internet has made wildlife crime easier, and easier to hide. But it's also made it easier for wildlife law enforcement agents to pose as potential customers -- and to catch people.


Lowland rainforest less diverse than previously thought

(08/09/2007) While rainforests are the world's libraries of biodiversity, species richness may be more evenly distributed in some forests than in others, reports an extensive new study by an international team of entomologists and botanists. The work, published in the current issue of the journal Nature, has important implications for forest management and conservation strategies.


Organic, shade grown cacao good for birds

(08/09/2007) Bird diversity in cacao farms in Panama is considerably higher when crops are grown in the shade of canopy trees, reports a study published earlier this year in Biodiversity conservation. The research has implications for biodiversity conservation and the sustainability of cacao plantations.


Dr. Marc Van Roosmalen, discover of unknown monkey species, freed in Brazil

(08/08/2007) Dr. Marc van Roosmalen, a renowned primatologist who has discovered seven species of monkeys in the Amazon rainforest, has been freed in Brazil. Dr. van Roosmalen had been charged with illegally keeping wild animals and embezzlement and sentenced to nearly 16 years in prison in a case that was widely criticized by scientists.


Ethnobotanist honored for contributions to wilderness medicine

(08/08/2007) Renowned ethnobotanist and conservationist Dr. Mark Plotkin of the Amazon conservation Team was honored Wednesday with the 2007 Paul S. Auerbach Award, a distinction awarded by the Wilderness Medical Society (WMS).


Coral reefs declining faster than rainforests

(08/08/2007) Coral reefs in the Pacific Ocean are dying faster than previously thought due to costal development, climate change, and disease, reports a study published Wednesday in the online journal PLoS One. Nearly 600 square miles of reef have disappeared per year since the late 1960s, a rate twice that of tropical rainforest loss.


7.4 magnitude earthquake hits Indonesia

(08/08/2007) A 7.4 magnitude earthquake hit Indonesia's West Java on Thursday, causing widespread panic according to Reuters. There are no immediate reports of damage or casualties.


Extinction of the Yangtze river dolphin is confirmed

(08/08/2007) After an extensive six-week search scientists have confirmed the probable extinction of the baiji or Yangtze river dolphin. The freshwater dolphin's extinction had been reported late last year.


Primatologist freed but questions remain for Brazil after "attack on science"

(08/08/2007) While primatologist Dr. Marc van Roosmalen has been freed from prison pending appeal, prominent scientists had stinging criticism for the Brazilian government over its increasingly "hostile" treatment of researchers. Before Roosmalen was released Tuesday, some scientists even threatened "civil disobedience," according to a report in the journal Nature.


100 years ago: oil shortages spur need for alternative fuels

(08/08/2007) The fuels committee of the Motor Union of Great Britain and Ireland has issued a valuable report on motor-car fuels... a famine in petrol appears to be inevitable in the near future, owing to the fact that demand is increasing at a rate much greater than the rate of increase of the supply. In 1904 the consumption of petrol in the United Kingdom was 12,000,000 gallons; in 1907 it had risen to 27,000,000 gallons... the committee discusses in the report other possible fuels. The supply is divided into two parts. The first includes all fuels limited in quantity...The second group contains one item only - alcohol - and it is evident from the whole tone of the report that the committee expects to find in denatured vegetable spirits the fuel of the future.


Economics of next generation biofuels

(08/08/2007) 'Second generation' biorefineries -- those making biofuel from lignocellulosic feedstocks like straw, grasses and wood -- have long been touted as the successor to today's grain ethanol plants, but until now the technology has been considered too expensive to compete. However, recent increases in grain prices mean that production costs are now similar for grain ethanol and second generation biofuels, according to a paper published in the first edition of Biofuels, Bioproducts & Biorefining.


Rare pygmy elephants endangered by logging in Borneo

(08/08/2007) Pygmy elephants are increasingly threatened by logging and forest conversion for agriculture in their native Borneo, reports a new satellite tracking study by WWF.


Afghanistan's recovery effort drives poaching of rare wildlife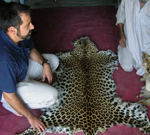 (08/07/2007) Few people associate Afghanistan with wildlife and it would come as a surprise to many that the war-torn, but fledging democracy is home to snow leopards, Persian leopards, five species of bush dog, Marco Polo Sheep, Asiatic Black Bear, Brown Bears, Striped Hyenas, and numerous bird of prey species. While much of this biodiversity has survived despite years of civil strife, Afghanistan's wildlife faces new pressures from the very people who are charged with rebuilding the country: contractors and the development community are driving the trade in rare and endangered wildlife. This development, coupled with lack of laws regulating resource management and growing instability, complicate efforts to protect the country's wildlife. Working to address these challenges is Dr. Alex Dehgan, Afghanistan Country Director for the Wildlife conservation Society (WCS). WCS is working to implement the Afghanistan Biodiversity conservation Program, a three-year project funded by the US Agency for International Development to promote wildlife and resource conservation in the country.


U.S. court blocks sonar testing to protect whales

(08/07/2007) A U.S. federal court blocked the Navy from using a type of sonar that environmentalists say pose a threat to whales off the coast of California. The judge noted that the Navy's own analyses concluded that the Southern California exercises "will cause widespread harm to nearly thirty species of marine mammals, including five species of endangered whales, and may cause permanent injury and death" and characterized the Navy's proposed mitigation measures as "woefully inadequate and ineffectual."


New species discovered in "lost" African forest

(08/07/2007) Scientists have discovered several unknown species during an expedition to a forest that has been off-limits to researcher for nearly 50 years due to civil strife.


Overfishing takes toll on Bluefin tuna

(08/06/2007) Overfishing has caused dramatic shifts in bluefin tuna populations that have pushed the species closer towards extinction in some areas, reports a series of studies by the Census of Marine Life (CoML) and other researchers.


Wild parrots tracked by satellite for the first time

(08/06/2007) Researchers are now tracking wild parrots from space.


Sunspot activity linked to rainfall in Africa

(08/06/2007) A new study reveals correlations between plentiful sunspots and periods of heavy rain in East Africa. Intense rainfall in the region often leads to flooding and disease outbreaks.


Nectar feeding bats are powered by pure sugar

(08/06/2007) Nectar-feeding bats are particularly vulnerable to environmental change due to their high-energy dietary requirements, reports a new study published in the British Ecological Society's journal Functional Ecology.


2007 hurricane season downgraded, questions over climate role remain

(08/06/2007) Hurricane researcher William Gray from Colorado State University cut his 2007 hurricane season outlook, saying there will likely be fewer storms than previously projected due to weak La Niña conditions and more atmospheric dust from Africa.


New device allows biologists to track seals under sea ice

(08/06/2007) Biologists have devised a new device for tracking how environmental change affects the physiology, behvaior, and populations of Southern elephant seals, according to a paper published in the early online edition of the journal Proceedings of the National Academy of Sciences.


Asians played larger role in colonization of Europe than Africans

(08/06/2007) Humans with Asian origins played a larger role than those from Africa in colonizing Europe millions of years ago, reports a paper published in the early online edition of the journal Proceedings of the National Academy of Sciences (PNAS).


Jet stream drives summer temperature, plankton growth in Oregon

(08/06/2007) Short-term shifts in the jet stream off the Oregon coast drive changes in ocean temperature and plankton growth during summer months, reports a new study published in the early online edition of the journal Proceedings of the National Academy of Sciences. The findings are significant because they could help improve weather prediction and bolster understanding of ocean food chains along the northwestern United States. Plankton are the base of the food chain for important ocean fisheries in the region.


Frog killing diseases worse than thought in California

(08/06/2007) The deadly fungal disease that is killing amphibians worldwide can likely be spread by sexual reproduction reports a new study published in the early online edition of the journal Proceedings of the National Academy of Sciences. The findings suggest that protecting frogs and other amphibians from the pathogen will be more complicated than previously believed.


Scientists demand release of renowned monkey discoverer in Brazil

(08/06/2007) A prominent group of scientists have issued a petition to free world-renowned primatologist Marc van Roosmalen from Brazilian prison after he was charged with illegally keeping monkeys without a permit and other crimes. The scientists have called his imprisonment an "attack on the practice and profession of biological science in Brazil."


Jumbo squid invade California waters, affecting fish populations

(07/25/2007) Jumbo squid (Dosidicus gigas) are invading California waters, putting commercial fish populations at risk, reports a study published in Proceedings of the National Academy of Sciences.


"Virgin" rain forests of Costa Rica a misnomer

(07/25/2007) Radiocarbon dating of montane forest soils in Costa Rica uncovered evidence of charcoal that shows its otherwise "virgin" tropical forests are less than 200 years old. The findings, published in the journal Biotropica, have implications for the re-establishment of rain forests after clearing.



Page 1
|
Page 2
|
Page 3
|
Page 4
|
Page 5
|
Page 6
|
Page 7
|
Page 8
|
Page 9
|
Page 10
|
Page 11
|
Page 12
|
Page 13
|
Page 14
|
Page 15
|
Page 16
|
Page 17
|
Page 18
|
Page 19
|
Page 20
|
Page 21
|
Page 22
|
Page 23
|
Page 24
|
Page 25
|
Page 26
|
Page 27
|
Page 28
|
Page 29
|
Page 30
|
Page 31
|
Page 32
|
Page 33
|
Page 34
|
Page 35
|
Page 36
|
Page 37
|
Page 38
|
Page 39
|
Page 40
|
Page 41
|
Page 42
|
Page 43
|
Page 44
|
Page 45
|
Page 46
|
Page 47
|
Page 48
|
Page 49
|
Page 50
|
Page 51
|
Page 52
|
Page 53
|
Page 54
|
Page 55
|
Page 56
|
Page 57
|
Page 58
|
Page 59
|
Page 60
|
Page 61
|
Page 62
|
Page 63
|
Page 64
|
Page 65
|
Page 66
|
Page 67
|
Page 68
|
Page 69
|
Page 70
|
Page 71
|
Page 72
|
Page 73
|
Page 74
|
Page 75
|
Page 76
|
Page 77
|
Page 78
|
Page 79
|
Page 80
|
Page 81
|
Page 82
|
Page 83
|
Page 84
|
Page 85
|
Page 86
|
Page 87
|
Page 88
|
Page 89
|
Page 90
|
Page 91
|
Page 92
|
Page 93
|
Page 94
|
Page 95
|
Page 96
|
Page 97
|
Page 98
|
Page 99
|
Page 100
|
Page 101
|
Page 102
|
Page 103
|
Page 104
|
Page 105
|
Page 106
|
Page 107
|
Page 108
|
Page 109
|
Page 110
|
Page 111
|
Page 112
|
Page 113
|
Page 114
|
Page 115
|
Page 116
|
Page 117
|
Page 118
|
Page 119
|
Page 120
|
Page 121
|
Page 122
|
Page 123
|
Page 124
|
Page 125
|
Page 126
|
Page 127
|
Page 128
|
Page 129
|
Page 130
|
Page 131
|
Page 132
|
Page 133
|
Page 134
|
Page 135
|
Page 136
|
Page 137
|
Page 138
|
Page 139
|
Page 140
|
Page 141
|
Page 142
|
Page 143
|
Page 144
|
Page 145
|
Page 146
|
Page 147
|
Page 148
|
Page 149
|
Page 150
|
Page 151
|
Page 152
|
Page 153
|
Page 154
|
Page 155
|
Page 156
|
Page 157
|
Page 158
|
Page 159
| Page 160 |
Page 161
|
Page 162
|
Page 163
|
Page 164
|
Page 165
|
Page 166
|
Page 167
|
Page 168
|
Page 169
|
Page 170
|
Page 171
|
Page 172
|
Page 173
|
Page 174
|
Page 175
|
Page 176
|
Page 177
|
Page 178
|
Page 179
|
Page 180
|
Page 181
|
Page 182
|
Page 183
|
Page 184
|
Page 185
|
Page 186
|
Page 187
|
Page 188
|
Page 189
|
Page 190
|
Page 191
|
Page 192
|
Page 193
|
Page 194
|
Page 195
|
Page 196
|
Page 197
|
Page 198
|
Page 199
|
Page 200
|
Page 201
|
Page 202
|
Page 203